2022 came with its lengthy, glamorous, yet simple hairstyles. Some of which we've just not had enough of. For black women, versatility in hairstyles is a major attraction.
Pin It
So, what hairstyles are in for our brown skin ladies this year? Those you'd find on every red carpet, wedding ceremony, Instagram reel, TikTok video, etc. Some of these hairstyles are not new on the scene but are revamped to suit the 2023 black woman.
Also Read: 70+ Incredible Natural Hairstyles for Black Women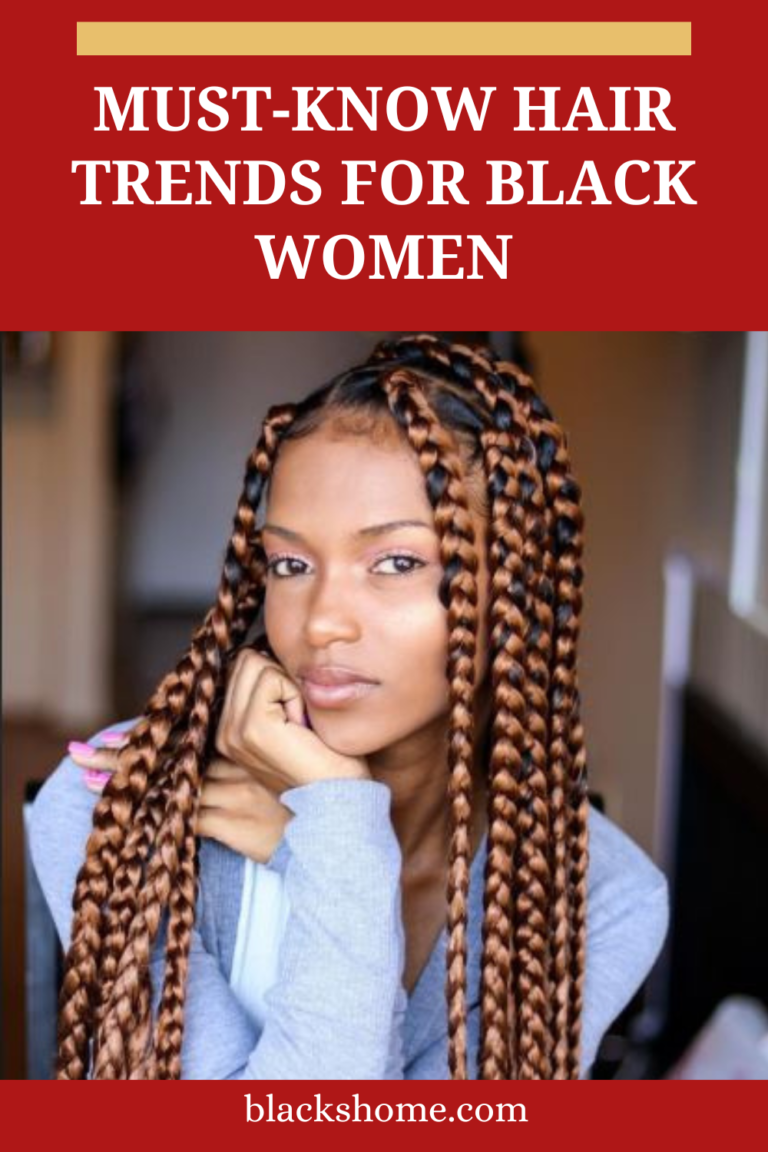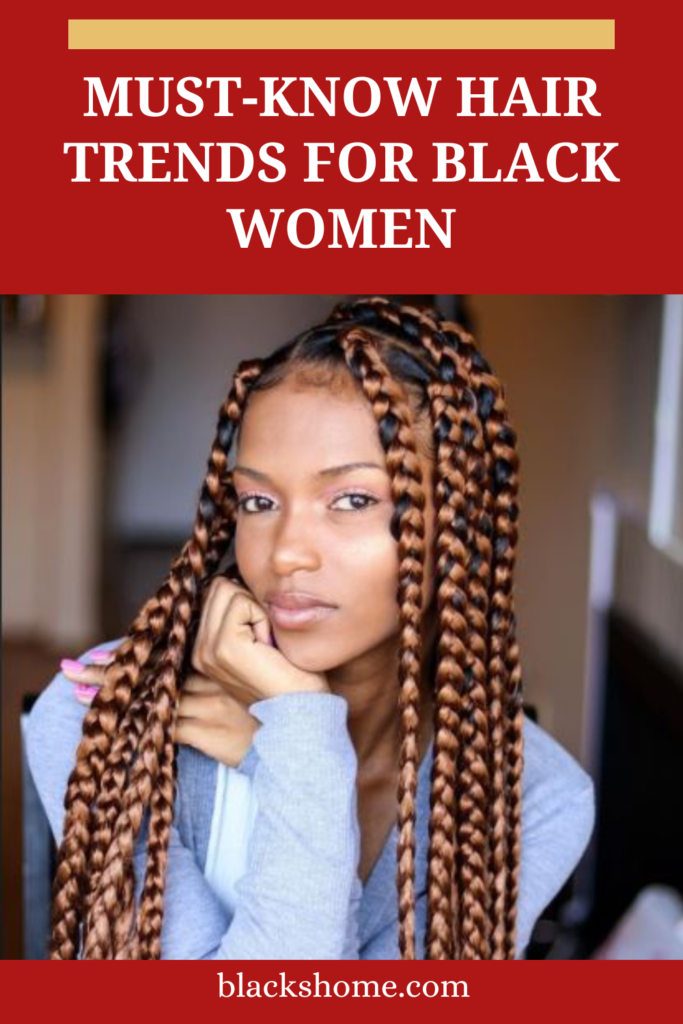 There are others that we've rocked so well, but can't get enough of which are still coming back this year. It's not just about newness, but comfort, beauty, and style. To let you in on the best of the best hairstyles, here are 2023's trends!
Also Read: Everything You Need to Know About Black People
Must-Have Hairstyling Tools and Hair Care Products For Effortless Hair Makeovers.
Image
Product
Features
Price

soft and easy to use yaki texture

Check Price

Galapara Electronic Quick Twist Hair Braiding Tool Automatic

【one-click control】Very easy and comfortable to use, one-click control, just need a few simple steps then you can create your own hairstyle.Powered by 2*AA batteries(not included), providing you continuous power to twist your hair.
【Can rotate 360 degrees】360 degree rotation, built-in sensitive detection device to prevent the hair stuck, which will not injure your hair, safe to use.
【Fully automatic】Completely automatic and convenient hair braiding tool, very useful for twisting hair quickly and easily.
【saving your time and money】Suitable for DIY use, a perfect hair styling tool in your daily life, saving your time and money.
【Safe Service】If you have any dissatisfaction, please contact us in tim

Check Price

1.thlabe This is a new fashionable hair braiding tool, create your own hairstyle with a few simple steps, completely automatically and conveniently, free you from time wasting, energy wasting, imaging product, good for Kids ,Girls, Women.
2.With this automatic hair braid tool, only 6 simple steps.Steps:01 evenly separate with accessories, three strands of hair; 02 fix three equal hairs on the three hooks in front of the braid; 03 pull the hook into the long tube from below; 04 hair hook into the hook of the braid; 05 start the switch, start Braid; 06 Grab the braided whip and tie the rubber band to the tail just fine.
3.Powered by 3 AA batteries(not included) that give you CONTINUOUS POWER to twist your hair.
4. Save your time and money .This hair styling tool is very suitable for DIY use , save your time and money from the Hair Salon.
5. Perfect to women lgirls and women. Do not hestitate to contact with us if you have any problem.

Check Price

DEEP WAVER: Includes a double dosage of tourmaline ceramic technology for massive shine and frizz-free, long-lasting results.
ALL HAIR TYPES: Multiple heat settings make this waver ideal for all hair types, from thin to coarse.
ADVANCED: Features a plate-locking switch for easy storage in less space and a tangle-free swivel cord that makes it easy to style with.
FAST & EASY: This deep barrel design quickly and easily waves the hair with High Heat up to 400˚ F, while instant heat recovery ensures consistent heat.
TRAVEL READY: Comes with worldwide dual voltage so you can take it wherever your jet setting heart desires.
GET THE LOOK: Starting at the roots, lightly clamp a small section of hair between the barrels and hold for a few seconds. For continuous waves, match the outermost wave and work it down your hair.

Check Price

Product Type:Luxury Beauty
Item Package Dimension:9.63 " L X2.5 " W X0.1 " H
Item Package Weight:0.12 lbs
Country Of Origin: Korea, Republic Of (South)

Check Price

TOURMALINE + CERAMIC BARREL: For frizz free styles with massive shine
EASY-TO-USE: On/Off button with ready indicator light that lets u know when to style
ADVANCED: Clamp-free design for no-nonsense styling. Heat protective glove included safer styling
HIGH HEAT: Up to 430˚ F for styling magic on all hair types
TRAVEL READY: Lightweight and universal dual voltage. Heat protective glove included
GET THE LOOK: Start with dry hair, grab a 1-inch section of hair, and wrap it around the barrel, point the barrel down while curling and hold in place for a few seconds, release, finger brush hair to add texture

Check Price

Condition All Day: Keep curls hydrated and healthy looking with Maui Moisture Frizz-Free plus Shea Butter Leave-in Conditioning Mist
Soft, Care-Free Curls: This hydrating, frizz-free blend helps block out humidity and detangle and protect strands from heat for defined curls that shine
Made With 100 Percent Aloe Vera as the First Ingredient: Quench your curls to make them look and feel hydrated, healthy and frizz-free with the help of shea butter, coconut oil and macadamia oil
Simple Styling: Spray evenly on damp hair and style. It's that easy
Free of Harsh Additives: Love the natural goodness of a hair product free of parabens, silicones, sulfated surfactants, synthetic dye, mineral oil

Check Price

Maui Moisture Strength & Length + Castor & Neem Oil Curl Oil Gel

STRENGTHEN, HYDRATE & RENEW: Renew damaged curls with Maui Moisture Strength & Length + Castor & Neem Oil Curl Oil Gel
CURLY HAIR PRODUCTS: Great for chemically damaged or transitioning curls, this formula helps strengthen, hydrate and define curls
CASTOR, NEEM & PEPPERMINT OILS: ​Our curly hair products are infused with castor oil, neem oil and peppermint oil
STRENGTHEN YOUR STRANDS: Work through damp hair and air-dry or diffuse
GENTLE FORMULA: Love the goodness of hair care free of parabens, silicones, sulfated surfactants, synthetic dye, mineral oil and gluten

Check Price

-made of good quality of plastic resin, it can foldable to diy hair style, easily bends without having it cut or broken
BRING MORE FUN AND HAPPINESS-to give a child a beautiful hair, will give the mother and children have added more fun and happiness.
QUICK APPLICATION-making a professional looking ponytail è"—è½in no time, with this easy-to-use braiding tool.
EASY TO USE-with this hair braider you will be able to create most stunning and intricate braids within a few minutes.
2pcs Hair Braid Accessories tail Styling Maker Clip French Braid Tool Magic Topsy Tail Loop Hair KitWomen Girls(black) Deft Processed
Unit count: 1.0

Check Price
1. Knotless Braids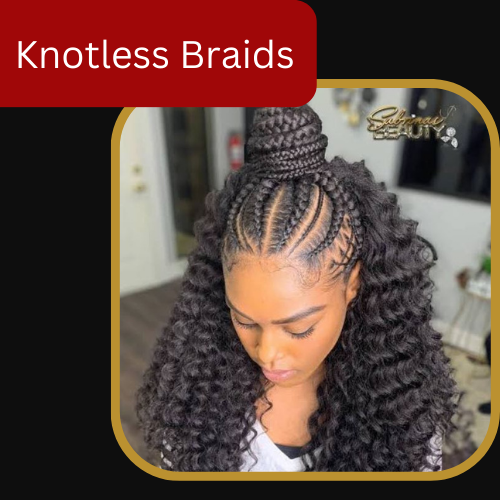 Knotless braids were a trend two years ago, are still a trend today, and will still stay through 2023. It's just so simple and fabulous and loved by the black community.
Here's another catch, knotless braids are made in different styles to suit your style. Check out Beyonce and Rihanna on it.
Also Read: Knotless Braids vs Box Braids: The Pros and Cons!
2. Pixie Cuts
Pixie Cuts are surely ruling this season, and even after. Though it was formerly seen majorly on white women until the likes of Keke Palmer dared the style. Round and oval face-shaped black ladies look the best on pixie Cuts.
Pixie Cuts is worth every strand of hair loss in its making. It is a great way to wear your younger self again. There are several ways to wear pixie cuts which makes them super stylish and beautiful to wear.
Also Read: How to Remove Dreadlocks At Home without Cutting: A Step-by-step Guide!
3. Lengthy Box Braids With Curly Ends
For this box braid, it is, the longer, the more stylish. Most black women seem to not have enough of this style which is why it will trend as much as it did last year.
Some of these braids can go far down to the knee. I guess we love it that way.
Also Read: Two Goddess Braids With Curls: Everything You Need to Know!
4. Short Bohemian Braids
Bohemian braids can either be a box or knotless, the difference is the tiny curls that accompany the braids. Since short is trendy this season, most black women are going for shoulder-length boho braids.
Also Read: Dreads vs Braids: What are the Differences & Similarities + Examples
5. Blunt Cuts
This near-shoulder length hairstyle gives a casual, yet edgy look to your face. Black women wear this look using hair extensions. So, there's no need to stretch and cut your hair unless you've got the guts anyway. It'll still look great!
Also Read: Kelly Rowland Short Hair: Unleash Your Inner Power with Kelly's Bold Mane!
6. Colored Box Braids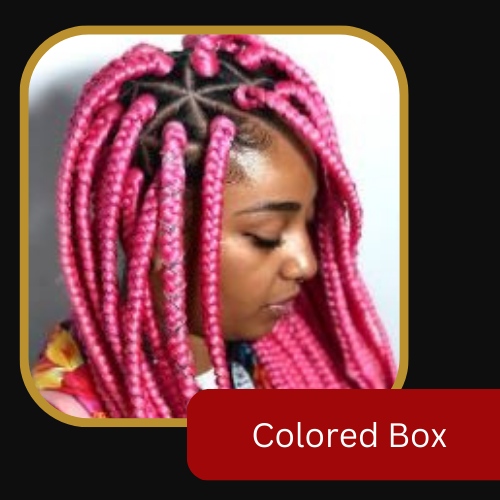 Black is always more beautiful on colored hair. This trend seems to be winning the hearts of black women lately. The poppy look of red, pink, and ombre box braids adds to the glow of brown skin.
Also Read: Regular Box Braids: Everything you Need to Know!
7. Twin Cornrows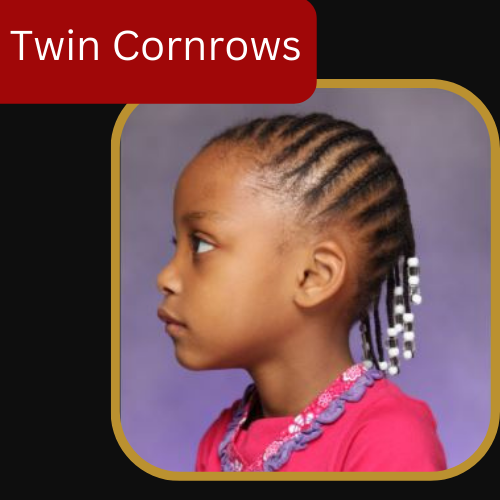 Cornrows never fade for the black woman. It only evolves. The twin cornrows are a trendy fashion statement for black women and are one you should look forward to in 2023. Here's a description for twin cornrows in three words; simple, classy, and stylish.
Also Read: Dreadlocks vs Cornrows: What's the Difference?
8. Asymmetric Bob
Asymmetric Bob was Rihanna's signature look, and she still wears it now and again, but it just doesn't lose its shine and glamor. This uneven Bob length hairstyle is a sure comeback style this year. You wouldn't be out of place wearing this to any event this year. 
Also Read: The Classic Shirley Temple Curls: Among Best Black Hairstyles!
9. Blonde Afro Curls
The beauty and uniqueness of a black woman's hair are its tight curls. Thanks to the creativity of our hairstylists, Afro curls are now worn proudly. A major Afro curl style that looks so fine on black women is the blonde with darker roots.
This trend just came on board, and lots of black women just can't be grateful enough for the privilege of natural curls to rock it this season. For this style, the hair is dyed a few inches from the root of the hair to the tip.
Also Read: Can Black People Have Red Hair? Facts And Misconceptions!
10. Faux Locs
Faux locs came into the fashion scene last year and received massive patronage from the black community and why not? It made us look our best. It was new but easy to embrace, and I think it's going nowhere this year either. It's here to stay I guess.
It is now styled with colorful threads, and bands, for a playful and casual look.
Also Read: Types of Faux Locs: What Are The Differences?
11. Colored Haircut styles
Did I forget to mention that most black ladies are giving up their long hair for shorter ones?
Yeah! That's a major trend this year, but not your usual low cut. Nah! This haircut style comes with colored toppings of gray, red, blonde, etc. It is easy to wear, and it also makes you look five years younger. 
Also Read: Can Black People Have Red Hair? Facts And Misconceptions!
12. Boho Knotless Braids
The boho and bohemian knotless braids are the same. The former just sounds easy for some and is now preferred by all. So, we all call it Boho now. So, boho came in, showing us a better way to wear the famous knotless braids— with curls!
Now, not at the end, but along the sides making it look like a whole bunch of curls. It is seeing us through 2023!
13. Puffy Ponytails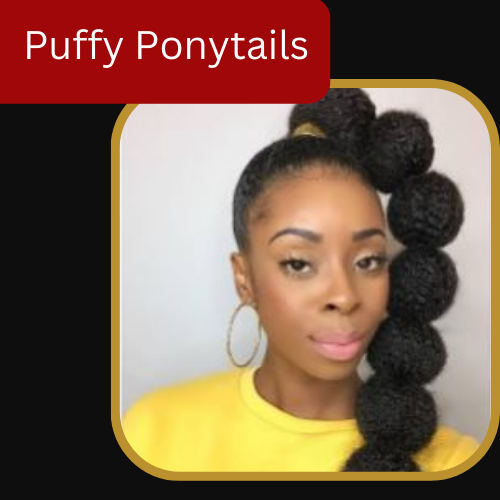 It's massive, it's stylish, and it is dramatic! Never have a black lady worn ponytails better. You can wear this to any red carpet-event, to class, and even to that birthday pool party!
With a pair of sunglasses on, you're set for any stage!
14. Curly Mohawks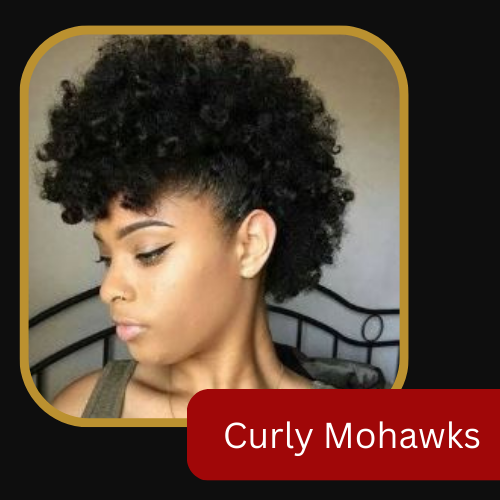 Curly  Mohawks are a kind of pixie cut. The major difference is that the amount of hair in a curly mohawk is more compared to a pixie cut. It sits beautifully on black women's hair.
Also Read: The Evolution of Fade Mohawk Dreads + Examples
15. Jumbo Box braids
You don't have to stay in the hairstylist's place for the whole day to look great. For jumbo box braids, it is, the fatter, the better. 
Also Read: How Long Do Black People's Braids Last?
16. Buzz Cuts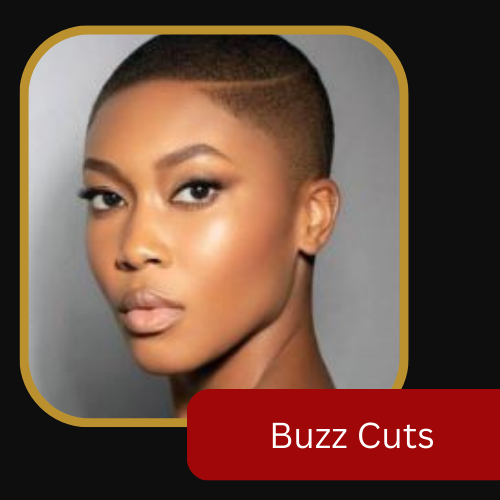 As daring as a buzz cut you may say. But, it is worth the dare if you ask me. Buzz Cuts are the best way to grow much more healthy hair. Buzz Cuts is the barber's way of attracting female clients too because more black ladies seem to be going for this style.
17. Dreadlocks
Just as braids never fade for the black woman, dreadlocks do not either. The great thing is that locks are now made into extensions. This means that you can wear dreads, and not tamper with your hair.
Artificial locks are super trendy this season. It comes in various lengths, sizes, and colors, but still has its natural look.
Also Read: 50+ Hot Dreadlock Hairstyles for Modern Women
18. Gelled-up updos
Gelled-up updos with extensions at the end are one of the hairstyle trends for this year. Though it is just tightly held up, the different choices of extensions to use at the end give you a different look all the time.
19. Braids with curls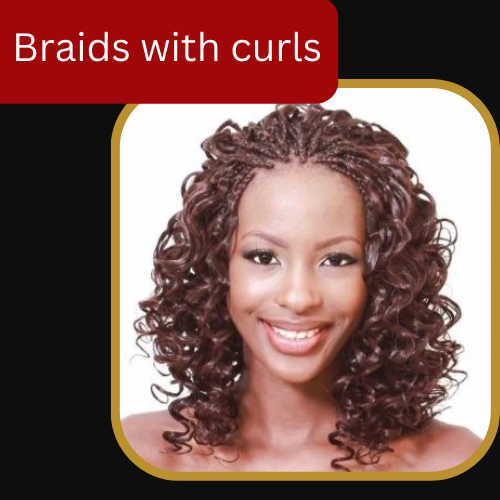 What a great way to wear curls even with afro-textured hair. This hairstyle is a half braid, and half bouncy curls type. This braids ad you can see from the image gives you a natural look though made with extensions.
It looks fabulous when complemented with gold-colored beads. This is a style you should try out this year.
Also Read: How To Do Black People's Braids
20. Beads on Braids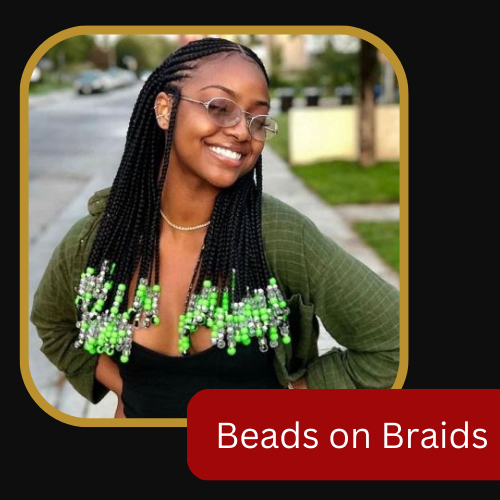 Beads on braids is a reinvented style from the 70s. It came back bolder, and better. Beads on braids don't seem to fade as they are used to complement different braid styles.
From cornrows to Ghana braids, knotless braids, and Bantu knots.
Also Read: Is Braids Black Culture? What's The fact
21. Blown-out Afro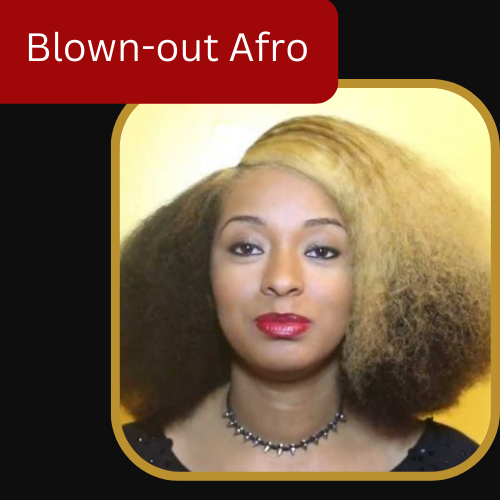 The black woman has come to realize how beautiful her hair looks when combed all out. Either combed backward or held up in a bandana.
This style reveals the volume and length of your natural hair which always looks so beautiful. It is a great hairstyle to wear to the beach.
Conclusion
Which among our top 21 hairstyles do you see yourself wearing either now or anytime during the year?
Do you think you can pull off the dary buzz cut? Remember that trend is what you're comfortable and confident in. Just ensure you go for what looks best on you!