Black people's braids last a maximum of 8 weeks and a minimum of 3 weeks. The longevity of use is either influenced by your hair texture or how you maintain your braids.
Originally, black people are known for thick, fine, black, full, coarse afro-like hair that curls upward. Most times the hair texture can be a little too much to handle, especially for some black hair types.
So, some blacks who find it difficult to keep up with the state of their virgin hair, rather straighten it out with hair treatment, particularly a hair relaxer. This helps to soften the hair, increase its length, and also contributes to the longevity of braids.
Box braids and Cornrows are most beautiful on blacks, however, due care will need to be given to keep them attractive, especially when done with an extension. Read on to know how long black people's braids last and how to keep them neat after being made.
How Long Should Black People Braid Last?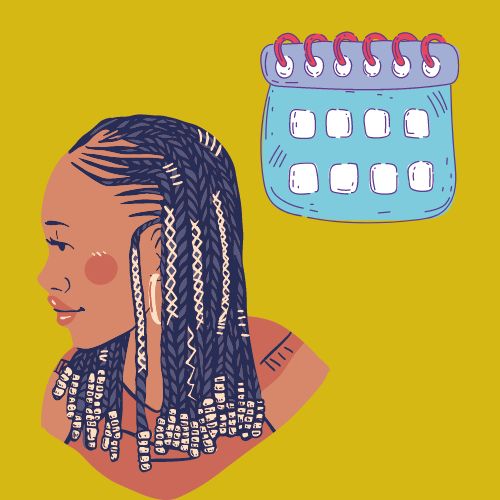 Braids are usually done with both natural hair and hair extension. One of the benefits of making braids is that it keeps your hair and scalp covered to enhance growth, and it also helps you avoid hair breakage which could come as a result of unnecessary combing.
As black folks, our braids last between four to eight weeks. Braids like cornrows, box braids, Senegalese twist, Marley twist, or micro braids look so attractive when they are new. However, braids gradually turn old with time since they get overshadowed by newly grown hairs.
Why Black People's Braids Last For a Short Time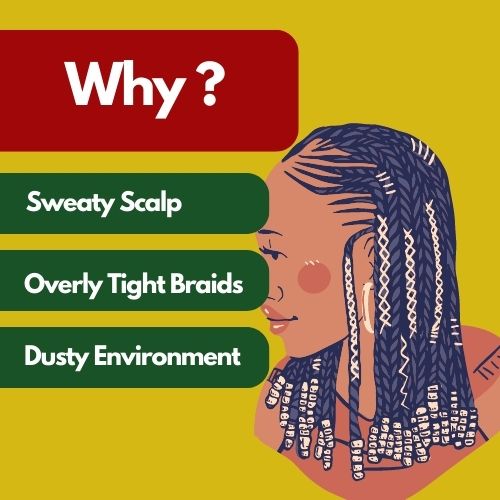 Below are the possible reasons why black people's braids last only between four to eight weeks
1. Sweaty Scalp
The sweaty scalp is one of the reasons why black people's braids don't last so long. Some black people have naturally sweaty scalps, while others tend to get sweaty due to their daily activities.
Whichever your case might be, if you notice that you sustain a sweaty scalp easily, you shouldn't keep your braids for too long.
Also, covering your hair for too long can make it smelly. So, if you are not covering your hair for bedtime, or administering some hair treatments then you should keep your braids open to receive sufficient air.
2. Overly Tight Braids
Having your braids done tightly shortens their longevity, but doesn't stop there, it also has the propensity of causing hair breakage.
Making braids overly tight will make the scalp dry and flaky, and this will make the braids look worn out within a short time. This is very unhealthy for your hair edges.
To avoid dry, flaky scalp, with old-looking braids, do away with overly tight braids. You should ensure that the stylist who installs the braids does not make them overly tight.
3. Dusty Environment
Staying long in a dusty environment also reduces the longevity of your braids. Dust results in piled-up debris and eventually turns into molds at the root of the braids.
Black people who live, work, or move around dusty environments often experience this hair challenge. So when next you intend to go into a dusty environment, you should try using a silky hair cover (bonnet) over your braids to prevent dust.
How Should Black People Maintain Their Braids to Last Longer?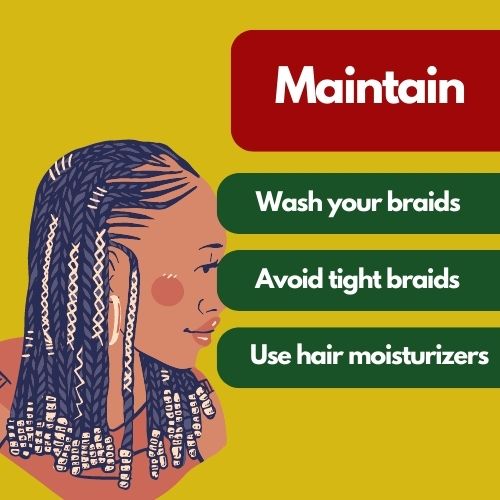 1. Wash your braids
You might not know this, but it is possible to wash your braids just the way dreads are washed. Although it is easier when the braids are done with your natural hair, yet even if you made them with extensions, it is still possible to wash them.
So, to keep your braids on for a longer period you would need to wash your braids within three weeks. Washing your braids ensures that oily and sweaty molds in your hair get washed off. You can also preserve the braids by applying hair treatments and detanglers after washing the braids.
2. Avoid overly tight braids
You should also ensure that your braids are not overly tight to keep your edges preserved. As Blacks, we have soft and delicate hair edges. So, you should be conscious of your edges while braiding your hair, particularly when using extensions.
3. Use hair moisturizers
Also, at intervals of one week, you should hydrate the scalp and braids. This is considered necessary because it has been observed that hair extensions tend to dehydrate natural hair. You could visit a good hair salon to get a moisturizing product that will keep your hair hydrated.
Frequently Asked Questions (FAQs)
Why should Black people maintain their Braids?
Maintaining your braids as black is essential for the growth of your hair and scalp. Braids help grow your hair but they can easily damage it as well. Dirty and messy hair can lead to hair loss, breakage, and flaky hair after extensions have been taken off.
How long should you wait before making braids?
So, say you just loosen your braids and you are so eager to make another because you saw a new style you love so much. You should wait for at least 4 weeks before making another.  
This is necessary because your scalp needs space to be recuperated and also to get enough air. Engaging your scalp in other tedious braids will definitely weaken your hair.
So,  although there isn't a rule that states that braids should be done a long time apart. It is essential to keep your hair healthy, and strong. 
How long should black people keep Braids for their hair to grow?
Keeping your braids on for four to eight weeks will help your hair grow in a healthy way. Braids are also very essential during winter, as they help to keep your hair moisturized while giving it room to grow.
Although long-lasting braids help your hair grow, it should be noted that grease and dust tend to build up at the root of your hair. So, you should not forget to give your hair the appropriate care and maintenance it requires.
It's Your Turn
Now that we've discovered how long black people's braids last, and how to maintain a lasting braid, what new steps would you take to make your hair last longer?