The name speaks for itself: 3-strand twist dreads styles. Basically, you can twist three individual strands of your dreadlocks together to form a single twist by wrapping them over one another.
With a two-strand twist, it adheres to the same philosophy. The difference is that for this one, you use three strands rather than two.
The appearance of this style will resemble a cross between braids and a two-strand twist. This hairstyle is gender-neutral as well. So, anyone with dreadlocks or even natural black hair can explore it.
How do I do the 3 Strand Twist?
Step 1:
First, you need to wash and clean your dreads. Then, dry your hair with a towel or heat.
Step 2:
Next, make several sections of your dreads, at least four, holding a bum side-by-side.
Step 3:
After you're done creating the sections, you can pick three dreads close to one another and twist them together
We'll call these strands A, B, and C to make things easier. The leftmost strand is A. Taking strand A, cross it over B and C. Next, take strand B and cross it over A and C.
Finally cross strand C over strands B and A. As you continue to go down the section, do the same thing.
Step 4:
When you reach the end of a section, you can use an edge control gel to secure it. After you have finished one section, move on to the next one. Keep following the same technique for each and every section.
Watch the YouTube video by loc'dandloaded to see the points outlined above.
55 Three Strand Twist Dreads Styles You Wish You Knew! [+Pics & Videos]
1. 3 Strand Twist with Shaved Side
If you're the type that admire dreads but don't want all the load that comes with it, shaving the sides while twisting the dreads is a sure style to solve your problem.
https://www.instagram.com/p/CvbCFZ4Mgl_/
Video Credit: By sharondaughterstudio
2. Multi-dyed Bantu Knots
Bantu knots are protective styles suitable for teenagers and adults alike. You can choose to dye them however you want.
3. Short half cornrow 3 Strand Twist
Sometimes, a half conrow on your dreadlocks with a 3 strand twist at the back gives it the impressions of voluminous.
4. 3 Strand Twist in a Bun
How about putting all those threads in a bun? It gives the feeling of freedom and peace on your shoulders.
5. Dreads in Jumbo Twists
Trying new styles like this jumbo twist is all about embracing the dynamics that comes with wearing dreads.
6. The Top Knot
You love having your dreads dance on your shoulders but craving a new style at the same time? Here you go with the top knot!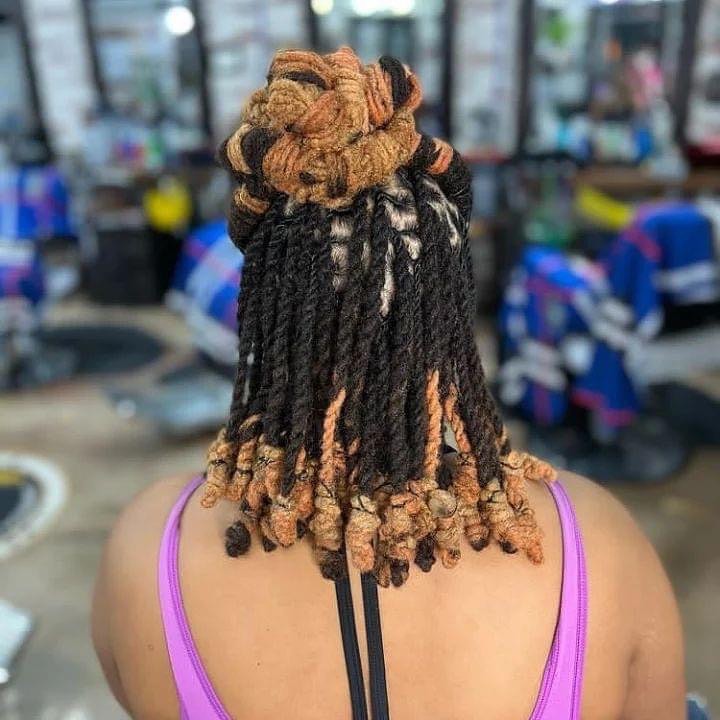 7. Short 3 Strand Twist with Dyed Spirals
Twist dread with golden hue spirals gives the impression of a boss with responsibility. Go for it!
8. Medium Twist Cornrow with loose ends
Don't know what to do with your voluminous sisterlocs? Try the medium twist conrrow with loose ends. Make sure the stylist gentle on your scalp.
9. 3 Strands All Back
When you're dreadlocks are longer beyond your shoulder, you'll want to keep everything behind with 3 strand twist all back.
10. Short Cornrow Loose Ends
A pony-like cornrow with your dread locs, leaving the ends dyed and loose is another way to style your hair.
11. The Half Pony, Half Down
Half pony, half down is a suitable dread style you can wear to any where especially in a professional setting.
12. 3 strands cornrow with pony
A pony twist on a long dread is unique, professional and beautiful.
13. Ear-length Dread Twist
As a beginner, or if you like to keep your dreads much shorter, you'll find this hairstyle comforting.
14. Twist Bottom Knot
You can also choose to twist your dreads and hold and knot it at the bottom for style and to prevent them from losing.
15. Side-Swept Braided Dreads
A simple way to style your dreads is twisting it side ways like a cornrow to keep them in place.
16. Twist Dread Botton Dyed
This twist dread is bottom dyed red and secured with a rubber band.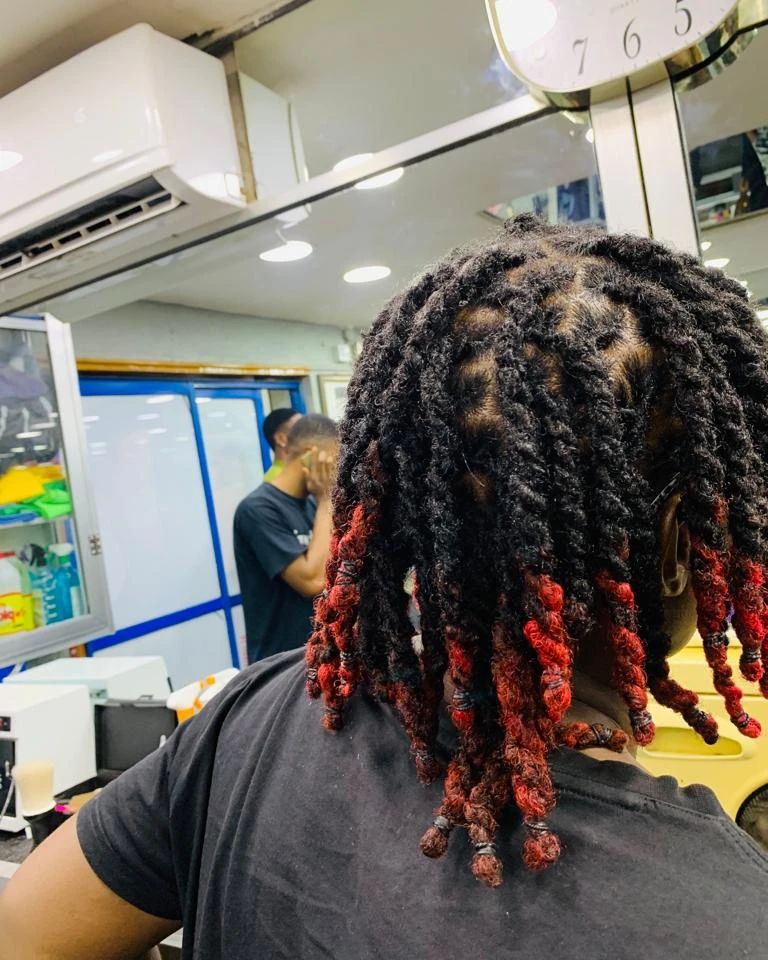 17. Twist Horse-Styled
There are many ways to style your beginner dreads in twist. How about holding it in pony like the horse hair? Don't forget to decorate with little beads of your choice.
18. Upper Hair Twist
If you have dreadlocks on only your upper hair, you can twist it and style it like the style below. Even if it's long.
19. Front-Shaved 3 Strand Twist Cornrows
If you want to go a little bit clean and classy, trimming your edges is supper cool.
20. Spiral Wavy Dreadlocks
You just want that wavy feel in your dreads sometimes with this look.
21. 3 Strand Twist White Bottom
What about going a little angelic with these button dyed twist? Your puppy will love the new you. lol
22. Sea-Horse Mohawk Dreads Style
A sea-horse dread style will give you added edge anf grace to walk to that show in confidence.
23. Half Up, Half Down
Neatly shaved edges, half bun, half down, is all you need to walk down that fashion aisle.
24. Half Up Twisted Dreads
A bun that styles to look like a pineapple will sure turn heads wherever you decides to slay.
25. Browny Puff Twist
One truth about dreadlocks is that, it gives you the option to style and make any statement you want. This style goes on any dress and any occasion.
26. 3-strand Double-Folded Dreads
You can style your dreads in horn-like options like this below, however, be careful on your edges.
27. Dyed Short 3 Strand Twist
Black is not always ideal, you gotta explore with brown dye too.
28. Dreadlock Tower
And here comes the 3 strand twist dreadloc styled tower to send you to Paris. Or where do you want to go? lol
29. Snail Shell Twist Dreads
This hairstyle reminds me of the unique shell of the snail. You can be creative with your dreads however you want too.
30. Canoed- Styled
Hold your dreadlocks canoed-style for the ultimate conform and simplicity. Ideal for new mums.
31. 3 Strand Twist with Beads
You add cowries and any other beads to your twist dreads. It doesn't take anything from you but brings out your blackness.
32. Twist High Pineapple Bun.
Besides, you can strand twist your dreads in a cornrow-like upwards and leaving the bottom loosed.
33. The twist in a Head Wrap
Check out these dreadlock wrap hairstyles by Keisha Charmaine on Youtube.
34. Short Dread Twist
This short dread twist in a brown dye is ideal for unisex hair styles.
35. Upper Dread Cornrowed Twist
Styling your dreads all back is okay for that dinner.
36. Twist with Curly Ends
If your hair is lighter than normal, try curling it using a hot water setting twisting it for a few days then lose it.
37. High Dreadlock Bun
You can hold two buns side ways with your dreads.
38. Intertwined Locs Style with Low Pony
Another way to style your sister locs is twisting them, then interlock them in a style like below.
39. High 3 strands Twist Dreaded Pony
This dread style features an interlock cornrow to give you a unique look.
40. All back corn row
Cornrow all back using dreads is an ideal style for both men and women.
41. Young King Twist Dreads
A young king dresses and dreads like this style.
42. Dyed 3 Strands Long Dreads
It's okay to dye the bottom of your dreads in mild colours like blond or brown.
43. Queen Jumbo
A queen knows best to show up styled a little extra than the others.
44. Cornrow Ring Pony
A simple yet sophisticated dread style you'll appreciate on your head.
45. Twist Dreads with Accessories
Adding accessories like these instead of rubber bands helps your dreads to stay in place.
46. Short 3 Strand Twist with ornaments
Sometimes, a few ornaments in your dreads add queeny vibes.
47. Palm Tree Dread Ponytail
Take your dread styles a notch higher with this palm-tree pony style.
48. Cornrow Side up
A cornrow side up help you slay that dress especially the sleeve is one-handed.
49. Cornrow, Middle up
How about a middle-up bun with a cornrow while leaving three to five twists at the edges?
50. Side Cornrow Twist
Your stylist can also help you cornrow your twists from the back of your head to the from, losing the ends to one side.
51. Long 3-strand twist dreads
Is your dreads too long to hold a bun? Twist them instead.
https://www.instagram.com/reel/CvgYZvrNN3Z/?utm_source=ig_web_copy_link&igshid=MzRlODBiNWFlZA==
Video source: Justlocs, IG
52. Moon Pony Twist
How about carrying a moon-like style on the upper layer of your head and leaving the rest down? Yep! Try the moon pony twist.
53. Short Half up, Half down
You an still half up, half down your dreads even if they're are short.
54. Twist Pony Curls
A curly bottom dread especially in pony reminds you of your daughter or childhood. It's time to revisit memories with your dreads.
55. Bob Length Twist
If your dreads are shoulder long, you can achieve this style by knotting the bottom.
There you have it! Which ones do you like most and plan to wear soon? Do share with us via the comment.