Criss cross knotless braids offer a stylish twist on traditional braids. Black women have been carrying them for ages.
Criss cross knotless braids are also known as rubber band braids. The hairstyle features a criss cross pattern at the front with the help of rubber bands. They can last up to 2-4 weeks, depending on which style you are going with.
So yes, I have seen many black girls on social media flaunting their crisscross braids in a unique manner. This article is all about that. I will take you through 30 crisscross knotless braids style which you can also rock easily.
Come with me!
Also Read related:
Top Criss Cross Knotless Braids
1. Red Boho Criss Cross Knotless Braids
Long braids are the charm of black ladies. Think of slaying them with a Boho touch and front crisscrosses. Want to add more spice? Get them dyed red. It's a one-of-a-kind style that gives you a monotonous and sexiest look.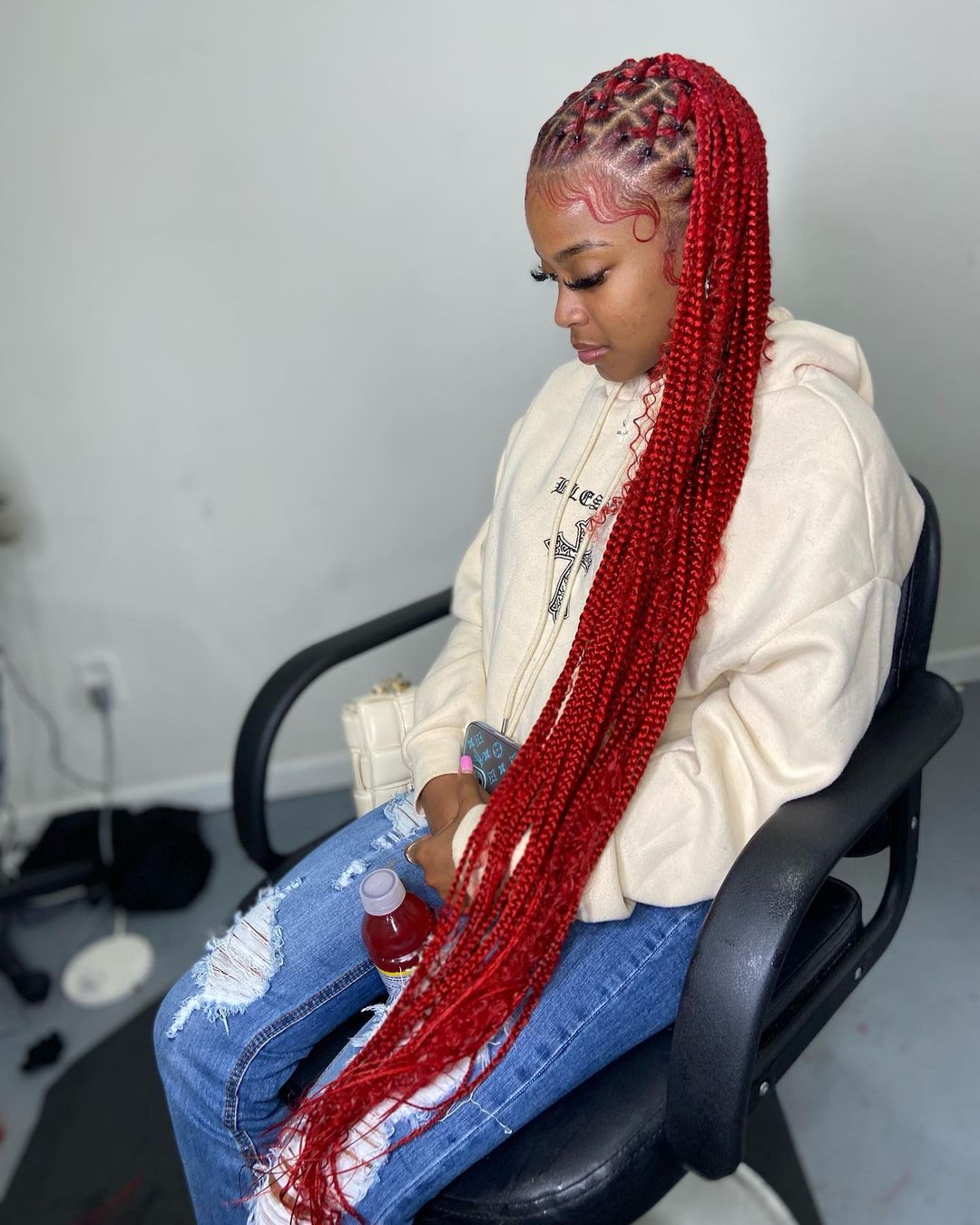 2. Medium Criss Cross Knotless Braids
Medium criss cross knotless braids is one of the sophisticated and decent styles that anyone can carry. The reason is that this classic option is a favorite one of black girls because of its enduring popularity and undeniable glamour.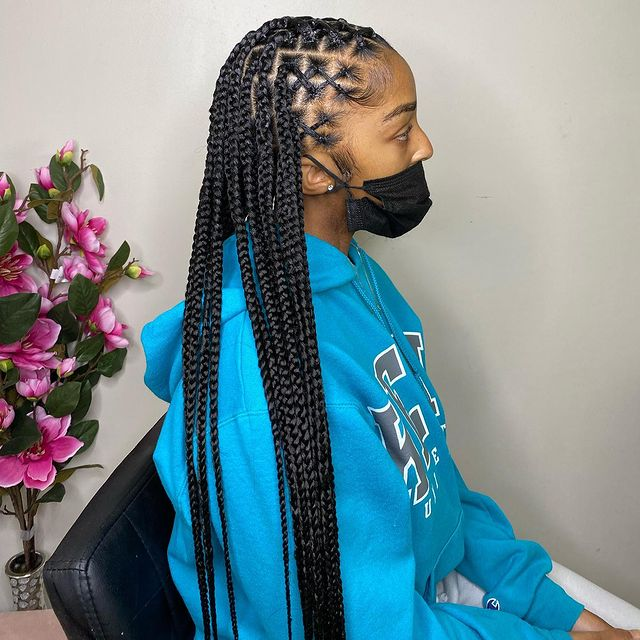 3. Boho Criss Cross Knotless Braids Ponytail
Why don't you think of taking your knotless braids to the next level by adding a touch of curly flairs to the end? This style seamlessly combines the simplicity of braids with the playful bounce of curls. The result is a heavenly fusion of the two. Tie them in a ponytail to be chic!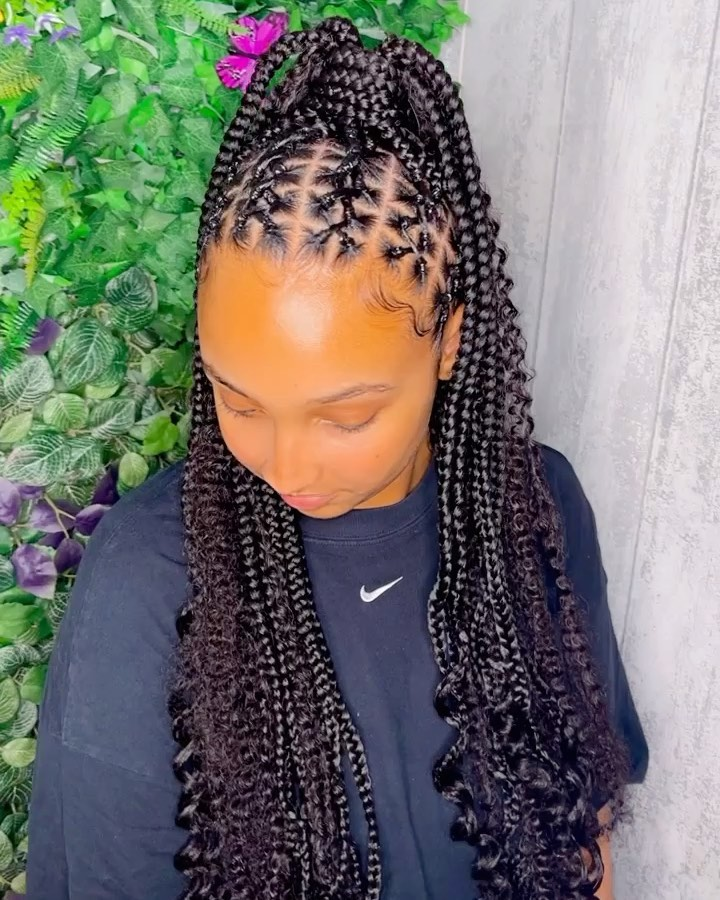 4. Chocolate Criss Cross Knotless Braids
Adding one custom color to your knotless braids is an idea of decency. Chocolate is the shade that always goes right on black ladies. Try this to add structure and depth to your criss-cross knotless braids.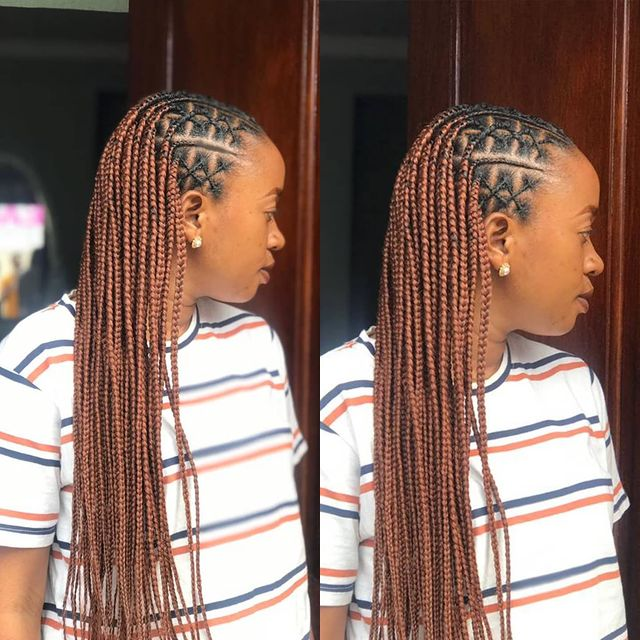 5. Pink Mickey Criss Cross Knotless Braids
Jolly girls on the streets are mad about this style. Look at this style, it's quite unique and bold. The braided ears on the top of the head are not only cute, but something out of the box.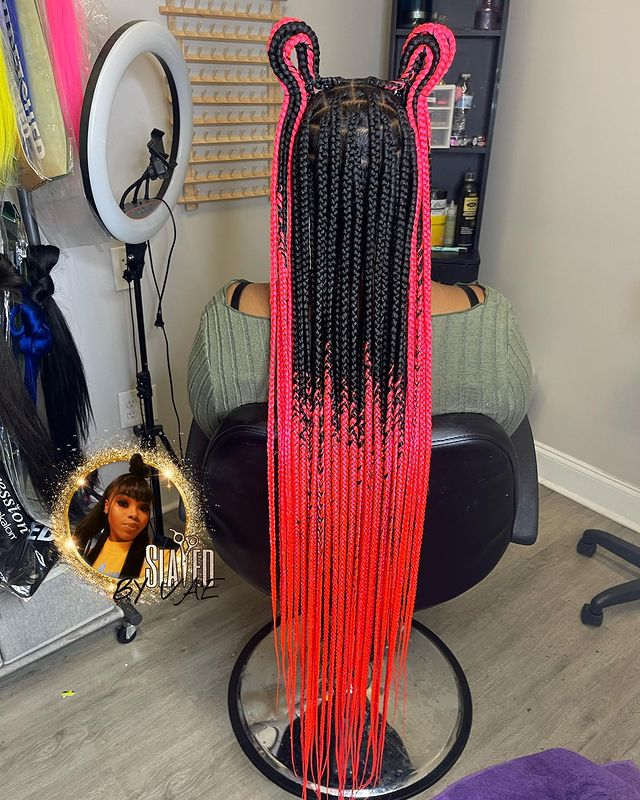 6. Blonde Peek A Boo Criss Cross Knotless Braids
While classic black braids have held their throne for some time, incorporating blonde strands into your Criss Cross knotless braids boosts their visual charm significantly.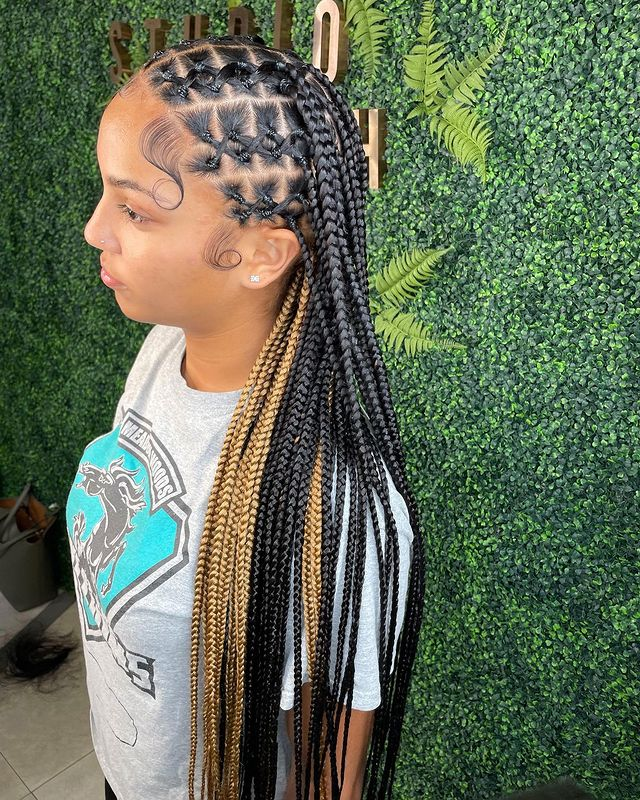 7. Criss Cross Knotless Braids with Side Stitches
I think the world of hairstyle experiments has no boundaries. Thus, opting for Criss Cross knotless braids doesn't mean to stick on one style. Along with the crisscrosses, you can also try side stitches. Be boundless!
8. Sharp Blonde Criss Cross Knotless Braids
Hide a secret of sharp blonde braids under your black braids. Gel-packed front criss cross pattern with neatly done black and blonde braids is the perfect way to flaunt your radiating personality.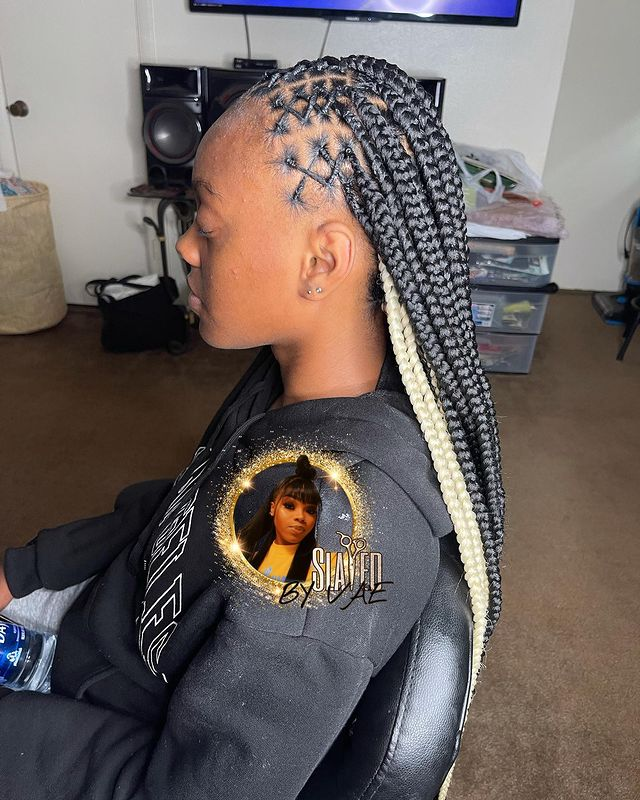 9. Criss Cross Knotless Braids with White Bands
Enhance your look by adding white rubber bands to your criss cross knotless braids. This is something you may not see many ladies wearing. So yeah, the rarer the style, the more appealing it is!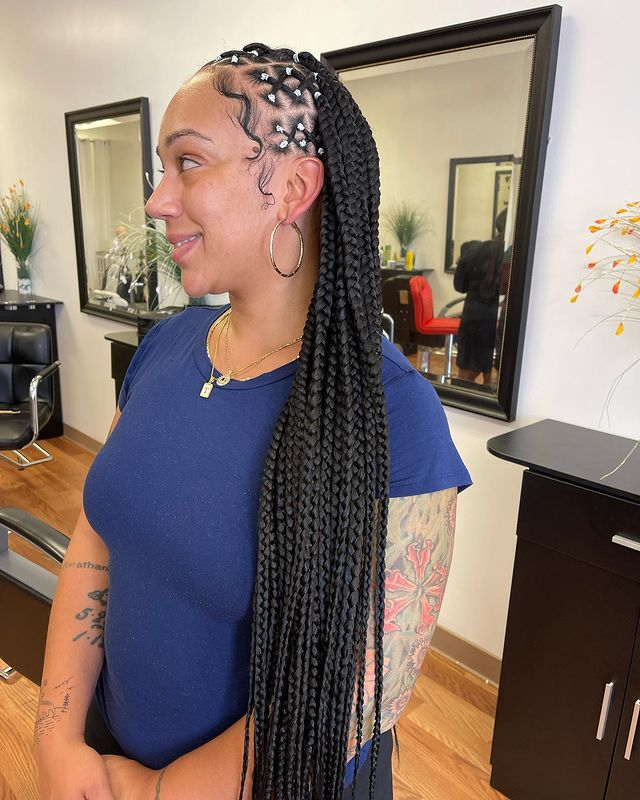 10. Mahogany Jumbo Criss Cross Knotless Braids
Mahogany color gives a timeless and elite feel. Is this me or do you think the same? If yes, let's add some royal look to your criss cross braids with a mahogany shade. If you pay close attention, you can see the girl has used rubber bands of different colors, it's making her hairdo clearer.
11. Burgundy Criss Cross Knotless Braids
Burgundy is a shade where anyone can get flat. Criss cross knotless braids with a touch of burgundy dye is a choice that keeps you ready for any event, whether is a dinner date or a convert.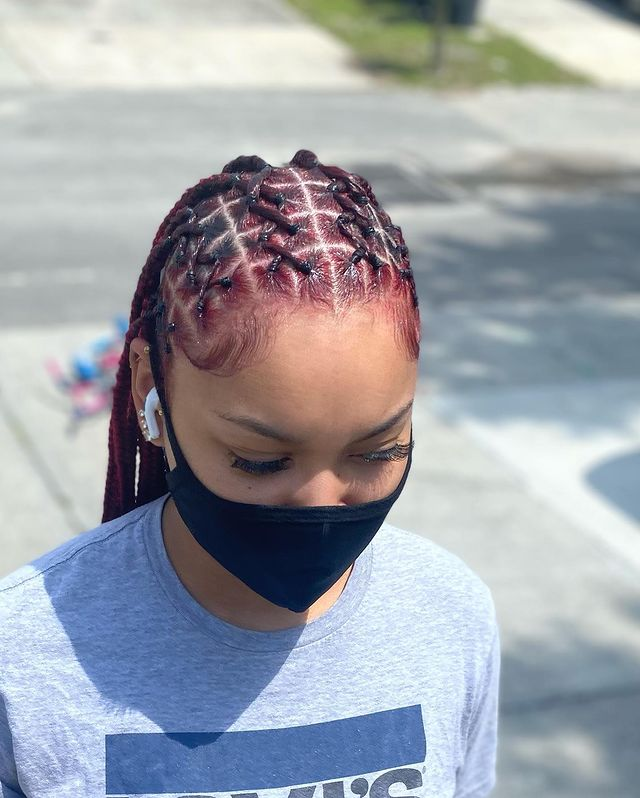 12. Rainbow Criss Cross Knotless Braids
The infusion of different colors is undoubtedly a captivating thought. This is the growing trend among black women who are embracing, vibrant, multicolored braided hair. So when it comes to selecting the shades, I advise you to opt for neon shades like this girl in the picture.
13. Neon Green Criss Cross Knotless Braids
Do you want to add a pop to your criss cross braids? The time is here. Add a splash of neon green color to your black braids. Now, you can rock every occasion easily!
14. Redwine Long Criss Cross Knotless Braids
Some black ladies think that long braids are difficult to style. No baby, that's not the case. You can style them with the alluring shade of red wine. Make sure to keep your criss cross knotless braids thin so your head won't feel heavy.
15. Jumbo Criss Cross Knotless Braids
This style effortlessly strikes a balance, providing you with the ideal combination of statement-worthy length, volume and hassle-free maintenance.
16. Criss Cross Knotless Braids with Curls and Stitches
Black teenage girls often get bored with one style. This style is the solution. A combo of criss cross braids, stitches, and curls is a versatile option to carry at school, college, or even at night outs.
17. Criss Cross Braids with Hair Clips
A princess look is possible when you add some cool hair clips to your criss cross knotless braids. Make a crown with clips exactly where the criss cross ends.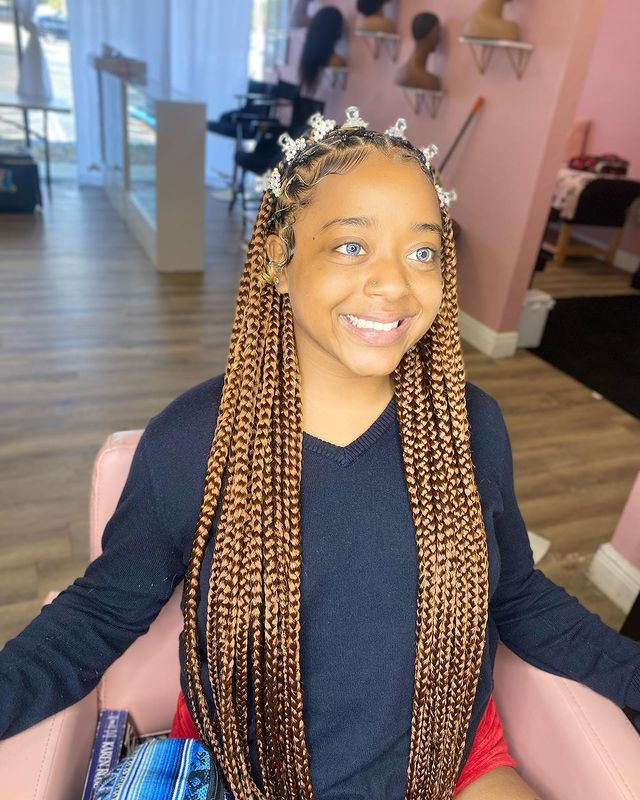 18. Three Bantu Knots Knotless Braids
Triple the bun, triple the style! This hairstyle merges the charm of three Bantu buns with the elegance of criss-cross knotless braids, resulting in a lively and fashionable look.
19. Tribal Criss Cross Knotless Braids
Give yourself a tribal look with this option. The tribal criss cross pattern on the top of your head is taking knotless braids to the next level. A structured yet stylish look!
20. All in One Purple Criss Cross Knotless Braids
Did you think of incorporating many elements into one hairstyle? This style is proof that YOU CAN. Be chic by having purple knotless braids with criss cross, stitches, and beads. It's best for short to medium braids.
21. Pineapple with Beads
When we talk about braided hair, our minds often tend to adorn the tips with vibrant, eye-catching beads. Beads serve as the ideal embellishments to elevate your braids, transforming your crisscross pineapple knotless hairstyle into something truly spectacular.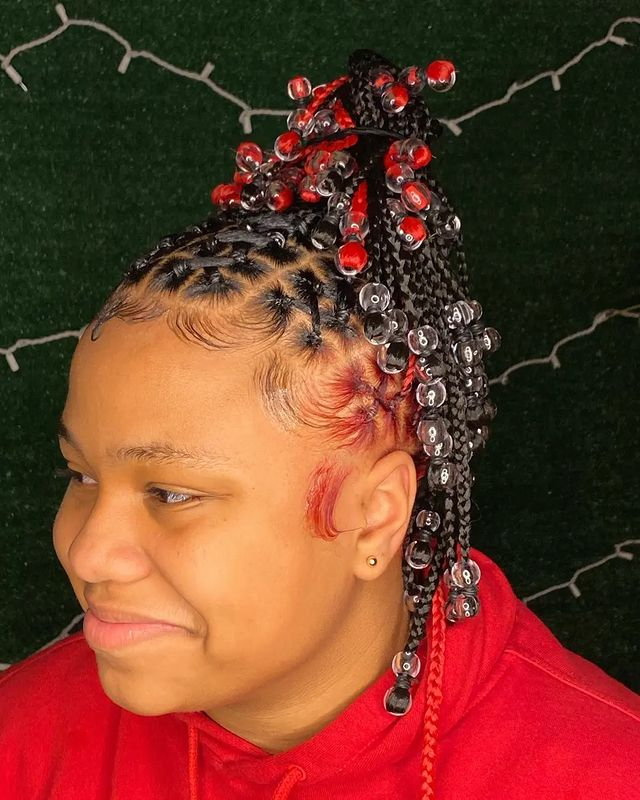 22. Floral and Bantu Knots with Open Hair
Having braids and loose hair at the same time is no longer a strange thing. Tie your front hair in criss cross braids with Bantu knots and let the loose hair fall behind. Keep in mind that you need a really good hairstylist to do this. Also, you can add a touch of floral braid at the side to be more versatile.
23. Criss Cross Knotless Braids Bun
If you are the one who likes to keep your hair neat, tidy, and tied every time, gather all your Criss Cross knotless braids gracefully into a bun. Side stitches will add an extravagant touch.
24. Golden Criss Cross Medium Knotless Braids
A golden touch on black always wins whether it's about hair or skin tone. Also, you can see how nicely the "X" pattern is done. Clear and composed! Next time, when you think of golden crisscross knotless braids, take this picture as an inspiration
25. Marshmallow Jumbo Criss Cross Knotless Braids
Criss Cross Knotless Jumbo Braids might seem heavy but they are not. They create a lot of volume and density. In addition, for a more passionate look, you can add a marshmallow effect to them. All you have to do is ask your hairstylist to add light pink and golden shade to your braids.
26. A Blend of Criss Cross Goddess & Knotless Braids
Create a new look while mixing Goddess and Knotless Braids with Criss Cross at the front. The result is alluring!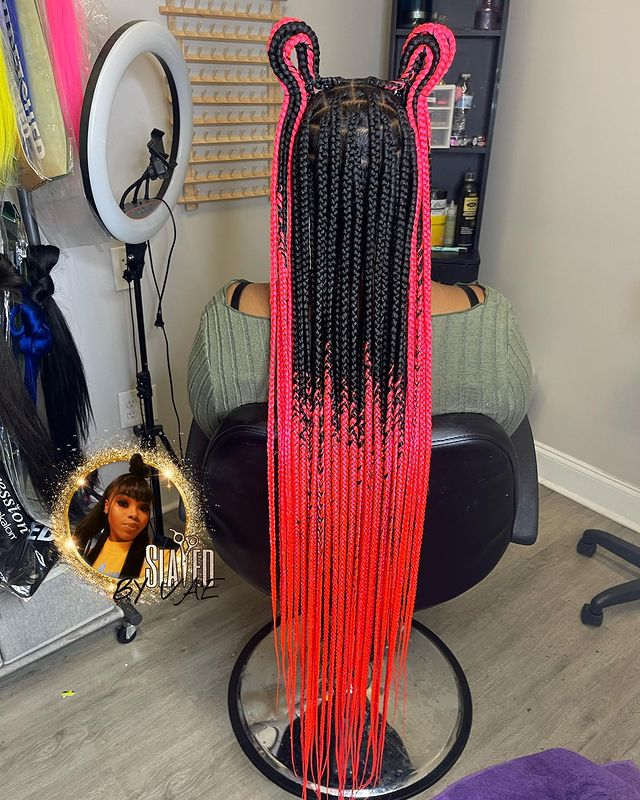 27. Dip in Blood Criss Cross Knotless Braids
Infuse your criss-cross knotless braids with a vivid burst of blood-red vibrancy, and witness the transformation of your hair into a sexy masterpiece. This style celebrates your distinctive personality and adoration for all things brimming with color.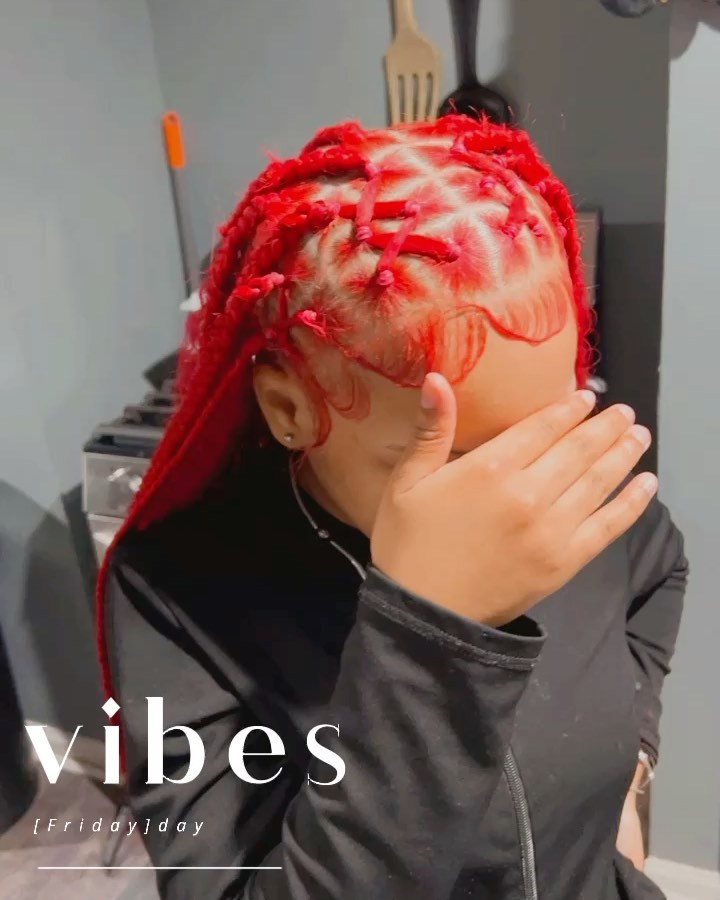 28. Freestyle Criss Cross Knotless Braids With Beads
Carry a bold and edgy twist in your hairstyle with this big "X" pattern and a striking duo of colors and beats. Let your black and red braids channel the captivating balance of yin and yang, making a stylish statement that speaks volumes!
29. Criss Cross Jungle Knotless Braids
Criss Cross Jungle Braids are not so common, but it is an excellent choice for those looking for a protective hairstyle. This image is a perfect example. The criss cross pattern and jungle braids are pretty appealing.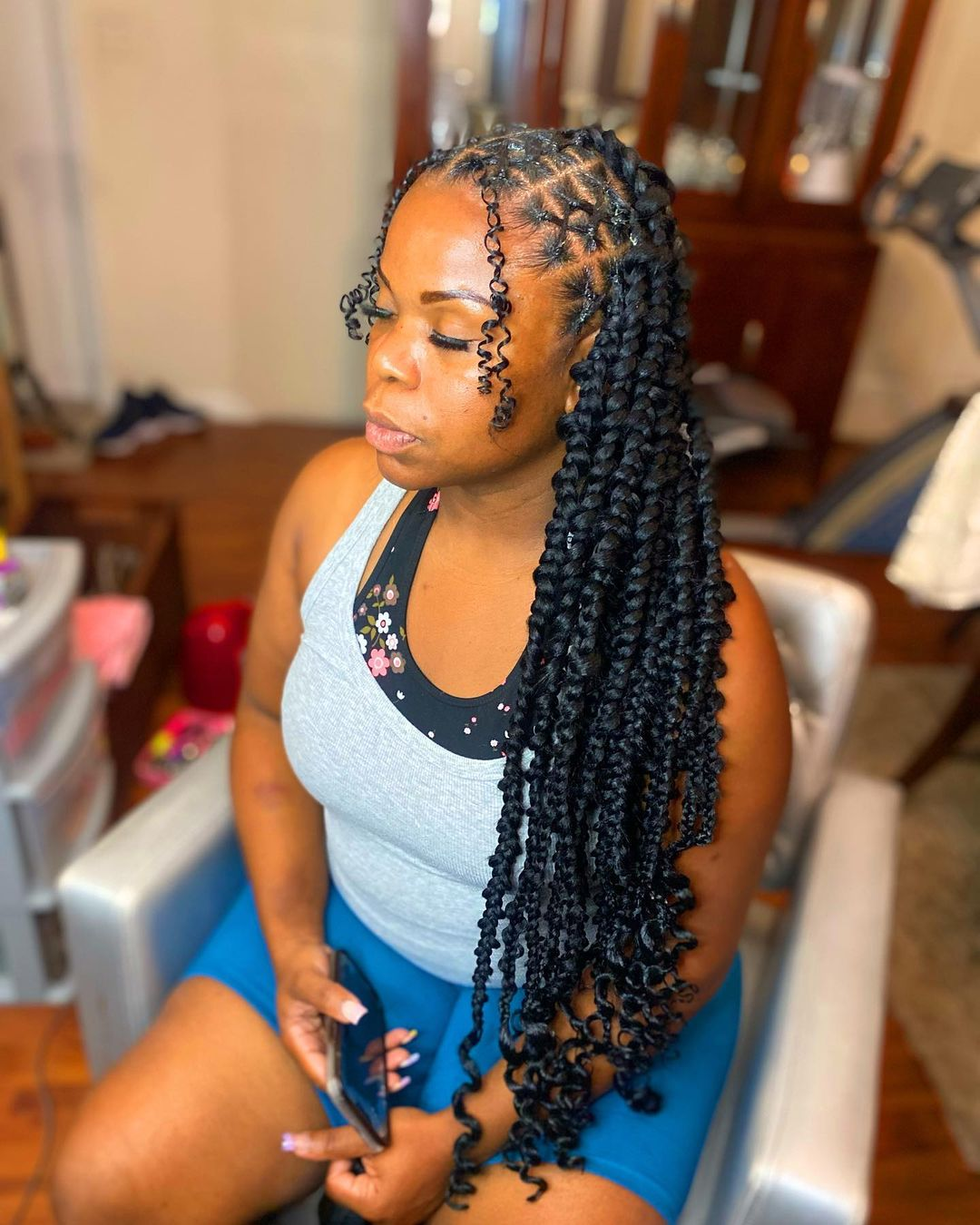 30. Half Up Half Down Criss Cross Knotless Braids
Don't limit your styling options just because you have braids; instead, embrace the simplicity of a top knot or experiment with a charming half-up top knot style. Your criss cross knotless braids can effortlessly rock this look, leaving your hair thanking you for the creativity.
Now, it's Your Turn!
With criss cross knotless braids, your trendsetting persona will undoubtedly catch the eye of those around you. This versatile hairstyle offers boldness and cuteness.
Don't be afraid to try the fun of various accessories, or beads for an added touch of radiance. When it comes to styling, your imagination is the sole limit, and the possibilities are boundless.
Which is your favorite?