Medium bohemian box braids is an evergreen braiding style that has a carefree, natural vibe with a touch of artistic flair. The individual braids, which are chunky and slightly undone, give a relaxed and boho-chic feel.
Bohemian braids often use extensions to add length and thickness, creating a striking visual impact. Also, it can be styled and plaited in various colors or textures to make it truly unique. It's a fantastic way to express your style while maintaining that effortlessly beautiful look!
What are Bohemian Box Braids?
Bohemian braids are a chic and relaxed hairstyle. This hairstyle was first seen in the 1960s and 70s, originating from Bohemian culture, and it embraces a carefree essence.
They consist of multiple braids interwoven with loose hair, creating a boho-chic texture. There are various bohemian styles to choose from, such as the classic three-strand braid, fishtail braid, or Dutch braid. Best rocked during music festivals, beach days, or casual outings, these braids exude an effortless yet stylish appeal.
Boho Box Braid styles also let you express your unique personality while staying fashionable. Whether you prefer a laid-back vibe or an eye-catching statement, there's a style here to suit your mood and occasion!
Also Read related:
50 Medium Bohemian Box Braids
1. Bronze Highlighted Boho Box Braids
These braids have a radiant touch with subtle bronze highlights, catching the light beautifully. To wear them, simply let them flow naturally or style them into a loose updo. Achieve the look with braiding extensions and adding bronze highlights for that sun-kissed charm.
2. Curly Blonde Box Braids
A fusion of elegance and playfulness, these braids boast curls at the ends, adding bounce and uniqueness. Let the curls frame your face for a flirty vibe. Get these braids by using pre-curled extensions and finishing with a blonde shade.
3. Hip-length Chunky Bohemian Box Braids With Strings
Make a statement with chunky braids, and add colored strings for an artsy twist. You can also show off the length by wearing them down or in a low ponytail. Thicker extensions and colorful strings are the best options for a funky flair.
4. One-Sided Short Bohemian Bob
This asymmetrical bob screams chic! Sweep the braids to one side for an edgy look. You can create this style using shorter extensions, angling them to form the bob shape with a side part.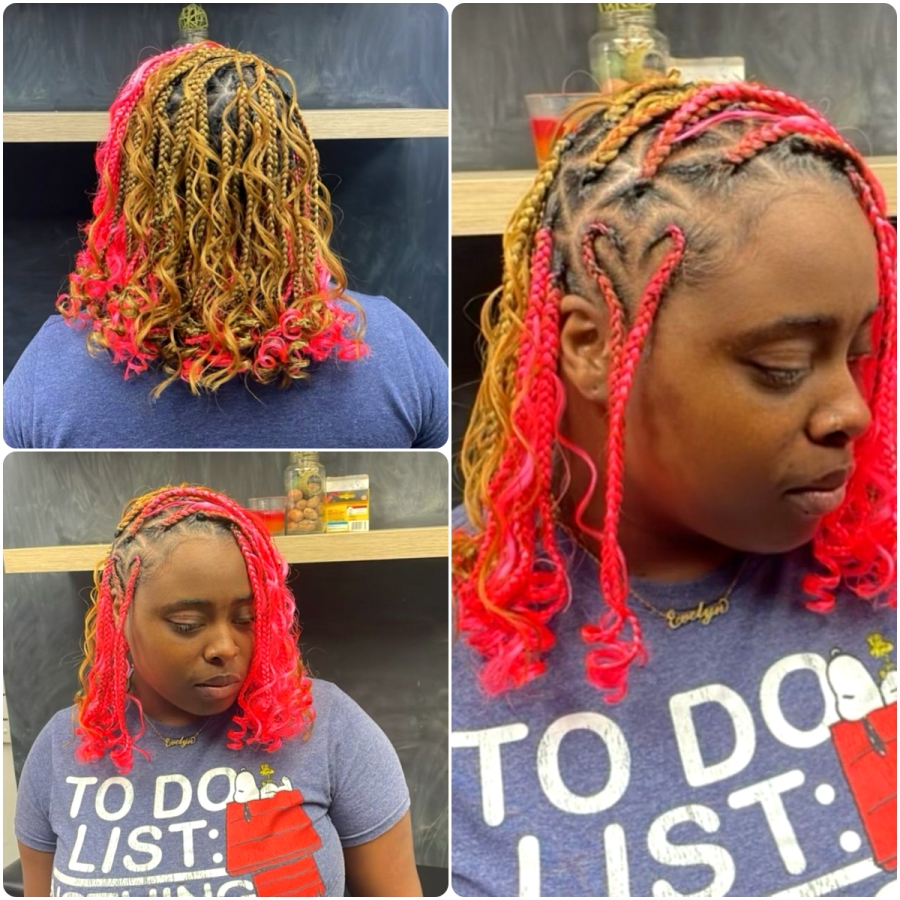 5. Bohemian Box Braids Updo
Elevate your elegance with a braided updo. Gather the braids into a bun or a high ponytail. To create this look, simply secure the braids into an updo with bobby pins and hair ties.
6. Blonde Bohemian Box Bob
Shorter and sassy, this bob exudes charisma. Wearing this blonde color adds a modern twist to your look. You can achieve this look by using shorter blonde extensions and cutting them into a bob shape.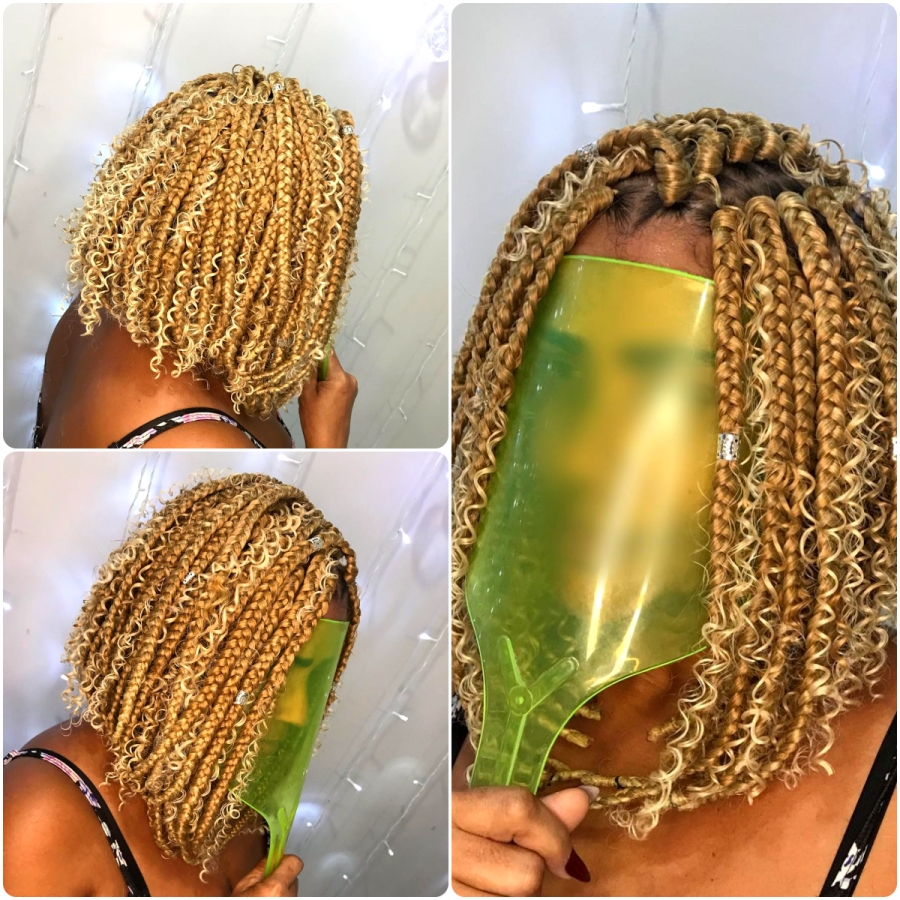 7. Bohemian Box Braids and Cornrow
Combine the best of both worlds by adding cornrows to your box braids. Create an interesting pattern and texture mix. To achieve this, section off some braids to create cornrows and intertwine them seamlessly.
8. Bohemian Top Knot
Elevate your braids into a regal top knot. It's easy: gather the braids into a high ponytail, twist them into a bun, and secure them. Add a decorative hairpin for extra charm.
9. Triangular Cut Bohemian Box Braids
Go geometric with triangular-cut braids! They're attention-grabbing and stylish. You can create this style by carefully cutting the ends of the braids into a triangular shape before plaiting.
10. Maxi-Sized Bohemian Box Braids
For long, maxi-sized braids, go for maxi Bohemian box braids for that dramatic effect. Flaunt these braids loosely or create a high ponytail. Use longer extensions and braid them down to achieve this look.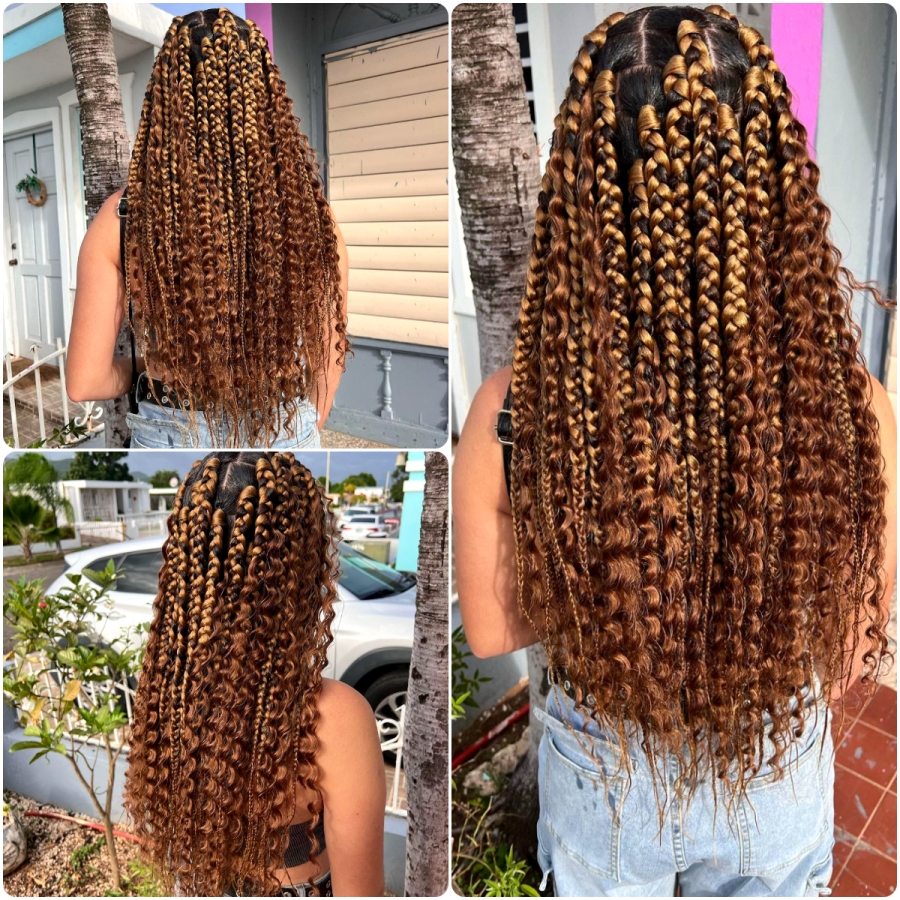 11. Bohemian Cornrow in a Bun
A mix of cornrows and braids in a bun offers texture and elegance. Braid some sections, create cornrows on others, and secure them into a chic bun and you're ready to slay!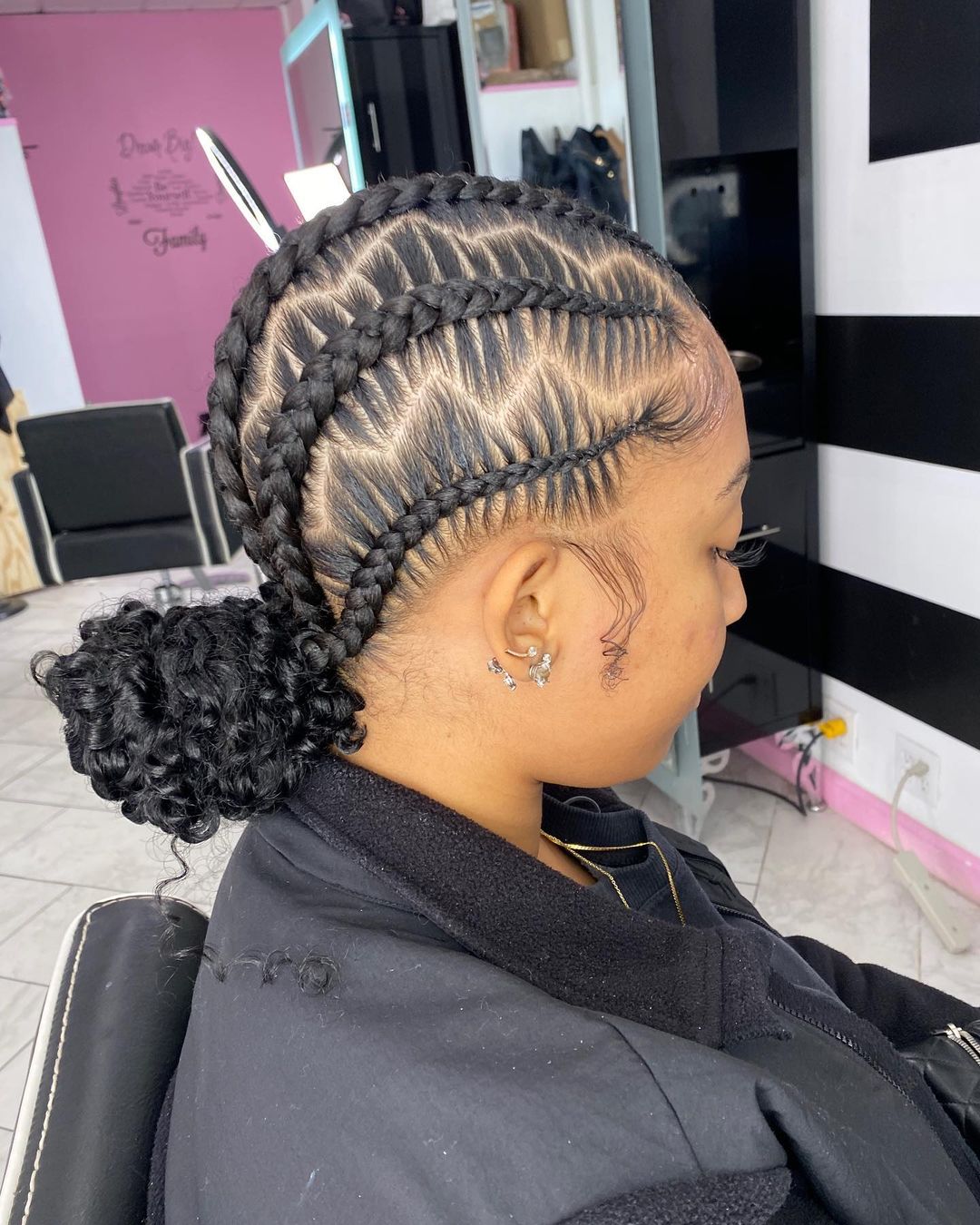 12. Tiny Bohemian Box Braids
These are all about intricate detailing in smaller sections. They're perfect for a delicate yet captivating look. Embrace your inner boho goddess and let these tiny braids dance freely.
13. Short Bohemian Box Braids With Beads
Short braids don't mean you sacrifice style! Add beads for a playful touch that moves with you. These braids are ideal for a chic, carefree vibe.
14. Long Curly Bohemian Box Braids
Merge the beauty of curls with the charm of boho braids. The length gives you versatility for styling, making it a go-to choice for a dreamy, free-spirited look.
15. Curly Bohemian Braids
With curls closer to your scalp, this style is perfect for those who want a breezy, low-maintenance look. It's a blend of edginess and elegance.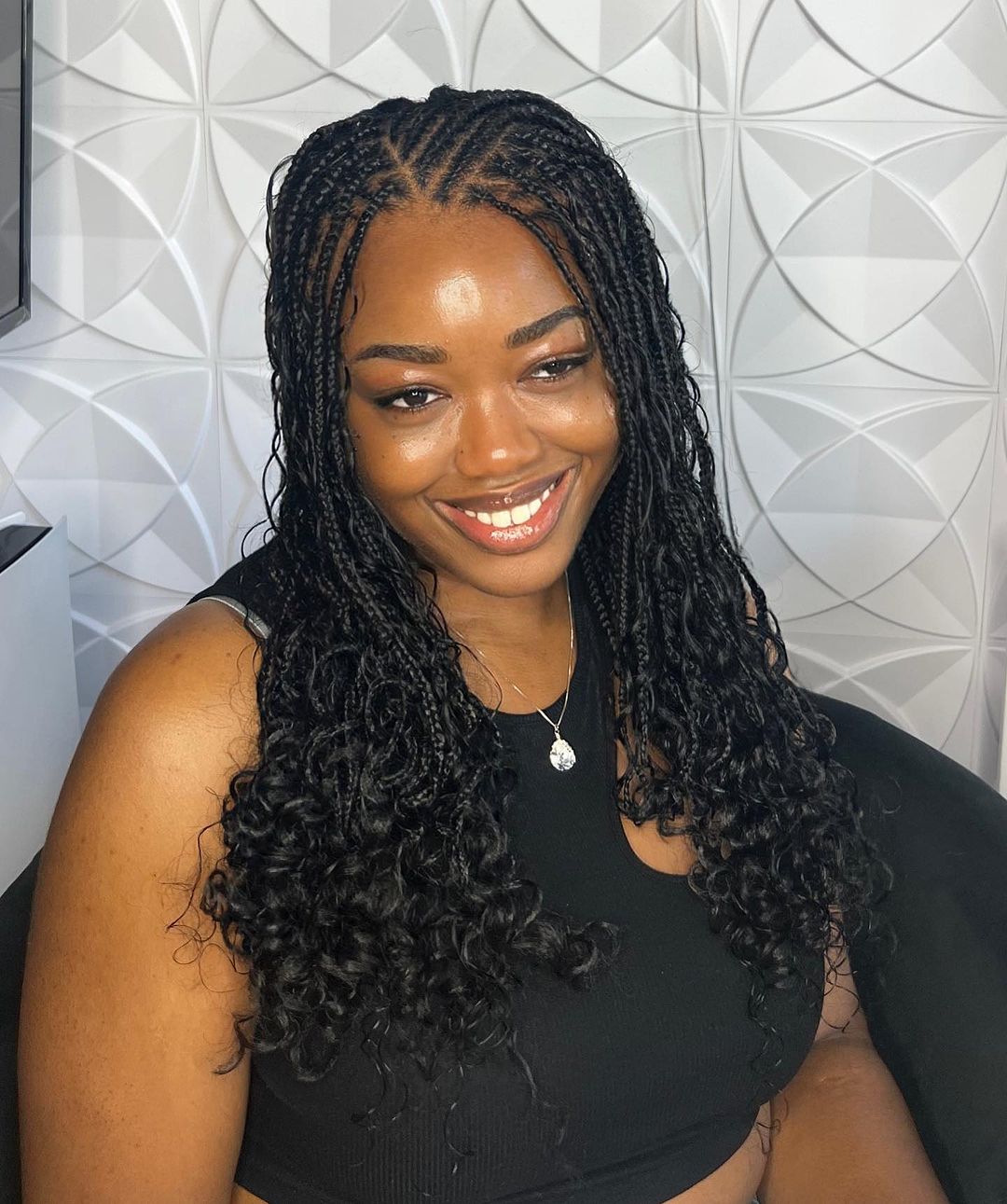 16. Burgundy Bohemian Braids
Add a pop of rich color to your braids for a bold statement. Burgundy tones infuse a touch of vibrance, making heads turn wherever you go.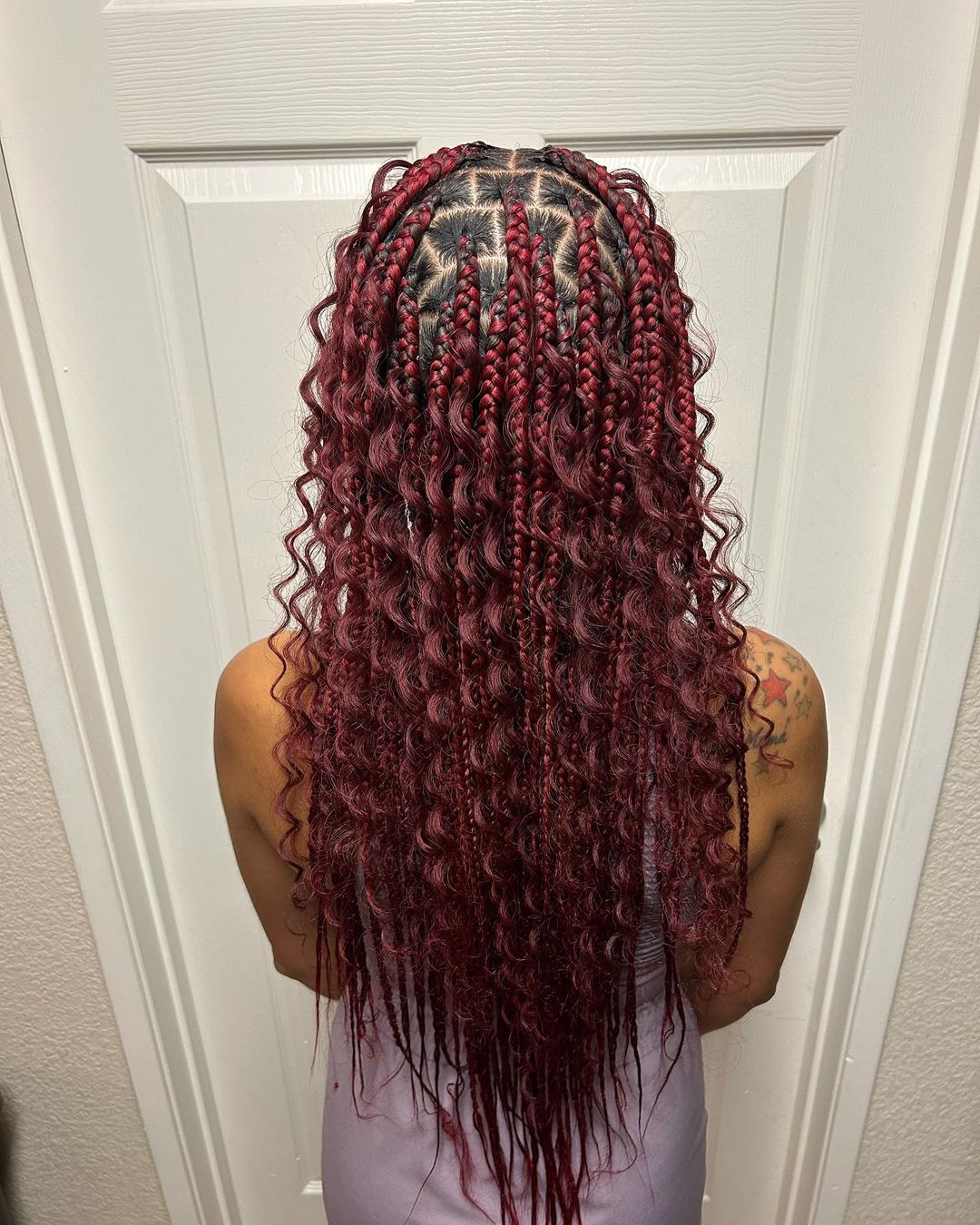 17. Waist Length Medium-Sized Bohemian Braids
A classic choice that exudes elegance. The medium-sized braids, falling to your waist, give you a balanced blend of style and grace.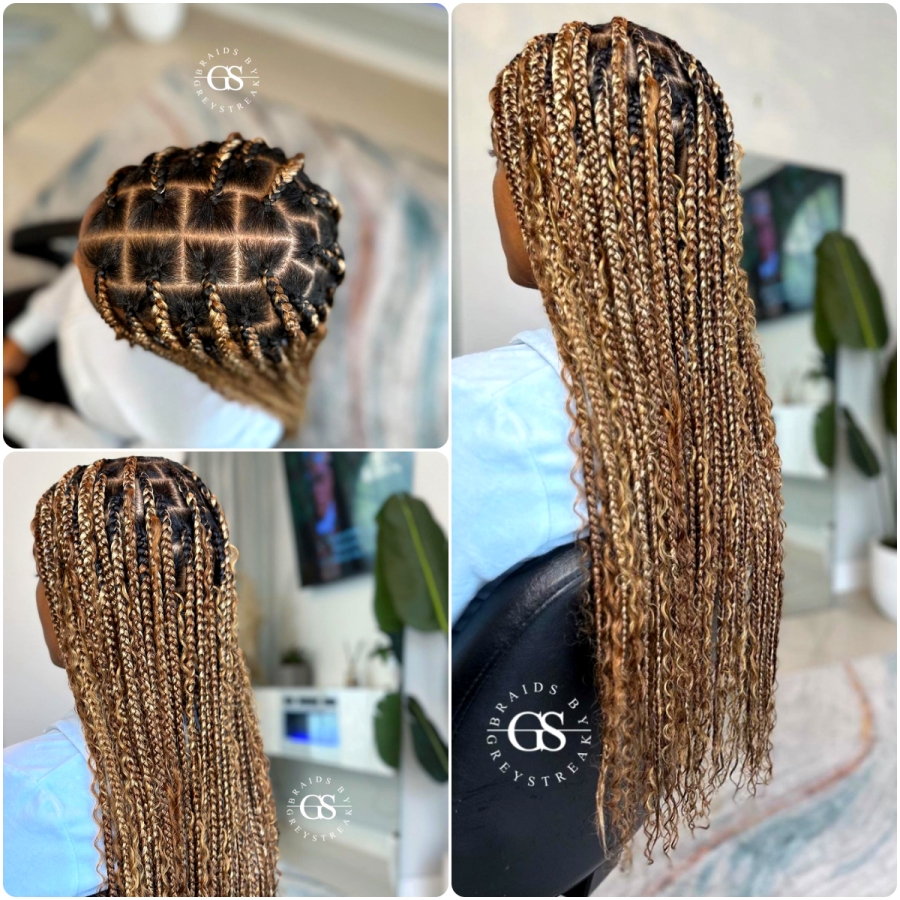 18. Long Grey Bohemian Braids
Gray is the new gorgeous! These long braids in a stunning shade of gray add a contemporary twist to the bohemian style, making it a unique head-turner.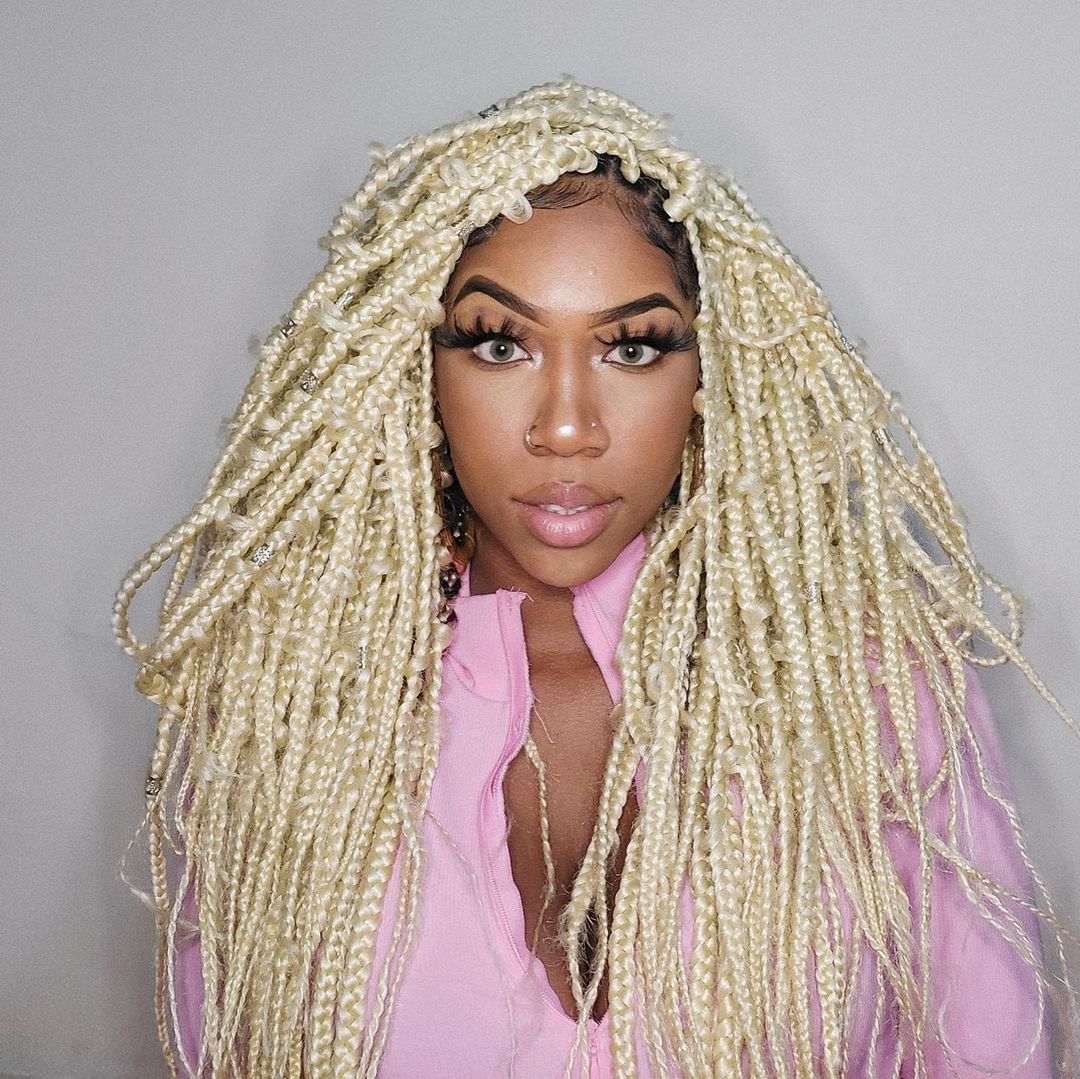 19. One-Sided Long Bohemian Box Braids
Make a statement with asymmetrical braids falling predominantly on one side. This style oozes confidence and is perfect for those who dare to stand out.
20. Side-Swept Bohemian Braids
Why not add a bit of asymmetry to your braids by sweeping them to one side for a look that's effortlessly charming and showcases your playful personality.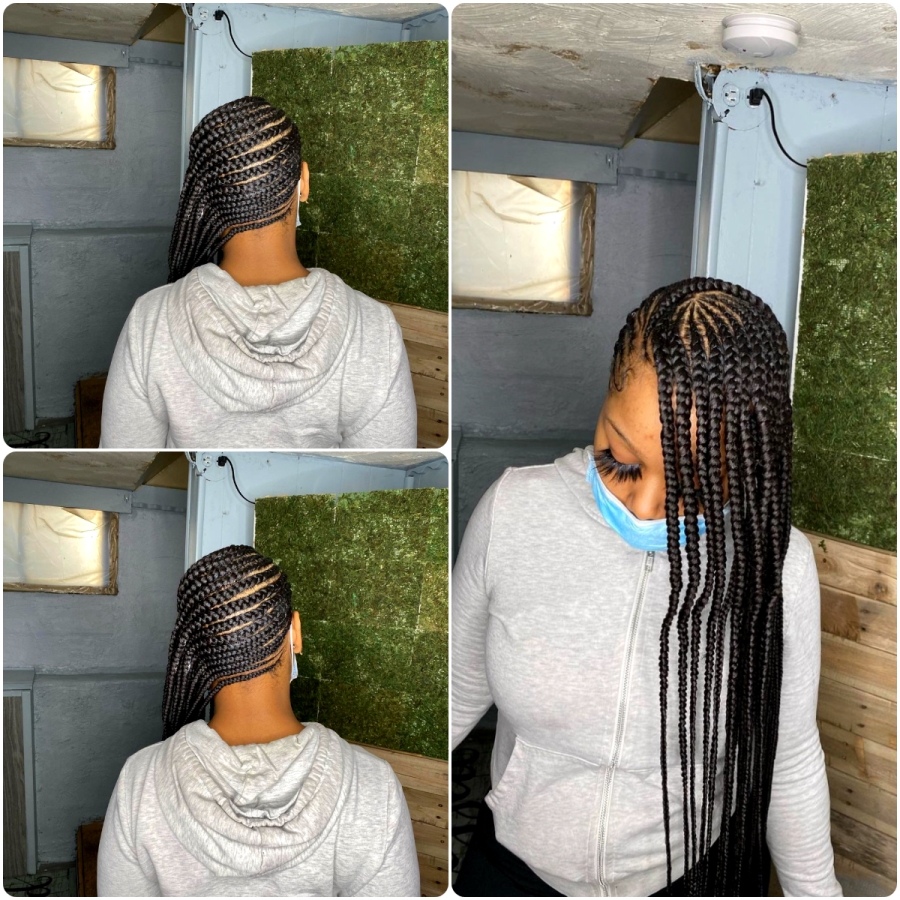 21. Half up Half Down Bohemian Braids
A blend of casual and chic, these braids let you enjoy the best of both worlds. Pull half of your braids up and leave the rest down for an effortlessly gorgeous look that's perfect for any occasion.
22. Black and White Bohemian With Beads
The monochrome beauty of black and white braids gets an extra flair with beads. It's an artistic statement that lets your hair become a canvas for self-expression.
23. Short Colored Bohemian Braid
Add a pop of color to your Bohemian braids for an instant style upgrade. Play with vibrant shades to match your mood, and let your hair reflect your personality.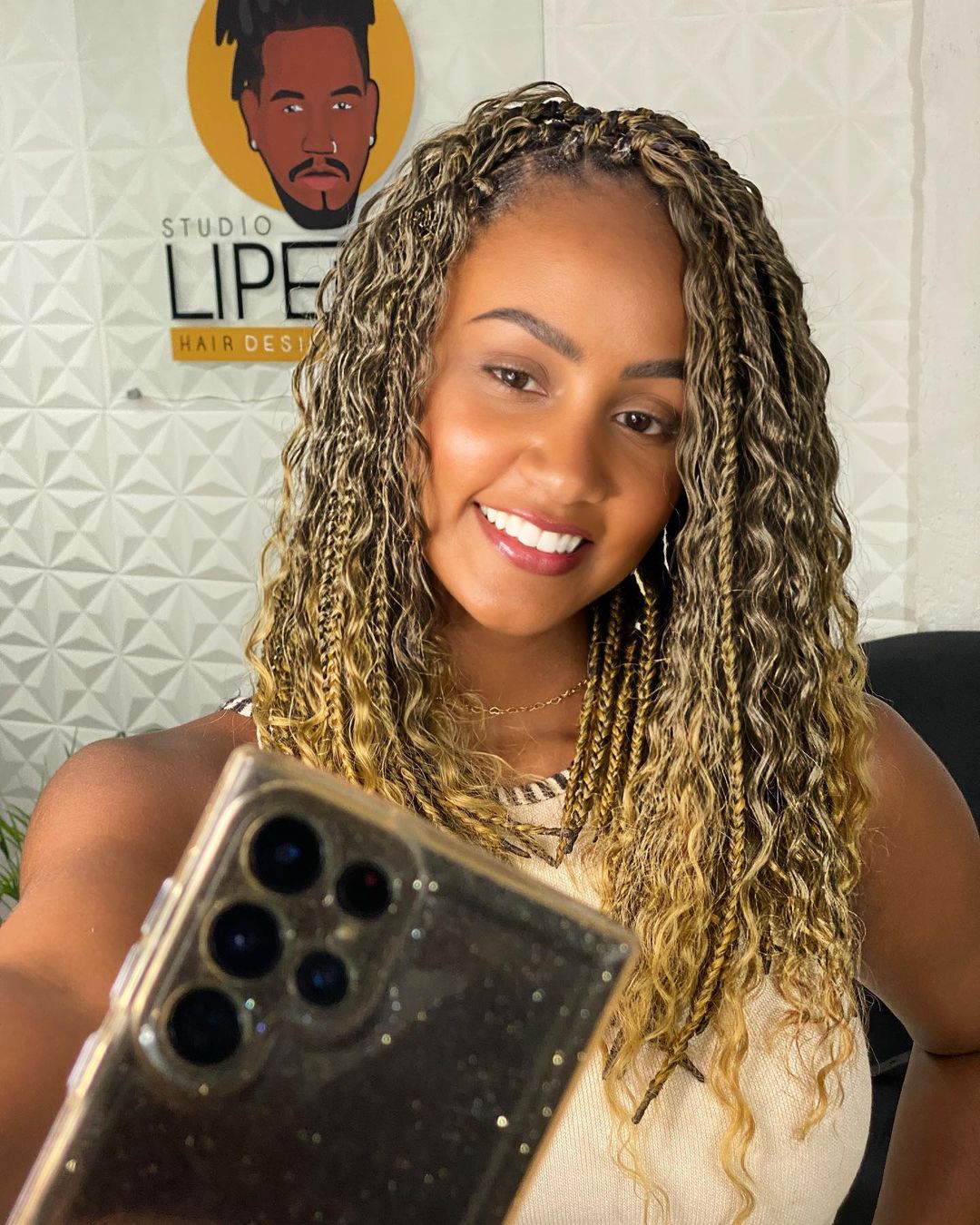 24. Fulani Island Bohemian Twist
Embrace cultural fusion with these braids that incorporate Fulani-inspired elements. Thin cornrows and twists create a stunning symphony of tradition and contemporary style.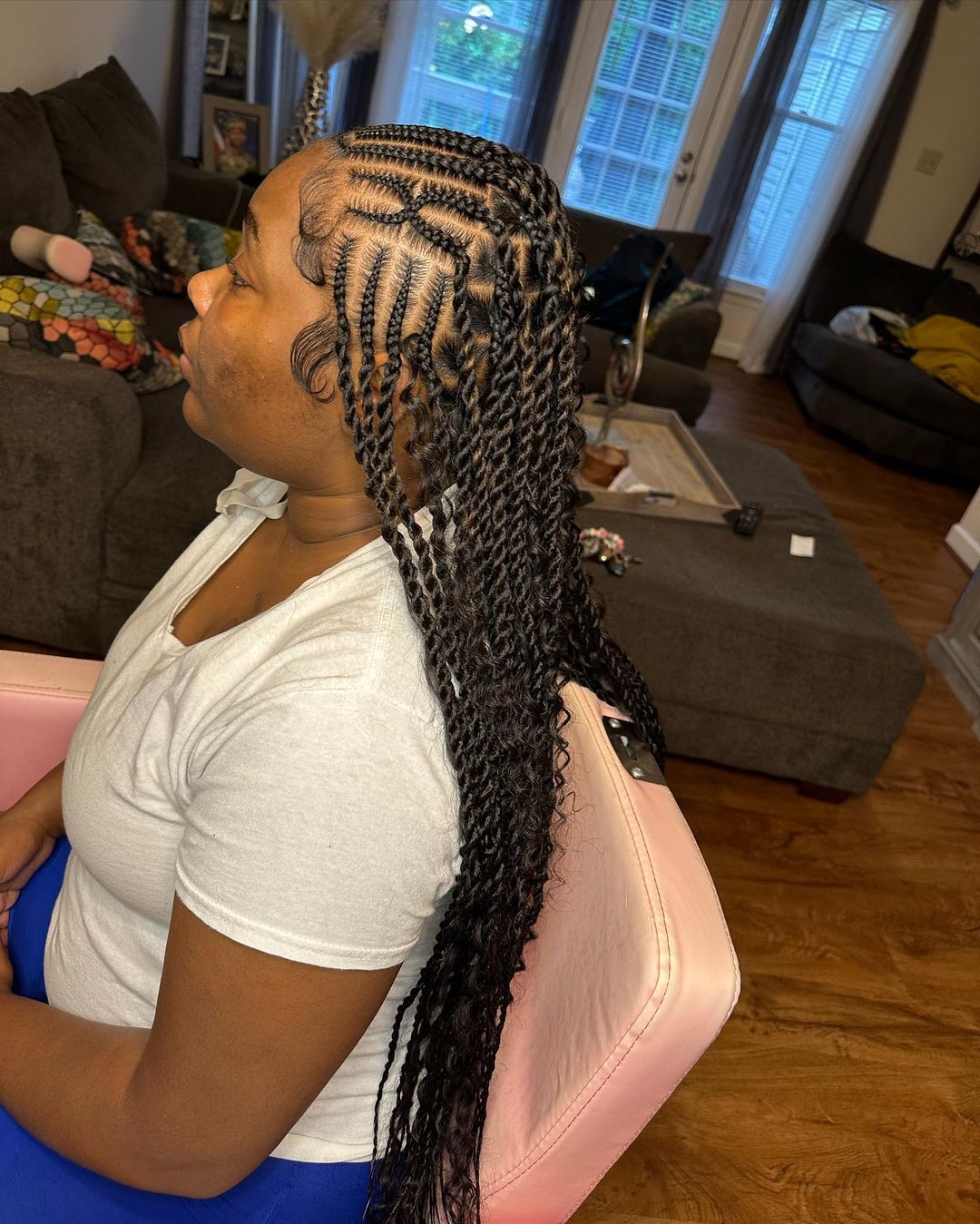 25. Bohemian Twist Braids
Twist up your braids for an elegant twist on the classic look. The texture adds depth to your style, making it versatile for both casual outings and formal affairs.
26. Long Ombre Mini Bohemian Braids
With a captivating ombre effect, these mini braids are an attention-grabber! The gradual color transition creates a mesmerizing visual that pairs well with the intricate braiding.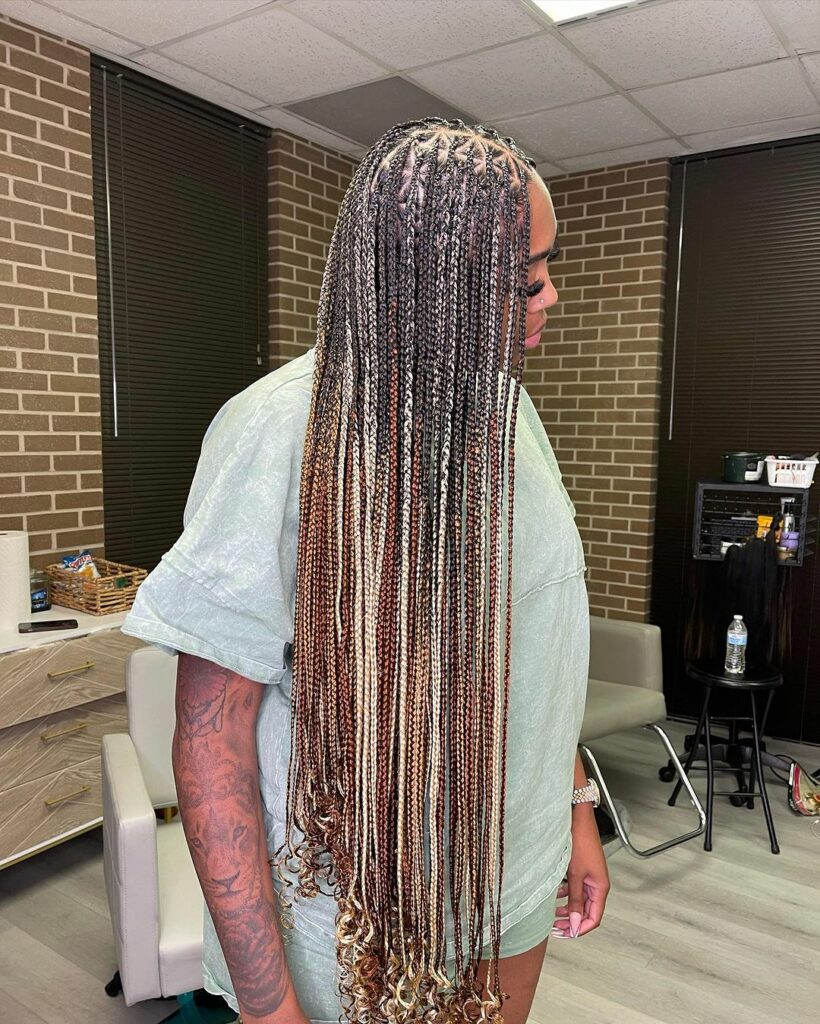 27. Medium Sized Bohemian Braids
Find your balance with medium-sized braids – not too chunky, not too thin. They're the Goldilocks of braids, giving you a harmonious and versatile look.
28. Black and Red Bohemian Braids
Add a dash of drama with black and red braids. The combination exudes confidence and a touch of mystery. It's a look that's impossible to ignore.
29. Bantu Knots Bohemian Braids
Here's a fusion of tradition and trend! These braids incorporate Bantu knots for added texture and charm. It's a nod to heritage while keeping up with modern styling.
30. Blond Bohemian Soft Locs
Soft locs are a dreamy variation of traditional braids. Add a blonde hue for an ethereal touch that radiates warmth and elegance.
31. Gray Accessorized Bohemian Curls
Embrace elegance with gray bohemian curls, adorned with delicate accessories. You can achieve this by curling your hair, then adding silver clips or pins for a touch of glam. The gray hue adds sophistication, perfect for any event.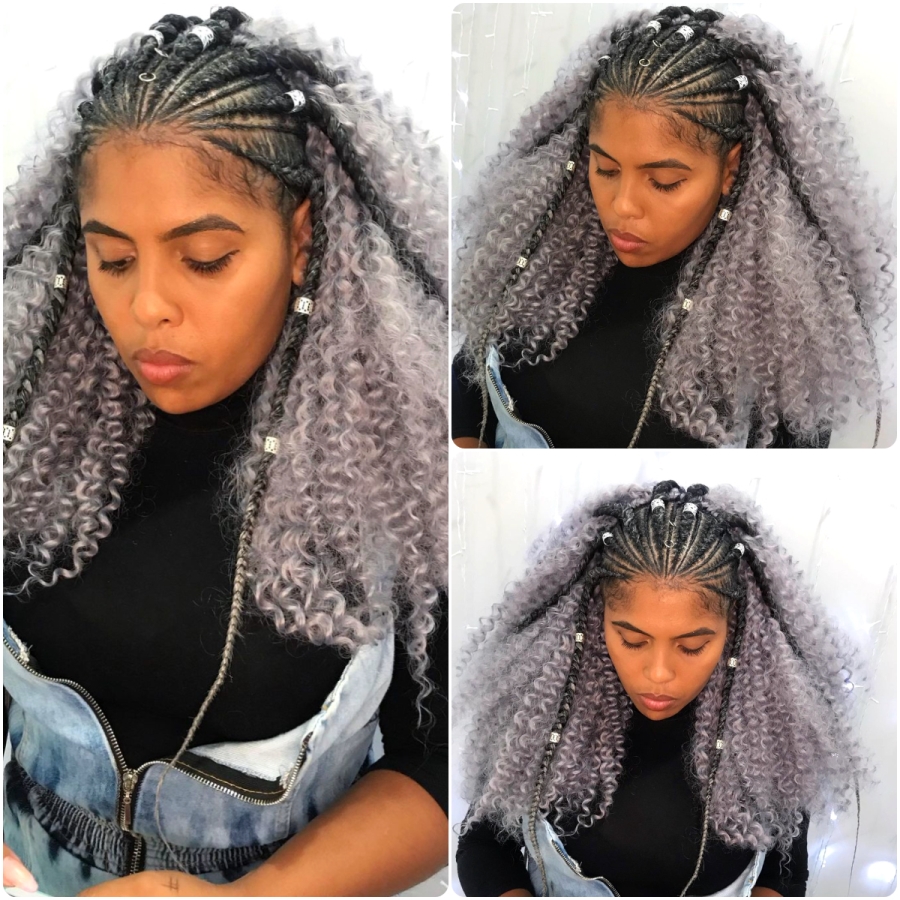 32. Bohemian Side Cornrow and Curls
A fusion of edge and softness. Cornrow one side, and let the other flow in loose curls. Stylish contrast. Get it by cornrowing the side hair, leaving the rest free. Curled locks complete the charming asymmetry.
33. Purple-Colored Bohemian Braids
Add a touch of vibrancy with purple bohemian braids. Bold and striking, this style demands attention. You can dye your hair purple before braiding for a more original blend. This is a dynamic choice for those who want to stand out.
34. Short Up-do Bohemian Braids
Elegant and practical. Up-do braids suit any occasion. Short hair? No problem. Create neat braids, gather at the nape, and secure. A classy yet easy-to-maintain option.
35. Long Bohemian Bob Braids
Contemporary and chic. Long bob braids exude confidence. Braid long extensions into a bob, embracing a modern twist on a classic look. Versatile for work or play.
36. Long Blue Bohemian Braids
Unleash your inner mermaid with alluring and unique blue braids! With this long blue braid, you are sure to turn heads!
37. Black and White Medium-Sized Bohemian Box Braids
Classic with a twist. Combine black and white extensions for a monochrome masterpiece. Medium-sized box braids ensure a manageable yet captivating result.
38. Accessorized Bohemian Braids
Braids are enhanced with accessories. Beads, cuffs, and rings elevate your style. Weave them into your braids for a personalized touch, and your creativity knows no bounds.
39. Long Bohemian Piggy Tail
Effortless charm. Two long bohemian braids worn as piggytails exude youthful energy. Braid hair down both sides and secure it with bands. Playful and captivating.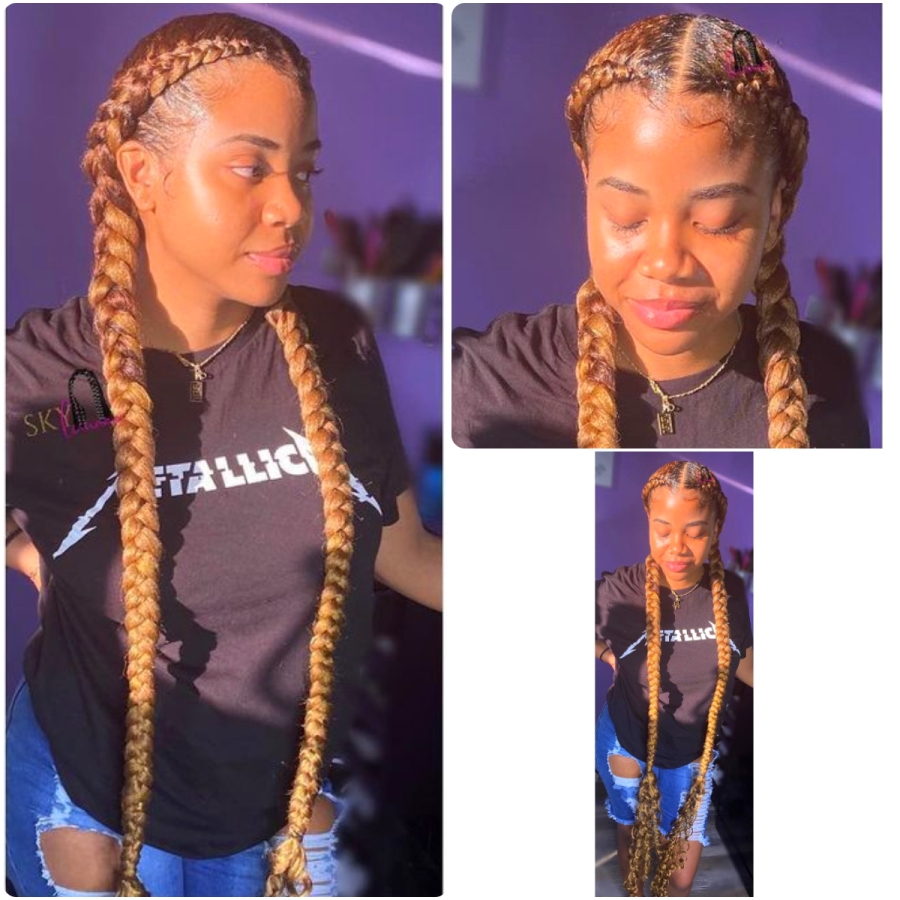 40. Bohemian Two Cornrow Buns Freestyle
Unleash your creativity with these bohemian two cornrow buns. This style strikes the perfect balance between chic and carefree. Part your hair down the middle, cornrow each side, and gather into playful buns. A trendy choice that showcases your unique flair while keeping your hair stylishly in place.
41. Bohemian Hip Length Cornrow Feeder
Embrace a fusion of cultures with hip-length cornrows adorned with feed-in extensions. Achieve an intricate look by adding extensions gradually. This style reflects cultural diversity and offers a stunning blend of length and texture.
42. Blonde Bohemian Ponytail
Effortlessly chic! Gather blonde bohemian braids into a high ponytail. Playful and elegant, this style is perfect for any event. Achieve this by braiding blonde extensions and securing them in a high ponytail.
43. Messy Bohemian Braids
Embrace the undone charm. Create bohemian braids with a slightly tousled appearance. Achieve this relaxed look by loosely braiding your hair. Perfect for those who love a carefree vibe.
44. Large Boho Box Braids
Make a statement with chunky boho box braids. Bold and captivating, this style celebrates individuality. Braid in large sections for a unique and eye-catching appearance.
45. Red and Black Mix and Bohemian Box Braids
Embrace a bold contrast with red and black bohemian box braids. This style is fierce and edgy, reflecting your confident spirit.
46. Mini Blonde Bohemian Braids
Create tiny blonde bohemian braids for a delicate and intricate style. Achieve by braiding small sections of hair with blonde extensions. A dainty choice that captures attention.
47. Large Bohemian Twists
Make a statement with large bohemian twists. This style exudes a sense of regal confidence. Plus, you get to restyle in whatever way for any occasion.
48. Colored Bohemian Braids
Express your vibrant side with colorful bohemian braids. Play with a spectrum of hues to create a look that's uniquely yours.
49. Bohemian Goddess Bob Braid
Channel your inner goddess with a bohemian goddess bob braid. Elegant and timeless, this style frames your face beautifully. Braid extensions into a bob, adding a touch of enchantment to your appearance.
50. Burgundy Bohemian Half Up Half Down
A modern classic. Secure half of your burgundy bohemian braids into a half-up, half-down style. This style effortlessly combines sophistication and playfulness, making it ideal for various occasions.
Frequently Asked Questions
How Many Packs of Extensions Is Enough For Bohemian Box Braids?
For Bohemian box braids, you will need at least 2 packs of extensions for a start. But then, this varies depending on the bohemian box braid style, hair length, and mass. 
 How long do Bohemian box braids last?
These hairstyles can last anywhere from 4-8 weeks. Like any protective style, I don't recommend keeping the hairstyle in your hair longer than eight weeks. Regular touch-ups and maintenance can extend their lifespan.
Can you swim with Bohemian box braids?
Yes. You can swim in bohemian braids/ get your goddess braids wet. You will however need to wash your braids afterwards and do some basic maintenance.
What is the difference between Goddess braids, Gypsy braids, and Bohemian braids?
There's no difference between Goddess braids and bohemian braids. Contrary to what a lot of blogs are claiming, Goddess braids are in fact NOT thick cornrows but rather box braids with curly hair bits added along the length of the braids aka bohemian braids aka boho braids. But the most popular name that the majority of women have decided to go with is Bohemian braids.
What is the Best Hair For Bohemian Twists? 
Marley or Havana hair is commonly used for Bohemian twists due to its texture and versatility.
Does Bohemian Twist Tangle? 
Bohemian twists may tangle, especially if not properly maintained. Regular moisturizing and gentle detangling can help prevent tangling and maintain the style's appearance
It's Your Turn
Each of these styles lets you express yourself while embracing the bohemian spirit. Whether you prefer short and sassy or long and enchanting, there's a Bohemian box braid look for everyone. Ho ahead, embrace the free-spirited vibe, and rock these styles with confidence! So, which of these Bohemian braids would you try next?