One of the most iconic cornrow looks is two statement braids. Braiding in bigger plaits saves lots of time, as more hair is used in each row. Two goddess braids or cornrow braids are even easier to maintain, care for, and style. 
In this article, I'll take you through all you need to know about two goddess braids with curls.
Also Read: 70+ Incredible Natural Hairstyles for Black Women
What are two goddess braids with curls?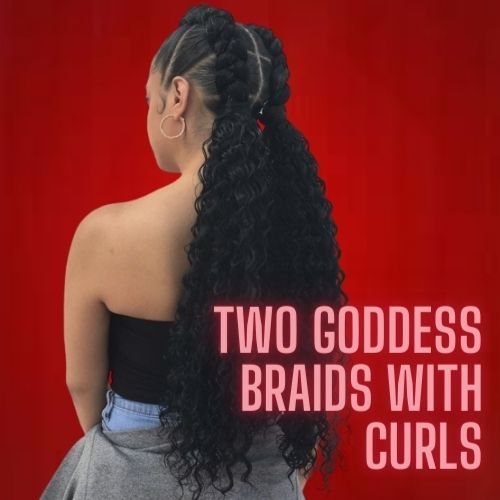 Also known as french braids or two cornrow braids, two goddess braids with curls are the thicker version of cornrows with the ends left loose.
They're also a protective style that can be worn for several weeks. To keep the two elevated plaits looking sleek, a gel is needed. These cornrows are sometimes inspired by Ghana braids, which begin short and thin at the front before thickening up in the centre to the bottom of the plait.
Braiding is traditionally done underhand, near to the scalp, and at an angle, sweeping the hair back from the face into two plaits. Have your hair braided asymmetrically to wrap around your head for a modern take on a classic look. This off-centre appearance is youthful and lively, and it elevates your haircut.
The central section attracts interest to your forehead, so if you have exquisite brows, now is the moment to show them off! While the two cornrows look excellent on any hair length, try it with extensions for a sensual and elegant finish.
The finished look is both feminine and powerful, which is why they're nicknamed goddess braids!
It's understated enough to wear to work or school while still drawing notice – and compliments.
whoosh!
Getting your hair ready
Getting two goddess braids may not take much time to do. You may want to keep it for a few weeks or three weeks maximum. As such, it requires that you keep your natural hair clean and moisturised before you braid it. To do this please;
The number one rule before getting any protective style is to make sure your hair is clean. Shampooing your hair before installing two goddess braids is important and can help prevent an itchy scalp. 
Next, you need a deep conditioning treatment. Conditioning the hair and scalp help to ensure they are healthy and ready for installation. Following your conditioning treatment, I recommend blow-drying your hair straight to make installing the goddess braids easier for your hairstylist.
Then moisturise to keep it nourished. Be sure not to use too much hair moisturiser to prevent slippery strands while braiding.
Tools you need
To get started, you would have to assemble all the materials you need, including;
1. Braiding hair
Since two goddess braids are just two parts, a single or two synthetic braids of hair is enough depending on how big you want it. Synthetic hair has rough ends, which aren't easy to use in that state. So you have to feather the hair first.
You might have seen a hairstylist feathering synthetic hair for braids. The process is easy; here is a step-by-step guide below:
Remove the hair from the package, taking off the rubber bands holding the bottom and centre of the hair together
Hold the bottom of the hair in one of your hands facing upwards
With your other hand, pull up small sections of hair continually
When done, hold the hair at the centre and use your other hand to figure comb the hair
You might also use a big wide comb to make it even
Additionally, you can rub a small amount of moisturizer in your palm and apply it to the synthetic hair. This would hold the hair together.
Once the ends are feathered and combed, it's ready for installation!
2. Wavy hair
Secondly, you'll need wavy hair for the curls. Using human hair braiding hair for your curls is highly recommended as it is softer and more relaxing. However, some people choose to use the same synthetic braiding hair but a different colour for their curls.
3. Scissors
You'll need scissors to trim the rough edges of the braids.
4. A styling gel
To hold and style your edges.
5. Butterfly clips
To hold your hair and braids together.
6. Sulfate-free shampoo
For washing your natural hair.
7. Conditioner
To moisturize your hair. You can opt for a deep conditioner if you have super dry hair.
8. Wide toothed comb
To comb your hair and the braids
9. Rat tailed comb
To even out your hair for braiding.
10. Edge control
Step-by-step guide on how to braid two goddess braids with curls
1. Prep your hair
We discussed this above. You may refer to it again.
2. Create a centre parting in your hair
Using the end of a tail comb, divide your hair into two right down the centre of your head. Clipping one section away to one side will stop you from accidentally pulling in any hair from the other side. Your braider should take care of your hair!
3. Divide your hair into 3 sections
Right, now it's time to learn how to braid your hair the goddess way! Taking a piece of hair around 3-4 inches long from just above your temples, divide it into 3 equal sections.
4. Begin goddess braiding
Start by creating a standard 3-strand plait, then grab smaller braiding hair and hold it at the base of your natural hair, weaving left over the middle, right over the middle.
Increase the braiding of your hair around your natural hair and then continue weaving.
From here, all you need to do is take up more hair from the surrounding area, pulling it into the braid as you go.
After you've braided backwards for a few inches to the nape of your neck, grab a small amount of the wavy hair and join it with two of your braiding sections. Continue braiding to the nape of your hair then leave it.
Trim any scraggly ends with scissors for a clean look.
Repeat the process with the other section of hair.
Shape the ends of your hair with hair scissors.
Secure your two goddess braids in place with a hairband at where the braids end. Using a hair tie that's clear or matches your hair colour will help to give a cleaner look.
Now all that's left to do is to give your braids a spritz of hairspray. Using Suave professional hair spray works particularly well for this style, as it means your style won't budge!
How to maintain two goddess braids with curls?
Although two goddess braids are less stressful to install compared to box braids, you will want to rock the style for a few weeks. Use the tips below to help you properly maintain your braids for weeks or a few weeks:
1. Wrap them up at night with a silk/satin bonnet or scarf.
For maximum protection, use a hair net on it after scarfing. This helps to minimize frizz and extend the life of the style. Going to bed without scarfing your two goddess braids makes them dull after a few days.
2. Moisturize your scalp with oil.
Since the braids are big and spaced, it makes your own hair begin to come out after a few days. You will also notice that your scalp gets dry or itchy. Use a light oil to hydrate your scalp whenever necessary. Olive oil, sweet almond oil, or lavender oil are excellent for braids. You can also use a styling gel to keep your hair in place.
3. Avoid Swimming pool
If you cannot stay away from swimming for the time being while having two goddess braids, make sure to dry your hair after with a hand dryer. Leaving it to dry on its own takes longer and may smell.
Dos and don'ts of goddess braids
Do find ways to maintain the braids
Do be patient with the braiding process
Don't braid too tight as it may hurt your scalp
Frequently Asked Questions (FAQs)
What does a goddess braids look like?
Goddess braids are essentially thicker cornrows. They're bigger in size and raised higher, and are also braided closely to your scalp. They can be styled in so many ways for every occasion; you can go from the gym straight to work, then out to drinks, all while protecting your hair and looking super chic.
How long do goddess braids with curls last?
About three to five weeks. Two Goddess braids are a great protective style because they are super cute, and versatile, and they last for about three to five weeks, so they're a great low-maintenance option.
Should you braid curly hair wet or dry?
Braids, twists, and extensions are usually installed on dry hair. Some styles just come out better on dry or damp hair. If just a few spritzes of a water bottle or refresher is all that is needed to create a style, then that is still considered a dry or damp style and you are working with hair when it is strongest.
What is the best braid to get curly hair?
If you are looking for tighter curls with more complex curl patterns, boxer braids are for you. Sleeping in various braids will give you smaller, more even curls all over your mane. This is a preferred style for ladies who have a lot of hair.
Can you wet goddess braids?
Goddess braids are not a long-lasting hairstyle as they only last for up to three weeks. Maintaining the style is like maintaining regular cornrows. Making sure you cover your hair at night with either a silk bonnet or scarf is essential to keeping the style fresh. Avoid getting the braids wet as much as possible.
Now it's your turn
Two goddess braids with curls are simple styles to wear if you have an important meeting with limited time to style your hair. Similar to cornrows, they are much bigger, braided close to the scalp to your forehead the needed attention and shine.
While they are beautiful to attract all the compliment that comes with them, they are not long-lasting like box braids.
Thus, if you're not looking for a sleek hairstyle to wear for a few weeks, two goddess braids with curls are the yay!
Also Read Related Articles: