You should oil your scalp at least 2 times a week. Living in some tropical areas can expose your scalp to atmospheric conditions like dust, warm temperature, and dry air which can clog the pores of your scalp and make it dry. This makes it necessary to oil your scalp as often as needed.
Although your hair needs oil to avoid breakage, knowing the right quantity and time to oil your scalp matters a lot. This is because excess oil on an oily scalp can cause itching and it also exposes the scalp to dust and skin infections. This makes it all the more important to know how often your scalp is to be oiled, as well as its benefit.
Also Read: 50+ Hot Dreadlock Hairstyles for Modern Women
How Frequently Should You Oil Your Scalp Black Hair
The frequency with which you apply oil to your scalp depends on the type of hair you have. You could have dry hair, oily hair, or regular hair. And these three hair types require different quantities of oil to keep them healthy. While one hair type might need more oil another may require less to be applied weekly to keep the hair and scalp maintained.
Here are the different hair types and the required frequency on how you should apply oil to your scalp and hair in general.
Also Read: Can Black People Get lice? Everything You Need to Know!
1. Regular Hair
Regular hair type hair is considered a normal and healthy type of hair. If your hair is the regular type, it is advisable to oil your scalp at least 2 times a week. However, you can start with a daily routine of oiling if you haven't applied oil to your hair in a long while.
2. Dry Hair
If your hair happens to fall into the category of dry hair type, it is advisable to apply oil on your hair every day to rejuvenate the cells in the scalp. You would also need to leave the oil on your scalp to get into the roots of your hair until you take a bath.
This will help reduce the dryness in your scalp and itchiness if you are experiencing any. Getting a recommended hair oil formulated with natural ingredients which also contain vitamins and minerals will be of much help to your hair.
3. Oily Hair
If your hair is naturally oily, then you don't need as much oil as the two hair types mentioned earlier. Having too much oil on your scalp can attract dust and dirt, and can also lead to bacterial infections in your hair.
For oily hair, it is advisable to oil your hair once a week or once every two weeks depending on how oily your hair is. Also, you'll require careful oiling directly to your scalp to avoid excess oil.
Benefits of Oiling Your Scalp
Oiling your scalp is important for both your hair growth and a healthy scalp, more so if you are black. The benefits of oiling your scalp include:
1. It protects your scalp and prevents hair infection
Bacterial infection can be caused by deposits from dead skin, as well as excess dirt and dust on the scalp. However, if the right quantity of oil is applied to the hair, the oil will help enrich the hair and remove the dead skin.
More so, it will create a protective layer on your hair scale to combat and prevent future bacteria outbreaks. But then, you'll need to get good hair oil. You should go for a hair oil that contains antibacterial components. This will help take care of the antibodies in the hair and prevent skin infection.
2. It prevents hair fall
Applying hair oil to your scalp helps to retain the moisture in your hair and prevents dryness of the scalp. Excessive dryness in the scalp has a ripple effect on the hair which ultimately leads to hair fall.
When your hair gets very dry, it makes the hair pores clog, and also wears it down. This then leads to breakage of the hair which eventually causes your hair to fall off. Hair breakage is often noticed when you comb your hair, however, with good hair oil, this shouldn't be an issue for you.
3. It helps to improve hair growth
Certain hair oil improves your hair growth. Oil products made with coconut oil, olive oil, and castor oil amongst others strengthen the hair, make it fuller, and keep your hair growing. 
When oil is applied to the scalp, it strengthens the root of the hair and stimulates hair growth. In general hair, oil doesn't just add moisture to your dry scalp it also enriches it and provides roots for your hair to grow.
4. It provides your hair with vitamins and nutrients
One important benefit of hair oil is that it contains vitamins and minerals necessary for healthy hair. For instance, using Olive oil on your hair implies that your scalp will be fortified with vitamins B3, B6, and B12.
Almond Oil on the other hand contains vitamins B, E, and K which revitalize the hair and prevent hair damage. There are other oil products made from natural ingredients that also contain suitable vitamins for her growth and wellness.
When Should You Avoid Using Scalp Oil?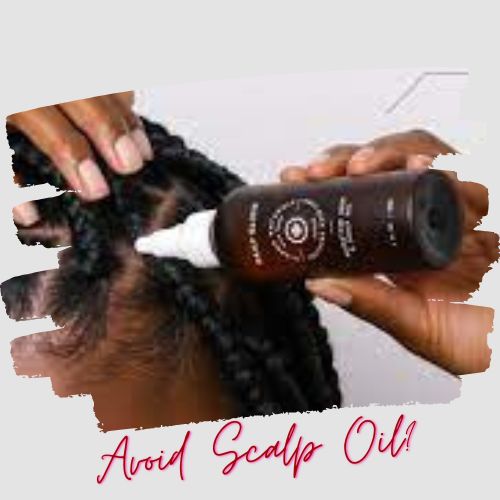 Although, oil is necessary for healthy hair. There are times when you would need to abstain from using them. You might be wondering why? Well, here are the situations that warrant hair oil abstinence or reduction in usage;
When you have a skin infection: Using oil on an infected scalp will do more harm than good to your hair. The infected part of your skin usually gets more sensitive, which makes it prone to product reactions, including oil products. So it is advised to stay away from hair oil when you have hair infections like eczema, seborrheic, or dermatitis.
When you have controlled hair oil: If you happen to make use of controlled hair oil products, that is, hair oil that was formulated to control the oil level of your hair, then you would need to watch the quantity you use. Should apply it in small quantities to avoid big lumps and clogged pores.
When you have naturally oily hair: If you've observed your hair closely and considered it oily, then you should wash your hair before using oil. Adding extra oil will make your scalp susceptible to dirt.
Frequently Asked Questions (FAQs)
How Long Should You Leave Oil On Your Scalp?
After applying oil to your hair, you should leave it to settle in for 2 to 3 hours. Within this time, your hair must have absorbed the oil and its nutrients into your scalp. 
You could also decide to leave the oil on your hair till you are ready to take a shower. Some also leave the oil on their scalp overnight. 
What type of Oil should I use for my scalp as a Black? 
Your type of hair either curly, straight,  virgin, or relaxed hair will determine the type of oil you should use. However, you can use natural hair oil for all hair types. 
Does oiling your hair regularly cause it to fall?
Regular oiling of hair can cause your to air fall, especially when you have naturally oily hair.  Also, much friction due to constant oiling and massaging can cause hair fall, since your oil level is connected to the pH balance of the hair.
It's Your Turn
Oiling your scalp when necessary is key to maintaining fresh and healthy hair. It is advisable to oil your scalp within intervals if you have a dry scalp and hair.
So, here is a quick one, have you studied your hair type closely to know its oil level?
Read Related Articles: