The hair texture of black people is controlled by the hot climate and their genes. Since the weather is hot in Africa, the hair naturally coils to shield the scalp from the scorching sun. However, if you have kinky hair, it's likely affected by your genes too.
In the same way that the skin of a person and the shape of their nose are influenced by their environment, black people's hair is also affected by their environment and genes. It is possible for tropical residents to suffer from heat exhaustion. And unlike Caucasians, who live in colder climates, black people of African descent live in hot climates. 
As a result, their hair evolved to protect them from their environment. Instead of having straight hair, black people have coiled hair, which makes it difficult for sunlight to penetrate.
Let's look at the details below.
Also Read: Everything You Need to Know About Black People
How the hot weather affects the growth of kinky hair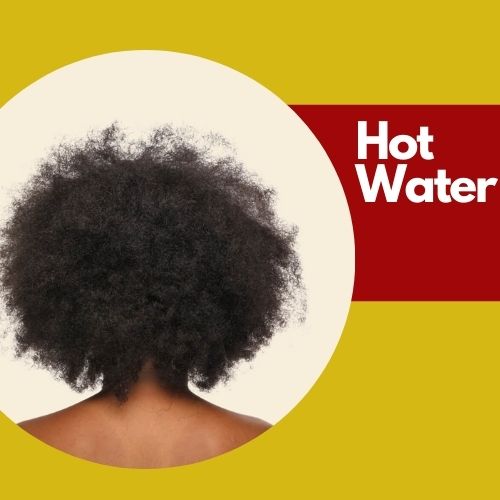 Apart from predators and disease, the sun itself is the biggest danger to survival in Africa. Increased melanin in the epidermis has evolved as a result, working to absorb UV light before it can enter a cell's nucleus and cause DNA to mutate. In the same way, hair serves a purpose.
African countries, where black people originate, are notoriously hot. Black people tend to have kinky or curly hair in order to protect themselves from the sun's rays and adapt to the environment's intense heat.
The function of hair in regulating body temperature is just one of its numerous qualities. The density of hair follicles tends to rise in cold areas while decreasing in hotter climates because your body seeks to regulate body temperature.
As a result, kinky or coil-like hair texture patterns developed in reaction to the hot temperature to fill this void. Therefore, hyper-coiled black hair has more volume than straighter hair. As a result, less light may travel through the hair while still allowing air to get through with no loss in cooling effectiveness.
Similar to this, hair that is thicker and darker blocks out light altogether. UV light is included in this category of harmful light. As a result, even Africans with the palest skin tones have incredibly dark hair.
Also Read: Black People Statistics You Probably Didn't Know About!
How genetics affects the growth of kinky hair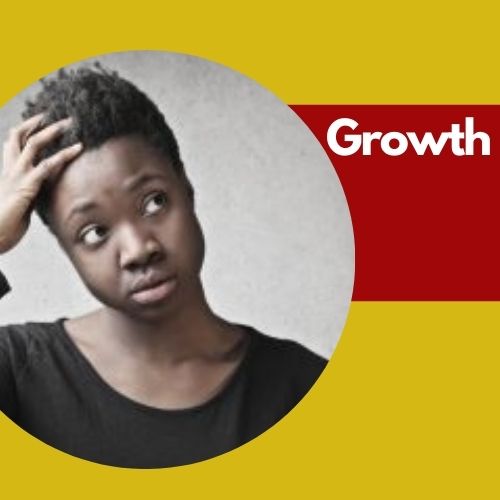 However, biology also plays a role. Despite the fact that everyone's hair is different, especially black people, you can observe trends among various groups that are influenced by hair follicles.
Hair arises from tiny spaces called hair follicles in our scalp. A thorough examination of human follicles reveals that the size and shape of these follicles affect the thickness and texture of your hair. As our hair grows, they aid in shaping, curving, or straightening it.
The thickness or thinness of your hair strands, on the other hand, depends on the size of the follicles; large follicles make thick hairs, whereas small follicles produce thin hairs.
You can have hair that is either excessively wavy or pin-straight. You will have straight hair if the cross-section of your follicles is rounded. Furthermore, your hair will be curlier if your follicles are oval in shape. Contrarily, coiled hair is caused by the follicles' virtually flat, ribbon-like shape. People of African descent frequently have this type of hair texture.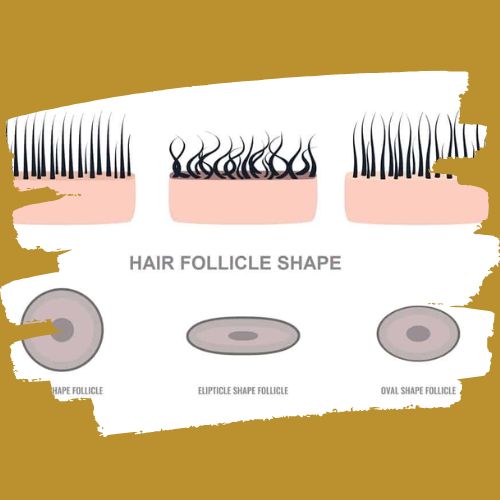 The density of your hair, or the quantity of hairs on your head, which is governed by the number of follicles on your scalp, is equally crucial to the way your hair feels. People with thick hair typically have a lot of it, whereas people with scant hair typically have lighter or thinner hair. Over 100,000 follicles, on average, cover your head.
Why kinky hair is generic?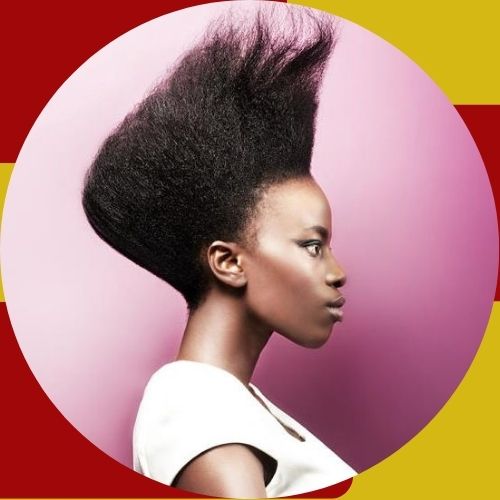 African hair texture is genetic, in our opinion, for two reasons. To begin with, unlike other ethnic groups, Africans have a texture that is present in all of them. Second, it regularly reaches the next generation's offspring.
The proof hasn't yet been found by scientists, though. Rare instances of non-Africans with straight hair may allow you to deduce certain important details.
It's a common misconception that people of African origin only have tightly curled hair. However, other ethnic groups do not typically experience it. Due to the rarity of seeing it in Caucasians and Asians, it is considered a condition.
The hair of those with this condition has dry, tightly spiraled fibers, which is similar to kinky hair. You might be asking if it was first created by the mingling of several interracial genetic pools, but that is not the case.
There isn't much trustworthy information available because woolly hair syndrome is so uncommon. The actual causal gene or genes have not yet been identified. However, there is a strong family history of the condition. When the precise gene that produces a disease is unknown, researchers examine how the trait is passed down across families.
It's probable that the gene that causes Woolly Hair Syndrome in people who are not Africans also affects the texture of African hair. In that case, Caucasians and Asians would be the only races with the "non-woolly" variant. This might explain why these ethnicities frequently have straight hair.
The gene variant that results in textured hair is also almost exclusively seen in Africans. The fact that most Africans carry two copies of the dominant gene may account for its high occurrence. This would guarantee that the population's hair texture remains constant.
What are the characteristics of kinky hair?
1. Kinky hair has a denser texture
Kinky or afro hair has a thick texture. The scalp would be shielded from the harsh sun by this density. The typical hair density is roughly 190 hairs per square centimeter; curly or kinky hair is likewise less densely clustered. Compared to Caucasian hair, which typically generates roughly 227 hairs per square centimeter, this rate was noticeably lower.
2. Grows slower
Afro hair grows at a slower average pace than Caucasian hair of the Caucasian type, which is less than 0.9 cm per month compared to Caucasian hair's 1.2 cm. Afro hair grows at an average rate of about 256 micrometers each day, whereas Caucasians' average daily rate rises to about 396 micrometers. Because of its unusual structure, hair frequently cannot grow as long as it would like to, and brushing and combing tend to break the hair's tips.
3. Dry and brittle
Sebaceous glands, encouraged by sunlight, produce more sebum in hot, muggy weather.
Curly hair will, however, frequently become dehydrated due to a lack of sunlight in temperate areas, such as some European nations. Additionally, because of its unusual shape, it is very likely to crack when combed or brushed.
4. Allows more styling
Kinky or curly hair may be dry, brittle, and grow slower. However, if you have kinky hair, you realize that you can explore a multitude of hairstyles: box braids, cornrows, dreadlocks, and weaving mats lying.
Kinky hair requires special care, and when properly maintained, it becomes beautiful.
What is the downside of African kinky hair?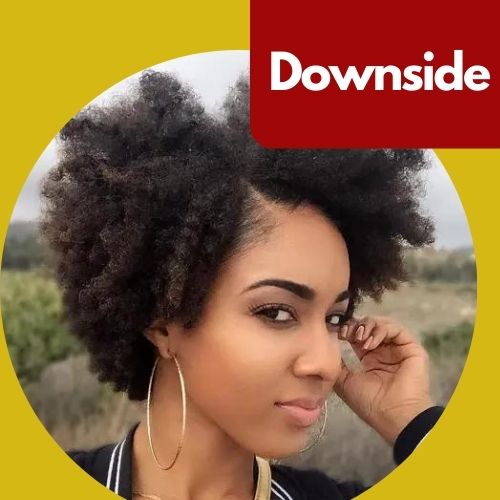 If you're black or of African origin, your hair produces a lot of sebum, which is a protective oil that maintains your hair healthy. African hair actually produces more oils than hair from Caucasians and Asians. The oil does not, however, distribute uniformly along the hair fibre because of the tight curls.
The fibres may get dry if there is no lubrication. Because of this, the strands become more fragile, which affects the texture of your hair. Due to a lesser degree, the lack of oils along the hair strand can cause curly hair from all ethnic groups to become brittle frequently.
Many people think that African hair cannot grow longer since it is so fragile. Every time the hair fibre turns, the tight curls put a strain on it. The hair strands become more brittle and more likely to break. Therefore, hair that is firmly coiled tends to stay relatively short.
What are the types of hair?
One must understand that there are major 4 types of hair.
1. Straight
The natural oils produced on the scalp can easily coat straight hair, which is why straight hair typically looks flat and limp. Straight hair does appear fine and thin, but it also tends to look thin.
2. Wavy
Wavy hair is usually divided into three types, type 2a, 2b, and 2c, depending on the type and extent of your wave.
Type 2a
In type 2a of wavy hair, your hair grows straight for about two inches from the roots, which then goes on to become slightly wavy till the ends.
Type 2b
This is very similar to type 2a, except that it has a slightly more defined wave in the shape of an 'S'.
Type 2c
If you have hair that has an 'S' pattern from the crown area itself, then you have Type 2c hair. This type of hair has a lot more defined waves, which gives that added hold and texture.
3. Curly
If your waves end up forming a loop, then you have curly hair. Just like wavy hair, curly hair is divided into three types. Note that it requires extra care to keep it healthy.
Type 3a
This type of curl usually happens if you have fine hair that is fairly loose and big curls. Maintaining and styling this hair type is not really difficult because of the size of the curls.
Type 3b
This sort of curl is regarded as the best and most desirable. These curls provide the beautiful ringlets that you frequently observe on the majority of celebs. The best thing about this curl type is that it isn't either too thick or too thin, making it incredibly simple to manage and style.
Type 3c
Type 3c curls are a hybrid of bouncy and tight corkscrew curls. If you have type 3c curls, you probably notice that your curls are coarse and not as soft as you'd like. Using the right product can help soften your curls a bit.
4. Coil
This type of hair can be a cross between Z and S-shaped curls that are super tight and frizzy, making them the most difficult to manage. Kinky hair also has three types:
Type 4a
This type of coily hair has a very defined S-type curl and a very wiry texture. Type 4a is also usually very thin and delicate, but appears thick thanks to the tight curls. Since the scalp may appear dry, it's easy to break while styling.
Type 4b
Unlike type 4a, type 4b has a very defined Z pattern and can be thick or thin, depending on your hair texture. Even though this type of hair is soft to the touch, it is also quite fragile and can break quite easily, especially if you tend to comb your hair often.
Type 4c
This type of hair is very tightly curled and super coily and frizzy. It gives the shape of a natural afro, thanks to the tight z-shaped curls.
How to care for kinky hair
Use a shampoo suitable for very dry and frizzy. And not too much detergent because hard water will accentuate the dryness of the scalp and hair shedding which will make it drier and brittle. Use moisturizer after shampooing.
2. Deep conditioner
If you reside in a city with calcareous water, wash your hair with rainwater or rinse it with mineral water if you can. Use a conditioner instead to counteract the drying effects of limescale.
On the other side, select a deep conditioning treatment once per week with a silicone-free conditioner like our Argan Oil & Lavender Leave-In Smoothie Cream.
3. Avoid any hair care products with mineral oils
Mineral oils may not be a good idea for your kinky hair. Mineral oils actually cover the hair shaft and prevent moisture from entering, leaving strands of hair brittle and dry. Mineral oils also clog the scalp and prevent healthy hair growth.
4. Never comb hair dry
The best method for combing kinky hair and detangling it is when it's wet or damp, and loaded with conditioner. And we always recommend letting it air dry.
Frequently Asked Questions (FAQs)
What does kinky hair mean?
Kinky describes the curl pattern/type of hair, like curly or wavy, and in this case, kinky hair means tightly curled hair or really tight coiled hair or hair with no curls but zigzags instead. "Coarse" or "fine" describes the thickness/texture of hair strands.
What type of hair do African Americans have?
While other races can have straight, wavy, or curly strands, most black people have varying degrees of tightly curled strands. It may come in spirals, coils, loops, zigzags, or other curves.
Why is black hair so thick?
Compared to silkier hair African-American hair contains more lipids or fats, but the lipids are less bonded, which is why the hair loves oils so much. Along with that, the follicle size is much thicker and it has a flattened elliptical cross-section, causing it to be curlier than other hair types.
Now it's your turn
Black people have coily or kinky hair because of their central hot environment and their follicle shape. While its widely accepted that the hot climate in Africa influences kinky hair, genetics also plays a role. We want to emphasize that, kinky hair is completely normal just like other types of hair although it requires extra care and management.
Do you have kinky hair? What has been your experience?
Read Related Articles: