Your stylist might spend a lot of time examining your hair to subsequently choose the right toner for you. You might get frustrated waiting because you already know what you need for your bleached hair.
What you might be missing is the process your stylist may be considering looking at the little harsh color tones in your hair and the health of your hair.
You want a blonde tone but darker than the one you already have. How do you ascertain which toner is best for your hair?
This is the question this article seeks to answer to help you choose either Wella t14 or Wella t18 toner.
What is Wella toner?
A Wella toner is a product that neutralizes loud tones of hair on blonde or bleached hair, to keep your hair looking natural rather than artificial.
Wella toner gives you the perfect blonde color because it contains ammonia mixed with some other chemical to create a gel that when applied to your hair, will even your hair tone to the specific blonde color desired.
There are many types of Wella toners but we'll be looking at the differences between Wella t14 and Wella t18.
The Wella t14 is a pale ash blonde that belongs to the silver color family. It has a violet-blue base that neutralizes orange and yellow tones, ensuing shiny ashy color. Wella t14 gel is darker than Wella t18, resulting in a silky look rather than harsh.
On the other hand, Wella t18 toners are a lighter ash blonde featuring a violet base belonging to the ash color family. The violet base pigmentation in Wella t18 neutralizes any previous yellow tones present in the hair to achieve a platinum or gray blonde end color.
To ensure maximum results, Wella recommends applying Wella t18 toner on pale blonde hair. Also, people with orange hair tones must first bleach their hair to one shade lighter before using Wella t18.
As you read along you'll come across Wella color shade details below.
Wella toner t14 and t18 both were desired to work naturally on blonde or bleached hair, creating different shades of blonde while neutralizing unwanted loud colors like yellow and orange base.
The Colormap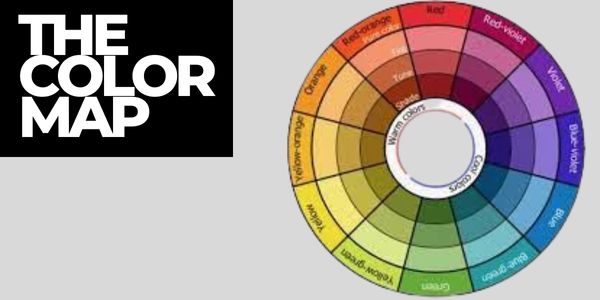 Colorimetry works with exact formulas to achieve exact results. This means colors neutralize the color opposite it. Thus blue-violet neutralizes yellow-orange while violet neutralizes yellow.
Understanding this color map makes it easier to follow the steps and instructions to apply Wella toner to your hair.
Toning chart
As may be well known, Wella recommends lightening or bleaching your hair to at least half a shade lighter than the color you desire to use toner for. Wella color shade can be found below.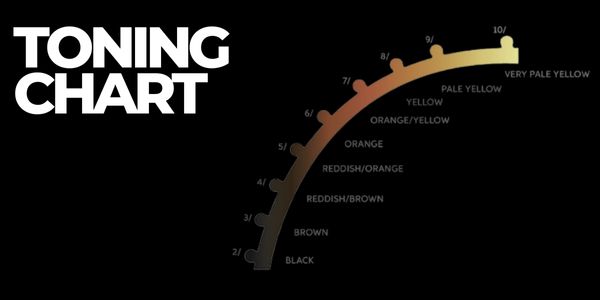 Be aware that beaching could damage your hair as well as the toning process. However, there's nothing to worry about when done appropriately following the instructions.
Characteristics of Wella T14
1. Has a pale gray or ash tone
If after coloring your hair with other colorants and you end up with strands of orange hair, the best toner to get an even gray or ash look is to use Wella t14, because of its blue toner properties or pigmentation.
2. Mild Tone
Wella t14 has an extra mild formulation that gently and evenly removes brassy tones to achieve a perfect blonde color.
3. Works on blonde and lightened hair
Wella t14 corrects or neutralizes unwanted warmth on both naturally blonde or pre-lightened hair..
Characteristics of Wella t18
1. Has platinum or lighter ash tone
You should use Wella t18, if you have yellow pigments and want platinum, light, or bright gray color. This is due to its purple colorant properties.
2. Warm Tone
Wella t18 leaves the finishing step of your hair neutralizing warm or cool tones for the perfect shade of blonde.
3. Works on Brassy hair
Wella t18 works to remove all yellow brassiness and will give you very light, clean icy blonde results on your hair.
How to use Wella t14 and t18- Step by step guidelines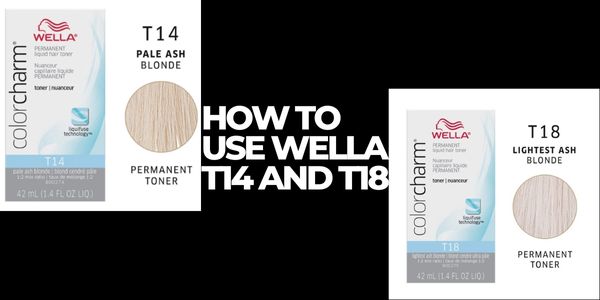 Once you're abreast with the various features of both Wella t14 and t18, and taking into consideration the color pigment in your hair you want to get rid of, we can move to the next stage to apply the toner.
Note that the process in toning your hair using either t14 or t18 is the same, excluding the time. The 14 toner works in a maximum of 20 minutes, while you should leave the t18 in for a maximum of 15 minutes. Please be careful to follow the timer.
If you're not careful and you leave t18 in your hair for more than 15 minutes, your hair will turn purple instead of platinum.
Similarly, your hair will turn blue if you exceed the time for t14 in your hair.
How to use Wella t14 and t18
Part your hair down the middle, so your roots are clearly exposed.
Mix the toner with a 20 volume developer in a plastic container.
Use that mix on your hair, starting at your roots and moving down your hair.
Once the necessary amount of time has gone by for each toner, rinse your hair with cool water.
Don't use shampoo, just use conditioner, because shampooing will fade the tone.
For an exceptional result, it's best to go to a professional hairstylist to apply the toner for you, so as not to end up with any mistake.
When to mix t14 and t18 for your hair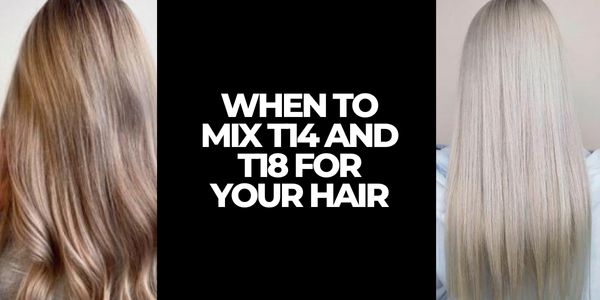 There are cases where after hair coloration, yellow and orange pigments appear in the hair. To neutralize both unwanted pigments, you'll have to mix two toners to get the required hair color.
For example, we'll look at mixing t14 and t18.
To achieve the maximum results, take into account the unwanted strand of hair color you want to tone as well as the primary hair tone of your hair, known as the base color.
Once you identify the colors you want to counterbalance, you should also make sure to apply the right proportions of both toner and developer.
A developer is a product containing hydrogen peroxide that aids in the bleaching or toning process. The hydrogen peroxide opens up the cuticle of your hair, allowing for color to penetrate. There are different levels of developers and it depends on the amount of hydrogen peroxide present.
Case 1. Yellow roots with rest of hair orange
In cases like this, you'll have to mix Wella t14 and Wella t18.
To neutralize orange hair, you'll have to mix 75 percent of the Wella t14; that is pale ash blonde or silver toner, and 25 percent of t18; lighter ash blonde toner with the developer in a 2:1 ratio.
Then apply it from the root to the tip of the hair.
Let me remind you that it's best to go to a professional hairstylist to tone your hair to avoid any mistakes.
So once the mixer is applied, observe your hair and take note of the time.
Leave in hair for 30 minutes.
Then rinse hair evenly.
Case 2. Orange roots with rest of hair yellow
In this case, mix 75 percent of Wella t18 and 25 percent of Wella t14 with a developer.
Be sure to use the ratio 1:1 of the developer to the toner t18
Mix together and apply
Leave in hair for 20 minutes.
Rinse hair evenly.
Taking care of toner hair
If you used t18, use a purple shampoo each time you wash your hair.
If you use t14, always choose a sulfate-free shampoo so you can diminish the amount of toner you're washing out with each wash.
It's important not to wash your hair every day, try to do it every 48 hours, so your toner will last even longer.
Don't abuse hydrating masks, it's best to use them every 15 days.
You can use coconut oil to moisturize your ends.
Lastly, you'll need to use the same toner on your hair again, after three to four weeks.
Differences between Wella T14 and Wella t18- which should you use for your hair?
1. Tone
Wella t14 has a pale ashy tone with a silvery touch due to its violet-blue pigmentation. By contrast, Wella t18 has a lighter ashy blonde tone with only a violet pigmentation.
2. Appearance
Due to the violet-blue pigmentation in Wella t14, when you apply it to your hair, it provides a better pale gray color than Wella t18 due to its warmer tones. Nevertheless, Wella t14 may cause hair to appear greenish in some lighting conditions.
Compared to Wella t18, it gives hair an ashy bluer appearance than Wella t14 and corrects excess unwanted warmth in hair color. It may also look violet when left far too long in the hair.
3. Hair color
Wella t14 is used to even out the orangey side of the hair, due to its blue base. On the other side, T18 is suitable for hair that is more on the yellowish side, due to its violet base.
Similarly, T18 is the lightest ash blonde color, while t14 is a pale ash blonde color toner.
4. Warmth
Wella t18 has a warmer tone than Wella t14, while Wella t14 has a mild tone.
Comparisons: Wella t14 vs Wella t18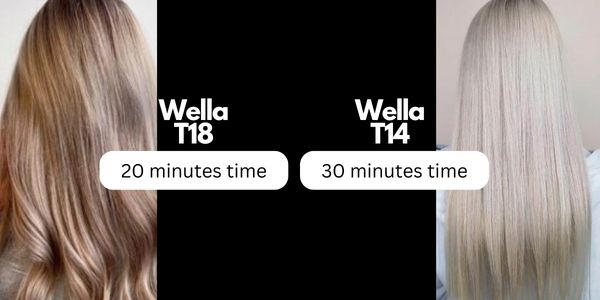 1. Toning timing
Wella t14 takes a maximum of 30 minutes time to tone your hair evenly to result in pale ash blonde. Meanwhile, Wella t18 takes a maximum of 20 minutes to penetrate your scalp and hair strands, working to give you a whitish ash blonde.
If you exceed the time for Wella t18 especially, coupled with its warmer tone, your hair might turn up different from the initial goal. You wouldn't want to end up with an affected scalp too. Thus, it's important to adhere to the different times each toner offers.
If your scalp is sensitive, it would be best to go with Wella t14 for its mild tone.
2. Bleaching
To achieve the topmost result with Wella t14, you need to bleach your hair almost to the shade of color as Wella t14. Wella recommends bleaching your hair to level 9 or 10 of the color shade described above.
Bleaching causes protein loss, moisture loss and even breakage of hair. When this happens, it's best to leave your hair alone until it heals before applying a toner.
Wella t14 requires 30 minutes leave on bleached hair to work effectively while Wella t18 requires 20 minutes maximum.
Using Wella t14 on bleached hair results in pale ashy blonde while your bleached hair results in whitish ash-blonde should you use Wella t18.
So if you're looking to get a whiter blonde, you should go for Wella T18 after bleaching.
3. Developer ratio
Wella t14 requires a mixture of developers in the ratio of 1:2. That is you need to double the developer to the toner when using Wella t14.
What this does is that, although Wella t14 is not harmful, developers can be harmful depending on the amount, frequency and time you leave it in your hair. Developers damage hair by opening the hair cuticles so that color can penetrate it.
Conversely, using too much development in your hair could leave it unhealthy, dry and brittle.
Despite the label that Wella toners are permanent, most reviews show it washes off within four to five weeks, which necessitates repeating the toning process when the toning does fade.
Contrarily, Wella t18 behooves the same amount of toner mixed with the same amount of developer, that is 1:1 ratio.
Thus using Wella t18 with the developer as a toner is less harmful to your hair and scalp.
Can toning damage your hair?
It depends. Toning independently does not damage your hair. However, the process of toning can damage your hair.
Remember you have to bleach your hair to a certain shade before using the toner? Yes, that process of bleaching can damage your hair, including the developer used in toning your hair.
Developers damage hair by opening the hair cuticles so that color can penetrate it. This makes it damaging especially if you use developers that are too strong or too weak with toners.
To minimize this challenge, it is important to give your hair time to recover after toning before applying it again. Thus, you shouldn't tone your hair too often; three to four weeks is recommended.
Equally, Wella contains ammonia, which can damage your hair when used often.
The bottom line
Wella t14 and t18 are one of the best and most used toners to get a perfect blonde, ashy or silvery color for your bleached hair.
Wella t14 has a pale gray tone that neutralizes orange-yellow hair strands to give you a gray ashy tone.
Similarly, Wella t18 has a lighter ash tone that neutralizes yellow strands to give you platinum shine color
Whether you choose Wella t14 or Wella t18, be sure to follow the instructions and make sure you're using the products on hair that are in the proper state. Wella is quite clear on their packaging about what colors won't work with certain toners, so be sure to read carefully before you buy.
Additionally, if you're not sure about toning at home, please consult your professional stylist for remarkable toning results.
Also Read Related Articles: