Dreadlocks should never be left alone, they need some sources to be healthy and good-looking. You may have many oils in your hand and wondering, "Can I use olive oil on my dreadlocks?" So, yes, you absolutely can!
But why is there even a need for olive oil on your locs? Babe, your dreads need hydration and olive oil can do that. Olive oil can hence be an effective moisturizer for your locs. You can reap its benefits!
Come on, it's time to check out how olive oil can benefit your locs and in what ways. Also, I will tell you about some possible negative outcomes of olive oil on locs. Read on till the end!
Image
Product
Features
Price

Spray Shine Therapy Conditioner: This natural extra virgin olive oil spray provides instant hydration, soothing to the scalp while deeply penetrating hair strands to help restore dry and damaged hair; a hair and scalp oil that leaves hair smooth and silky
Hair Oil Blend Formula with Vitamin E: The olive oil is loaded with antioxidants, preserves hydration and smooths strands; the Jamaican Black Castor Oil creates an optimal foundation for growing hair, locking in moisture and making hair look fuller
Instant Soothing Relief - Palmer's Olive Oil for hair is your secret weapon for hair and scalp conditioning; a daily natural hair oil treatment to repair, restore and keep strands from getting thirsty and soothe dry itchy scalp
Easy Hair Care: Simply spray the leave in hair conditioner oil directly onto damp hair and scalp. Massage scalp gently and do not rinse. Provides long lasting hydration for healthier looking hair and scalp. No parabens, phthalates or mineral oil
Pioneer in skin and hair care: For more than 180 years, Palmer's has created natural solutions with plant based ingredients for trusted beauty and hair products; from stretch mark and scar care to creams, lotions, oils and soaps for skin and hair care

Check Price

Made to moisturize, condition scalp and deliver lustrous shine
For Cornrows, Braids, Locs and Twists
Promotes healthy hair with Babassu Oil, Coconut Oil, Castor Oil and Ginger Root
Lightweight and non-greasy formula provides intensive moisture for dry scalp
Twist nozzle cap allows for direct application to scalp

Check Price

Extra virgin Olive Oil has high levels of mono unsaturated fatty acids and antioxidants that moisturize and nourish your skin and hair
It helps your hair grow stronger and stay smooth
Difeel Olive Growth Oil Moisturizer will provide advanced protection from dryness
Treatment For Extra Dry Hair; Powerful Hair Rejuvenator; Protects Against Dryness Damage
Difeel Premium Natural Hair Oils are super affordable, despite being made with only the highest quality ingredients; Our hair oils have No Petroleum, No Alcohol, No Mineral Oil and No Preservatives; These unique restorative hair oils moisturize and nourish to help keep hair and scalp healthy

Check Price
Olive Oil And Its Magic On Dreadlocks
You may, or may not know, olive oil is hydrophobic and waterproof, it repels water. As per one study, it forms a thin film around your locks because of its main ingredient—triglycerides. They work to preserve your dreadlocks from breaking any other harm.
Now, you can imagine how many benefits olive oil can provide to your locs. Let's dive in deeper!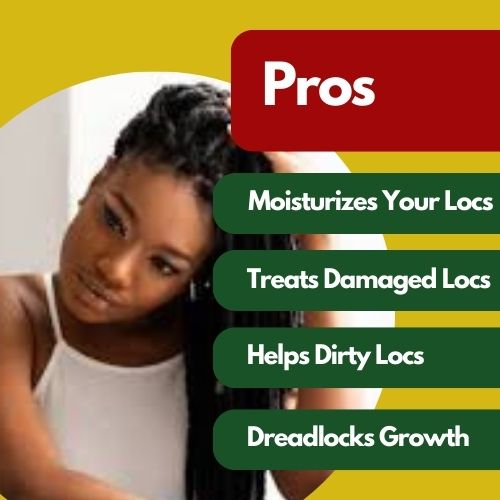 1. Moisturizes Your Locs
As Gwen—the founder of Naturalicious says; "Moisture is really crucial for any textured hair, including locs. Locs are equally susceptible to drying out and will welcome the additional moisture."
Because olive oil is manufactured from plant sources, rather than animal products (like some other oils do), olive oil is renowned as an all-natural moisturizer that never goes bad.
Chemical products are more prone to leave residues on your hair. While olive oil on the other hand, for centuries, has been an excellent technique to nourish black hair. It is especially beneficial for dreadlocks because they tend to grow dry and brittle over time.
When used with other moisturizers, olive oil can aid in sealing moisture in the hair follicle. Giving you locs sufficient care with olive oil will always maintain them smooth and strong from the inside out.
Also, according to Hill, a colorist & trichologist at Paul Salon, "integrating olive oil into your hair care routine can seal moisture into the hair, fiber, which helps with elasticity and result in reduced damage and hair breakage"
2. Treats Damaged Locs
Have you done great damage to your locs? Have harmful shampoos or other items residue buildup on your locs? Now don't know what to do? Olive oil is the solution!
If your locs are breaking when you renew them it means they are seriously damaged. Using olive oil will help heal your damaged dreadlocks and prevent breakage owing to its ease of penetration.
As I mentioned, olive oil can also assist you, restore the suppleness of your hair and prevent breakage, which is very important whenever you redo or renew your dreadlocks.
Aside from aiding hydration, research reveals that olive oil can also function as a cushion for strands, reducing breaking.
3. Helps Dirty Locs
Again, I say, olive oil is the solution if you have dirty locs. Here I mean, that white nasty stuff on your locs or dandruff.
As we know, dandruff is caused by a variety of factors, including dry scalp, fungus, and bacteria. Before treating dandruff, determine the reason, and then use the appropriate remedy. However, olive oil is a great treatment for dandruff or dirty dreadlocks produced by a flaky scalp or dust.
How?
Olive oil has a powerful moisturizing proficiency. It will help you cure dandruff, and all the dry messy stuff on your dreadlocks, which is caused by fungus or bacteria.
When coupled with other oils like tea tree oil, and grapeseed oil, olive oil can be proven the best and easy method of treating dirty dreadlocks.
4. Stimulates Dreadlocks Growth
If you have dreadlocks, you may probably be craving their constant growth. People with dreadlocks constantly look forward to boosting their dreadlocks' development and lengthening.
Olive oil is one of the oils you should use to enhance the development of your dreadlocks.
Dr. Obyan points out research that found; an olive oil component called oleuropein can have a direct influence on the development cycle.
When coupled with peppermint oil and castor oil, olive oil produces far superior outcomes.
This approach has been proven best for me since it aids in hair development by increasing blood circulation in the scalp and feeding hair follicles.
What's more? It encourages the creation of dreadlocks by stimulating hair, and follicles and preventing and healing damaged hair.
Cons Of Olive Oil For Dreadlocks
Unfortunately, I also have to tell you some dark sides of olive oil on dreads. It's important to know as you would not like to have any compromises on your pretty and beautiful locs.
Don't worry, the list is not long…
So yes, excessive usage of olive oil might feed the yeast that on your scalp. Using it sparingly, and without dousing your scalp with it, can keep you on the safe side.
Since the oil is so thick, you should always apply it not only sparingly but also occasionally. Excess olive oil can make your dreadlocks heavy and difficult to handle. Moreover, lint and dust can also be drawn to your locs.
The most significant disadvantage of olive oil is the difficulty of removing it. This is true, whatever hair you have, if you don't use olive oil sparingly, you will face the challenging task of removing olive oil from your locs.
How To Use Olive Oil On Dreadlocks?
So, I will tell you two tried and tested methods of using olive oil which is not only highly beneficial but also easy to make and apply.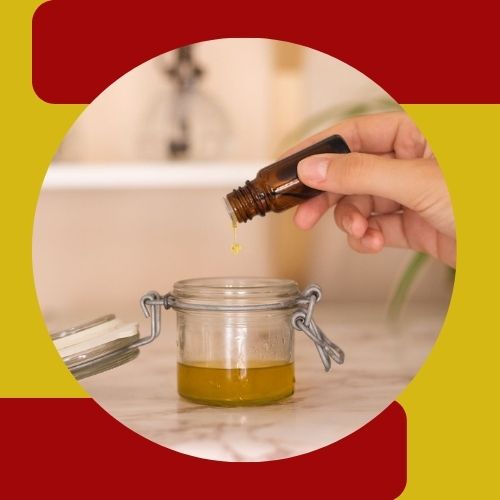 1. Olive Oil And Honey Hair Mask
You will need…
1 tablespoon organic honey
One to 3 tablespoons of virgin olive
Mix both of them in a bowl. Quantity may vary as per your locs and their length.
Pro tip: Warm the olive oil before combining it with the honey to allow it to absorb deeper into the hair shaft.
What you have to do is…
Damp your dreadlocks with bomb water. I repeat, only damp your locks.
Apply the mixture all over your scalp and massage it gently.
Also, apply the remaining mixture onto your locs, especially at the end of the locs.
Cover your locs with a shower cap and leave your locs for five minutes.
Rinse off with lukewarm water.
Thoroughly dry your locs.
This recipe contains a variety of nutrients, such as antioxidants, minerals, and vitamins, which will nourish your hair, and follicles and promotes the growth of your dreadlocks. Honey and olive oil when combined, absorbs moisture, helping in the hydration of dry scalp and dry locs. What else? Its antibacterial and antiseptic abilities will combat germs and bacteria that cause scalp itchiness
2. Hot Oil Treatment
Hot oil treatments include applying warm plant-based oils to your hair, such as olive oil. One of the many advantages of hot oil therapy is that it is not time-limited, so you may apply this nourishing treatment at any moment during the locking process.
Let's begin the process…
I use a quarter cup of olive oil and 3 to 4 teaspoons of any essential oil on my mid-length locs.
In a mixing dish, combine your ingredients. It is microwaveable or you can also heat them on flame. Check that it is not burning. With your finger, you can feel the heat.
Apply the oil directly to your scalp. When applying the oil to your scalp, massage it in gently and thoroughly to allow it to begin functioning as it connects with your hair roots and tips.
Tie your hair and properly wrap the towel over your head.
Heat your locs with a blow dryer on medium speed while wrapping your hair in a towel.
After 30 mins, remove your towel and rinse your hair with warm water before using shampoo and conditioner to complete the procedure.
Best Olive Oils For Dreadlocks
Why not check out some of my top-tested and highly effective olive oils for dreadlocks? Have a look at them!
This natural extra virgin olive oil spray delivers immediate hydration while calming the scalp and thoroughly permeating hair strands to help heal dry and damaged hair; a hair and scalp oil that makes hair smooth and silky.
My hair feels silky and moisturized after using this, without being greasy or burdened down. I like to spray this on my locs before bed, then wrap them, and my locs are smooth and shining in the morning.
This is an absolutely stunning oil. It doesn't smell like olive oil at all, but rather like something fresh and sweet. It does miracles for my dry scalp.
The antioxidants and moisturizing squalene in the oil provide moisture and soothing to your hair. This pure product is suitable for all ages and may be used on hair, nails, and skin.
This extra virgin olive oil contains a high concentration of monounsaturated fatty acids and antioxidants, which help to hydrate and nourish your locs. It aids in the growth and maintenance of your locs.
Frequently Asked Questions (FAQs)
What oil is best for dreads?
Olive oil can work wonders on your locs. It has the capability to protect your dreads from damage and dryness.
Should you put oil directly on your dreads?
Applying oil directly to your locs will not nourish them fully. It will soften them and maybe make them less brittle. However, it will not add much moisture. To keep your locs moisturized, use a combination of oil and water or essential oils.
Should I oil I locs wet or dry?
Both can be done. However, oiling damp locs can add more moisture to your locs.
How often should dreads be oiled?
You can oil your locs every 1 to week. It depends on the maturity of your locs. The more matured locs need more frequent conditioning. 
Should you use olive oil on your dreads?
Yes. Olive oil is an excellent natural moisturizer for dreadlocks. It deeply conditions and shines your strands.
Now, It's Your Time!
Now you know how olive oil can benefit your locs and in what ways it can be a deal breaker. Although olive oil is rich in antioxidants and mono-saturated fats, it should be applied in the right manner and with the right gaps. If you use it correctly on your locs, you can reap all its benefits—conditioning, loc growth, dandruff, and what's not? Now it's your turn to tell us how you use olive oil on your locs, does it work?