In the various hairstyles one can choose from, Fulani braids with beads have quickly become one of the trendiest and fastest-rising protective styles.
As a way of beautifying Fulani braids, you can add an array of beads to them to enhance your look and give you some form of variety.
Adding beads is a unique way to add style and personality to your hair, and they're sure to turn heads wherever you go. We've put together 50 beautiful Fulani braid styles adorned with beads you can replicate.
Also Read related:
50 Stunning Fulani Braids With Beads
1. Cornrow Braids with Layers
To upgrade the simplicity of your tribal braids, these beads can be used all around your braids.
2. Freestyle Fulani Braids with Beads
These braids, which are creatively patterned and adorned with beautiful beads, are guaranteed to provide you with a unique look.
3. Sew-in with Beads
Sew-ins with braids are one of the trendiest hairstyles now. After braiding Fulani braids, add the wavy hair by sewing at the back, and adorn it with transparent beads at the tip. This look is both gorgeous and lovely.
4. Half Up Fulani Braids with Beads
Including beads in your Fulani braids helps to showcase your lovely features. This style is also appreciated for its versatility when it comes to the different ways you can style it.
5. Fulani Braids with Permed Hair
For the girlies who find elegance in simplicity, adorning their natural hair with colourful beads is perfect for keeping it beautiful while still in its natural state.
6. Tribal Braids with Beads
If you're feeling like giving your tribal pattern braids an extra boost, these lovely beads are the best option for adding a lovely touch to your braids without taking away from the beautiful braid patterns.
7. Shoulder Length Freestyle with Beads
Hop on the look of versatility with these unique Fulani braids adorned with wooden beads.
8. Short Velvet with Beaded Tips
This stylish hairstyle is perfect for formal events like weddings. The colour of the hair and the crossed part of this cornrow with the white beads also make this stand out.
9. Star Shaped Cornrow with Beads
Make your hair look distinctive with this star-shaped hairstyle. The top of the head has a beautifully braided star design. It's incredibly tidy and exact, making you stand out from the crowd.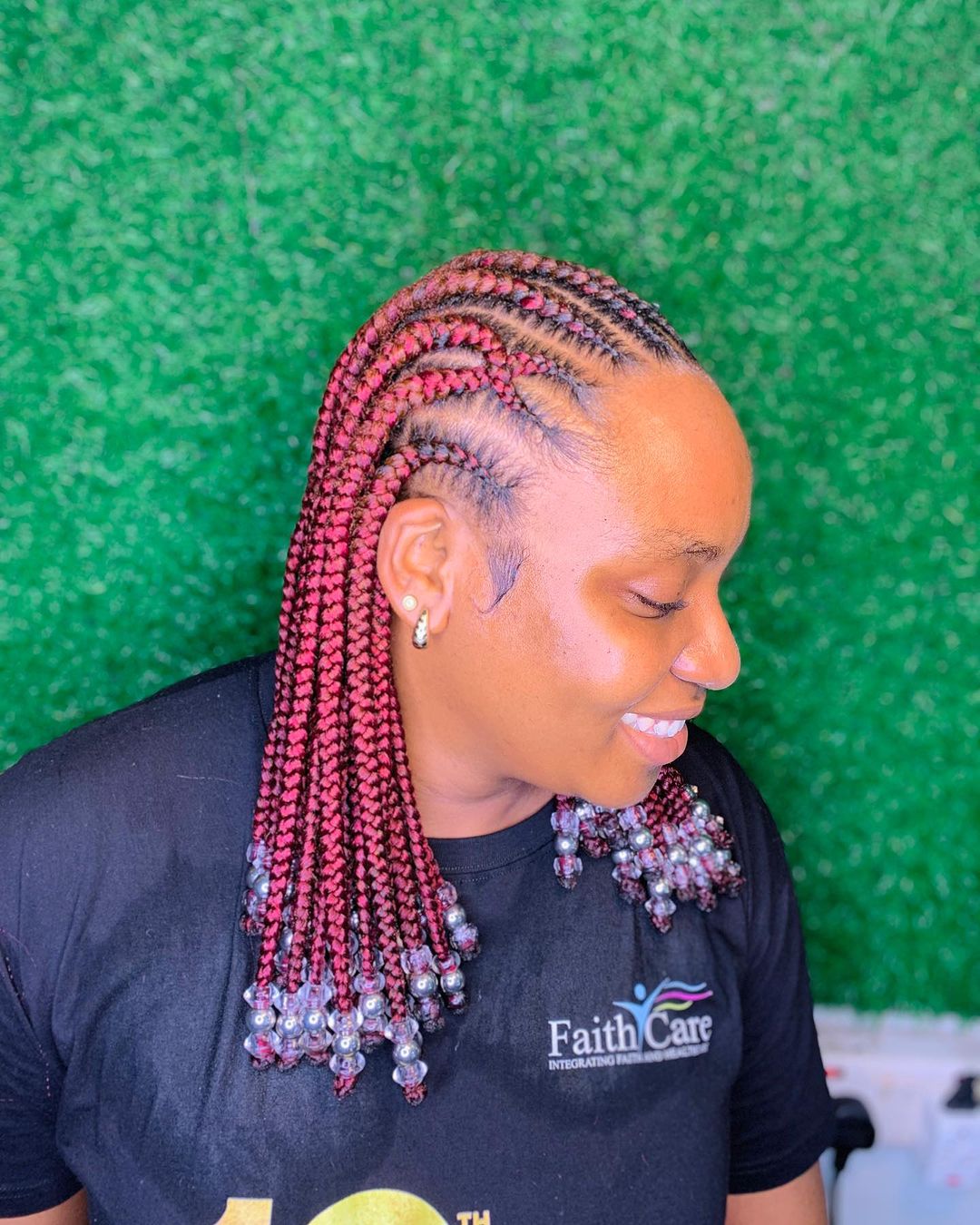 10. Short Intricate Braid Design
If you're feeling like your short pattern braids are too plain, you can adorn them with these colorful beads to beautify your look and draw out your features.
11. Triangle Pattern Length Braids
These large, colourful beads are perfect for beauties who don't mind more colours. With these beads, you can elevate the simplicity of your braids.
12. Braided Side Bun with Beads
This look blends an elegant ponytail with a beautiful touch of African braids with colourful beads and rings.
13. High Bun Cornrow
The high bun cornrow is one of the trendiest styles, and rocking it will surely make you look elegant and sophisticated.
14. Multicoloured Tribal Braids with Beads
These beautiful golden beads are the best for matching your golden brown tribal braids, which are sure to draw attention.
15. Two-Coloured Fulani Braids
For the pink girls who can't have too much pink, these large pink beads are perfect for complimenting your theme braids.
16. Flat Patterned Tribal Braids with Beads
Who says little girls can't slay in style? These pink beads are the best for giving your little girl her pretty little glow.
17. Swirl Cornrow with Two Side Bangs
Black women of all ages can rock this gorgeous medium-sized pattern cornrow.
18. Tribal Cornrow with Beads
This style is gorgeous and simple to wear. The braids are long, thin, tidy, and sleek, with some beads. This style certainly exudes effortless beauty. It's ideal for every occasion.
19. Two-Sided High Bun Cornrow
These beads are pretty for your classy high bun braids and bring out your distinctive features.
20. Unique Patterned Cornrow with High Ponytail
This elaborate pattern of braids held up in a weave in a ponytail, correlated with some traditional brown beads, is the perfect hairdo to rock for any occasion.
21. Zig Zag Tribal Braids
Thinking that complicated looks don't need anything extra? These zig-zag tribal braids with brown beads are proof that a little bit extra is just what you need to complete your look.
22. Crisscross Fulani Braids
With a touch of cute beads, your tribal braids can go from simple to classy in a second.
23. Low Cornrow Ponytail
If you really trust the skills of your hair stylist, leave her to showcase her artistry on your hair; that is what freestyle braids are all about. This style is a combination of different designs.
24. Scalp Braids with Bangs
Are accessories your thing? Then definitely try this style. The style is Fulani-inspired, with beads on all ends of the braids, including the front. It does take some boldness to rock this look, so make sure you have just that.
25. Fulani with Two Short Bangs
These beads are a combination of large-sized coloured beads and transparent small-sized beads. You can also achieve a traditional look with these beaded tribal braids.
26. Medium Fulani Braids
The medium Fulani braiding with beads is an excellent option if you're looking for a trendy and elegant hairstyle that has the ability to be both protective and flexible.
27. Bra Strap Length Braids
These white and silver beads are perfect for adding more volume and variety to your braids without taking attention away from the intricate designs.
28. Two-Bun Fulani Braids
We have this cute and lovely double bun hairdo you can add to your list. This is ideal for women who seek a cute and trendy hairstyle. Hair braided with wool, beads, and silver accessories were used to achieve this style.
29. Knotless with Beads
You can attain a similar stunning look by combining your beautiful cornrow short knotless with small silver beads.
30. Short Freestyle Braids
Who says Fulani braids with beads are for women alone? Men can rock these styles too. These designs with golden wooden braids at the tip will look great on any guy who wants to rock Fulani braids.
31. Stitch Braids with Beads
Do you admire beaded hairstyles yet don't feel comfortable with your hair over-cluttered with too many braids? Then give the 8 stitch style a try. This is a simple stitch cornrow adorned with beautiful and not-too-catchy beads.
32. Full Beaded Bob Braids
Dare to be bold with your braids? Try going for these all-around beautiful braids adorned with small transparent silver beads for a classy and elegant style. This style is sure to turn heads in your direction.
33. Half Knotless Braids
Black and proud? These braids, decorated with brown, white, and silver braids, are sure to announce that you're black, brown, and beautiful.
34. Multiple Accessorised Braids
You can imitate this style, or you can add unique beads, cords, and cuffs in various colours to make them more distinctive.
35. Mixed-Coloured Tribal Braids
You can add simple beads to add more variety and flavor to your beautiful, short Fulani braids.
36. Small-Sized Braids with Wooden Beads
You can attain a minimal yet classic look with these soul braids.
37. Fulani Braids with Curls
You think your curls are enough, and you don't want to go overboard? These silver studded beads are perfect for elevating your classy braids while still managing to keep them simple.
38. Deep Middle Parts with High Knot
The highlight of this style is the middle parting with a high bun. This style brings out the African in you and can last for four to five weeks.
39. Swirl Parting Cornrow with High Ponytail
Make the most of your extra-long braids by changing up your parting style. Use swirls instead of straight portions, and finish with a full-beaded fringe.
40. Side Ways Freestyle Braids
There's no such thing as too stylish. Adorning your freestyle pattern braids with colourfully sectioned beads can take your style another notch.
41. Side Layered Braids
Looking to enhance the simplicity of your braids? These white transparent beads are perfect for giving you a simple yet elegant style.
42. Stylish Medium Fulani Braids
This is a simple style, however, the beads provide a captivating charm, making this style the most popular braid style.
43. Triangle Pattern Stitch Braids
These custom transparent bubble beads are perfect for complimenting your perfect triangular pattern stitch braids.
44. Cornrow Beaded Braids
Fulani braids always look good with extensions. You can choose to blend your preferred colours for your braids. For a unique touch, adorn the cornrows with beads and other details.
45. All Back Cornrow
Beads can make even the simplest hairstyle look unique and spectacular. If you're worried your braids look too simple, just add some colourful beads to make you look gorgeous.
46. One Side Design Braids
You can try this simple style with the unique design on the side if following trends is not your style. Add some ravishing beads to compliment your look.
47. Large Stitch Braids
This is a simple but attractive way to add beads to your braids to light them up.
48. Tribal Braids with Beads
Here's another one who adores beads! The lengthy braids are covered in numerous varieties of beads. As you can see, your hair will look bolder and more distinctive the more beads you apply.
49. Tribal Braids with Natural Hair
If you're obsessed with nature and always want to show it, you can rock this elegant style. The front is braided in the Fulani style, and the natural hair is wrapped in a bun. Here, the wooden beads were used at the tip, but you can use them anywhere.
50. Long Tribal Braids with Beautiful Beads
Fulani braids usually add extensions to attain the appropriate length and thickness. You can rock this style with any color or beads.
Now It's Your Turn
Fulani braids adorned with stunning beads are a sophisticated hairstyle that matches a unique blend of braids and beautiful beads that give the braids a fresh air of color and variety.
Whether you're seeking a chic protective hairstyle or you just want to enjoy the beauty of the Fulani culture, feel free to choose any of these options and share pictures of you in the comments.