While new ideas keep popping up, you definitely need to keep up with the changing trends. Among the new trends are endless hairstyles to choose from. One of such are fulani braids with curls.
Fulani braids were popular among Senegalese women, however, every black lady seems to be jumping on it now. Check out these Fulani braids with a touch of curls to get that trendy look you desire.
Also Read related:
Top 50 Fulani Braids with Curls Ideas
1. Tribal Braids
This Fulani tribal braid has classic cornrow patterns with curly ends. To get a long braid like in the image, you'll need a strong battery and movies on your phone, as you'll spend more hours in the salon. You'll need more braided hair too.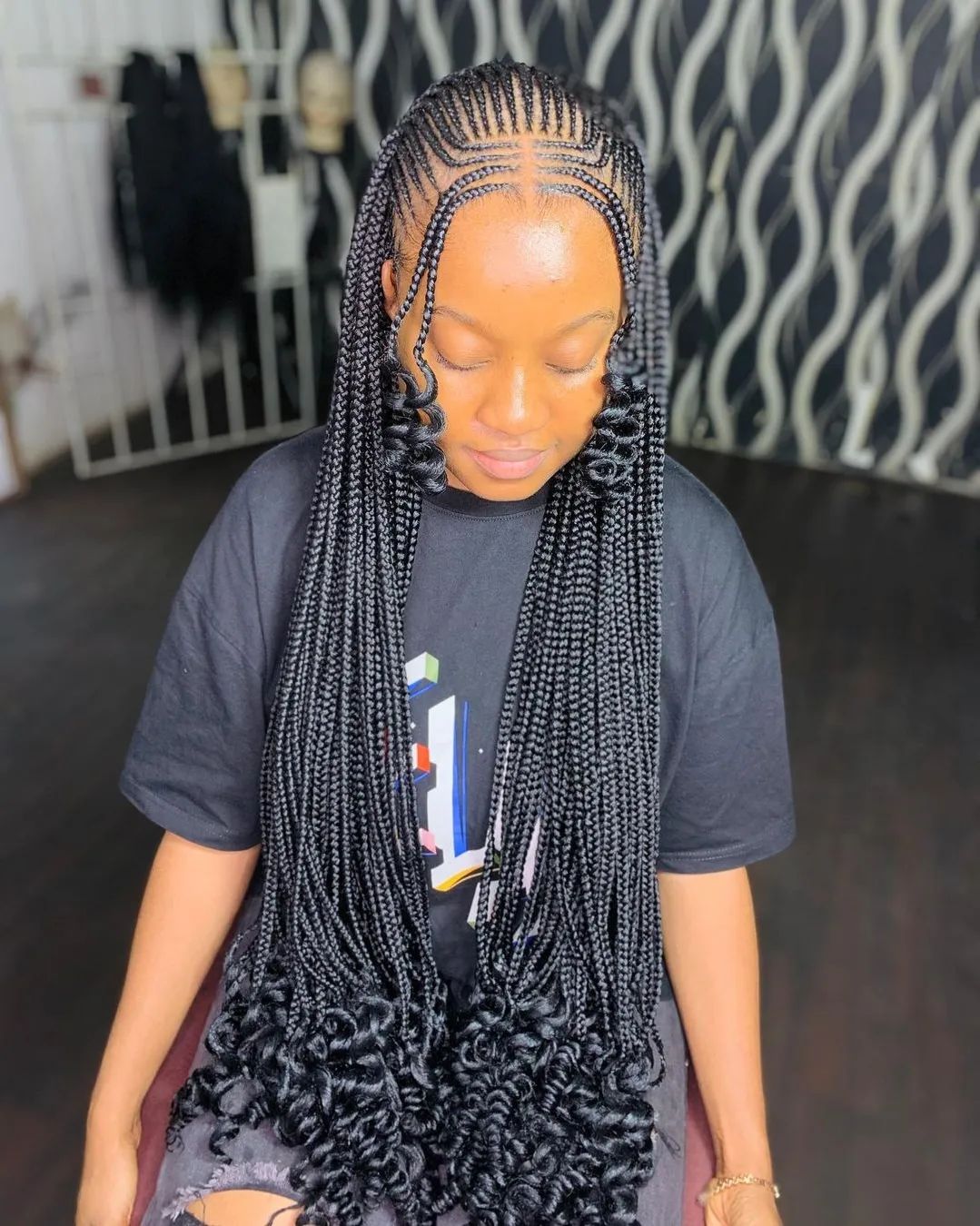 2. Cornrow Boho Curls
This different and unique cornrow pattern with curls and box braids at the back is definitely a must-try hairstyle.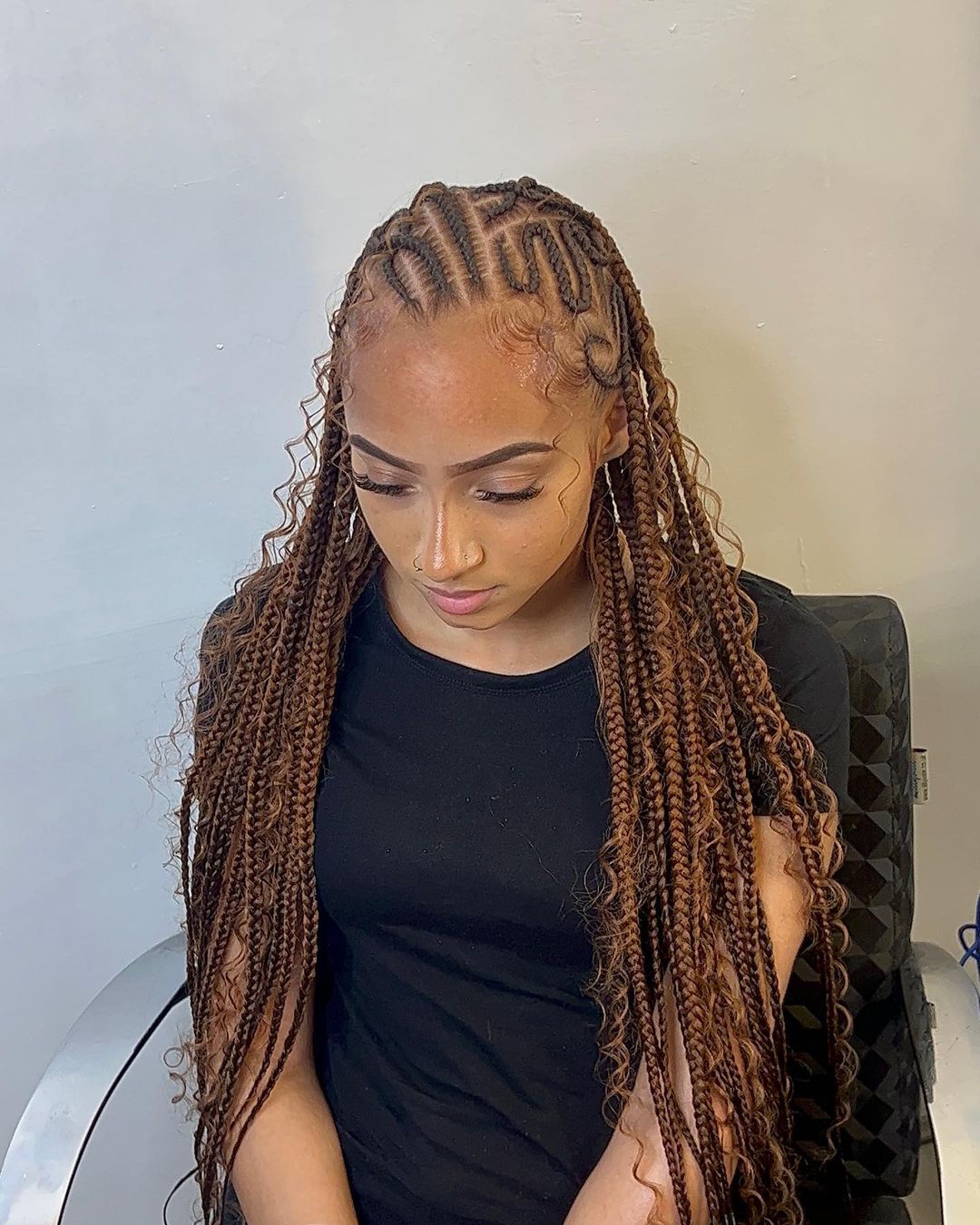 3. Flip Over Braids with Bohemian Curls
For this flip-over with bohemian curls, you'll need to add some human hair to the braids for a unique look.
4. Full and Curly Fulani Braids
If you're in for full knotless braids with no cornrow style, this look is for you.
5. Feed- In Braids (Cornrow) with Curls
Feed braids give you a natural look. Your stylist will start by braiding your natural hair into a beginning braid, then use synthetic braiding hair to produce a lengthy cornrow.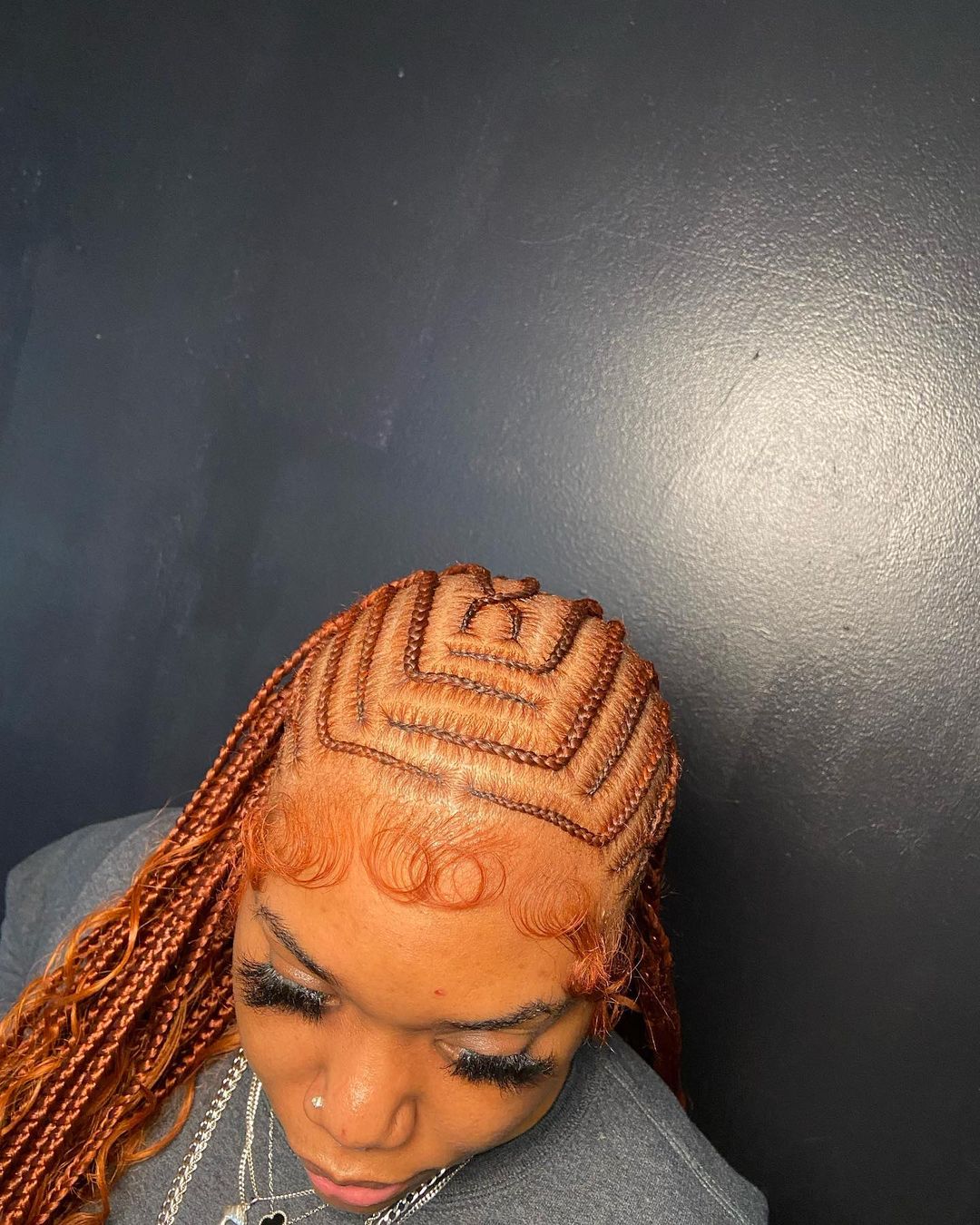 6. Knotless Braids with Curls
Knotless braids are the trend now. This hairstyle represents a harmonious blend of protective styling and natural elegance. Eliminating the prominent knots found at the roots of traditional braids means less stress for your roots and more freedom.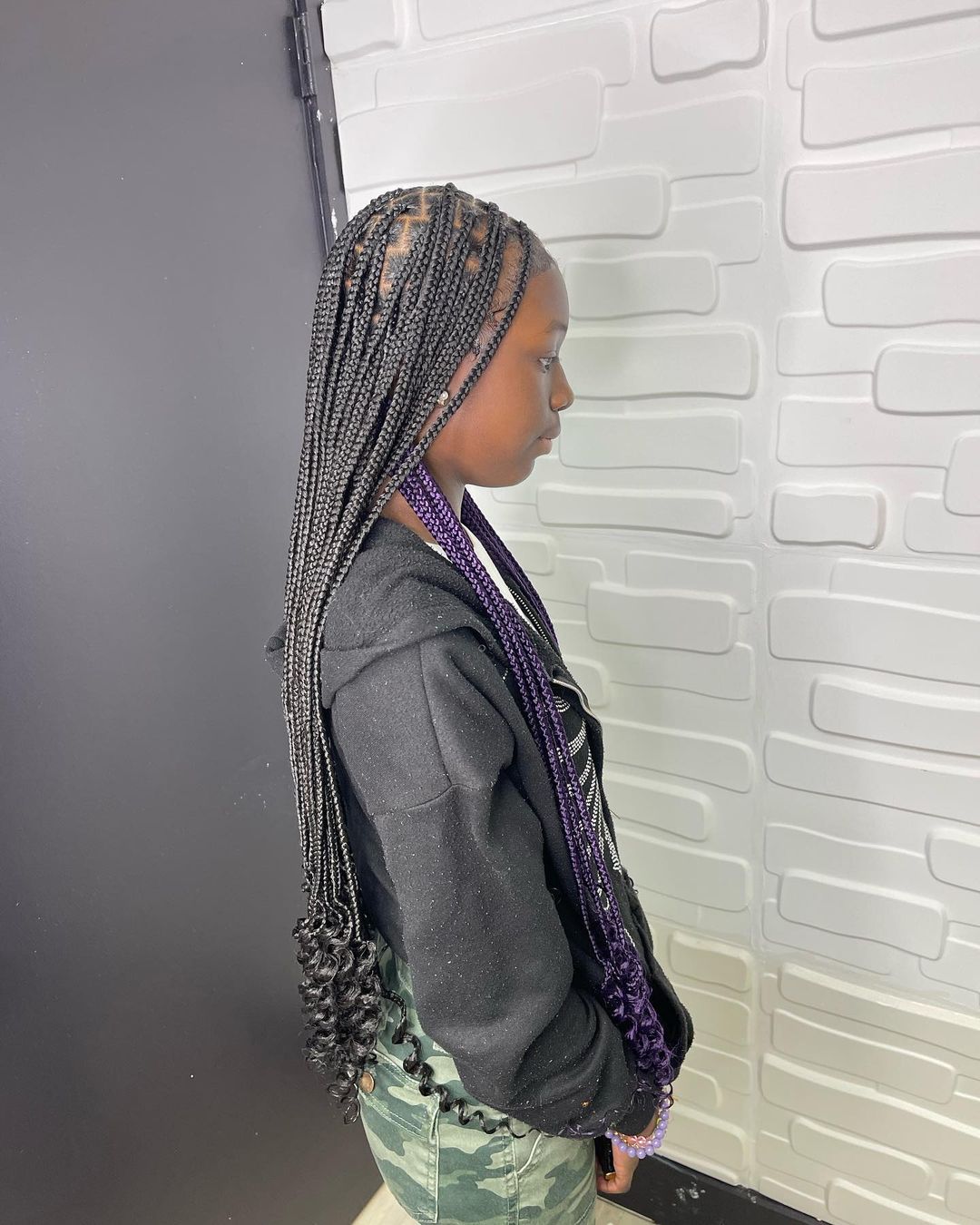 7. 6 Stitch Braids into Bun
This 6-stitch braid has a classic stitch pattern with some curls that will give you an adorable teenage look.
8. Short Fulani Braids
The new flip-over braids bring together crisscross stitch braids, straight back lines, single knotless braids, and triangle part knotless braids that can be flipped over with curls. You can choose to add to any side of the braids.
9. Large and Short Knotless Braids With Curly Ends
Large and Short Knotless Braids with Curly Ends are an attractive and adaptable hairstyle that expertly combines vintage style with modern flair. The curly ends and the scalp pattern make it even more stylish. An ideal choice if you don't have much time to spend at the salon.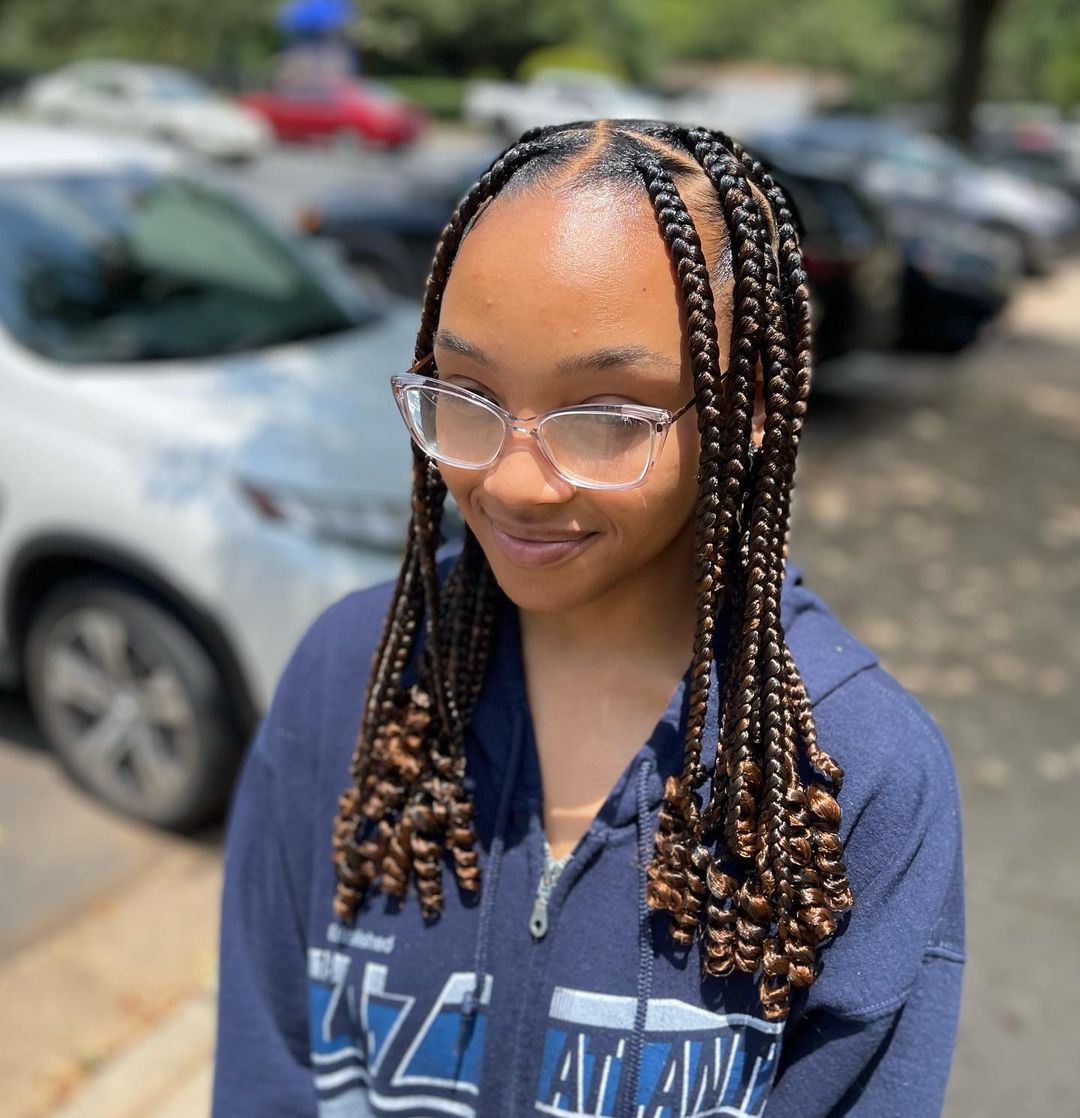 10. Invincible Bohemian Locs
Invincible locs (not to be confused with faux locs) are one of the trending hairstyles. These carefully crafted braids, which avoid bulky knots, give the scalp a smooth and natural appearance at the crown, improving comfort and appearance. With curls in between, this'll give you the elegant look you want.
11. Long Fulani Braids with Waves
Long Fulani braids with waves are the order of the day. The incorporation of wavy braidless ends adds a playful and dynamic dimension to the overall look, infusing it with a touch of individuality and charm.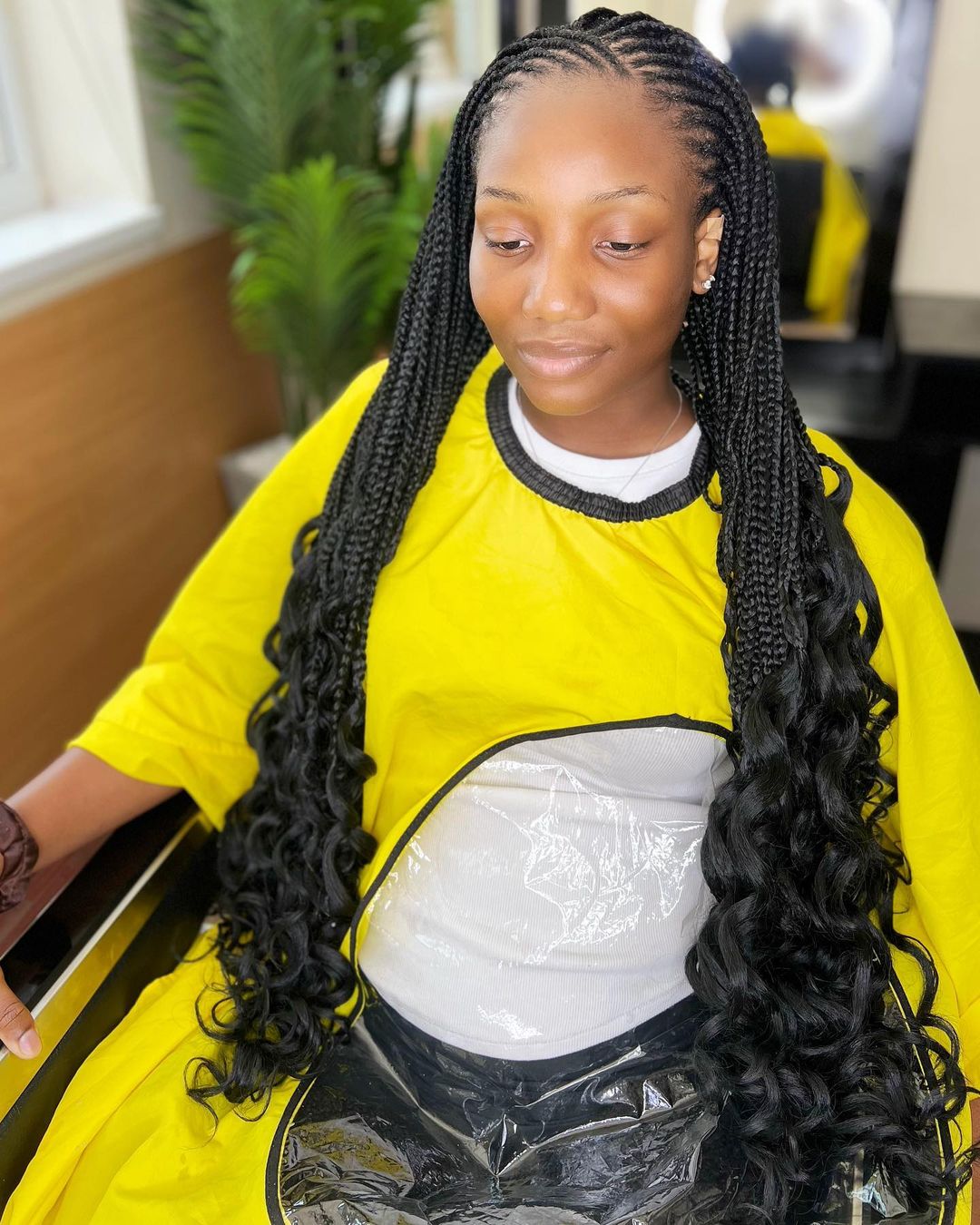 12. Stitch Box Braids
Whether opting for medium or small Fulani braids for a bold and dramatic statement or choosing longer ones for a more understated elegance, this style caters to diverse preferences. It's a celebration of texture and creativity, where the contrast between the structured braids and the sleek stitches at the edge produces an eye-catching and delightful work of art.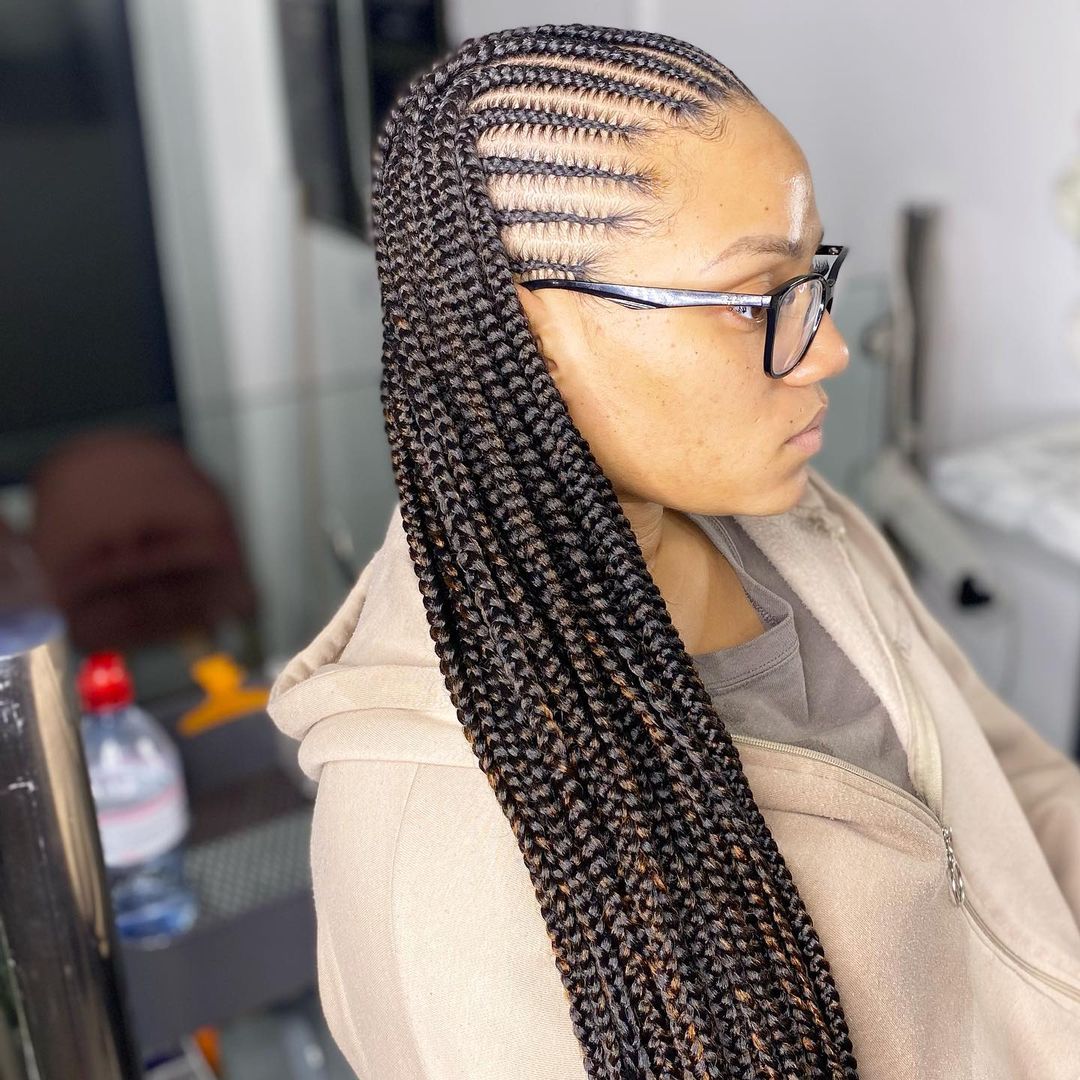 13. Bob Box Braids With Curls
Try heart-shaped braids if you want a simple but distinctive and entertaining hairstyle. Whether you're getting ready for a casual night out with friends or just want to add some individuality to your usual look, this trend is ideal for everyday living.
14. Flat Twist Goddess Braids
The symmetrically carved head braids with extra long extensions that stick out of the wrapped ponytail will make you stand tall!
15. Heart – Shaped Pony Cornrow
The stitch cornrow with a heart s hape (which can be at any desired part) is a new trend for black women.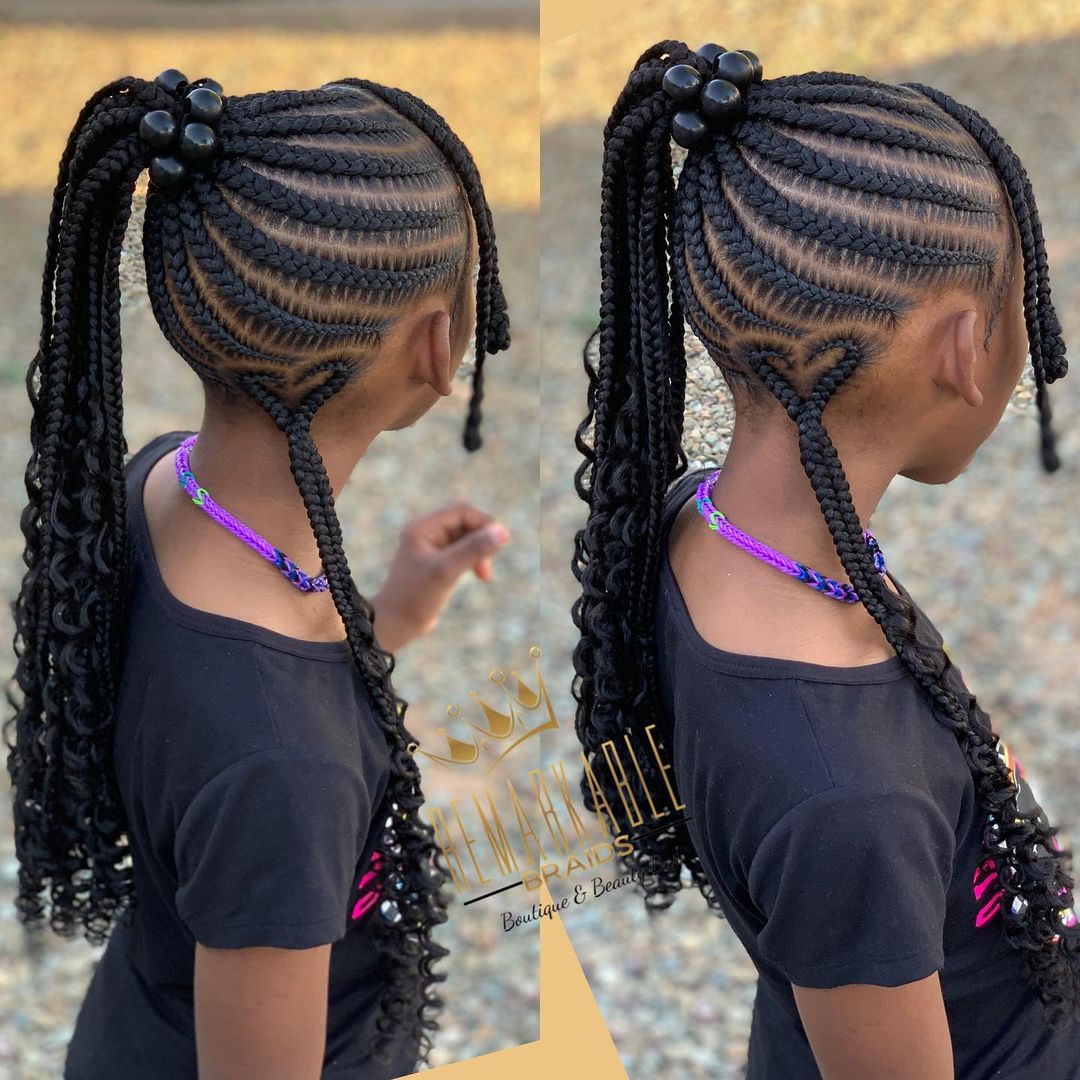 16. Cornrow with Interlace
Do you want your sew-in to stand out? Try this style. The technique is becoming popular among young females. With this technique, your hair is first braided into cornrows before your stylist adds hair extensions to the cornrows using a unique needle and thread.
17. Locs With Curls
You can achieve these locs with a hot-water setting after twisting the braids. Then separate the braids after the hot water setting. The result is a curly and fashionable hairstyle that leaves a unique statement.
18. Fulani Braids with Sew in Curls
Make your hair into a passion twist braiding style for firmer sew-in curls. You can maintain this look for up to three weeks using styling mousse, keeping the curls vibrant for summer.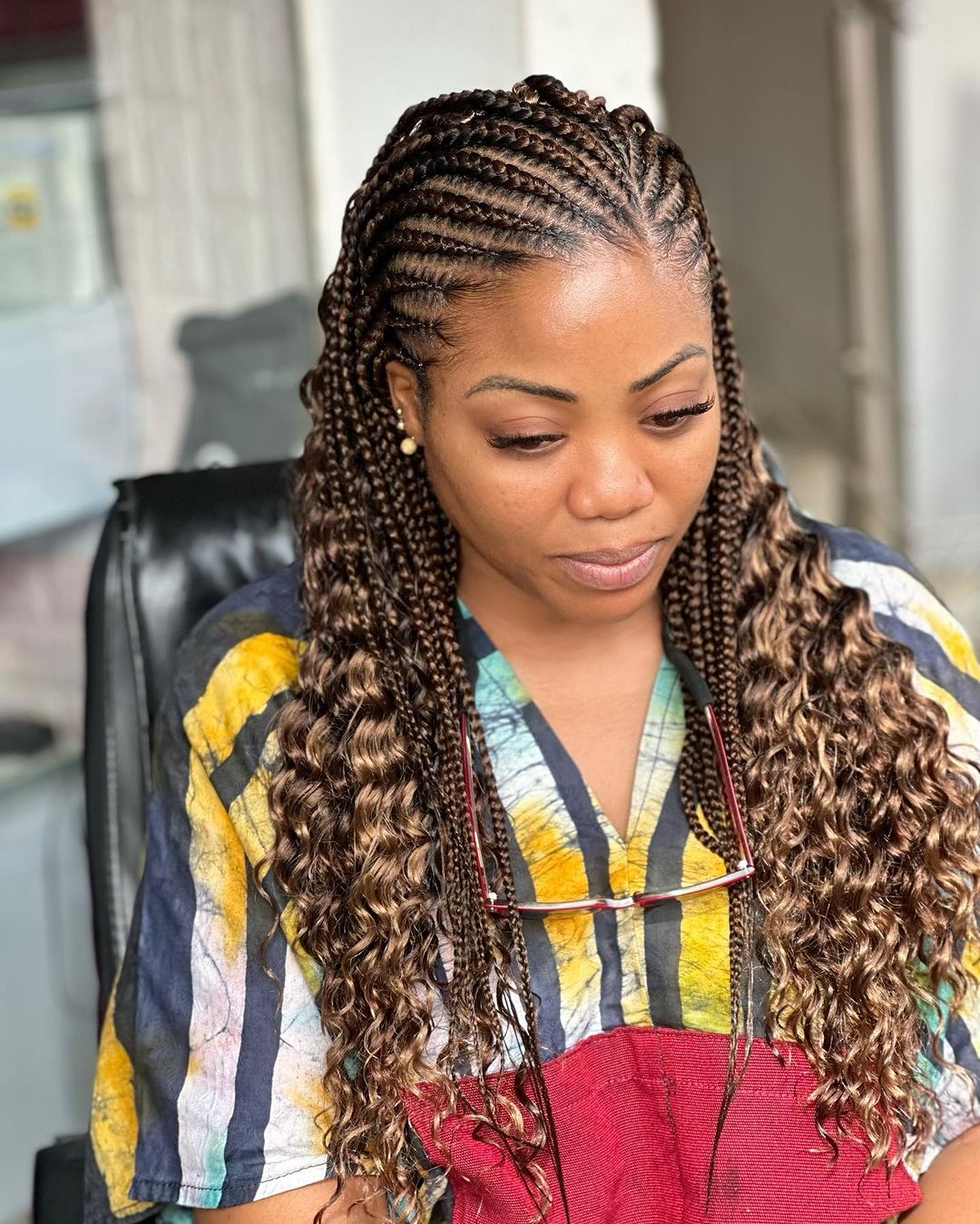 19. Fulani with Fluffy Curls
Your Fulani braids will look fantastic for any summer trip with a curly sew-in on the back. To achieve the aforementioned style, use hair with a curly texture.
20. Fulani Cornrow Braids, Butt Length
Boho leave-outs give a simple Fulani braid crown a boost! The outcome is a lovely waterfall of braids and curls.
21. Fulani Braids with Interlace
Heart-shaped interface braids with curls to give them a playful vibe are an ideal look for everyone. If you're looking for a unique and entertaining hairstyle, you should definitely try it. This style is also a great Valentine's Day idea.
22. Mermaid Boho Braids
Boho braids are sometimes referred to as messy braids because they showcase loose and textured braids with a carefree and relaxed mood.
23. Island Twist
The island twist technique involves twisting natural hair, curly hair extensions, and synthetic hair into small, equal pieces. It gives you a lovely look and may be kept for up to 6 – 8 weeks. It also encourages hair growth.
24. Medium Island Twist with Curls
Along with braids, twists are one of the most popular techniques used in black hairstyles. Twists allow you to add extensions to your natural hair, ranging from high-quality synthetic strands to dreadlocks.
25. Goddess Cornow Braids
Try this sophisticated stunner that fits a woman with the right facial characteristics like a glove. It displays your audacious adventurous and feminine side.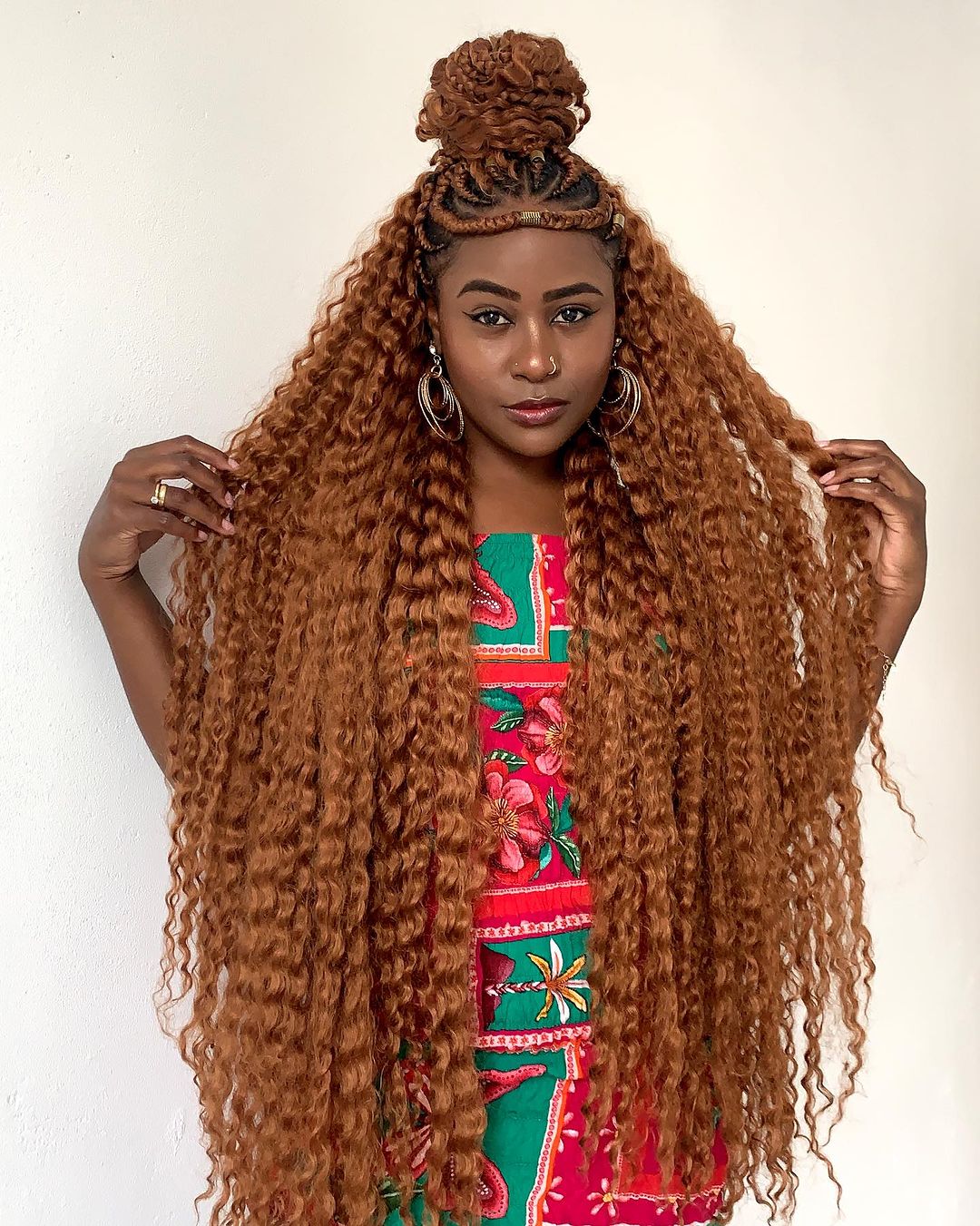 26. Fulani Braids With French Curls
French curls have become very popular due to their ability to create a versatile look. There are numerous ways to customize your braids with the abundance of TikTok videos.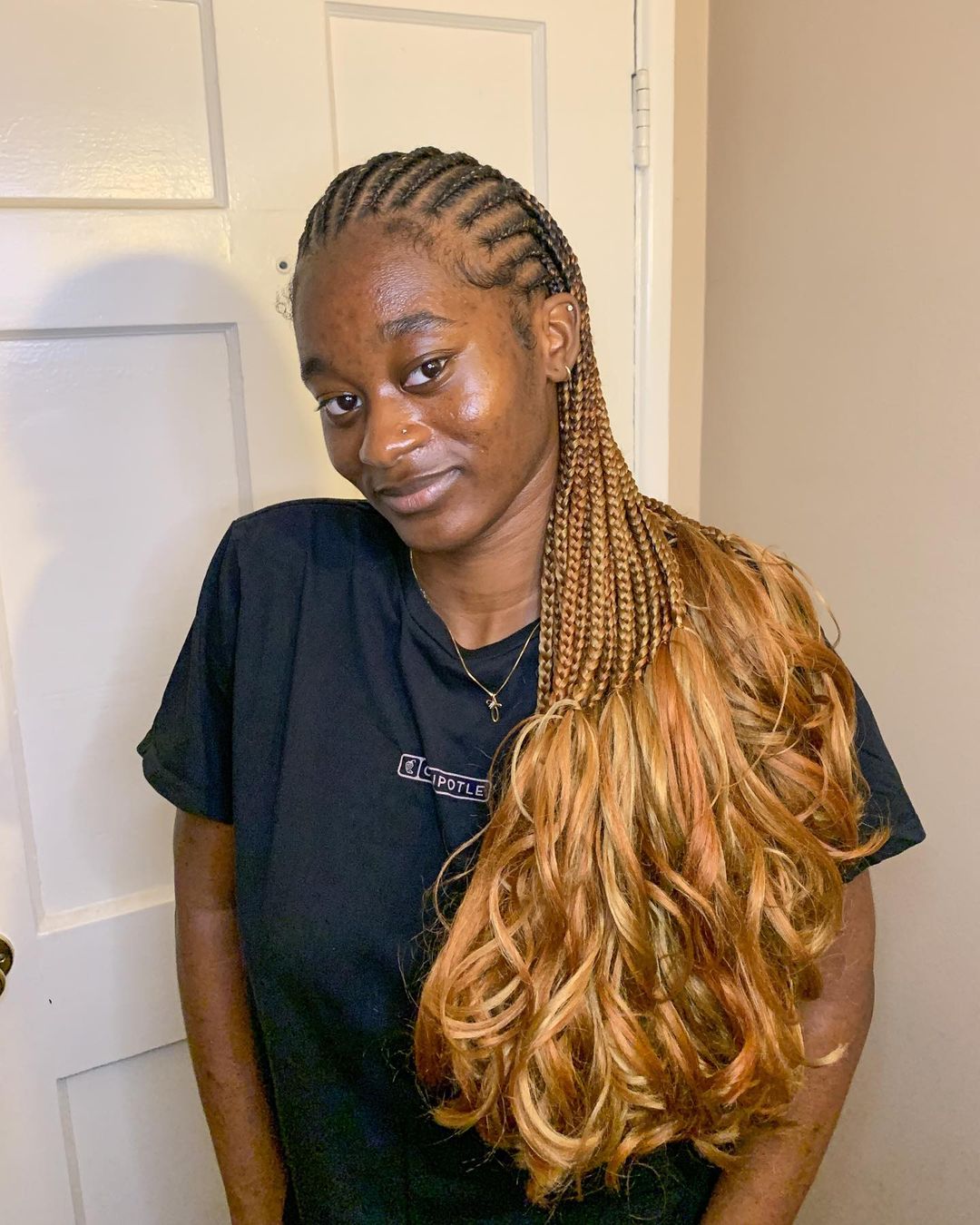 27. Fulani Braids with Strings
You can try these gorgeous Fulani braids with strings and curls for your upcoming outing or trip. Adding the curls will give your braids more volume and movement while softening the appearance to suit your tastes.
28. Fulani with Natural Hair
If you're uncomfortable with extensions for your Fulani braids, you can simply opt for your natural hair. You'd still look gorgeous. Don't forget the hair ornaments!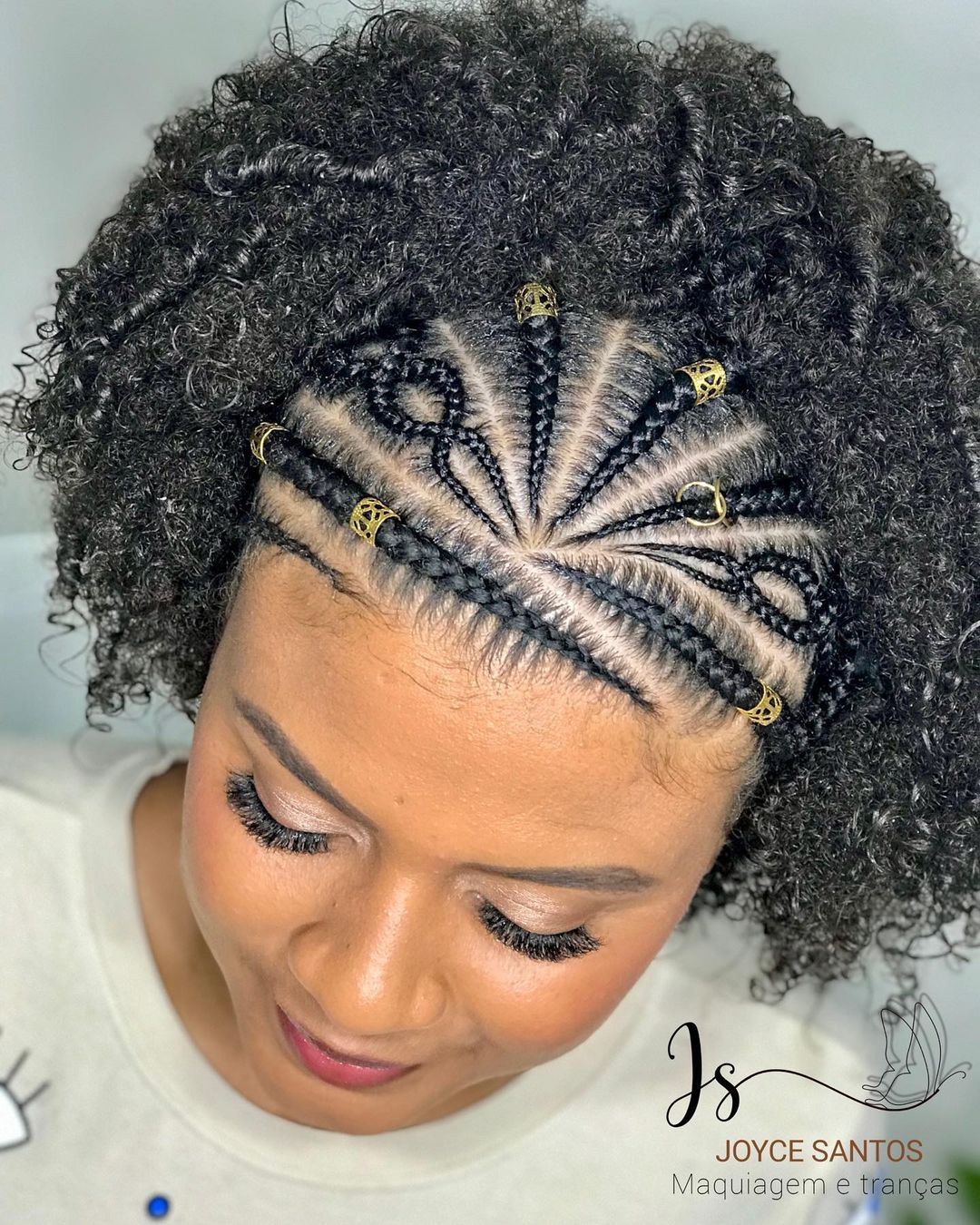 29. Bob Invincible Locs
Invincible locs are among the trendiest looks now. It's a rare hairstyle that provides the appearance of two different haircuts in one. Even more cute if you make it short.
30. Short Half Feed-In Braids
If you're a busy person yet want to put on a stylish look, short half feed-ins are ideal for you. It usually lasts up to four weeks and can be obtained by adding a sew-in at the rear.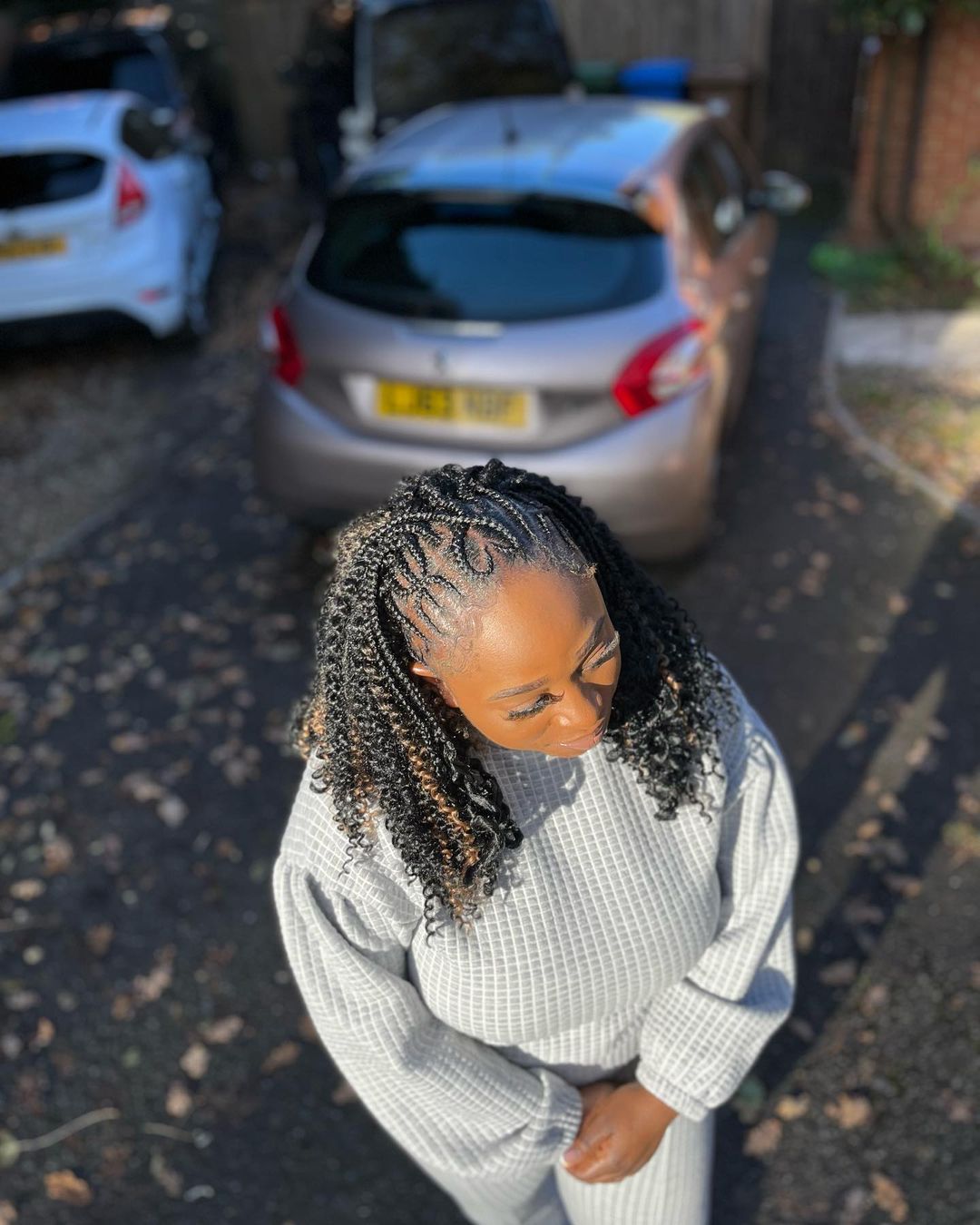 31. Kinky Twist with Curly Ends
This look is ideal if you want a natural, uncomplicated look for any situation. You can look sophisticated and gorgeous without sacrificing your sense of fashion. The curly ends also make this style unique.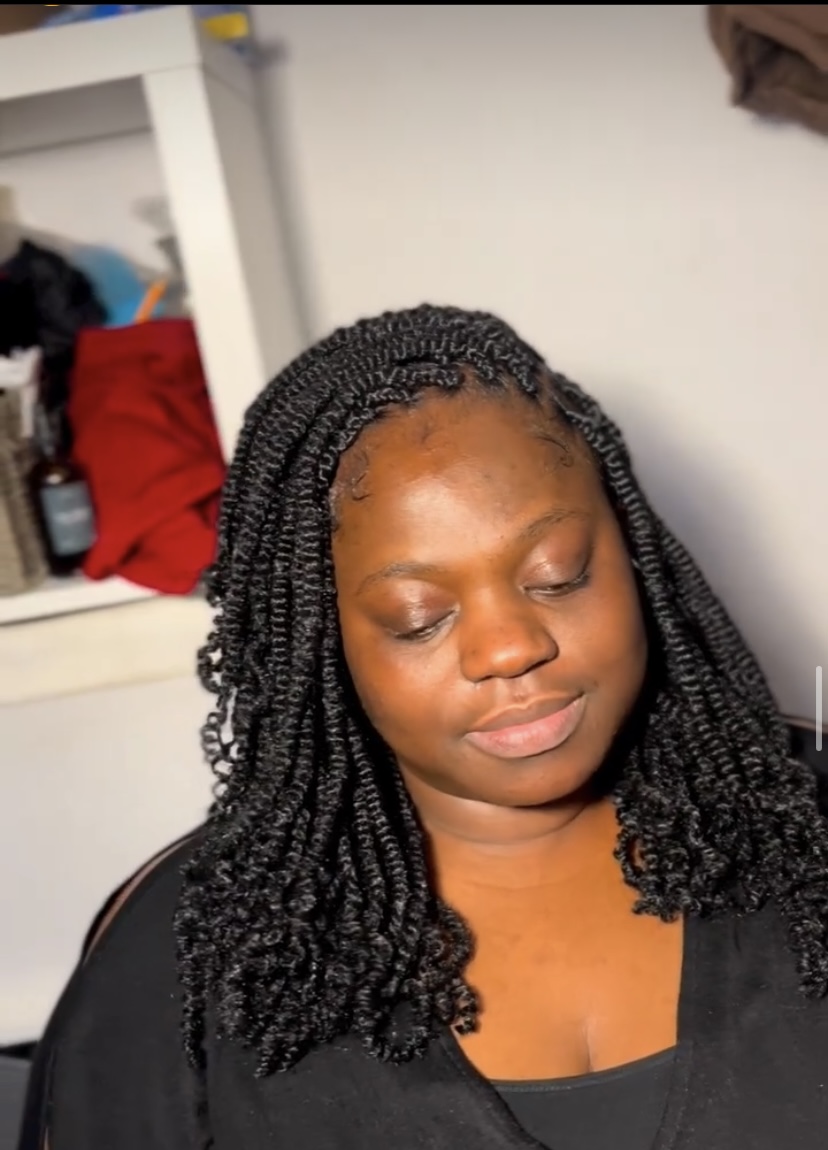 32. Bob Braids with Curls
You can try this look if you want to try the Fulani braids but without the cornrow. This style is short, simple, and easy t do.
33. Blonde Twist with Curls
This blonde knotless kinky twist with curls adding a bit of flair is definitely a must-try. You'll need edge control, soft kinky braiding hair and some human hair for the curls.
34. Unique Stitch with Curly Bun
The versatility of the unique 6- 8 stitch braid with a low curly bun gives you stylistic freedom while protecting your natural hair from harm. The style is also lightweight, with minimal shedding.
35. Half cornrow and half box braids
Tribal patterns are still very popular in 2023, and you definitely shouldn't be left out of this trend. Jump on with this Fulani-inspired hairstyle with boho curls to give you that sparkle.
36. Heart-Shaped Fulani Braids
Heart-shaped braids are indeed one of the trendiest styles you should definitely try.
37. Straight Back Feed In
This feed-in style prevents frizz, and adds length. It's usually used for a lot of protective braided designs.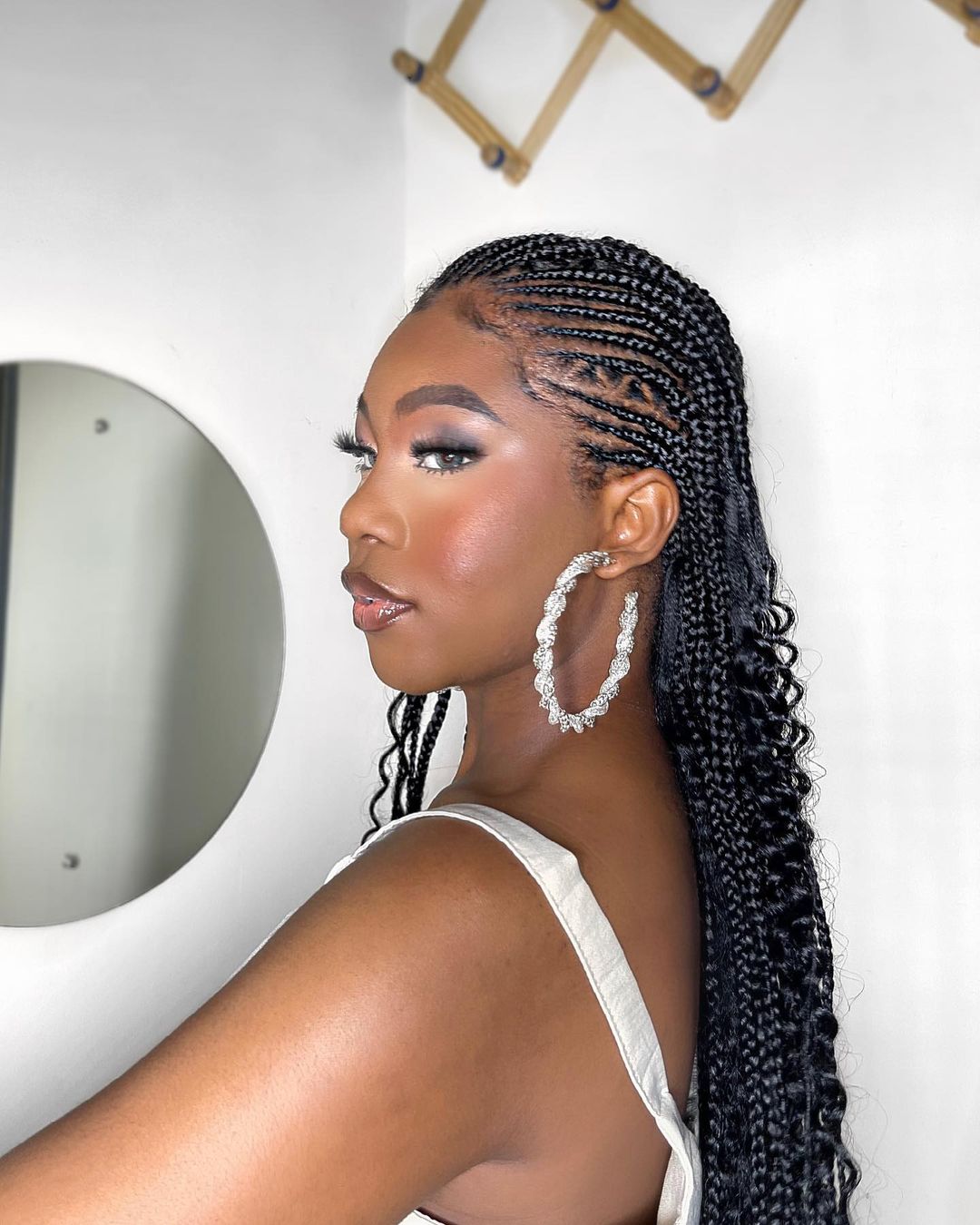 38. Medium Stitch Braids with Half Sew-In
Stitch braids are a protective style that gives you a break from heat styling. It also promotes the growth of your own hair.
39. Stitch Braids with 2 buns
This stitch braid with a unique and simple pattern and deliberately unstructured curls creates a sleek and sophisticated look.
40. Half Stitch Half Braid
As the name implies, as you braid the hair, you add hair attachments to the cornrows. The end result is a stitch-braided hairstyle that is beautiful, lengthy, and good-looking.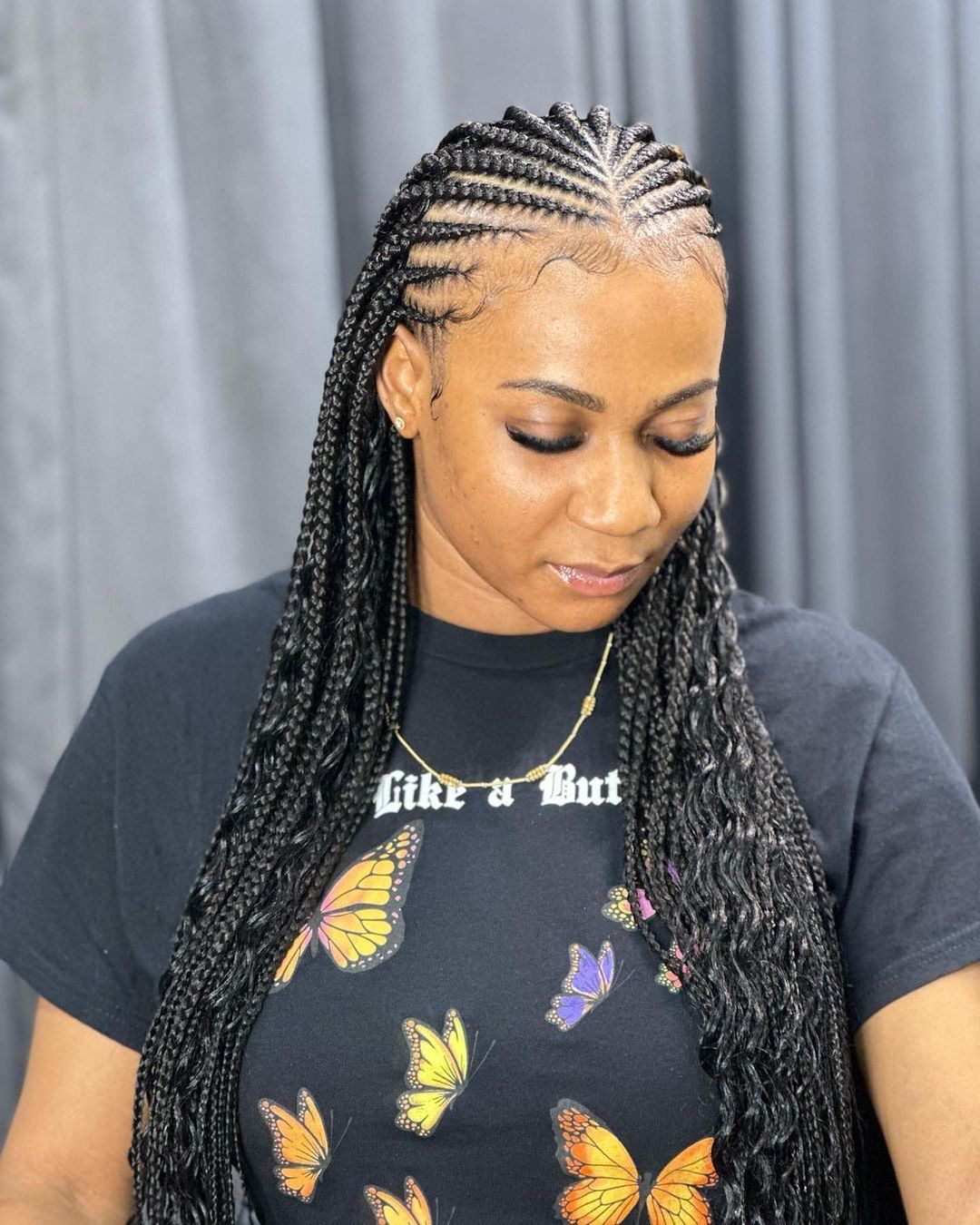 41. Half Cornrow Half Knotless Braids
This neatly braided Fulani-inspired hairstyle with curly ends will complement the melanin skin.
42. Ponytail Stitch Braids
This Fulani-inspired look is always popular since it goes with every dress style and season.
43. Stitch Braid with Half Sew-In
These sew-in braids are the trend now. You can choose any wig type you prefer.
44. Short Stitch Braids
If you're tired of sitting for hours for braids, you should try these simple two-stitch braids with curly ends.
45. 6 Stitch Hair Down Half Up Braids
Fulani braids with a high bun and curls are a stunning braid style for the modern black woman. If you prefer to use sew-in weaves as a protective style yet want to experiment with braiding your hair, you should definitely try this style.
46. Four Stitch Cross Braids
Criss cross braids are becoming more popular because they're pain-free, lightweight, and definitely worth a try.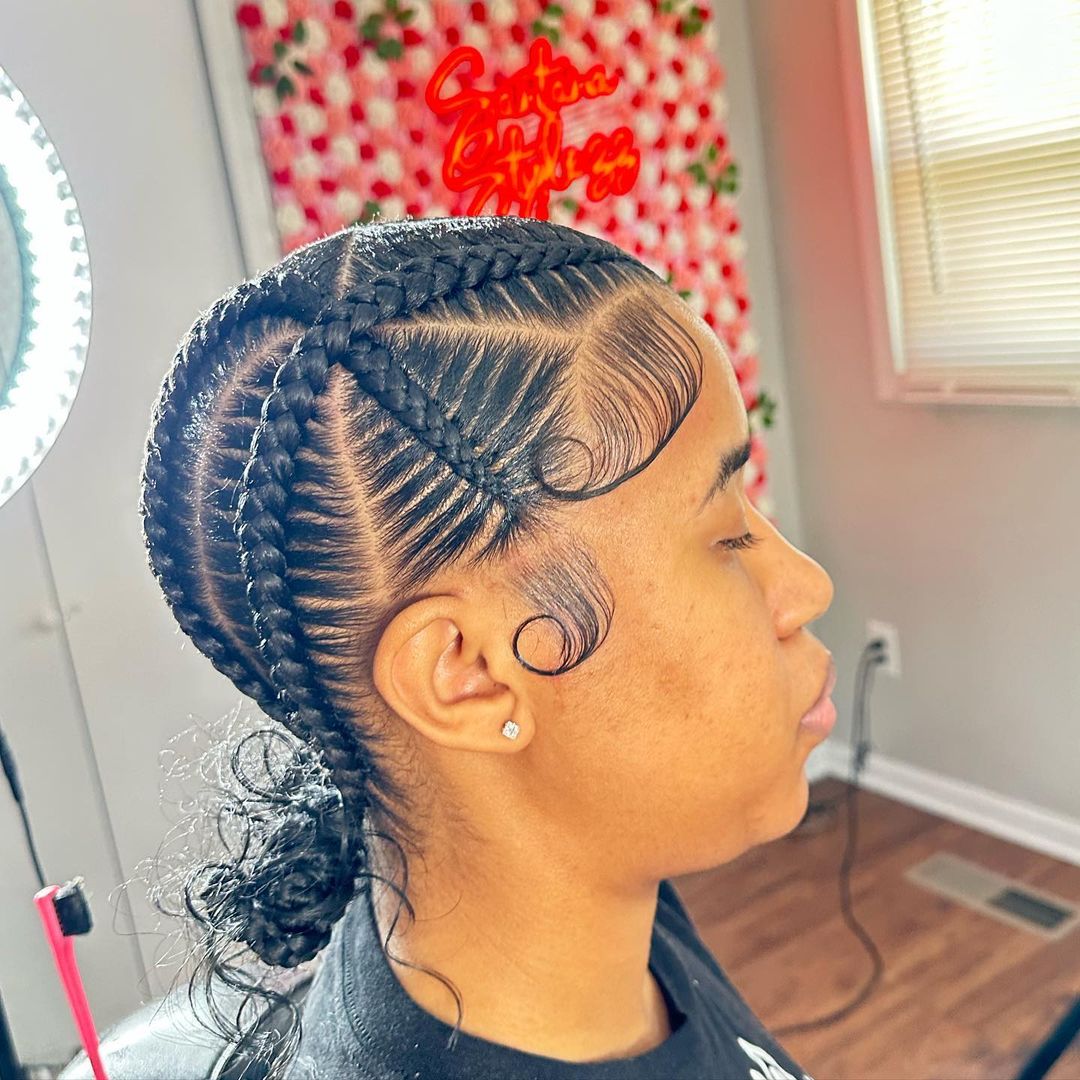 47. Fulani Braids with Beads
This Fulani braided hair is stunning. It's doable with long, medium, or short hair. Furthermore, they not only look great but also protect your natural hair underneath.
48. Shoulder Length Stitch Braids
Fulani braids with curls are a beautiful and protective style for your natural hair. These braids are typically made by stitching extensions into natural hair, giving them a tidy and defined appearance.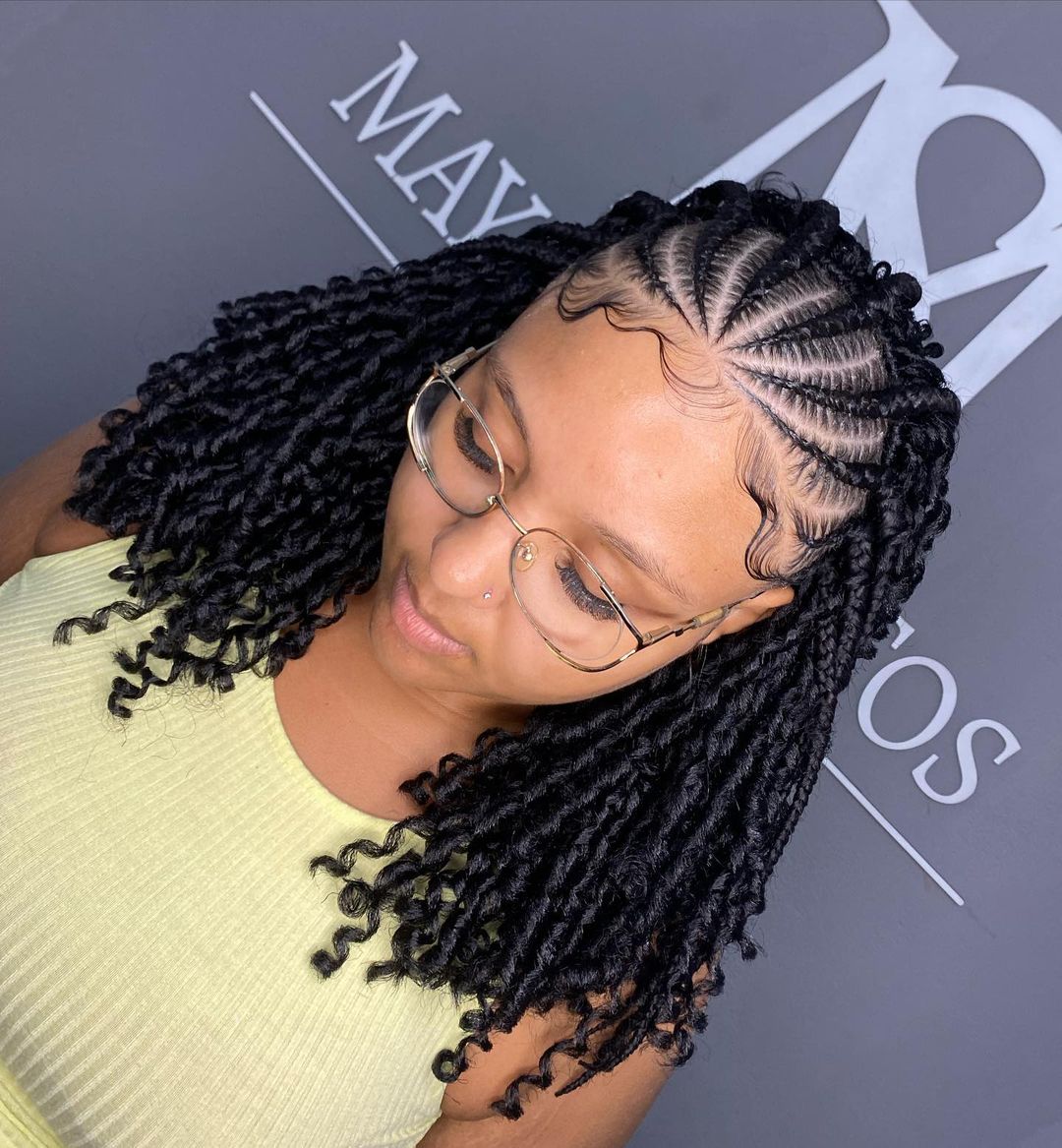 49. Two Bun Up, Half Down Braids
Make a statement with these stunning red-colored Fulani-inspired braids.
50. Half Crochet Fulani Braids
Whether worn loose, pulled back into a ponytail, or styled into updos, half crochet fulani braids offer a chic and timeless look that suits various occasions and personal preferences.
There You Have it!
Fulani braids are a beautiful way to celebrate African culture. These braids open up a world of style and creativity. Whether you choose crisscross patterns, tribal designs, or heart-shaped accents, these braids will enhance your look and highlight your personality.