Each one of the several faux locs types required some sort of personal care. Natural oils, leave-in conditioners, etc…
Generally there are several faux locs and perhaps more will surface but let's look at the top 6 common faux locs today.
Apparently, you can choose from distress or bohemian locs, goddess faux locs, crochet faux locs, soft locs, regular faux locs, and butterfly locs. As a result of their similarities and installation, distressed faux locs can be classified as bohemian.
Below, I explain everything you need to know about each of them.
Best Faux Locs Extensions
Image
Product
Features
Price

Hair Made by 100% Synthetic Fiber, soft locs like human hair, faux locs crochet hair no harm to skin. It is healthy to your scalp.
New Faux Locs Crochet Hair : super long soft locs crochet hair 36 Inch, 175g/Pack, 21Strands/Bundle.
Crochet Hair Pre Looped : faux locs is by hand-made , soft and light weight, pre looped crochet hair will easy to wear and use long time, tangle-free&Shedding-free.
What you can get : 2 Packs Blonde hair and 2 Packs Black Color with 2 Needle, 30 Pcs rings, easy to work with install, save time especially for beginners.
Soft Faux Locs Fast Shipping by Amazon. If Any Questions, Pls Feel Free to Contact with Us. We are Always Here for Your Disposal and We'll Give You a Satisfying Reply!

Check Price
Check Price
Check Price

Wrap the soft locs and your real braid hair with spring twist, giving you natural look and make your hair not tension.
--Lightweight 24 Inch Soft Faux Locs: 115g/pack, 20strands/pack. Usually 4-6 packs (460-690g) can make a full head.
+ 8 Inch Spring Twist Braiding Hair 3 Packs: 110g/pack, 30strands/pack(unfold), super soft.
Authentic Natural Soft Locs Hair Style: Made by 100% high quality low temperature fiber.
Pre-looped New Faux Locs: Very easy to install.

Check Price

❤Faux Locs Crochet Hair:New style,Goddess locs crochet hair can show your new fashion. Pre looped crochet hair braids,soft locs braiding hair extensions.
❤Soft Locs Crochet Hair:100% low temperature fiber synthetic faux locs crochet Hair,hand made,very soft near nature hair. ❤Package: 7 packs/lot faux locs crochet braids,18strands/pack,total 126 strands,can full one head
❤Faux locs Feature:Faux locs crochet hair is natural texture, No smell, No tangle, Light and Tight, Not easy shedding. Pre looped, Easy to install. Soft and fluffy, Bouncy, Itch free, Suit for women, man and children.
❤Easy to install:faux locs hair Individually Pre-looped,so it is super easy to install. Especially for beginners wanted to do hair braids by their own, Which will save much more time and money to make the hairstyle.
❤Soft Faux Locs Hair Style:soft locs crochet braids,gypsy faux lcos crochet hair,goddess locs hair,wavy locs hair,wavy dreadlocks,crochet braids for black women and man,African Roots,butterfly locs

Check Price
What are faux locs?
As their name implies, faux locs simulate natural dreadlocks, allowing you to rock a hairstyle rich in culture and history but without the need for long-term maintenance. If you want commitment-free dreadlocks or dreadlocks that don't require a lot of maintenance, these dreadlocks are for you.
Depending on their type, installation method, and a number of packs, faux locs can be heavy.
In most cases, faux locs last between 2 and 3 months if they're well taken care of.
What are the Different Types Of Faux Locs?
1. Regular Faux Locs
You'll like regular faux locs if you want natural-looking locs but only briefly. It will be worth it in the end, even though you'll have to pay money or sit still for hours as the stylist inserts the locs.
The Modern Queen has a smooth texture and doesn't shed, making it the ideal hair for wrapping. Additionally, it has a soft texture and resembles human hair in appearance and feel.
There are two different ways to implant normal faux locs.
The ready-made faux locs are braided and attached with the crochet technique.
Extensions like yarn, synthetic hair, and human hair are utilized for the latter.
Yarn locs are recommended because they are lightweight and smooth, while Marley hair and kanekalon hair are examples of synthetic hair that closely resembles real hair. To make your hair look like dreadlocks, you must first box-braid it and then wrap it in Marley or Kan&ref=nb_sb_noss_1ekalon hair.
You'll need the Kanekalon soft dreadlocks or the Janet Collection Afro Twist Marley Braid, which you'll wrap using the Afro Kinky Marley Twist extensions if you like faux locs with a thick appearance.
Pros
Offer freedom for hair
Naturally protects hair
Creates less stress for the wearer
Cons
2. Crochet Faux Locs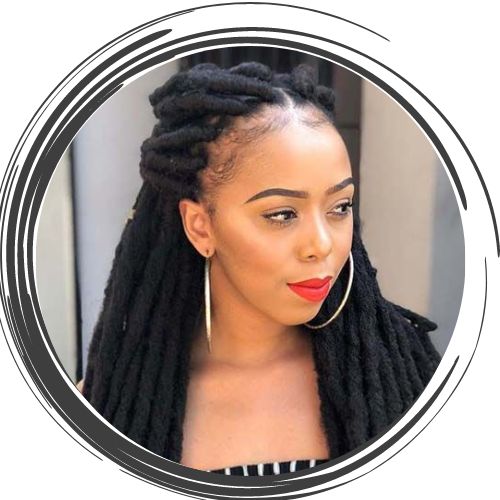 Unlike regular faux locs, crochet faux locs are easier to install, taking up half the time you'll need for regular faux locs. There are two ways to install crochet faux locs: cornrows and crochet, or box braids and crochet, then twisting in your natural hair.
The Youngther Natural Faux Locs is a pre-wrap locs you can install and use as crochet faux locs. It contains six packs of hair, enough to cover your full head and have extra. It feels silky and has a natural appearance, too.
As previously indicated, there are three different ways to place crotchet faux locs: wrapping, cornrowing, and free parting.
For instance, in a free part, the hair is divided into several sections before being braided.
The ready-made faux locs are then looped into the hair and tucked inside.
The faux locs are crocheted into the cornrow base until all of the hair is covered while using the cornrow method, which involves braiding the hair into cornrows.
Pros
Protective hairstyle
Easy to install
Natural look
Cons
Professionals may be scarce
3. Distressed/ Bohemian Faux Locs
Distressed locs look unkempt; they are the product of faux locs and a variety of different textured braiding hair. Distressed locs can be categorized as bohemian even if they don't have the uniform appearance of regular locs. You will need the spring twist.
The process includes box braiding your hair and then wrapping it with the spring twist. A great hair to use is the Beyond Beauty hair, it does not shed and remains in its coil form. Many people have praised this brand of hair for its soft and shiny appearance.
Depending on your desired length and exact look, a mixture of bobbi nu locs wrapped with water wave hair, Marley hair or spring twists is used.
Start by sectioning stretched or blow-dried hair into parts of your desired size.
Use shine n jam to sleek the roots and make your parts look neat.
Braid the sectioned hair individually and then loop in Bobbi nu crotchet faux locs into the hair.
After looping the locs into your hair, take your spring twists hair, unravel it and then wrap it on the locs in opposite directions until all the hair is covered.
Use nail glue to secure the wrapped hair on your locs.
If properly cared for, bohemian distressed locs can last up to three months.
Bohemian distressed locs can cost up to $400 for a waist-length appearance when done by a professional hairstylist. You simply need $80 to $100 to complete the look if you DIY them.
For maintenance:
Wrap your hair in a silk bonnet or scarf at night.
Clean your scalp using dry shampoo and a cotton ball or piece of cloth.
Use an anti-itch scalp oil.
Pros
Low maintenance
Promote hair growth
Natural looking
Cons
4. Goddess Faux locs
It takes the same process for installation as the distressed and regular faux, but the goddess has wavy or curly hair parts placed along the length or end of the loc in place of the seal ends. This style is also available in crochet like as the AISI Beauty, which provides you with enough locs to cover your entire head. It has lightweight, soft hair that won't unravel and will last longer.
For the goddess style, you must box-braid your hair and crochet both the Marley hair and the Freetress Braid Deep Twist 22. By wrapping the Marley hair over your box braid and deep twist, cutting the time in half.
For goddess locs, opt for human hair extensions to give your locs the shiny and silky look.
To install goddess faux locs, section straightened or stretched hair and braid it using your natural hair.
Use an anti-itch spray and massage it on your scalp.
Take your crotchet hook and loop in the FreeTress deep wave hair at the root of your braided hair.
Make sure one side is longer than the other by pulling one side in. Wrap both your braided hair and the deep twist hair using the Cuban twist hair till you reach the bottom.
Make sure that one side is longer than the other. Apply nail adhesive where the Cuban twist hair ends to attach the Cuban twist hair to the deep twist hair.
Pros
Low maintenance
Protects your natural hair
Easy to style and keep
Cons
Waves may straighten as they age
5. Butterfly Faux Locs
When wavy hair is braided with a crochet needle and then loosely wrapped to give it a distressed or unraveled effect, that is a variation of faux locs called butterfly locs.
Butterfly locs can be created with any wavy hair type, including FreeTress water wave braiding hair. You will require 7 to 8 packs, depending on the length and volume you want.
Short to mid-back butterfly locs can take 3 to 5 hours to complete, while extra-long butterfly locs can take up to 7 hours, depending on the length and texture of your hair.
You can braid your hair as part of the procedure. Next, wrap the hair to create the desired style by crocheting the unbraided hair at the roots of each braid.
Installing the crotchet method won't cause any problems since it's tension-free.
The resulting butterfly locs have a stripped appearance and need little upkeep. However, you'll need to hydrate your natural hair under a wrap at night.
Since only the roots of your hair are used in butterfly locs, the rest of your hair is protected and left undisturbed inside the locs. This makes butterfly locs a protective style.
With the right care, butterfly locs can endure for two to three months or longer.
Butterfly locs cost between $180 and $300 if you want them to be longer. If you choose to DIY them, $100 will be sufficient to get the desired result.
To DIY Butterfly locs, follow the guidelines below
You can choose to DIY butterfly locs or pay for the services of a professional hairstylist. To DIY, you'll need a rat tail comb, edge control, shine n jam, a crotchet needle and 7 to 8 packs of the freetress water wave hair. The installation process won't hurt since they're done using the crotchet method which is tensionless.
Use shine n jam to sleek down the roots of your hair and to get a proper hold.
Start by sectioning and braiding your hair into small to medium individual braids using only your natural hair.
The results should look something like this. Alternatively, you can choose to not braid your hair completely.
Take your freetress water wave hair and run your fingers through it to unravel and fluff it.
Use a crotchet to loop in the unraveled Freetress hair into your braid.
Pull the freetress hair into the looped part and ensure that both sides are even.
Start wrapping one side of the freetress water wave hair on the other side.
Ensure that once you wrap the base you loosen your hold and start wrapping it lightly occasionally using the thumb method as you move along to give it the distressed look.
Repeat the same method all over your head until you're satisfied with the length and look of your butterfly locs.
6. Crochet butterfly locs
If you don't want to go through the trouble of doing your butterfly locs from scratch, opt for ready-made butterfly locs like the Toyotress butterfly locs which you'll just install to your braided sections.
More often than not, crochet butterfly locs tend to have an unnatural look to them especially if they're not installed properly.
A good workaround for this is doing individual parts at the front and all back cornrows at the back.
This also allows you to style them in a lot of different hairstyles.
Butterfly locs maintenance tips
Butterfly locs already have a distressed look hence they don't require a lot of maintenance other than the usual.
Wrap your hair in a silk scarf or bonnet at night to keep it from tangling.
Use an anti-itch oil if your scalp gets itchy after some time.
If you don't want to wash your hair, you can use a dry shampoo to clean your scalp from time to time or an apple cider vinegar hair rinse.
Use a braids spray and preferred oil of your choice or mousse to keep them looking vibrant
Pros
Low maintenance
Protects natural hair
Helps in hair growth
Cons
Can be itchy first few days.
7. Soft faux locs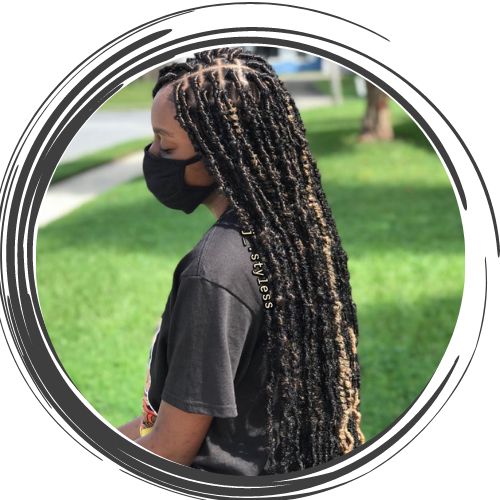 As their name suggests, soft locs are a type of faux loc that feels and looks soft.
Soft locs are created by combining various textures of hair, much like distressed locs and butterfly locs.
Both a knot and a no knot or knotless approach can be used to create soft locs. I've included some of them below.
If you purchase the 18-inch locs and want to lengthen them, you will need 8 packs; if you purchase the 36-inch locs, you will need 4 packs. For wrapping, 2 packs of spring twist hair are also required.
A crochet needle, rat tail comb, Shine n jam, spring twist hair, mousse, and other items are also required.
As was already explained, there are two varieties of soft locs. the kind of locs that resemble knots at the loc's root and the more natural-looking knotless soft locs.
To do the knot method, start by parting clean, straightened and moisturized hair into individual parts.
Shine n jam is a key ingredient when it comes to achieving extremely neat parted sections. Therefore, the use of shine n jam to sleek down and tame fly always at the roots of your parted sections is not optional.
After applying a generous amount of shine n jam on your parted sections, braid the individual sections into plaits.
You can choose to braid the hair completely or halfway through. You can also choose to do freestyle parts or box-like parts.
You'll then take your crochet need and loop your loc into the plait.
In this method, only the part of the loc that has an opening is looped in and not the whole loc. The plait is then inserted into the opening of the loc and pulled through to secure the loc.
After your locs are crocheted in, you'll wrap spring-twist hair around the locs continuously.
The last step will involve laying your baby hairs and applying the mousse on your locs.
Soft locs can last for up to 2 months with touch-ups in between depending on whether you prefer a neat fresh look or a natural "aged" look.
Pros
Soft feel
Less stiff and rigid
Natural appearance
Low maintenance
Cons
Frequently Asked Questions (FAQs)
What is the difference between soft locs and faux locs?
There's no difference between soft locs and faux locs. Faux locs are the umbrella term for fake locs and soft locs just like butterfly locs and bohemian distressed locs are a variant of faux locs. Locs that aren't actual dreadlocks fall under the term faux locs.
What type of hair do I use for faux locs?
The key to perfecting soft locs is the type of hair used. Most stylists recommend using crochet faux locs, kinky wrapping hair or afro kinky hair or water wave passion twist hair.
What's the difference between locs and faux locs?
Faux locs are a temporary protective style similar to box braids whereas loc extensions are intended to be a permanent extension of your hair. Faux locs are installed by twisting or braiding the real hair and then wrapping additional hair around the shaft of the braid/twist.
How long do faux locs last?
Even though faux locs look and feel like traditional locs, they shouldn't be confused with the real thing. Traditional locs are meant to last a lifetime, while faux locs can be styled to last for four to six weeks.
Which is better: faux locs or box braids?
Faux locs offer more freedom than braids for protective styling. While braids tend to look best when freshly installed, faux locs actually look better and more natural as they age. There's a lot less pressure with faux locs. 
How much do faux locs cost?
Faux locs can range from $130 to $800 based on the style and geographic location, though most generally cost between $100 to $300. Faux locs are an excellent protective style for those who want the look of natural dreadlocks without commitment.
It's your turn…
You can choose from different types of faux locs. Among these styles, you can explore many others that are suitable for your lifestyle. The right products and materials will make your faux locs look natural and beautiful!
Pin It