Tribal Braids in these times are traditionally in line with the latest trends. Though these braids have been around for a long time, they are still celebrated for their unique patterns and textures.
Yes, there are modern styles of tribal braids these days. One of these modern styles includes adding extensions, which was not so in the past. The addition of extensions allows use of different colors and styles that may not be possible with natural hair.
In this article, we will be looking at tribal braid ideas for every personality and occasion. You will contact your hairstylist afterward.
What Are Tribal Braids?
Tribal braids are a type of protective hairstyle originating in various African cultures. They involve weaving hair close to the scalp in intricate patterns, often using extensions. These braids can be chunky or thin, and they have cultural significance while also being a stylish and practical option for managing hair.
Also Read related:
50 Irresistible Tribal Braid Ideas
1. Blonde Tribal Cornrow Braids
These cornrows are simple, easy to do, and wear. With this style, you will not have to spend much time at the salon to wear a beautiful look.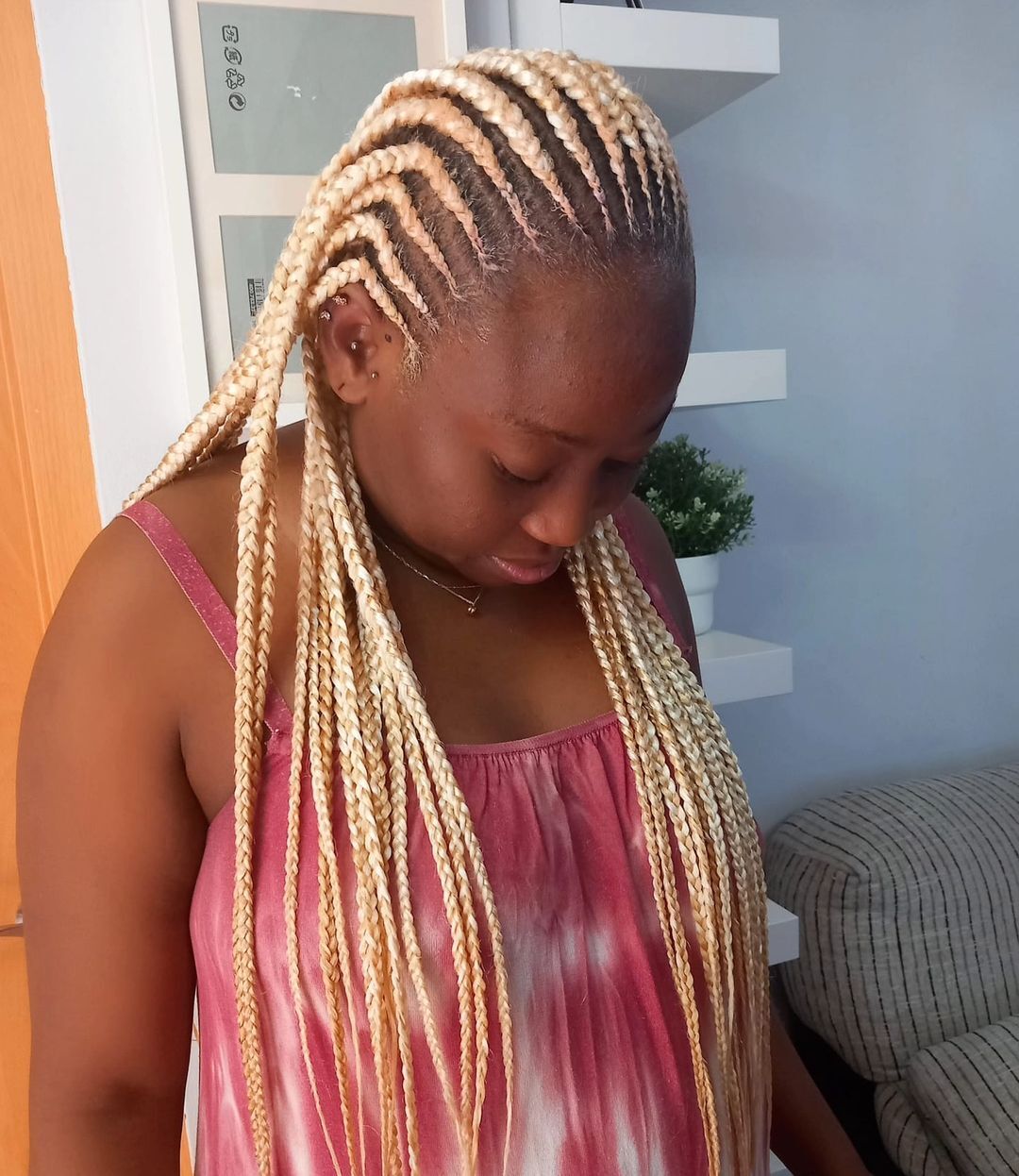 2. Burgundy Tribal Braids and Twists
Tribal braids also come in twists! In this style, it is twisted from the root in a knotless pattern to retain the tribal look. Since this style is plaited in individual braids, you can wear it in different styles of your choice.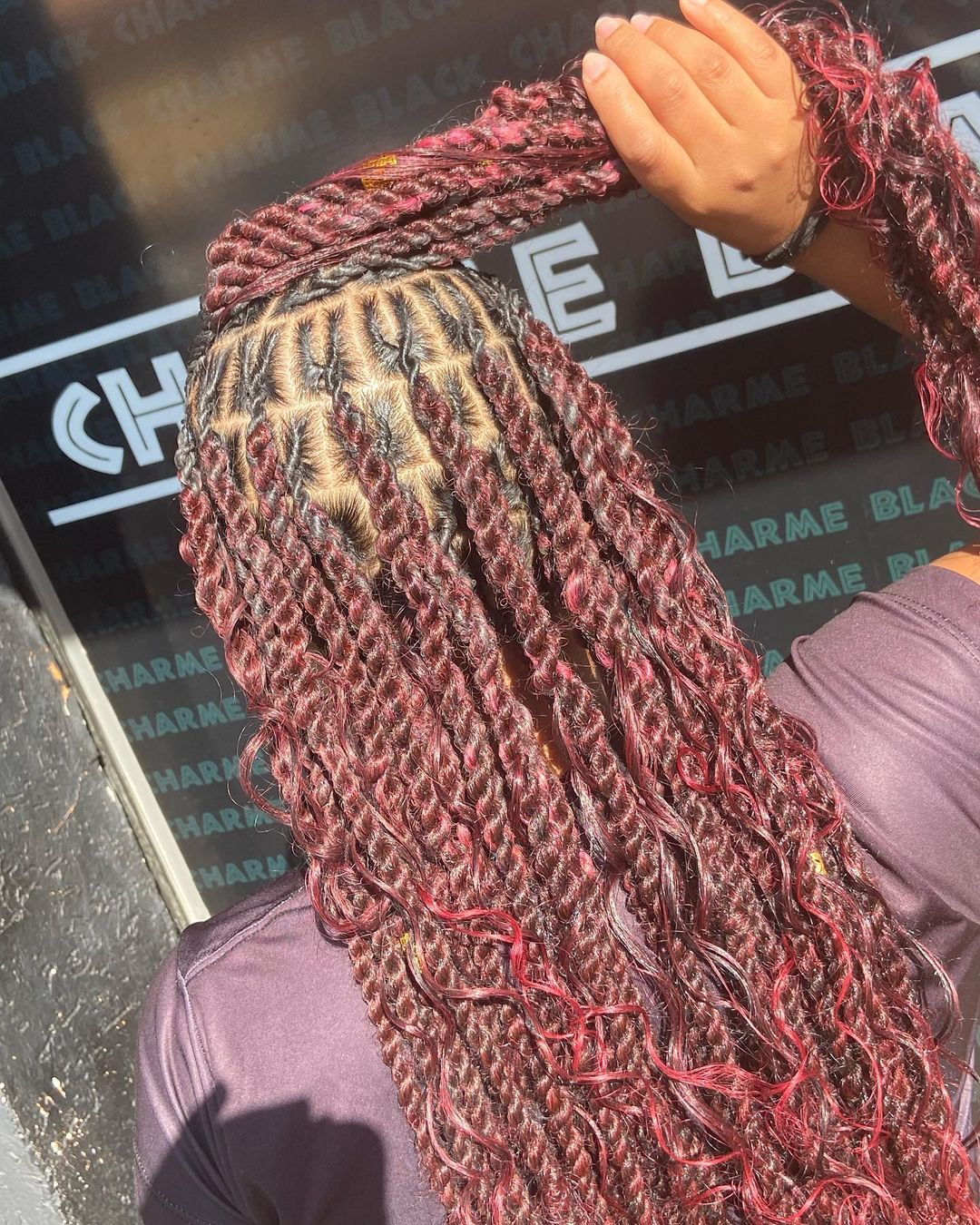 3. Simple Tribal Bohemian Braids
Tribal or Fulani braids come in different styles and patterns. Here is one of its unique styles, weaved in "L-shaped and straight patterns. The added length provided by the extension makes this style more classy and stylish.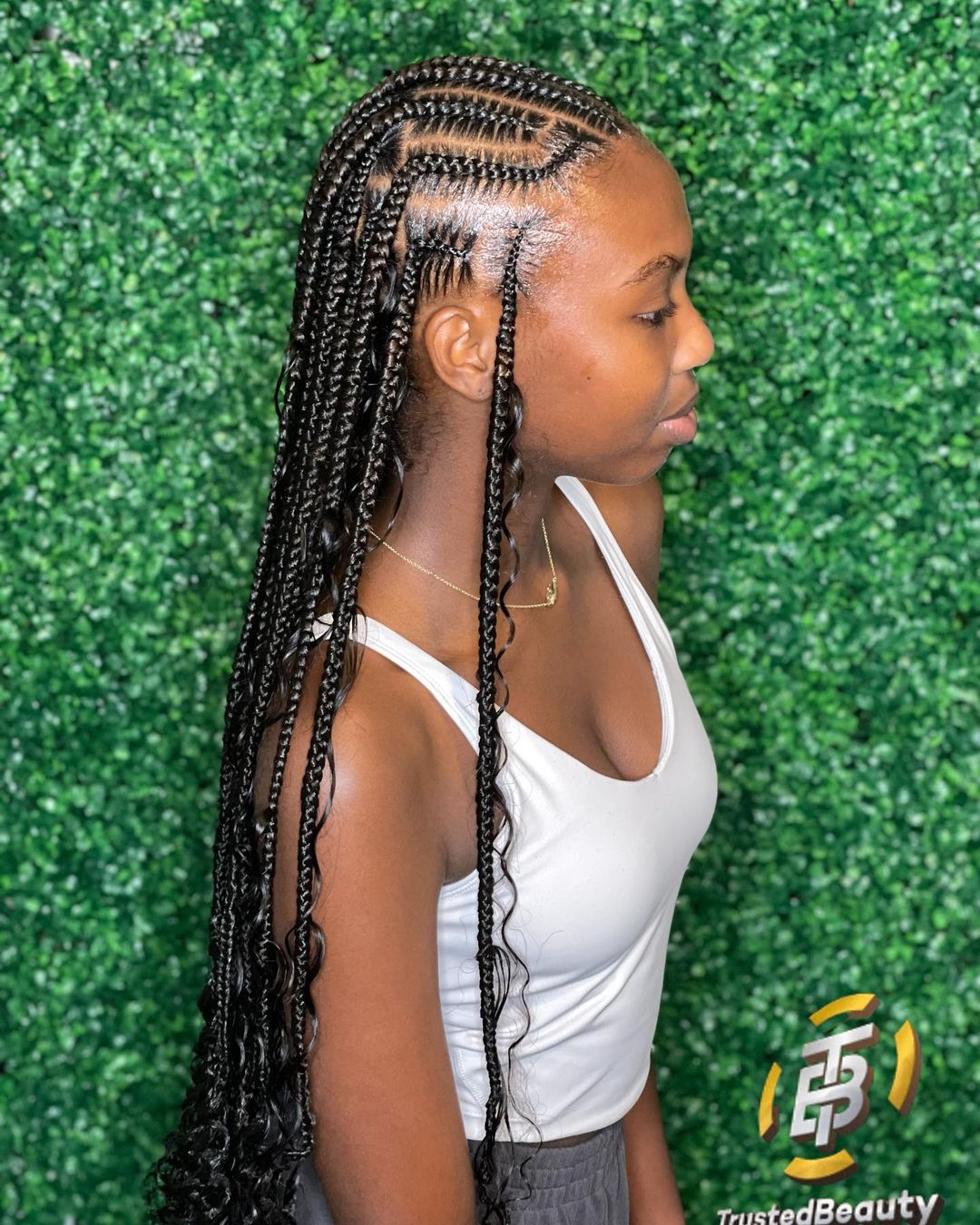 4. Short Center-Parted Tribal Braids
This short tribal braid is simple and requires little maintenance to keep it together.
6. Mini Simple Tribal Braids With Few Curls
Here is a secret: the tinier the braids, the longer you get to wear them. These curls complement the tribal weaves for a finer look.
7. Multi-Patterned Tribal Cornrow
Unleash creativity with these multi-patterned Tribal Cornrows. It is so creative that each side has a different pattern.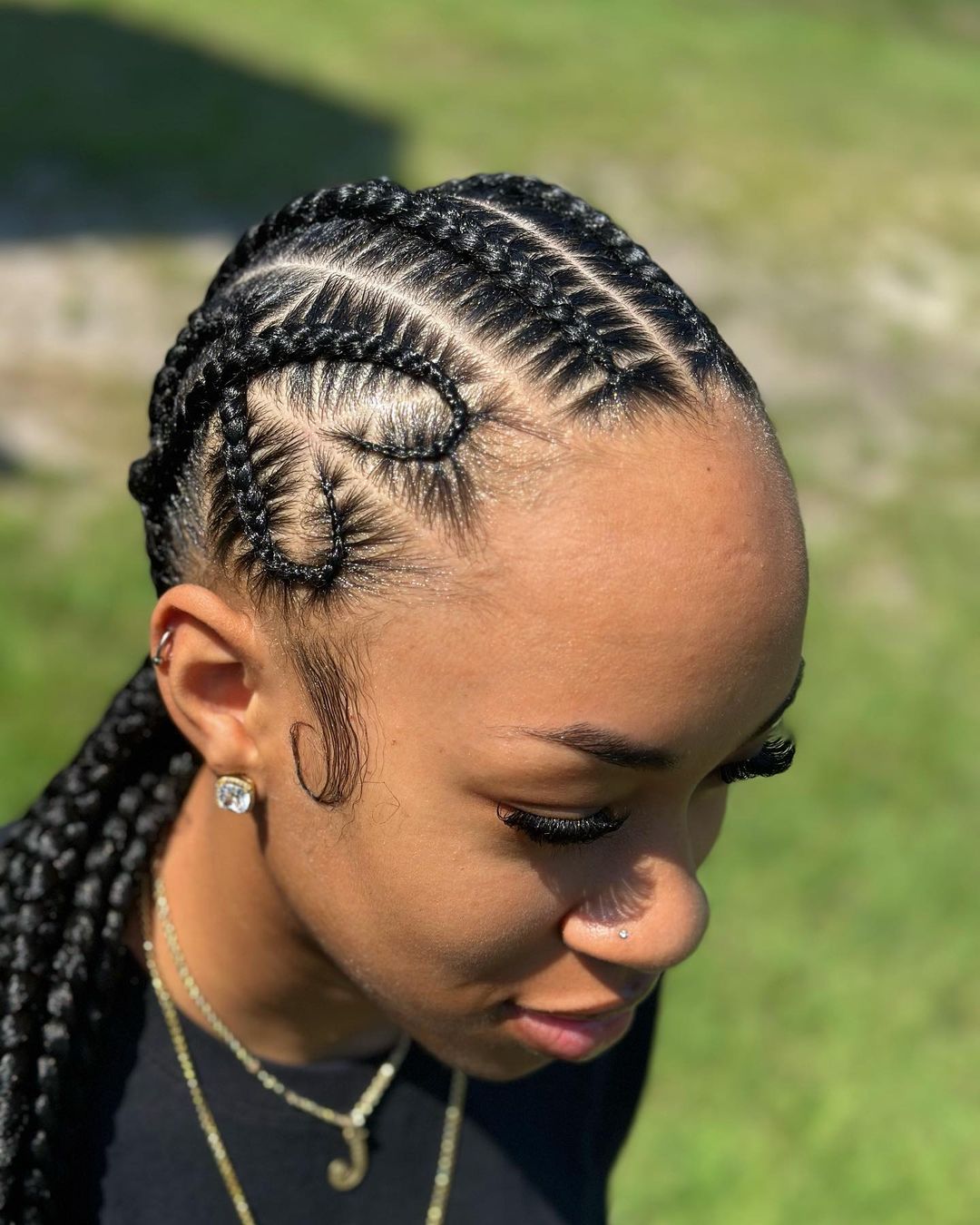 8. Flip Over Mini Tribal Braids
Flip over is a tribal braid signature pattern. In this style, they are the major pattern making for an original tribal braid look.
9. Medium Sized Zig-Zag and Straight Fulani Weaves and Individual Braids
Zig Zag is another Fulani braid pattern that never fades. Here it is again, plaited in medium sizes.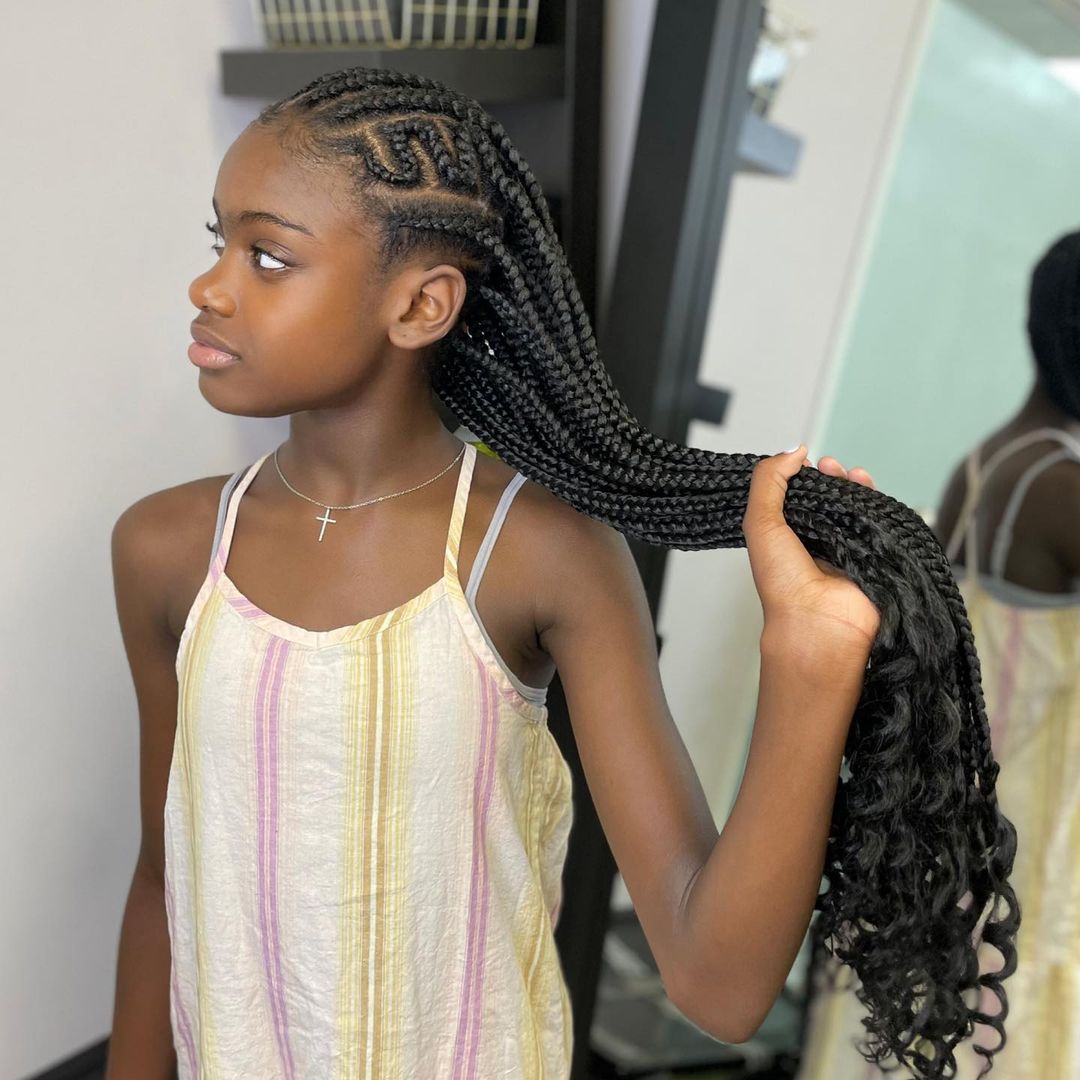 10. Large Pink Tribal Cornrows
Make a bold statement with large pink tribal Cornrows. The vibrant color and pigtail arrangement create a playful yet striking vibe.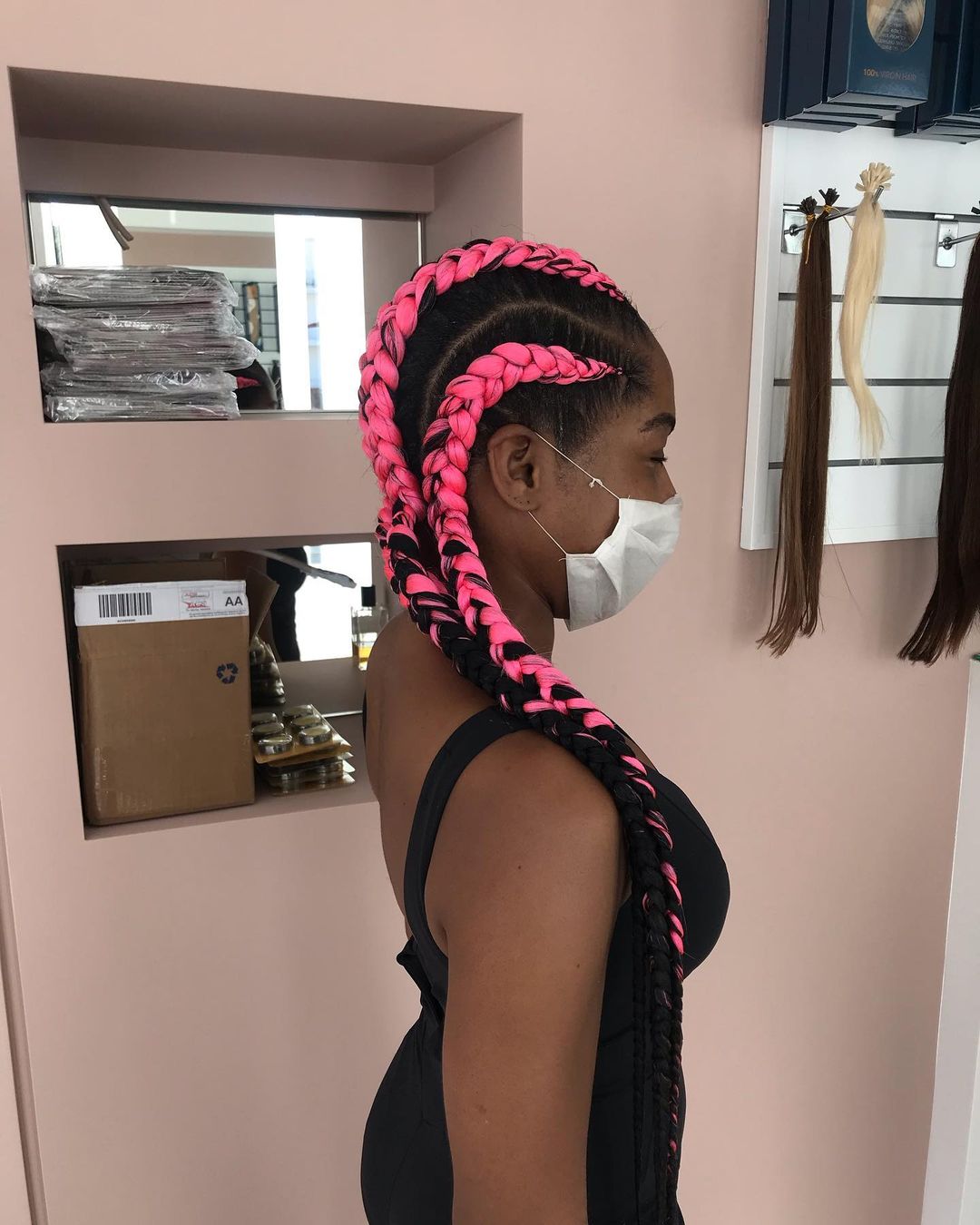 11. Flip Over Tribal Cornrows And Bohemian Curls
Chic meets casual with flip-over tribal cornrows and Bohemian Curls. The flipped-over cornrows add uniqueness, while the curls exude carefree elegance.
12. Stitch Boho Knot Tribal Braids
Elevate your look with Stitch Boho Knot Tribal Braids. Incorporate knots within the braids for an intricate and visually appealing hairstyle.
13. Curly Zig-Zag Tribal Bun
The Curly Zig-Zag Tribal Bun combines curly charm with geometric flair. Here, the zig-zag patterns are gathered into a stylish bun for an exquisite look.
14. Middle Cornrow Tribal Braids on Bohemian Braids
Highlight your hair's texture with Middle Cornrow Tribal Braids on a base of Bohemian Braids. This combination offers a dynamic and textured appearance.
15. Black And Blonde Tribal Braids With Curls
Fuse two tones seamlessly in Black and Blonde Tribal Braids with Curls. The curls soften the overall look while maintaining a touch of drama.
16. Half Up Half Down Tribal Updo With Curls
Achieve balance with a Half Up Half Down Tribal Updo featuring curls. This style showcases the best of both worlds: the elegance of an updo and the flow of curls.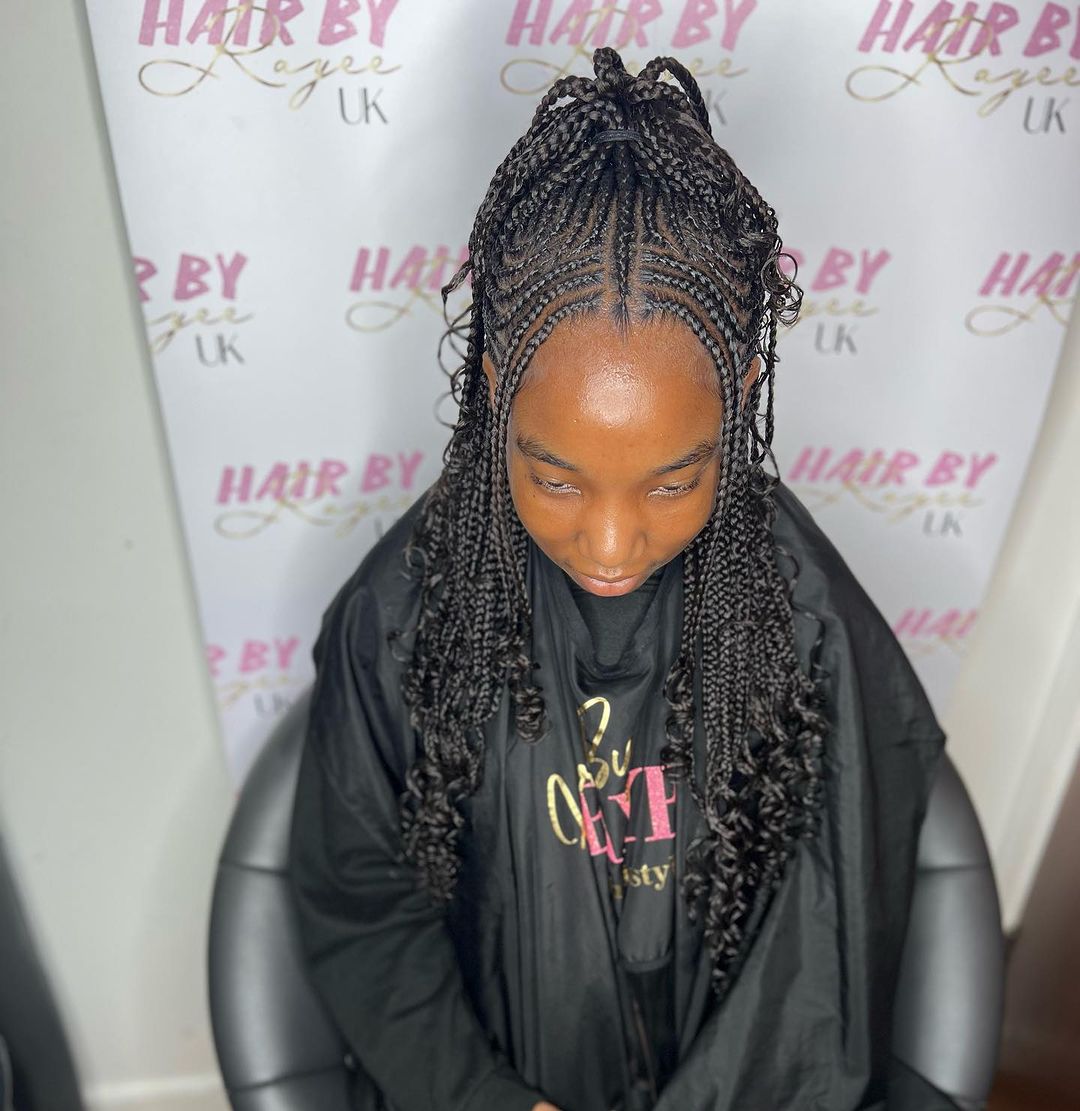 17. Sectioned Medium Tribal Cornrow Braids
Sectioned Medium Tribal Cornrow Braids offer a neat and symmetrical appearance. Divide your hair into sections and create medium-sized cornrows for a polished look.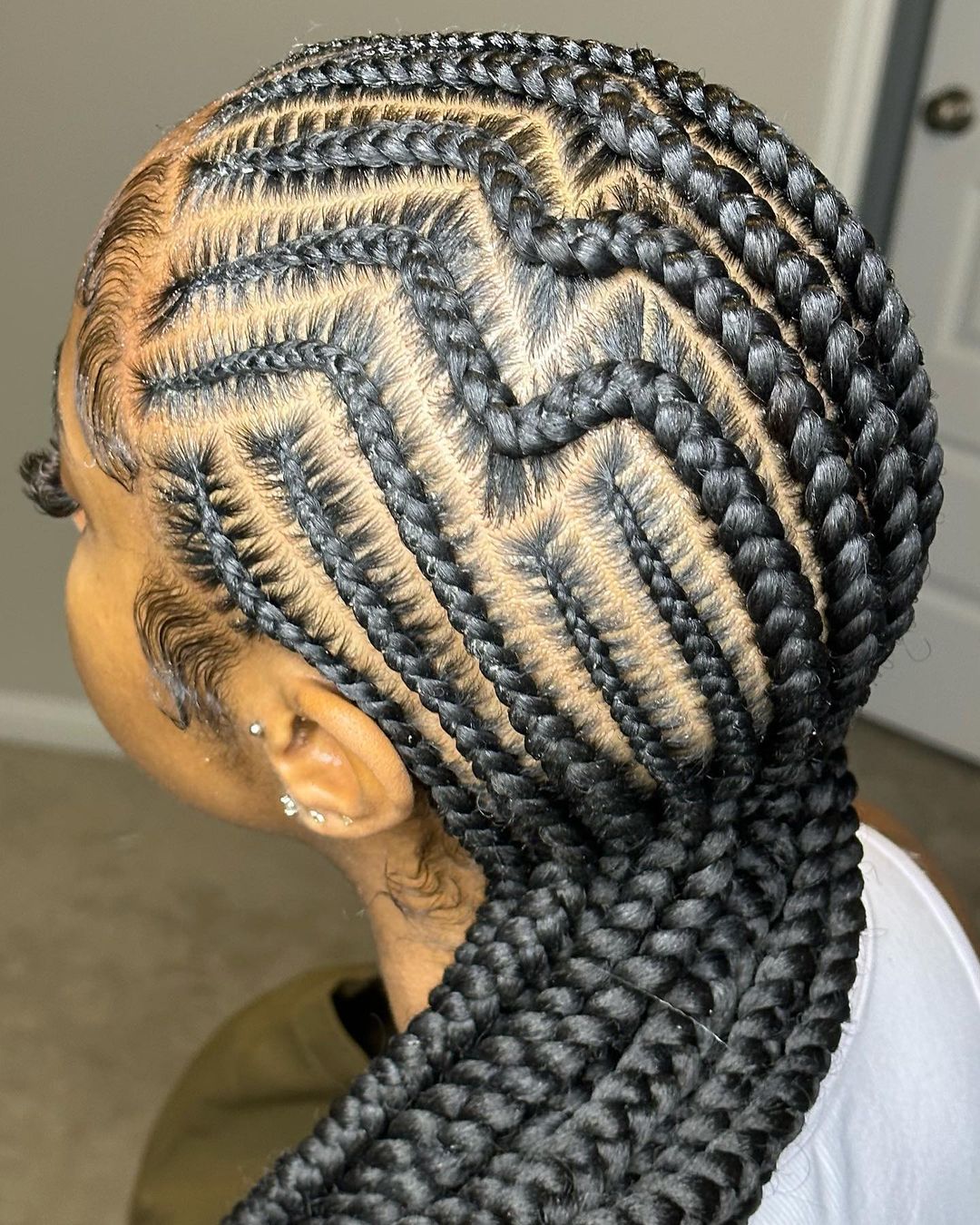 18. Kids Tribal Braids With Bantu Knots
Adorn your child's hair with Kids Tribal Braids embellished with Bantu Knots. This playful and stylish combination is perfect for young fashionistas.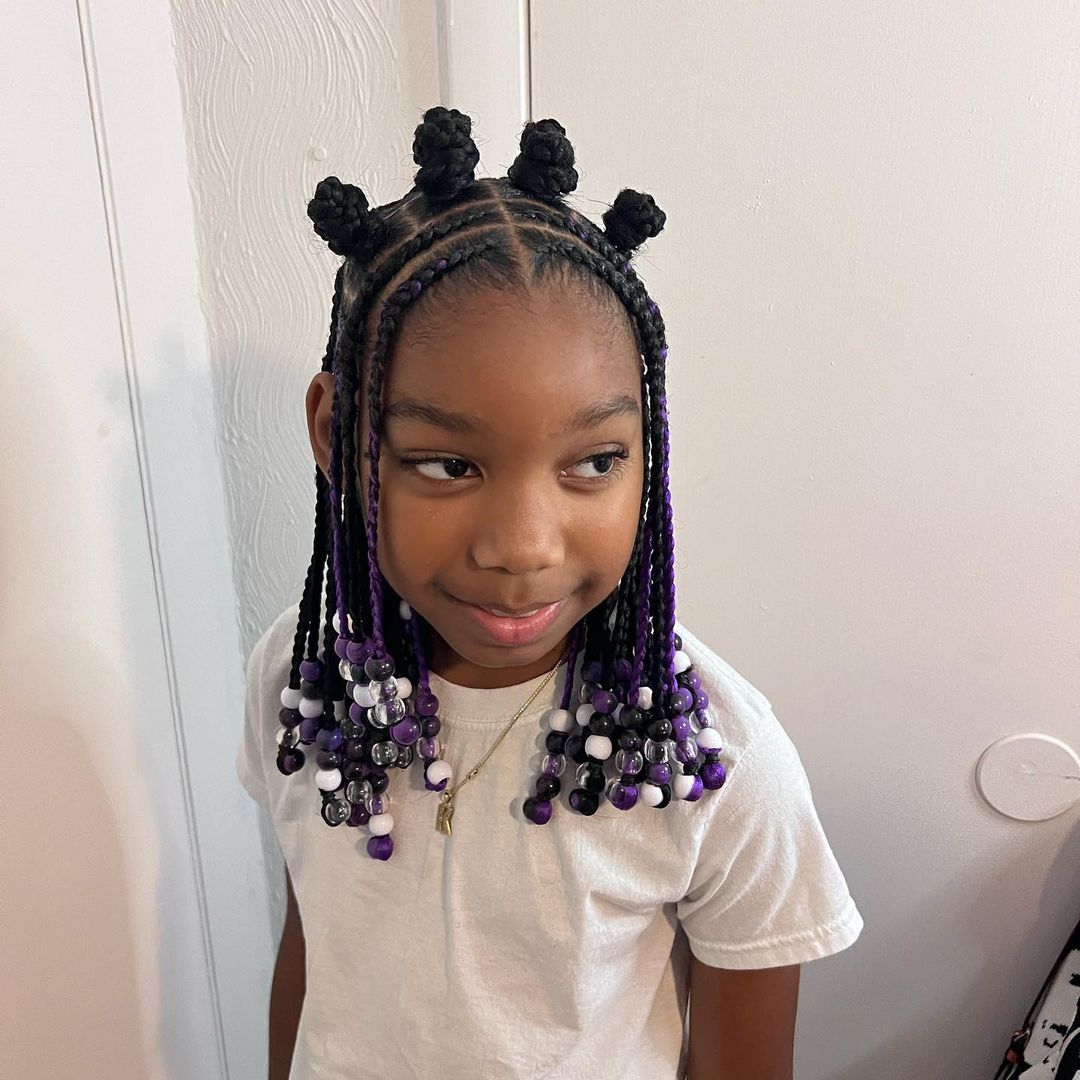 19. Mixed Colors Side Tribal Cornrow Braids
Infuse vibrancy with Mixed Colors in these Side Tribal Cornrow Braids. Incorporate different shades into the cornrows for a lively and attention-grabbing effect. In this hairstyle, there are just two colors in the mix; you can use more.
20. Heart-shaped Shaped Tribal Cornrow Braids With Curly Ends
You can wear this intricate heart-shaped tribal pattern to any event or function and never go wrong.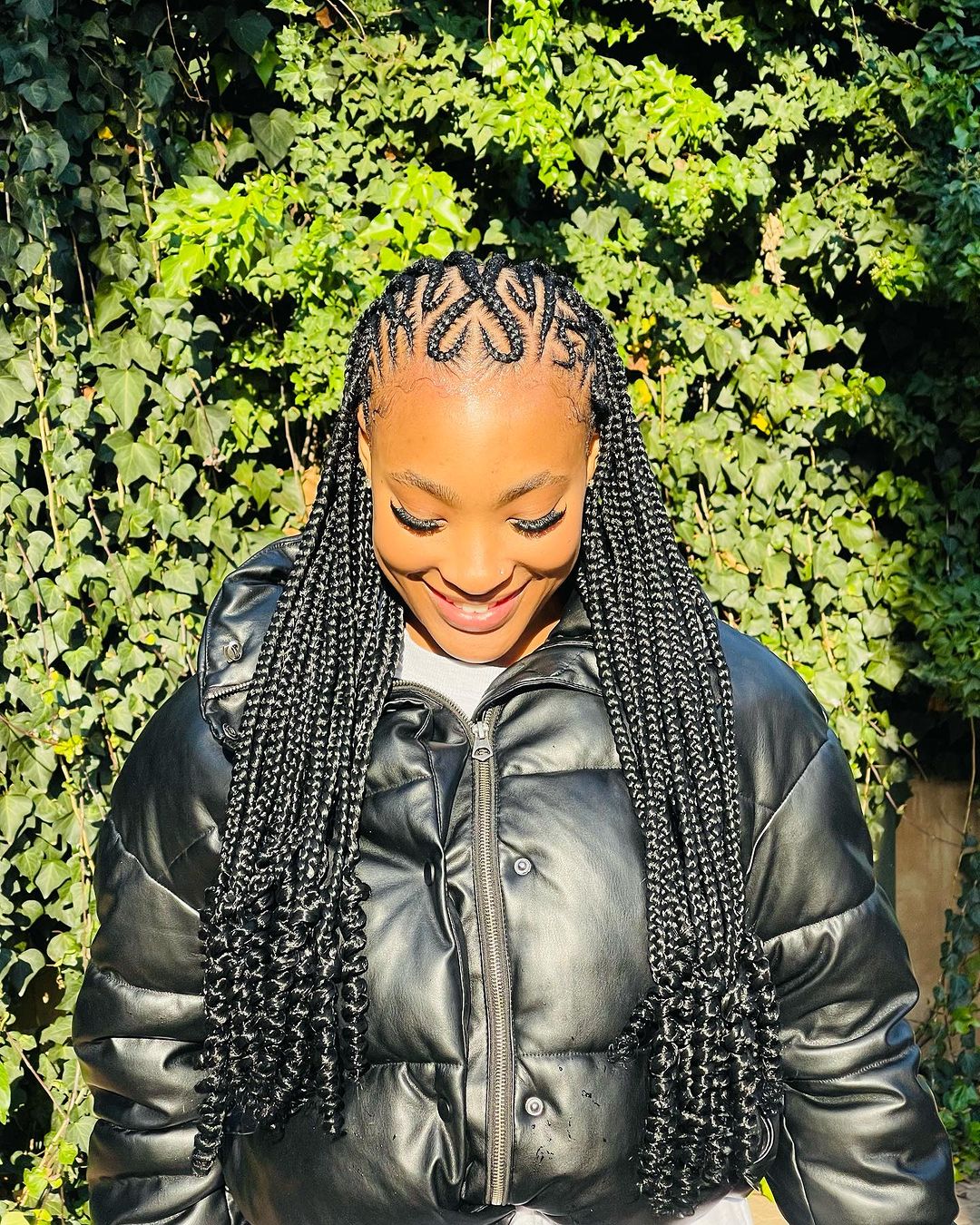 21. Three Layer Tribal Weaves And Braids
Although not visible, this style is made by plaiting two layers of plain weaves underneath and a stylish tribal braid as the third step which is what you can see. This style can be made in different colors too. From blonde to burgundy, to smoky brown.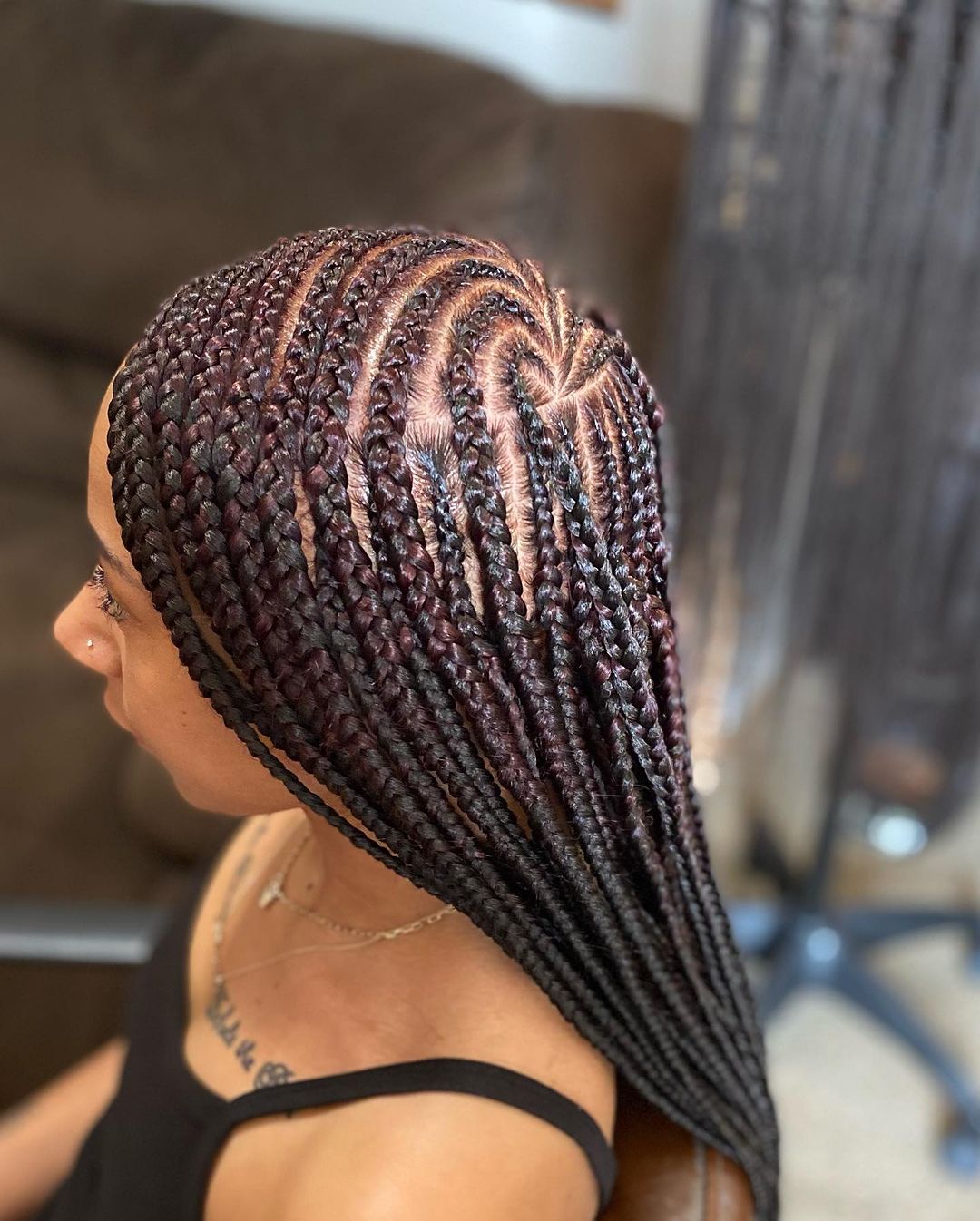 23. Tribal Weaves on Butterfly Braids With Accessories
This style combo, (tribal weaves and butterfly braids) is unique, traditional, and stylish because both of them are old hairstyles from years back. This accessory used here is unique to Fulani braids. So it adds to give it that traditional and original look.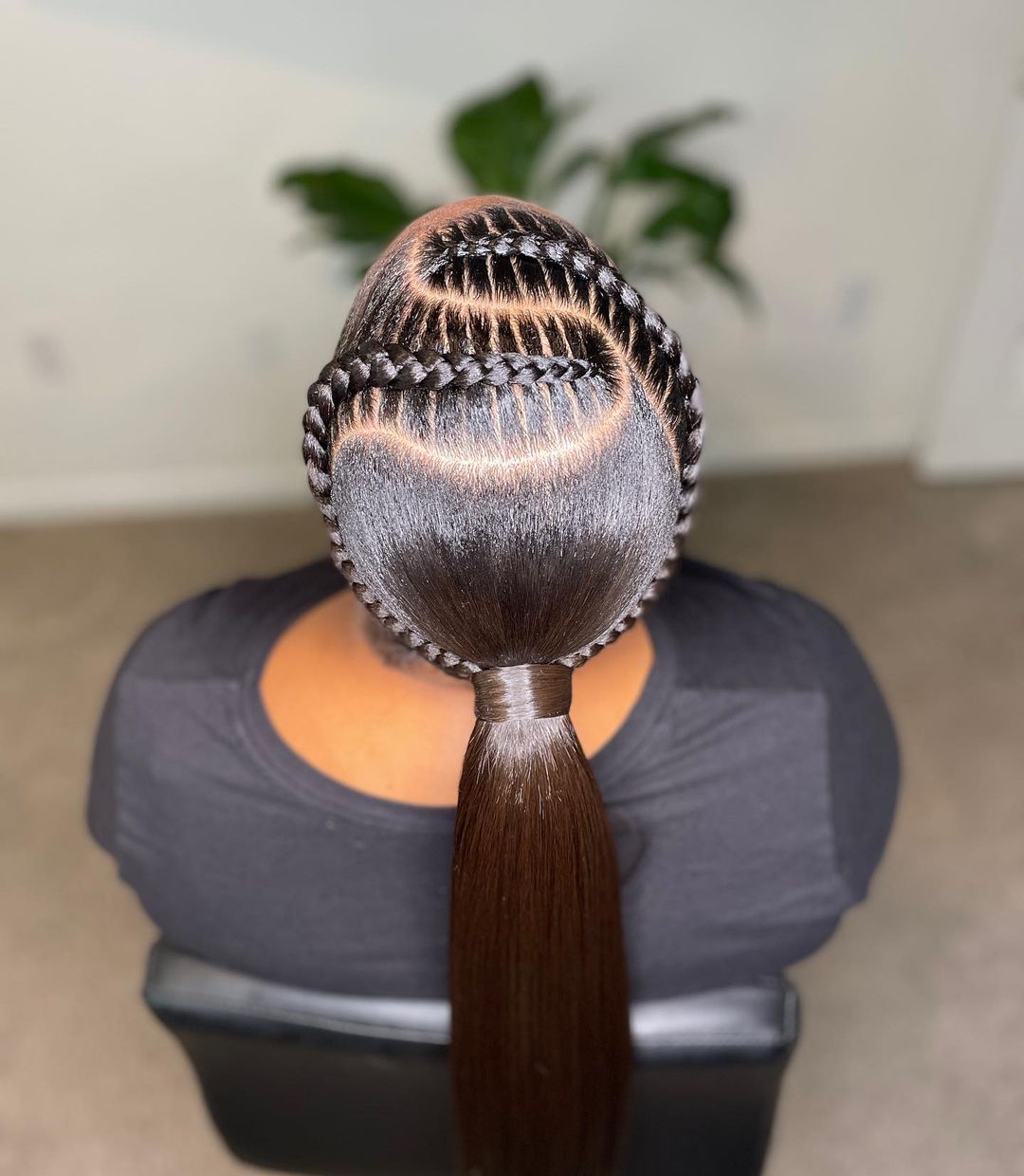 24. Simple Golden Hip Length Tribal Braids
A beautiful thing about this hairstyle is that you don't have to spend much on extensions. In this style, the extension is only added at the end of the natural hair.
23. Wrapped Tribal Feed in Cornrows
It's funny how the uniqueness of this hairstyle is in these tiny weaves tucked into the larger ones. But that's how it is. Simple, classy, and long-lasting!
24. Stitch Large Tribal Updo With Curly Ends
This style can be worn in a ponytail or in a bun. Whichever way, this tribal braid is easy to wear as it relieves you of the distractions that come with other fancy styles.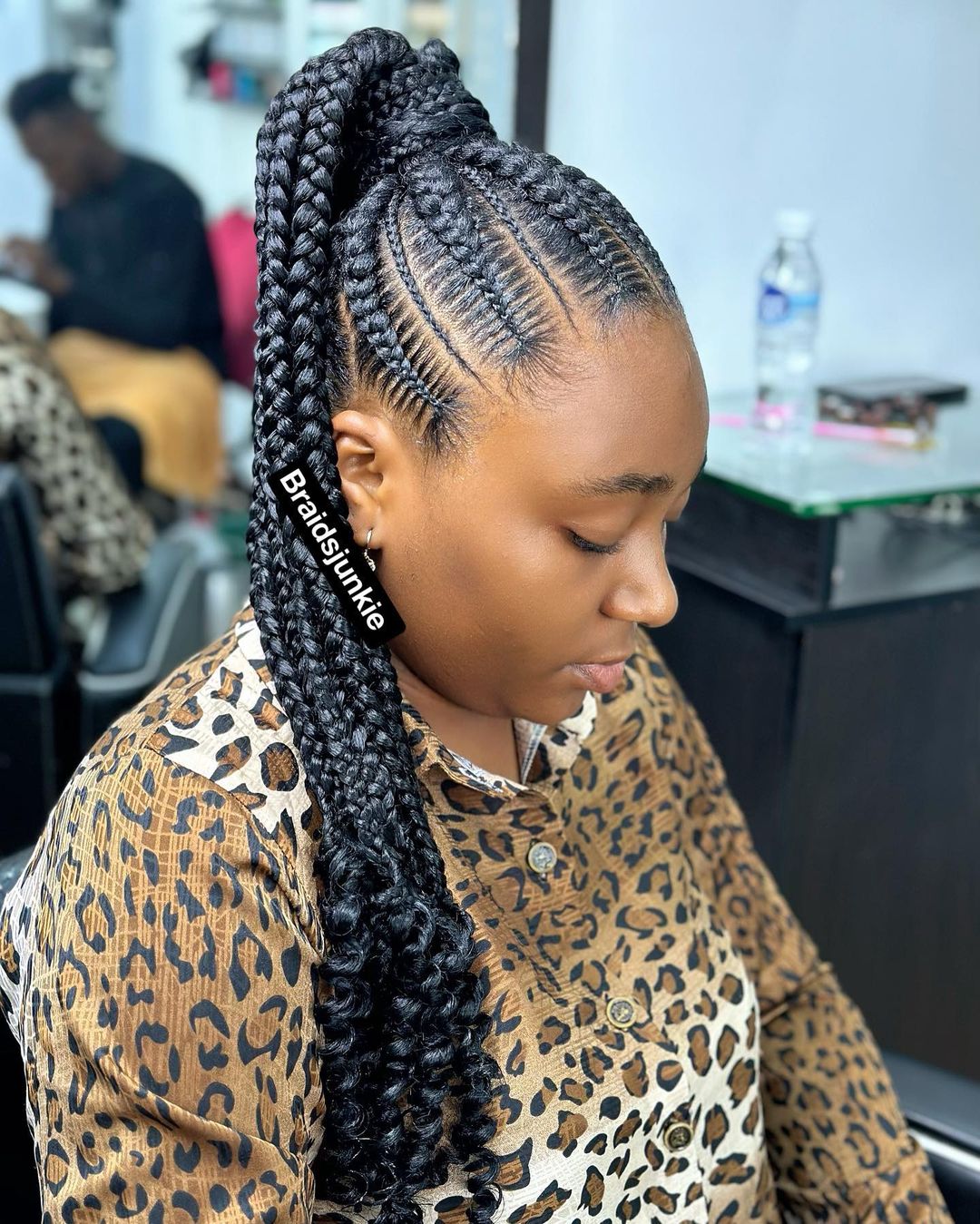 25. Mini Waterfall Tribal Braids
Waterfall braids are for all time. Now you can see that they also come in tribal patterns too.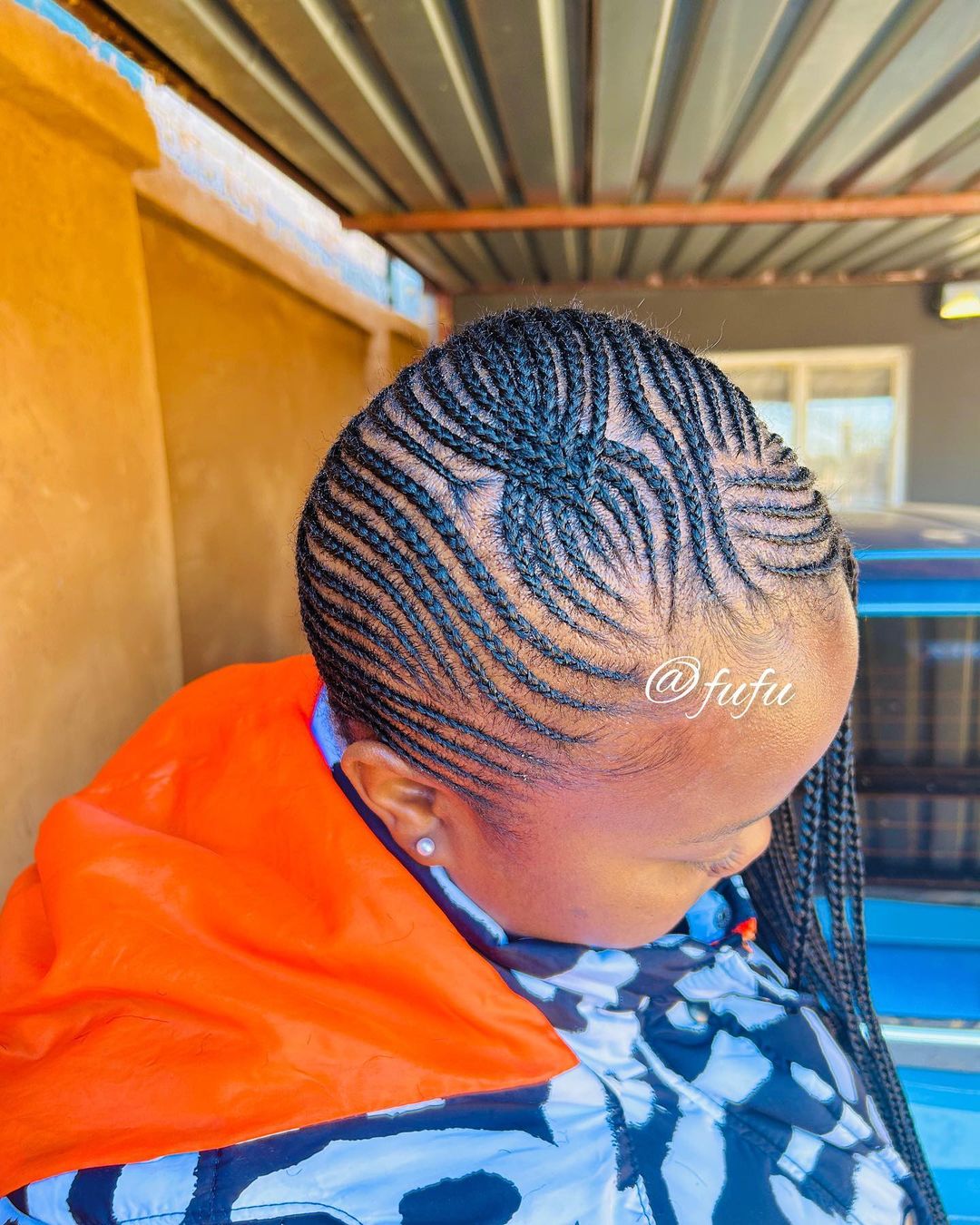 27. Double Clap Together Tribal Braids
Double-clap-together tribal braid is a protective style strategy. So you can wear this tribal braid as a protective style and still slay. It's simple and easy to wear.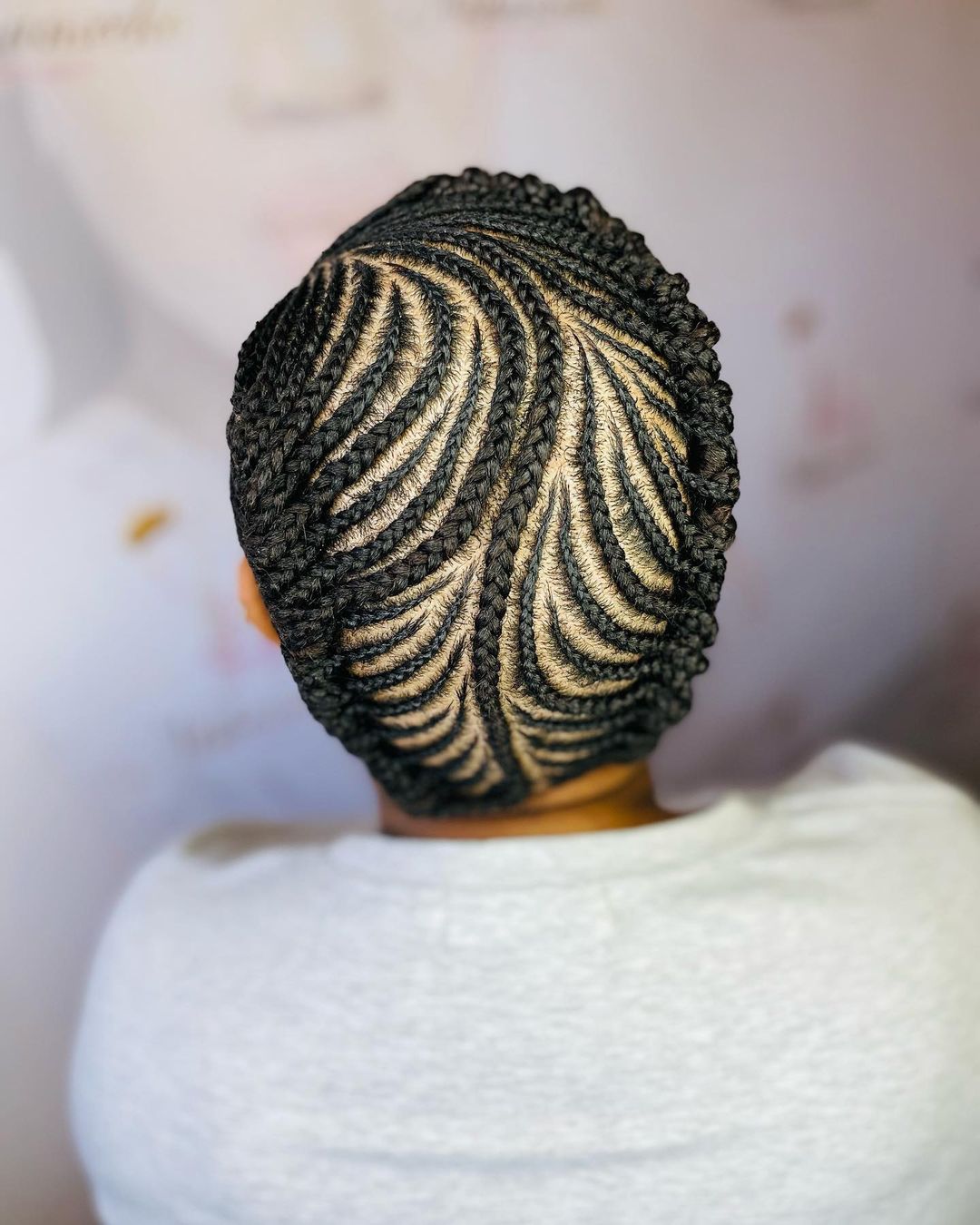 27. Brown Half Stitch Tribal Weave With Individual Braids
This blend of half-stitch and individual braids is versatile for boho or casual looks. It exudes carefree charm and suits outdoor gatherings.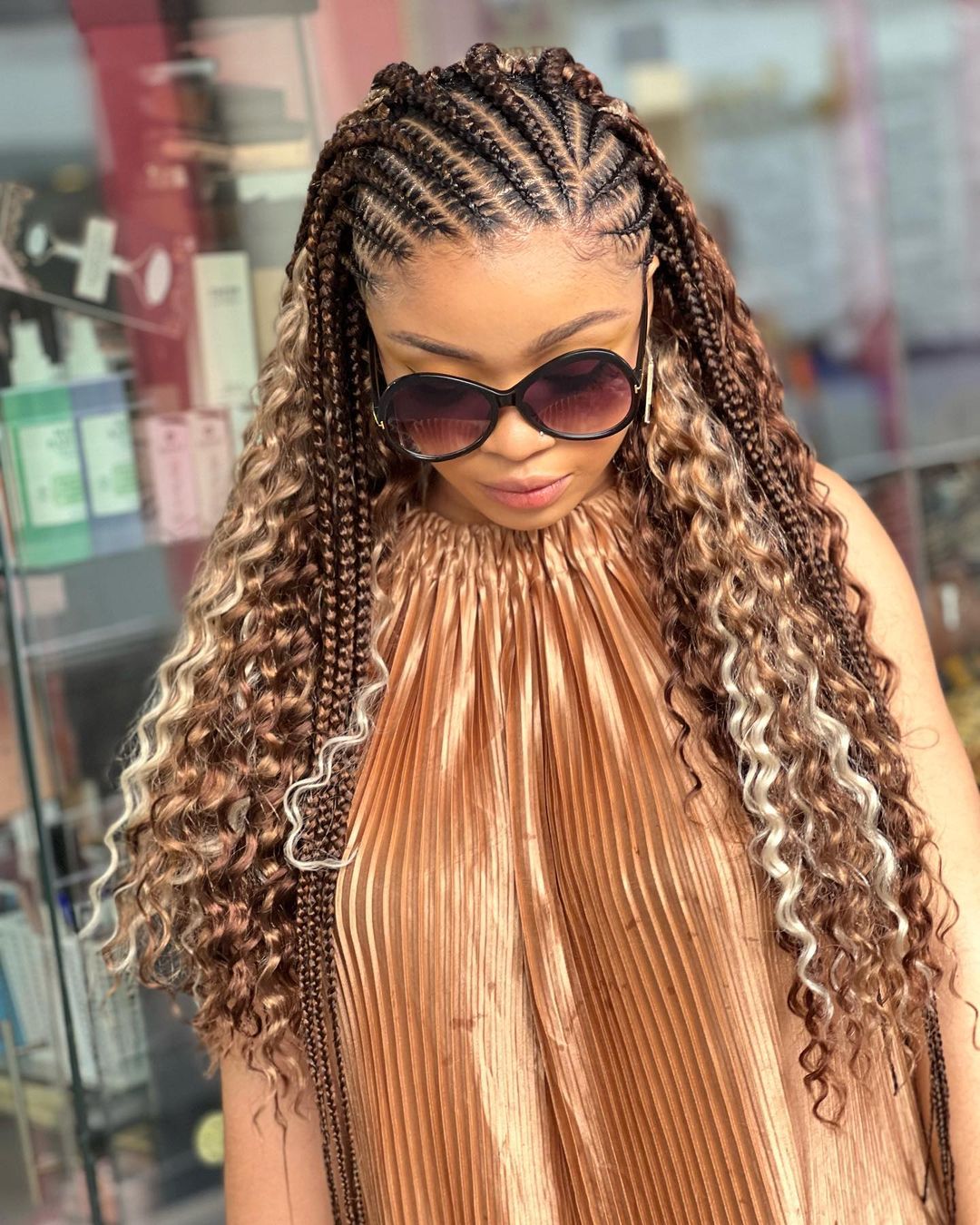 29. Color 30 Tribal Curly Updo
Vibrant-colored tribal braids crafted into an updo. Expressive and attention-grabbing, making it a great choice for parties and festivals.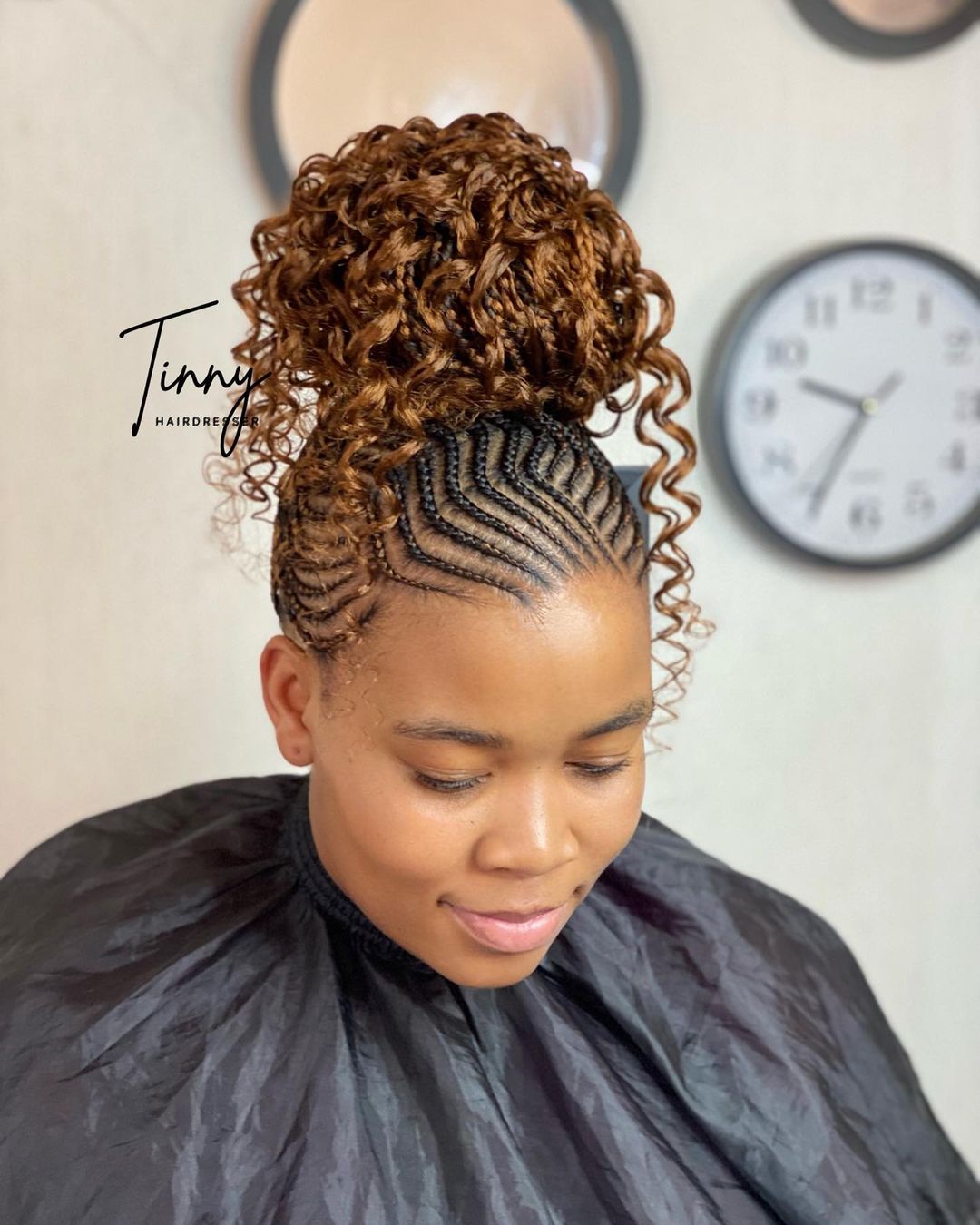 29. Classy Shoulder Length Tribal Updo With Beads
Elegant shoulder-length tribal updo adorned with beads. Ideal for upscale events like weddings, adding a touch of sophistication.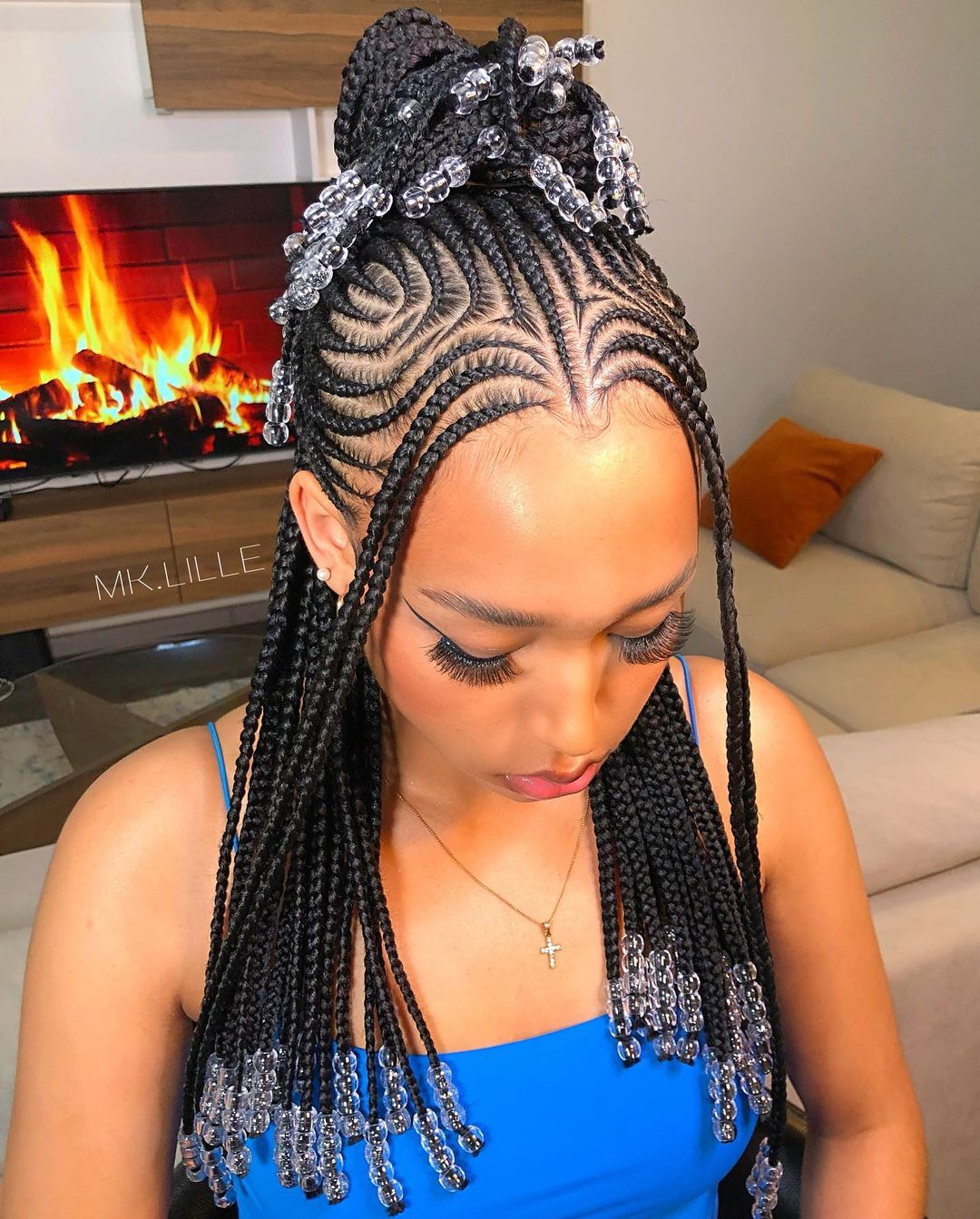 30. Double Knot Tribal Braids
Distinctive double-knot tribal braids are edgy and modern, perfect for creative outings or social hangouts with friends.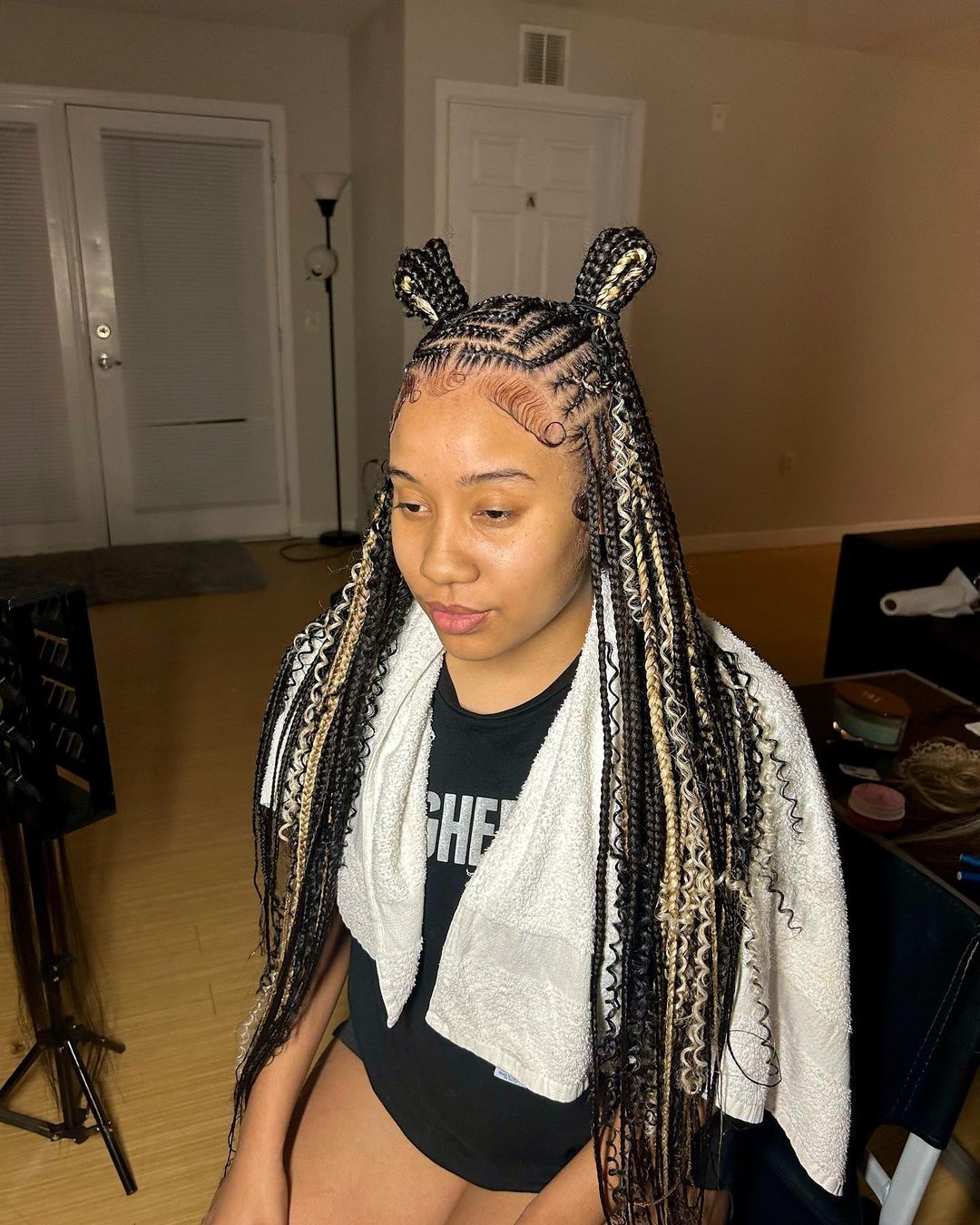 31. Fox Brown Tribal Braids With Frontal Individual Braids With Curls
Striking fox brown tribal braids combined with frontal individual braids and curls. A glamorous appearance is suitable for high-profile parties and gatherings.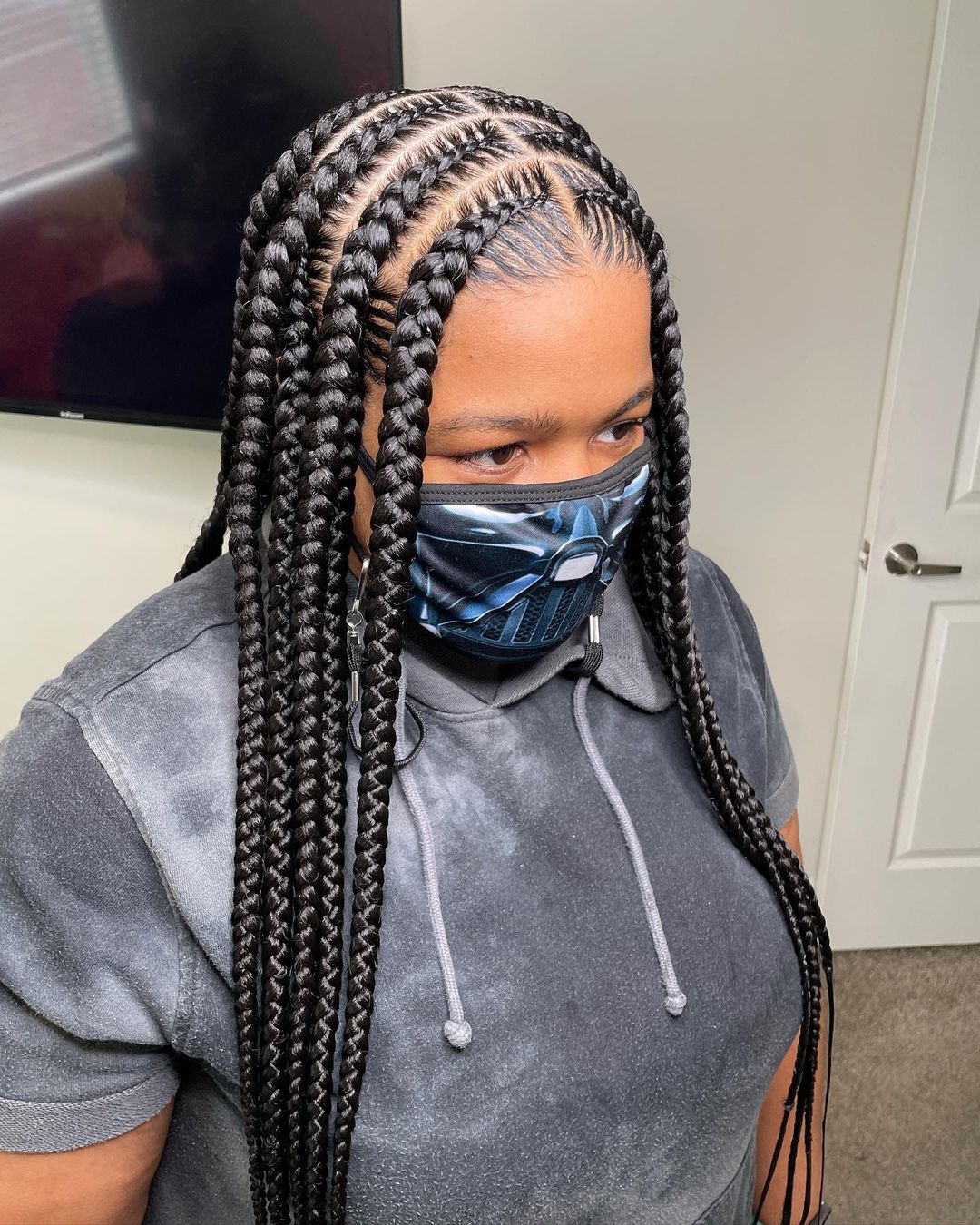 32. Tribal Cornrow Braids on Curly Bob
Chic tribal cornrows on a curly bob hairstyle. This blends texture and structure, suitable for both casual and semi-formal occasions.
33. Simple and Classy Tribal Braids With Knotted Tips
Understated elegance in simple tribal braids with knotted tips. Versatile and timeless, wearable for any event or everyday style.
34. Black Shoulder Length Tribal Braids With Brown Beads
Sleek black shoulder-length tribal braids adorned with brown beads. Classic and refined, fitting for formal occasions and elegant parties.
35. Black Tribal Braids With Green Tips
Bold black tribal braids with vibrant green-dyed tips. Edgy and unique, stands out at parties and gatherings with an artistic twist.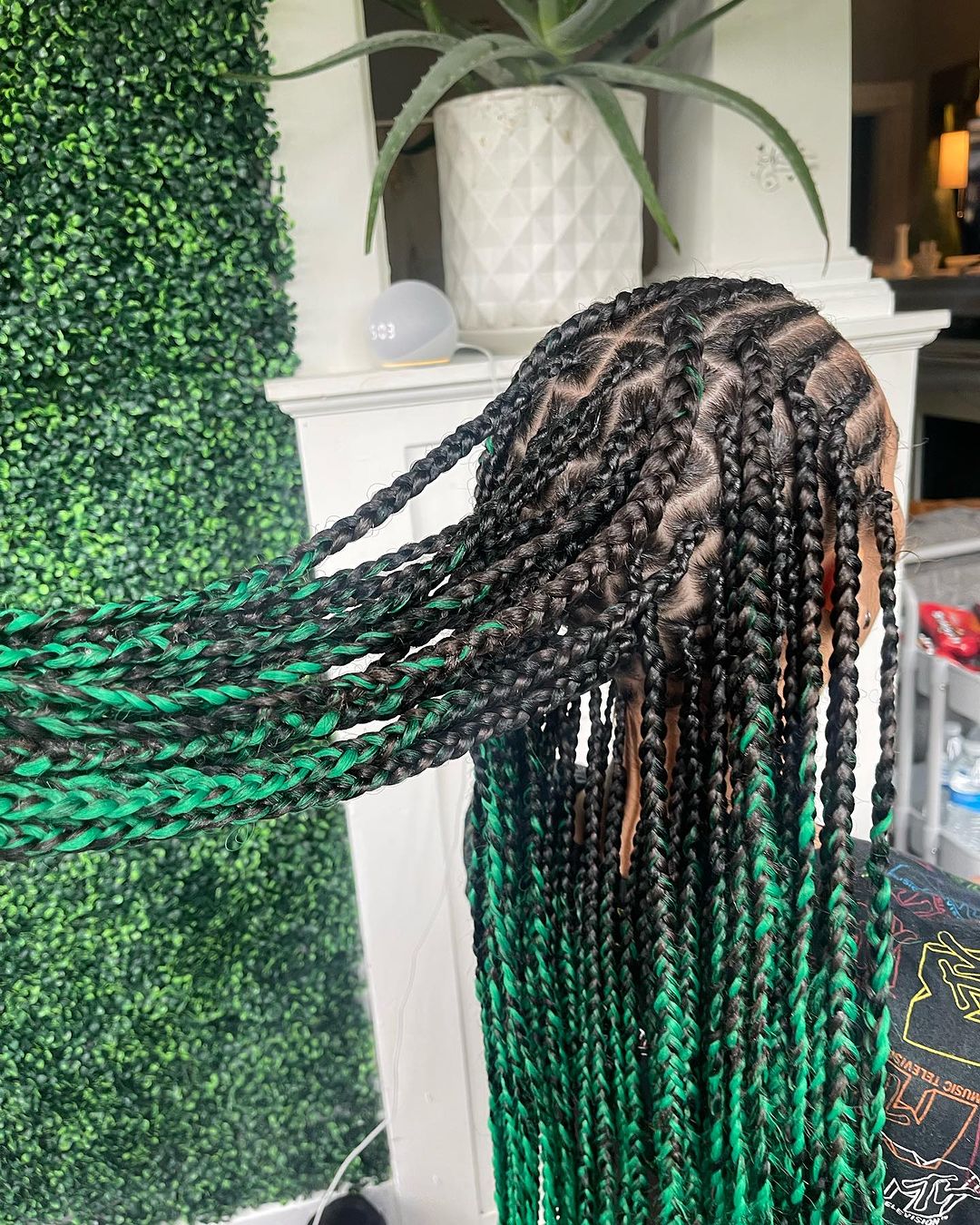 36. Gorgeous Maxi Twin Tribal Braids in a Bun
Stunning maxi twin tribal braids elegantly styled in a bun. Radiates sophistication and grace, making it perfect for upscale events and galas.
37. Tribal Braids With Blonde Curly Ends
Trendy tribal braids with playful blonde curly ends. Contemporary and youthful, a chic choice for outings and social gatherings.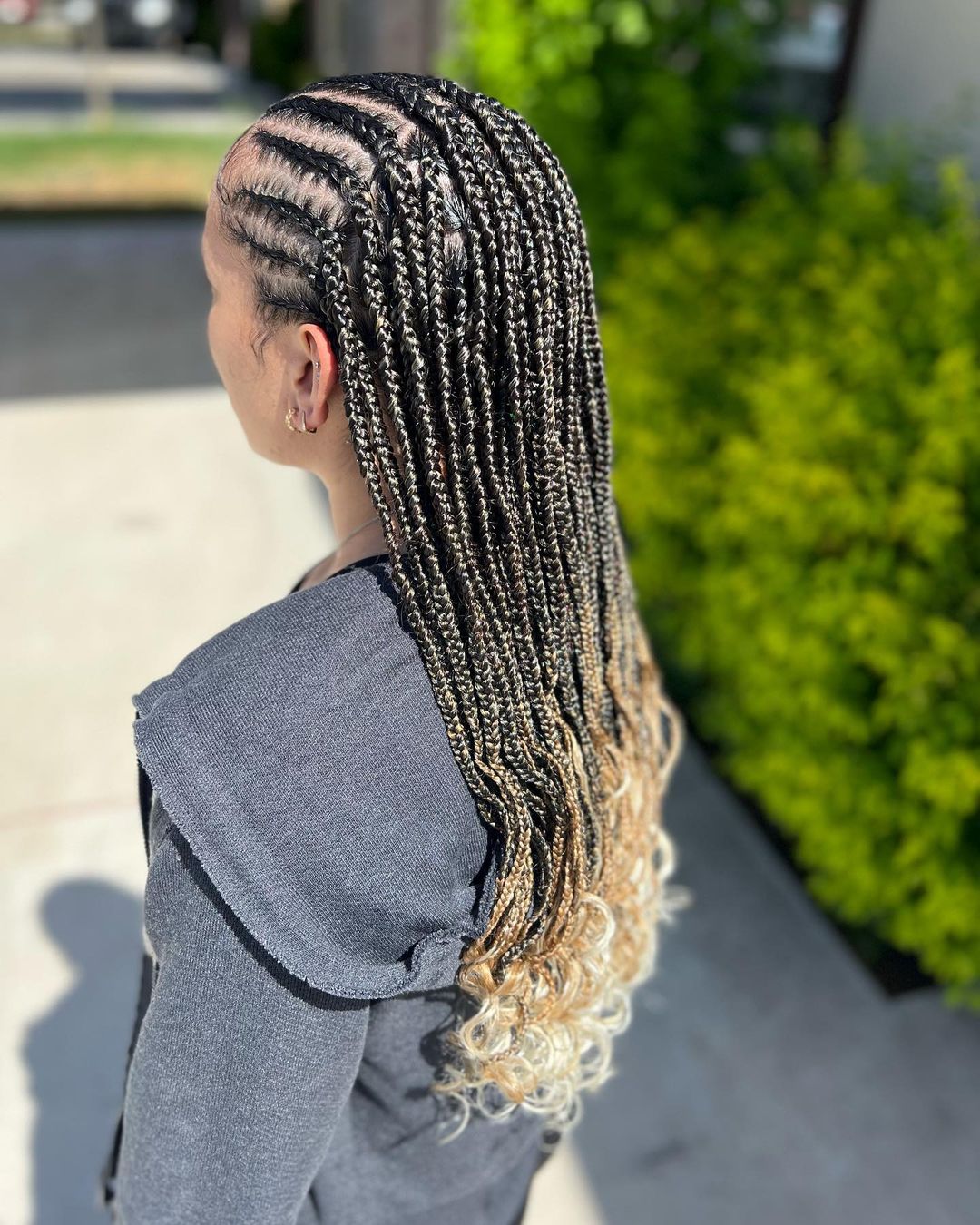 38. Pink Medium Sized Tribal Braids
Playful pink medium-sized tribal braids. Expressive and fun, suited for carefree occasions, parties, and creative events.
39. Large Zig Zag Feed in Tribal Cornrows
Daring large zig-zag feed-in tribal cornrows. Bold and striking, makes a strong impression at cultural events and music festivals
40. Large Curly Plaited Tribal Ponytail
Dazzling large curly plaited tribal ponytail. Glamorous and charming, suitable for formal parties and upscale celebrations.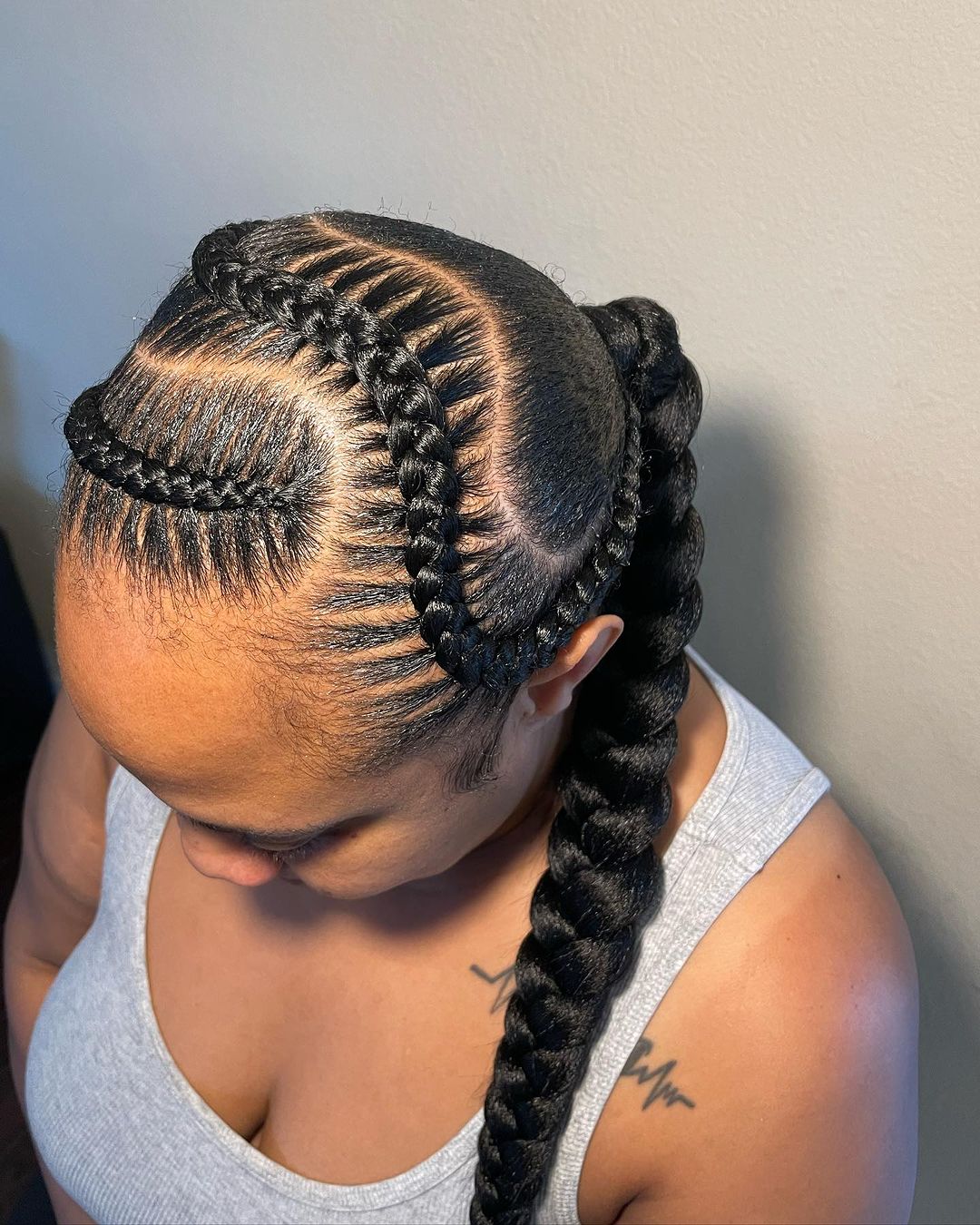 41. Tribal Accessorized Freestyle Cornrows
Freestyle tribal cornrows accented with accessories reflect personal style and creativity, perfect for casual outings and artistic gatherings.
42. Mini and Maxi Tribal Cornrow Combo
A combination of mini and maxi tribal cornrows offers a unique look for various events from fashion shows to the Cinema.
43. Mini Star Stitch Tribal Braids With Loose Curls
Adorable mini star stitch tribal braids paired with loose curls are perfect for a cute date.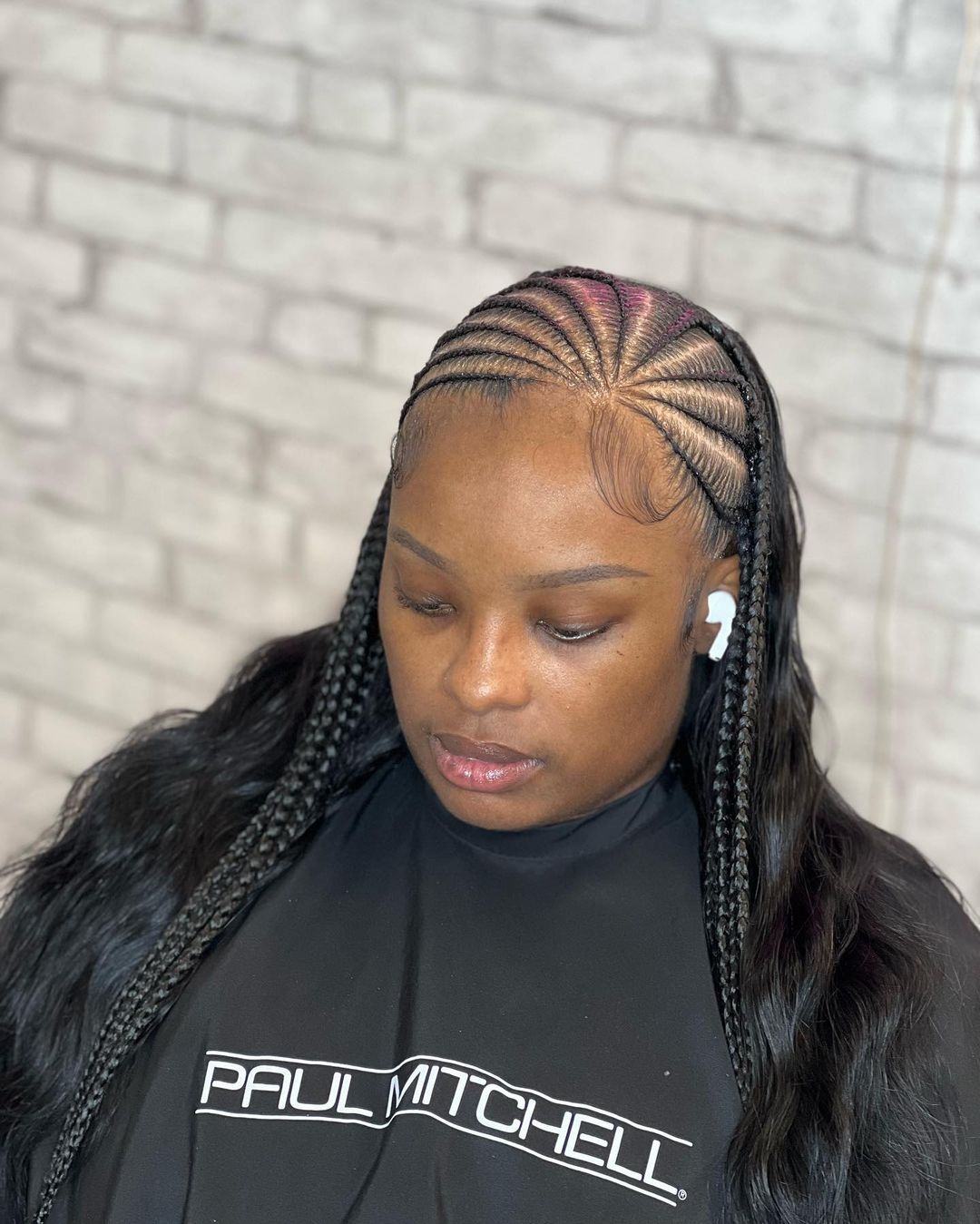 44. Long Tribal Curly Braids With Rings
Long tribal curly braids accessorized with rings is a confident style for diverse occasions.
45. Simple Gray Tribal Braids
Elegant and simple gray tribal braids are suitable for low-key events or a simple protective hairstyle.
46. Hip Length Tribal Knotless Braids With Purple Curly Tips
Hip-length tribal knotless braids feature purple curly tips, a head-turning choice for parties.
47. Gold Tribal Braids on Crochet Curls
Luxurious gold tribal braids combined with crochet curls are ideal for upscale gatherings.
Also Read: Top 8 Best Bomba Dreadlocks Crochet Braids
48. Zig Zag Tribal Cornrow With Boho Pieces
Zig-zag tribal cornrows embellished with boho pieces, perfect for a bohemian vibe.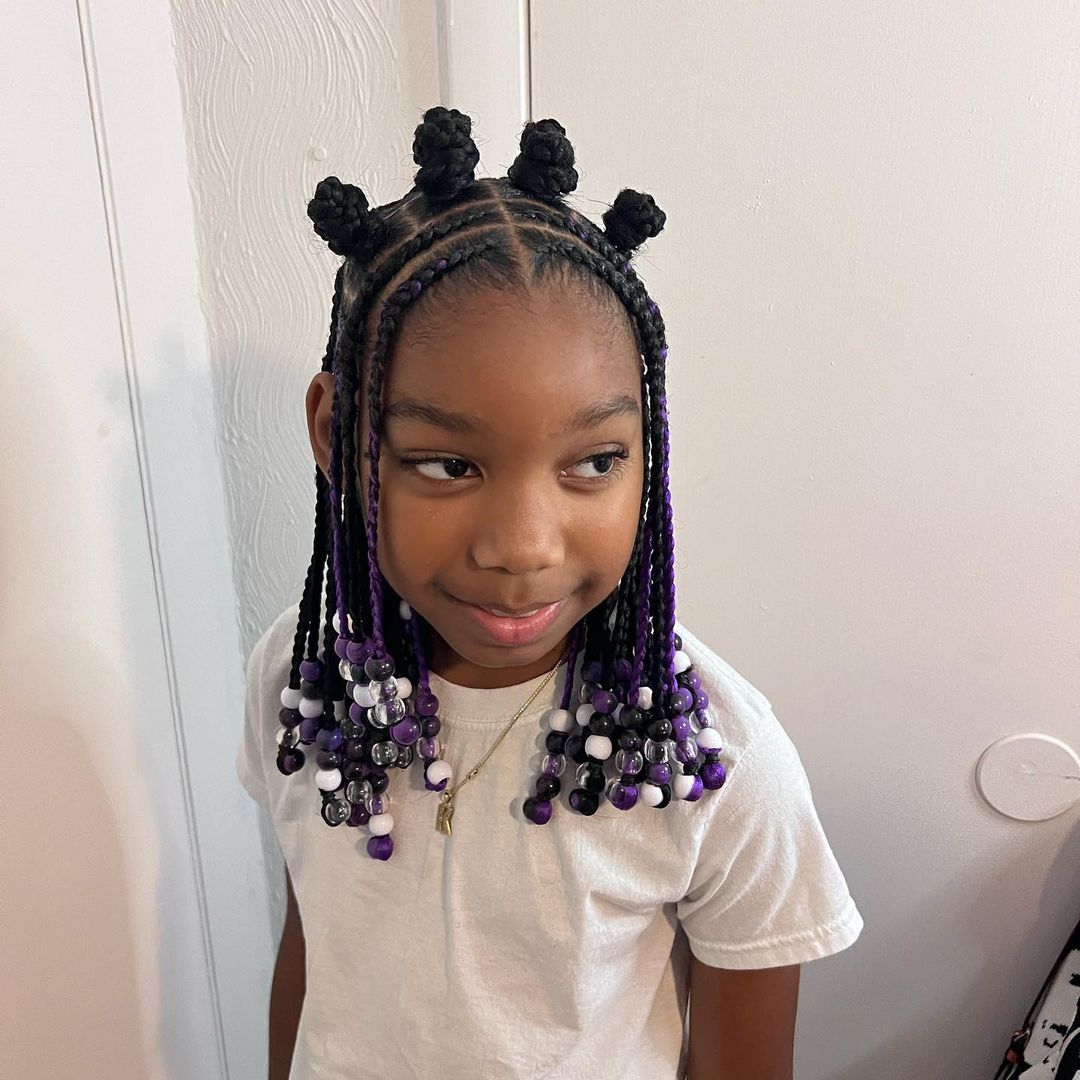 49. Two Stitch Frontal Tribal Braids With Sleek Ponytail
Chic two-stitch frontal tribal braids tied into a sleek ponytail are suitable for formal occasions.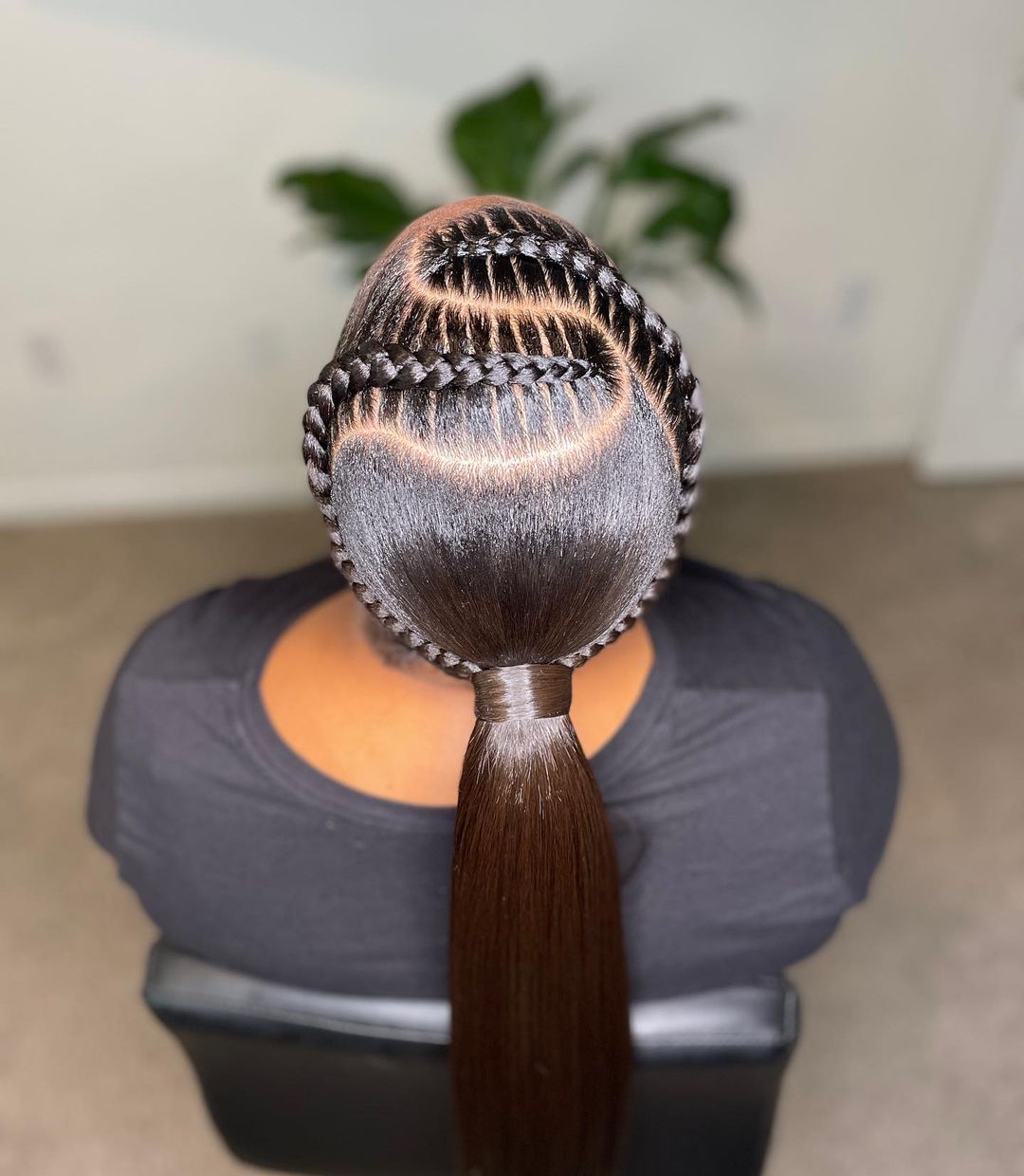 .
50. Large Two Layers Tribal Braids
Bold large two-layer tribal braids make a powerful statement at cultural events.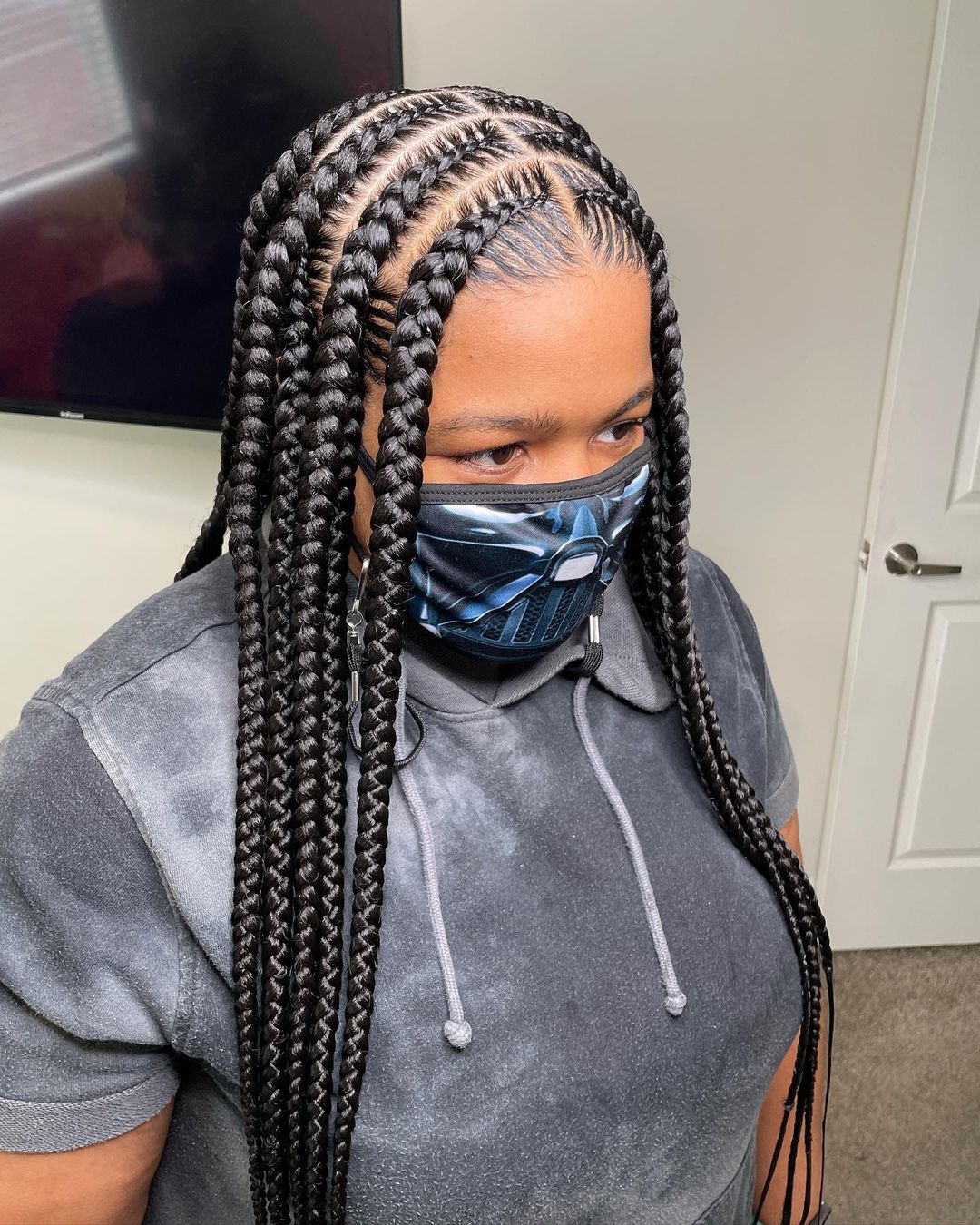 Are Tribal Braids Heavy?
Tribal braids can be heavy, depending on the thickness of the extensions and the size of the braids. Larger and longer braids with heavy extensions might feel weightier. It's essential to communicate with your stylist about your comfort level to ensure a manageable style.
Are Fulani Braids Tribal Braids?
Yes, Fulani braids are a type of tribal braids. They are inspired by the Fulani people of West Africa and often feature a distinctive pattern of braiding with beads and accessories. These braids have become popular and are considered a form of tribal braids.
Can You Wash Tribal Braids?
Yes, you can wash tribal braids. It's essential to be gentle to avoid causing frizz or unraveling. Diluted shampoo and a light conditioner can be applied to the scalp and rinsed carefully. Pat your braids dry and let them air-dry completely to maintain their appearance.
How Long do Tribal Braids Last?
Tribal braids can last around 2 to 6 weeks, depending on factors like your hair's natural growth rate and how well you care for them. Proper maintenance, like avoiding excessive pulling and protecting them while sleeping, can extend their lifespan.
What is The Difference Between Tribal Braids and Box Braids?
Tribal braids often incorporate various tribal or cultural elements and can be a broad category that includes styles like Fulani braids. Box braids, on the other hand, refer to a specific style where hair is divided into square sections and braided. 
While they can look similar, tribal braids may have more intricate patterns and accessories.
What Do Tribal Braids Look Like? 
Tribal braids often feature patterns, intricate designs, and accessories like beads or shells. 
 Fulani braids, for example, include a center part with braids on either side, adorned with beads, creating a distinctive look.
How Much are Tribal Braids?
The cost of tribal braids varies based on factors such as location, stylist's expertise, length, and thickness of braids, and any added accessories. On average, you can expect to pay anywhere from $100 to $300 or more for tribal braids. It's best to consult with a hairstylist for an accurate price estimate.
It's Your Turn
At this point, you are either of two sides. You are either amazed at the various tribal braids you never knew existed or you are excited that you now have a catalog of Tribal braids to choose from anytime.
However, whichever side you're on, I can bet you already have a tribal braid style in mind. That's great! But before you rush off to the salon, ensure you consult an expert stylist who'll give you the exact style you desire.