Knotless braids? Oh, they are like the hair fairy godmother, granting you style without the tangles! And guess what? Small bohemian knotless braids are on fire these days.
Boho knotless braids start with natural hair at the root, making them gentler on the scalp and reducing tension and discomfort. They can be styled in various ways and offer a regal and elegant look.
With new options sprouting up faster every year, we've curated 60 stunning Bohemian Knotless braid styles just for you. It's like a braid buffet, come with me!
Also Read related:
Best 60 Small Bohemian Knotless Braids
1. Four Curly Stitches
This style is your ticket to nailing that free-spirited, bohemian groove! The front four stitches are spicing up this style to keep it sleek and unique.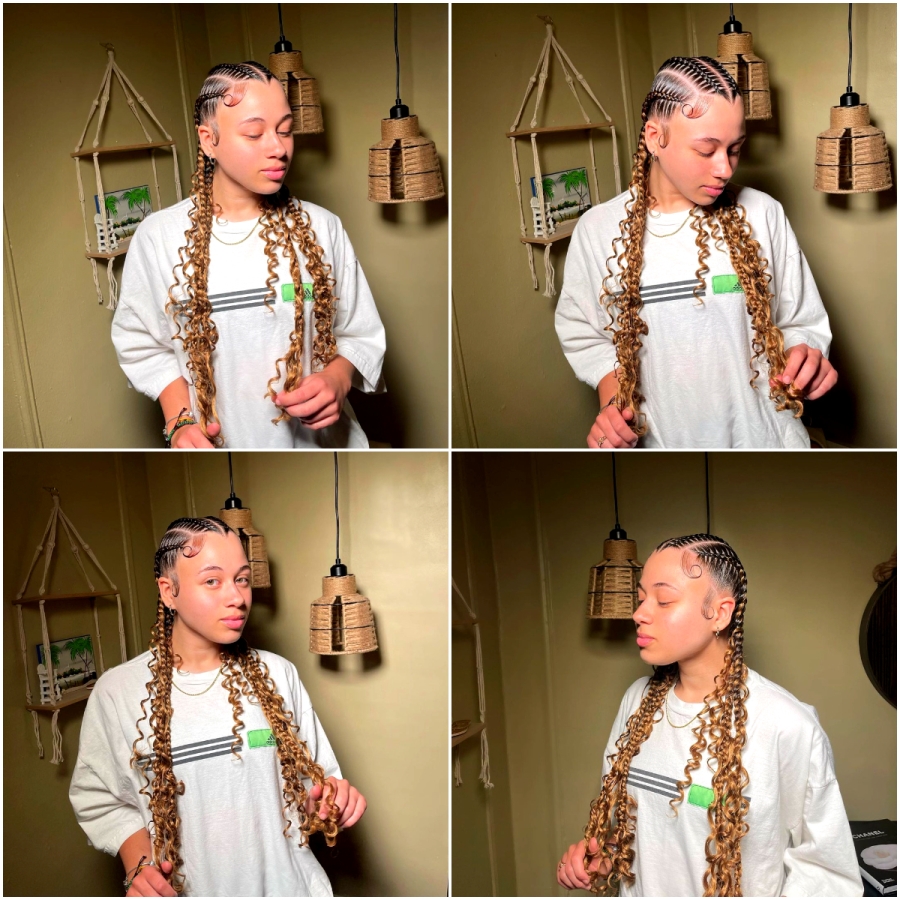 2. Gypsys Braids
Gypsy braids are a deal-maker for any occasion. You can rock yourself anytime with front gelled and brushed baby hair and a maroon shade.
3. Blondies
Blondies are a perfect choice for a carefree and effortlessly chic style. The blondies trend is catching on in 2023.
4. Blonde and Black
A mix of blonde and black is a unique style to give your BOHO knotless braids a contrasting and structured look. The idea is genuinely a one-of-a-kind choice.
5. Extra Small With Extra Curls
These braids blend small, delicate braids with bountiful curls that exude dynamic energy. It's perfect for adding a unique and bold touch to your bohemian look.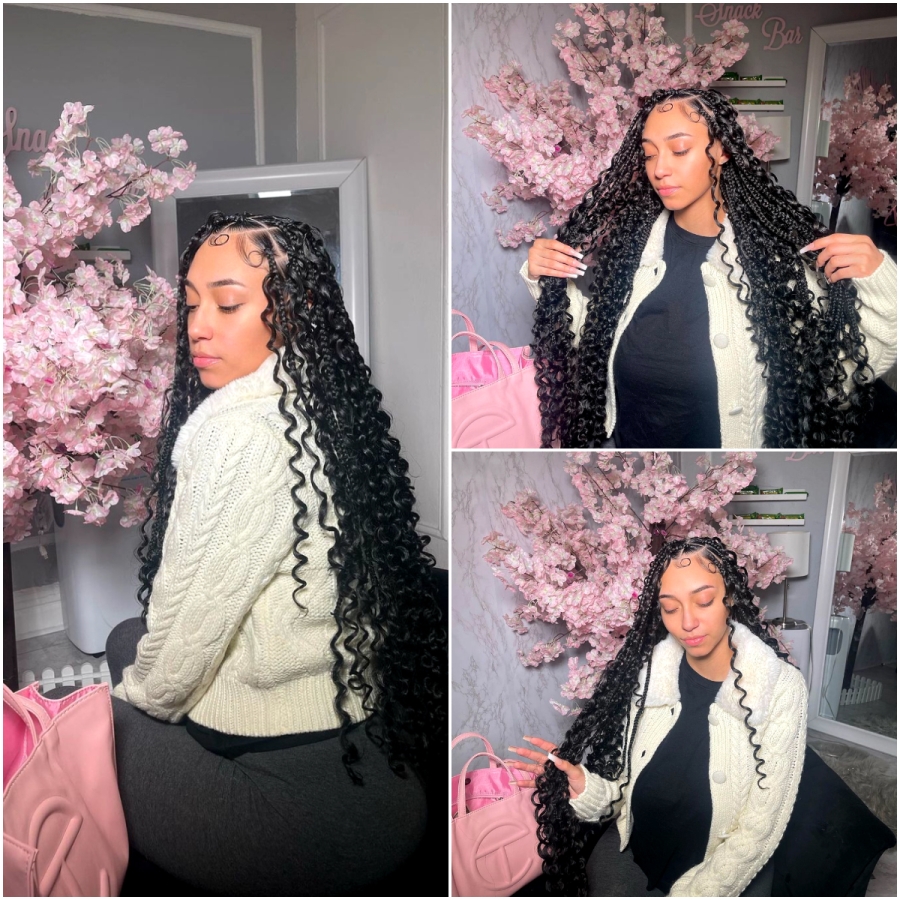 6. BOHO Knotless Braids with Half-Small Feed Cornrows
Whether you are wandering through the streets or enjoying festivals, these braids with half-small feed cornrows are your key to a head-turning look.
7. Half-stitched bohemian braids
These braids artfully combine the all-black style with a half-stitch braiding technique, resulting in nice texture and elegance. It offers a refreshing take!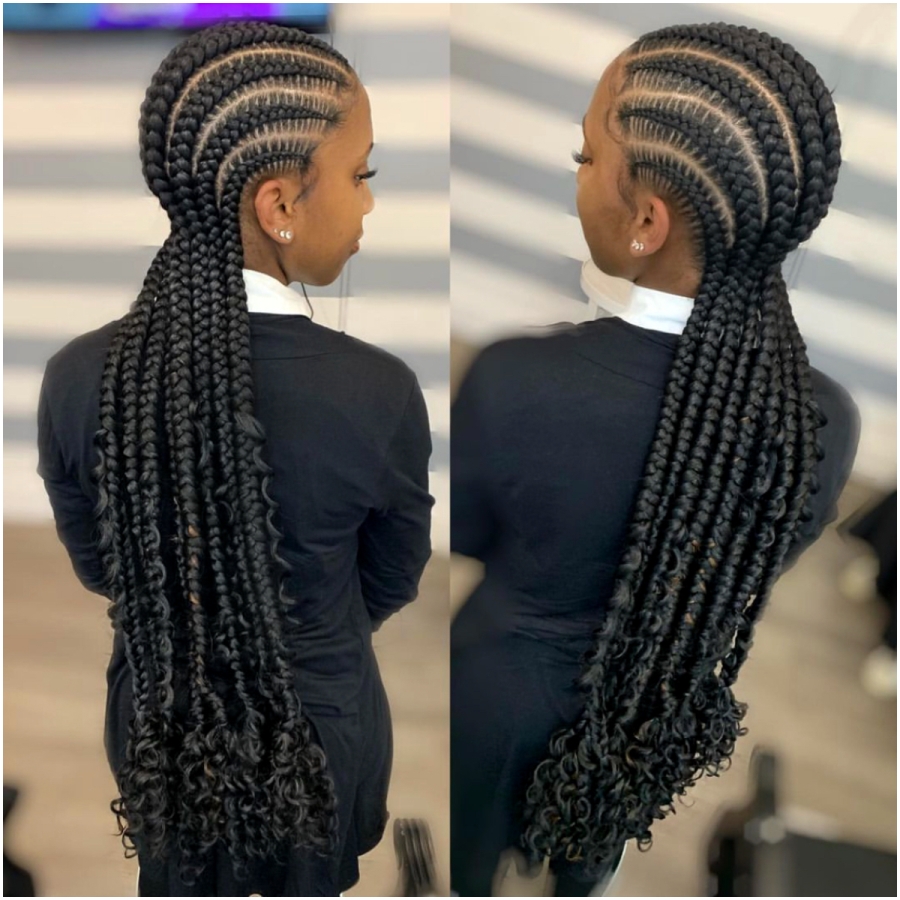 8. Fulani Bohemian Braids
Fulani braids are also known as feed-in braids. In this, all braids are tied from the front to the back. This design is a mix of BOHO and Fulani. A good option to follow uniqueness!
9. Flip Over Fulani Bohemian Braids
This one shows a beautiful pattern of braiding on your head while giving you a chic feel.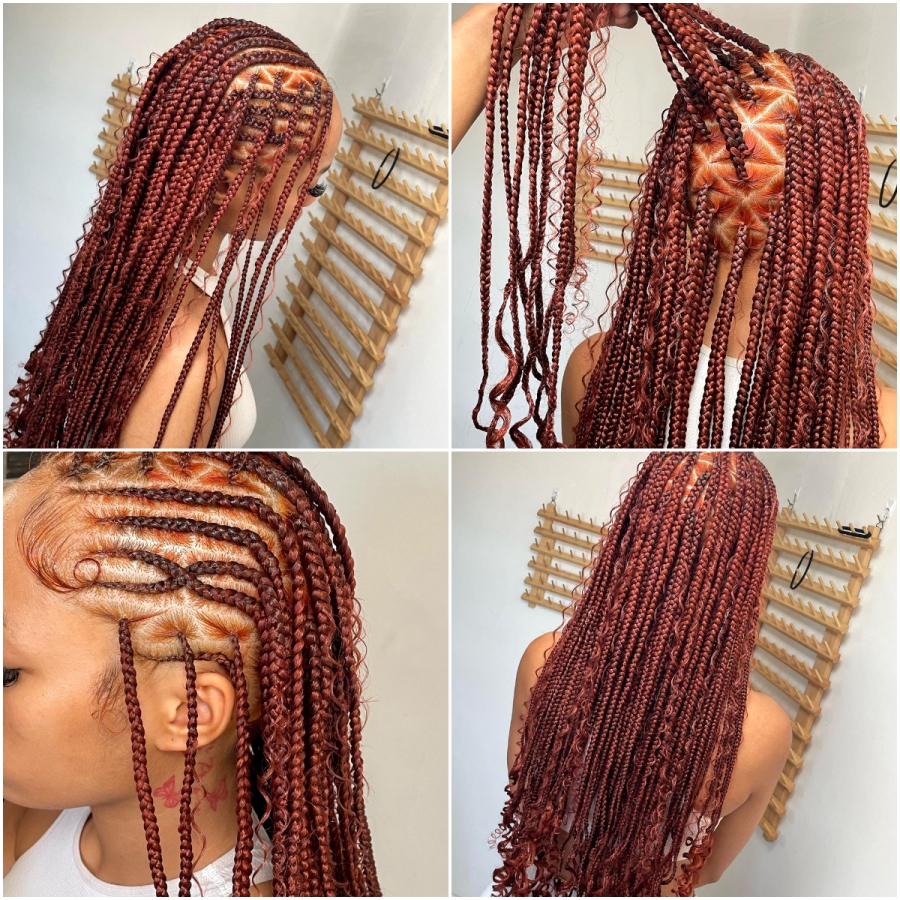 10. Top Bun Half Down
A gracefully styled half bun with the relaxed charm of braids will turn heads in the streets. Sounds sexy, doesn't it?
11. Bohemian Knotless Bob
Captivating BOHO bob knotless braids are a unique twist on the classic bob. You'll experience a comfortable and lightweight feel.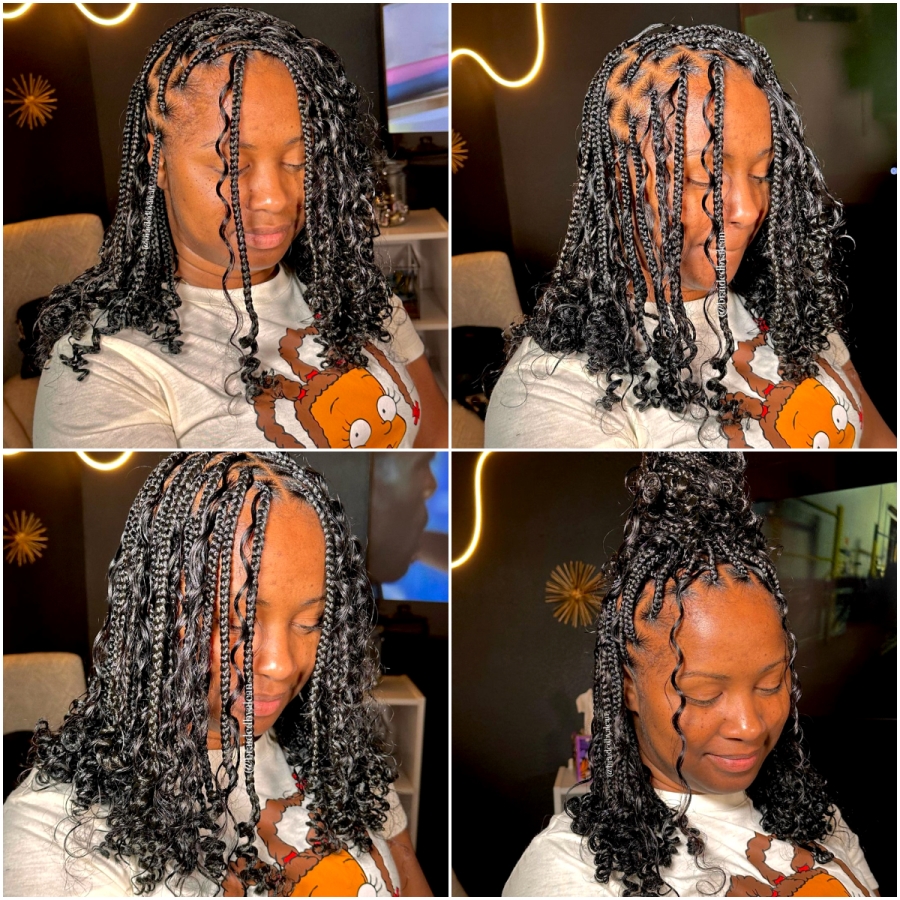 12. Chocolate Caramel BOHO Knotless Braids
These earthy tones evoke warmth and sweetness. Deep chocolate hues with luscious caramel shades create a visually appealing hair look.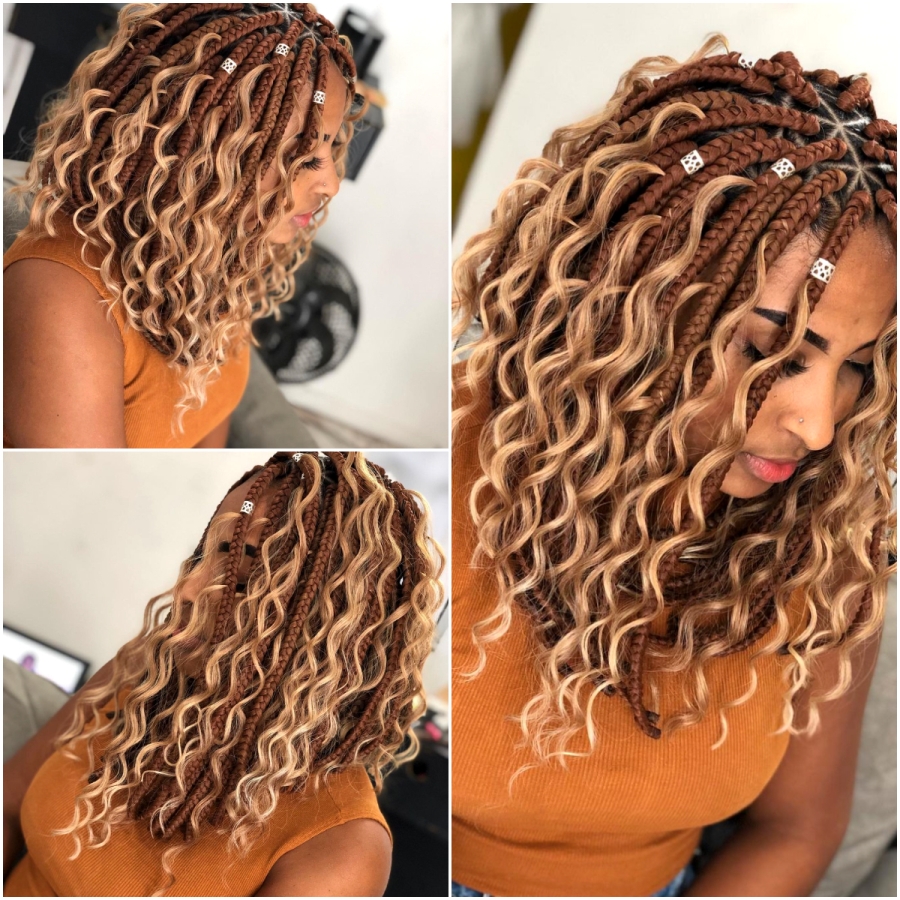 13. Mid-Jumbo Bohemian Braids Top Bun
Imagine a charming top bun adorned with the texture of knotless braids. What's cooler than that?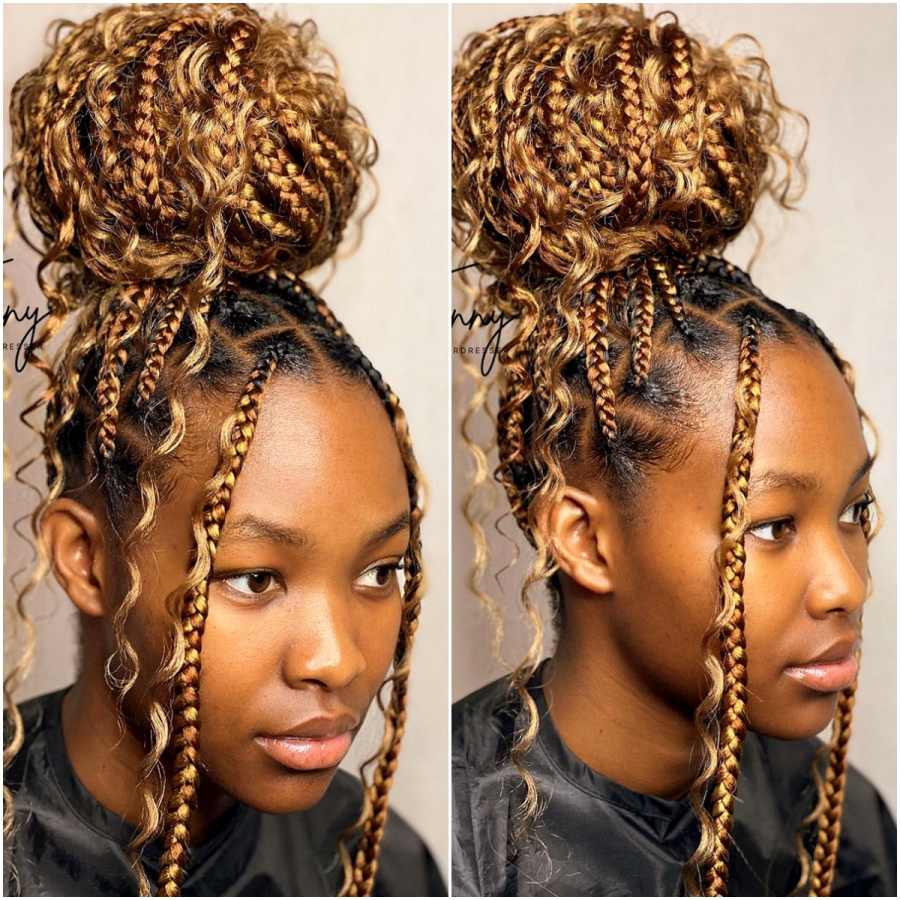 14. Thick Long Bob Bohemian Braids
These braids add a bit of bohemian charm to the classic long bob, providing a fresh take on a classic design.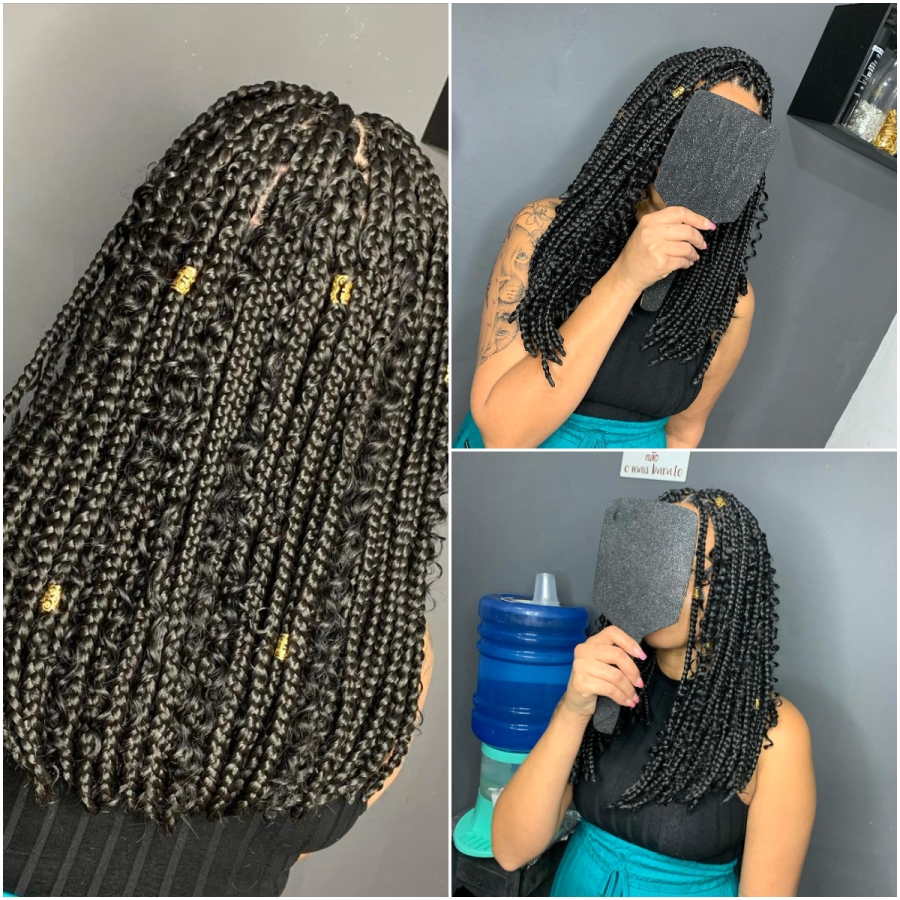 15. Florissant Knotless Braids
The Florissant Knotless Braids combine creativity and texture to help you embrace the elegance and beauty of your BOHO personality.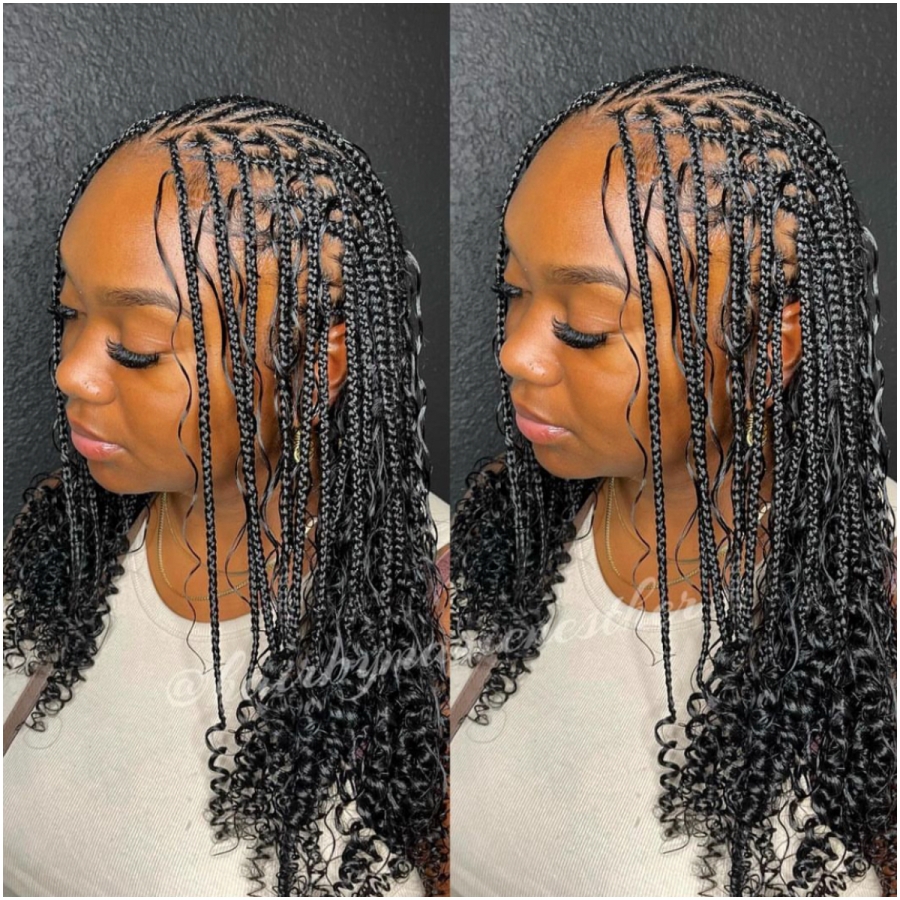 16. Glow Bohemian Knotless Braids
This one is the most unique on the list. For this, you'll need glowing synthetic hair. At night or in the dark they will glow like magic.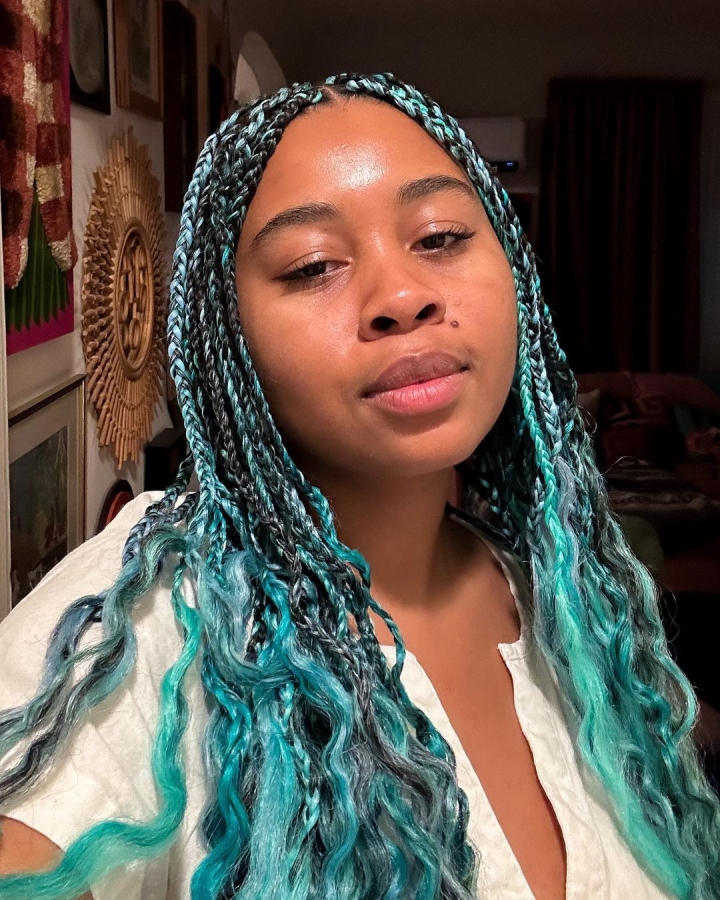 17. Mid Large Knotless with 3D Butterflies
These braids combine the ease of knotless technique with a whimsical touch, as 3D butterflies adorn your strands, producing a wonderfully enchanting impression.
18. Versatile Small Knotless BOHO Braids
These braids are a fun and fashionable way to express yourself. These braids, with their right side, let you easily experiment with various updos, half-up styles, and more.
19. Cotton Candy BOHO Knotless Braids
The shades of this design are eye-catching. Moreover, the length, texture, and rough curls are adding extra allure to this.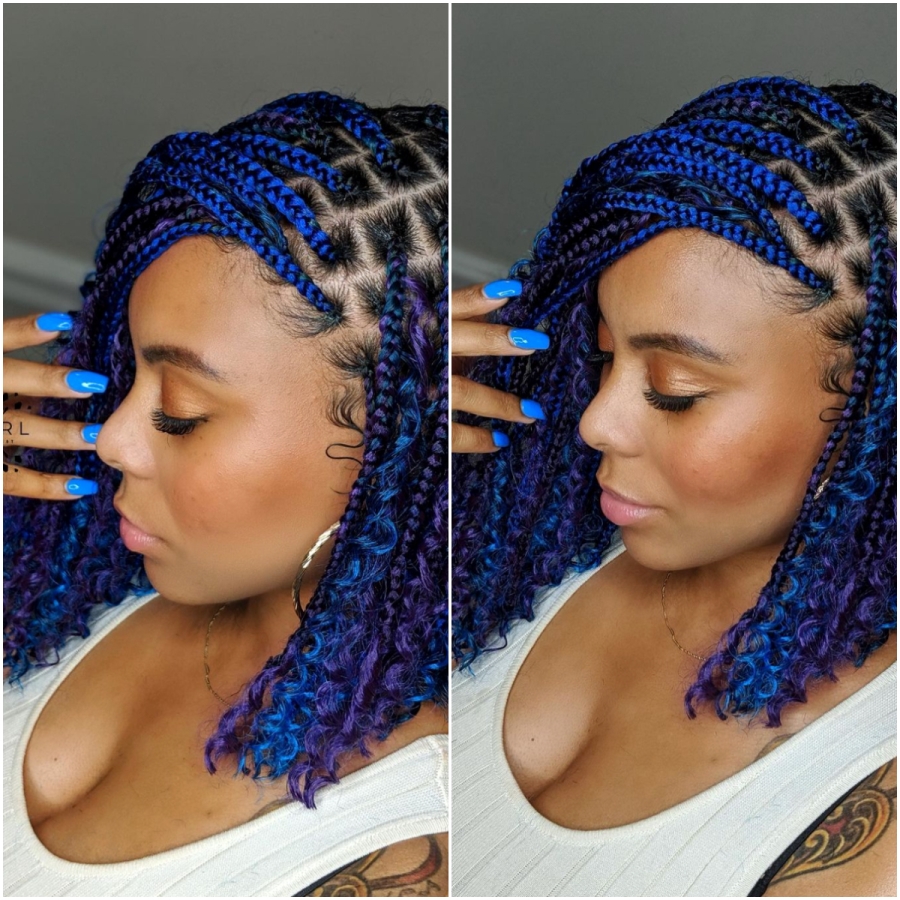 20. Long Hair Small BOHO Knotless Braids
Don't overlook the allure of long, sleek, small braids. If you're aiming for a protective style with luxurious length, look no further, because this is the ultimate choice to embrace.
21. Box Knotless Bohemian Braid
From everyday charm to special moments, these braids are your signature of uniqueness. A high ponytail like the one in the above picture calls for attention.
22. Long Knotless Braids With Curly Ends
Long Knotless Braids with lovely curly ends express beauty and flow at the same time.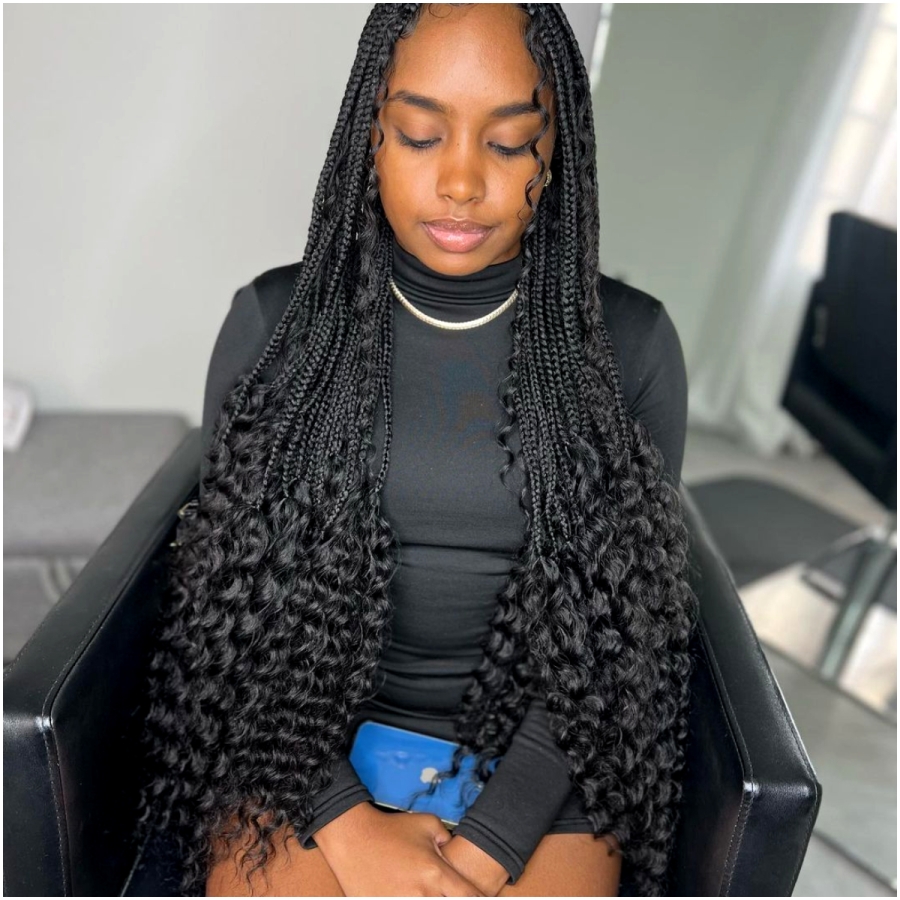 23. Wavy BOHO Knotless Braids
These braids offer a blend of carefree waves and small knotless braids. The best part? You can create many hairstyles with this one.
24. Golden Blonde Small Knotless Braids
Golden BOHO braids with a touch of blonde give your hair a contrasting and texturized appeal. Go for it.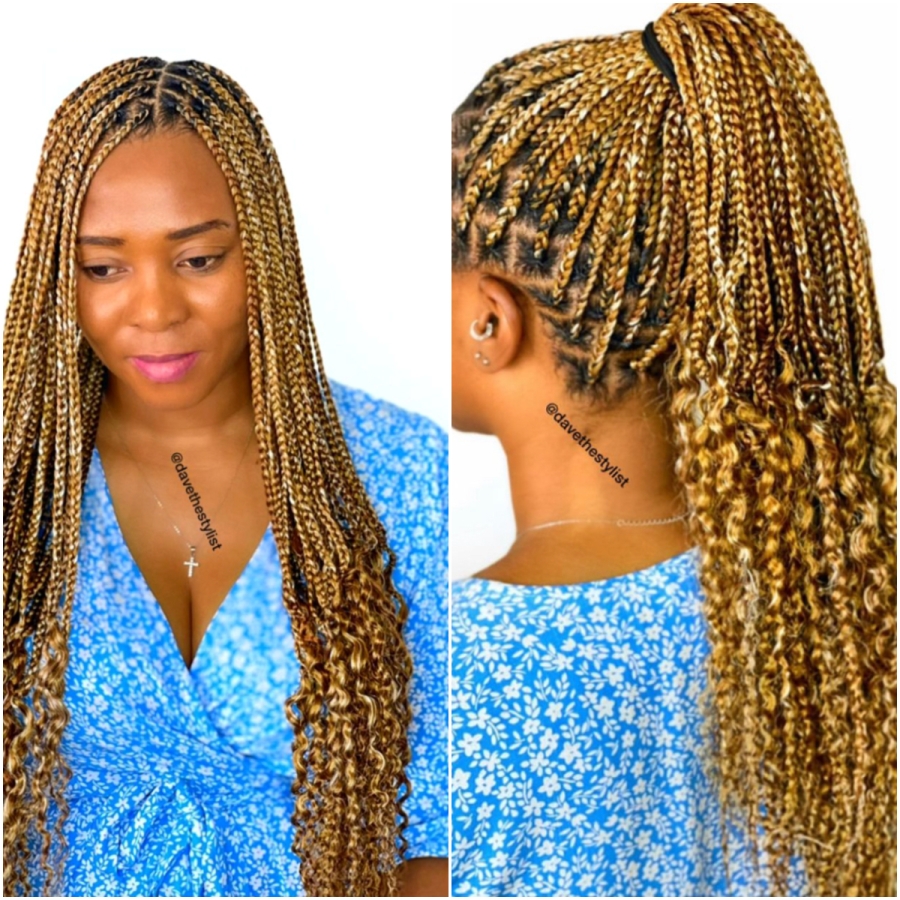 25. Green And Black Knotless Braids
Reveal your bold side with green and black BOHO braids. The vibrant green colour is unique here. A truly head-turning statement!
26. XL Freestyle Knotless Braids
Try this style to be an absolute show-stopper. The front braiding structure will let those tongues out.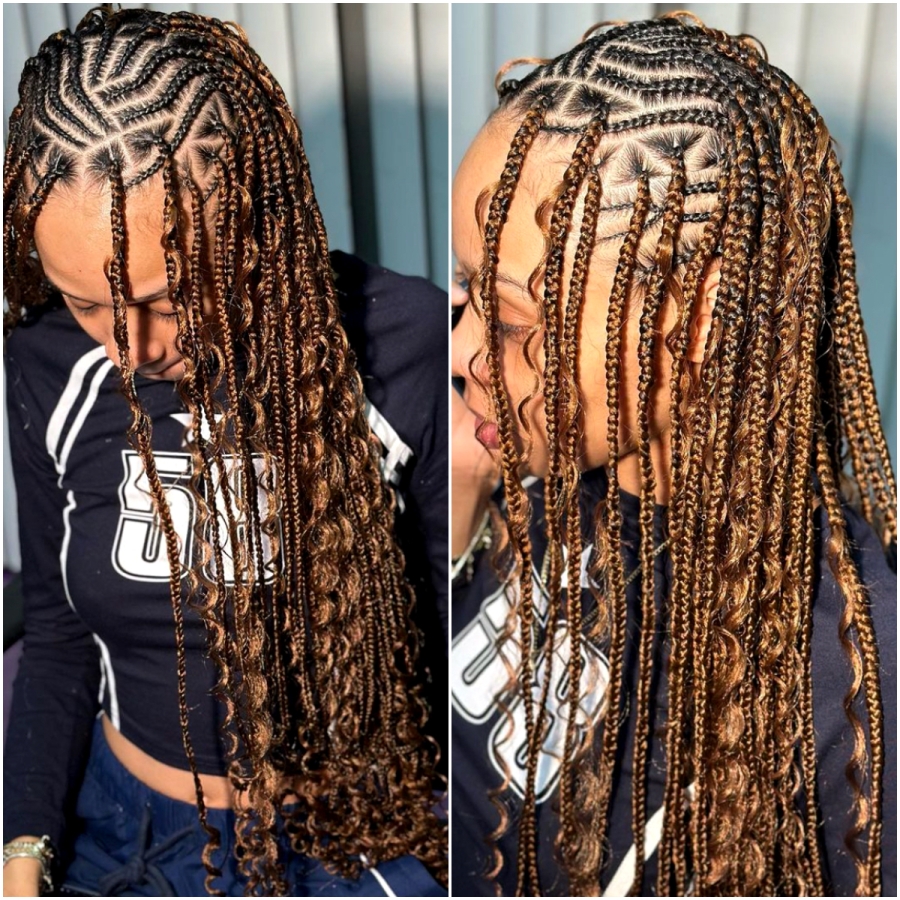 27. Free Part Extra Small Knotless Braids
Want a long hair look with a mix of colours and curls? This one should be your choice.
28. Heart Row BOHO Knotless Braids
Heart row BOHO braids with a touch of blue and beads are one of the most enchanting designs. If you want your hairdo to speak for itself, this one is for you.
29. Feed In with Knotless in the Back
This all-black style is perfect for anyone who likes comfort in fashion. If you are the one, check this out!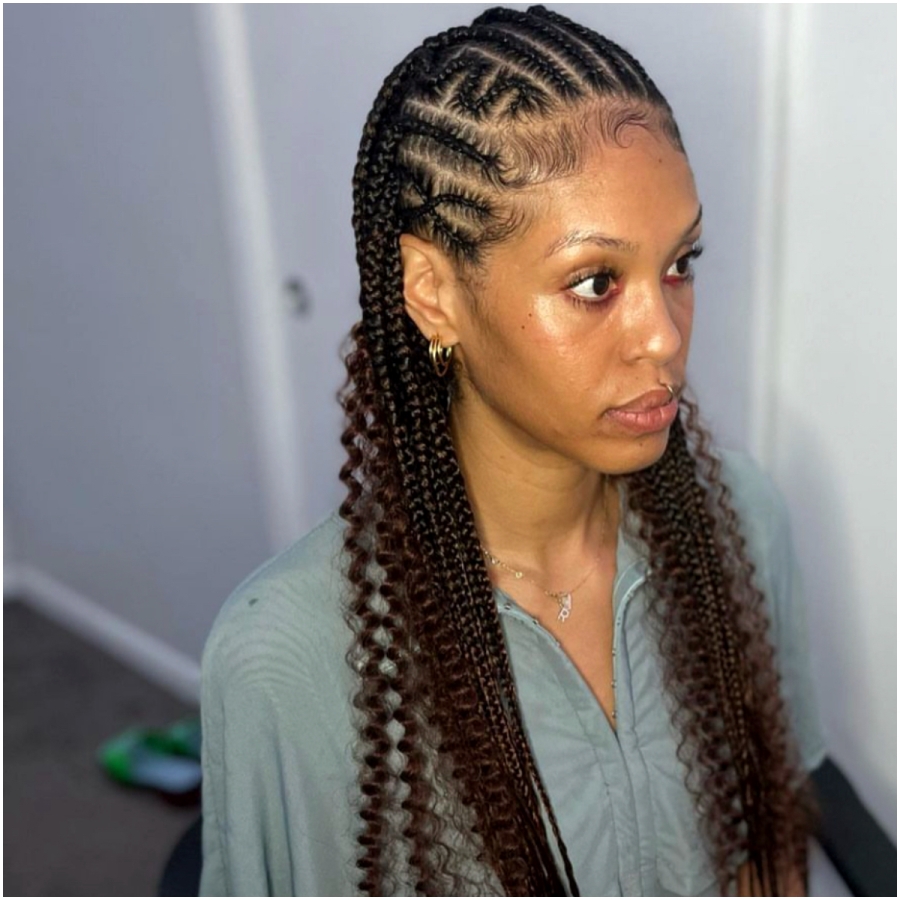 30. Black And Grey Small Bohemian Braids
Highlights never go out of style. The best thing is that you can incorporate them with your BOHO knotless braids like this girl. She is rocking the gray highlights with black bohemian braids.
31. Temple BOHO Small Knotless Braids
This exceptional style is rather dramatic, with a high knot atop the head. The top bun doesn't stop you from showcasing the length of your hair.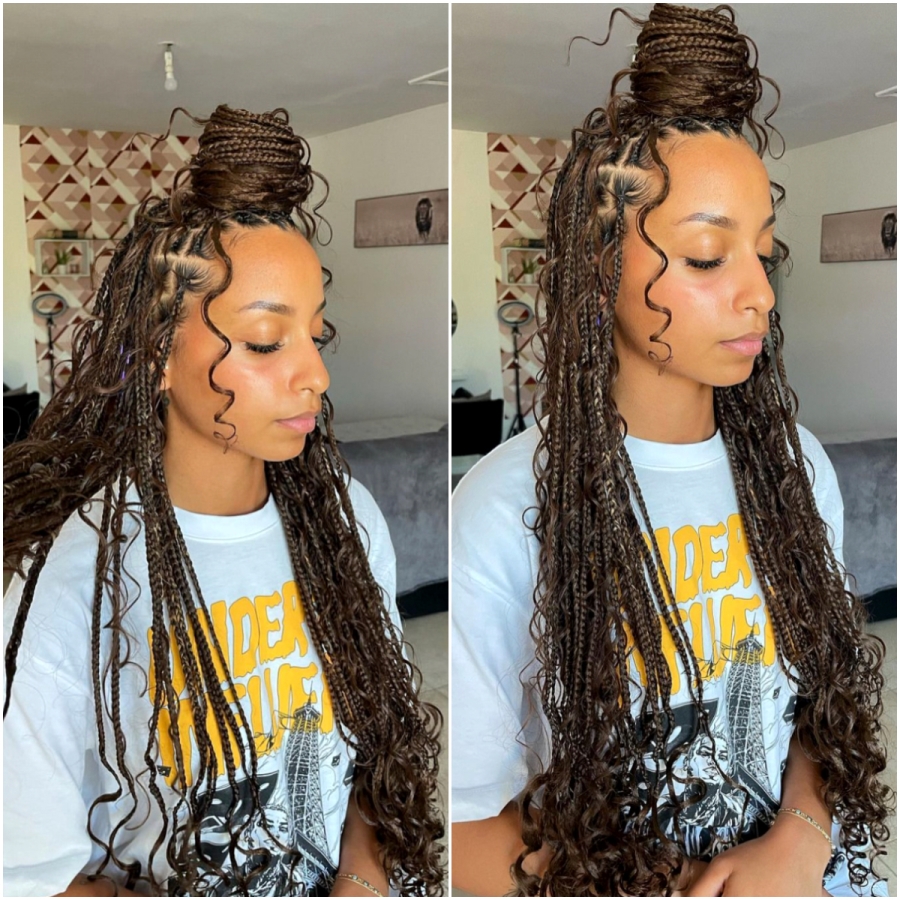 32. Burgundy Small Bohemian Knotless Braids
Elevate your standard knotless braids with a burst of colour! Infuse those curly ends with a rich brugundy hue, skyrocketing your hair game to fresh heights and setting the trend for all to follow.
33. Knotless Box Braids With Loose Curls
Boho knotless box braids become more stunning when you combine them with loose curls. Although loose curls are not so common, you won't regret getting them.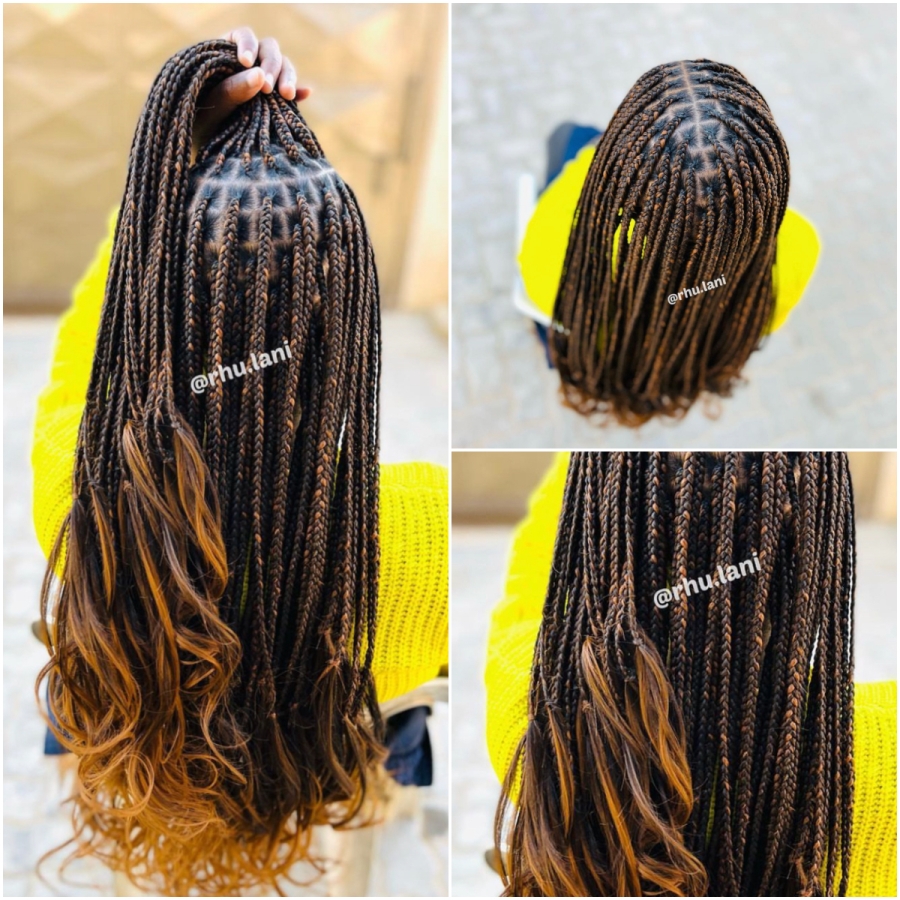 34. Small Knotless Bulk Bohemian Braids
Knotless braids with loose curls have just entered the braiding variety. They are proving to be a good choice. It offers volume and texture at the same time.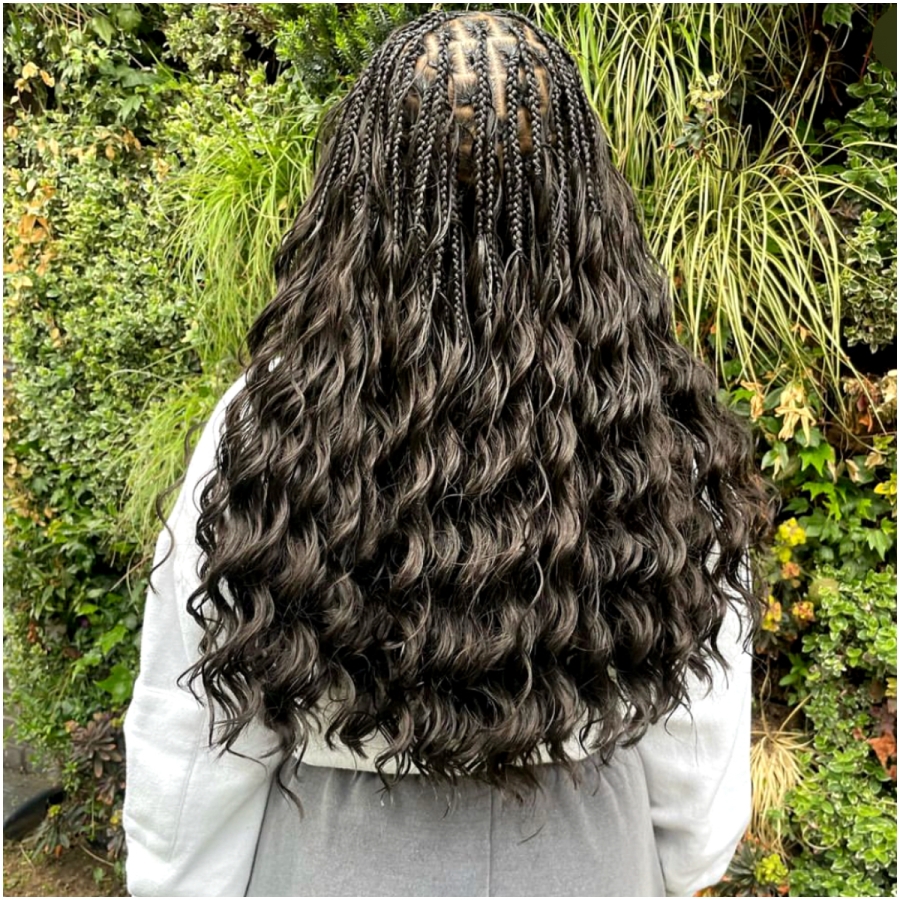 35. Top Two Bun BOHO Braids
The top two buns with loose ends are trendy. However, you can make it even more charming by blending them with BOHO knotless braids and rusty hair dye.
36. Half Red Half Black BOHO Knotless Braids
Red meets black in this Half Red Half Black BOHO Knotless Braids, which express the perfect blend of edgy and bohemian aesthetics.
37. Caramel BOHO Braids with Ocean Wave
The warm tones of caramel with a flow of waves take you to the world of beauty. These braids offer a lovely and soft touch.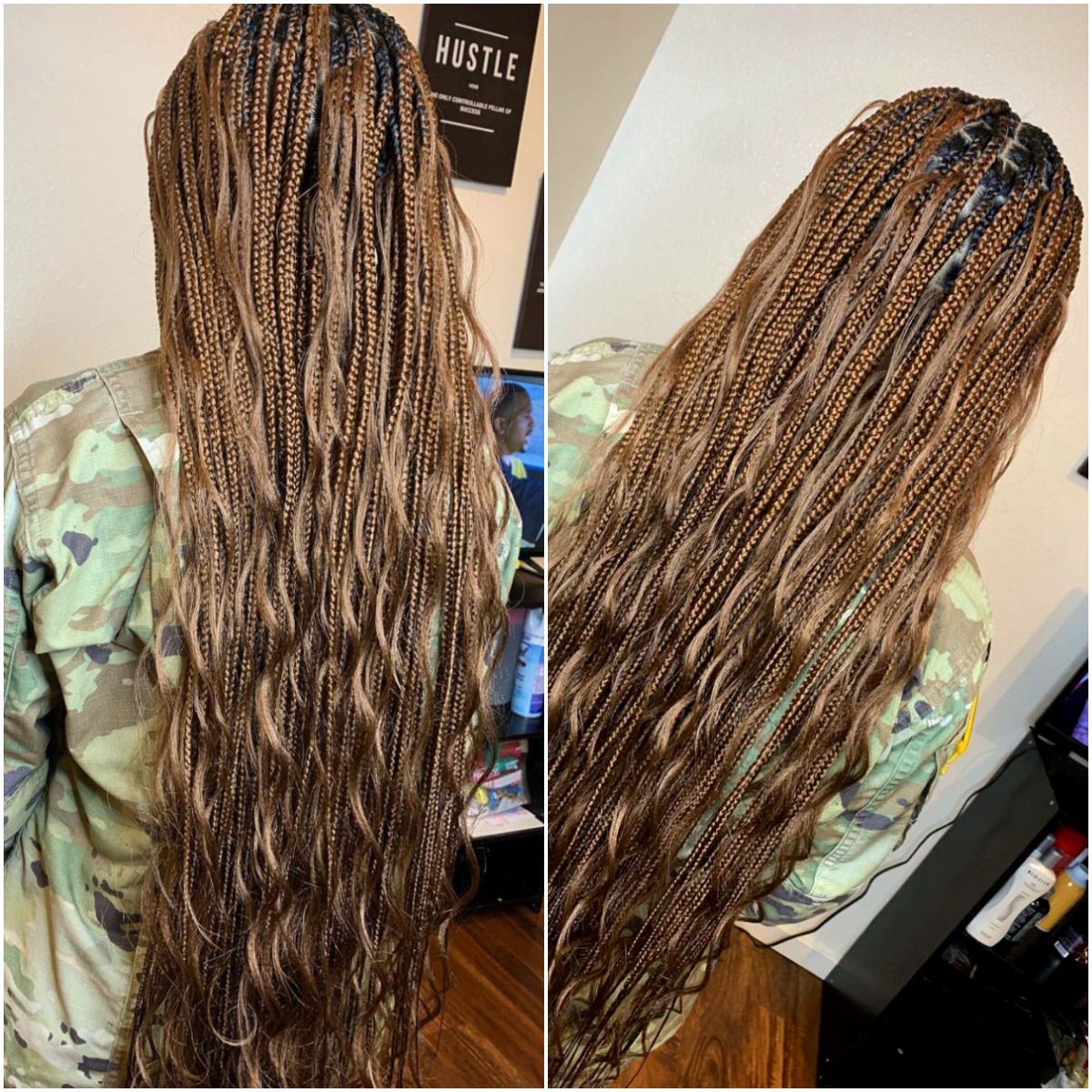 38. Bun Plus Ponytail BOHO Plus Knotless Braids
This one is ideal for days when you need to get a lot of things done but don't want your hair to get in the way.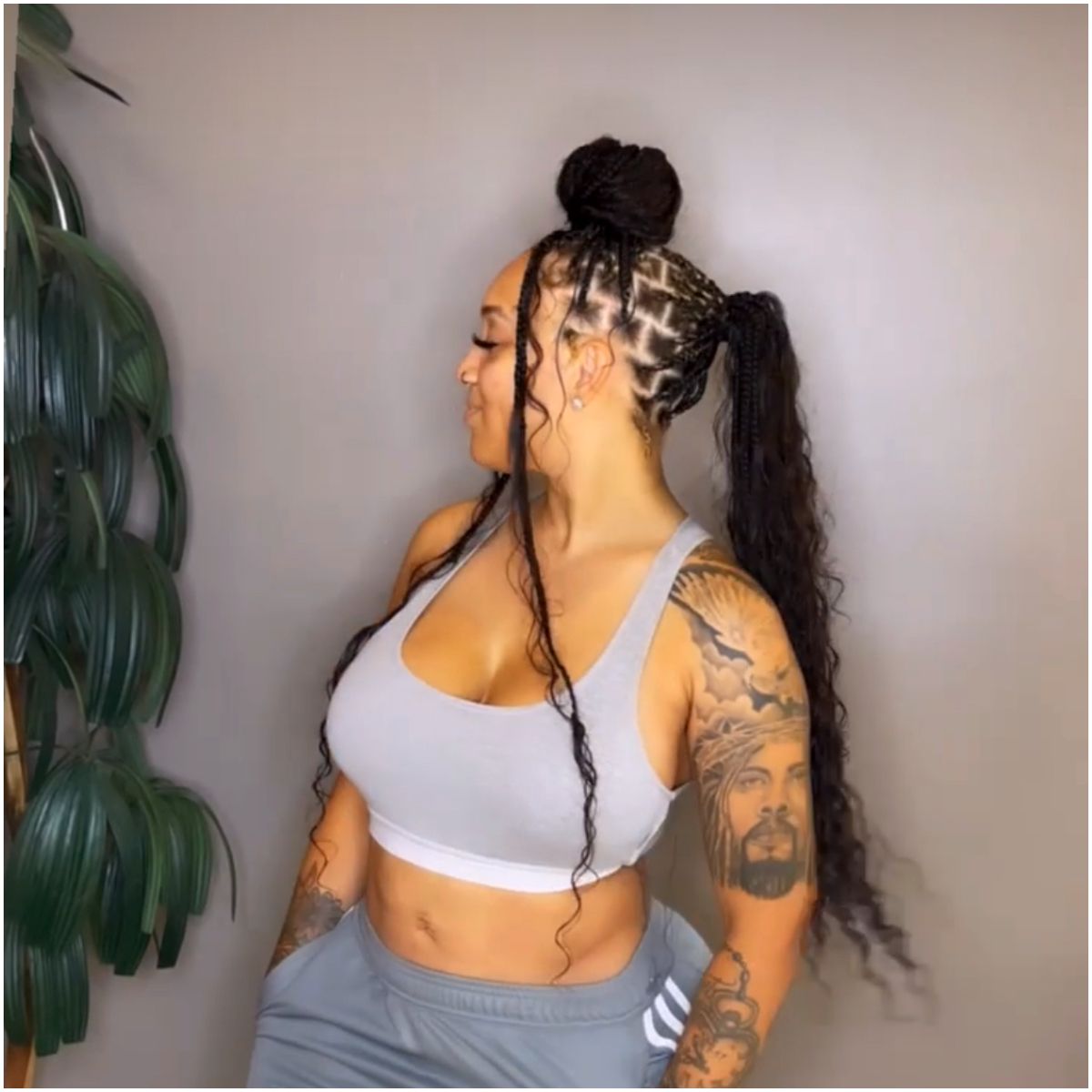 39. Barbie Bob Bohemian Knotless Braids
Braiding with cute front two ponytails is everything when you need a dolly look. Don't you think it gives off a soft yet chic vibe?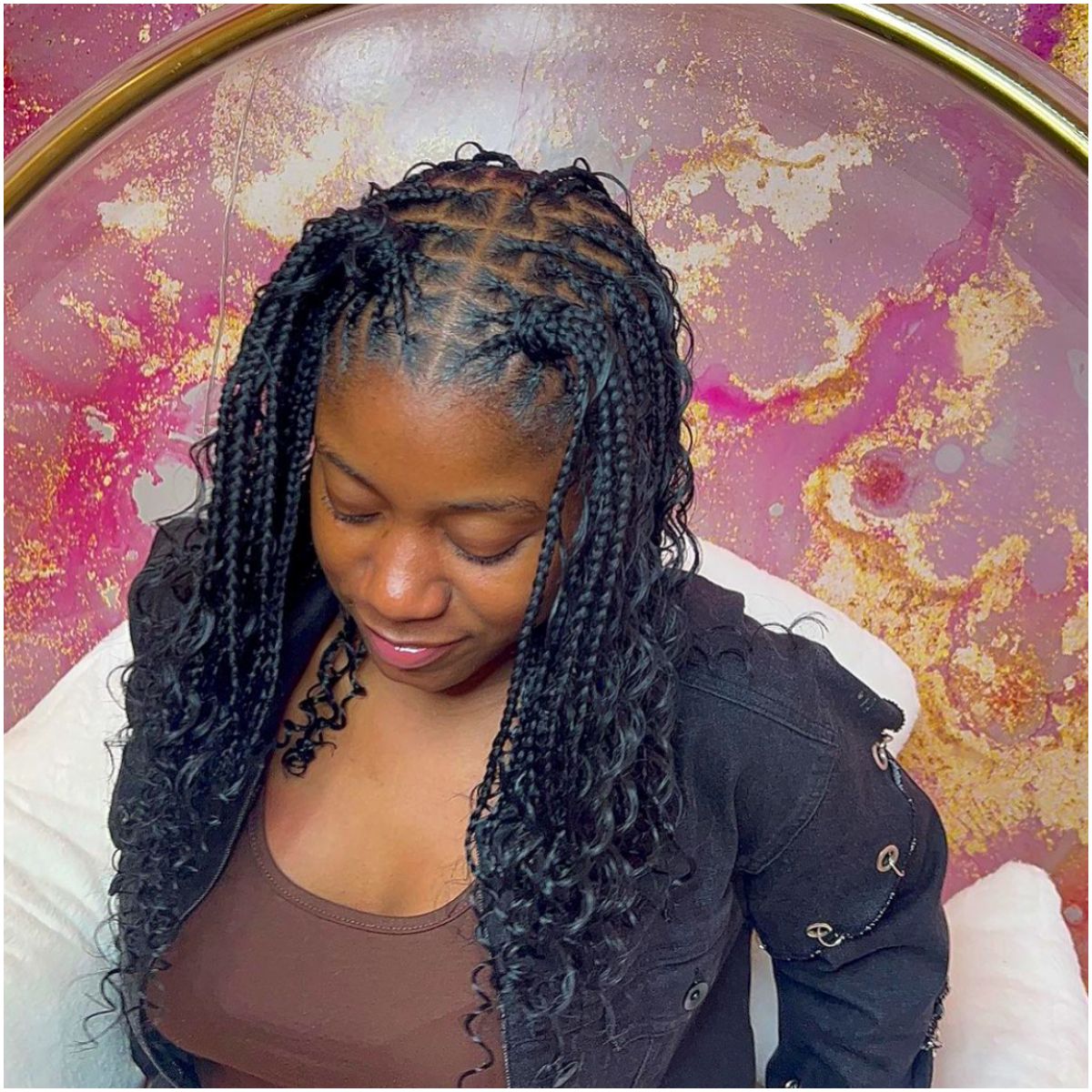 40. Two Ponytails Long BOHO Knotless Braids
If you are a fun girl with a secret rebellious side, this style will match your personality. Long braids with curls and two ponytails are a jaw-dropping way to amaze your friends.
41. Ginger Fulani BOHO Knotless Braids
You need strong confidence to get ginger shade on your head, plus BOHO braids. Once you get it, it will be so easy to shut all those mouths questioning your styling sense.
42. Mermaid BOHO Knotless Braids
The luxurious length, adorned with a reddish hue, conjures the essence of a mermaid feel and bohemian charm.
43. Mix Colored BOHO Knotless Braids
Playing with colours and hair is not a piece of cake. However, once you get it right, no one can stop you from slaying every day. The above picture is an example!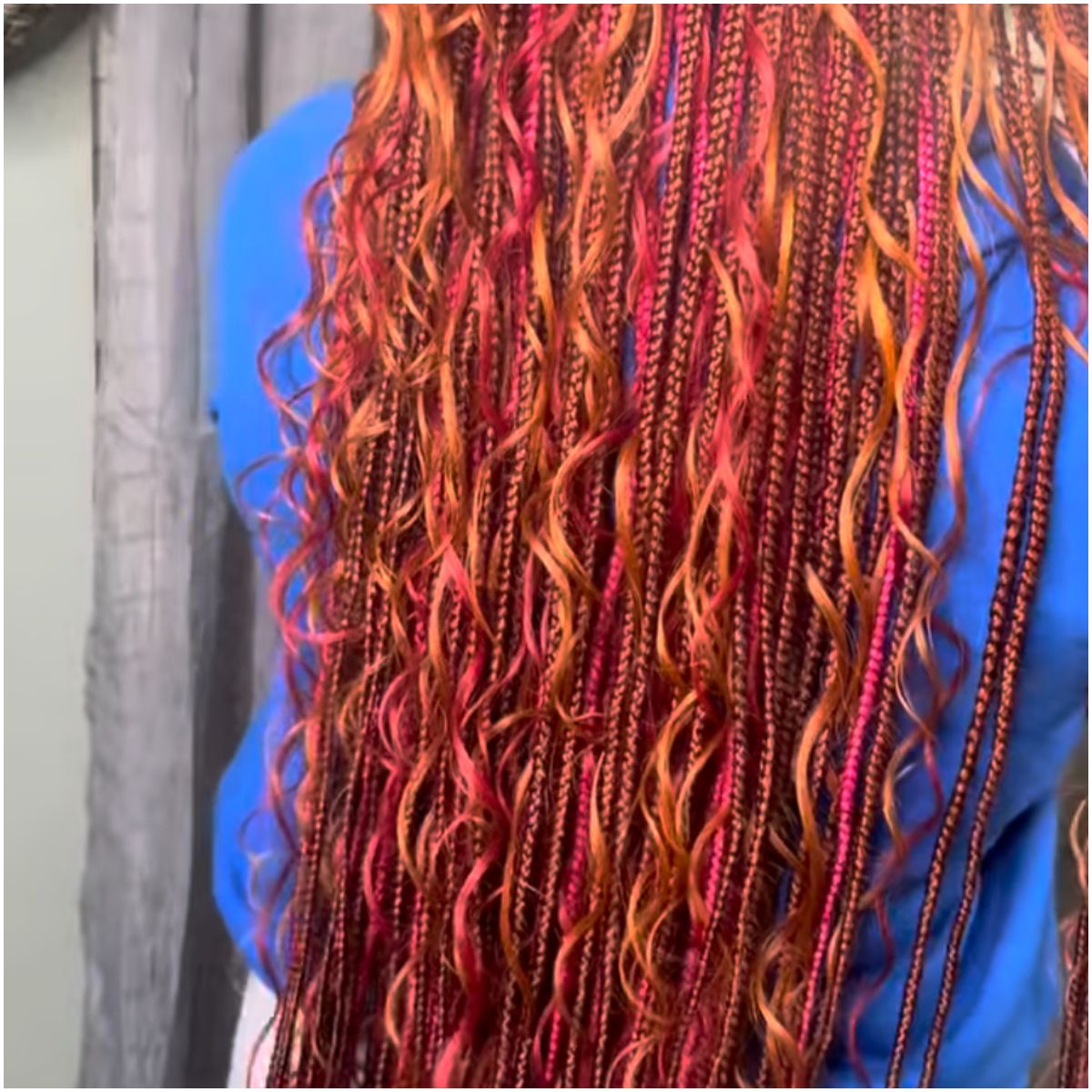 44. Purple Knotless Braids
With these Purple Knotless Braids, you can step into a world of fun. This style is a burst of brilliant purple that's as amusing as it is fashionable.
45. XS BOHO Knotless Braids With Contrast
All those brave gals out there who can't get enough of that long, flowing hair, listen up! This bold style with a black and gold split is tailor-made for you.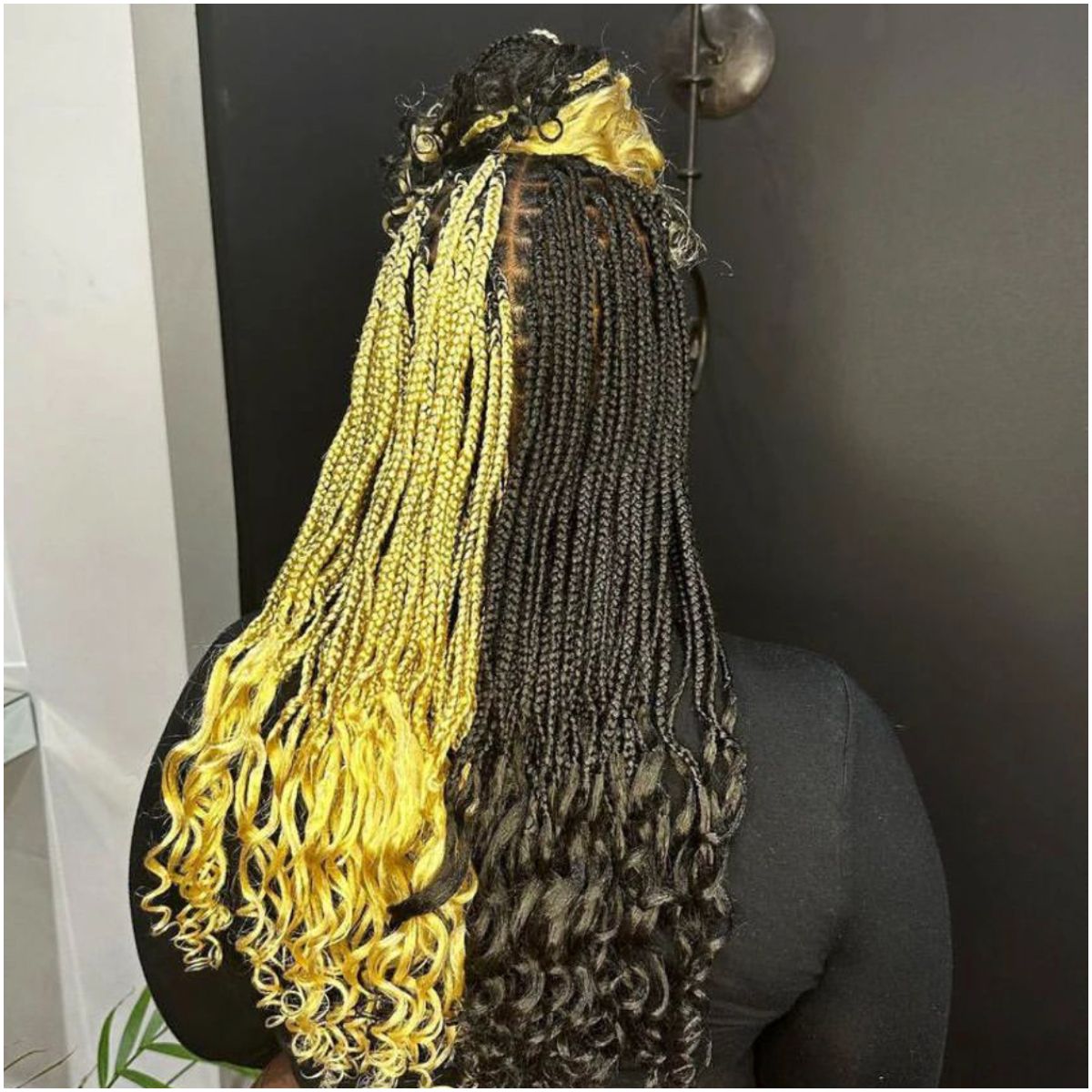 46. BOHO Braids With Tribal Ponytail
This amazing hairstyle merges the best of both worlds. You've got those elegant diagonal cornrows in the front and a fantastic knotless tribal braided ponytail on top.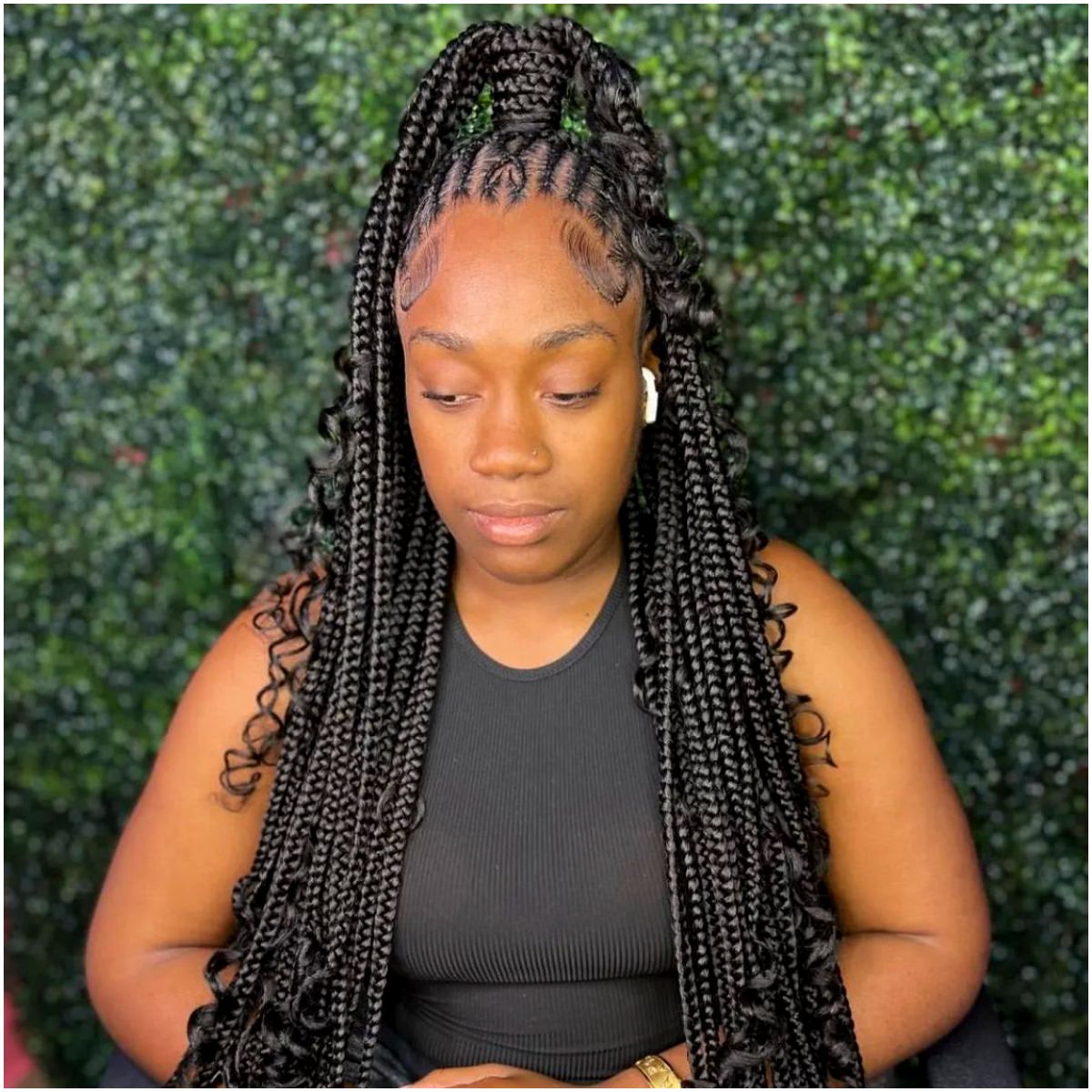 47. Faded Bohemian Braids
Chocolate and golden tones suit deep skin tones, adding radiance. If you want to add some genuine flair to your braids, you should stock up on some white-blonde hair for a mixed and faded appearance.
48. Ombre Bohemian Knotless Braids
The ombre shade only at the tips of the curls is a rocking idea to get a unique BOHO vibe.
49. Bohemian Knotless Braids with Loose French Curls
Loose French curls with a dip dye give you the fabulous illusion of longer locks. Let them flow freely!
50. Bohemian Blonde and Pink Long Knotless Braids
Embrace your daring side with these blonde and pink BOHO knotless braids. These braids paint a canvas of sophistication with a pop of playful pink, delivering a captivating look.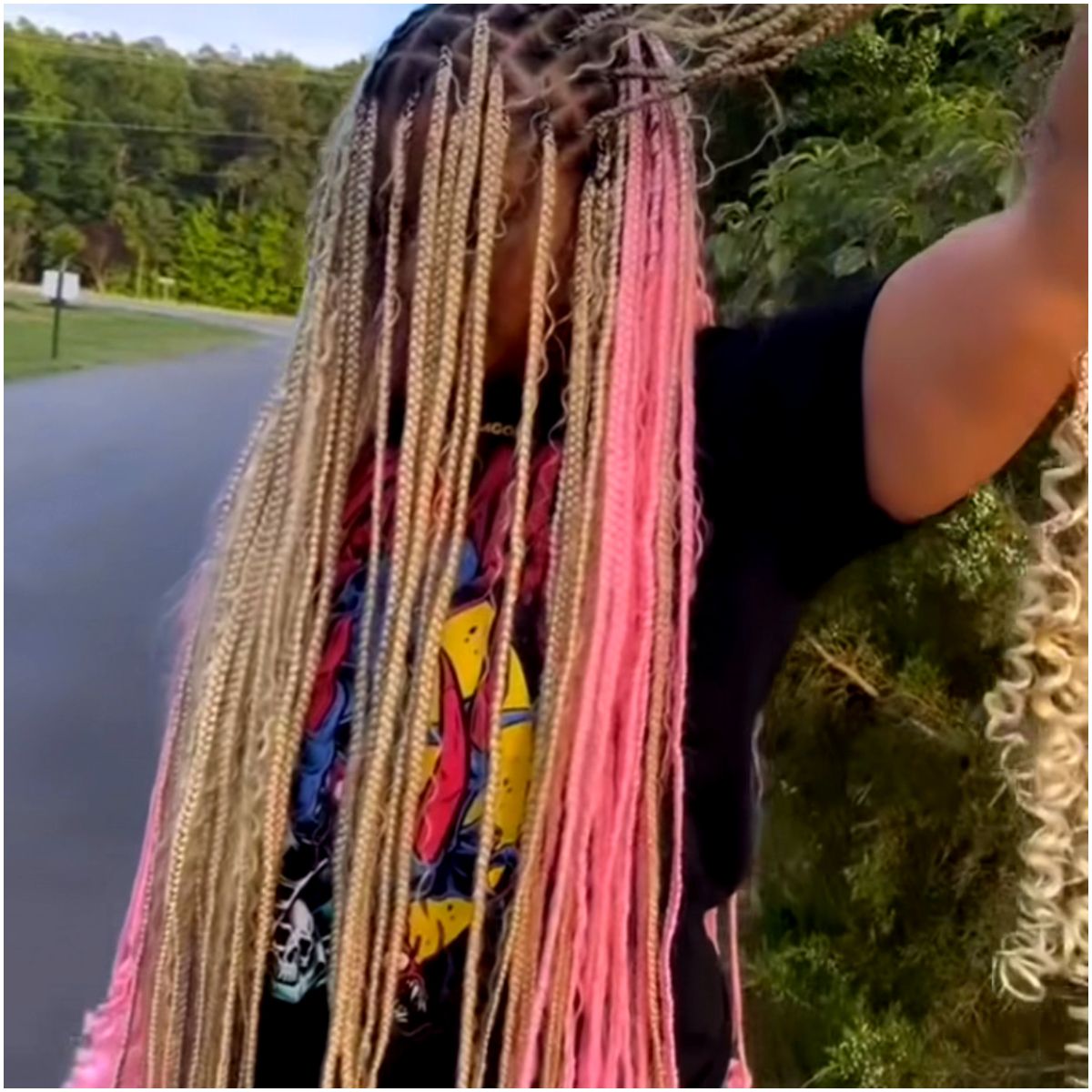 51. Hairline BOHO Braids
Want a princess look? Check this out. The heart row on the hairline with jet-black extra-long BOHO knotless braids is a perfect idea to grab that girlish appeal.
52. Pink and Black Low Bun
A vibrant touch of colour alone would be enough to draw attention, but the style includes gorgeous heart-shaped braiding on the sides to stun us a lot more.
53. Peek-a-Boo Pink BOHO Braids
This one is magical! No one knows you have a pink secret hidden under those black strands. So wave your hair whenever you want to give those folks a shocking feel.
54. Half Weave BOHO braids
If you want it fuller, have your braider put knotless braids with some extra bundles towards the rear. This will aid in achieving the necessary volume and highlighting the wonderful hair structure.
55. Layered Knotless Braids
Bohemian layered knotless braids are popular for adding depth and texture to any appearance, as well as providing visual intrigue. Your braids will have additional charisma, giving you a beautiful and fantastic hairdo.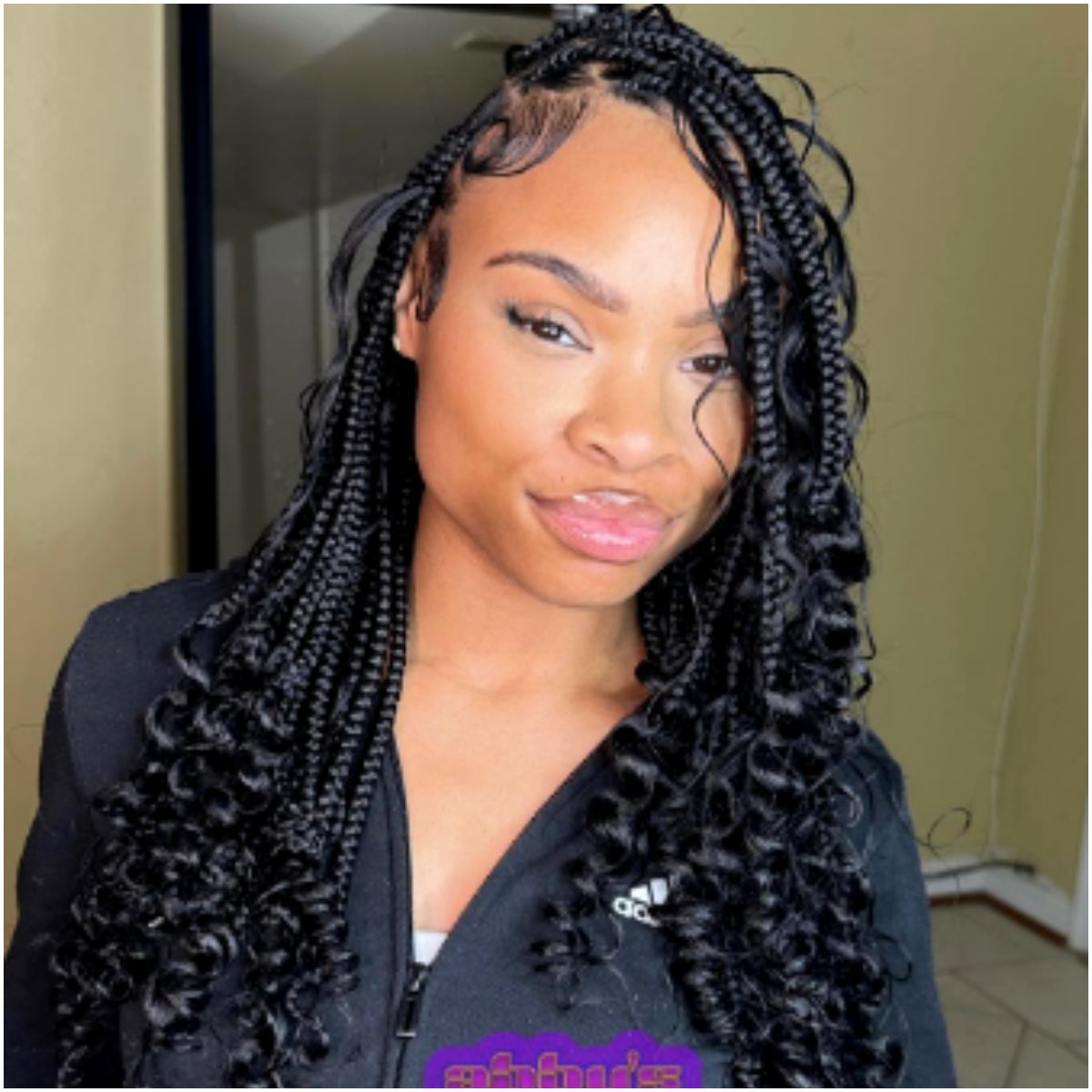 56. Triangular Knotless Braids
Knotless braids with loose curls not only provide a fun element but also save time. Allow them to fall down your back or sweep them to the side to highlight the beautiful pattern on your scalp.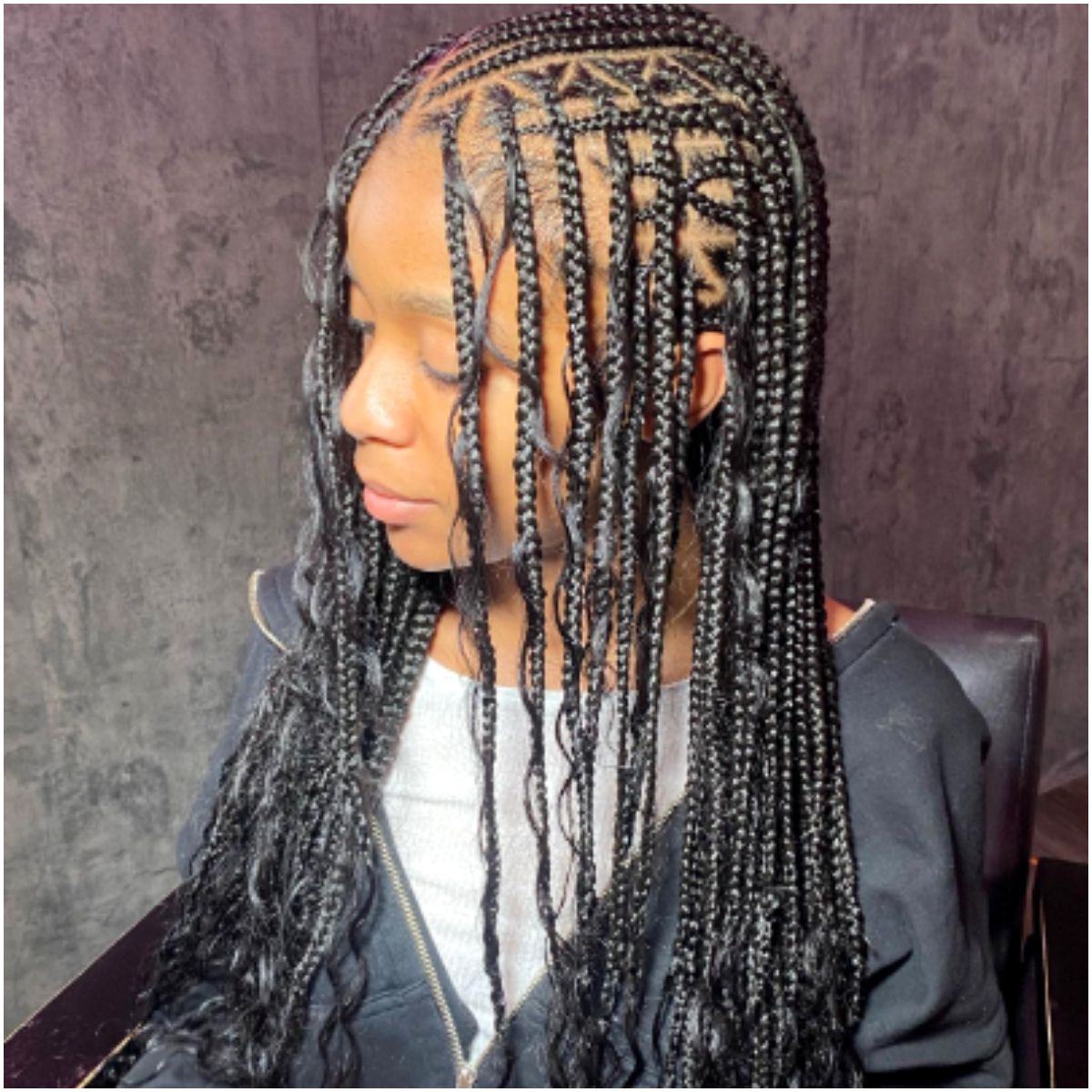 57. Beautiful BOHO Mix
Want to keep braids and curls away from your face and flaunt boho knotless braids with confidence? This is your option. Moreover, a little segment of cornrow can direct your long braids in the correct direction.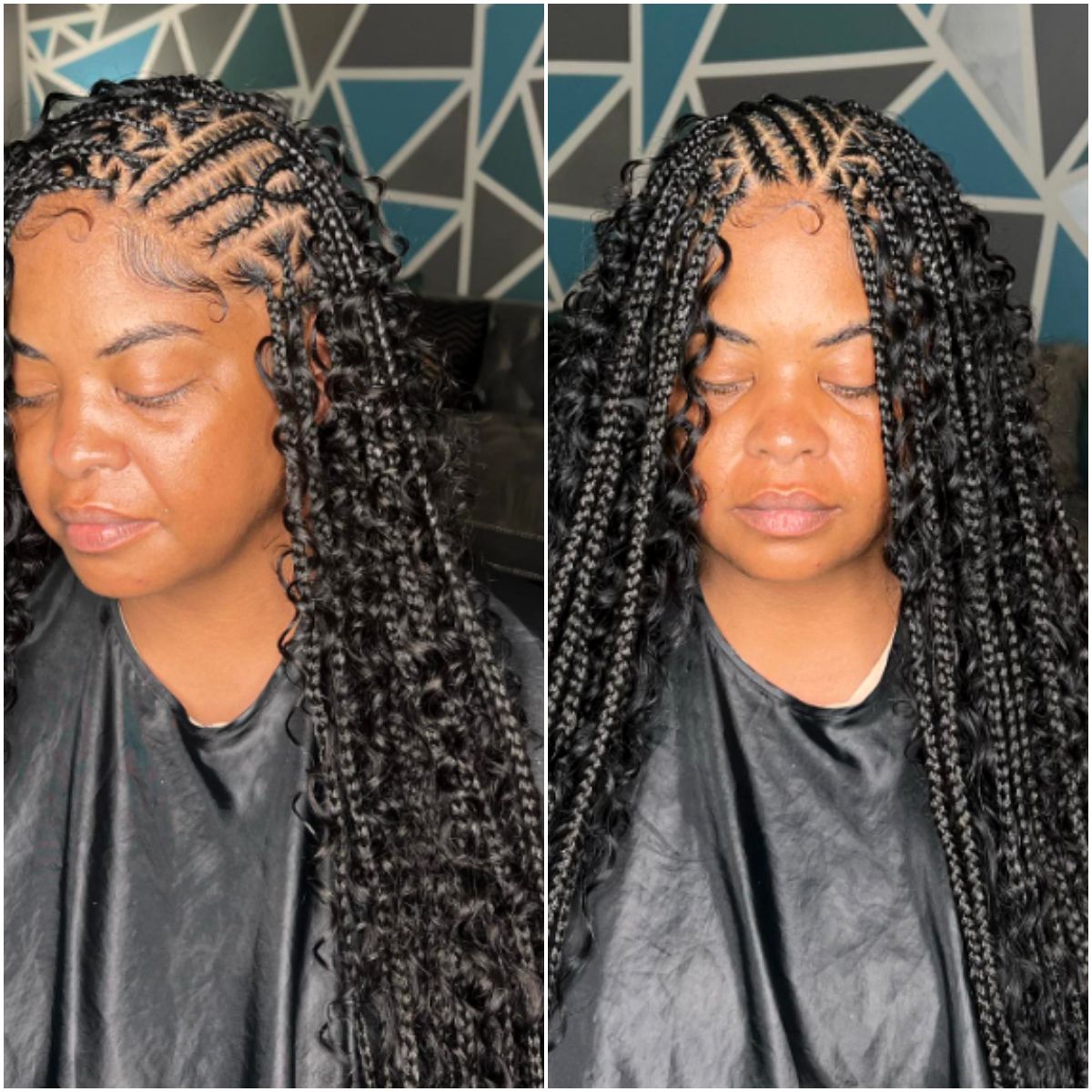 58. Stitch Plus Gypsys Braids
Stitch plus gypsy is a fusion of creativity and wanderlust for your hair. These braids are a contemporary twist on the classic stitch style. So yeah, it's time to weave your journey with this style!
59. Short Bohemian Knotless Braids
Want to embrace the convenience of shorter lengths? Check this style. This style with a nice copper shade offers a seamless and natural look to you.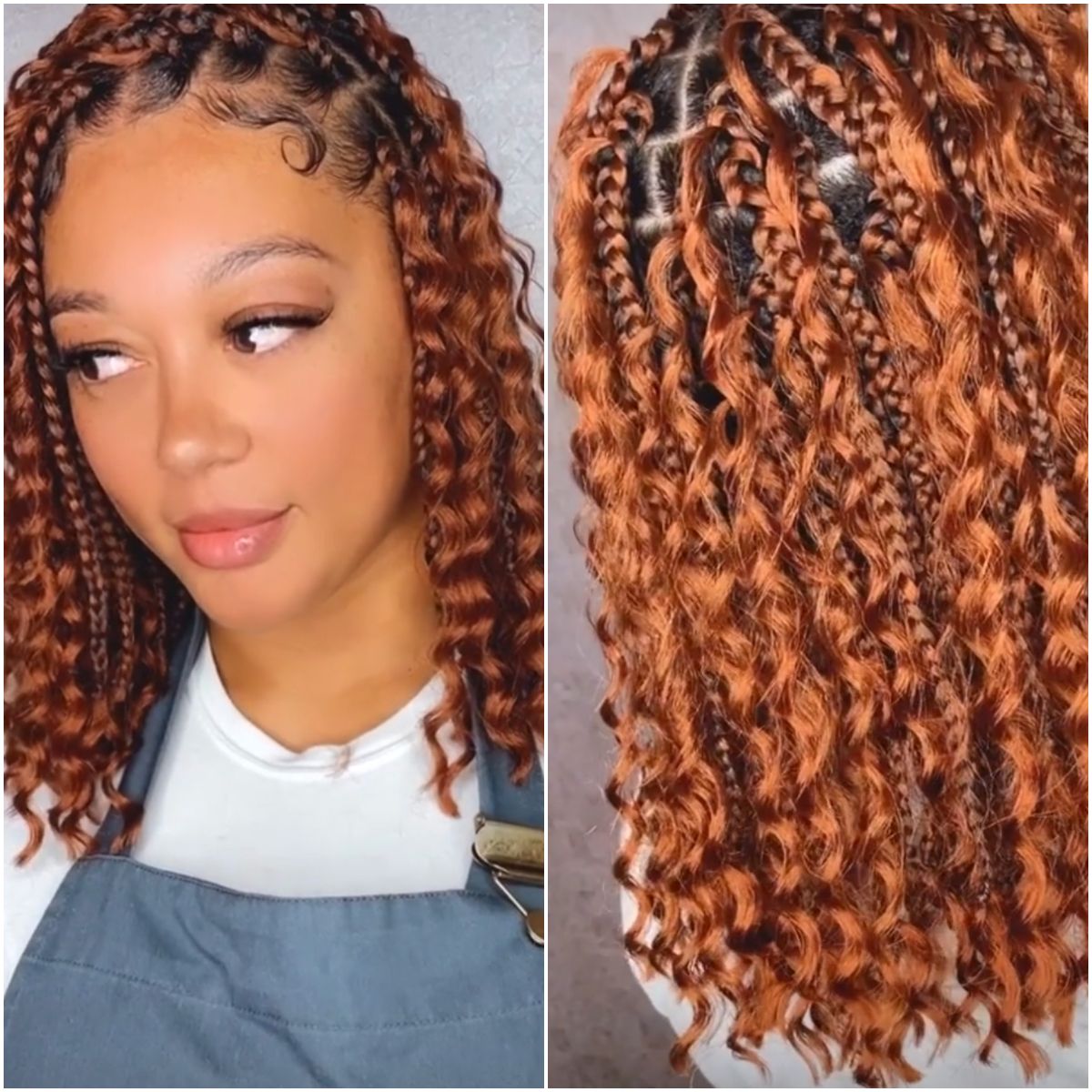 60. Fulani Cherry BOHO Braids
The Fulani Cherry Shade BOHO Braids offer a bold and daring look, perfect for expressing your individuality and love for artful style.
Now, It's Your Turn!
Bohemian braids come in a variety of detailed and enticing types that seamlessly mirror the boho chic aesthetic's free-spirited attitude. With so many options, it's time to let your imagination go wild and have knotless braids that represent your own style and persona!
Tell me, which one are you going to choose?