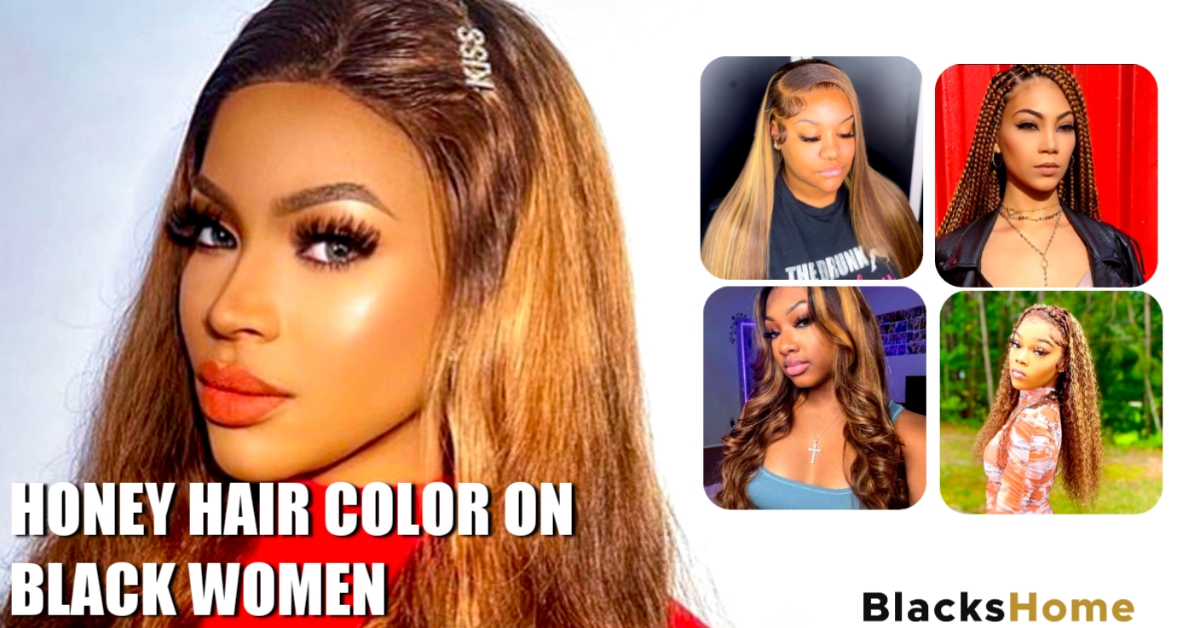 Since warm hair shades never go out of fashion, honey brown hair color is the one black women should try.
You must be thinking about what shades fall under "Honey Brown". Honey brown hair comes in warm, golden, and caramel tones. Also, sometimes blonde and sometimes rusty hues These shades vary from light to medium and even deep tones.
So, whether you are aiming for a soft natural look or something vibrant, I have collected 50 honey-brown hairdos for black women.
Also Read related:
Let's dive in deeper!
Top 50 Honey Brown Hair Color on Black Women
1. Beeline Honey
Beeline honey brown captures the essence of warmth and radiance. The shade is a balanced blend of subtle and vibrant hair look.
2. Honey Brown Dark Chocolate
Honey brown dark chocolate gives a velvety depth of dark chocolate to your hair. This shade shows that appealing hair colors do not have to be vibrant.
3. Honey Golden Bronze
Honey golden bronze gives a more youthful appearance and can be worn throughout the year. But yes, don't forget to straighten your hair for a minimal and classic look.
4. Honey Brown Minimal Highlights
Want to be a chocolate-sexy girl? Check this style out. Honey brown minimal highlight with a dark brown base is a sophisticated combination of depth and dimension.
5. Honey Blonde With Black Roots
Honey blonde with black roots is a shade that every black woman must try at least once. It's charming and understated, making it a good choice for black ladies.
6. Honey Blonde Balayage
Honey blonde balayage is a perfect choice for women with dark tones. It's the perfect choice since it doesn't stand out too much against your skin tone.
7. Blonde Strands With Dark Honey Brown Base
A few blonde strands with a dark brown base can make you stand out from the crowd. The contrasting color frames your face and adds a bit of sophistication to your overall look.
8. Honey Brown Medium Braids
Who said you couldn't have braids and dye at the same time? Honey brown is a great choice when you want to enhance your locks or braids. It adds plenty of depth to your braided hairdo.
9. Medium Honey Brown
Medium honey brown will show off your entire hair very nicely. Pump up this shade on your thin hair and see those folks stalking you.
10. Honey Blonde Streaks With Black Base
Honey blonde streaks are one of the best options for streak lovers. Honey blonde streaks against black women's skin tones radiate a powerful and bold look.
11. Honey Brown & Blonde Small Waves
Enhance the warmth of the honey brown shade with small waves and fluffy hair. It provides a fun and casual look.
12. Honey Caramel
Honey Caramel Hair Dye is your go-to for a lush and simple change that brings out your hair's natural elegance.
13. Contrasting Blonde and Dark Honey
Consider the hypnotic mix of two appealing hues: the bright, sunny attraction of blonde and the deep, enticing depth of dark honey. This lively contrast has an eye-catching appeal.
14. Copper Plus Honey
The copper gives off an energetic charm, while the honey offers a soft shine. With shoulder-length hair and loose curls, the final look is a spunky yet classy hairdo.
15. Honey Blonde Coiled Bob
Transform your look with the attractive appeal of a coiled bob bathed in honey-blonde radiance. What do you think?
16. Honey Brown Spiced Up With Pumpkin
The warm, golden tones of honey combine with the spicy brilliance of pumpkin to produce a hair color as fascinating as a fall sunset. This fascinating transition takes place on the canvas of these satisfying long waves.
17. Subtle Honey Brown Full Dye
The gracefulness of this style lies in its simplicity. It's a color that doesn't shout but rather invites praise with its subtle attractiveness.
18. Honey Brown Short Afro
This look highlights the beauty of your afro texture while adding a little sunny charm with honey brown.


19. Light Honey Brown Streaks With Black Base
If you want to embrace your unique black beauty, this style is for you. Specifically, I adore this hair color for summer since it gives so much warmth to your overall look.
20. Honey Brown & Black Twists With Beads
With Honey Brown & Black Twists with Beads, you're embracing a look that's both cultural and contemporary. If you are someone who is always ready to throw a rebellious look, this is for you.
21. Honey Brown Ombre With Loose Curls
There is something so effortlessly stylish about this ombre. If you are feeling extra courageous, try this lovely ombre. Get some loose waves for a kick.
22. Rich Auburn Honey Brown
Stun everyone anywhere you go! A great way to accentuate your natural black skin color is to get this rich auburn-honey-brown shade. Pair this shade with loose waves and smokey eyes. You'll rock!
23. Honey Brown Two Strand Twists
There is nothing better than having each two-strand twist soaked in honey brown shade. It shows off the clear structure of two-strand twists while delivering an effortlessly chic look.
24. Honey Brown Ombre on Straight Hair
What do you say about honey-brown ombre and straight hair? Take that divine blend and throw it on your hair. You will end up touching your hair every minute, won't you?
25. Brunette & Honey Brown Highlights
Brunette, on its own, looks wonderful. But a mix of brunette and honey-brown highlights is absolutely mesmerizing. With center parting and loose curls, the look becomes sexier.
26. Warm Honey Chocolate
Warm honey chocolate works best for darker women since it creates a minimal and sheen effect. It's no surprise that black women adore this shade so much.
27. Double Drawn Honey Brown Bob
Double-drawn honey bob is a combo of hair extensions with a warm honey-toned color and a bob haircut. This results in a chic and dense hairstyle that no one can ignore.
28. Reddish Honey Short Afro
Imagine a hairstyle cut in short afro hair with warm tones of reddish honey brown. It's super cool! The combination adds a touch of vibrancy and uniqueness to your everyday style.
29. Ginger Plus Light Honey Brown
A mix of ginger and honey brown creates a vibrant yet appealing look. The look is a statement-maker. It can be an excellent way to make your hair noticeable.
30. Lightest Honey Blonde With Bronze
The lightest honey blonde with bronze is a shade for bold black ladies. The blonde and bronze together create a striking contrast. You can even look sexier by pairing this with soft curls and vibrant makeup.
31. Honey & Chocolate Two Strand Twists
This delectable style is tailored for black women and offers a stunning appearance. Whether you have long two-strand twists or short two-strand twists, the richness of this shade goes with both.
32. Ginger Honey Brown Locs
The blazing essence of ginger meets the warm elegance of honey in these locs, offering a tale of bold personality. It's a mixture that gives your hair a fresh energy.
33. Dark Honey Long Locks
You will embrace a classy and appealing style with Dark Honey Long Locks. Look at the above picture, how nicely this girl is carrying this style with a half-fuge bun on top. You can slay it too!
34. Honey Brown High & Low lights
The beauty of honey-brown highlights and lowlights lies in their ability to add depth and dimension to your natural hair.
35. Honey Brown With Bangs
The combination of honey brown straight hair and front bangs creates a modern and refined look that highlights your natural beauty. Experiment with headbands, hairpins, or barrettes that accentuate your front bangs and honey brown hue.
36. Toffee Honey Brown
Toffee Honey Brown Hair is a compelling option that combines depth, warmth, and brilliance to create a style that is entirely distinctive. Tight curls beautifully showcase the beauty of toffee and honey hues.
37. Honey Blonde Half Up Half Down
The Honey Blonde Half Up and Half Down Hairdo conveys elegance while being casual. It's a flexible look that can be worn for a variety of scenarios, from social gatherings to more formal events.
38. Honey Brown Lob Cut
The combination of Honey Brown Hair and a Lob cut is a timeless choice. Apply a lightweight shine serum to add lustre to your hair, enhancing the richness of the honey brown colour.
39. Rusty Honey Brown Balayage With Blunt Cut
It's a style that's sure to turn heads. The blunt cut should be crisp and even, emphasizing the clarity of the look.
40. Gold Honey Streaks
Gold honey streaks provide a touch of sparkle to your hair. This style allows you to rock evening parties without worrying about visiting salons for a hairdo.
41. Honey Brown Pixie Cut
Reveal your confidence with honey brown pixie cut. A Honey Brown Pixie Cut allows your facial features to take center stage. Opt for minimal makeup to enhance your natural beauty.
42. Honey Brown Short Chiffon Layers
This relaxed honey brown style is filled with beauty. Those girls, who want to keep a comfortable and low maintenance hairdo, this one is perfect for them.
43. Gel Pack Honey Brown Bun
Don't like the hair hassle? Check this gel packed honey brown bun with a black base. Whether you are out for grocery shopping or office meetings, this style is your best friend.
44. Brazilian Honey Brown Highlights
The Brazilian touch adds an exotic flair to the honey brown highlights, creating an attractive fusion that complements your skin tone beautifully.
45. Honey Brown Highlights on Long Blunt Cut
The incredible depth highlighted by the streaks of brilliant light honey shade in this gorgeous color takes our breath away. The long blunt cut is a cherry on top.
46. Sun Kissed Honey Brown
A sunkissed honey brown color is a lovely choice that can flatter the skin tones of black women. It creates an instantly sun-kissed effect in light.
47. Caramel Honey Gold
The caramel honey gold shade allows you stylistic versatility, letting you experiment with different hairstyles. The color looks good in any hairdo.
48. Blonde Plus Honey Brown Balayage
This option creates a seamless transition from blonde at the top to honey brown at the end. The notable point here is to hire a professional hairstylist so you won't end up regretting this choice.
49. Honey Brown & Chocolate Highlights
Who says you have to keep to a single highlight shade? This style will let you play with honey brown and chocolate highlights at the same time. The result is sexier than you can imagine!
50. Honey Brown Ombre on 3A Hair
Do you have 3a hair and are confused about what color to go with? Check out this honey-brown ombre. It is subtle and flamboyant. Also, it gives a beautiful touch to your face frame.
Now, It's Your Turn!
It's a wrap! All the above 50 styles prove that honey brown is more than just a color; it's an ingredient of a unique statement for black women.
Whether you are seeking a subtle transformation or a vibrant look, honey brown is for all. All you have to do is to contact your hairstylist and ask what honey-brown color will suit you.
Which one is your favorite?