I admire one thing about black women, they love to play with their hair. And, when it comes to dying their hair, no one can stop them.
Ombre hair color on black women is one of the unique techniques used to give a stunning sprinkle to black women's hair. Ombre is basically a seamless transition from dark to lighter shades. Whether it's a touch of red, blonde, or hot pink, any ombre shade can give you a bold yet beautiful look.
Also Read related:
In this article, I will share 50 ombre hair colors on black women. Level up your hair game with these transformative ombre styles that celebrate the beauty of Black women.
Get ready!
50 Ombre Hair Color on Bark Skin Women
1. Hazelnut
Hazelnut ombre is a unique blend that combines deep ebony tones with warm hazel hues. If you have dark locs or braids, this can be your ultimate choice.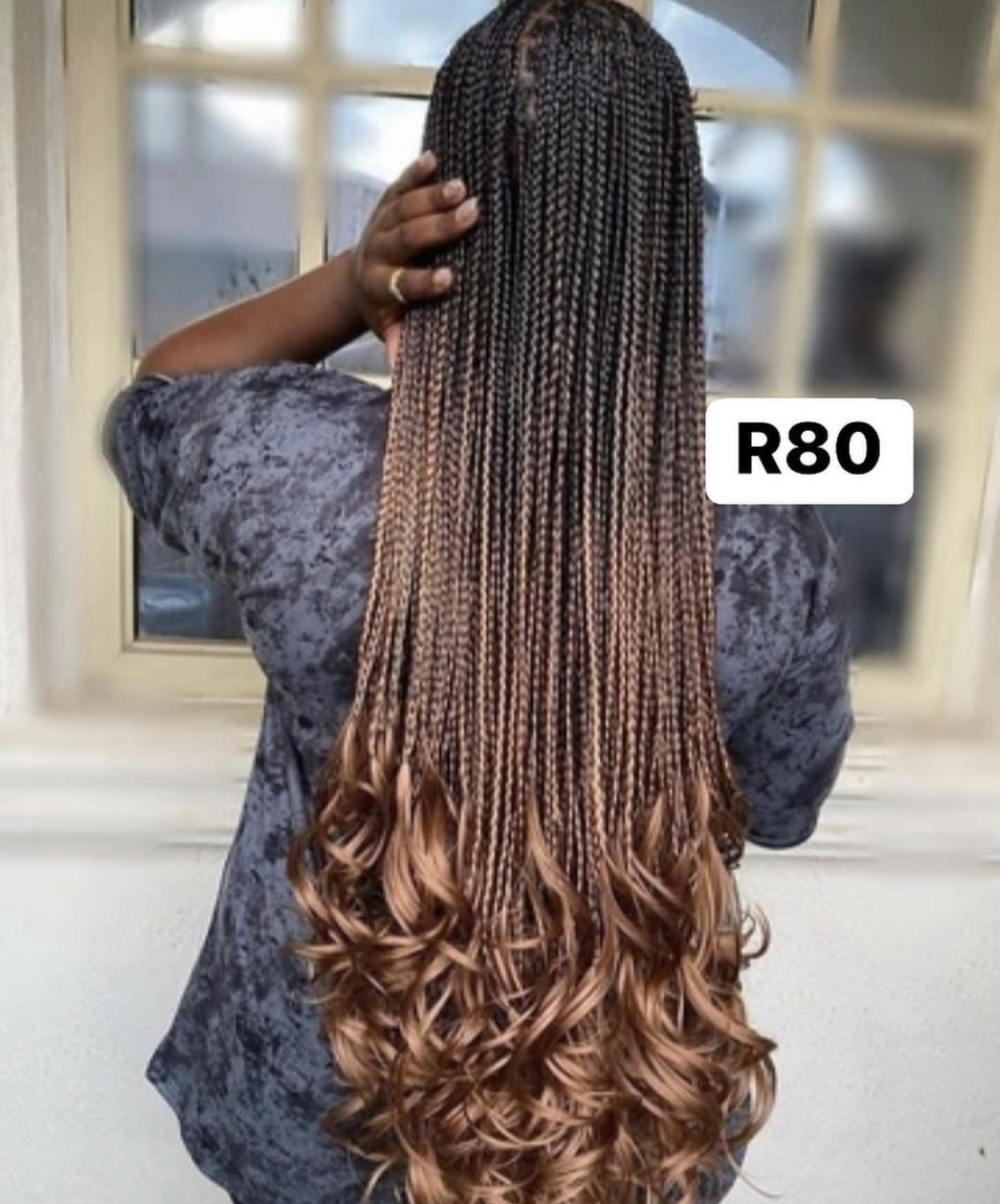 2. Onion Pink
Onion pink ombre is one of the daring fusions. It merges black hair with the vibrant allure of pink. Why not try this fearless shade to stand out?
3. Light Golden
Light golden ombre is always a dazzling choice for anyone who wants to remain classy and trendy at the same time. It's like a burst of warmth in your head.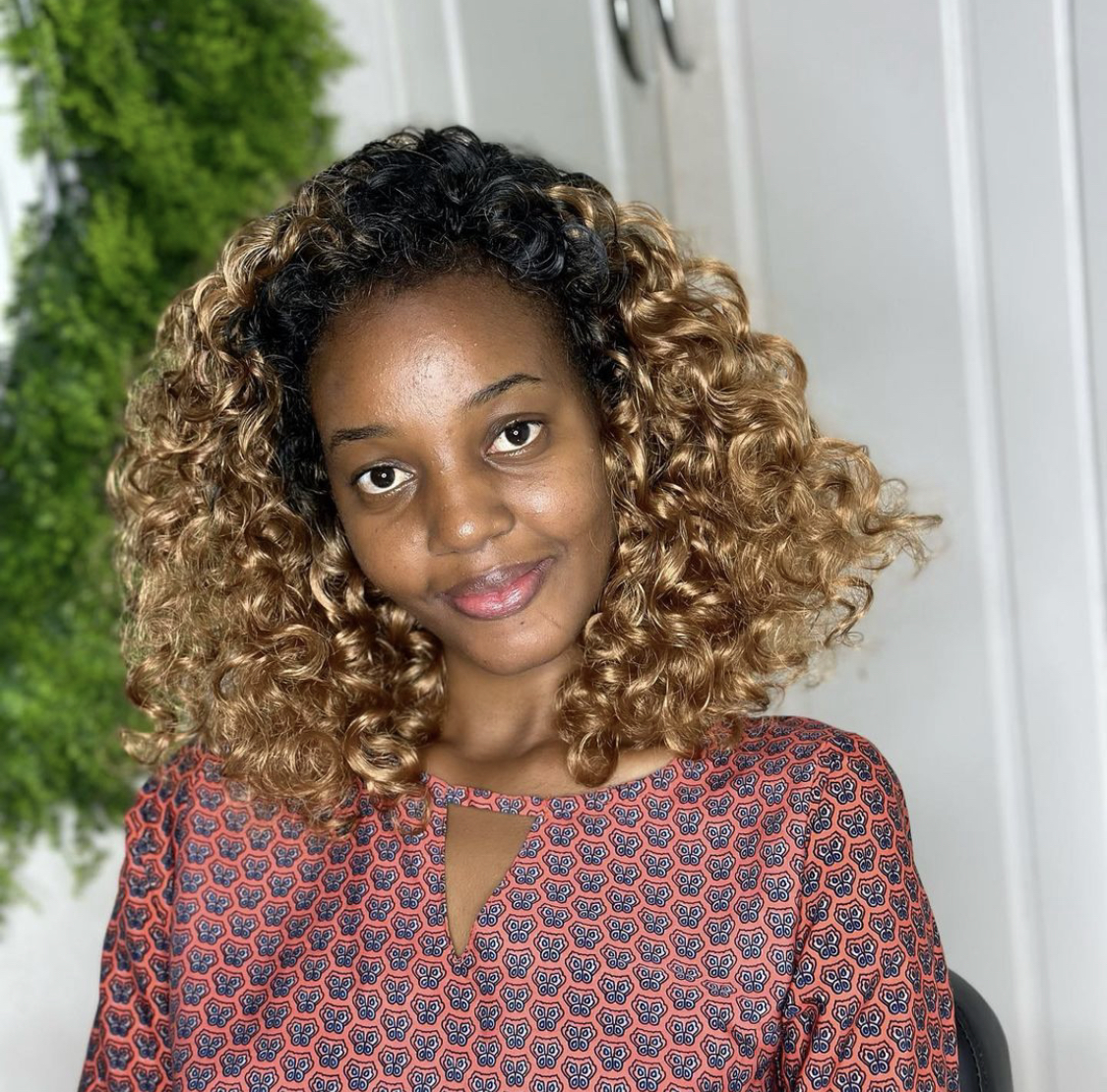 4. Hot Pink
People think twice when they have a hot pink shade on their heads. Whatever the case, once you get this, you can stop those eyes from staring at you. Embrace the magic where darkness and pink collide!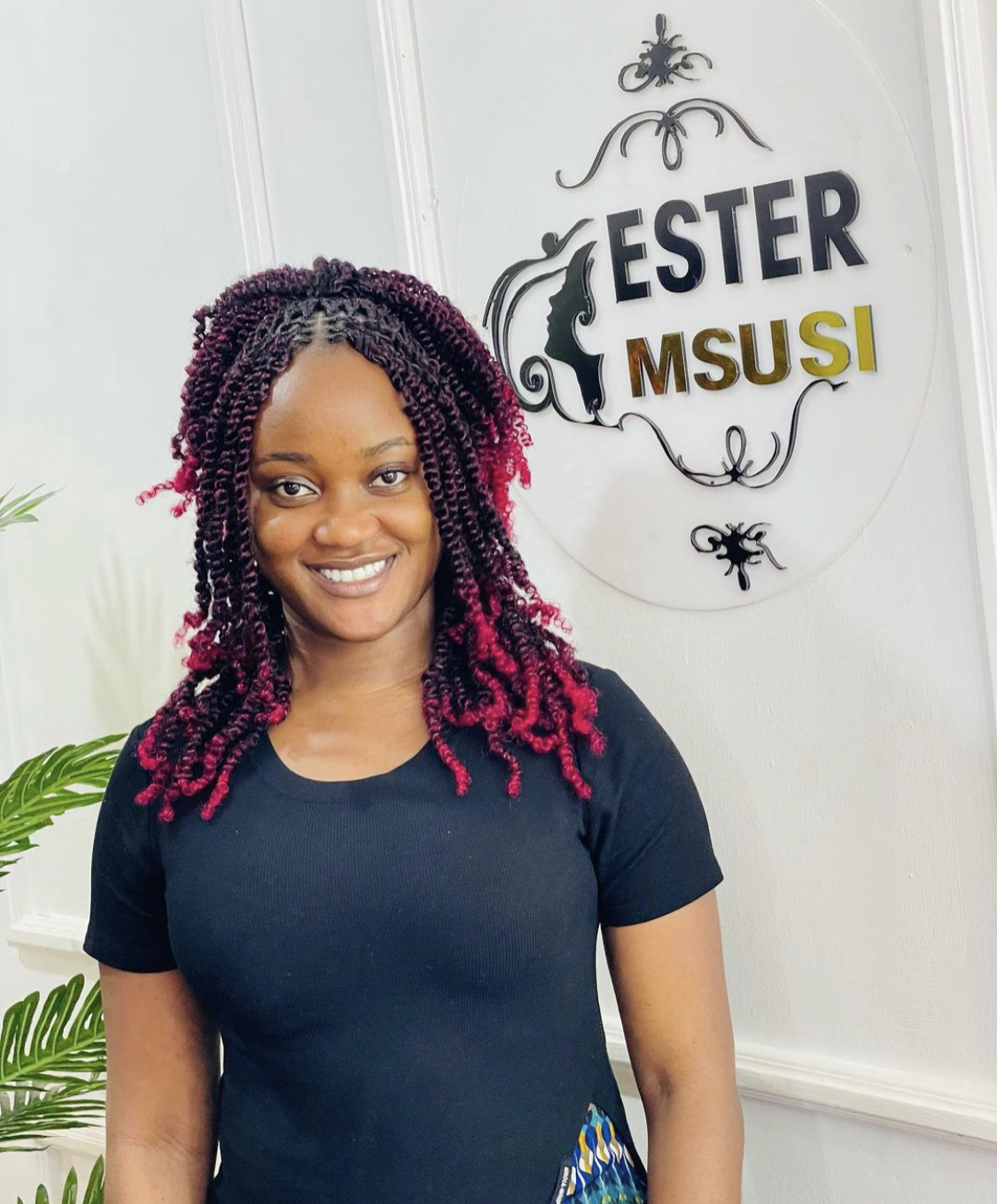 5. Faded Sharp Blonde
Rock that golden edge with this faded, sharp blonde ombre shade. This ombre is all about striking contrast. Deep ebony is transitioning into a bold, sharp blonde shade, what more do you want?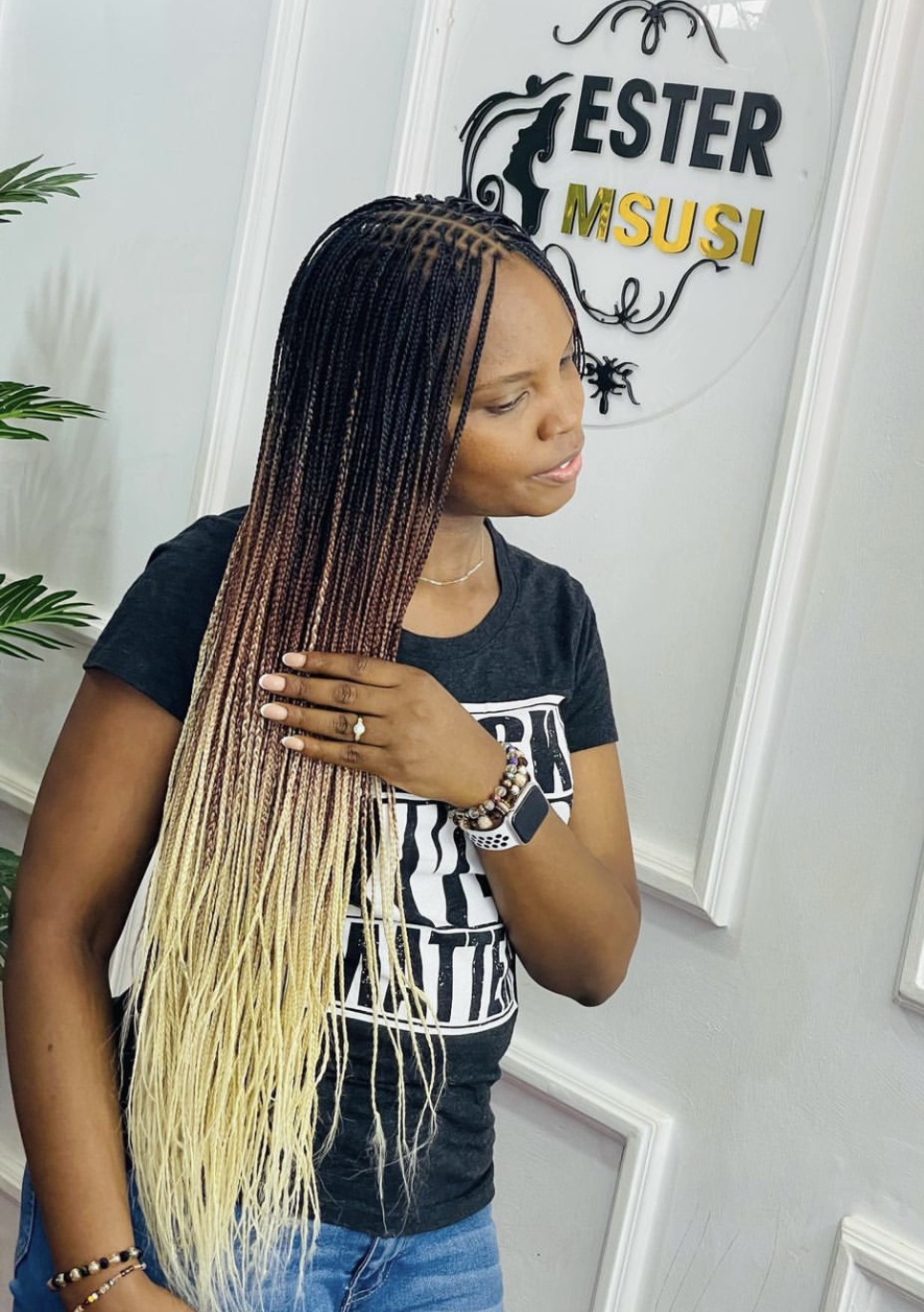 6. Natural Golden
Whether you have locs or loose black hair, natural gold can never be a wrong choice. If you fear having an ombre at first, try this shade and tell us why those people dropped their jaws.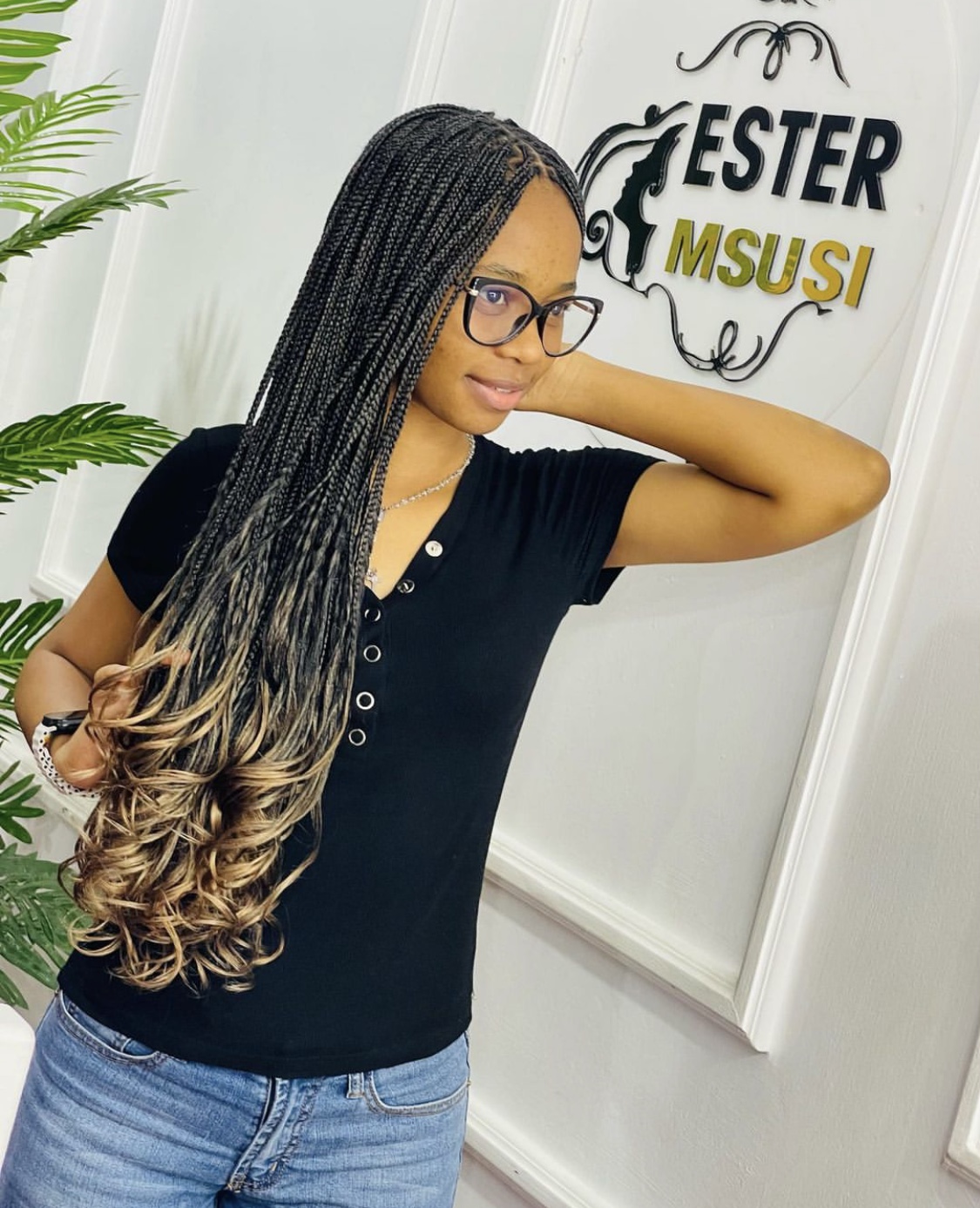 7. Sunflower Blonde
Sunflower blonde simply recalls the beauty of dancing sunflowers in summer, no? It's a sunlit masterpiece that blends black locs into sun-kissed hues.
8. Bright Purple
Reveal your inner wildness with a bright purple ombre. The electrifying purple shade screams your unique and rebellious personality. Rock that!
9. Purple to Pink
The transition from deep purple to playful pink is enough to add a fantasy touch to your everyday locs look. I know, it's daring, but it's delightful!
10. Mochaccino
Why don't you think of blending your locs into mocha and cappuccino hues? Mochaccino ombre will not only give you a classy appearance but will also help you slay your day-to-day look.
11. Mahogany
If you can't decide whether to go with burgundy or red, mahogany is your option. It always pays off. Take your usual hair up a notch!
12. Copper Plus Sunflower Blonde
Copper-to-sunflower blonde ombre is for those who like twists. Here, the copper hair beautifully emerges from black roots and then turns a blonde shade. Just like a sunflower!
13. Light Golden Blonde
It will make you feel like sunshine with its cheerful colors and warm hues. Brighten your hair with a golden blonde color to get a dazzling yet minimally maintained chic look.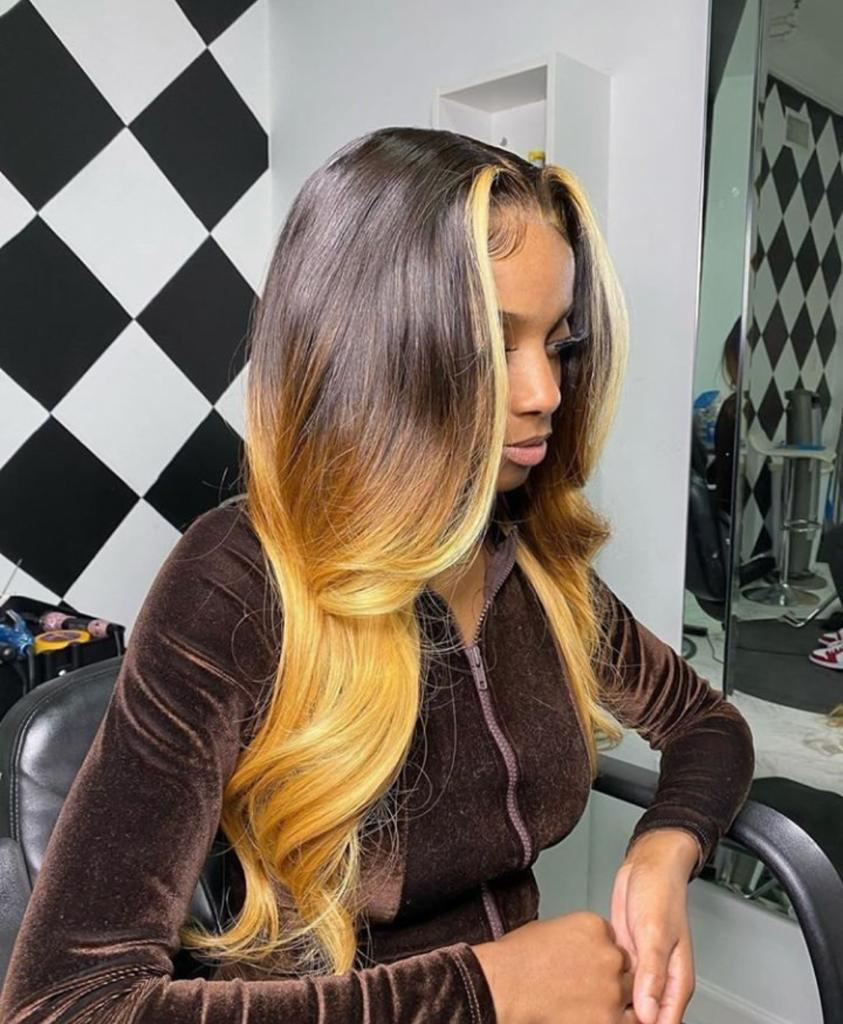 14. Cherry Red
A bold and sultry fusion! The Cherry Red Ombre is more than simply a hair color; it's an indication of passion and uniqueness. It's like painting your hair in the colors of your most daring fantasies.
15. Muted Fuchsia
If you're ready to add a bit of sexiness to your look, enter the trend of muted fuchsia and make a modest yet magnificent statement wherever you go.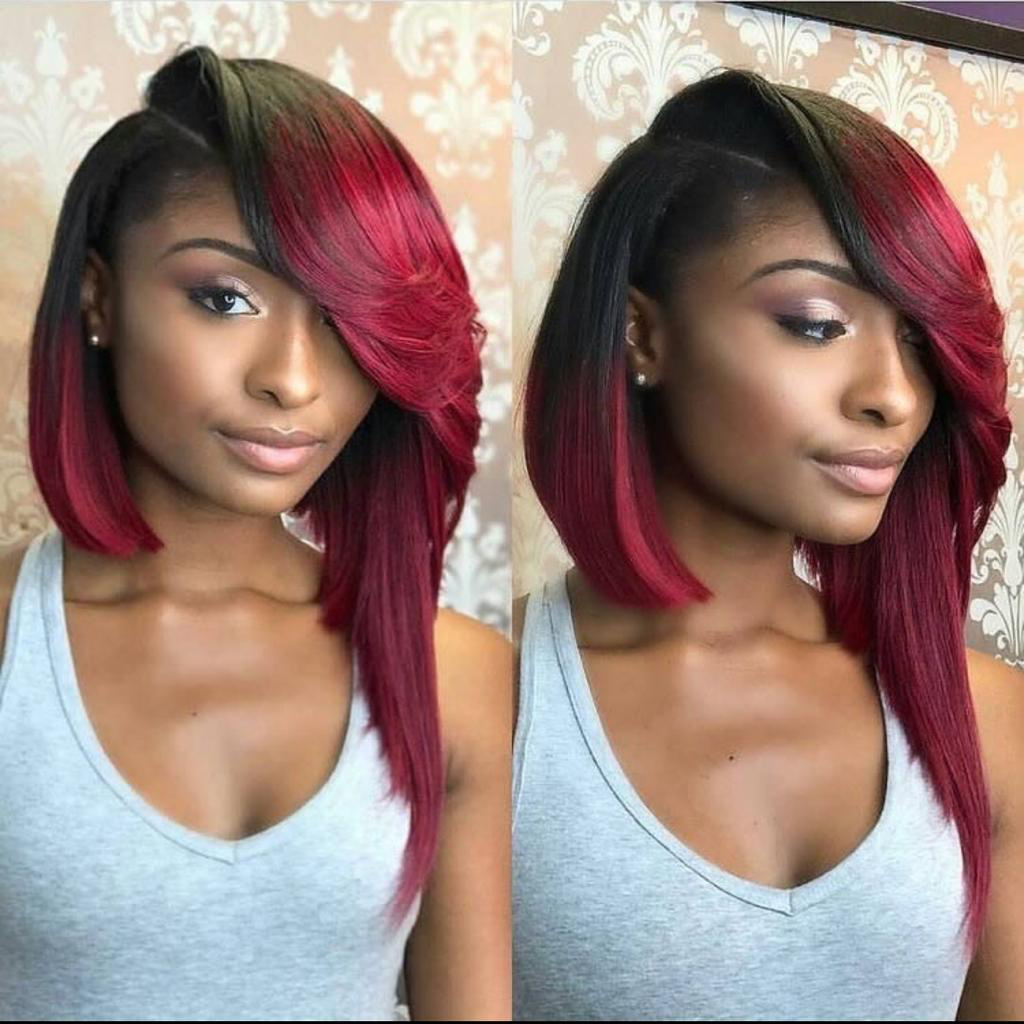 16. Mahogany Somber
Mahogany somber suits any occasion and any type of hair. So don't worry whether you have locs, curls, or straight hair, this shade is made for everyone.
17. Ash and Diamond
The cool tone of this mesmerizing ombre strikes a unique yet natural contrast. Moreover, the transition between the two shades is smooth and well-blended.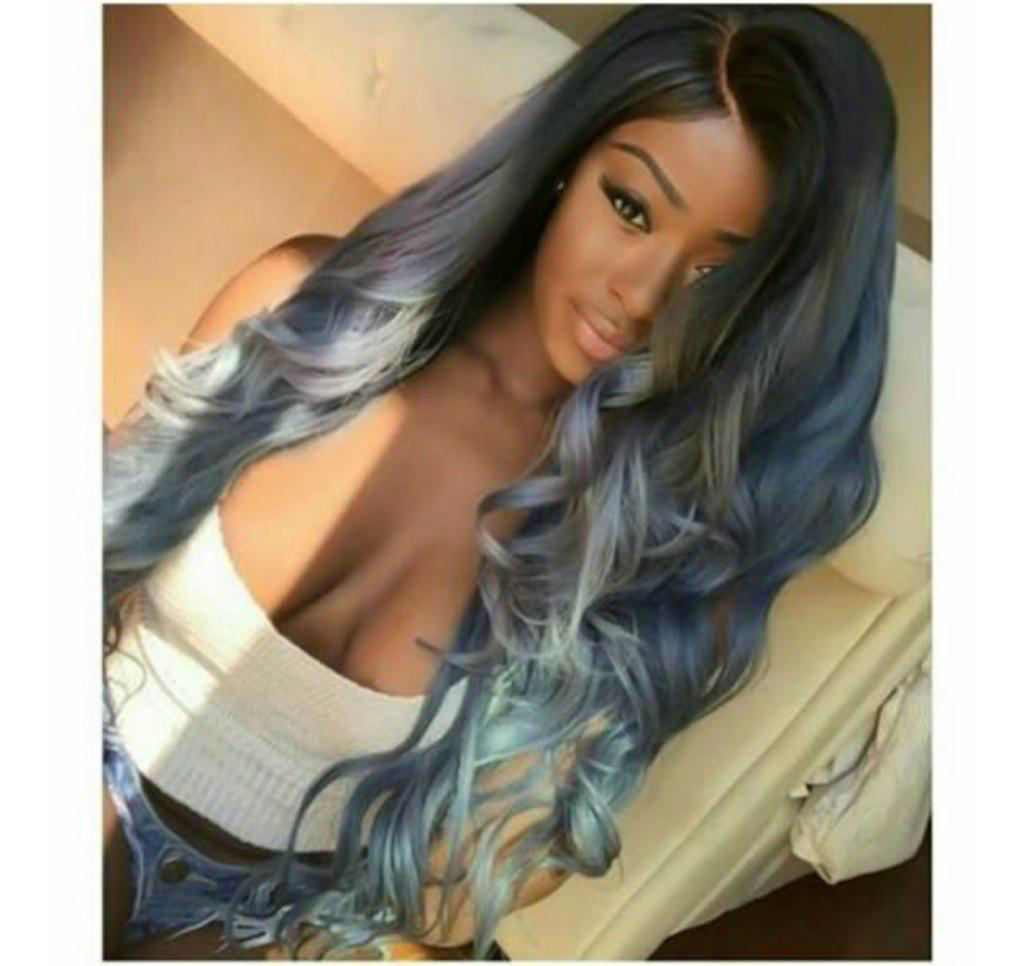 18. Iced Mocha
Iced mocha ombre on black women is beautiful and trendy. This style can create a stunning contrast and add depth and dimension to black hair.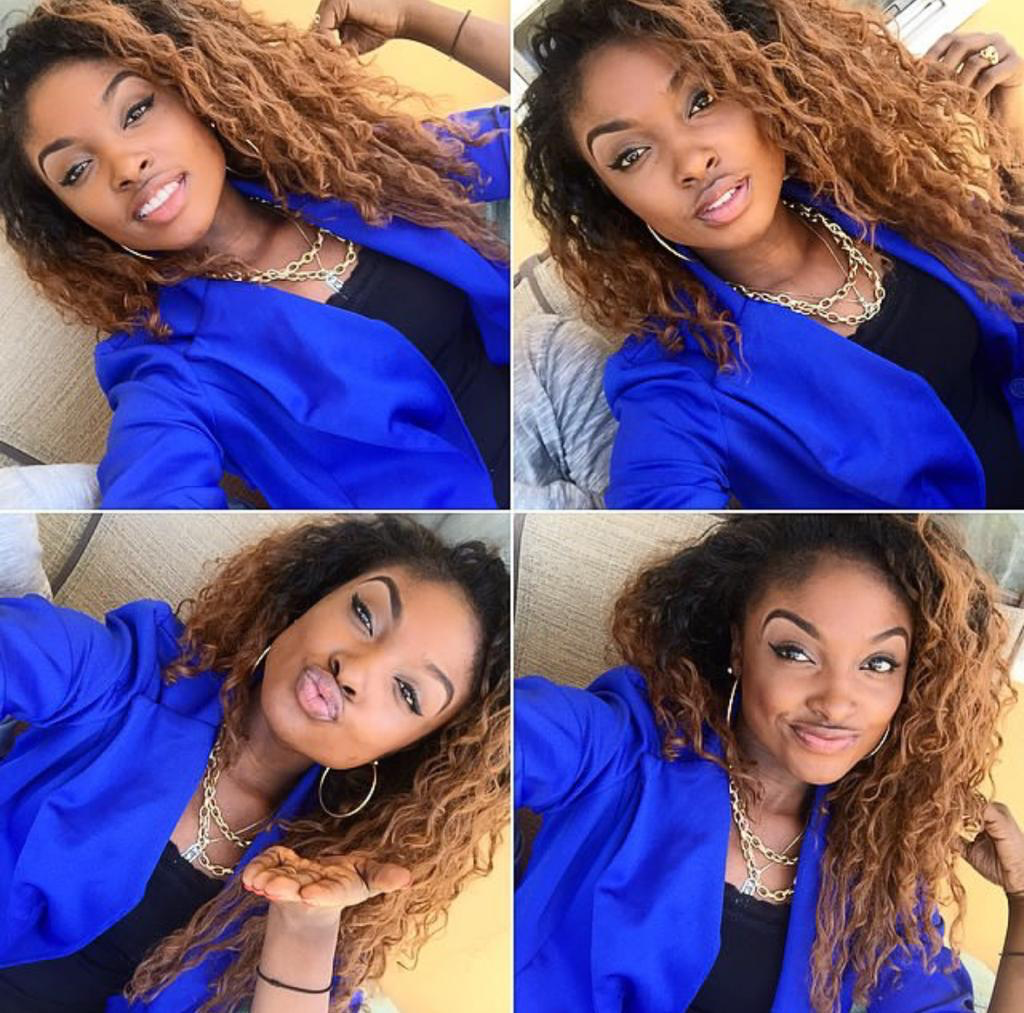 19. Burgundy
Burgundy is one of the sexiest ombres to get on dark skin tones. Like a fine red wine, the deep tones capture attention and create an enchanting depth.
20. Snow White
The beauty of snow-white ombre melds cooler tones for a captivating effect. No doubt, it captures the spell of sophistication.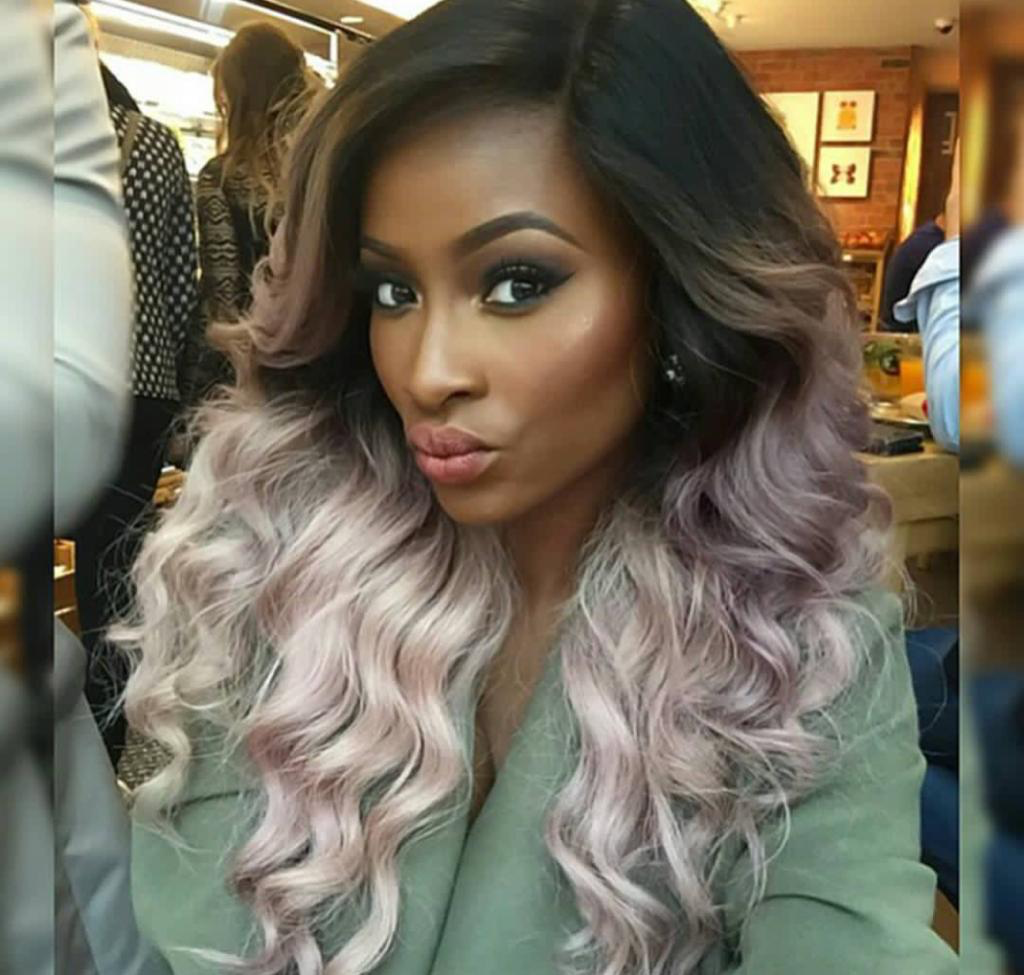 21. Pure Rust
This distinctive style brings richness to your black beauty. It depends on you whether to get those front strands rusty or only ombre. No matter what, both choices are outstanding!
22. Honeyed
It is a radiant hair look that captures the essence of golden warmth. It only strikes a sharp contrast but also gives you a lively appeal.
23. Fox Like Auburn
The name says it all. Fox-like ombre is a mix of blonde, rust, and black tones just like a fox. If you don't want your hair to have a dull look, this should be your choice.
24. Deep Burgundy
Since the dawn of time, deep burgundy has been regarded as an excellent color combination. Do this and style your hair into loose curls to highlight the natural beauty and sparkle of your black hair and dark skin.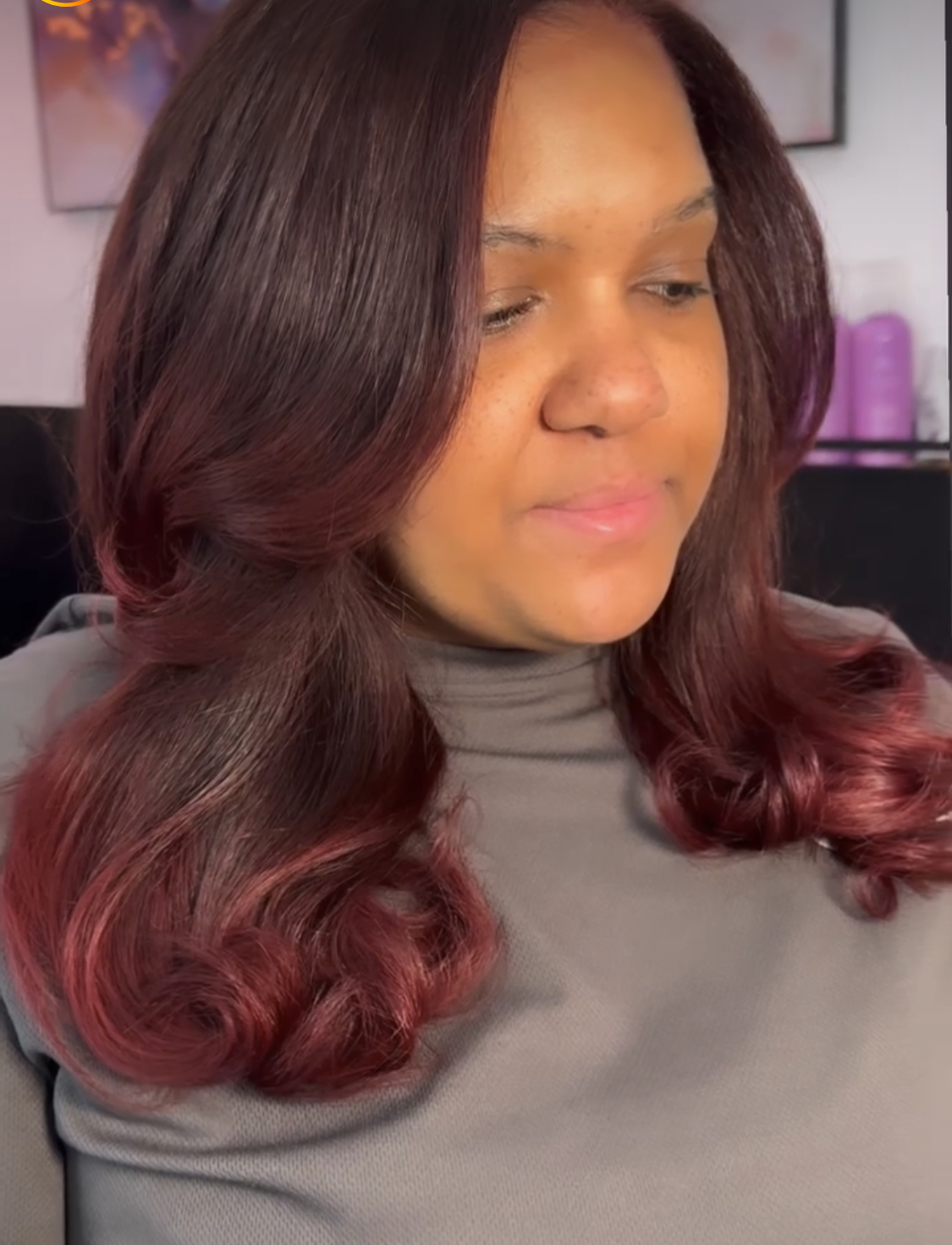 25. Beige
Beginning with a dark base and gradually making its way to beige tips, this chic style is a subtle choice that exudes class.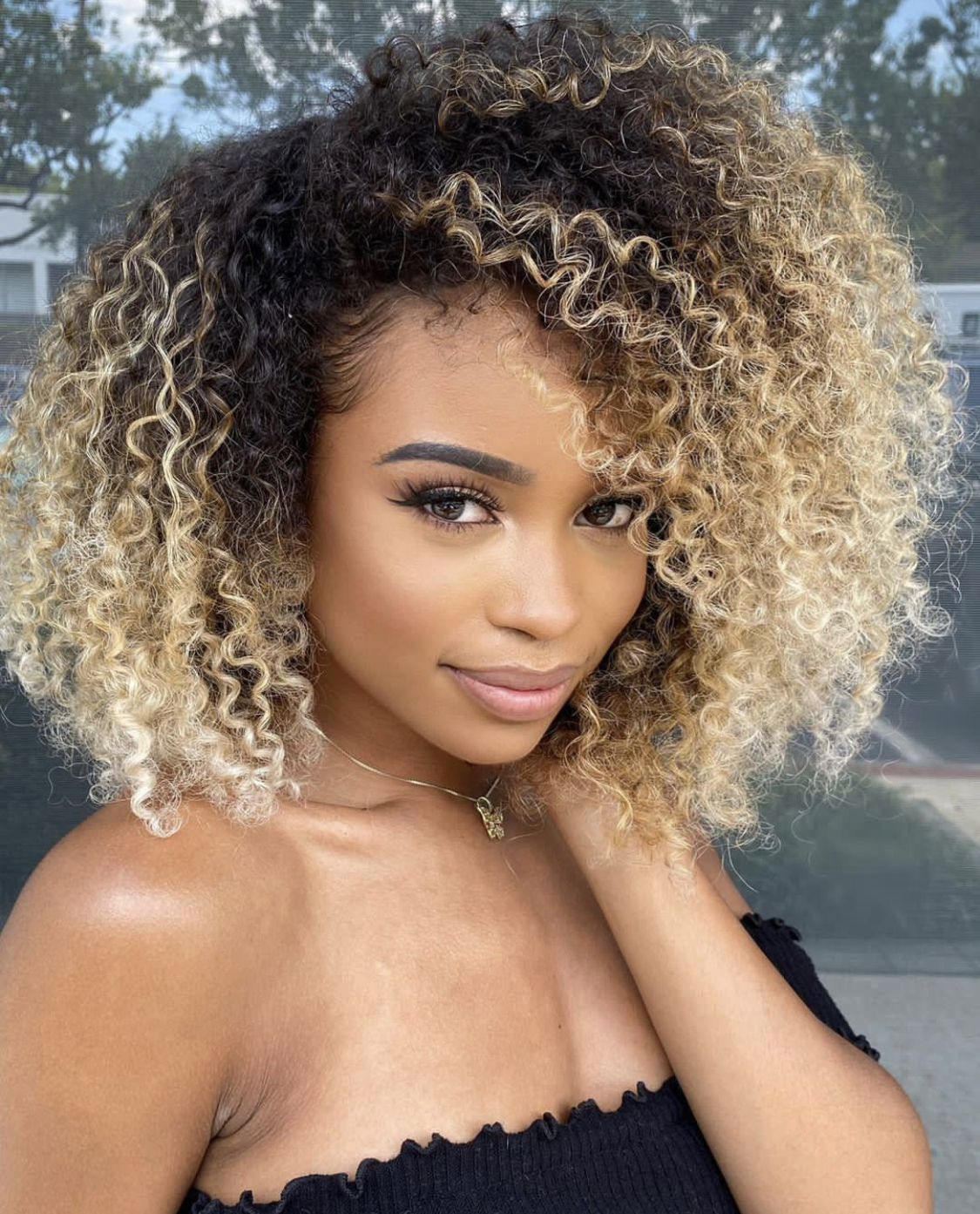 26. Caramel Gold
If you want a rich, warm, and glossy brunette ombre, consider sweeps of caramel gold ombre to achieve the level of elegance you seek.
27. Sandy
It's a flawless mix of deep black and sunny sand that celebrates both contrast and boldness.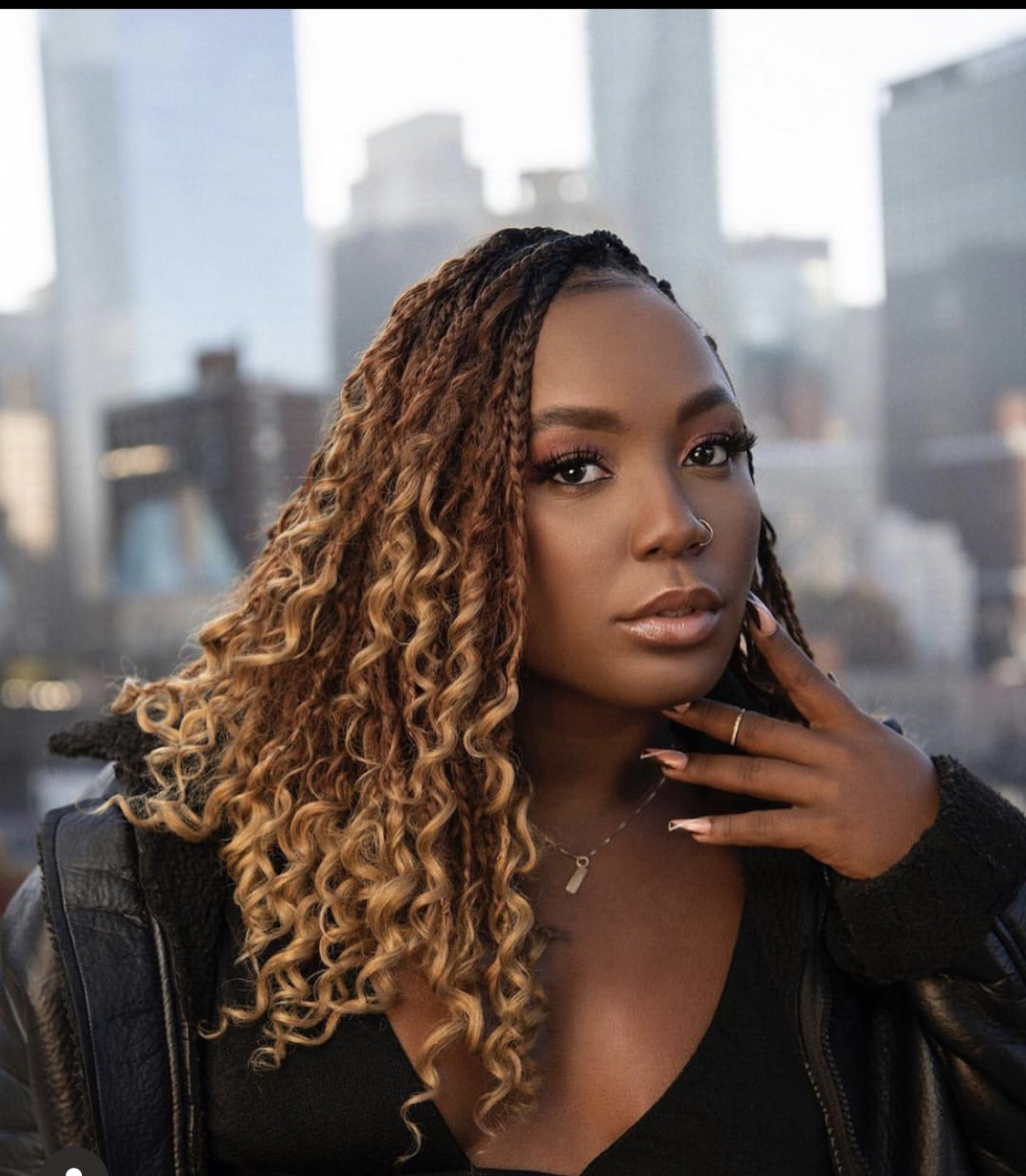 28. Champagne Silver
Here, the tones melting into silver are eye-capturing. This one is the perfect choice for those who always want to shine all day long.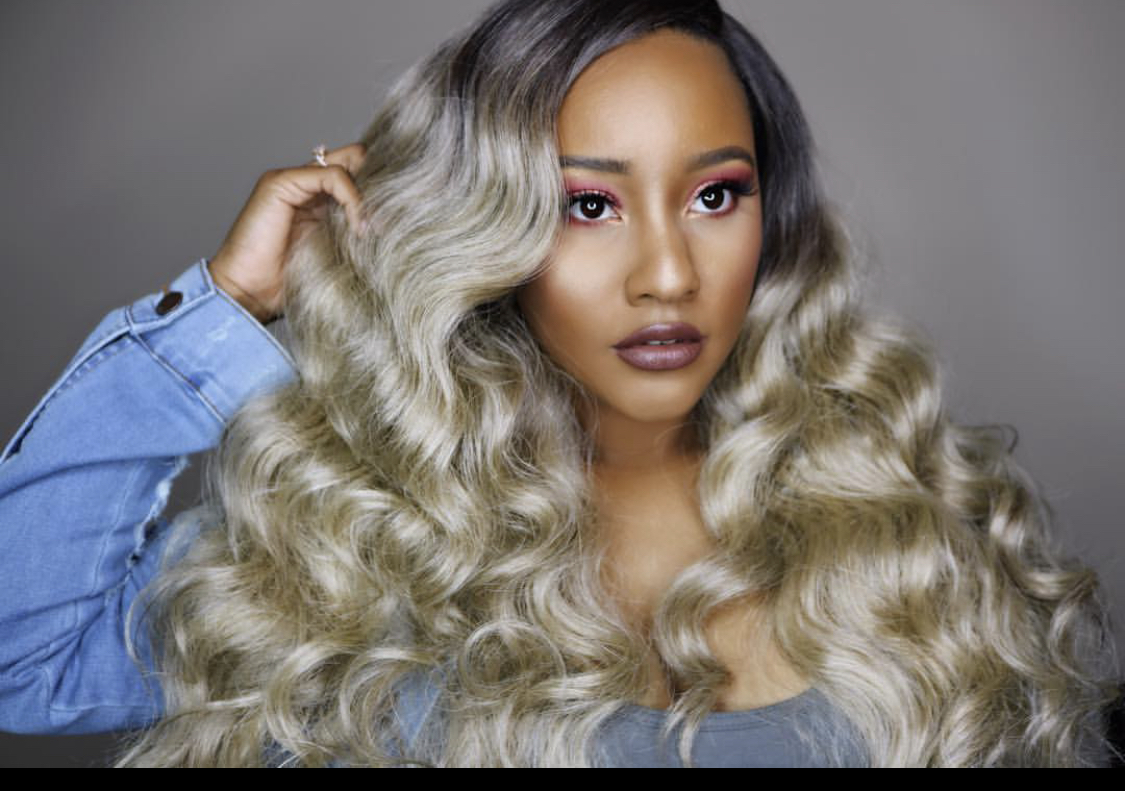 29. Soft Brown Plus Sand
For girls who don't like complexity on their hair, soft brown plus sand is a great option for them. A simple and stylish look!
30. Neutral and Ash
If you want to keep things sweet and simple, check out this look. To add more beauty, try curling your hair with a big burling iron and brush it with your fingers.
31. Neutral Bronze
This is for the girls who appreciate the concept of having red hair but hesitate to go for a vibrant and flaming look.
32. Fire Orange
A very spicy ombre option! Starting with your natural color it gradually transforms into a lively orange shade creating a hot and rebellious look.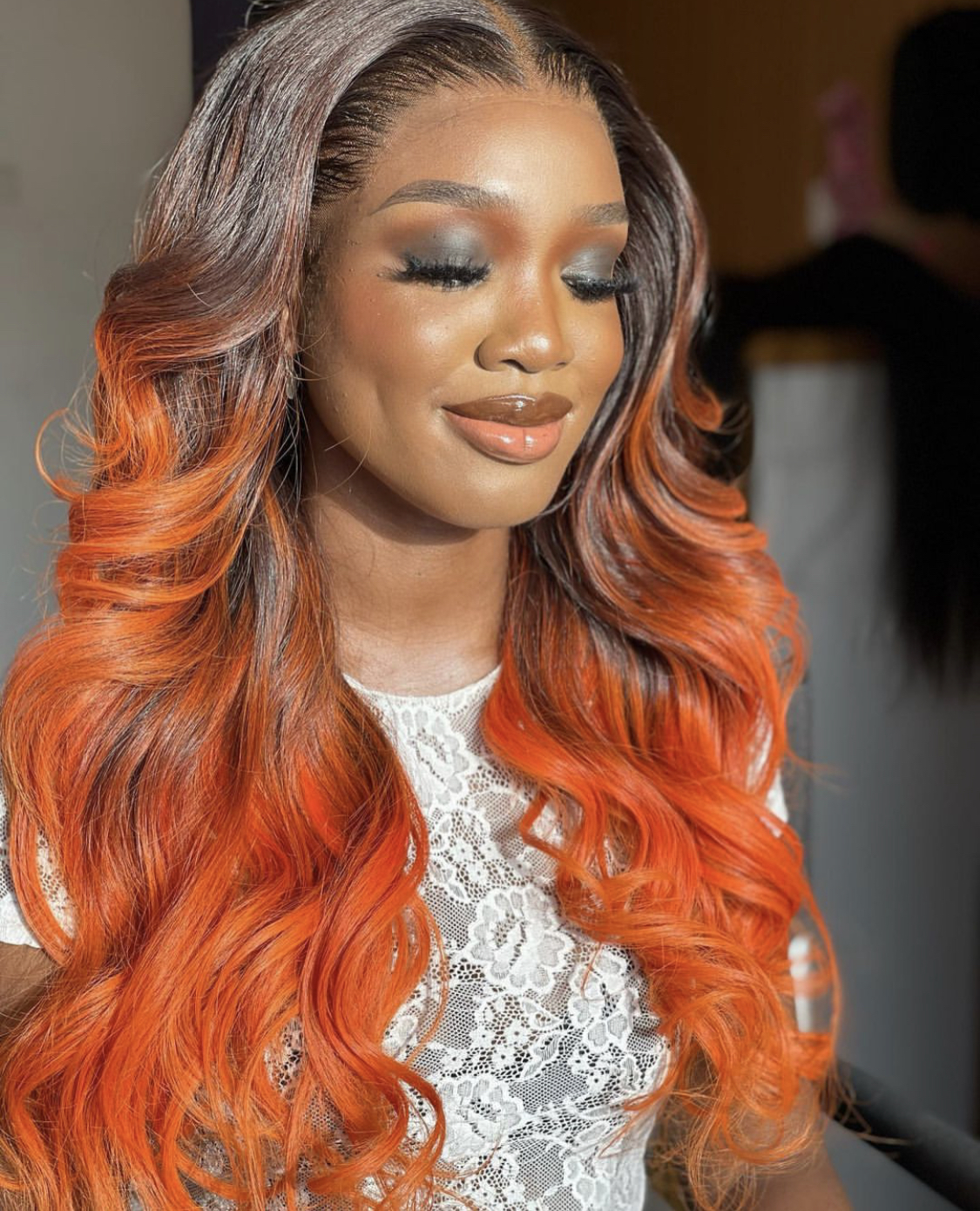 33. Choco
Calling out all the office-going ladies. Choco ombre shade is not only simple but adds a touch of beauty and class to your everyday professional life look.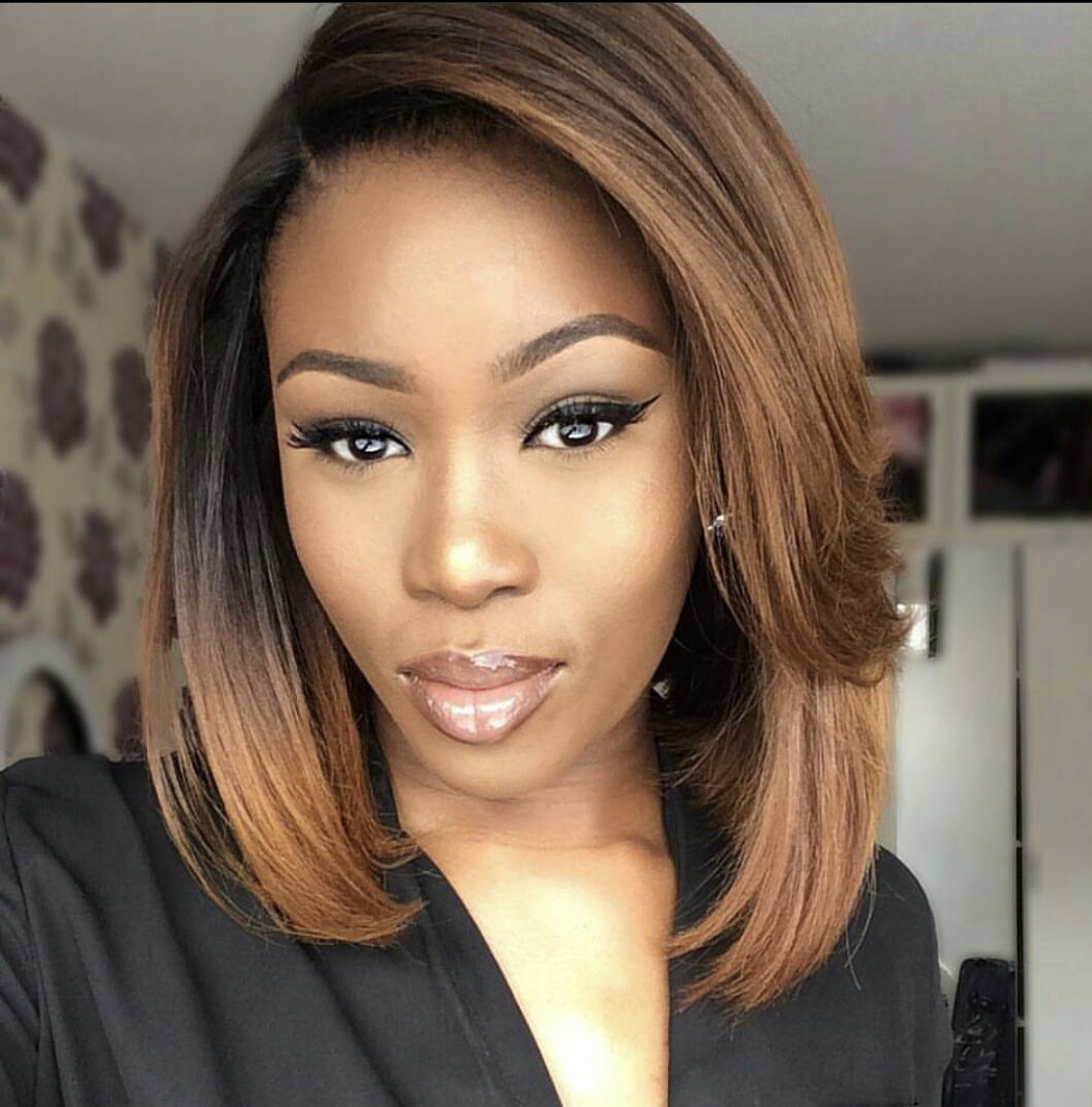 34. Icy Brown
The cool allure of icy brown ombre speaks perfection. Don't forget to give your hair a nice straight look like the lady in the picture. This one is subtle!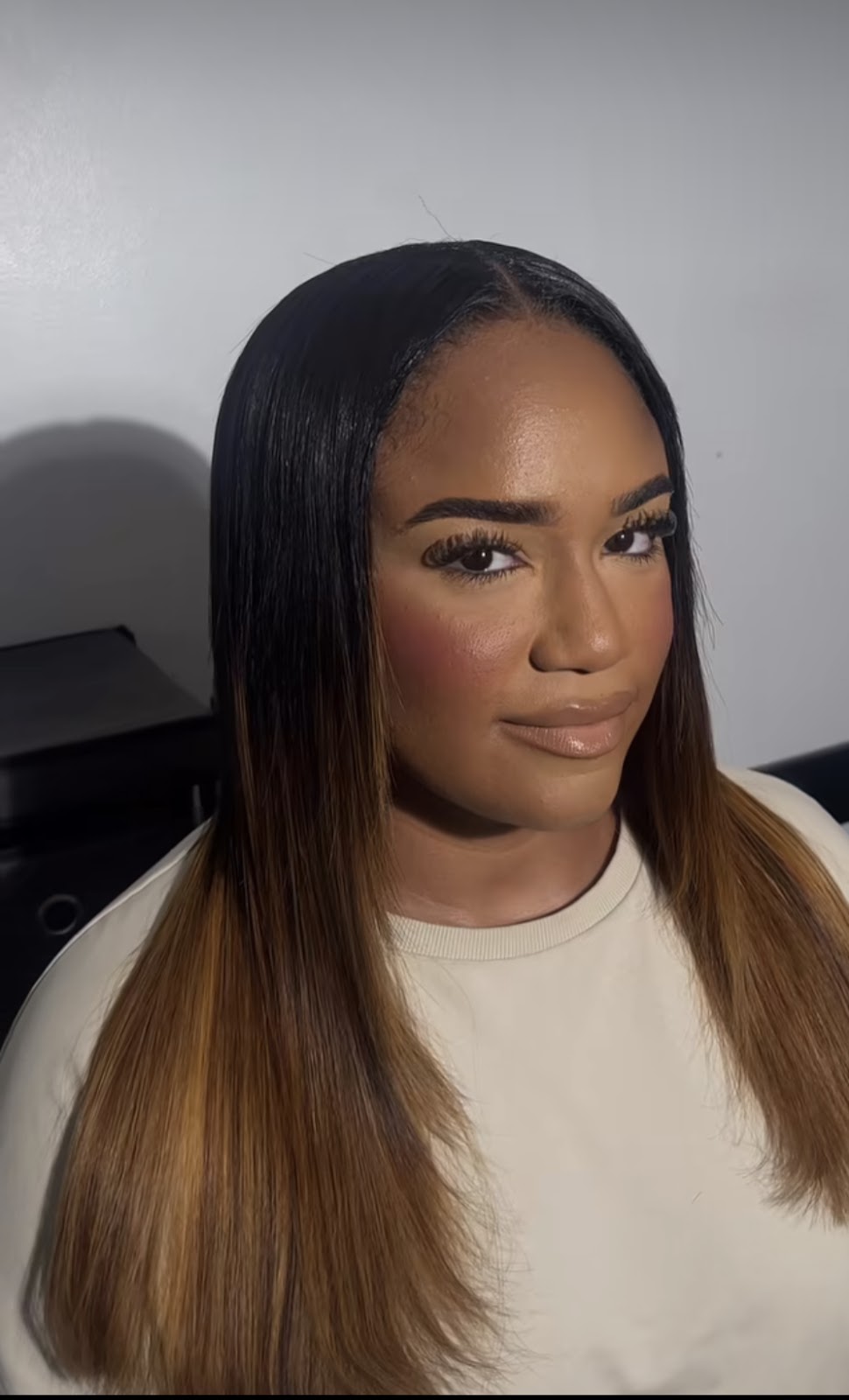 35. Metallic Red
Want to play with colors but don't want your look to be screamy? Here comes the metallic red. Starting with black roots, metallic red tips prove a vivid and impressive option.
36. Rose Gold
The intense and jaw-dropping rose gold ombre is completely stunning. The key here is to choose the stylist who can do it perfectly.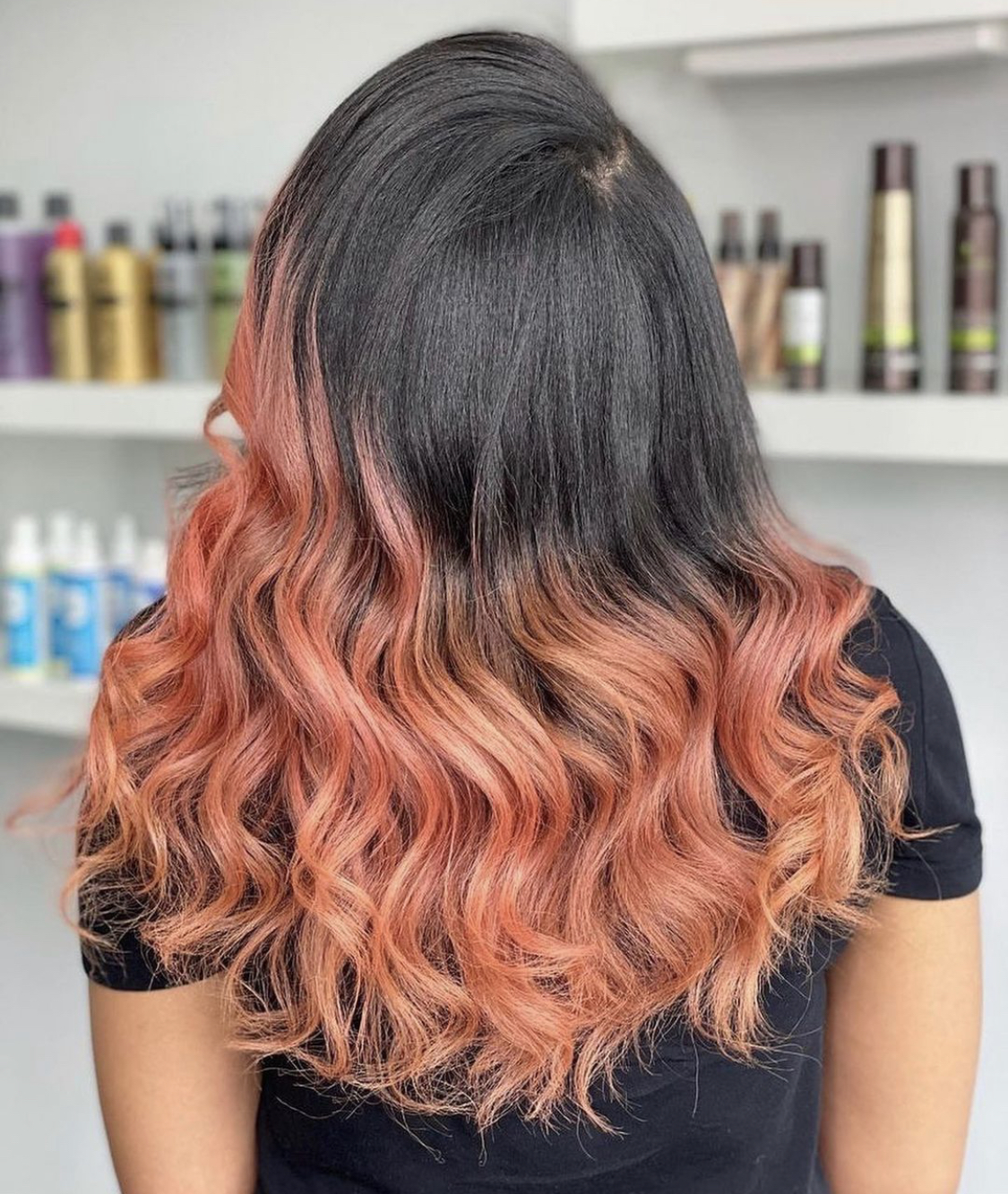 37. Dark Purple
The dark purple ombre is a statement that tells everything about your unique style.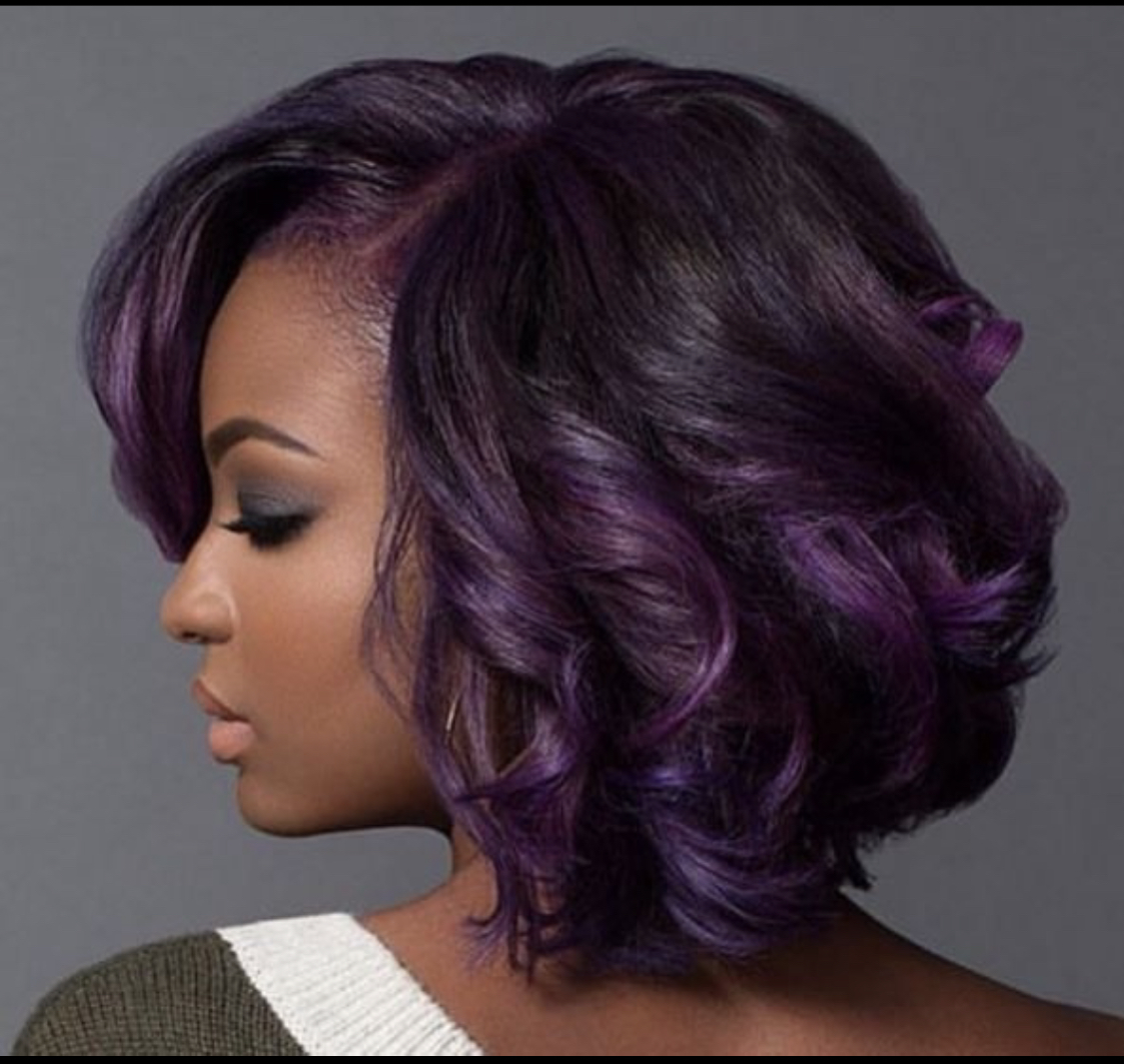 38. Strawberry Shortcake
A strawberry shortcake ombre is a daring look to have. It starts with light pink roots and gradually turns into hot pink tips. You don't have to tell people how unique you are, people will recognize you by your hairstyle.
39. Braided Black and Purple Ombre
Who says you can't be playful with braids? Imagine having long braids with purple ombre. No one can stop you from rocking every event.
40. Rusty Red
As your braids fall, the rusty red hues gracefully weave through, adding a touch of fiery charm to the darkness.
41. Red to Orange Blazing Ombre
Red to orange blazing ombre is an electrifying transition. The overall effect of this ombre is dynamic. Try it with big curls, you won't regret it!
42. Purple Rain
A mix of light and dark purple is an incredibly interesting color melt is a fantastic method to liven up dull hair while also expressing your creativity.
43. Brunette
If your hair is naturally dark brown and you want to maintain it that way, this smooth, mild brunette ombre is for you.
44. Blue Clues
If you're brave enough to go into unexplored blue land, this ombre hue has you covered. How cool and attractive this is looking!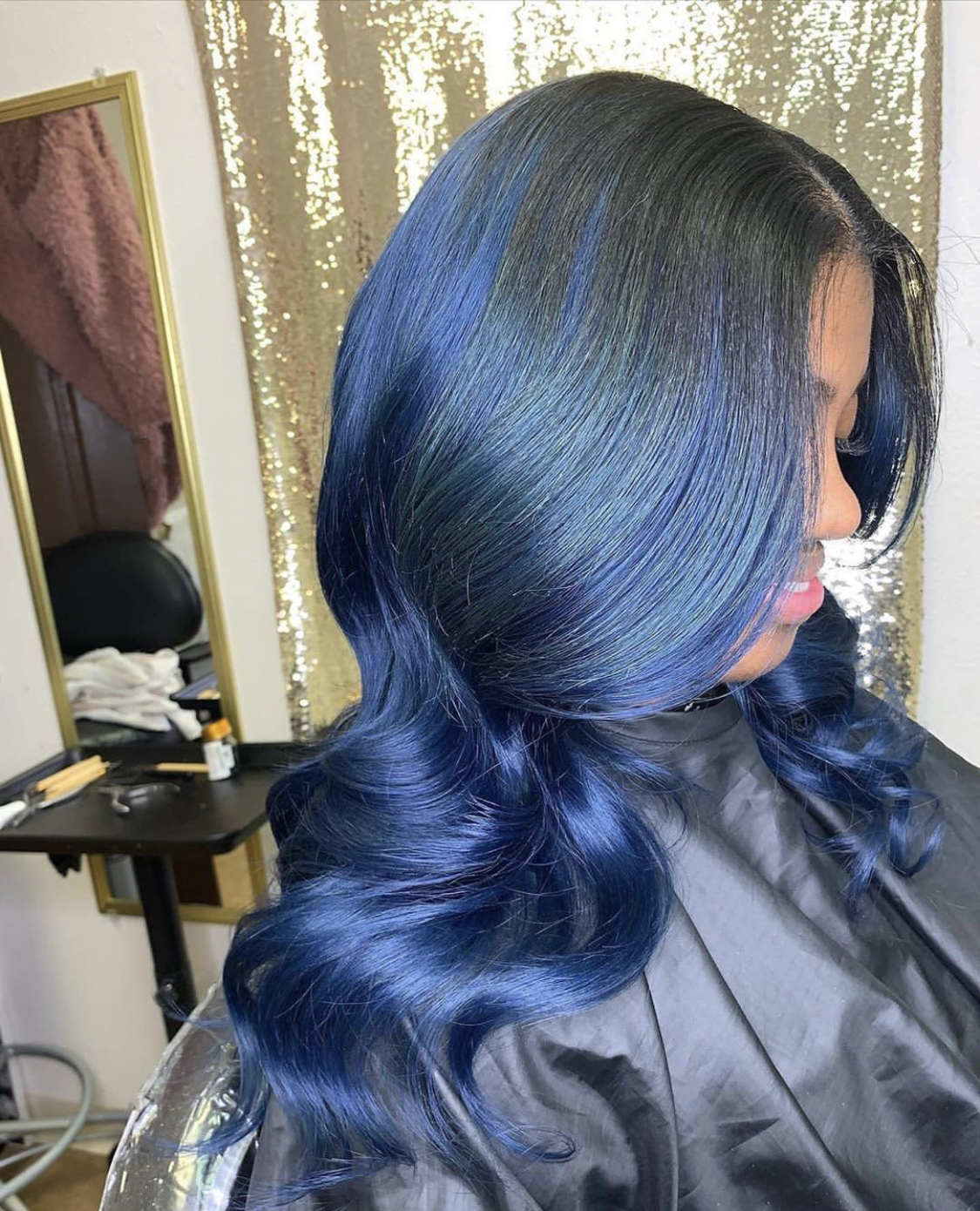 45. Dark Chocolate
Rich browns aren't just for folks with long locks! Adding bold chocolaty hues to dreadlocks can sometimes result in a promising streaky look. So, why not try this?
46. Grape wine
Just like a fine grape wine, this style carries a fantastic blend of purple and pink hues. Let your play with those bright colors and enjoy a sassy look.
47. Chestnut
With this ombre style, you may go a bit more edgy and emo. rather than falling into a bright or pastel color, check this ombre transition.
48. Inverted Hot Pink Ombre
This time, why not make the ombre upside down? Look at this style, first comes the bright pink hues and then the darker hues. Don't you think it's such a different concept?
49. Oceanic Waves
Let your hair tell the story of the ocean. When you have long braids, a nice combo of black, dark, and light blue can easily be a head-turning option.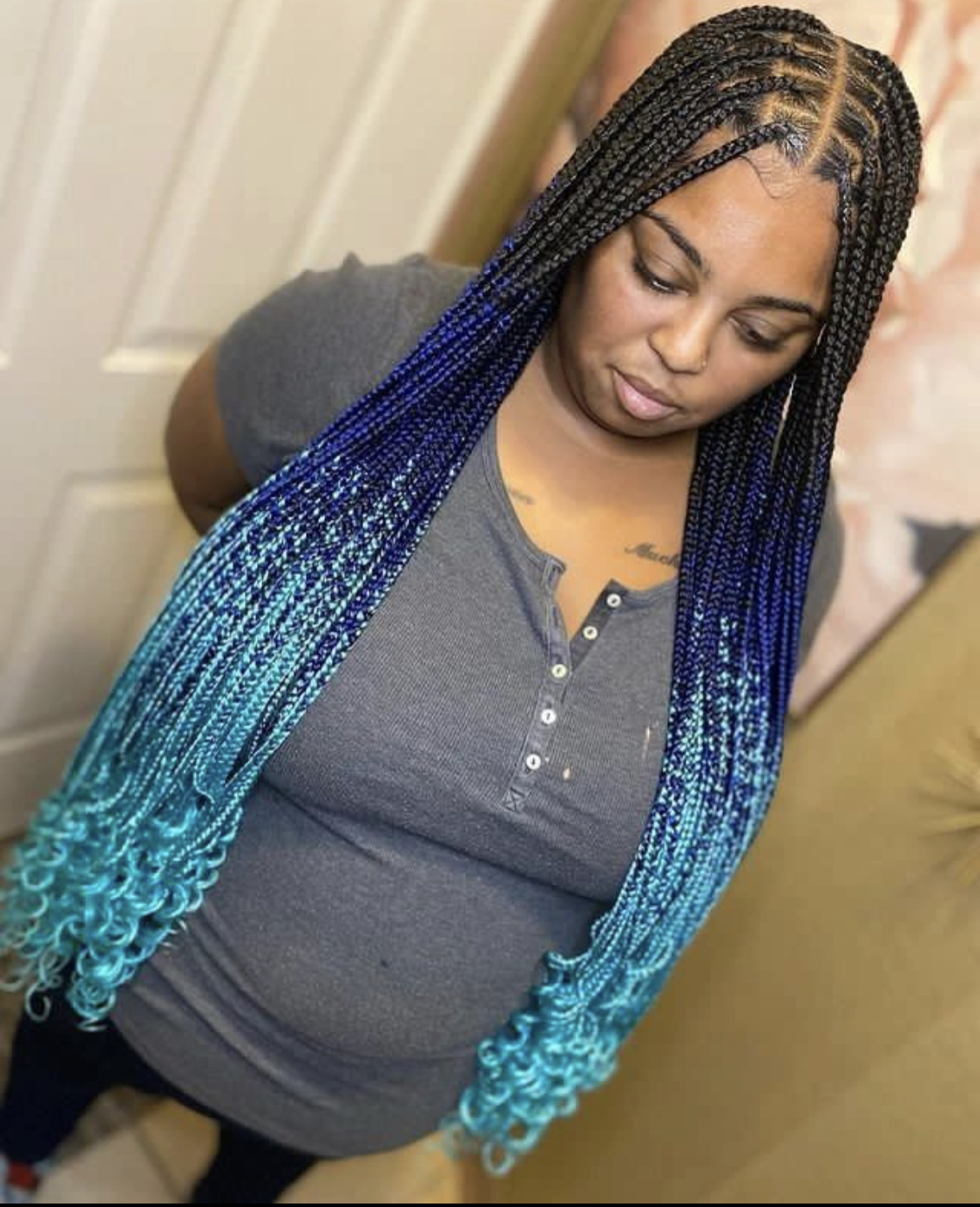 50. Caramel Plus Blonde
A sleek caramel plus blonde ombre is no doubt an edgy choice for daring black women. So, if you have long black locks for a long time, it's time to update your look!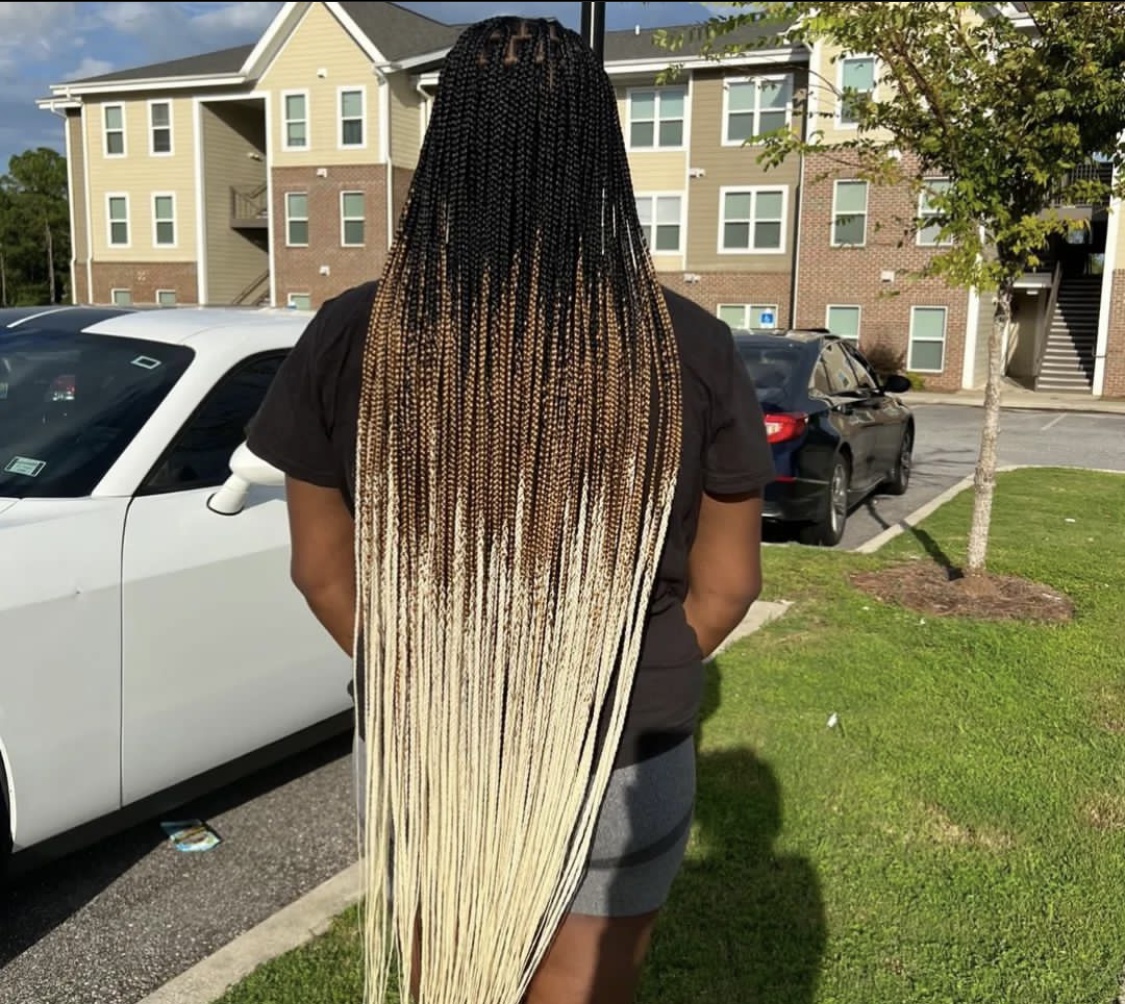 Now, It's Your Turn!
Ombre hair colors on black women look spectacular. No one can stop you from playing with colors. Whether it's a radiant blue or a minimal chocolate shade, each hue has its own style. Black women offer style, personality, and uniqueness. It's a nod to the unique world that you should take. Tell me which one is your favorite and why?