Short knotless braids are a stylish and versatile hair braiding technique you can use if you desire shorter hair lengths. These braids are popular for a low-maintenance yet fashionable hairstyle.
In addition, because they are knotless, they are gentle on the scalp and cause less tension and discomfort.
The hairstyles you can do with them are endless. There are classical and neat designs as well as creative and intricate ones. Also, they are popular for both everyday wear and special occasions because they can be worn casually or elegantly.
50 Cute Short Knotless Braids
1. Shoulder Length Knotless with Curls
Shoulder-length knotless braids are a popular and versatile hairstyle that offers a chic and low-maintenance look. In this style, individual braids are created without a visible knot at the base, giving them a more natural appearance. Adding some curls gives the braids volume if you have thin hair.
2. Wavy Knotless Braids
Knotless braids with wavy ends are a fashionable hairstyle that combines the practicality of knotless braids with a touch of class and flair. The loose, wavy ends give the braids layers and volume.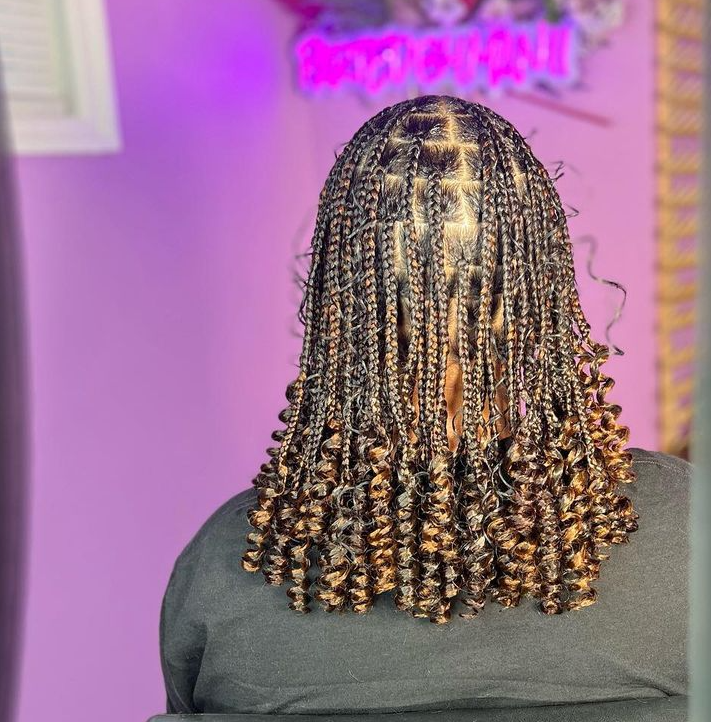 3. Half Knotless Cornrow
The knotless cornrow braid starts at the front of the scalp and gradually transitions into a sleek, knotless pattern as it moves towards the back. This hairstyle offers a smoother and more natural appearance at the roots. Adding a mixture of wooden and transparent beads gives a uniform layer.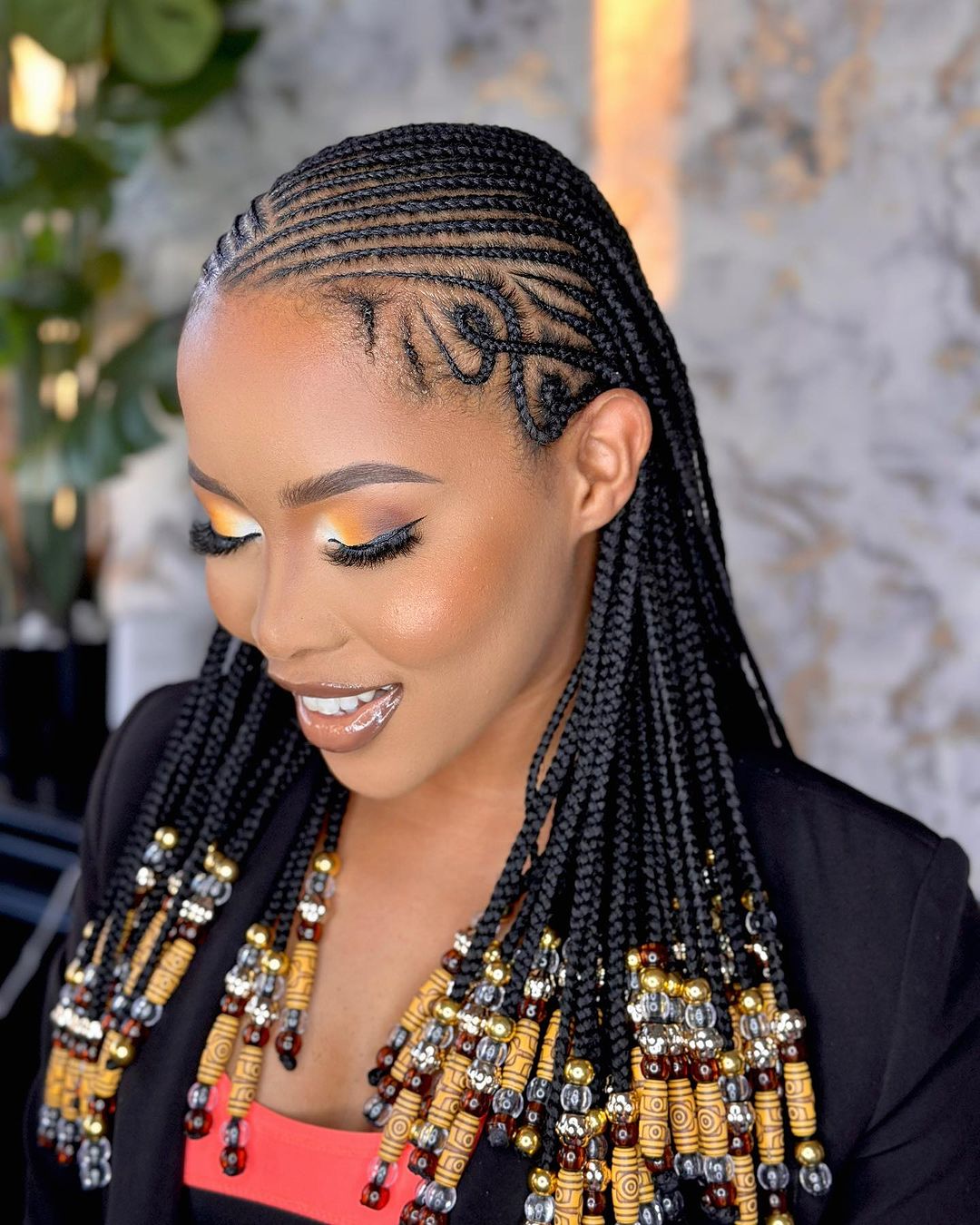 4. Velvet Knotless Braids
Short Velvet braids are often chosen for their neat and less bulky look, making them an excellent option if you're seeking a more polished and comfortable alternative to full knotless. You can style them in full buns or two mini buns, as you can see in the image.
5. Shoulder Length Waves
These shoulder braids typically fall to the shoulders, framing the face beautifully. Shoulder-length knotless braids are admired for their comfort, flexibility, and ability to wear various hair textures and colours while maintaining a neat and manageable appearance. This hairstyle is perfect for those seeking a stylish yet practical option for medium-length hair.
6. Knotless Waves in High Bun
The smooth and scalp-friendly pattern of short Knotless braids in high buns is characterized by the hair starting with small, tidy sections near the scalp and gradually morphing into loose, wavy ends. In contrast to conventional braids, the result is a captivating hairstyle that offers a more relaxed and natural appearance.
7. Shot Knotless with Beads
Shot knotless braids with beads are a trendy and stylish hairstyle that combines two popular elements in the world of hair fashion: intricate patterns and beads. This style is for my ladies who don't like long braids. You can still be a knotless girl with this hairstyle.
8. Leafy Pattern Short Knotless Cornrow
Leafy knotless cornrows can be customized with various parting patterns and braid sizes, allowing for creative and unique styles that suit your preferences. They are not only fashionable when you add beads, but they also speak about culture. This hairstyle is an ideal choice for both everyday wear and special occasions.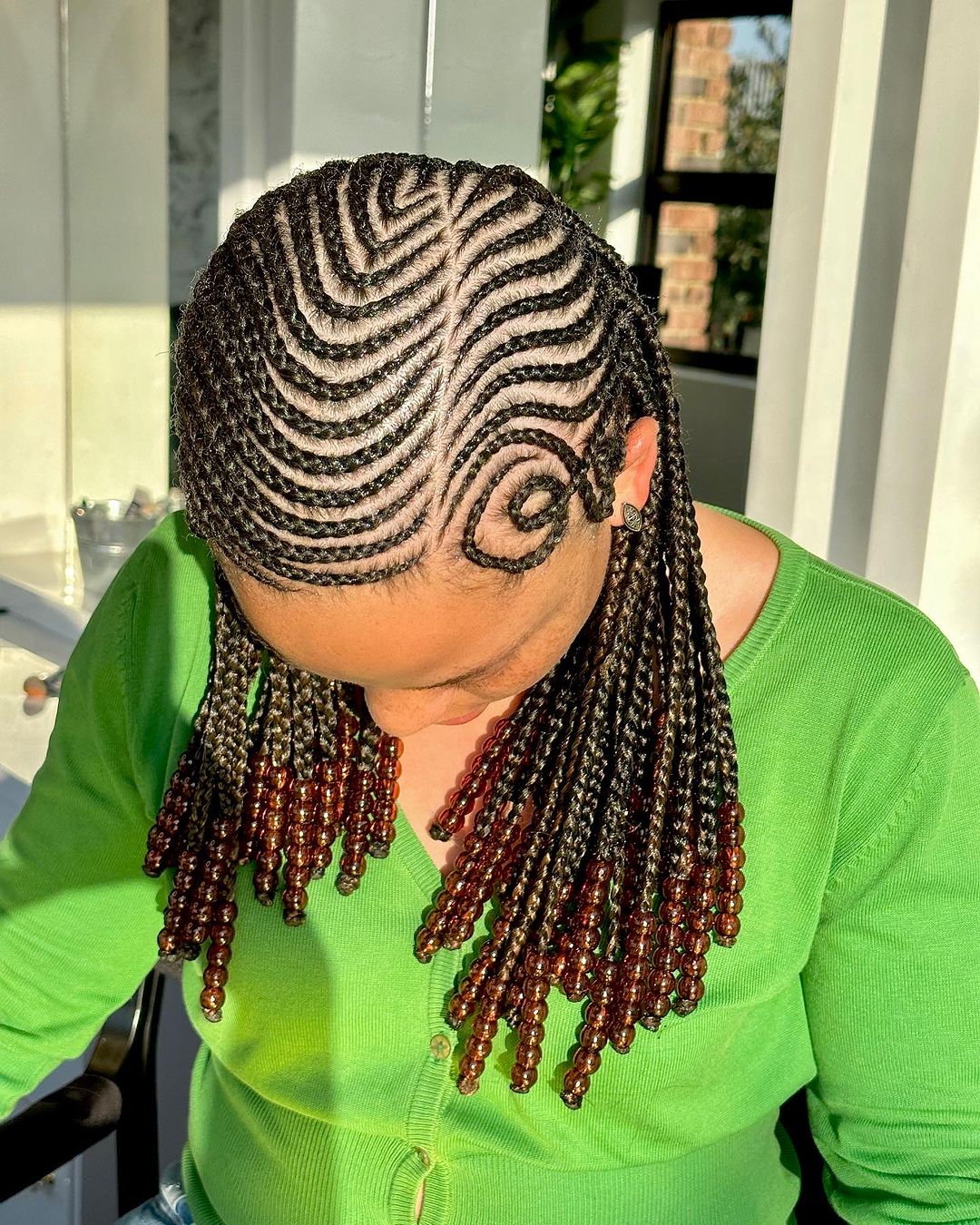 9. One Side Cornrow Braid
For those of you who can't stand even a little irritation on your scalp, knotless braids are your go-to. Even more suitable when the braids are short due to their lightweight. The wavy curls provide a stylish aesthetic and minimize the visibility of a rough braid that appears a few days or weeks after braiding your hair. The one-side cornrow provides a unique style from the normal.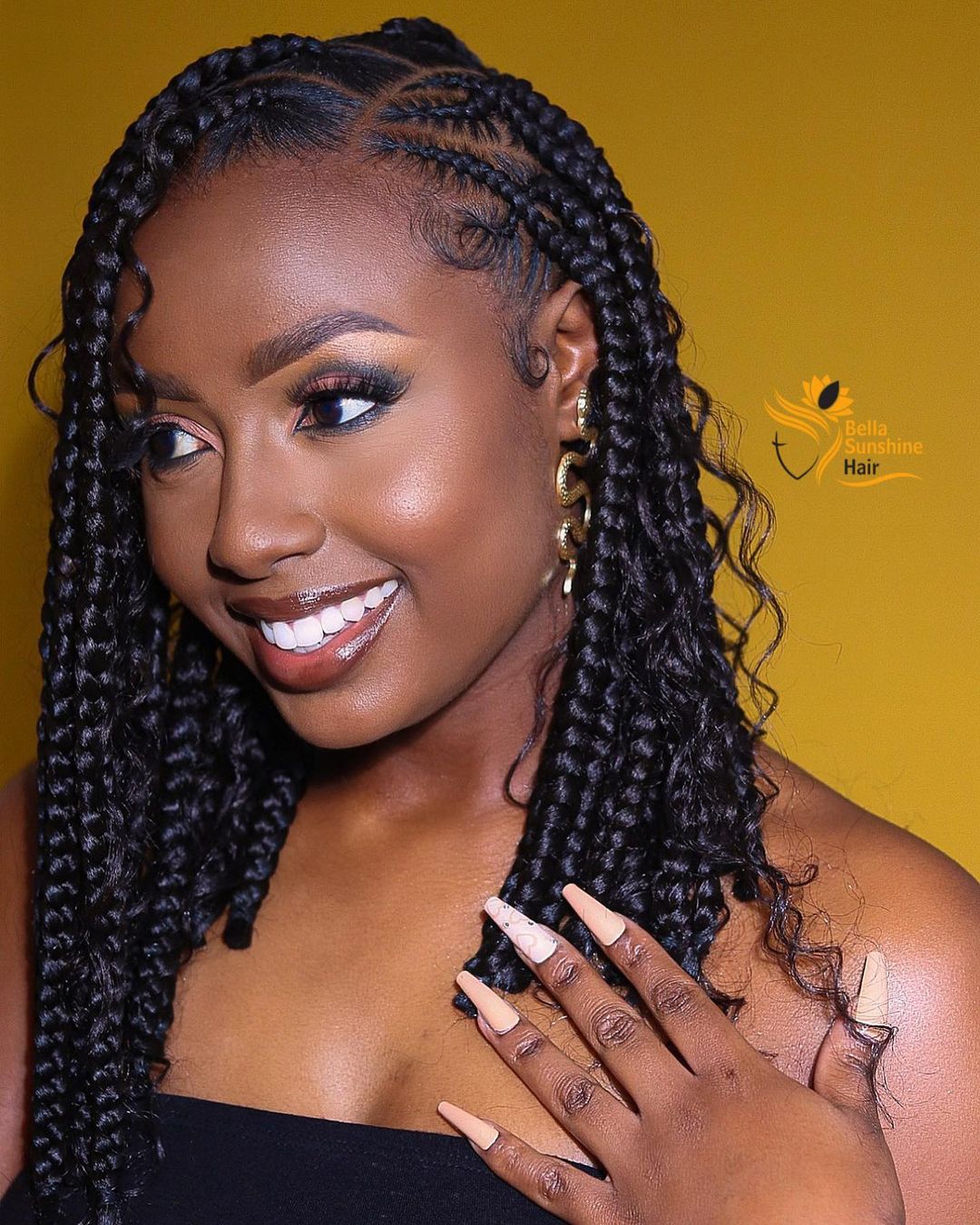 10. Short Knotless in Back Knot
Beads are often incorporated into short, knotless braids to enhance their aesthetic appeal. These beads can be made of various materials like plastic, wood, or metal, and they come in different shapes, sizes, and colours. Holding a knot at the back with dangling multicoloured beads offers a unique customization for styling your braids.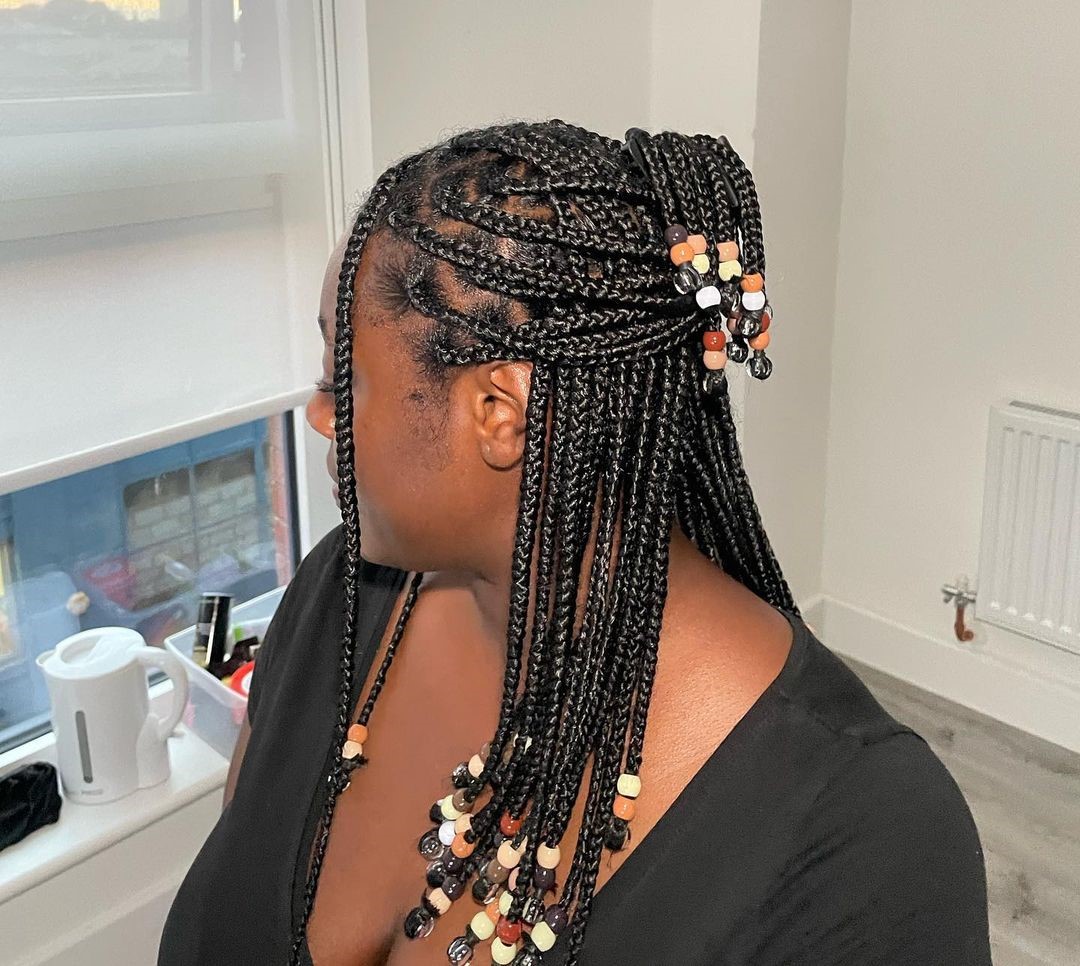 11. Chin Length with Colour
Chin-length knot-less braids are cute even as you add colour and curls. The beads at the ends serve as decorative elements, adding a delightful jingling sound when they move. This hairstyle is both visually and audibly striking, thanks to colour and beads.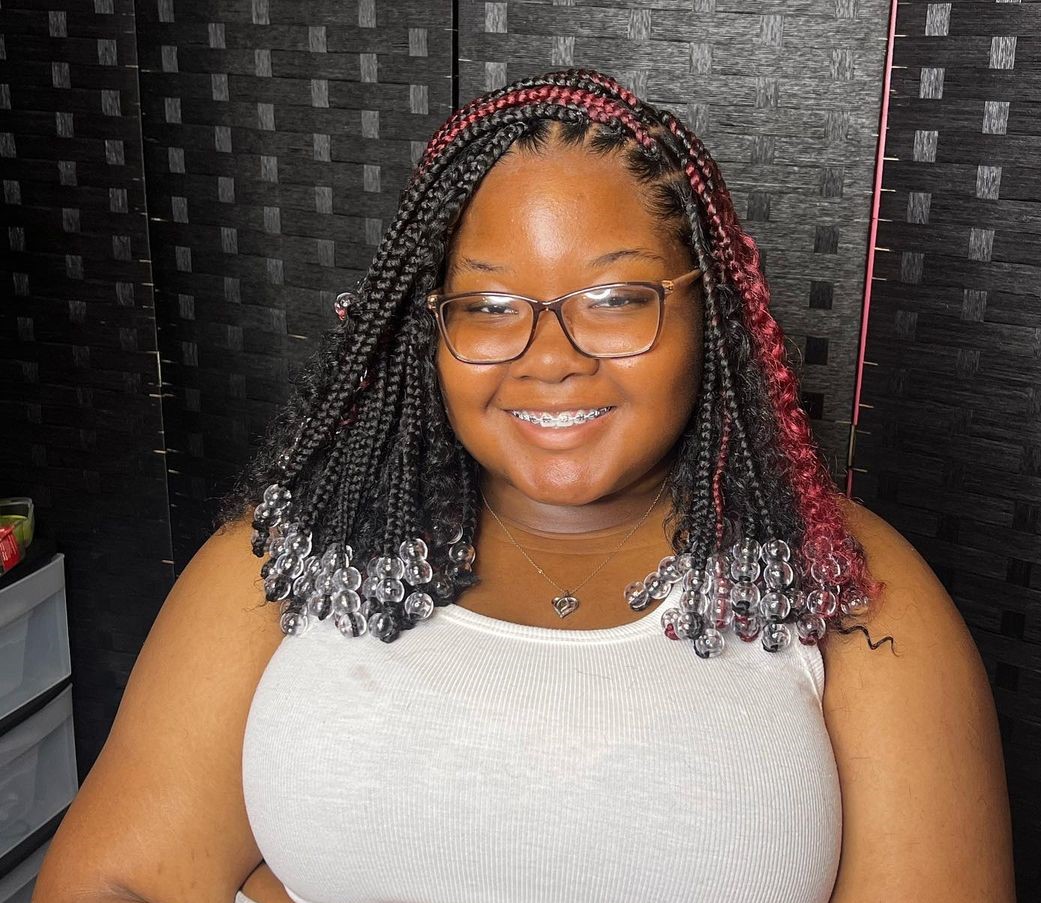 12. Short Blonde with Curls
Adding colour to your short braids is one way to stand tall. These hairstyles can be customized to suit various lengths, colours, and thicknesses, making them suitable for individuals with different hair types and preferences. The wavy knotless braids add a playful and bohemian twist to the classic braided hairstyle, making it perfect for both casual and more formal occasions.
13. Knotless with Green Beads
Using loud colours like green in your short knotless braids is not only a beautiful expression of personal style but also a versatile choice. This hairstyle is suitable for various occasions and hair lengths. This hairstyle offers a versatile canvas for self-expression and individuality, whether you prefer a playful and vibrant appearance or a refined one.
14. Freestyle Wavy Knotless
This braid offers a contemporary and chic twist on a classic hairstyle. They combine the benefits of comfort, versatility, and a unique, eye-catching appearance, making them a popular choice for individuals looking to express themselves through their hair while maintaining the health of their scalp.
15. Brown Short Knotless
These braids are characterized by their natural appearance, created by starting with small, feed-in sections at the roots and gradually adding hair as the braids progress. Add beads at the bottom to hold and give shape to the braids.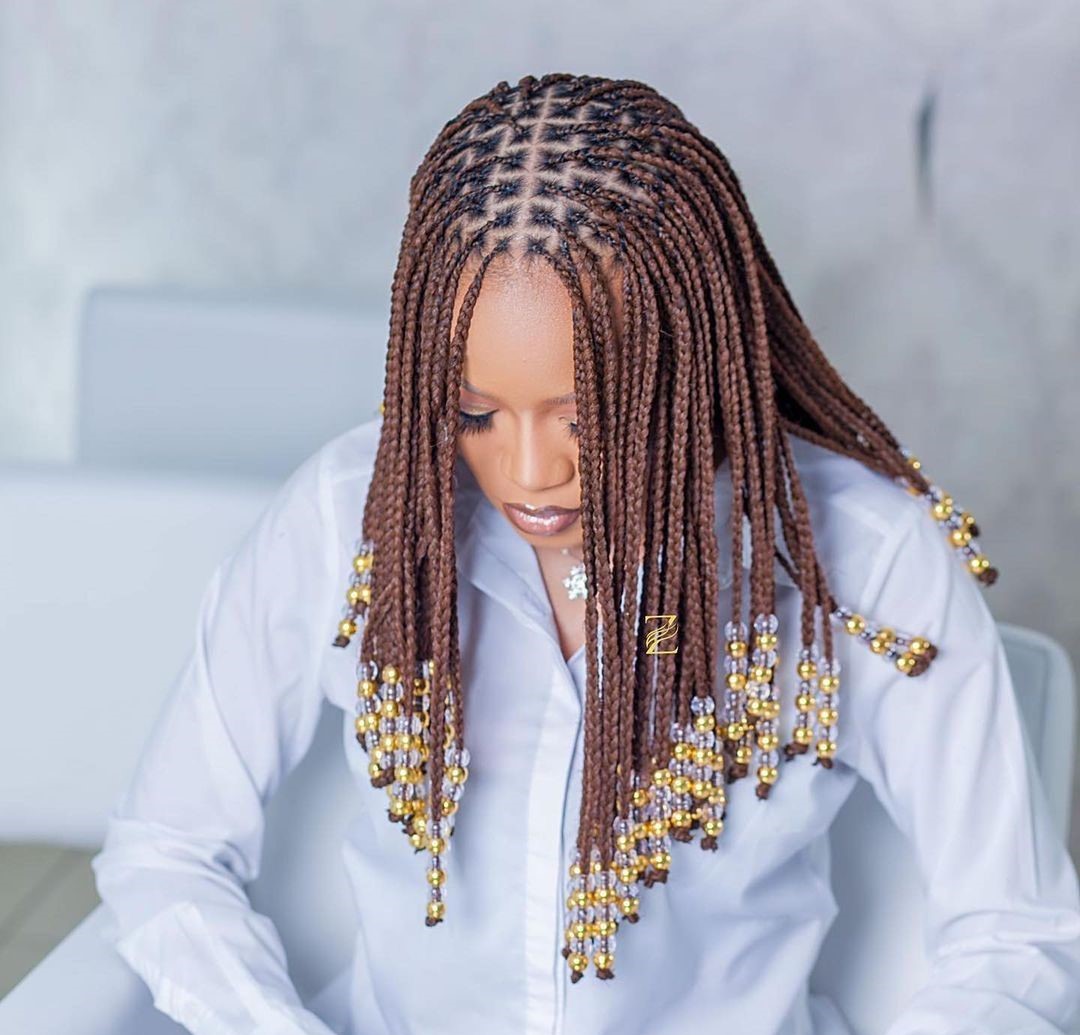 16. Wavy Small Knotless
One way to style a short knotless braid is to create a wavy texture at the ends. The waves give an intricately woven appearance, where each section of hair seamlessly blends into the next, giving it a unique texture and visual appeal.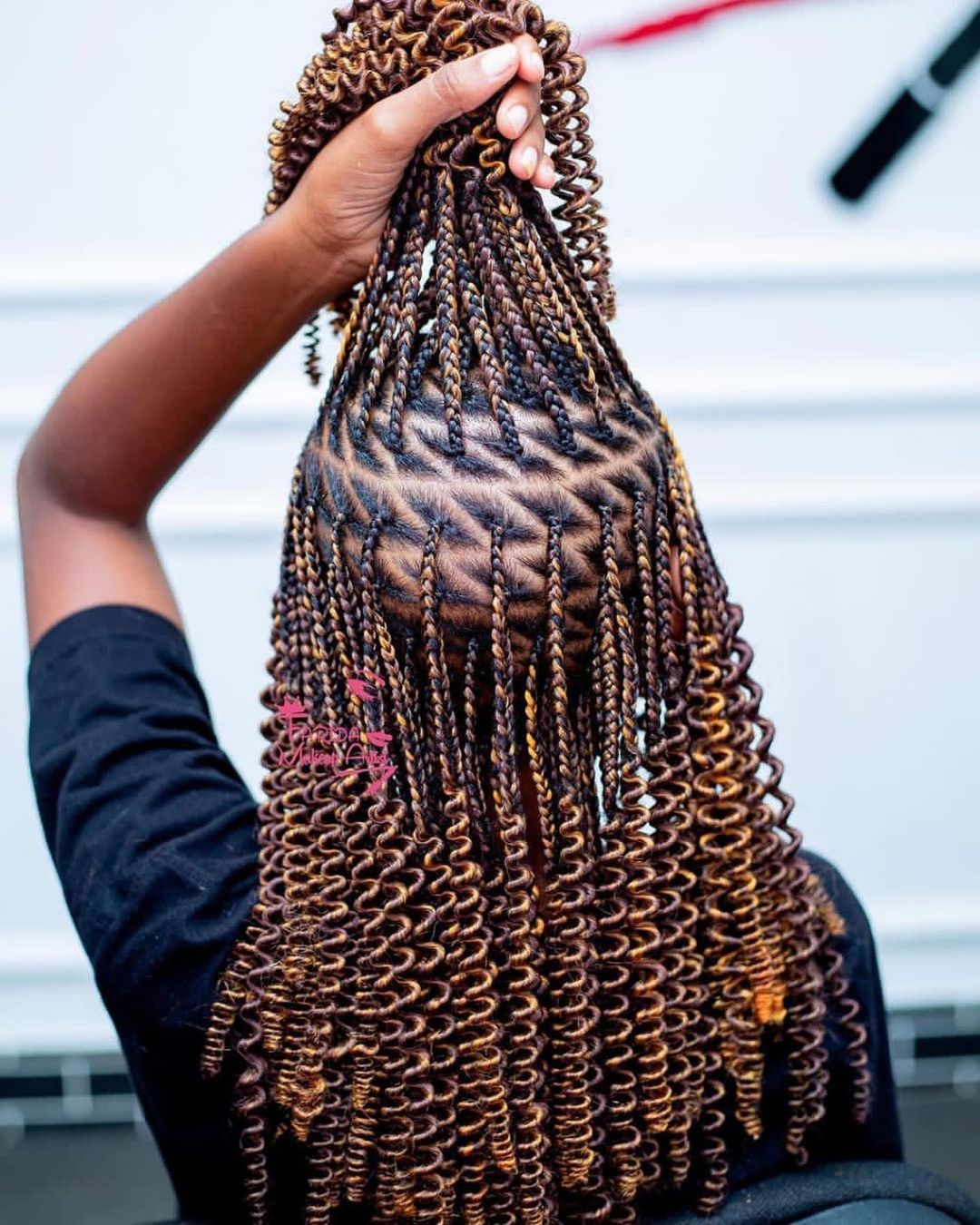 17. Short Wavy Ends
This short knotless braid is a little longer than a normal short. The sizes are bigger than usual too, giving the braids volume in addition to the layered waves. They are not only fashionable but also a protective hairstyle that helps safeguard your natural hair from daily wear and tear.
18. Fulani with Beads
Whether you're looking for a low-maintenance yet stylish option or seeking to protect and nurture your natural hair, knotless Fulani braids with beads offer a beautiful and practical solution to embrace your inner trendsetters.
19. Side Swept Medium Braids
For a unique look, brush one side of your braids to flow diagonally across to the other side, creating a captivating and eye-catching look.
20. Off-Blond Knotless Braids
The off-blond braids offer a balance between adding colour and creativity. You can adorn the ends with various accessories, such as beads, ribbons, or decorative pins, to add a personalized touch.
21. Off -Shoulder Knotless Braids
Off-shoulder braids are neither too short nor too long. These braids are a popular choice for both casual and formal occasions, making them suitable for everyday wear or special events like weddings and parties. You can simply hold a half-up, half-down, or full bun, leaving the beads to dangle in praise.
22. Short Pink Knotless
This pink colour looks stunning, providing functional benefits. It keeps hair neatly in place, making it ideal for active lifestyles or when you simply want a break from daily styling routines.
23. Short Braid in Bun
While you can mostly leave your short braids alone, holding a loose bun adds dimension and flair to your overall appearance, enhancing your natural beauty.
24. One Bun Short Braids
Holding a bun on one side of your short braid is a fantastic way to express your uniqueness and improve your overall attractiveness, whether you are going for a sophisticated appearance for a special occasion or a chic everyday look.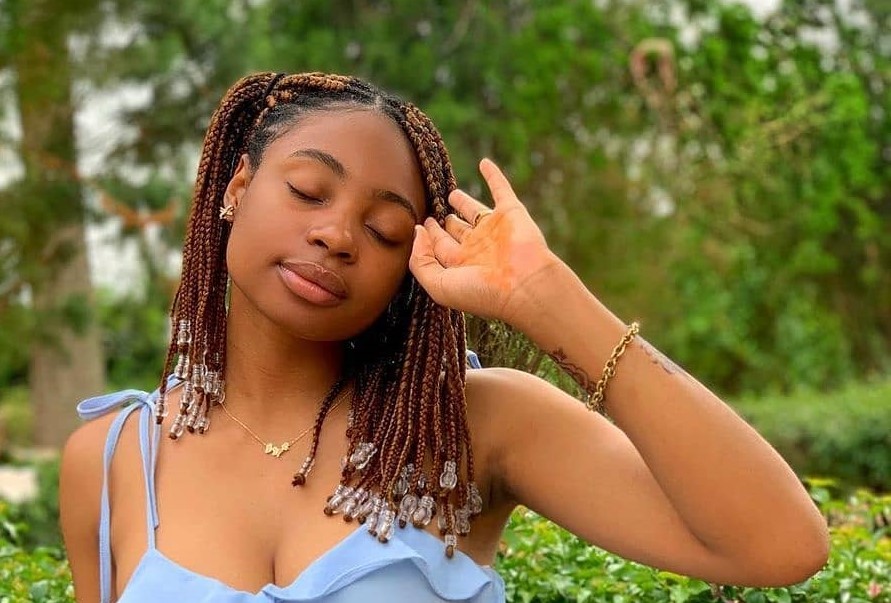 25. Jumbo Short Knotless
Short jumbo braids involve creating thick, chunky braids in relatively shorter lengths. Trust this hairstyle to give you a bold and eye-catching appearance, as they are larger in size compared to traditional, smaller braids.
26. Crisscross Short Braid
In crisscross, small sections of hair are braided into a pattern of overlapping, interwoven strands to create a stylish and complex hairstyle. These braids are typically created on short to medium-length hair and offer a unique and eye-catching look.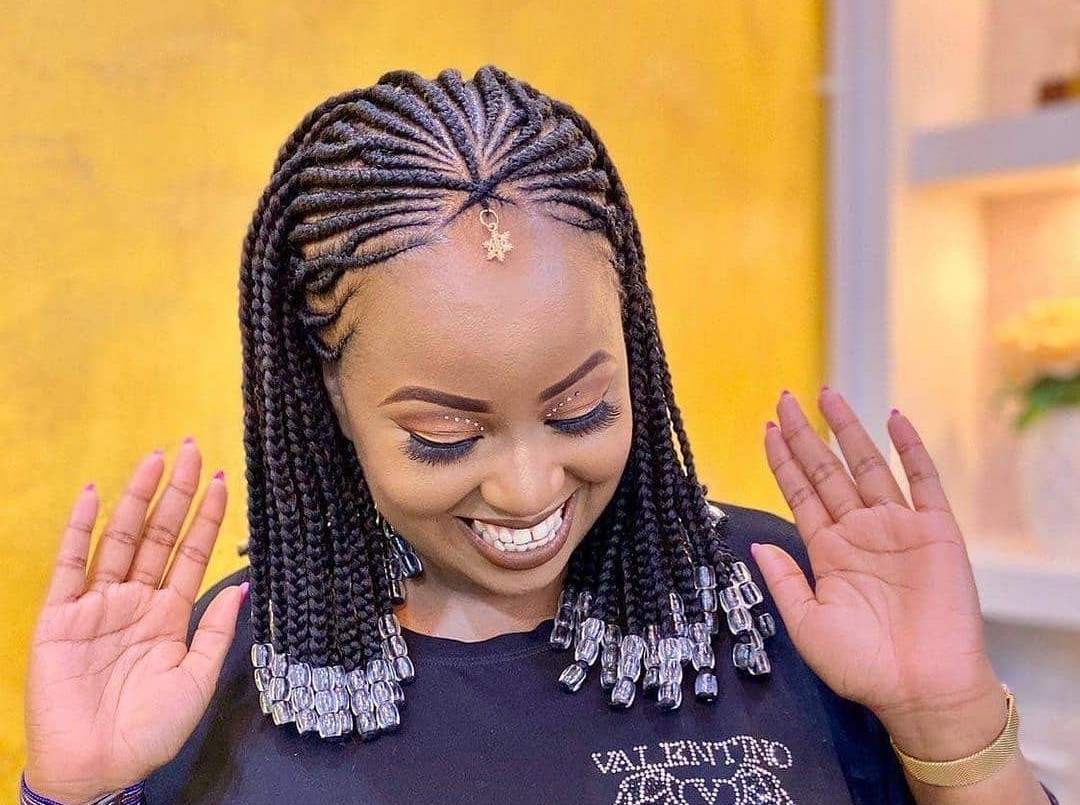 27. Bohemian Short Knotless
Bohemian short knotless braids are a trendy and stylish hair braiding technique that combines the beauty of traditional knotless braids with a relaxed, bohemian flair. Usually installed closer to the scalp, these braids give off a neat, sleek appearance while reducing tension and scalp stress.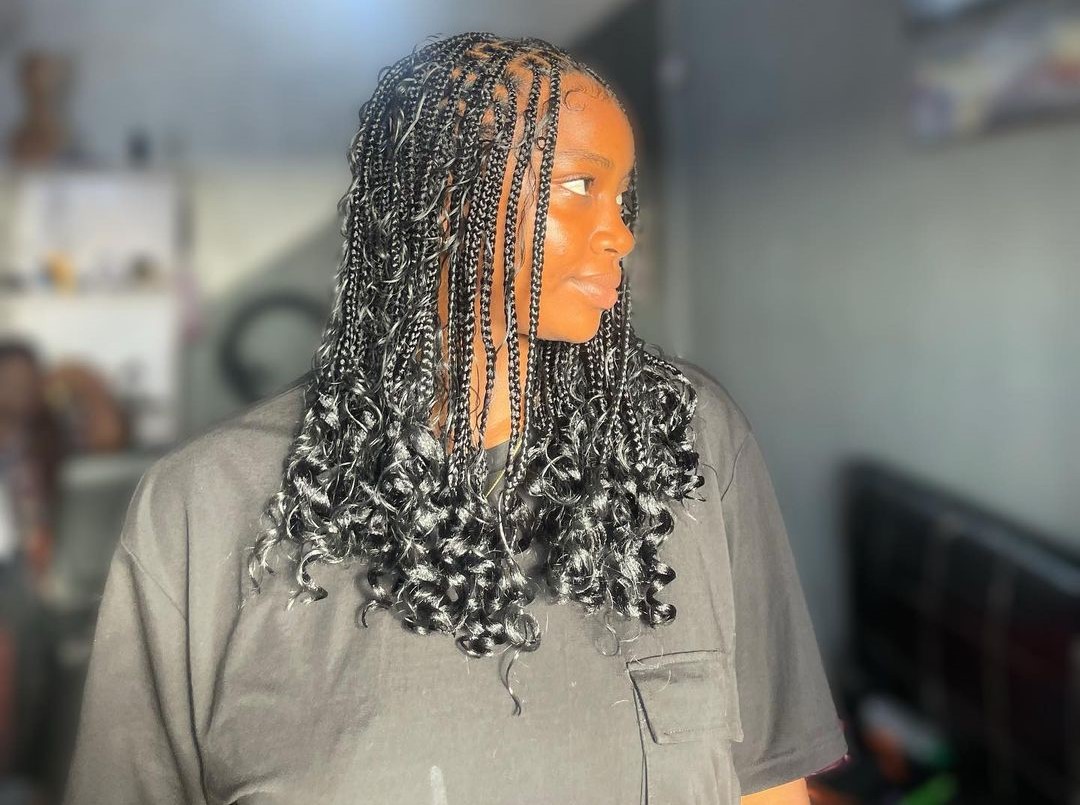 28. Medium Knotless with Wavy Ends
Medium, knotless braids with wavy ends are a versatile canvas for self-expression. These braids are known for their natural appearance, as they blend seamlessly with your hair and skin tone.
29. Shot Knotless with Multiple Beads
One of the key advantages of short, knotless braids is their comfort. Since there are no knots at the base of the braids, they put less strain on your hairline and scalp, making them suitable for children and teenagers.
30. Multiple Pattern Knotless Cornrow
What sets multiple-pattern knotless cornrows apart is their creative and diverse approach to braiding. In this hairstyle, multiple patterns and designs are interwoven seamlessly along the scalp. It's tension-free, simple, and low-maintenance.
31. Short Knotless in Bun
These braids are known for their natural appearance, as they blend seamlessly with your hair and skin tone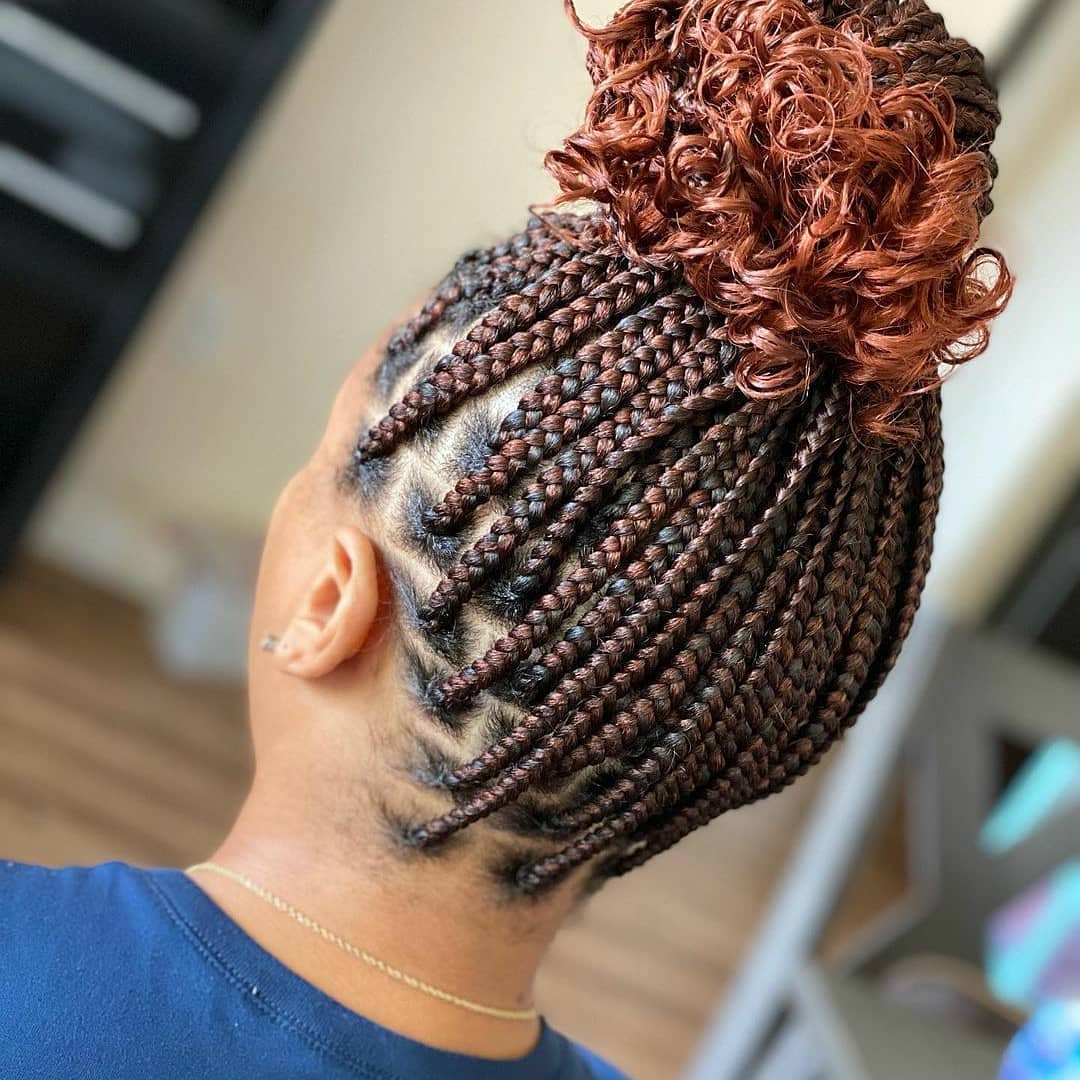 32. Blue Short Knotless Braid
You can express your style with these braids by experimenting with various colours, sizes, and lengths. Also, you can tailor colours to your preferences, whether you prefer a traditional, elegant appearance or a more modern, edgy impression. You can protect your natural hair while maintaining a fashion-forward look with them.
33. Bob Knotless Cornrow
One of the key advantages of short, knotless braids is their comfort. Since there are no knots at the base of the braids, they put less strain on your hairline and scalp, making them suitable for everyone.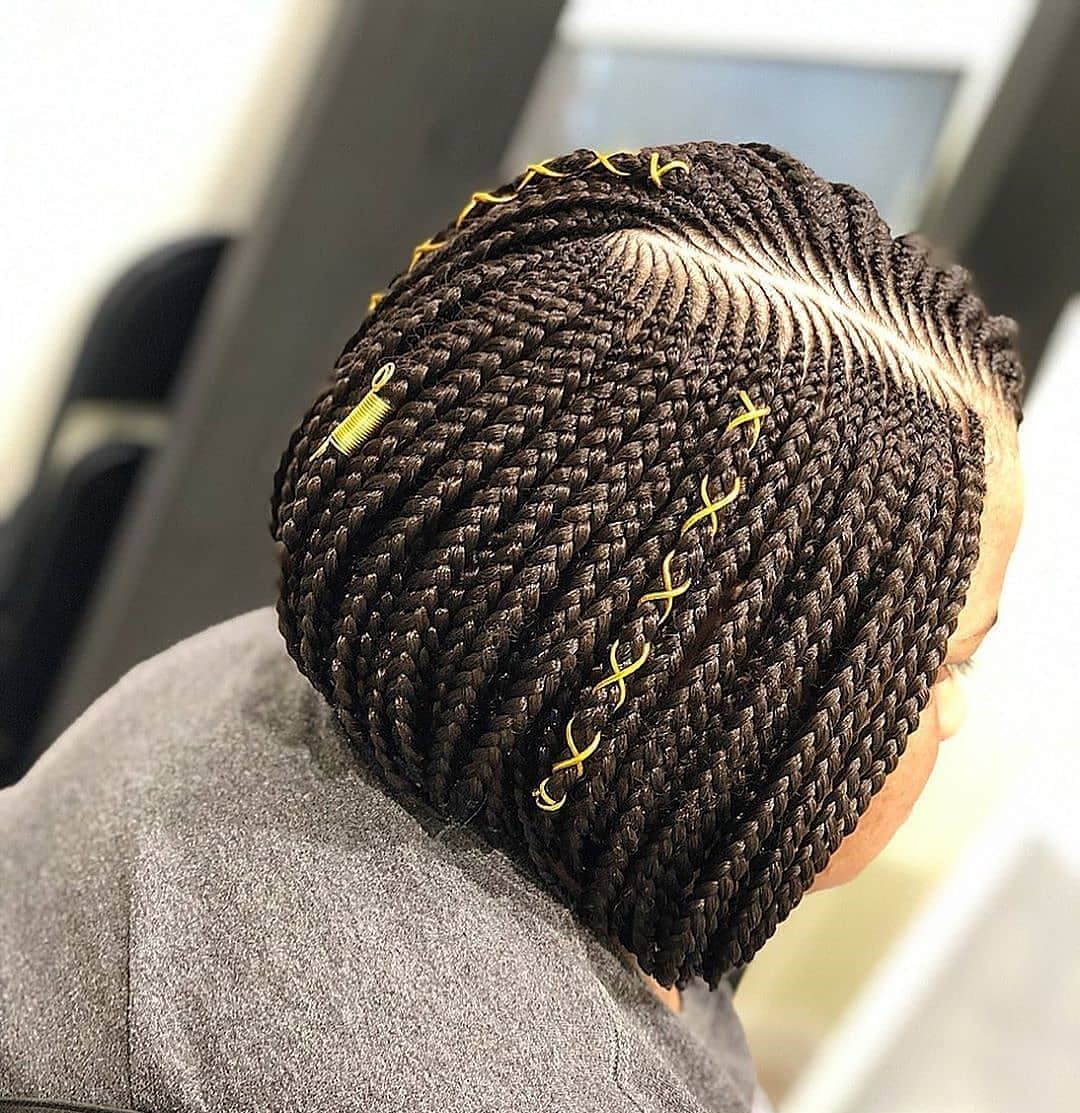 34. White Coloured Short Braid
Adding white braiding hair is for free-souls. There are three patterns available to choose from, making it a gorgeous and carefree hairstyle that protects natural hair.
35. Short Knotless with Wooden Beads
The risk of tension and damage that can be associated with conventional braiding techniques is decreased by the gentleness of knotless cornrows on the hair and scalp. This hairstyle is also known for its versatility, as you can adorn it with beads, accessories, or various hair extensions to enhance the overall aesthetic.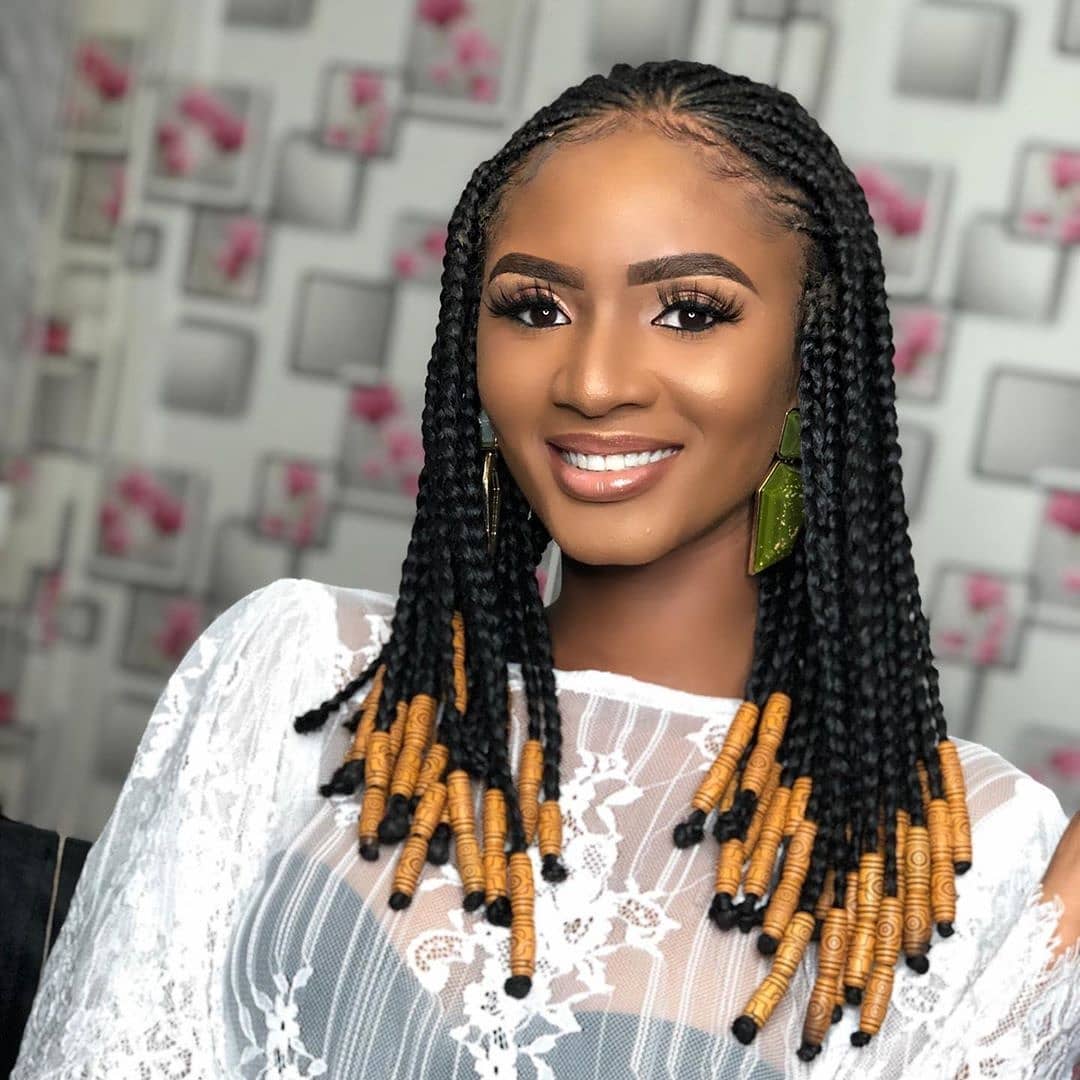 36. Bob Braid with Beads
A captivating and low-maintenance bob hairstyle that can be appreciated for both its beauty and comfort.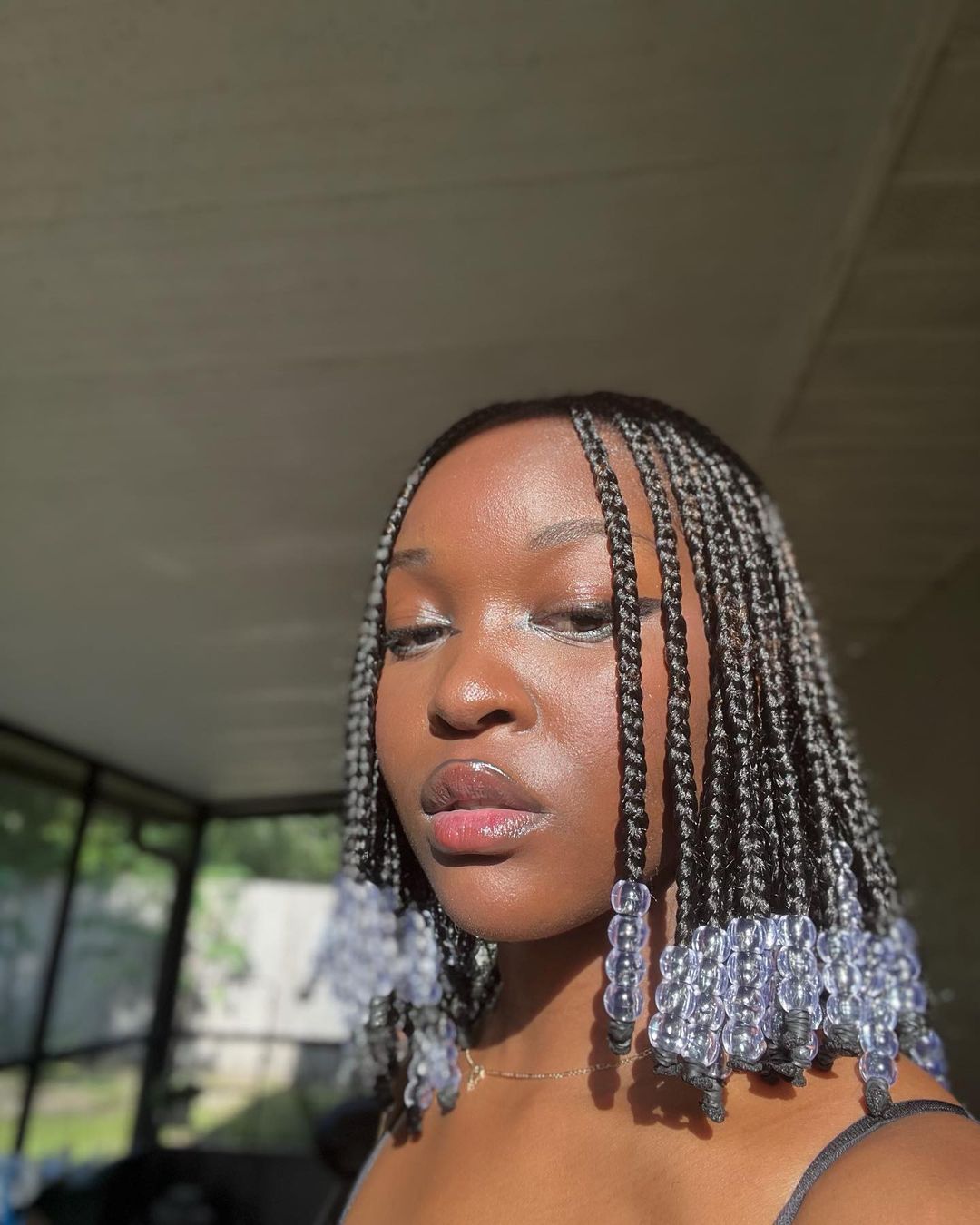 37. Bob with Human Hair Curls
Whether you're going for a carefree bohemian vibe or a more polished look, Bohemian short knotless braids with a touch of human hair curls provide a versatile and attractive option for styling short hair. The hairdo allows you to embrace your inner bohemian while maintaining short, lovely hair.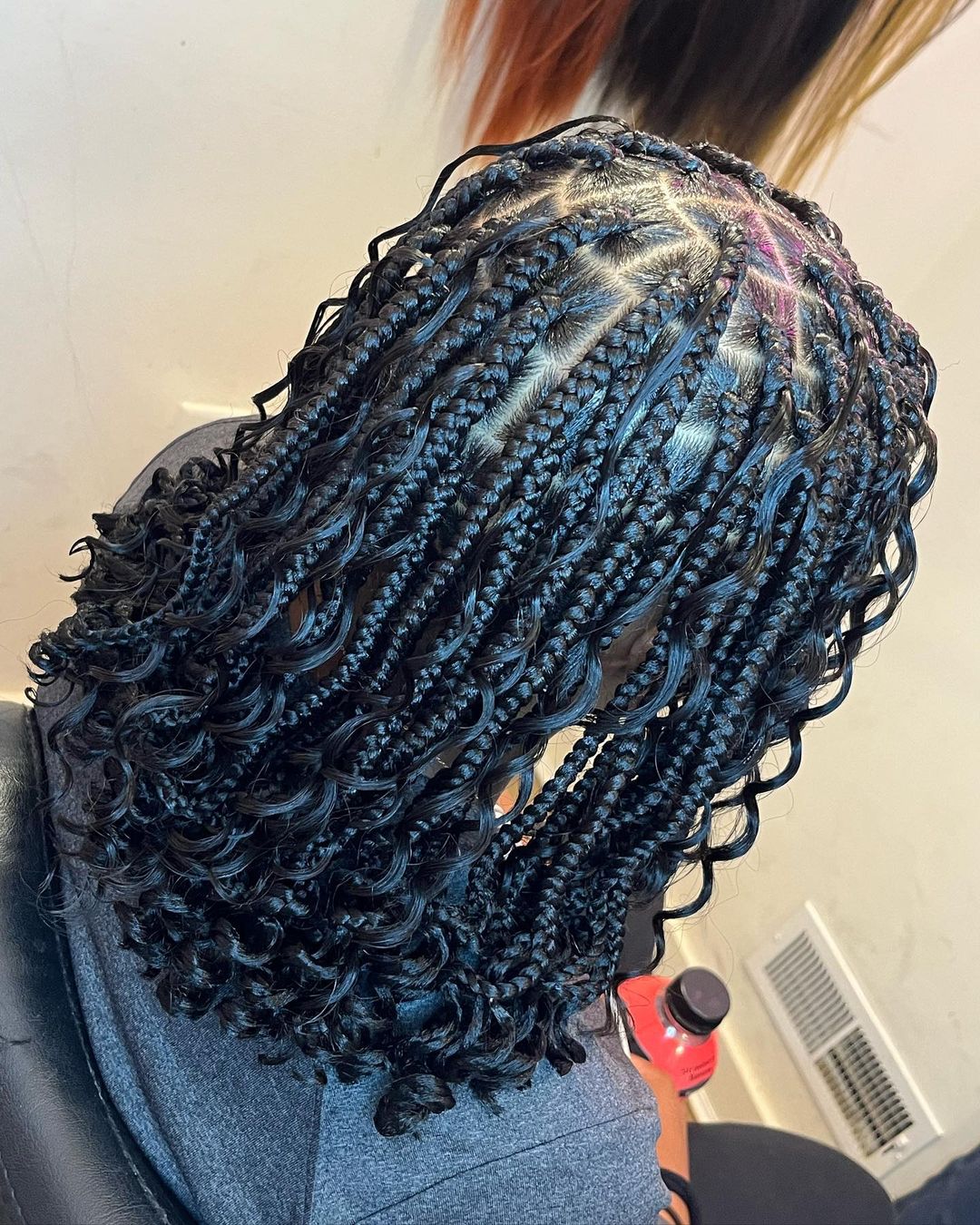 38. Short Knotless with Loose Ends
Jumbo short braids can be customized with various colours, lengths, and braid patterns to suit personal preferences and unique styles. One way to stand out is to loosen the ends of the jumbo braids to make a unique fashion statement. This hairstyle is relatively low-maintenance and can last for several weeks with proper care.
39. Multiple Pattern Short Knotless
These patterns come in a variety of styles, from straightforward geometric shapes to more intricate and artistic motifs, allowing for a customized and distinctive appearance. For ladies looking for a daring and distinctive hairstyle, multiple-pattern short knotless is a popular option because it provides a blank canvas for creativity and self-expression.
40. Layers Medium Size Knotless
Did you know you can create layers with your short braids? Layers add a unique length and volume.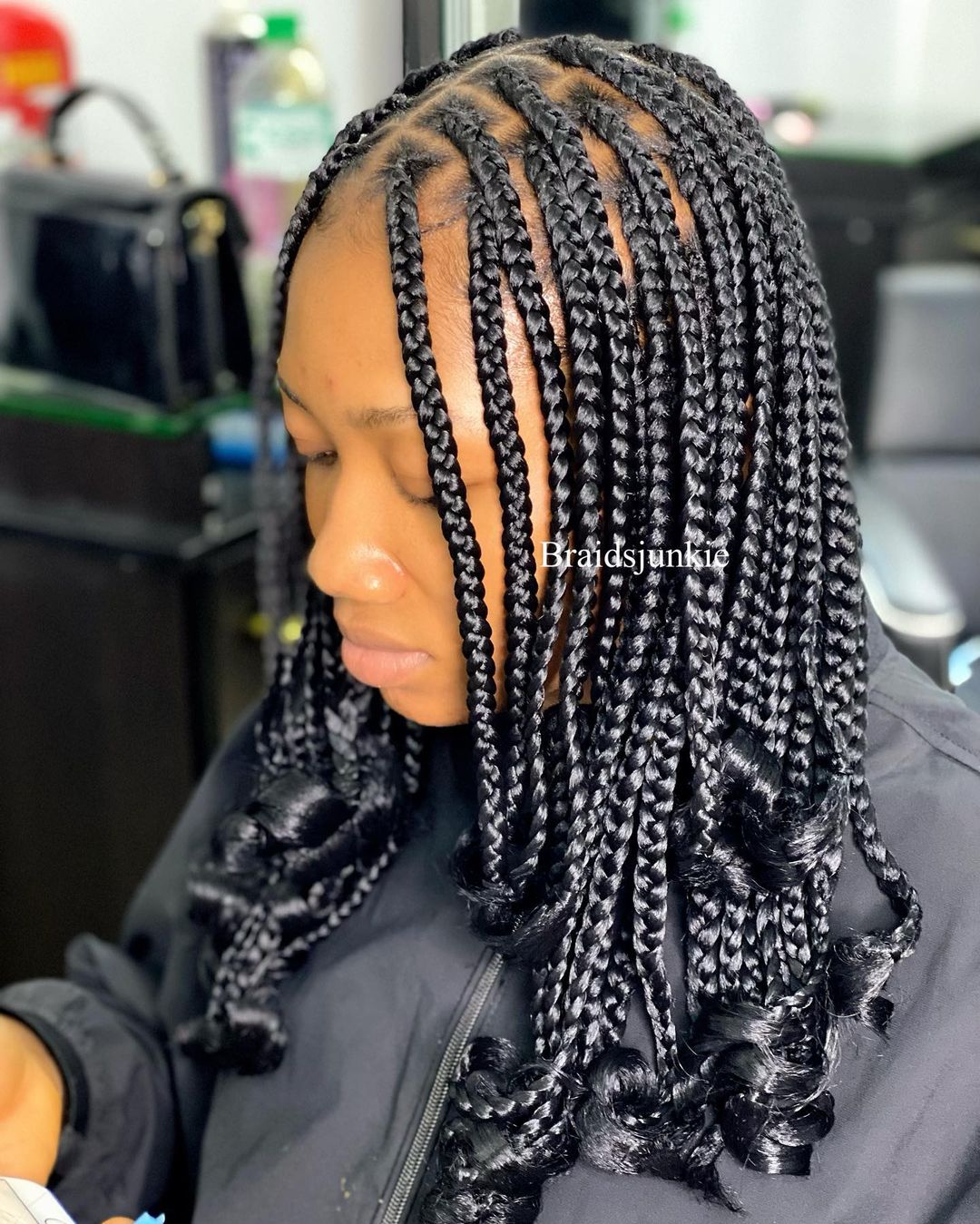 41. Flip On Knotless Bob
For ladies looking for a daring and distinctive hairstyle, flip on knotless bob is a popular option because it provides a blank canvas for creativity.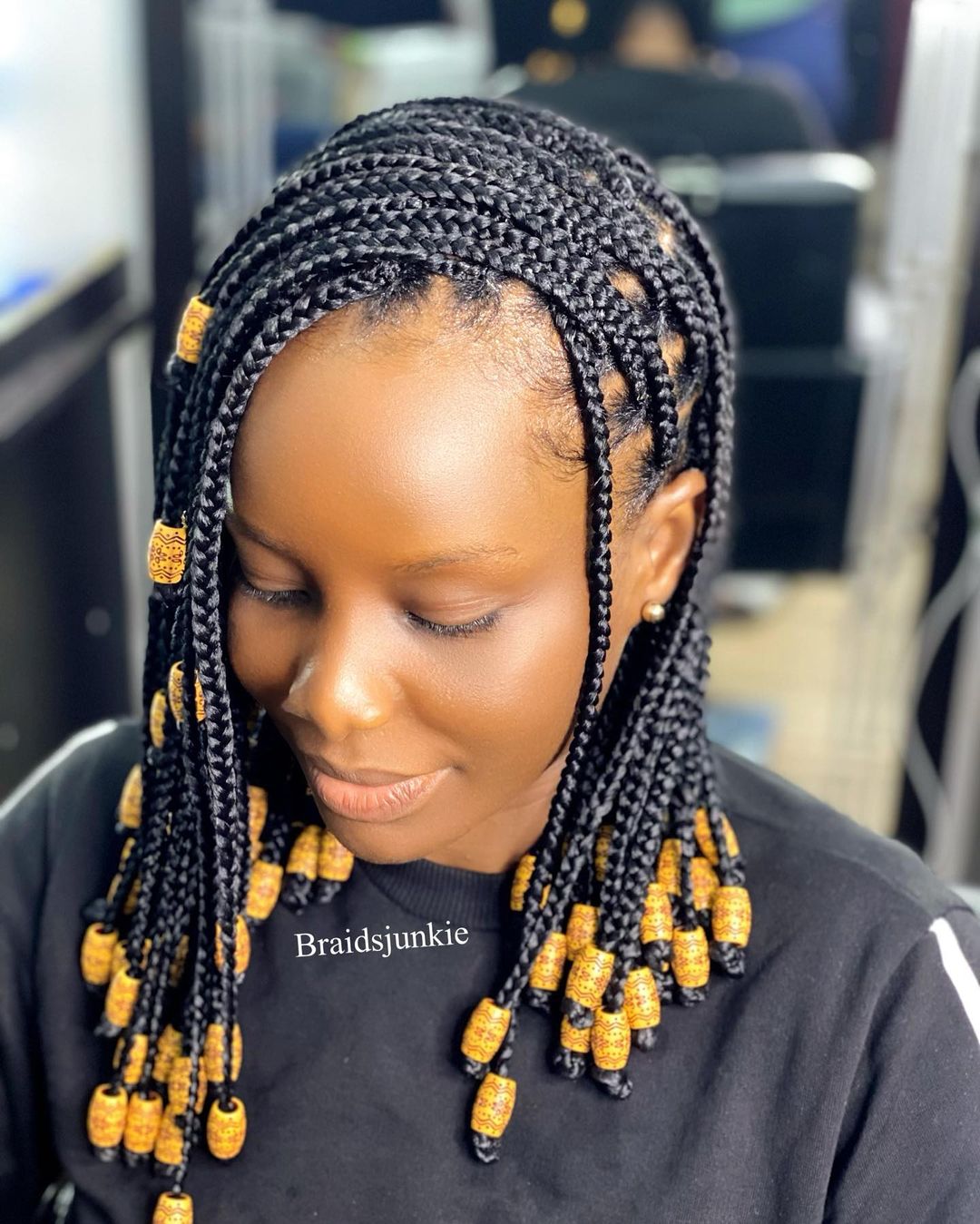 42. Crisscross Knotless Braid
A crisscross pattern on a short knotless braid adds depth and texture to the hairstyle. This makes it an excellent choice for those who want to stand out with a trendy and chic appearance.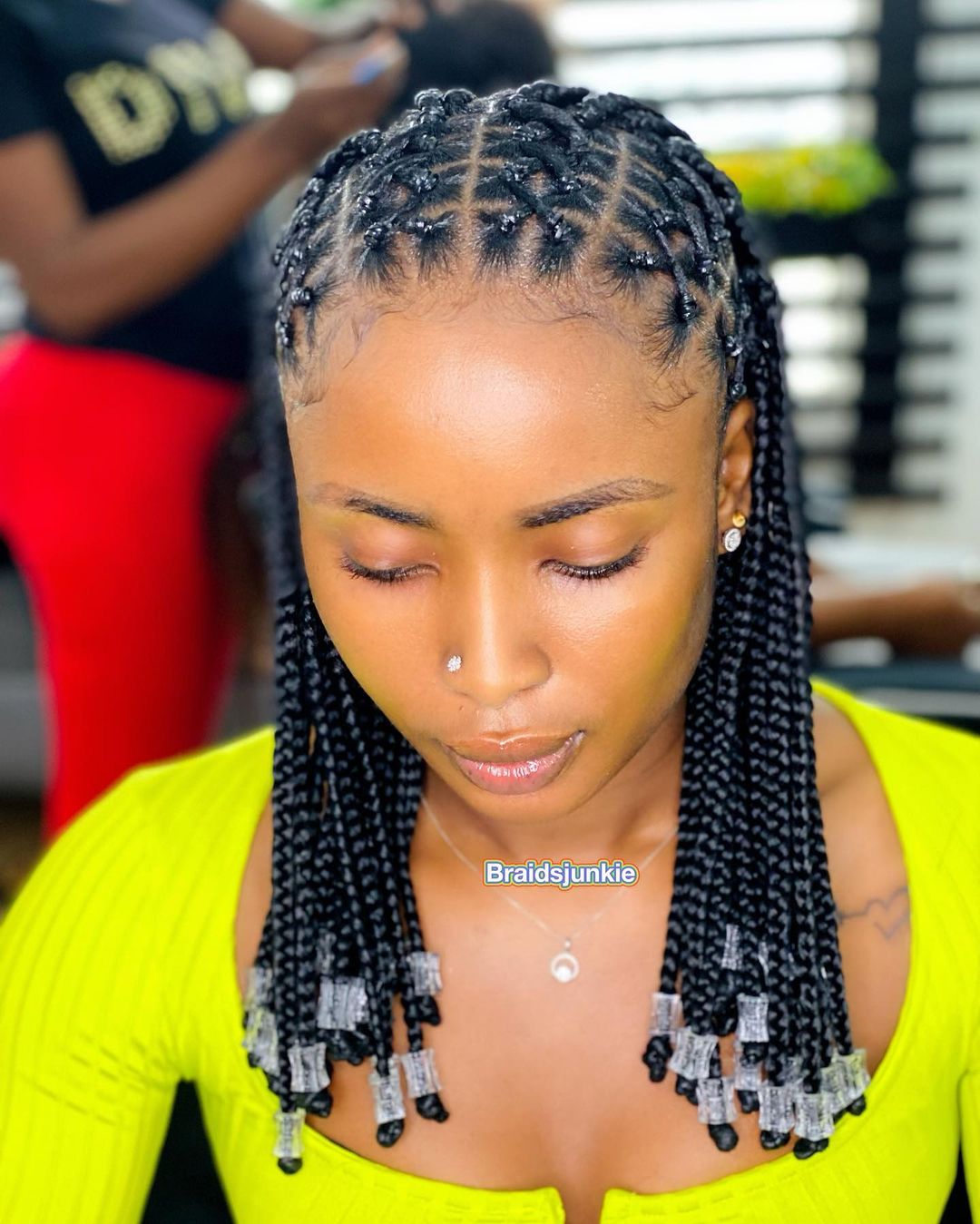 43. Brown Coloured Knotless Braid
Knotless braids are easier on the scalp because they are knotless. With a touch of brown color, it blends with the skin tone and gives you a unique look.
44. Layered Fulani Braids
These intricate and beautifully designed braids portray unique layering and adornments. While you can use one colour, mixing two colours like black and brown gives a natural look.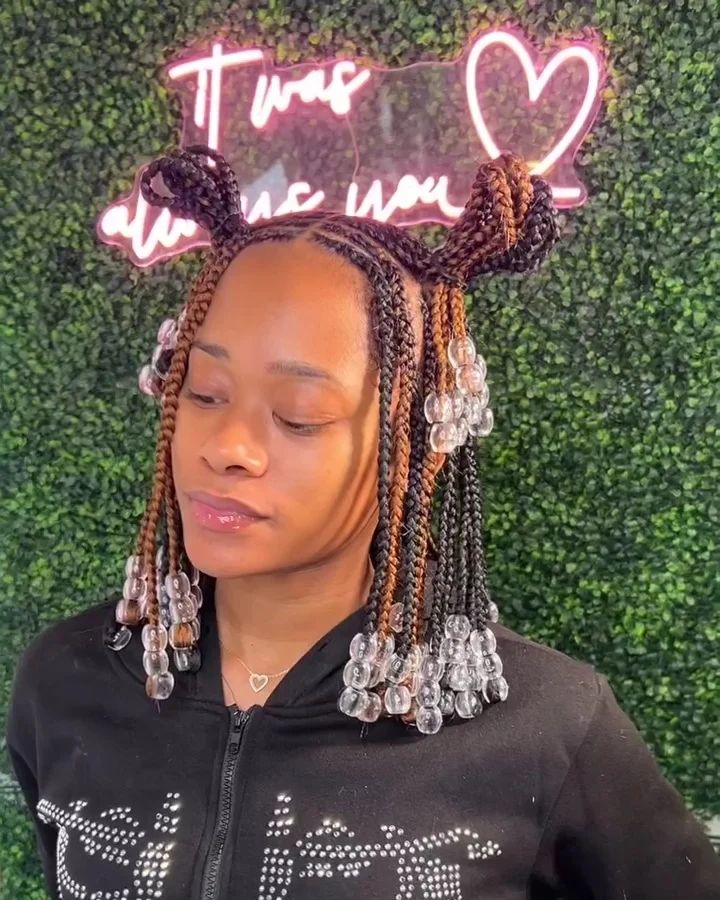 45. Jumbo Coi Leray Braids
Jumbo short braids are a common choice among people who want to experiment with their hair because they provide a trendy and modern appearance. Add a purple colour to achieve the coi leray hairstyle.
46. Short Knotless in Knots
The distinctive feature of these short knotless braids with knots at the ends is the way they incorporate various sizes and patterns of braids, creating a visually appealing and textured look thanks to the colour blend.
47. Knotless with Accessories
The short styles are always the best, especially if the braids are bigger than usual.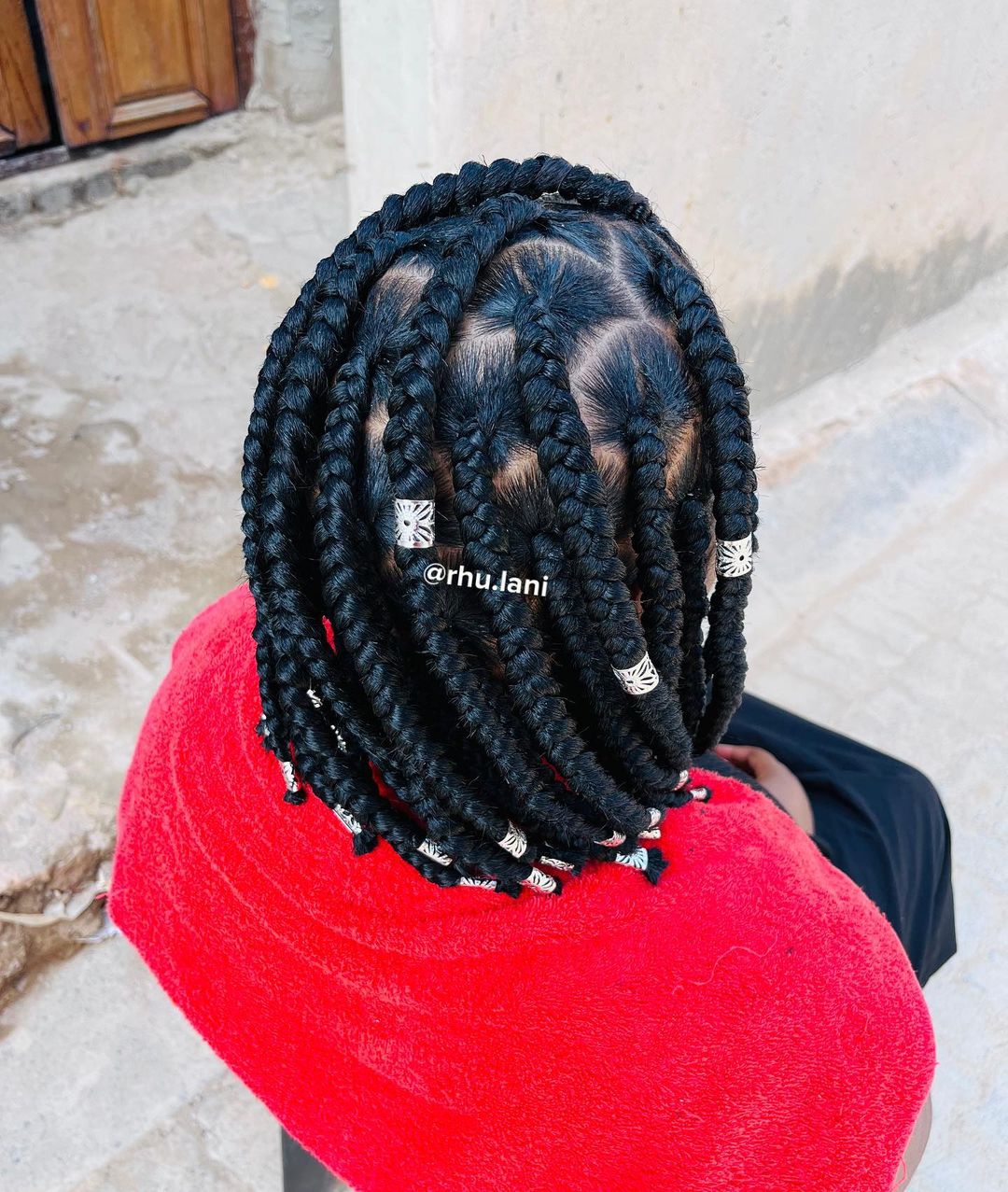 48. One Side Cornrow
Sometimes, all you need is a simple bob without curls or beads.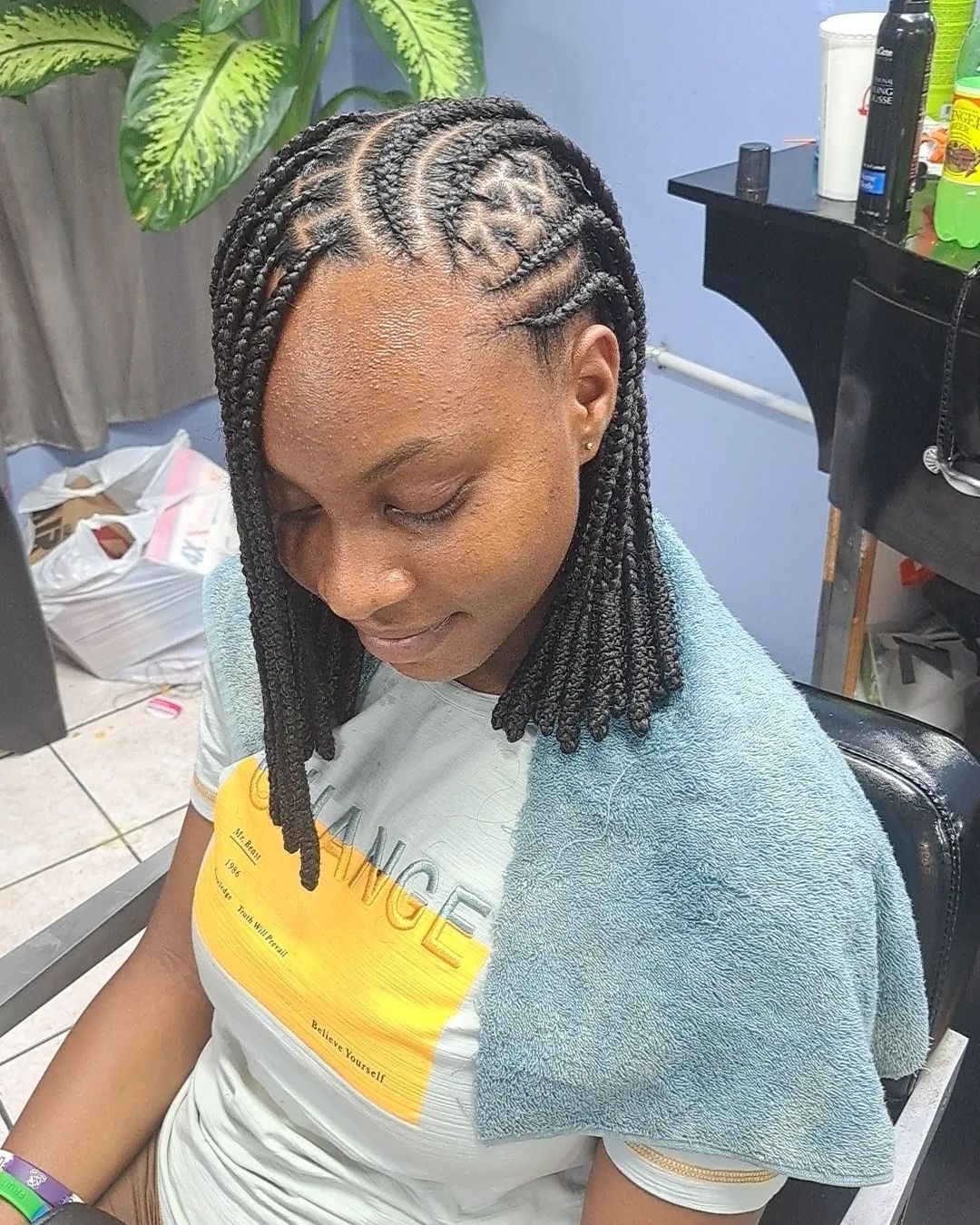 49. Colour-Blend Knotless
What if you can have it all? A blend of colour, unique patterns, curly ends, and flip-over styling. That's what this style presents.
50. Bohemian Knotless Cornrows
These braids offer a fusion of styles. They're perfect for a cultural festival where you can showcase your appreciation for diverse aesthetics.
Its Your Turn
There you have it! Which ones do you like most and plan to wear soon? Do share with us via the comment.
Also Read related: