Hello ladies! Giving up on two-strand twists for women Not too soon. You can never be old-fashioned wearing two-strand twists. They are always stylish, comfortable, and protective.
Also, they are easy to plait and loosen. You can either make it with just your natural hair or with extensions. There are also do-it-yourself (DIY) styles you can try.
Well, let's get to the details! In this article, there are over 30 two-strand twist styles, which include mini, jumbo, long, and short styles.
What Are Two Strand Twists?
A two-strand twist is a highly protective hairstyle for both natural and relaxed hair. It is a unique way of plaiting the hair by twisting and interlacing two strands of hair from top to bottom.
Well, there are different ways of making two strands twist. There are certain styles where the strands are not plaited until the end but rather left to curl. So the way it is plaited depends on the style.
40 Two Strand Twists for Women
1. Short Half Locs Half Twists Updo
For a chic and versatile look, consider the Short half-loc, half-twist updo. This combination offers the structured elegance of locs and the playful sophistication of twists. You can dress it up with accessories for a more formal event.
2. Shoulder Length Two Strand Locked Twists
You know, this hairstyle is a timeless classic. They have a neat and polished look that's perfect for any occasion. You can wear them for several weeks, as they're low-maintenance. Just make sure to keep your scalp moisturized and your twists well-cared for to maintain their integrity.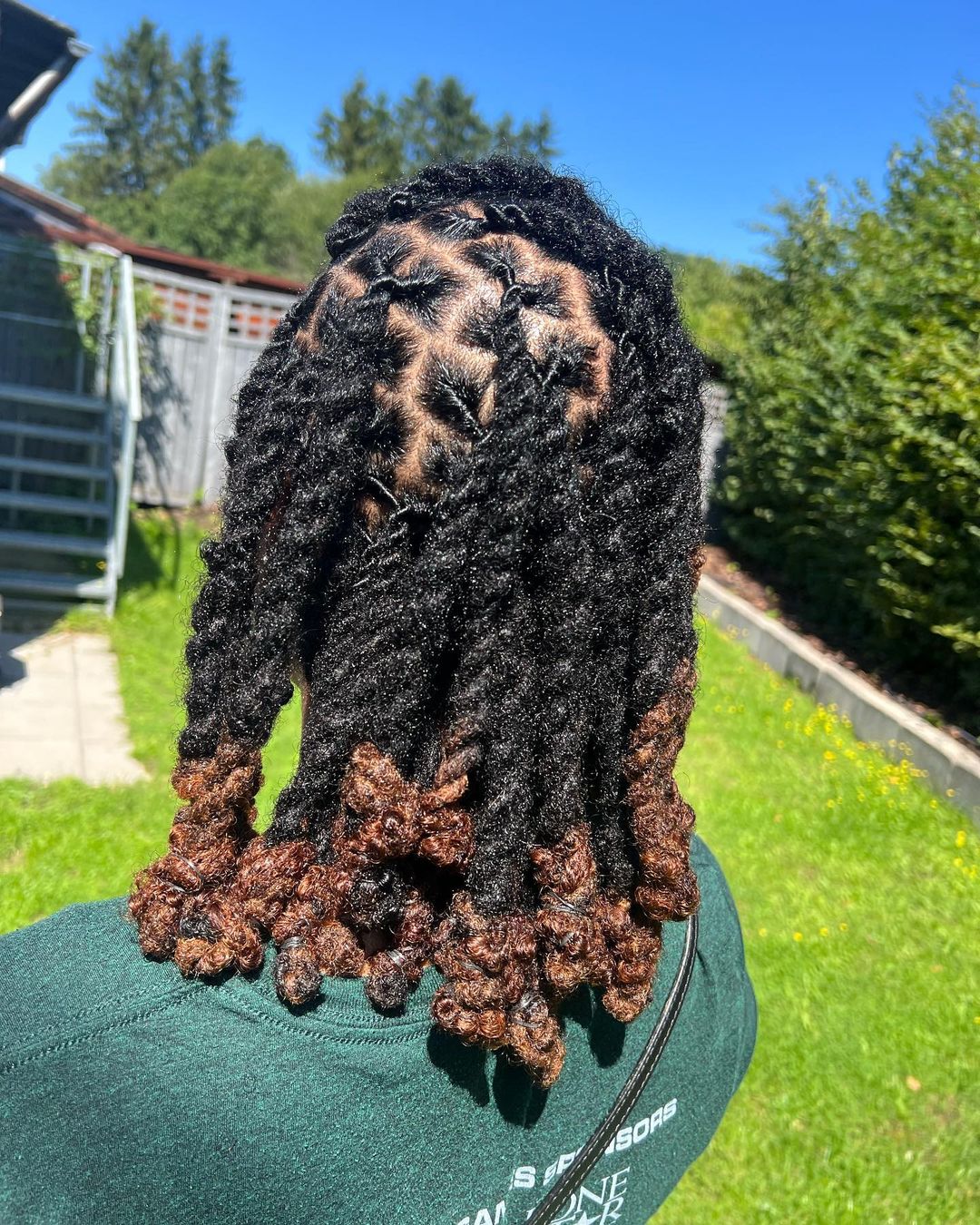 3. Half Cornrow And Individual Two Strand Twist With Color Rubber Rings
This style is all about creativity! The front section is cornrowed, while the back is adorned with individual two-strand twists, often with colorful rubber rings or beads for a playful touch. You can wear it for about 4-6 weeks. To keep it fresh, you can redo the front cornrows if needed.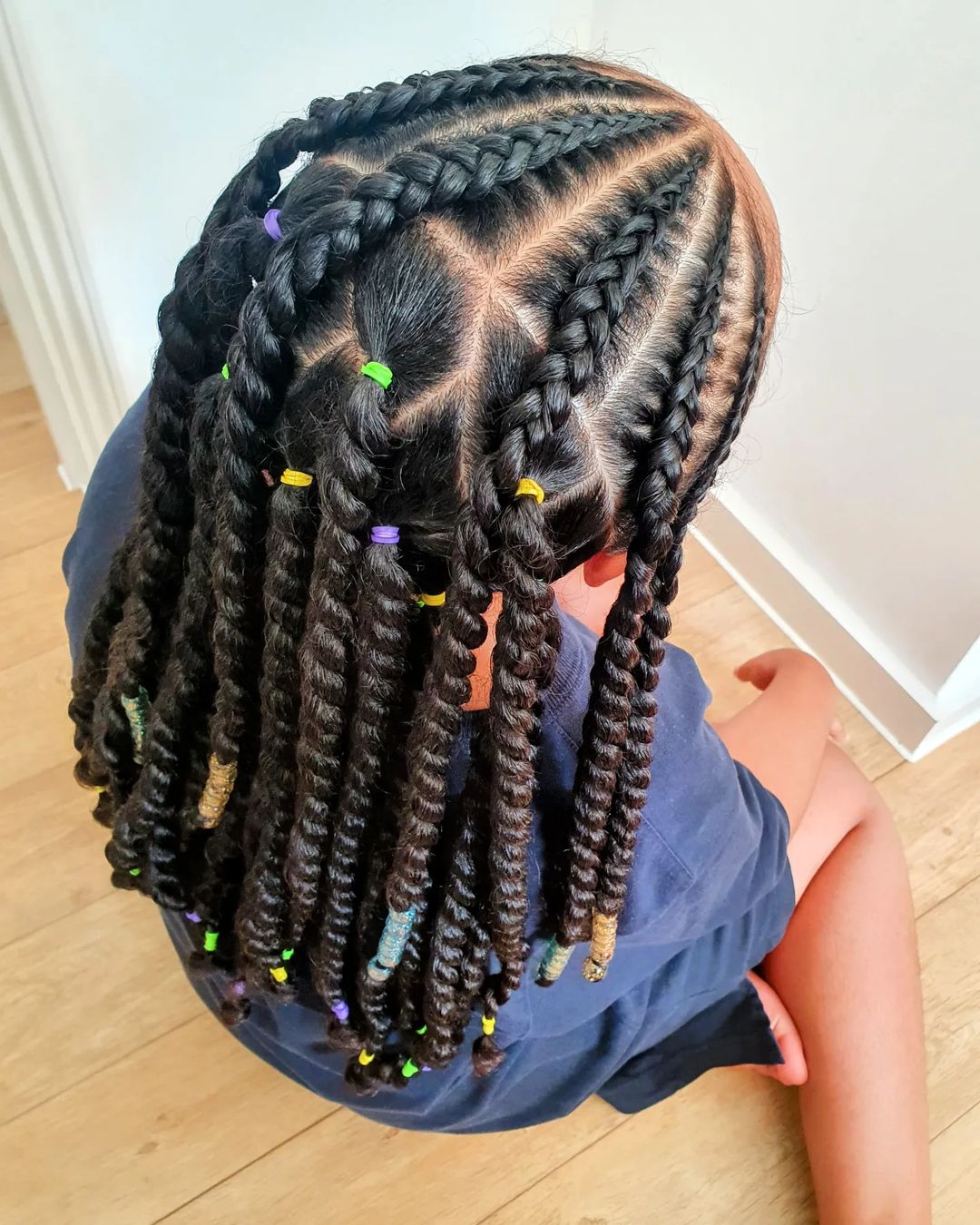 4. Black And Brown End Mini Two Strand Twist With Kinky
These mini twists have a unique twist, no pun intended! But, their predominantly black color with brown tips, gives your hair a natural ombre effect. You can keep them in for 6-8 weeks. But do not forget to moisturize and seal the ends regularly to prevent any dryness.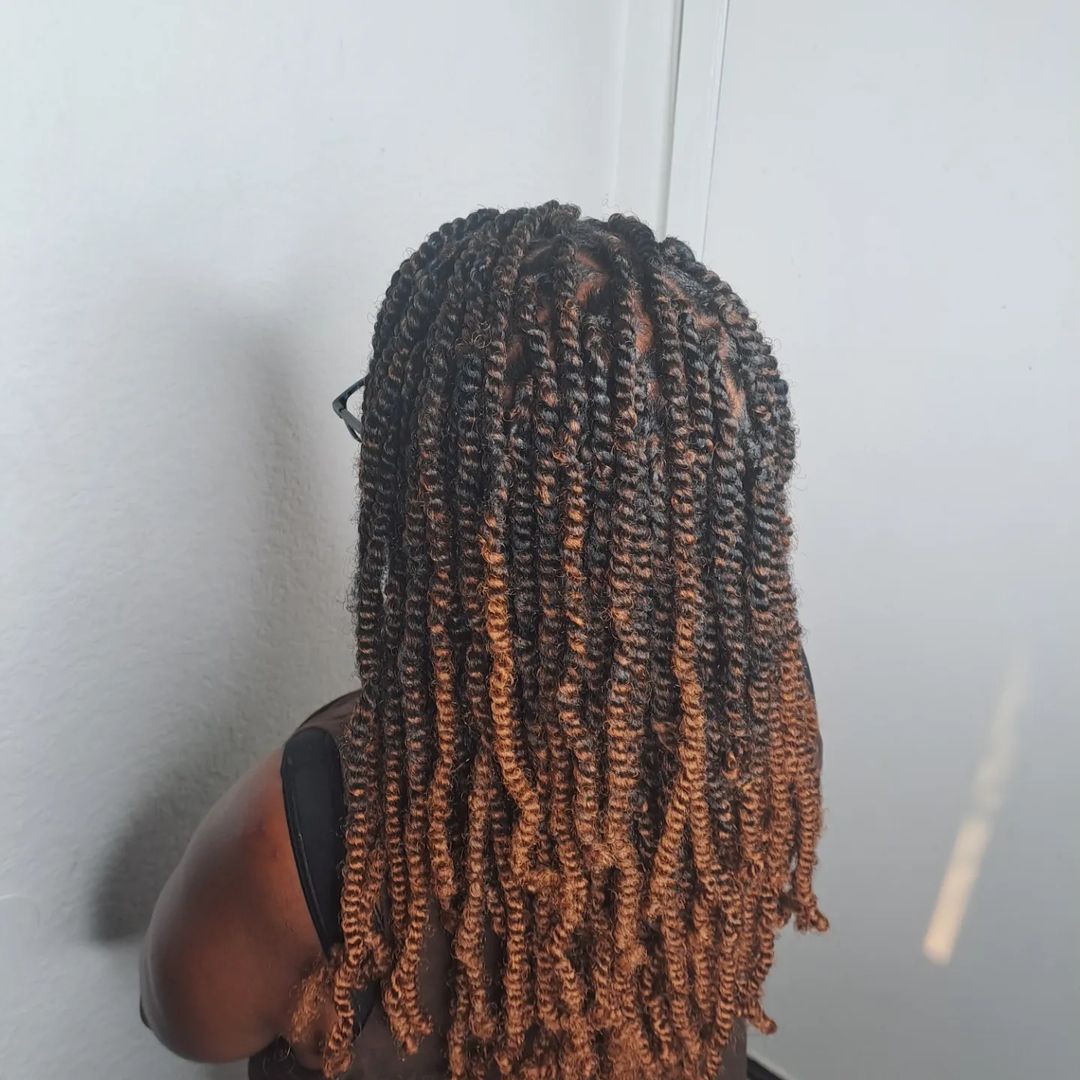 5. Short Burgundy Two Strand Twists
If you're looking for a bold and sassy look, these short burgundy two-strand twists are a must-try! Burgundy adds a pop of color to your style, making it stand out. Just be gentle when styling to avoid frizz.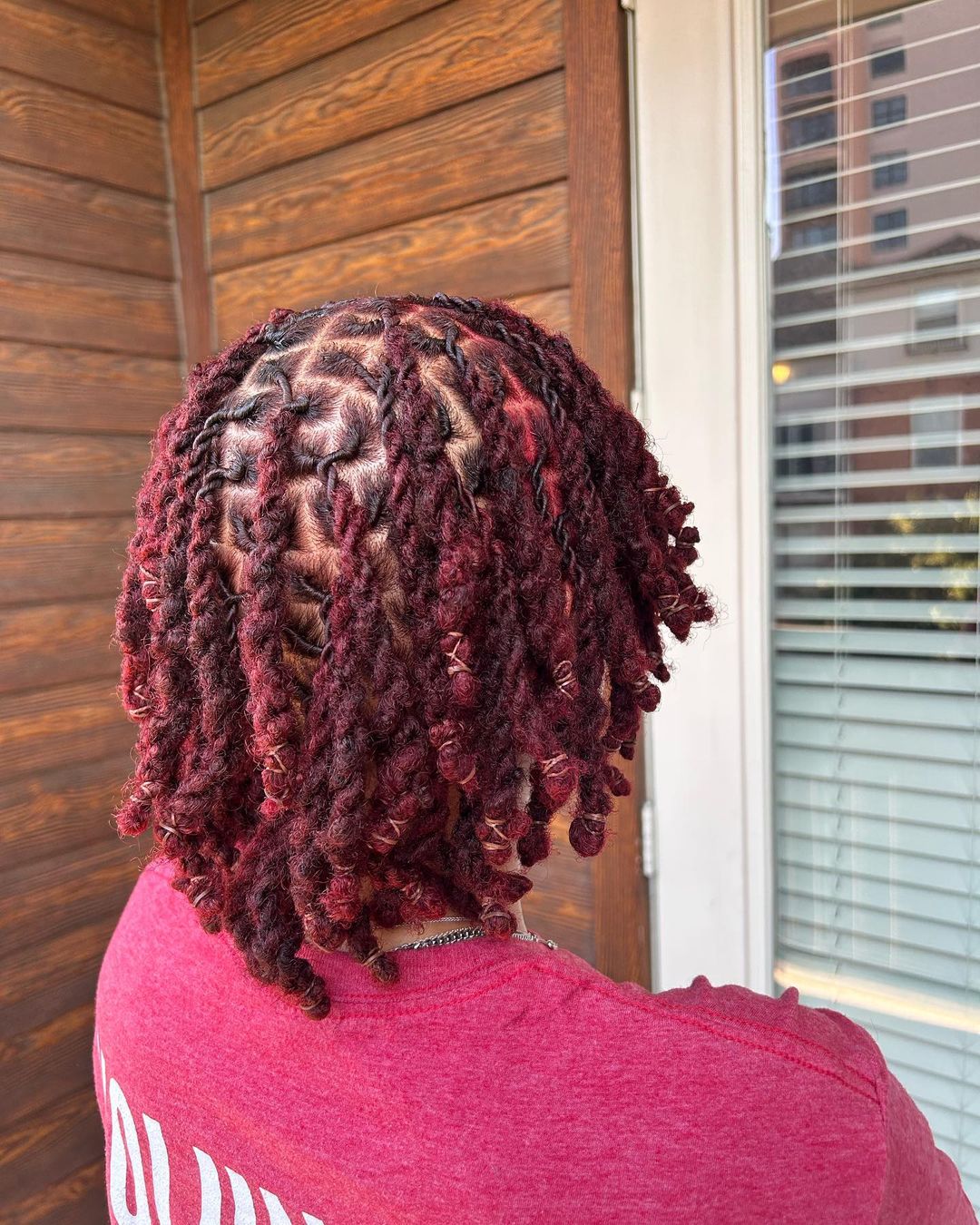 6. Large Two Strand Box Twists With Extensions
These large box twists with extensions give you volume and versatility. Extensions are also added to your natural hair to achieve the desired length and thickness.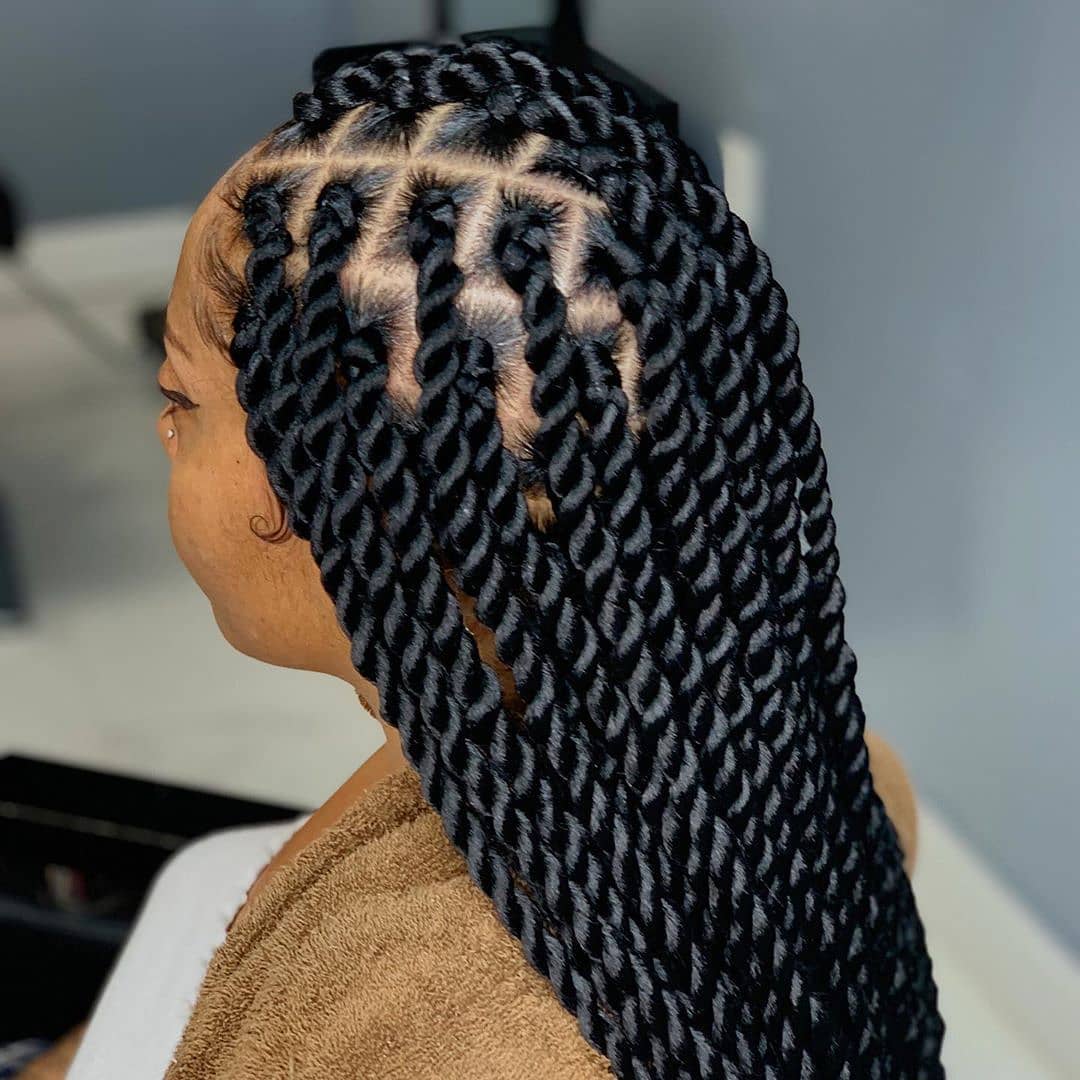 7. Double Up Bun And Frontal Two Strand Twists With Beads
A stylish updo! The double bun and frontal twists combo is elegant. Beads at the ends add a touch of glamor. You can wear this for 2-4 weeks, depending on how well you maintain it. Ensure you do not lose any of the beads until it is taken off.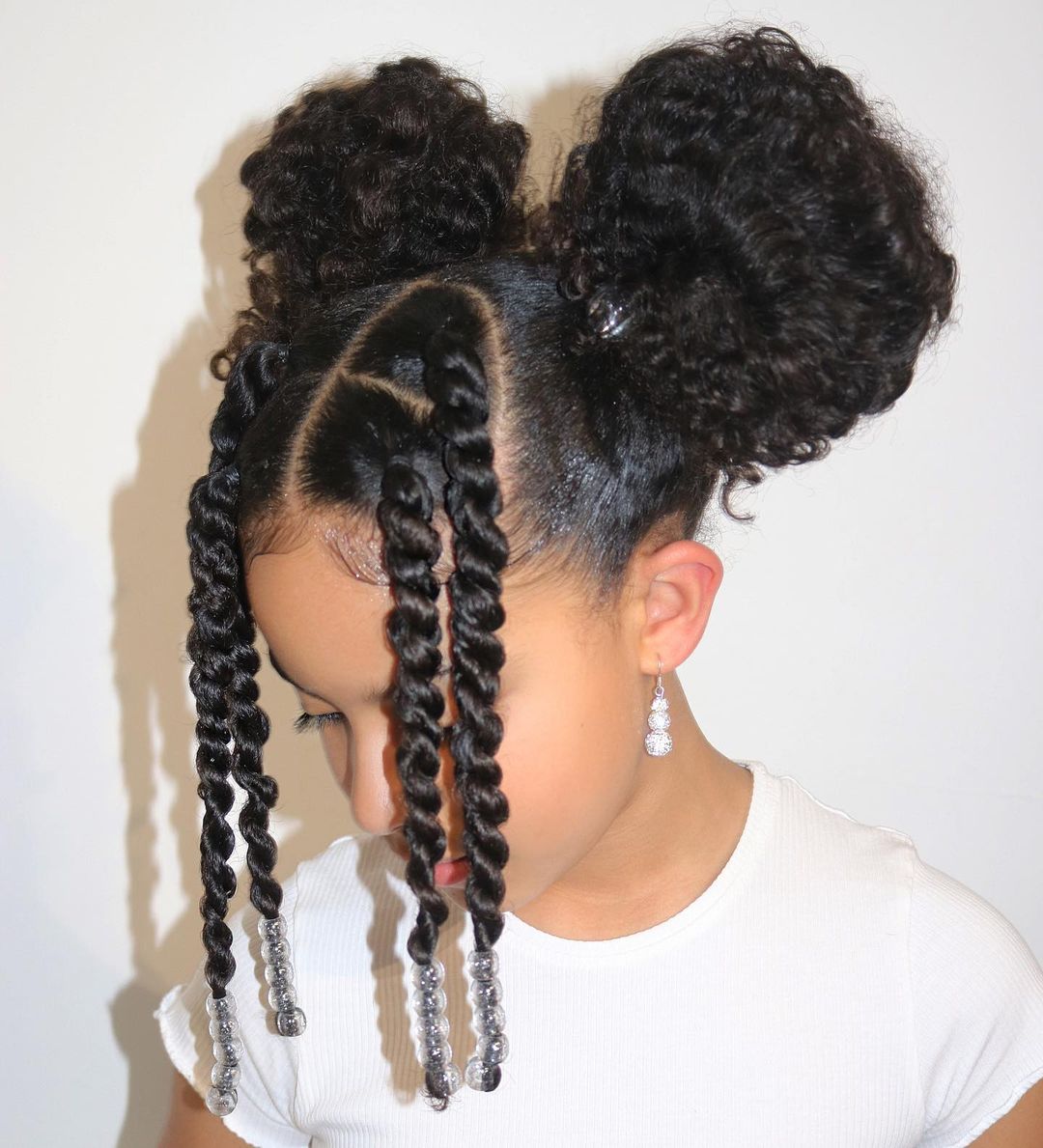 8. Mixed Brown, Waist Length Two Strand Twist With Extension
Long and luxurious! These waist-length twists with extensions are a statement. The mixed brown colors add depth to the style. You can use a light oil to maintain the shine and keep your scalp healthy.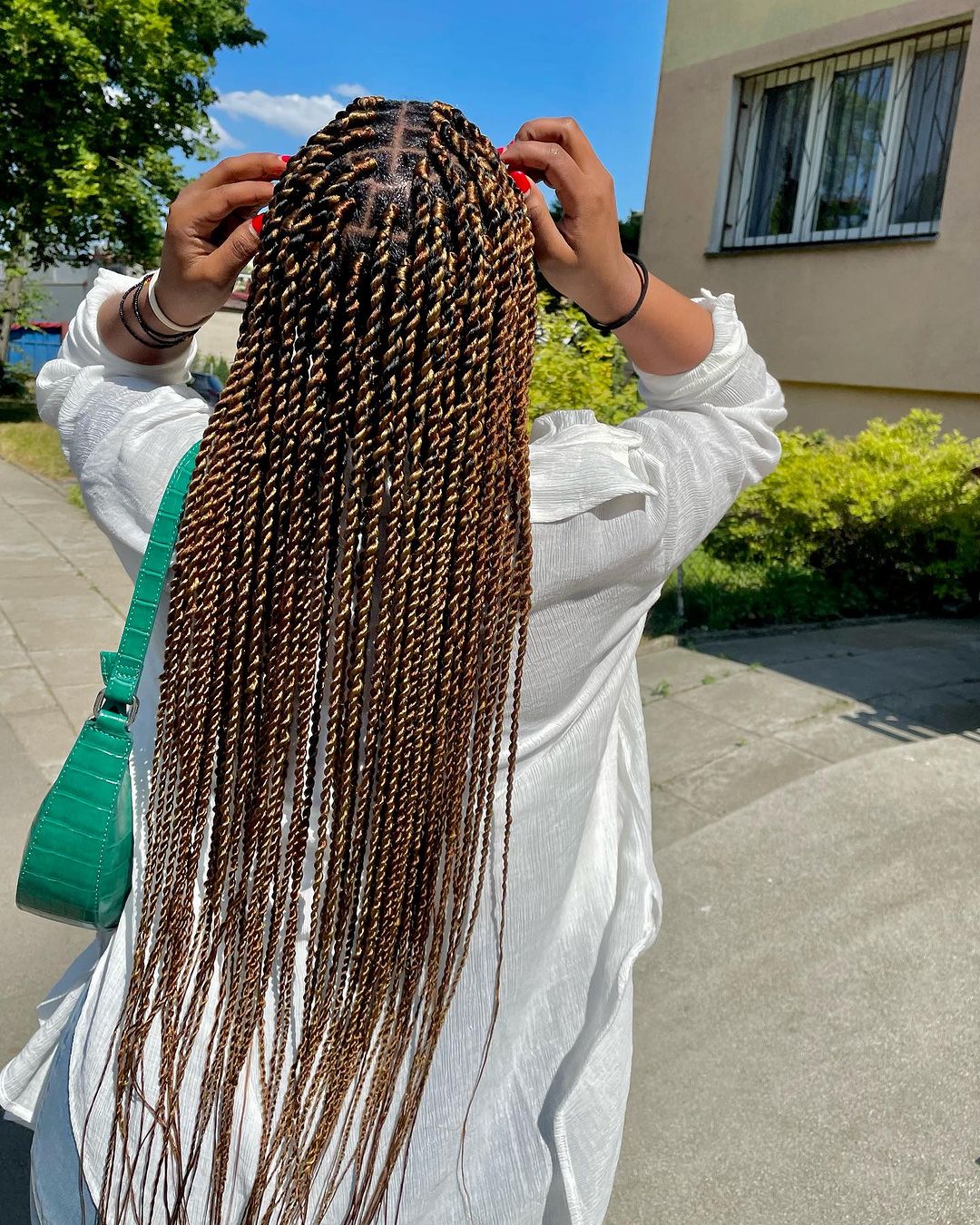 9. Chunky Half Up Half Down Natural Twists
A blend of chunky twists creates a chic half-up, half-down style. It's perfect for a casual or formal look. Don't forget to secure the twists well for the half-up style to hold.
10. Chunky Flat Twist and Two Strand With Beads At The Ends
Flat twists with beads at the ends are a stunning choice! The beads add a touch of boho-chic to your style. These twists can stay fine for about 4-6 weeks. Only be gentle when detangling to keep those ends intact.
11. Knotless Yarn Two Strand Twists With Beads
Knotless yarn twists are a fresh take on protective styling. Beads add a playful element to this look. While plaiting, ensure that the yarn is well-sealed to maintain the style.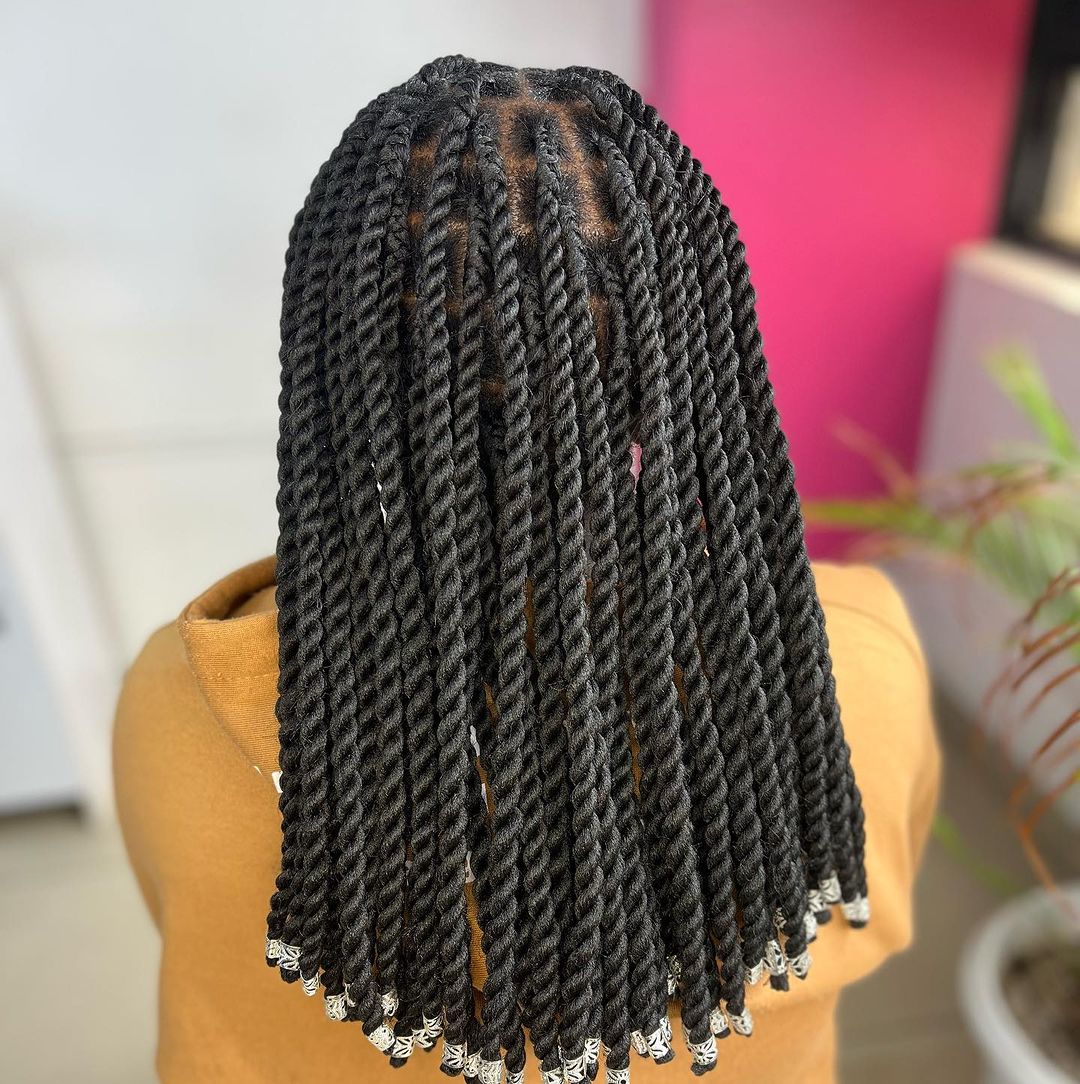 12. Mini Two Strands Twist Updo
Mini twists are versatile, and this updo is no exception. It's perfect for special occasions. Just remember to keep the edges neat for a polished finish and look always.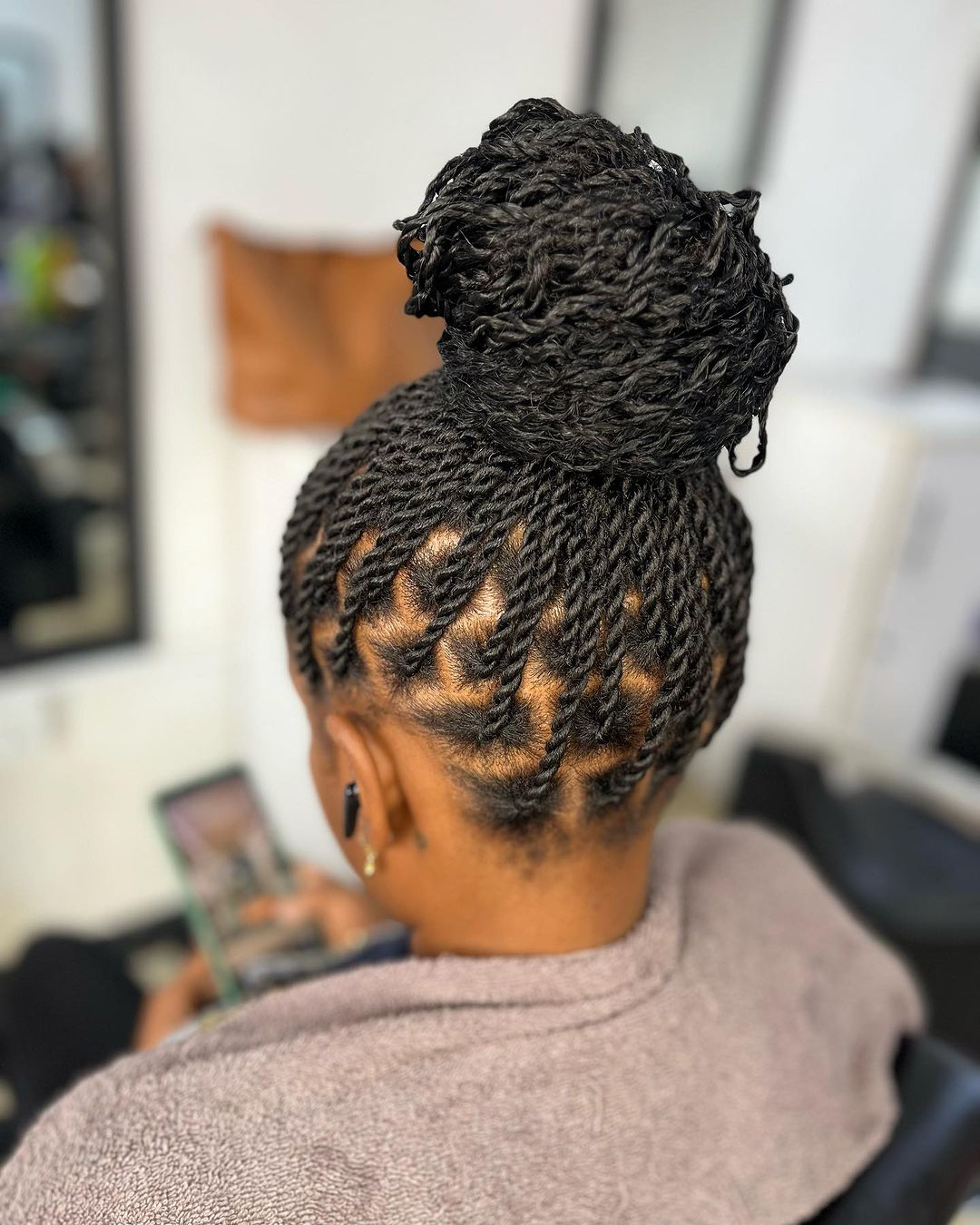 13. Burgundy Center-Part Two Strand Twists With Kinky
Burgundy is back, and this time it's paired with a center part and some kinkiness! It's a unique style that you can sport for 4-6 weeks. Protect those edges to maintain the neat center part.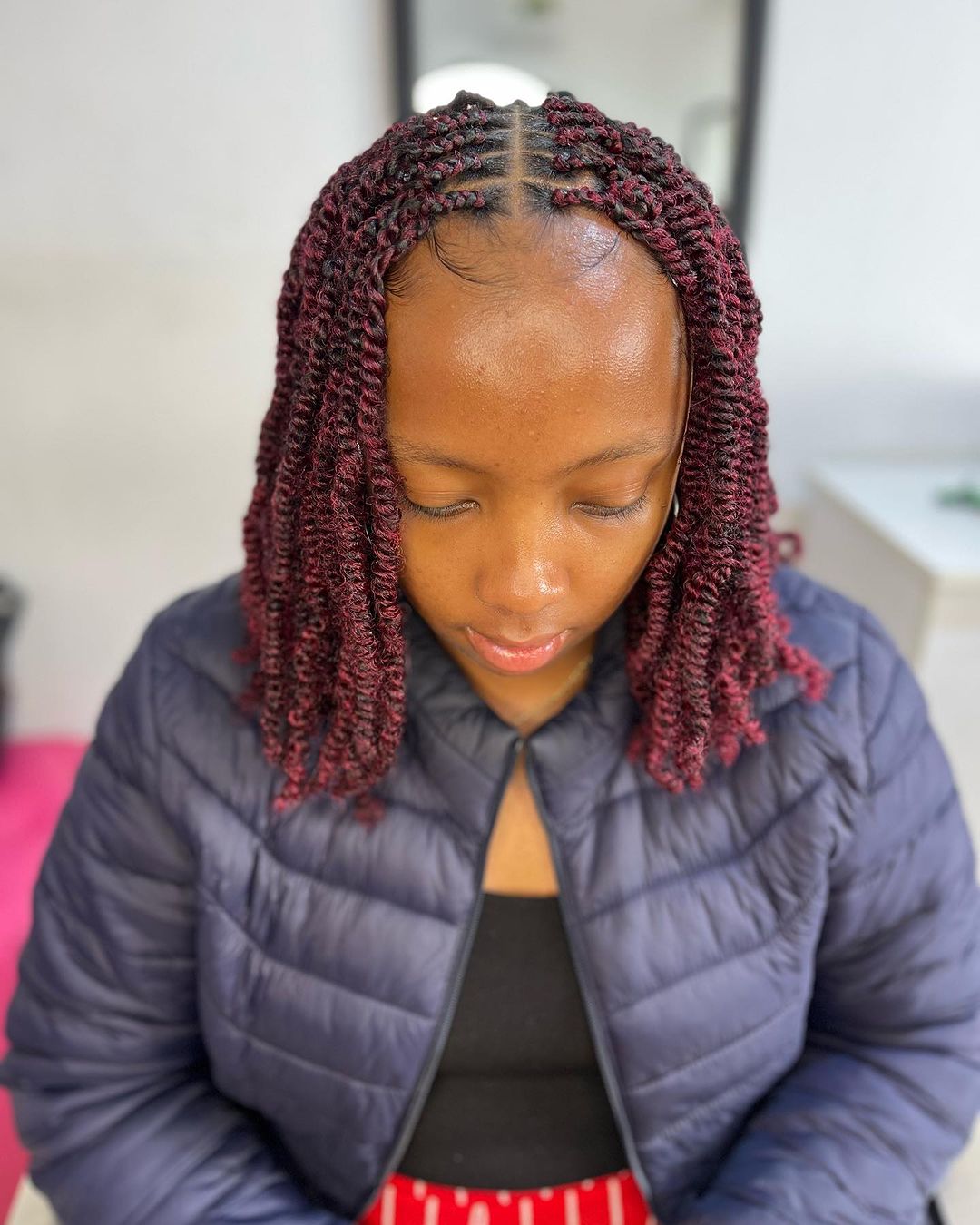 14. Jumbo Kinky Two Strand Twists
Bold and beautiful! Jumbo kinky twists make a statement. To wear this style for 6-8 weeks, always keep them well-moisturized to avoid any dryness.
15. Half Threaded And Individual Short Two Strand Twists
This style combines threading with short individual twists for a distinct look. It can be quite painful, but this depends on the hairstylist.
16. Short Jumbo Natural Twists With Traditional Beads
Short jumbo twists with traditional beads have a cultural flair. You can rock this style for 4-6 weeks. Once the beads are secure, your style will shine.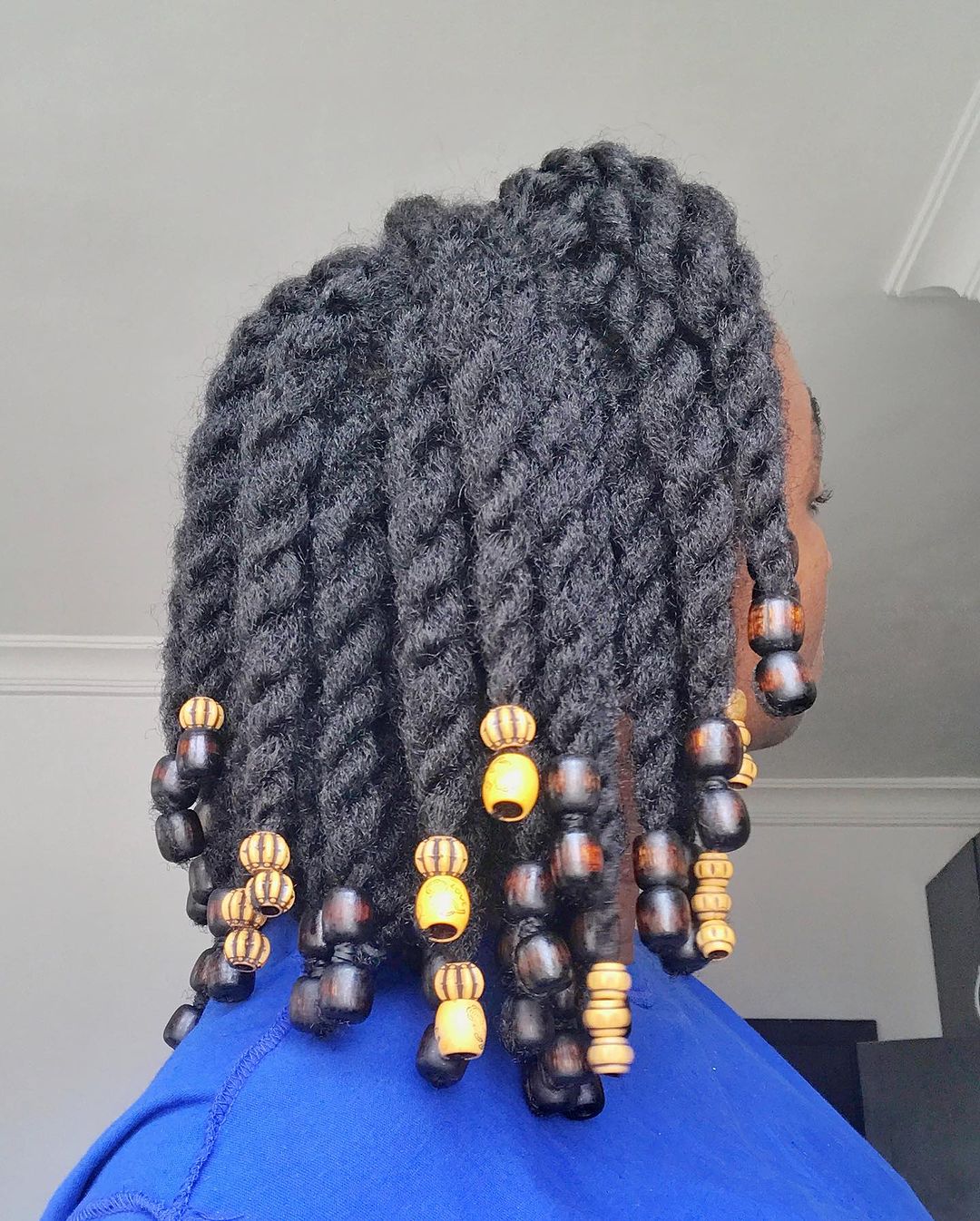 17. Hip Length Two Strand Twist With Curly ends
Long and curly! Hip-length twists with curly ends are a showstopper. Also, condition those curls to maintain their bounce.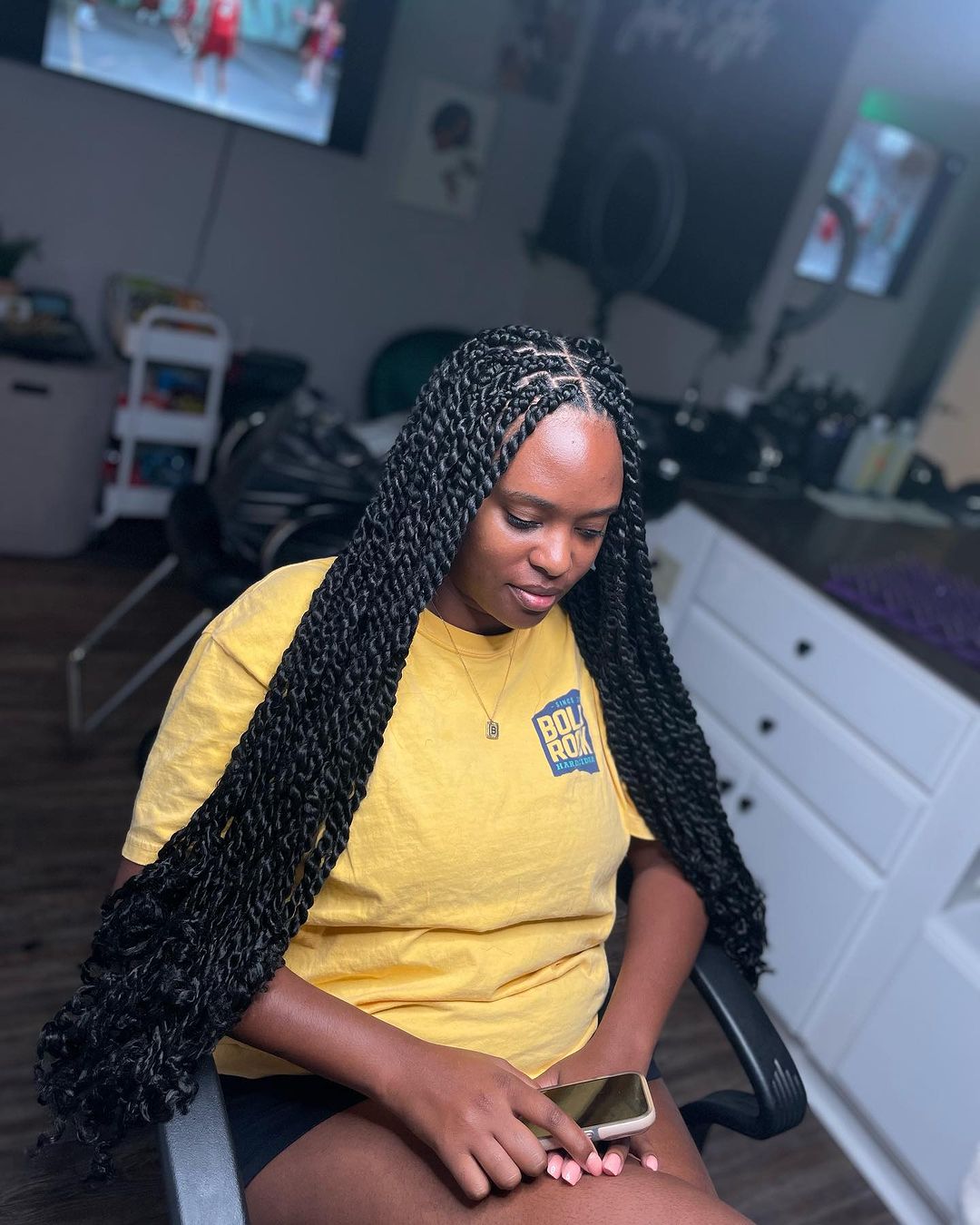 18. Rusty Brown Natural Two Strand Twist
Rusty brown adds warmth to your natural twists. It's a simple yet elegant choice. You can wear this for 2-4 weeks depending on its maintenance. Regular moisturizing is a great way to start.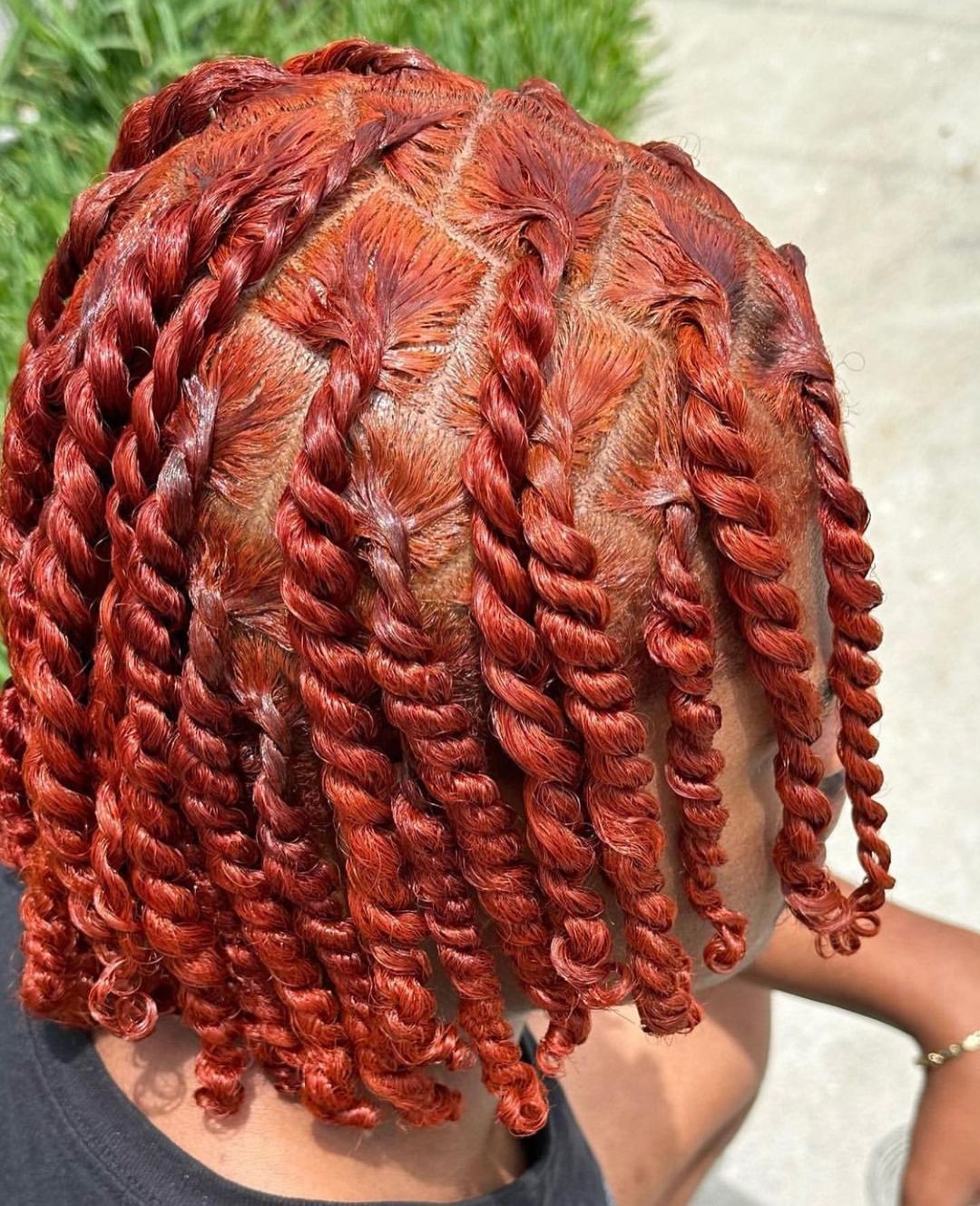 19. Two Strand Twist in a Chignon
A chignon is a classic updo, and two-strand twists add a modern twist to it!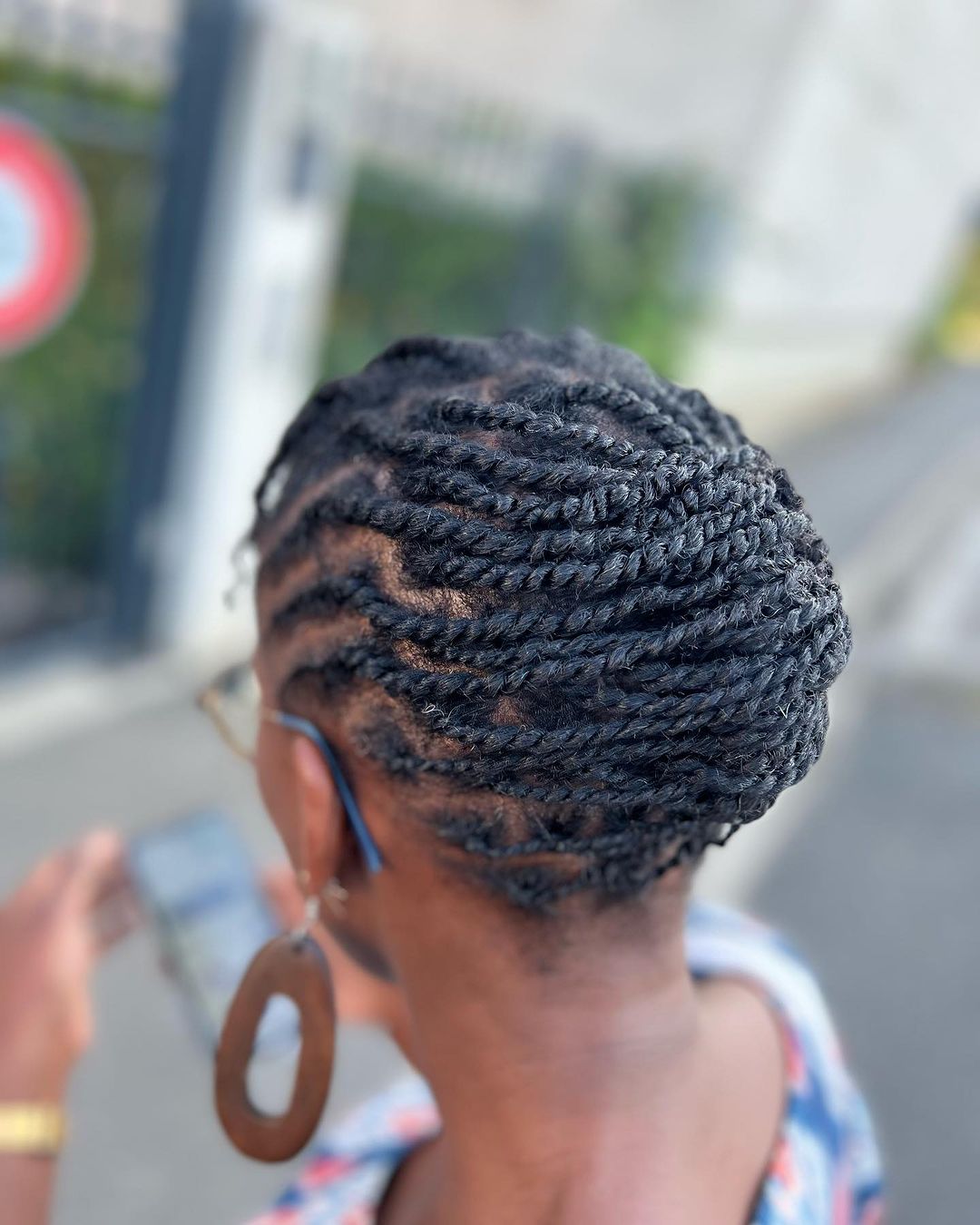 20. Scanty Jumbo Two Strand Twists
Scanty jumbo twists offer a unique take on traditional jumbo twists. You can wear this style for 6-8 weeks. Keep them moisturized and tidy to maintain the chic look.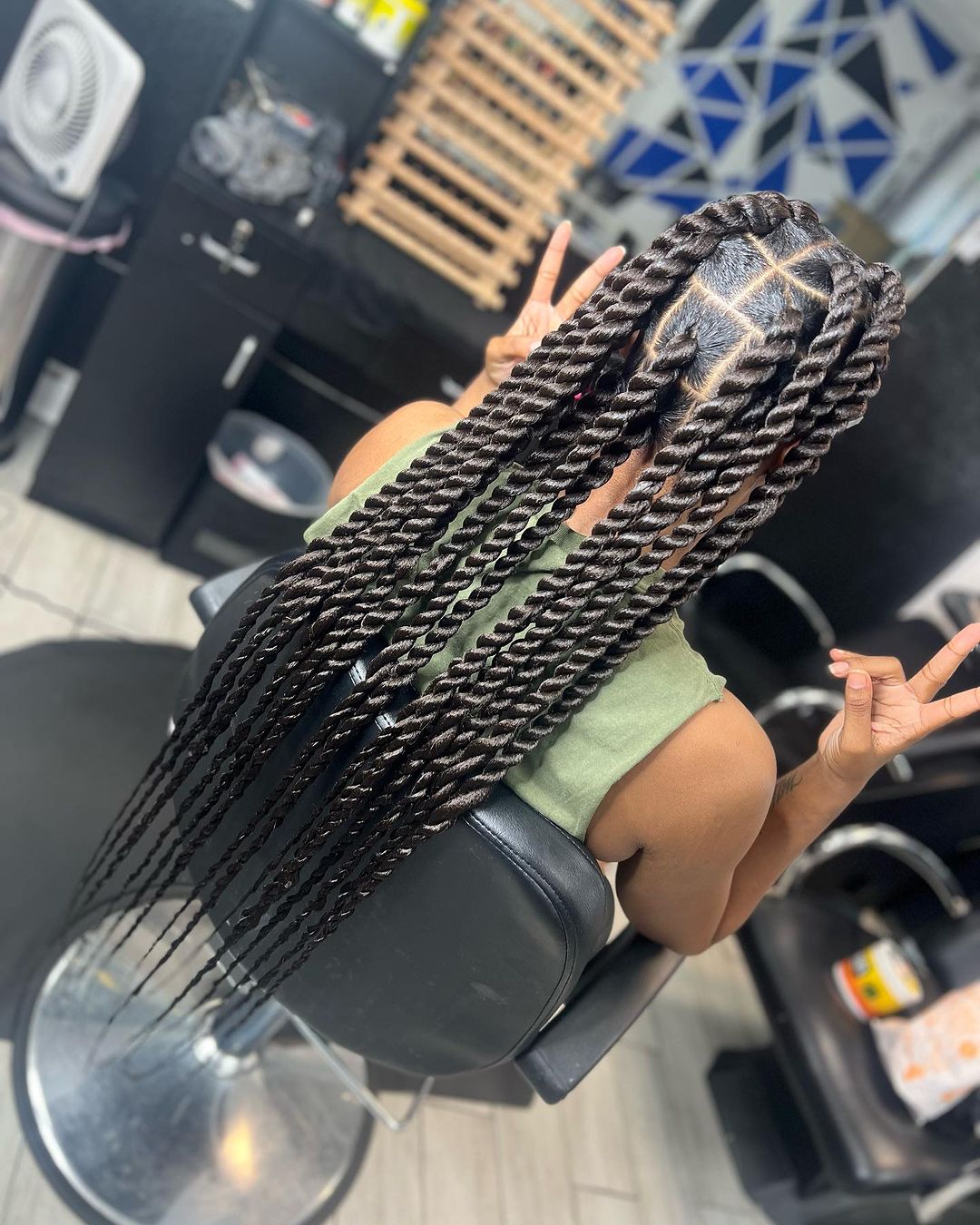 21. Full Half Braids And Half Two Strands Twist
This is a playful combination of braids and twists that's perfect for a casual day out. Considering its volume, you can also wear it in different styles.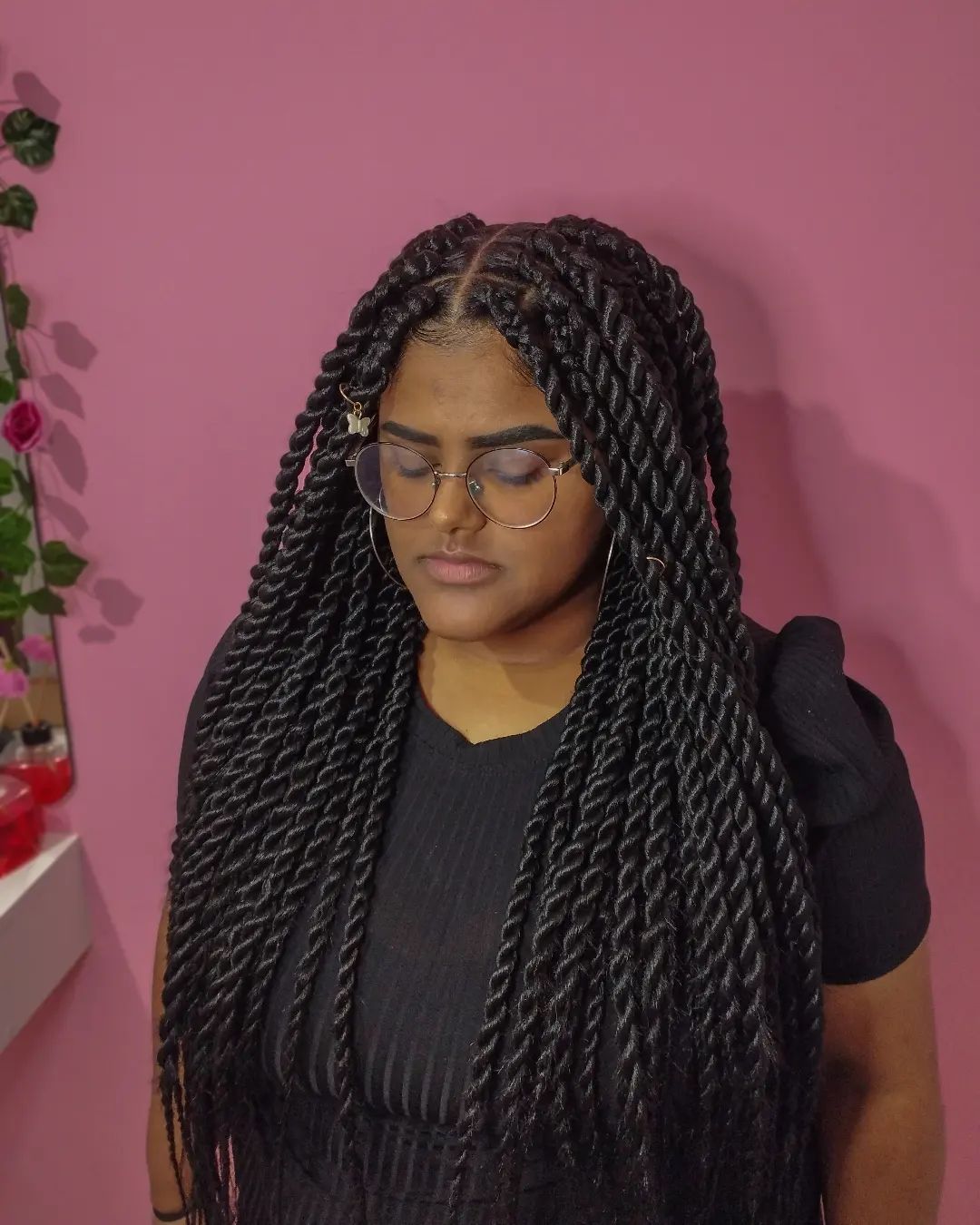 22. Half Cornrows And Individual Loose Two Strand Twists
For a chic twist on the classic cornrow, braid just the top half of your hair in neat cornrows, leaving the rest of your hair free. Then, create individual two-strand twists with the remaining hair. This unique style is versatile and suits various occasions, from brunch to a night out with friends.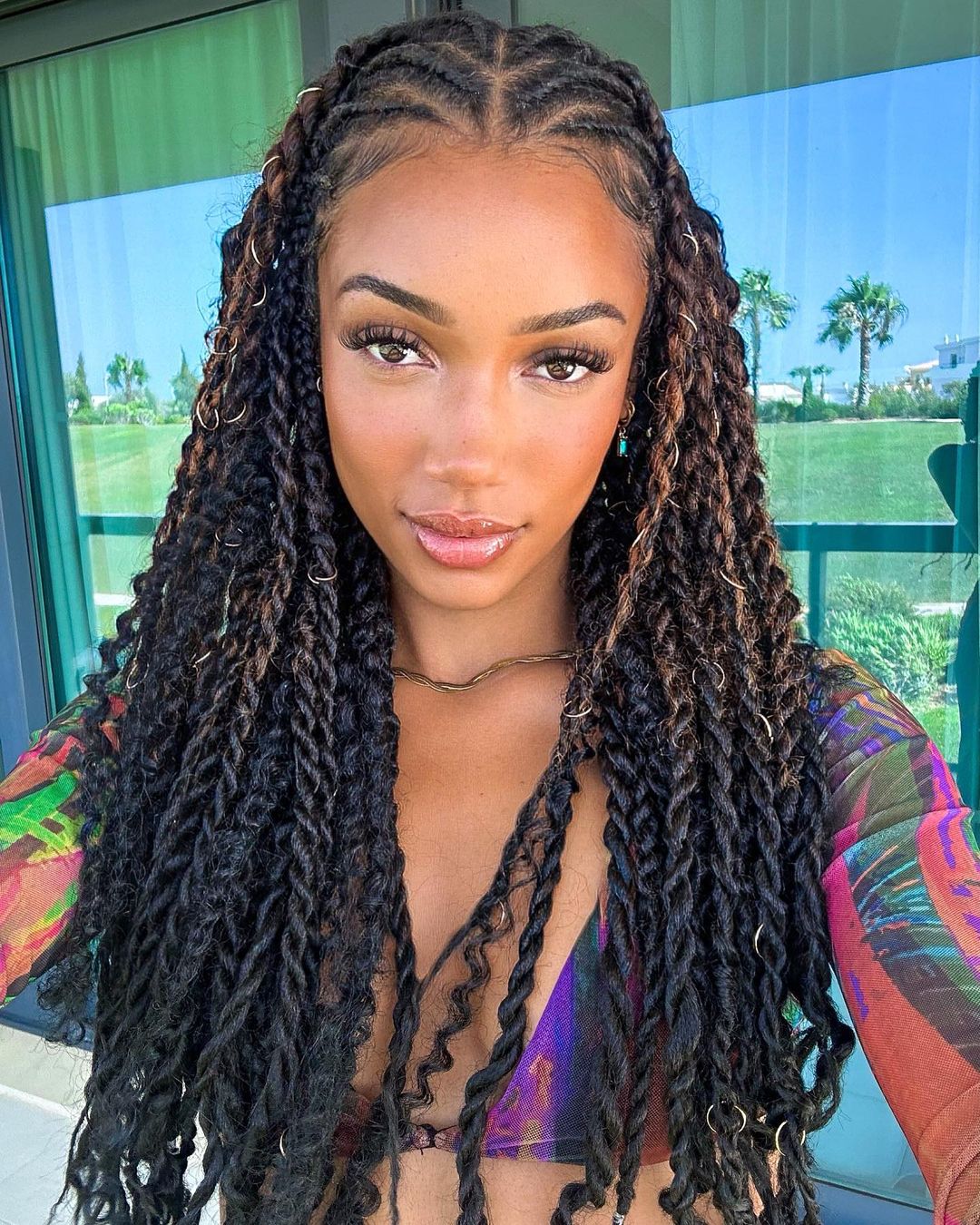 23. Shoulder Length Side Passion Two Strand Twist
Embrace elegance with these shoulder-length two-strand twists. These twists, arranged to one side, add a touch of sophistication to your appearance. Whether it's a formal event or a special date night, this style enhances your natural beauty effortlessly.
24. Color 33 Medium Twists With Pink Strands
Here's a lady making a bold statement with color! These vibrant pink strands make for an eye-catching contrast. This look is ideal for those who want to express their creativity and stand out in any crowd.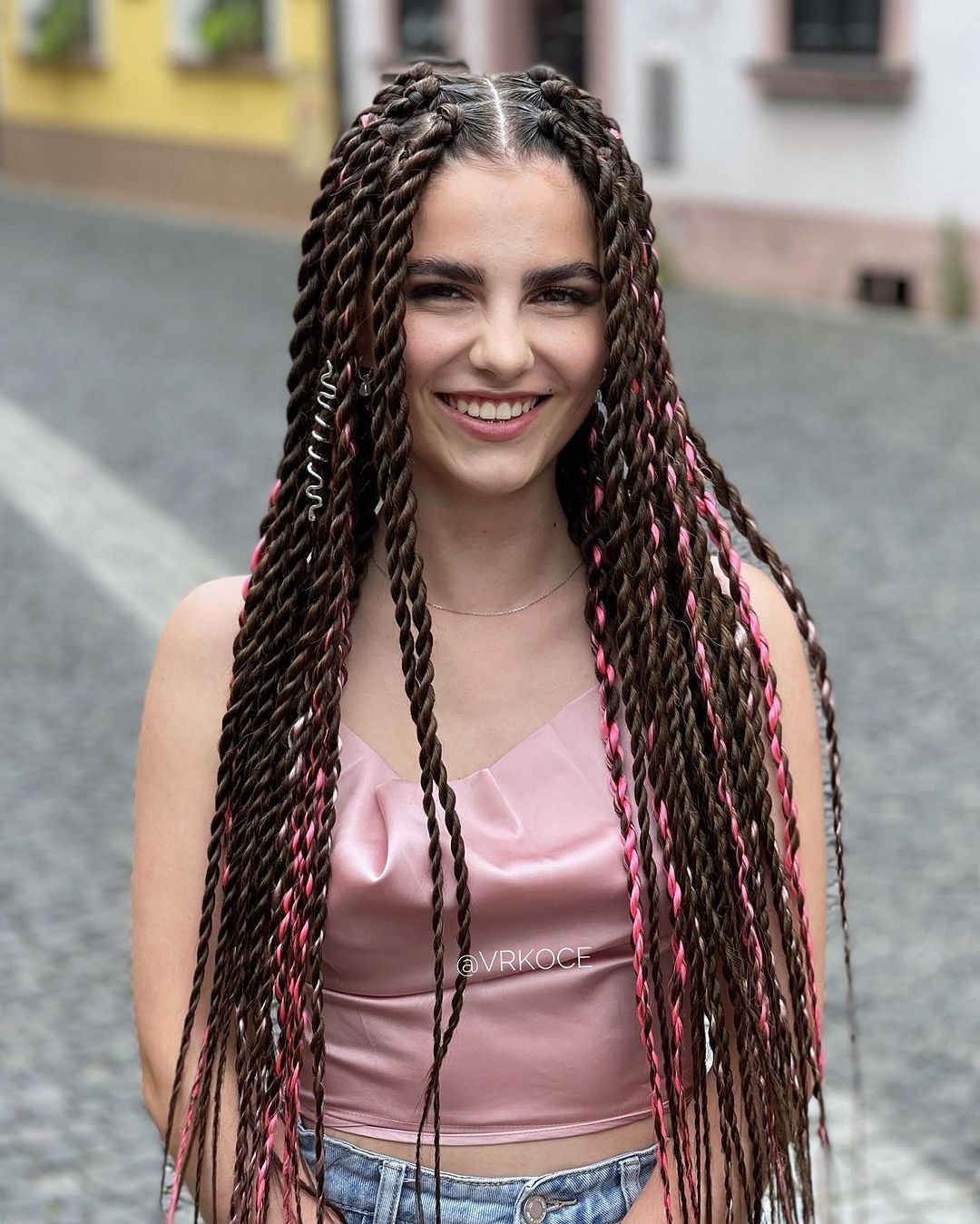 25. Medium Feed-In Braids And Individual Two Strand Twists
Achieve a balance of structure and a carefree look with these medium feed-ins and twists. This combination is versatile and can be worn casually or dressed up for special occasions.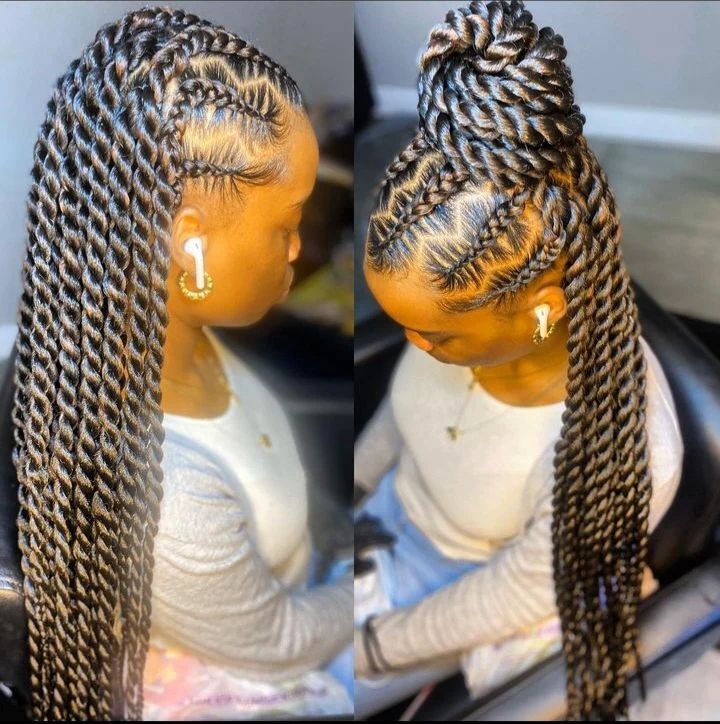 26. Medium Flat Twists And Two Strand Twists Updo
Elevate your updo game with medium flat twists incorporated into a two-strand twist updo. This style exudes elegance and sophistication, making it a fantastic choice for weddings, proms, or any formal event.
27. Mini Short Fulani Weaves and Two Strands Twist On Nigerian Hair
Channel your inner African charm with this unique style. Start with mini Fulani weaves and blend them seamlessly with short two-strand twists.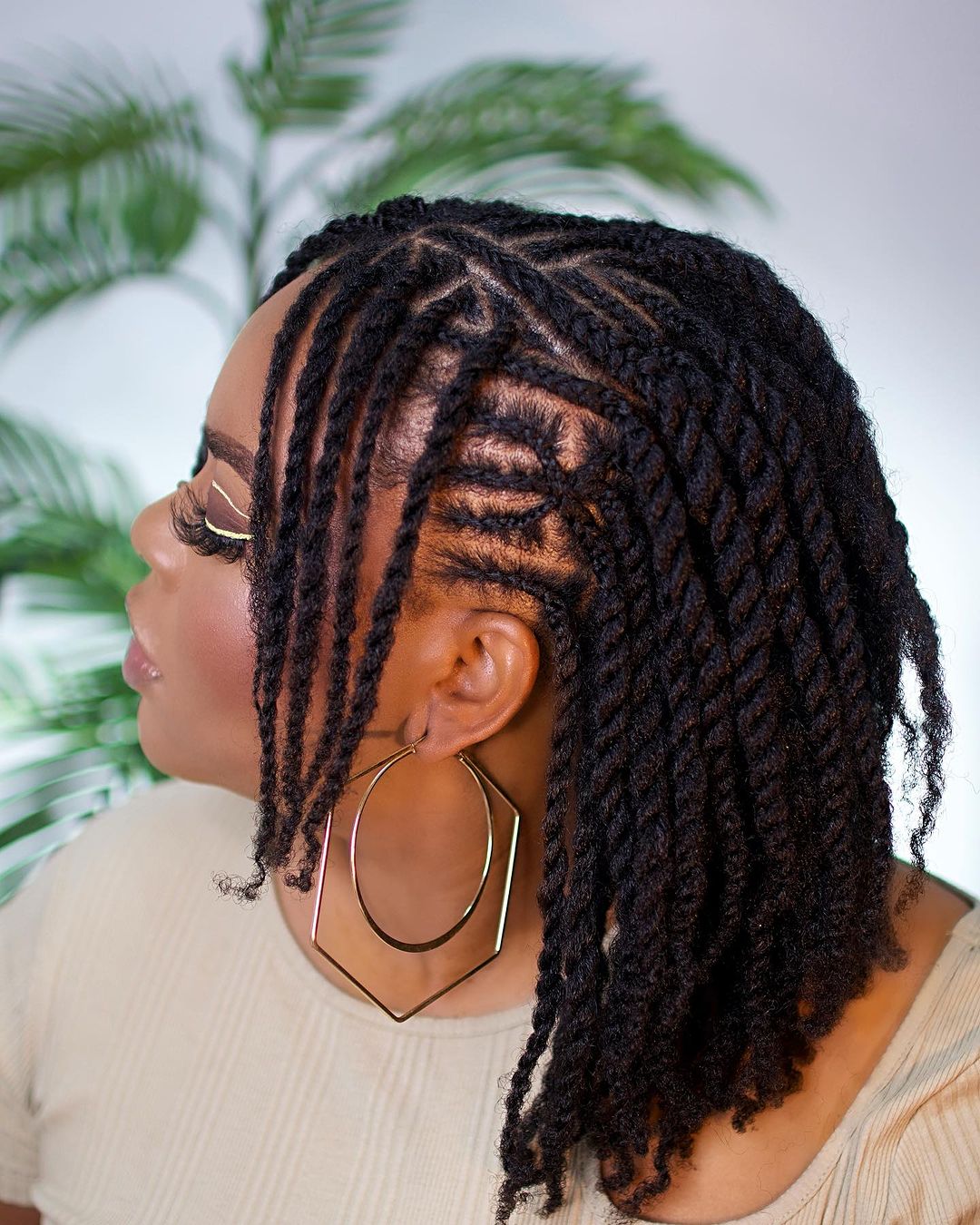 28. Mini Flat Twists And Short Large Two Strand Twists With Colorful Ends
Add a pop of color to your hairstyle! Begin with mini flat twists and conclude with short, large two-strand twists featuring colorful ends. This vibrant look is perfect for music festivals, parties, or any occasion where you want to shine.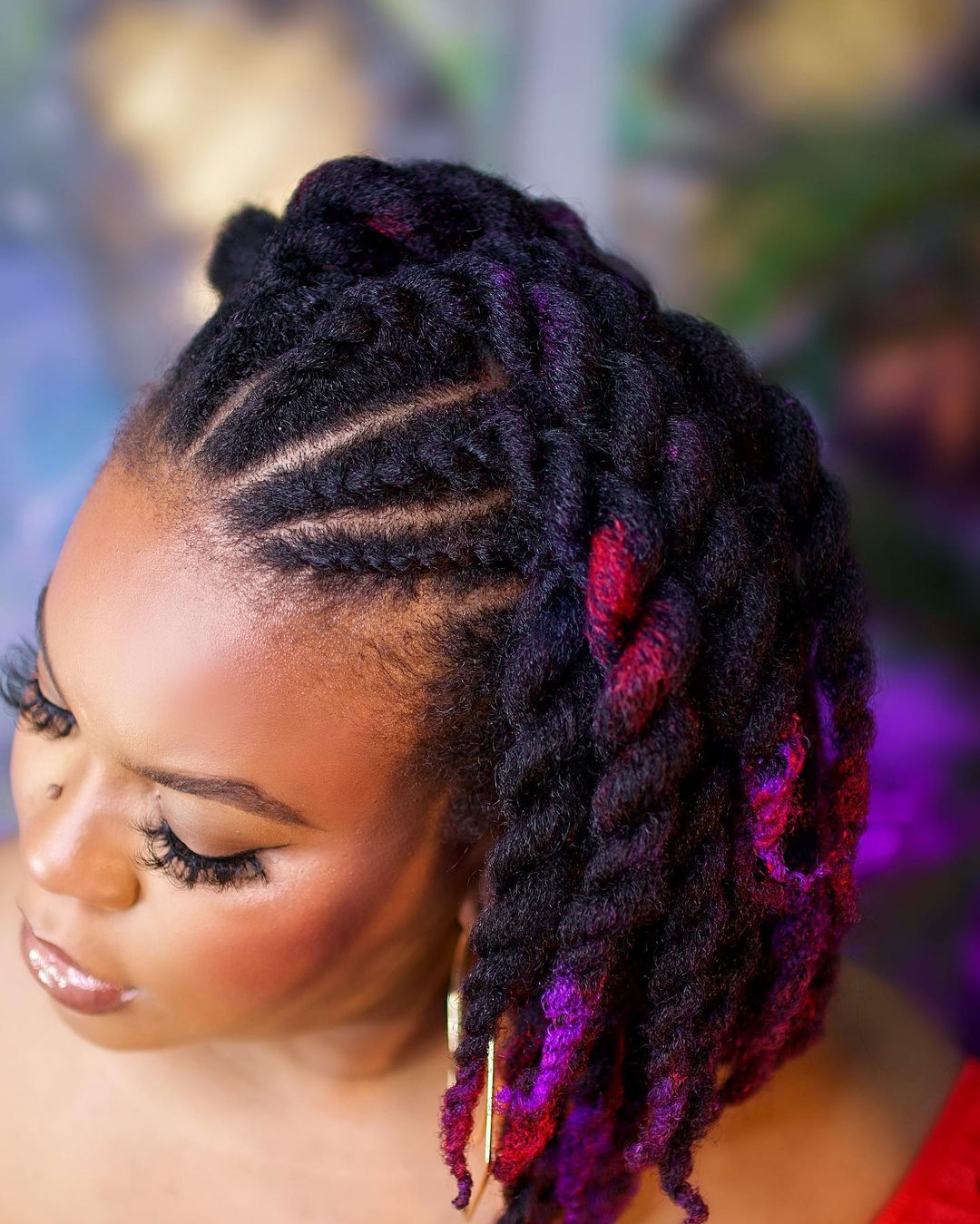 29. Large Flat Cornrow Twist And Frontal Two Strand Twist
Combine the sophistication of flat cornrow twists with the flair of frontal two-strand twists. This fusion hairstyle offers a unique and stylish appearance suitable for upscale gatherings or even a glamorous night out.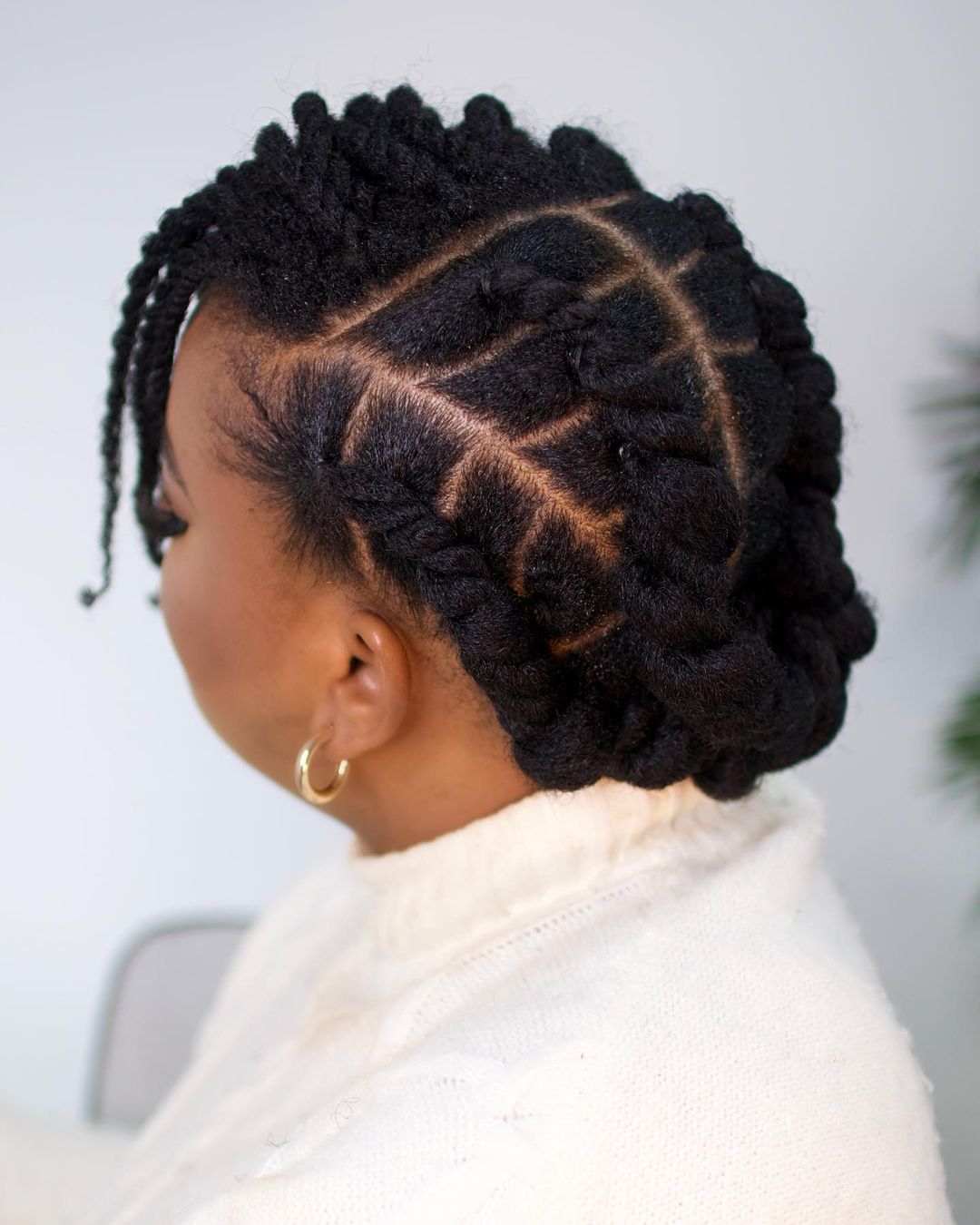 30. Side Weaves And Individual Black And Ombre Kinky Twists
Elevate your look with side weaves accompanied by individual black and ombre kinky twists. This combination adds texture and depth, making it ideal for fashion-forward events and showcasing your personal style.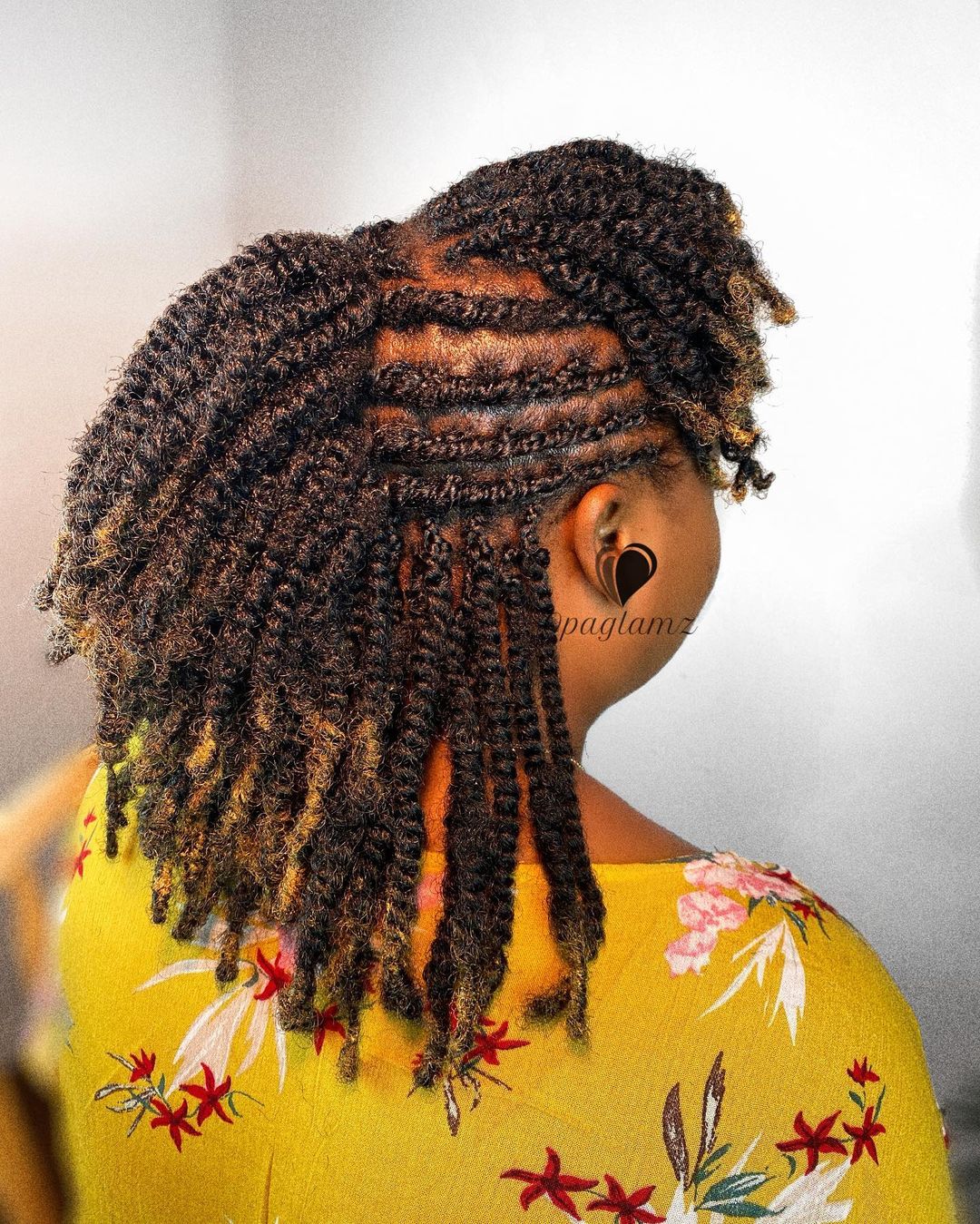 31. Afro Loose Two Strands Twist on Short Natural Hair
For short natural hair, opt for an afro-inspired loose two-strand twist. This look celebrates your natural texture and is perfect for everyday wear or relaxed weekend outings.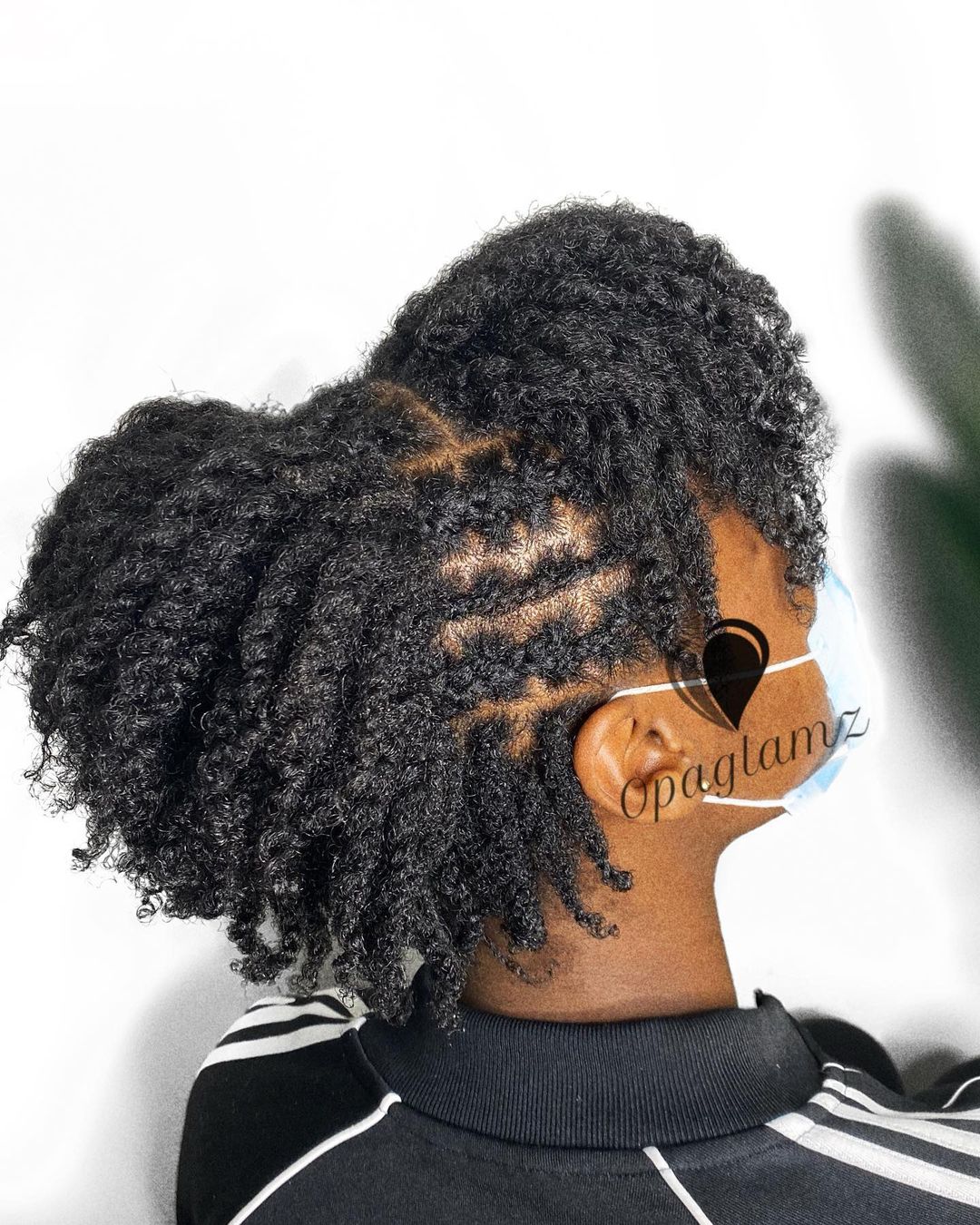 32. Frontal Crisscross Pattern on Medium Individual Twists With Black Beads at The Ends
Stand out with a frontal crisscross pattern on medium individual twists, adorned with black beads at the ends. This intricate style is excellent for formal affairs and red-carpet-worthy moments.
33. Side Zig Zag Weaves on Individual Natural Hair Twists
Create a dynamic visual with side zigzag weaves woven into individual natural hair twists. Whether you're attending a concert or a stylish gathering this is worth the try.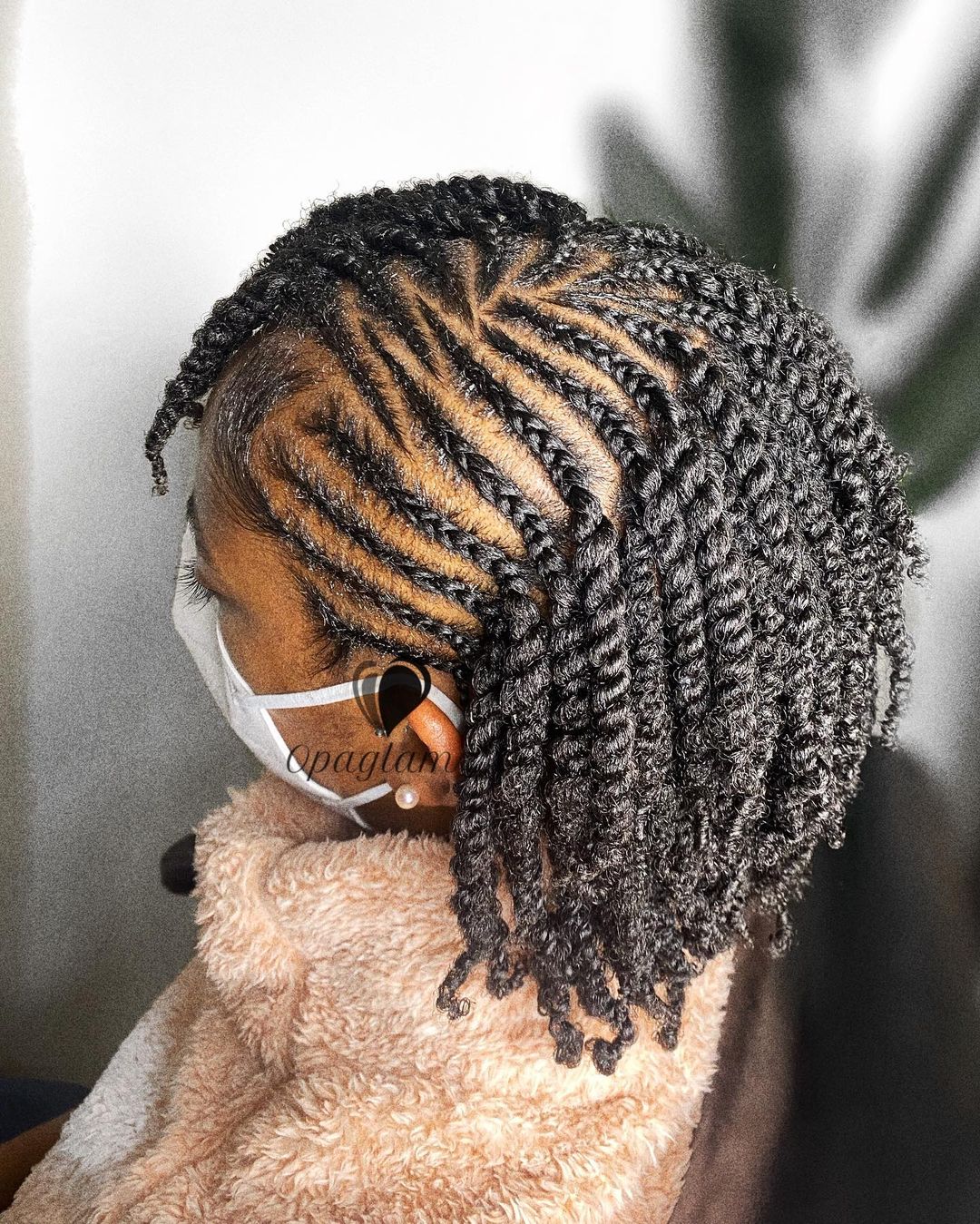 34. Mini Cornrows on Short Pink Twist With Wool And Beaded Ends
Go for a playful and colorful look with mini cornrows on short pink twists. Finish the ends with wool and beads for a lively touch. This hairstyle is a fantastic choice for fun and festive occasions.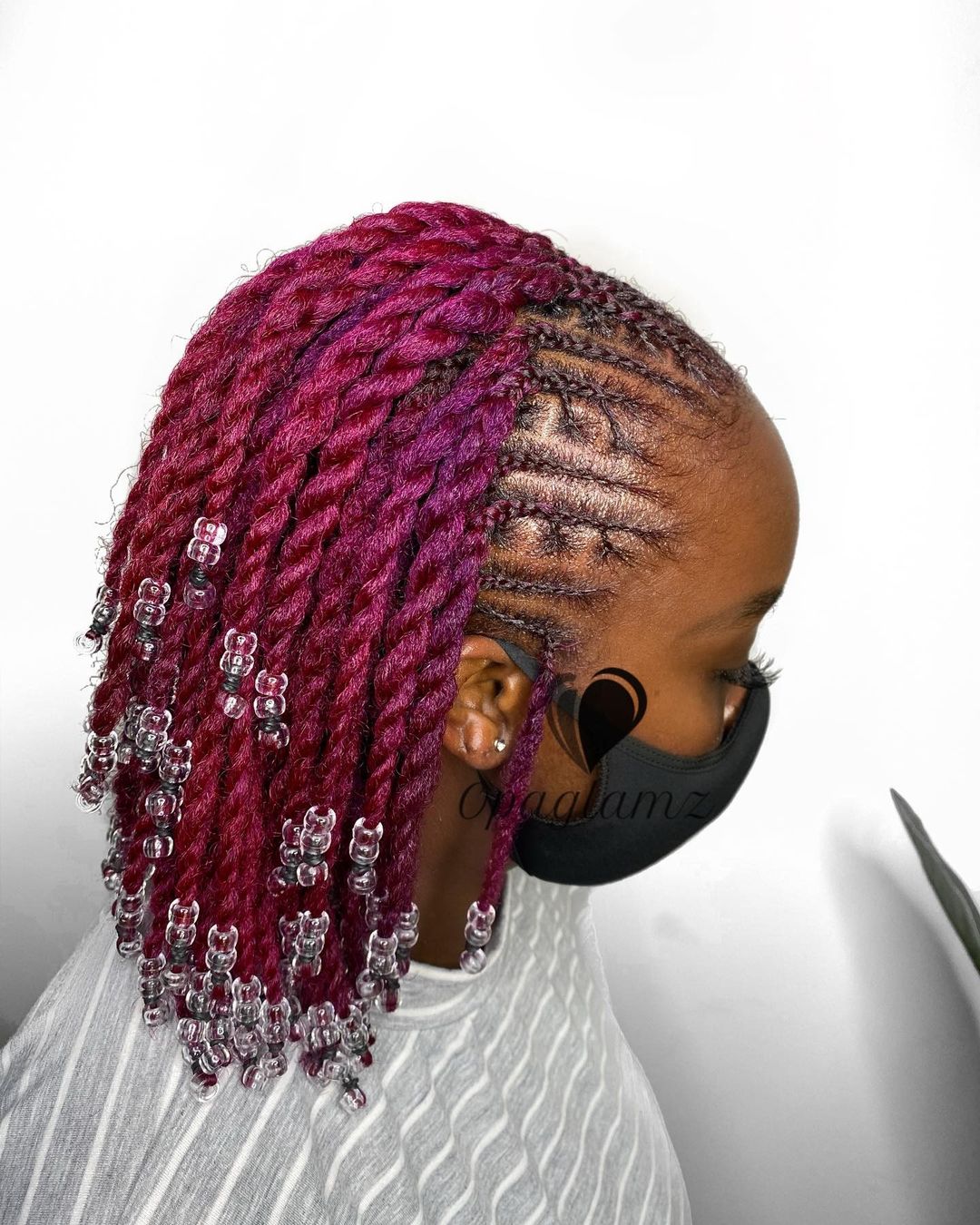 35. Maxi Jumbo Scanty Twists With Thick Natural Hair
Embrace your natural thickness with maxi-jumbo, scanty twists. This bold style exudes confidence and is perfect for those who want to make a strong fashion statement.
36. Pink Large Side Weaves And Individual Two Strand Twists With Extension
Combine the elegance of large side weaves with individual two-strand twists extended for a striking effect. This daring style suits glamorous events and showcases a fashion-forward taste.
37. Fox Brown Medium Twists With Boho Curls
Achieve a boho-chic vibe with medium fox brown twists complemented by boho curls. This effortlessly stylish look is perfect for outdoor events, and beach weddings.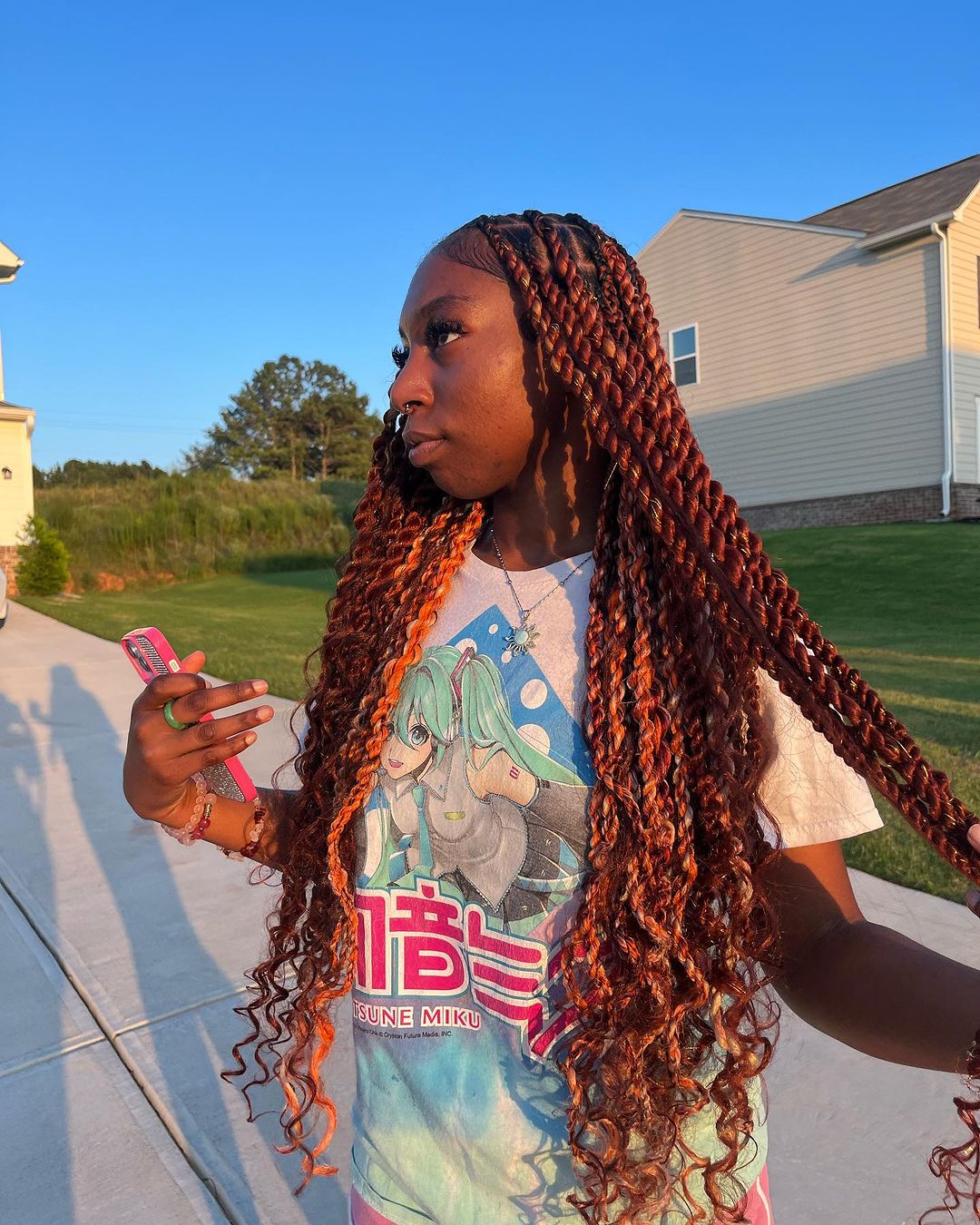 38. Long Multi Colored Mini Two Strands Twists
Want to experiment with color and length? Opt for this long, multi-colored mini two-strand twist which is ideal for festivals, parties, and any occasion where you want to showcase your unique style.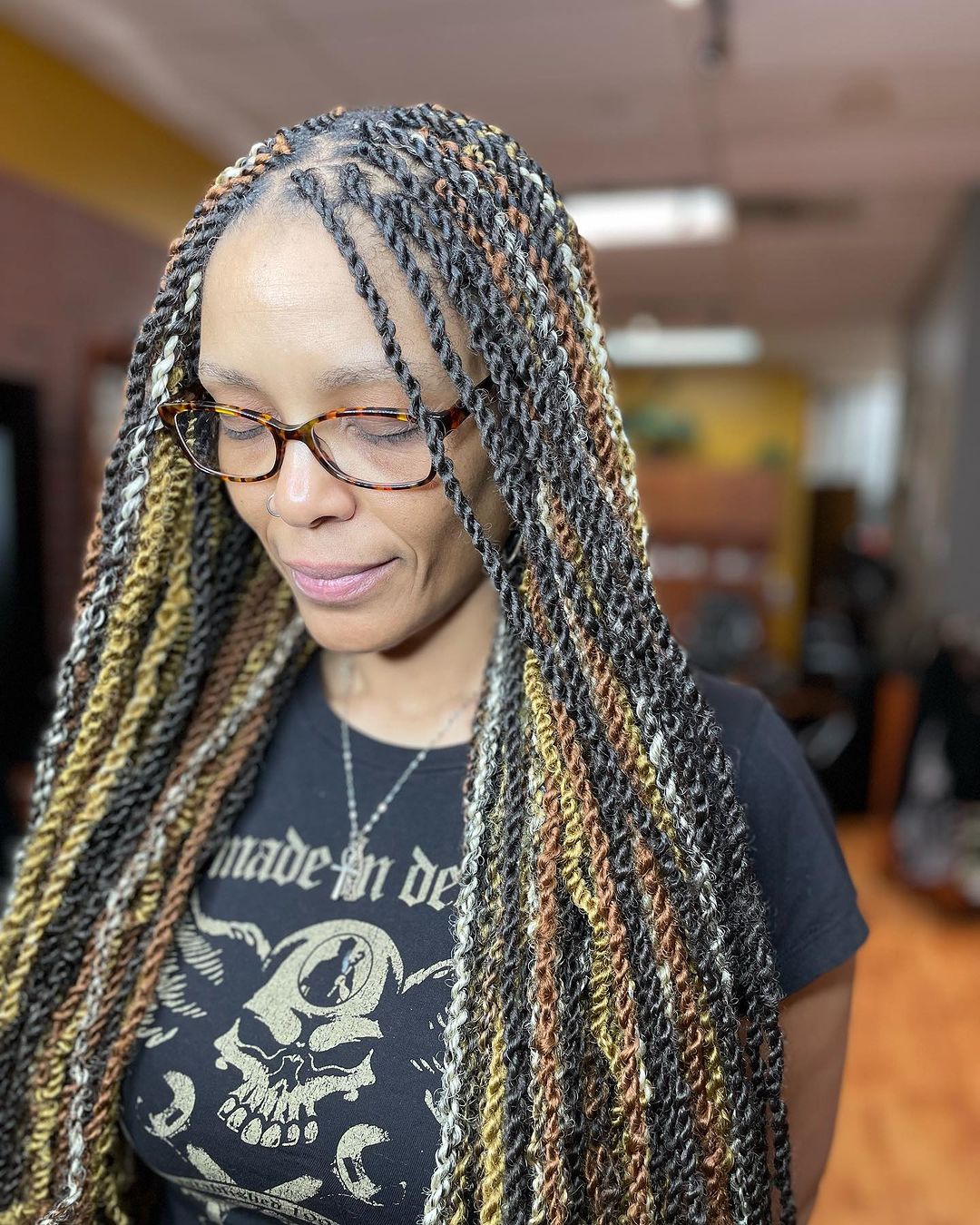 39. Medium Twisted Updo With Two Frontal Individual Twists
Elevate your updo game with a medium twisted updo featuring two frontal individual twists. This refined look is perfect for weddings, galas, and other upscale gatherings.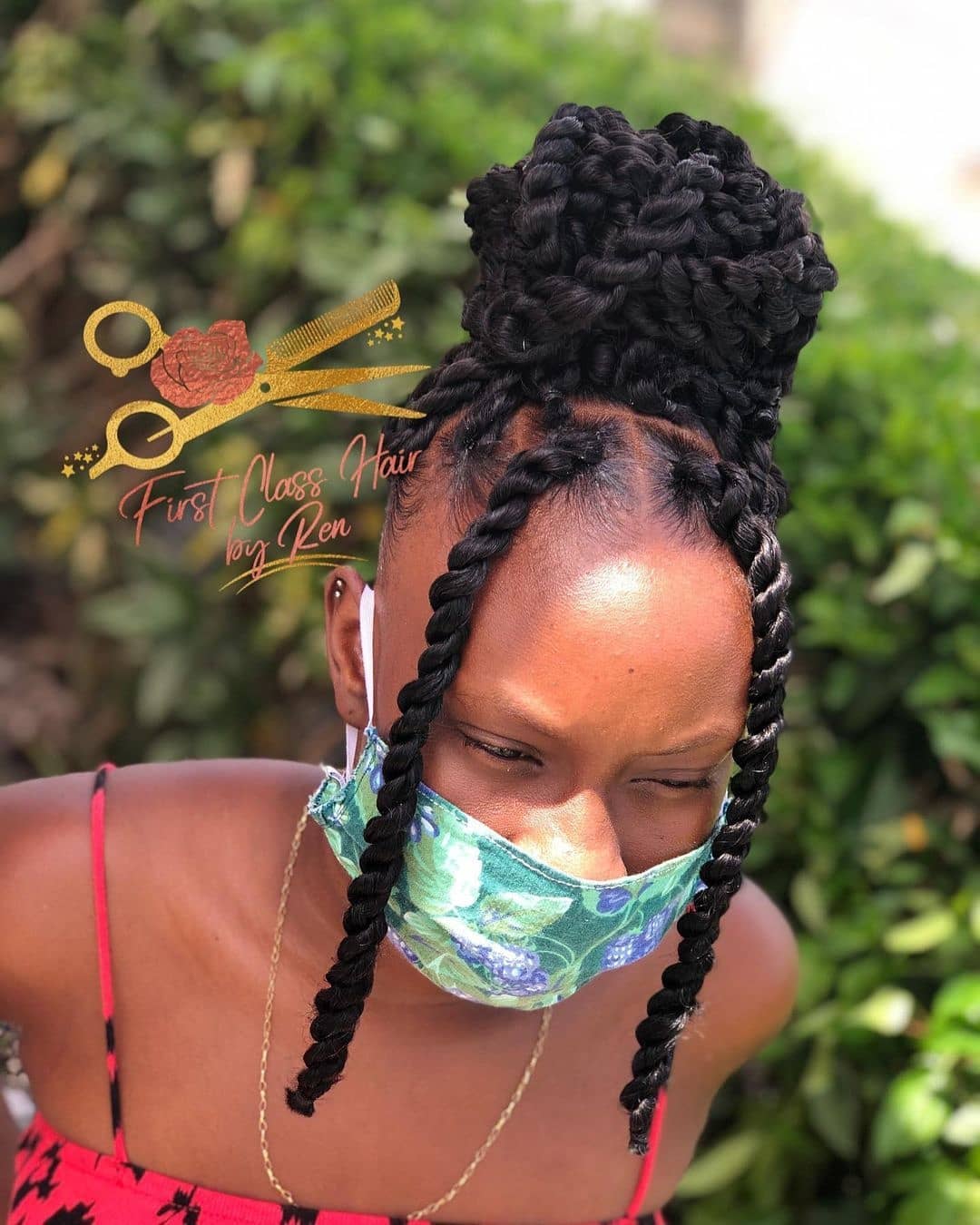 40. Dark And Bright Green Two Strands Twists With Curly Ends
Make a daring statement with dark and bright green two-strand twists featuring curly ends. This eye-catching style is perfect for themed parties, costume events, or simply showcasing your bold side.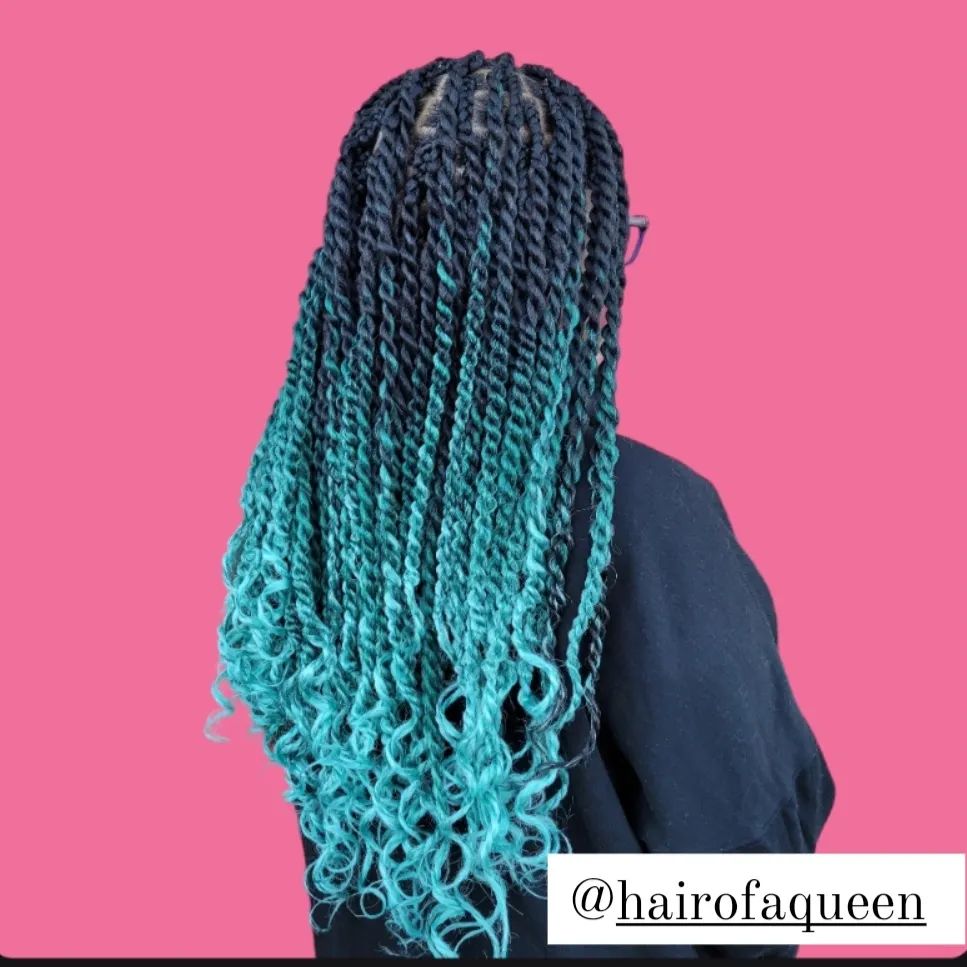 FAQs
Are Two Strands Twists a Protective Hairstyle?
Absolutely! Two Strands twist's interlacing style keeps your hair locked which prevents breakage and keeps your hair intact until you take it off. 
How Long Does Two Strands Twist Last?
Two Strands twist can last for as long as you maintain it. From 2-8 weeks even. But it's best to wear twists for at most 6 weeks to prevent breakage. 
Can Two Strands Twists Be Worn on Short Hair?
Definitely! But then, it can work for certain styles only except you use extensions. You may also need to part your hair in smaller sections if you're twisting without extensions.
How Do I Maintain My Two Strands Twists?
Keep your twist locked by moisturizing often with a leave-in conditioner. Also, always wear a bonnet or satin scarf to sleep to keep your twists intact.
How To Prepare My Hair For Making Two Strands Twist?
Start up by washing your hair with a moisturizing shampoo and conditioner, then detangle your hair. Afterward, apply a leave-in conditioner and twist gel and you are ready to twist!
It's Your Turn
The key to keeping any of these beautiful hairstyles looking their best is proper maintenance. Regular moisturizing, gentle handling, and protecting your hair at night with a satin pillowcase or bonnet will help you make the most of these stunning styles. So, which one are you excited to try next?
Also Read related: