For black women, red knotless braids are one of the most fierce and bold ways to look stunning and rebellious. The reason behind this is not only the braiding technique but also the electrifying and vibrant red shade.
However, red knotless braids come in a variety of tones and styles, which I am going to share in this article. From deep burgundy red open knotless braids to warm red knotless braid buns, you can find a pile of styling. 
30 Red Knotless Braids That's on Fire
1. Burgundy Red Boho Knotless Braids
Top up your boho knotless braid game by adding burgundy red, which is everyone's favorite. It is easy to style and is truly a perfect blend of uniqueness and glamour.
2. Light Red Boho Knotless Braids
Knotless braids never go out of style! Elevate your hair game by introducing red to your braids and see the magic. It is suitable for those who always like to keep their avatar trendy.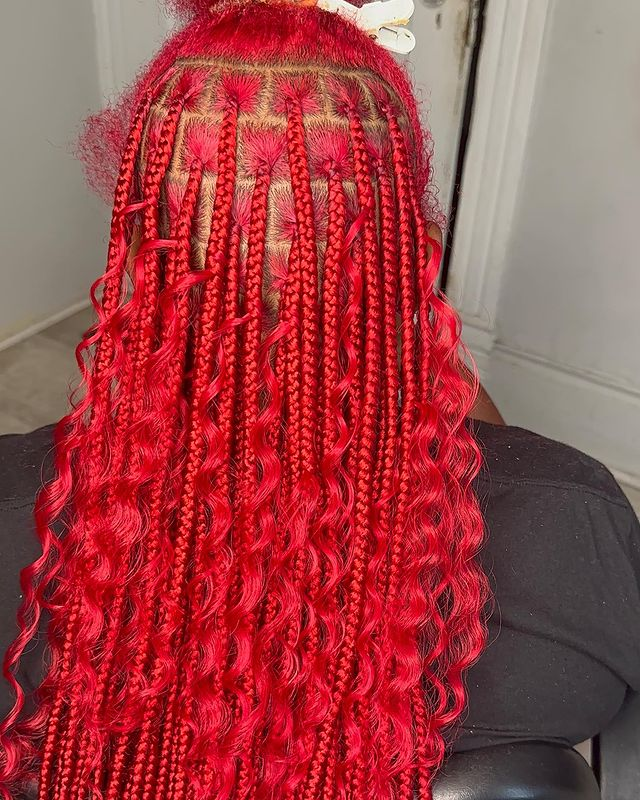 3. A Mix of Red and Black With Beads
The blend of red and black is a top-tier, especially when styled with beads. Bring in this funky yet gorgeous mix of red and black to your avatar and say goodbye to boring braids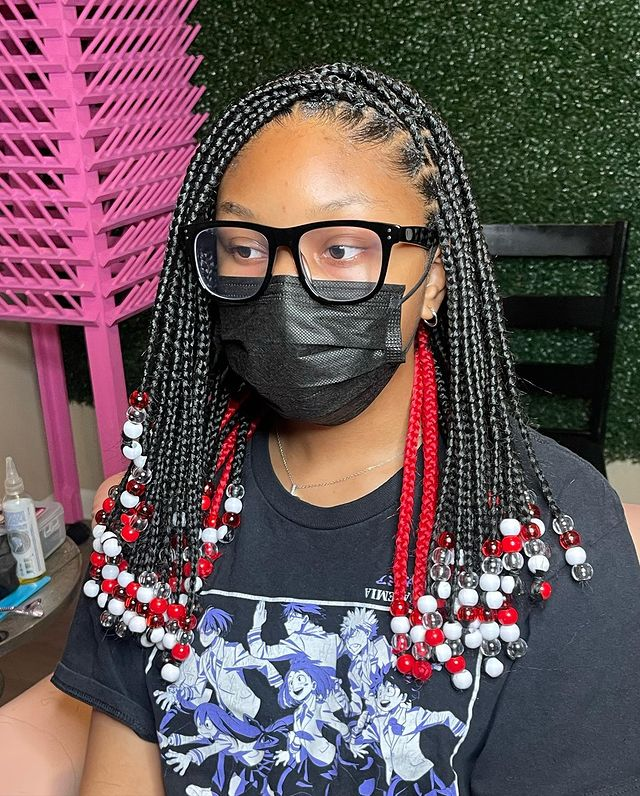 4. Warm Red Knotless Braids Bun
Fellas! Buns are the most stylish yet graceful thing to add to your overall look. If you are tired of your boring knotless braids, it is time to switch to a knotless braid bun. Spice it up with red dye, which is forever trendy.
5. Dark Mohagny Red Knotless Braids
Knotless braids and pop color dye go hand in hand. If you are looking for options to spice up your hairdo, then Dark Mohagny is your color this season. It goes well with stylish knotless braids and significantly uplifts the avatar.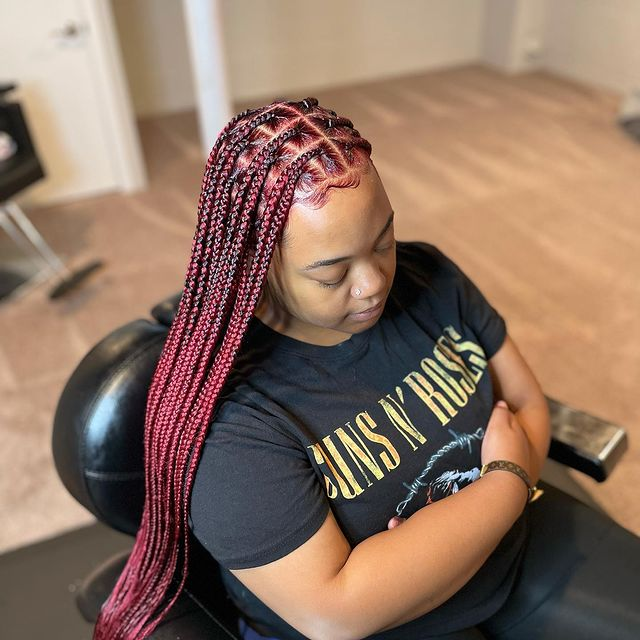 6. Knotless Tribal Braids with White Beads
Level up your hairstyle journey by adding classy beads to it. If you carry knotless braids that are dyed red, then fellas, it's a sign for you to add white beads and give your usual braids a new life. Interesting, right?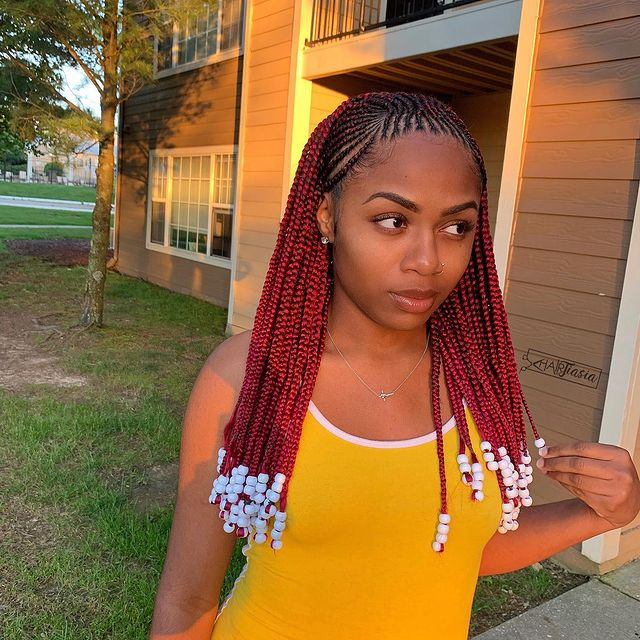 7. Intense Red Jumbo Knotless Braids with Beads
Braids and dye are everyone's favorites. When small braids don't work for you, it's time to switch to jumbo knotless braids with the addition of classy red dye. It looks fantastic and gives a refined and neat look to your hair.
8. Red Flip Over Fulani Knotless Braids
Fulani braids are always in style. The perfect protective braiding of Fulani knotless braids from bottom to top and flip-over cut is to die for, especially when it is accessorized with beads and chains. Add more glam to your braids by turning them red, and you will have perfect braids in no time.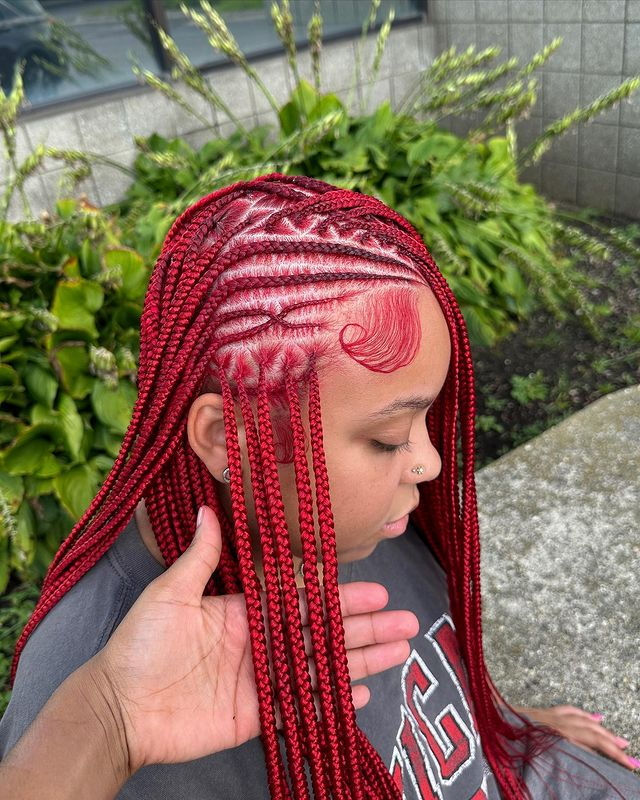 9. Dark Burgundy Red Half Top Bun
A men's bun or half top bun is always catchy and trendy. It's an ideal hairdo for meetings, dates, and whatnot. Opt for this cute yet formal hairstyle if you run out of options to style your knotless braids. Adding a pop color like Dark burgundy will help you win hearts daily.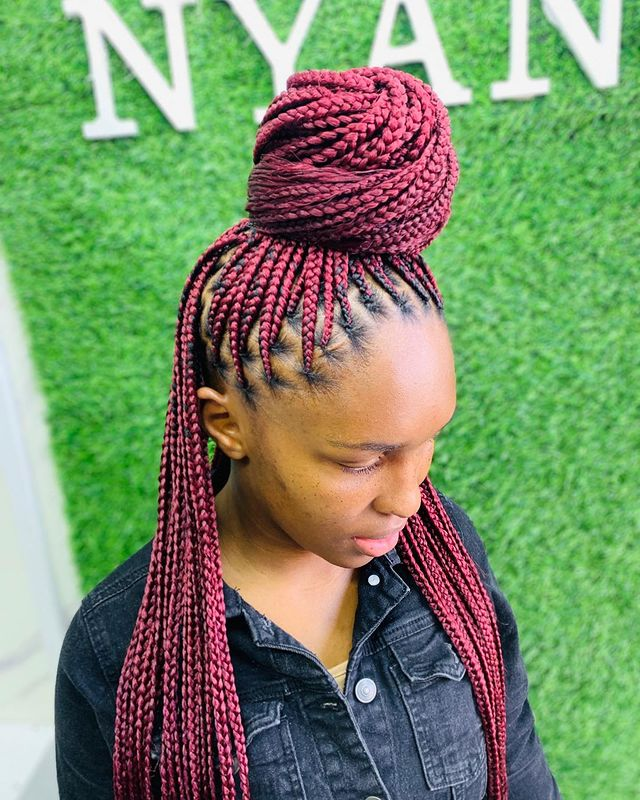 10. Red and Black Criss Cross Knotless Braids
Kris cross knotless braids are no less than perfection when topped with the perfect mixture of red and black dye. Pay farewell to your ordinary braids and get Kris Cross knotless braids done with a blend of red and black and rock the world.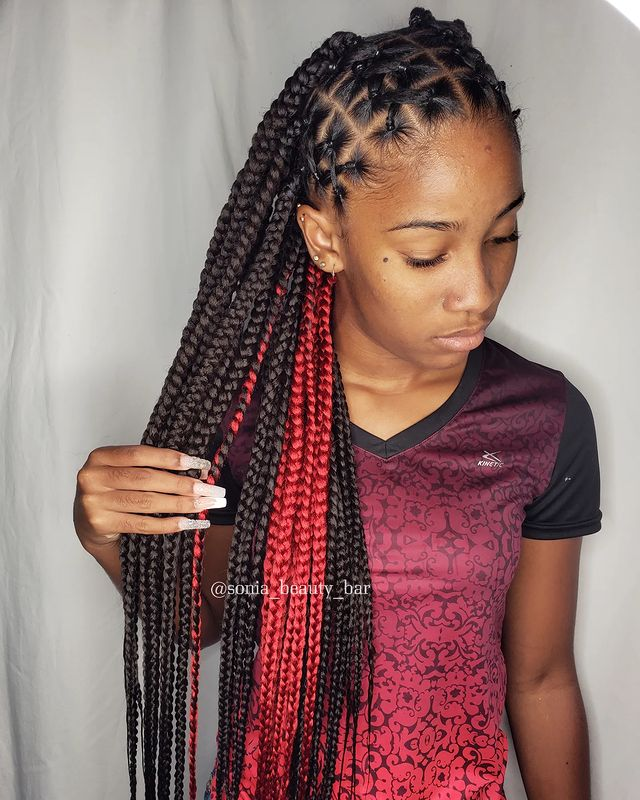 11. Bright Red Long Knotless Braids
Red is a black woman's color! If you are looking for a kick to get your long knotless braids dyed red, friends, here is your sign to do it. The sizzling red color goes amazing with long braids and gives a model look throughout.
12. Orange Red Long Knotless Braids
Can't decide between orange and red dye? Dory worry. Get both of them together! Yes, you read it right. Orange and red do wonders when mixed and are on everyone's wishlist. Elevate your hair game and dye your long braids red and orange together.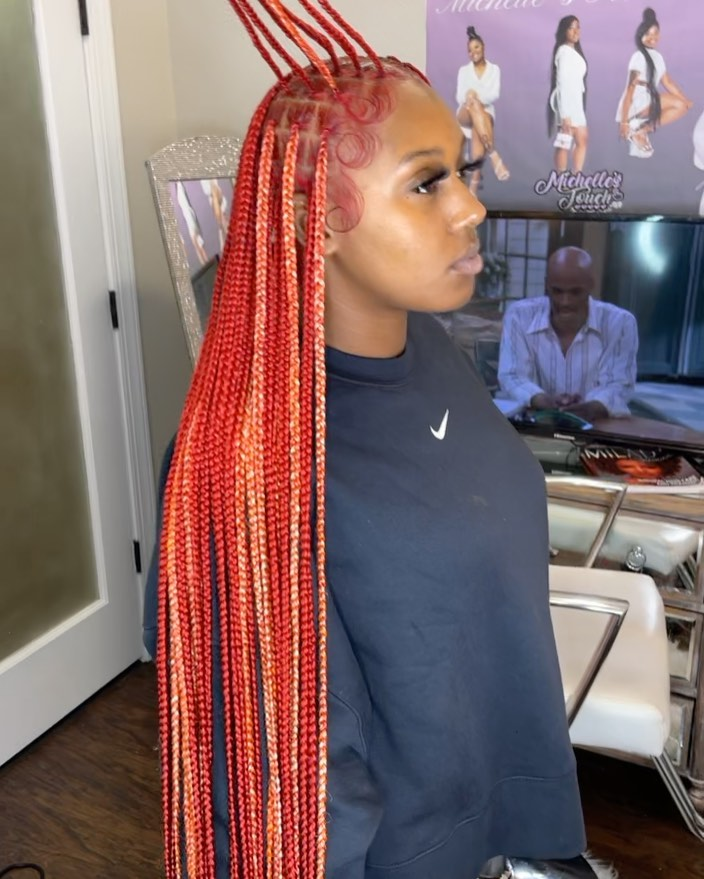 13. Red Knotless Coilery Braids
Curls and coils never go out of style. If you are done with your dull and long knotless braids, it's okay; spice things a little and coil up those basic braids. And don't forget to dye your hair red. Trust me, it does wonders.
14. Medium Bright Red Ombre Knotless Braids
Are you having a hard time deciding which color is yours? Don't worry, we've got you. Say goodbye to typical black knotless braids and shake hands with a bright red ombre color in the shade medium, and you will have sensational braids in no time.
15. Metallic Red Jumbo Coiled Knotless Braids
Metallic red is definitely the color of the season. It is fiery and gorgeous, which gives the model a gorgeous look every day. Introduce this stunning color to your coiled jumbo knotless braids and improve your look twofold.
16. Red Knotless Braids Ponytail
Let's face it: We all love ponytails, whether summer or winter. It goes great with all sorts of outfits and adds spark no matter what! Girls, if you are not making ponytails of your knotless braids, then mind you, you are missing out on a lot of glamour. To elevate it more, how about you paint your braids red?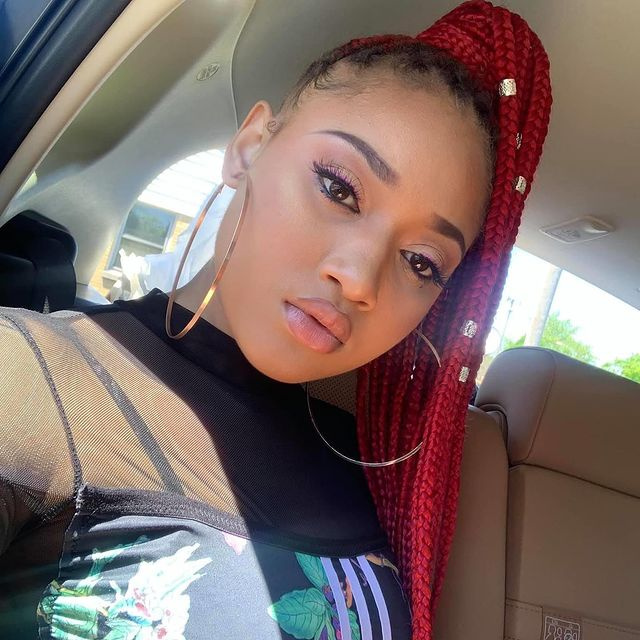 17. Pineapple Red Knotless Braids with Beads
Ever tried a pineapple bun on the go? How about you try it now with your enchanting knotless braids? Pineapple knotless braids are perfect for vacations and parties if you dye them red and add beads at the end.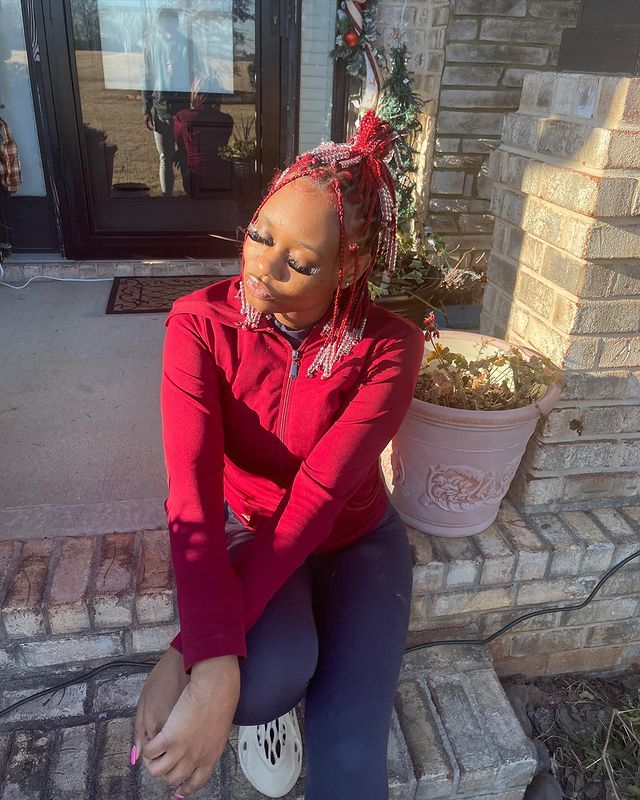 18. Deep Red Knotless Braids With Designer Stitches
Neat and classy designer-stitched knotless braids are in fashion these days. They are getting all the hype they deserve as these braids are refined and precise and top up the style game when a hint of deep red is added. Hurry and get them made!
19. Red Short Boho Knotless Braids
Short knotless braids are to die for. They are easy to carry, and you can make as many hairdos as possible. Red short boho knotless braid is a must-try combination of style and convenience.
20. Deep Red Burgundy Box Knotless Braids
Box knotless braids are new in the market. They are trendy and perfect for all upcoming occasions. Style them with a deep red burgundy color, and never look back to ordinary knotless braids.
21. Cherry Red Knee Length Boho Knotless Braids
If you are a fan of long braids but get easily frustrated when it comes to washing and taking care of them, knee-length knotless braids are for you. Fellas, it is unique and will always stay in style if you pair it with an ever-trendy dye like cherry red.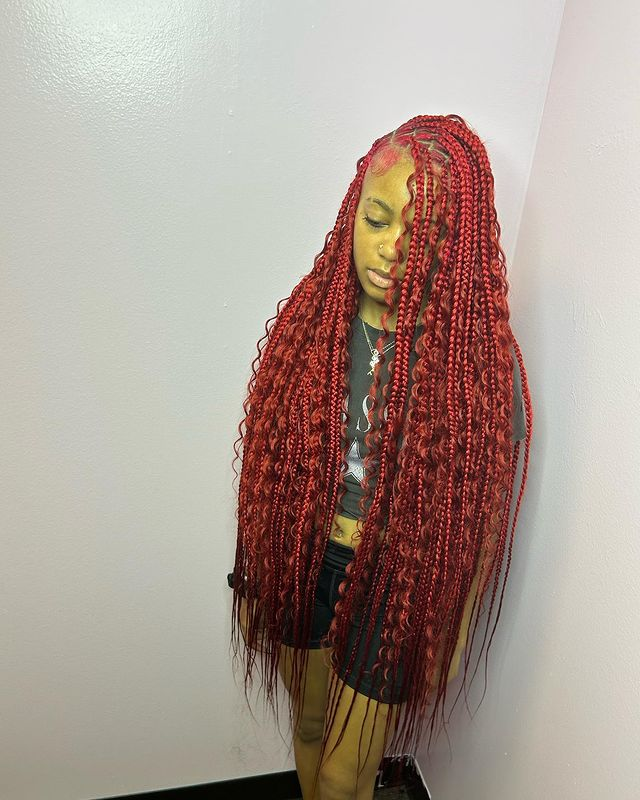 22. Rusty Red Knotless Braids
Every day is a knotless braid day! Black women, if you are in the mood to change your hair color, rusty red paint has to be your dye around this time of the year. Rock the floor this season with Vogue dye and braids.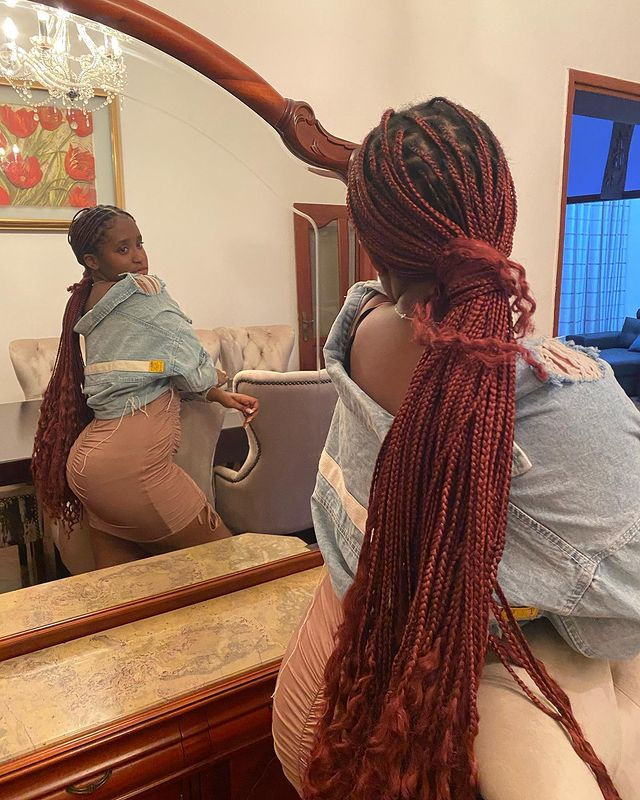 23. Red and Black Fulani Braids
Bring together red and black color with classy Fulani braids if you are tired of your everyday braids. Mixing and adding two dyes at the same time to your braids will always set the bar high and help you ace the upcoming events with flying colors.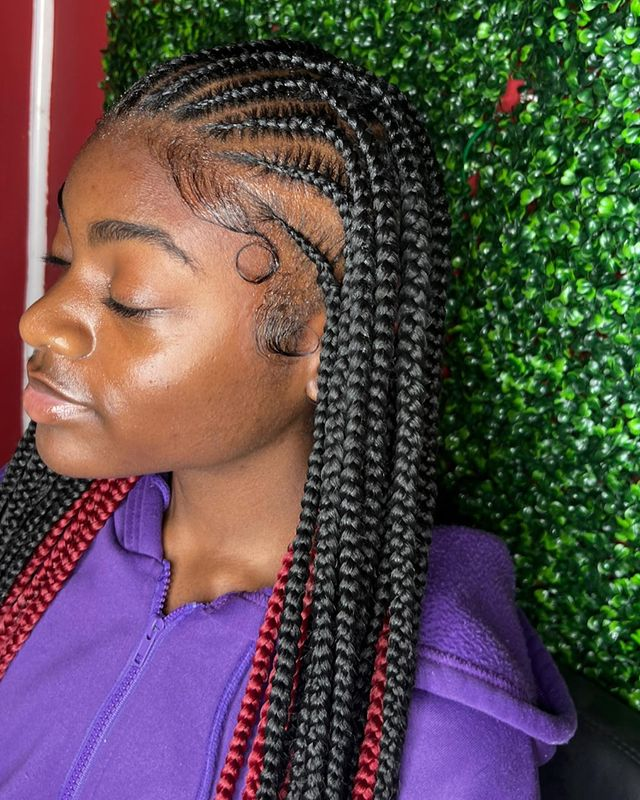 24. Plum Red Knotless Braids
Long knotless braids with front designer stitches have to be your go-to style hairdo if you are looking for something sexy yet formal. It is undeniably unique and one-of-a-kind. Make a call to your salon today and get your hands on this style, and yes, don't forget to get your hair dyed plum red.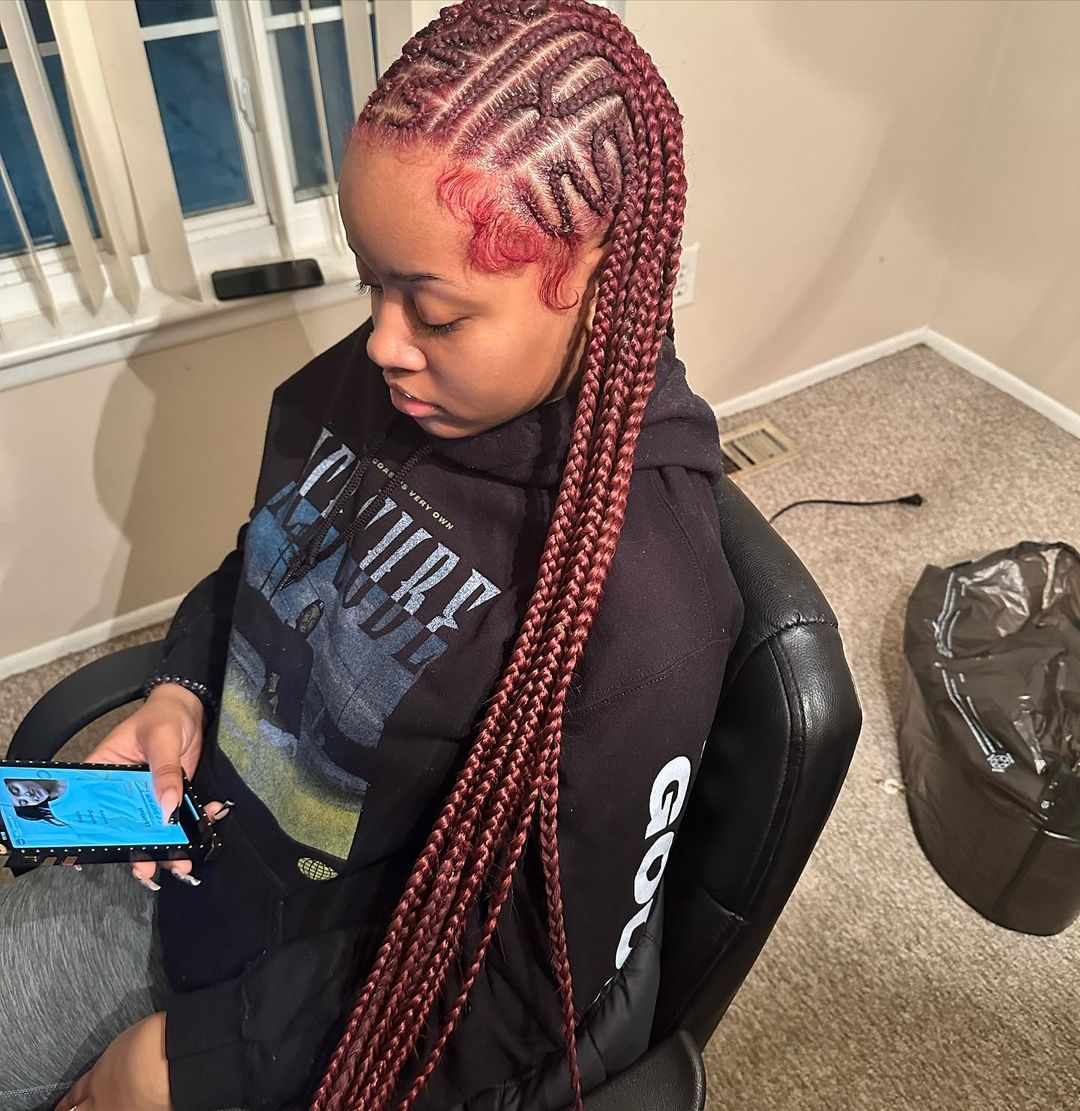 25. Berry Red Boho Knotless Braids
Boho braids are a staple of black girls. They love it and carry it with sheer excitement and care. Knotless braids are a great option if you plan to get your hair braided. Add colors like berry red and style them as you please to make it more fun and contemporary.
26. Flip Over Blood Red Knotless Braids
Sectioned and flip-over knotless braids are trendsetting and loved by every black girl. Keep them open; make a sexy ponytail, or simply tie a half bun flip-over braids will never disappoint you.
27. Ruby Red Boho Knotless Braids
Knotless braids are everything you need to enhance your overall look this season. Pair them with a chunky and up-to-date color and TADDA you have the sexiest look ever. Go, girl, and win hearts!
28. Extra Jumbo Red Knotless Braids
If you do not like finely braided braids, then extra jumbo knotless braids are for you. They are easy to carry and up-to-date. Loved and cherished by all black girls who are looking to opt for a sophisticated yet charismatic look. Lastly, dye it red and add jewels to make it more stunning.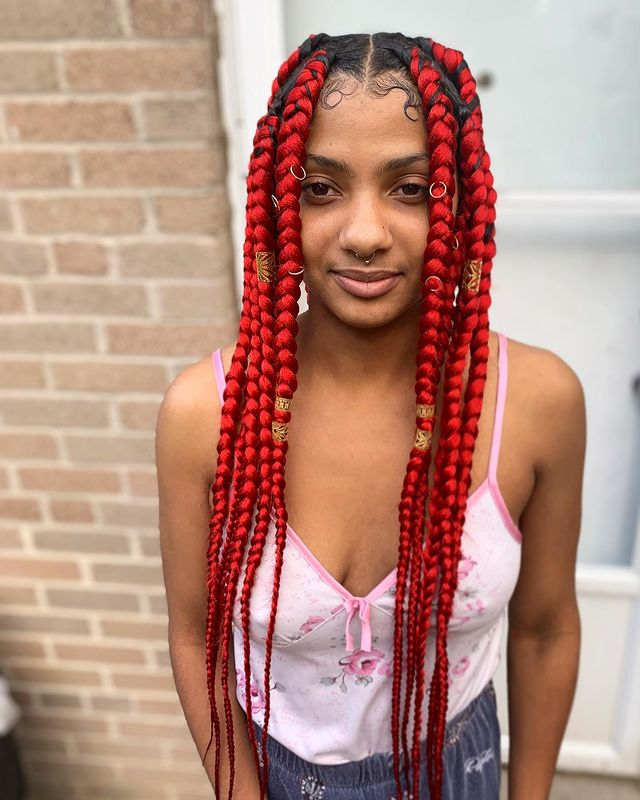 29. Streaked Black and Red Knotless Braids
Looking for a braided streak idea that chants nothing but 'glamour' and 'chic'? Then, streaked black and red knotless braids are for you. We're obsessed with this style as it brings out a new look without even doing much to hair. With just a few strands of red and yum, your braids are ready to make a statement.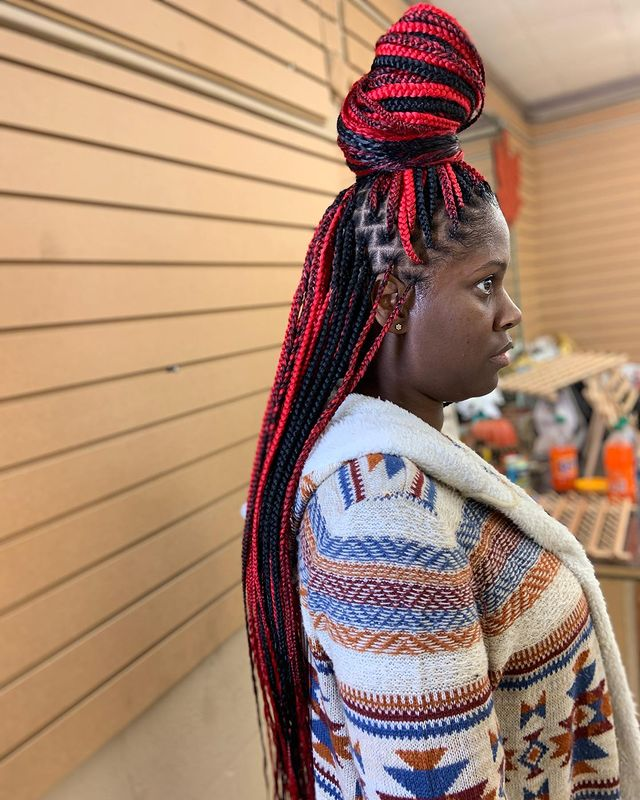 30. Reddish Black Ombre Knotless Braids
The fusion of two colors is nothing but perfection! Combining ombre red and black makes everything in your knotless braid magic. Personalize it as you like and give your braids a new life.
Now, it's Your Turn!
If you want to spice up your look, go get red knotless braids. The key to slaying perfect red knotless braids is to hire the right stylist because it's not just about the braiding technique but also the dye. And yes, don't forget to moisturize your scalp to protect your roots and style.
Which one do you like? Are you getting along?
Also Read related: