It is becoming increasingly popular for black women to wear braids without knots because they're comfortable to wear and less damaging to hair.
Knotless braids come in different sizes and lengths: micro, small, medium, large, and jumbo. The size you go for usually depends on your preference; however, beauty experts usually advise that medium may not be good if your hair is short or less than two inches long.
If you're looking to install medium knotless braids, we have 50 breathtaking styles you can choose from below.
50 Breathtaking Medium Knotless Braids You'll Love
1. Multicoloured Knotless Braids
Knotless braids laid neatly at the scalp are one of the best ways to protect your hair. You can add a bit of flavor to your knotless by braiding them using multicolored extensions, as seen here.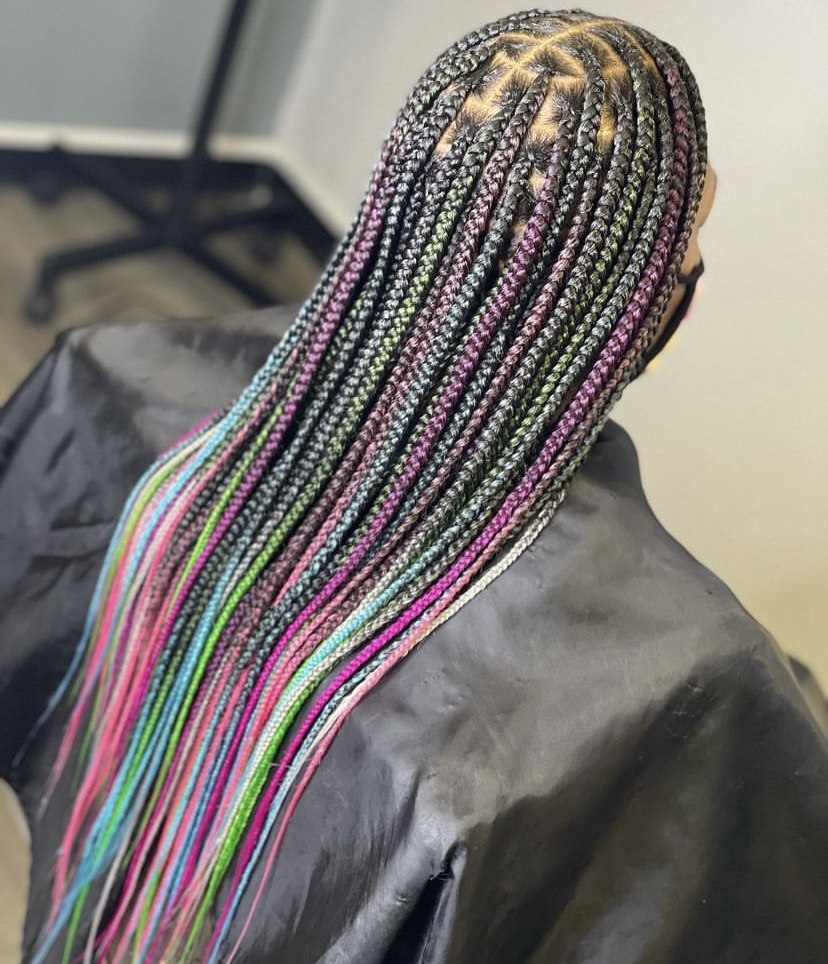 2. Knotless Goddess Braids
Knotless goddess braids are done by using the feed-in braiding style and parting them into individual sections while neatly braiding synthetic deep-wave curls into each section. You can use brown to golden-colored hair for your curls to give you a gorgeous look.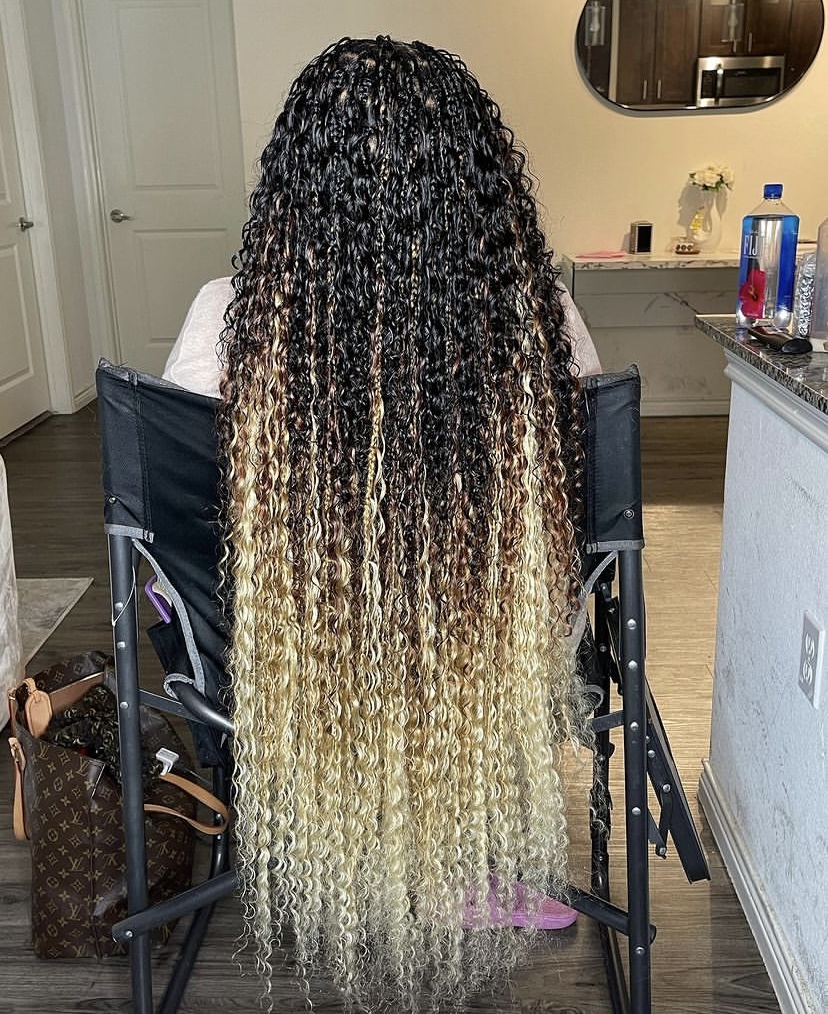 3. Blonde Curly Knotless Braids
Just like knotless goddess braids, these braids are also done using blonde deep-wave extensions in between the braided sections. The knotless braids themselves, which are of a golden hue, can be curly at the ends to blend in nicely with the blond curls.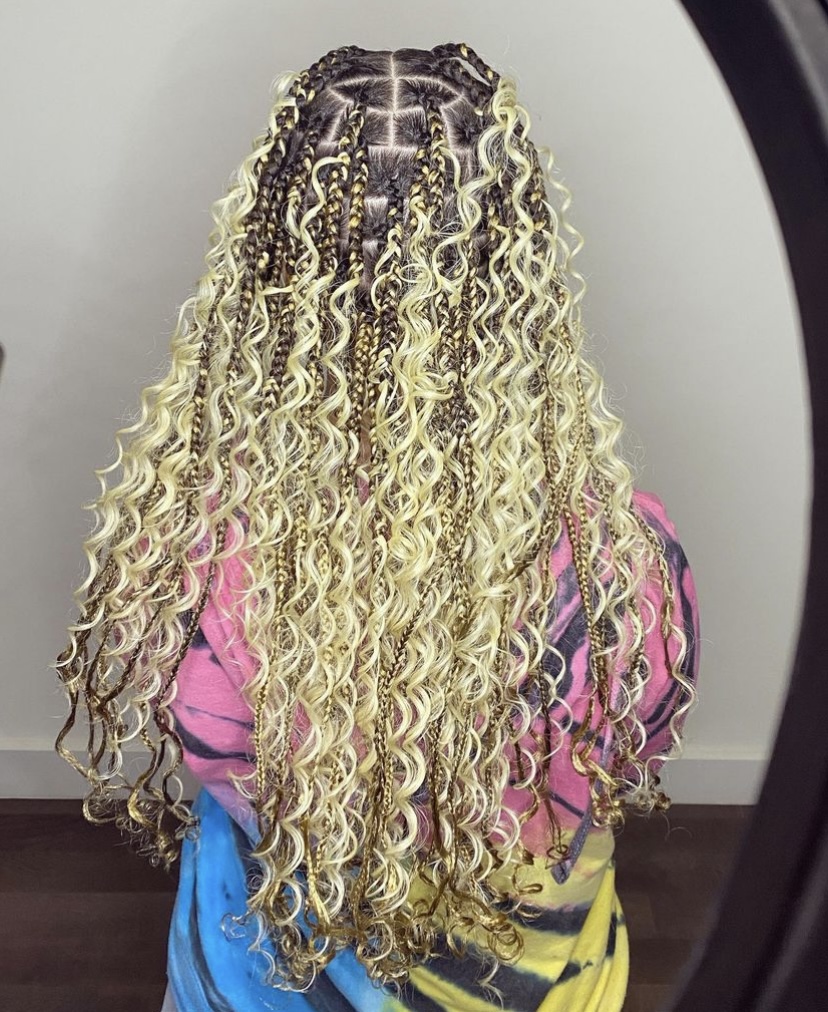 4. Roughly Parted Knotless Braids
The beauty of this style is not just in the brown braids alone but also in the small partings done on the scalp. This makes your hair look more neat and patterned.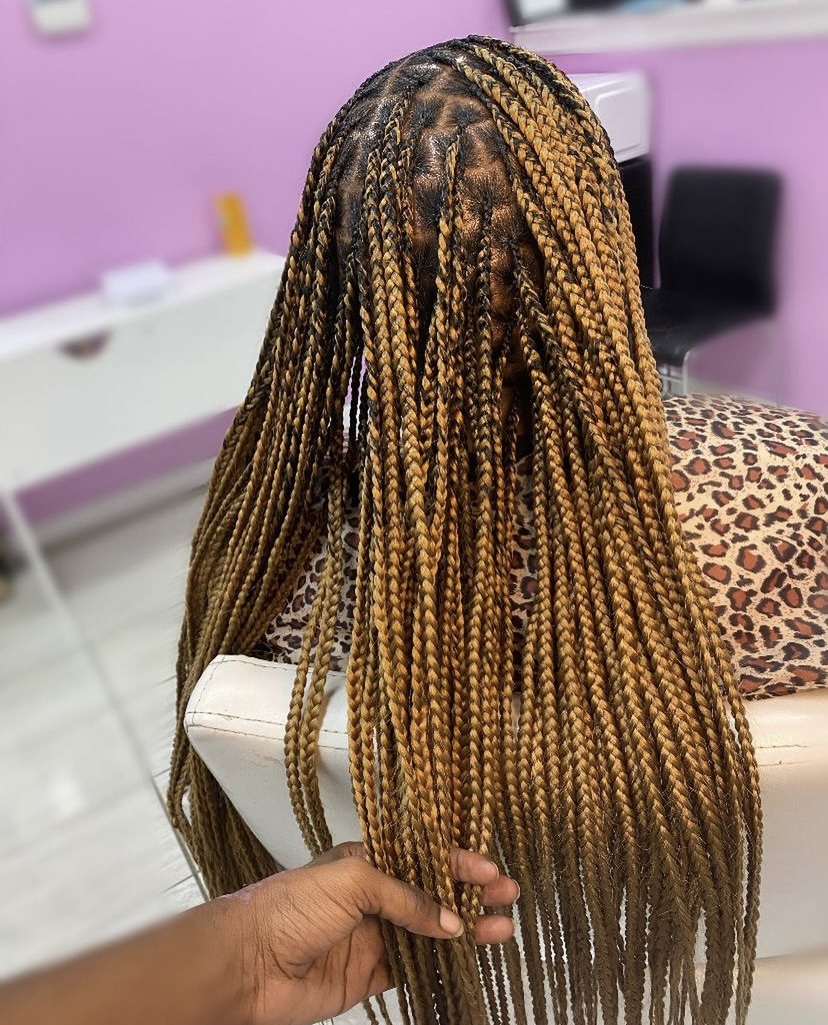 5. Shoulder Length Knotless Braids
Do you feel like your knotless braids are too simple? One of the ways to add more flair is to use two shades of pink and cream for your medium braids. You can also curl the ends of your braids to make them stand out. The colours used for the braids below are pink with a 613 skunk patch.
6. Half Cornrow Half Knotless Braids
One of the things we love about knotless braids is how flexible they are. Just like the image below, you can start your braids with some flat cornrows and then continue with the knotless braids. You can also mix brown and black braiding hair to achieve below.
7. Butt Length Knotless Braids
Using wine-coloured extensions for your knotless braids is one of the best options that is sure to make you look distinctive and outstanding among the crowd.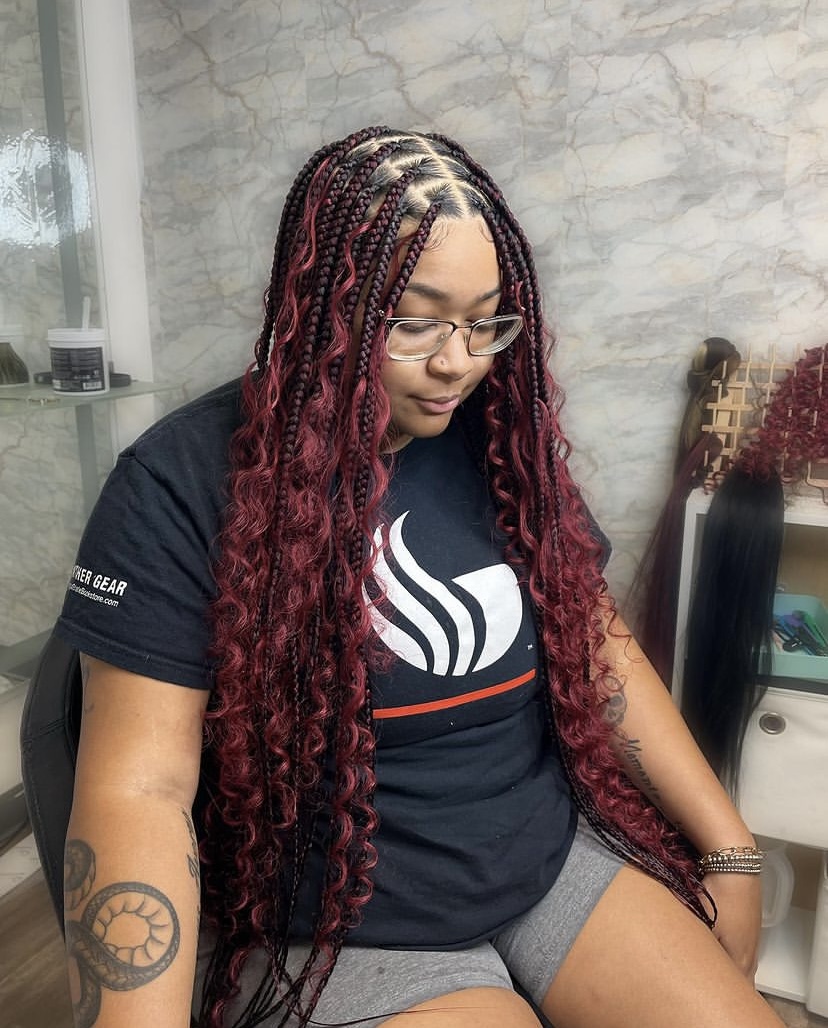 8. Pink Themed Knotless Braids
For everything pink lovers, this pink colour theme knotless braid is perfect to match your pink outfit and even better to go watch Barbie movies.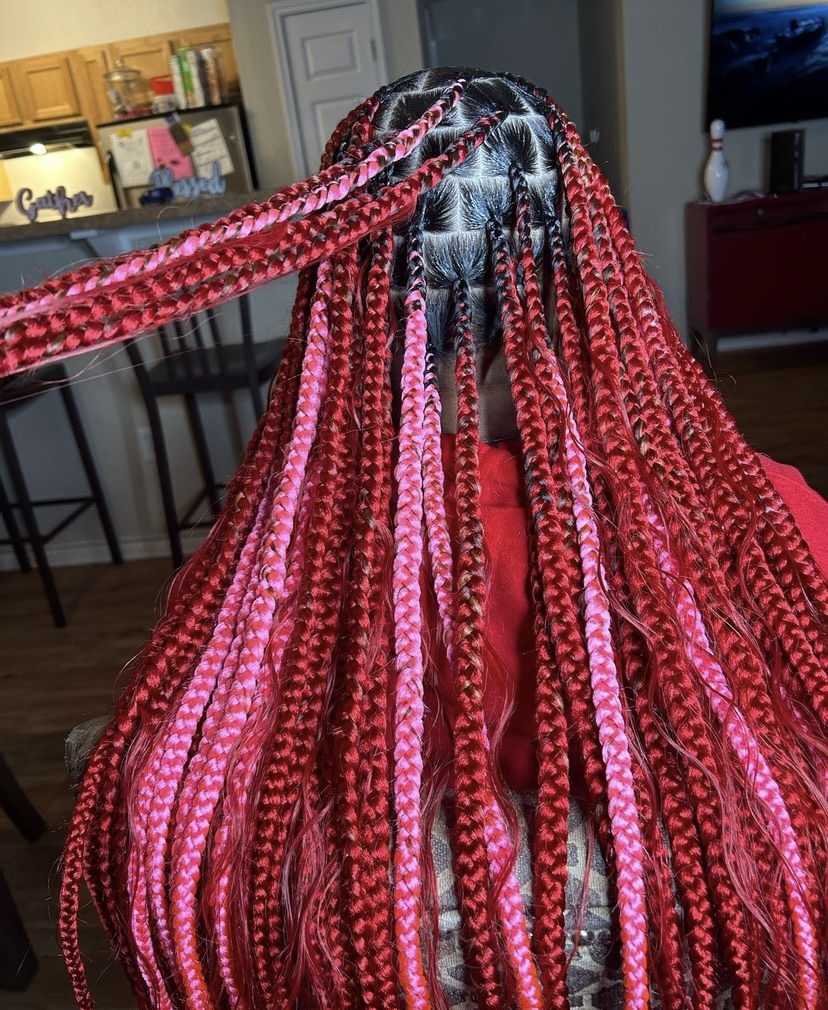 9. Short Knotless Braids with Wooden Beads
You don't have to overcomplicate your hairstyle. A simple knotless braid with some wooden beads at the ends is just perfect.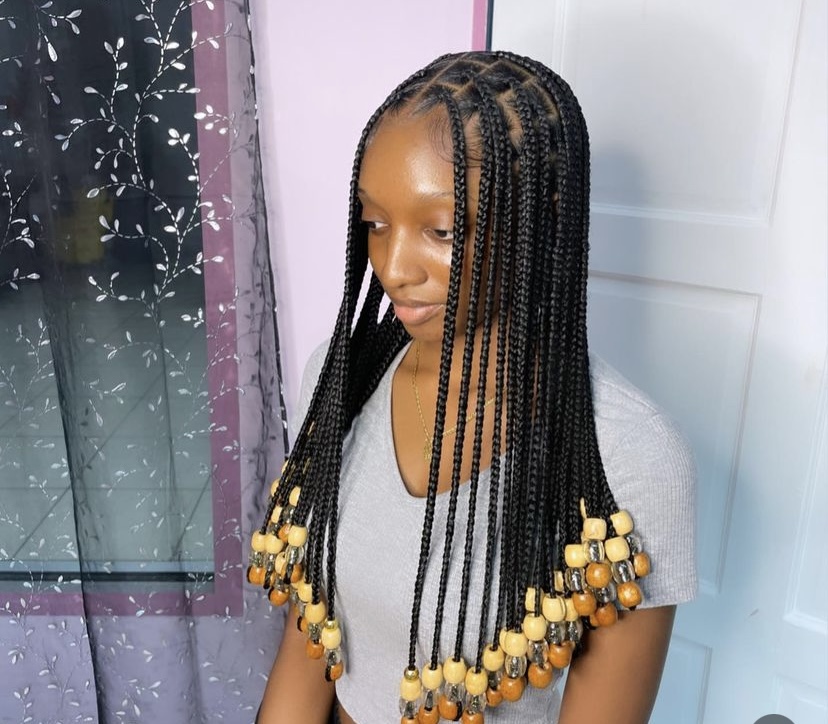 10. Black and Multicoloured Knotless Braids
If you don't want to braid your knotless braids using an all-black colour, you can always blend the black using a multicolour to give it some variety.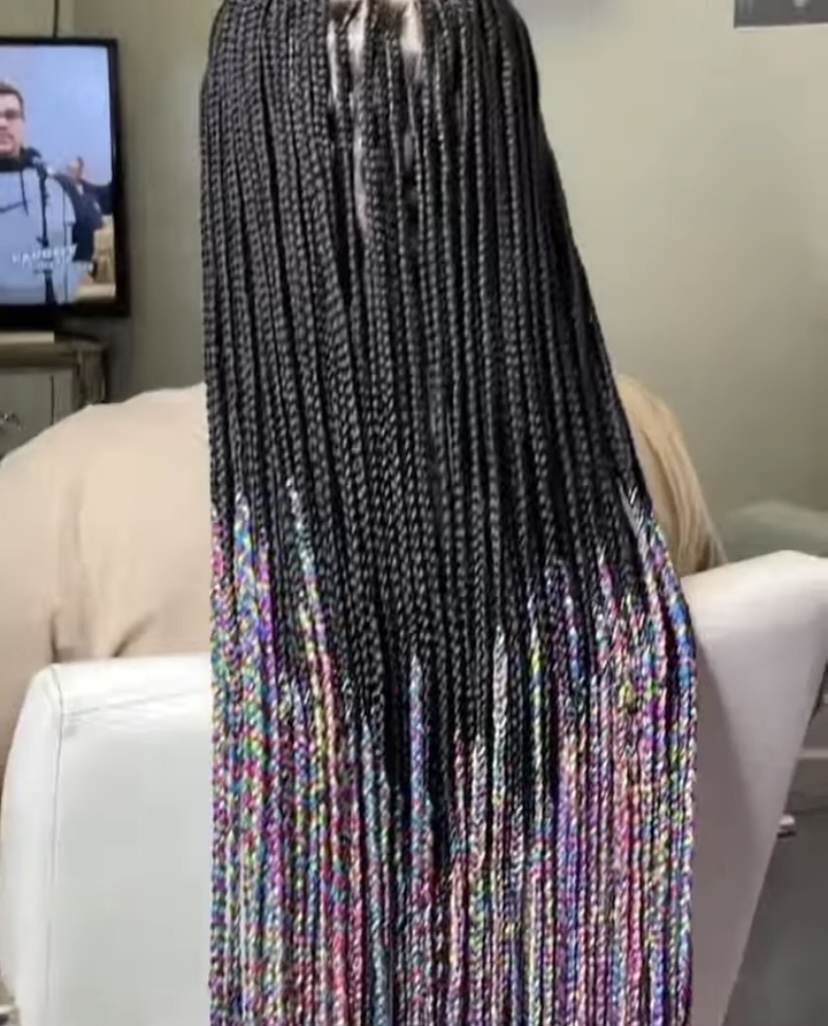 11. Butt Length Fulani Braids with Knotless Braids
Red is a color that always stands out. You can therefore be certain that wearing red with your cornrow knotless braids plaited with curls will make you stand out.
12. Black Knotless Braids with Curly Ends
There's no better hairstyle than one that is neatly patterned at the scalp. These knotless braids with curls at the ends can give you a very neat and comfortable look.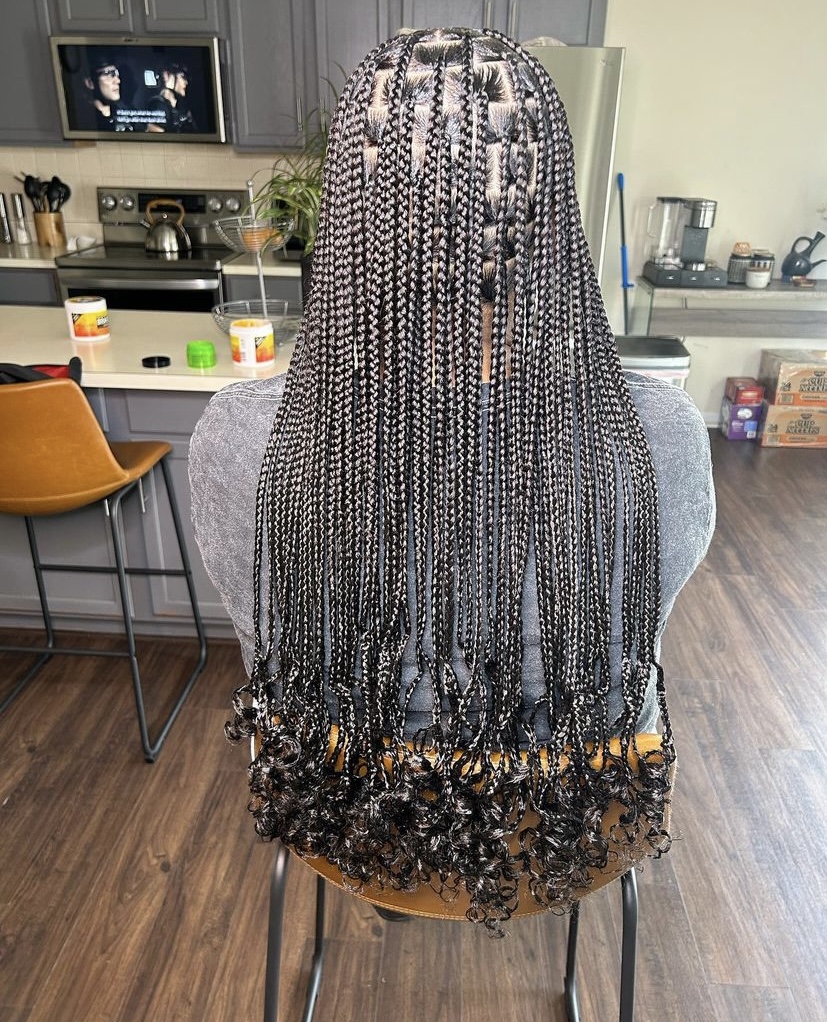 13. Brown Knotless Braids with Beads
You can give your knotless braids some color by using the color brown for them and then complementing them with some clear beads at the end.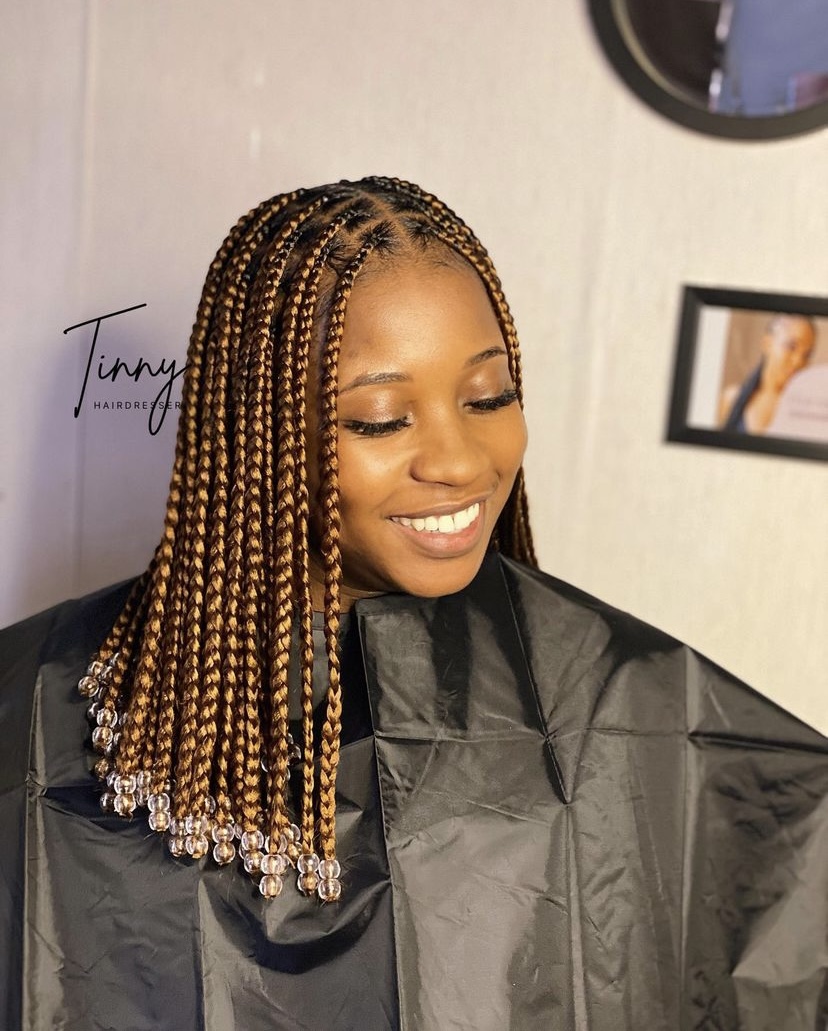 14. Triangle Part Knotless Braids
Why have one style of knotless braids when you can have two? This beautiful diamond parallel braid has knotless braids at the start and then a different style of knotless twists at the end.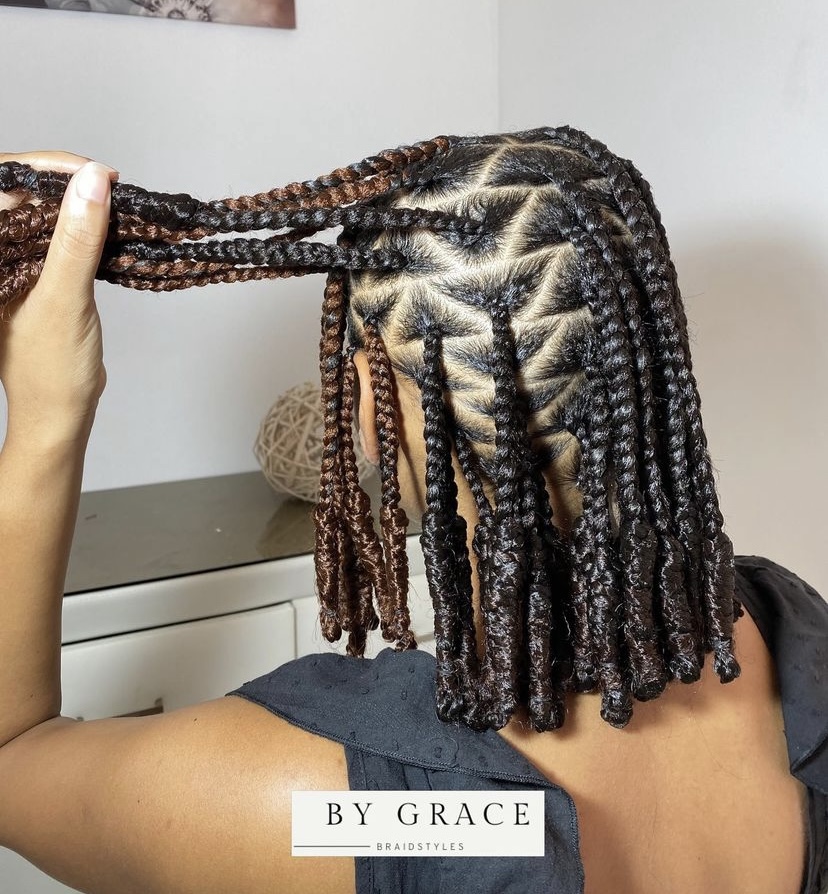 15. Peekaboo Knotless Braids
These heart-shaped knotless braids are named Peekaboo due to a portion of the braids hidden at the bottom. That portion is usually in a distinctive colour such as green, as shown below, to truly emphasize the peekaboo effect.
16. Bubblegum Knotless Braids
For this style, bright and vibrant colours were used in some parts of the braids, elevating their beauty. This bubblegum braid is a mix of pink and blue, taking after the colours of bubble gum.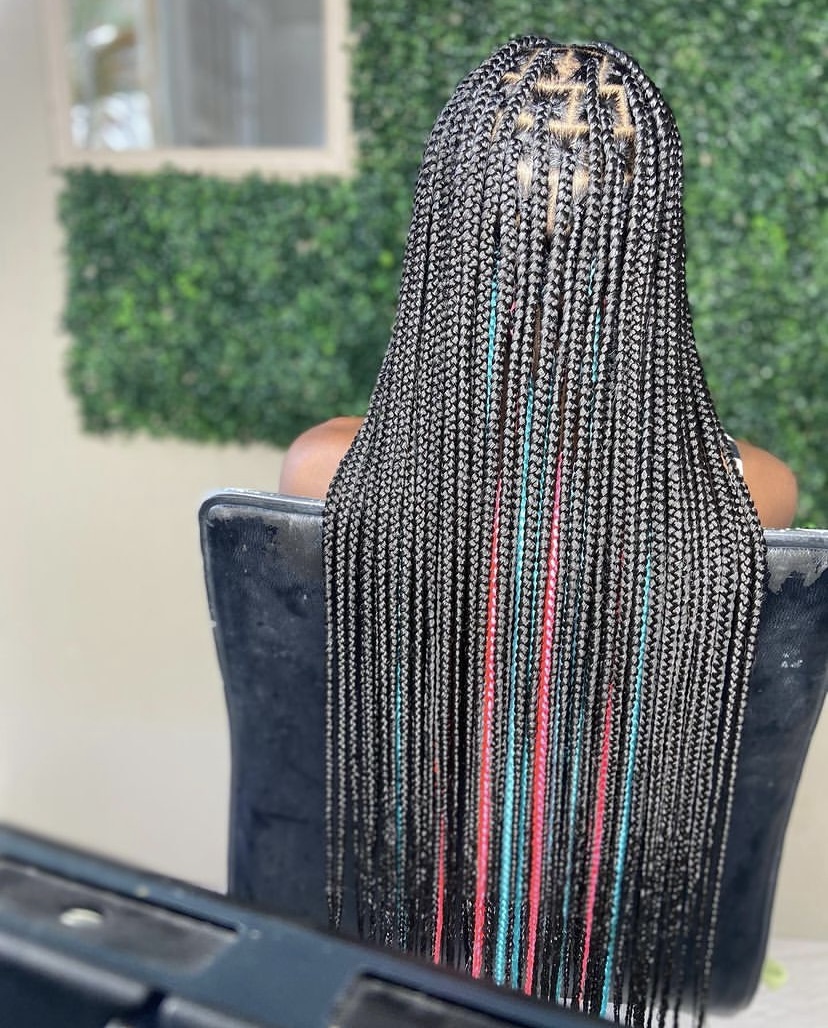 17. Flip Over Knotless Braids
These knotless braids have their unique style of cornrow braids at the sides, with one neatly flipped over the other. The rest are done in the normal knotless style.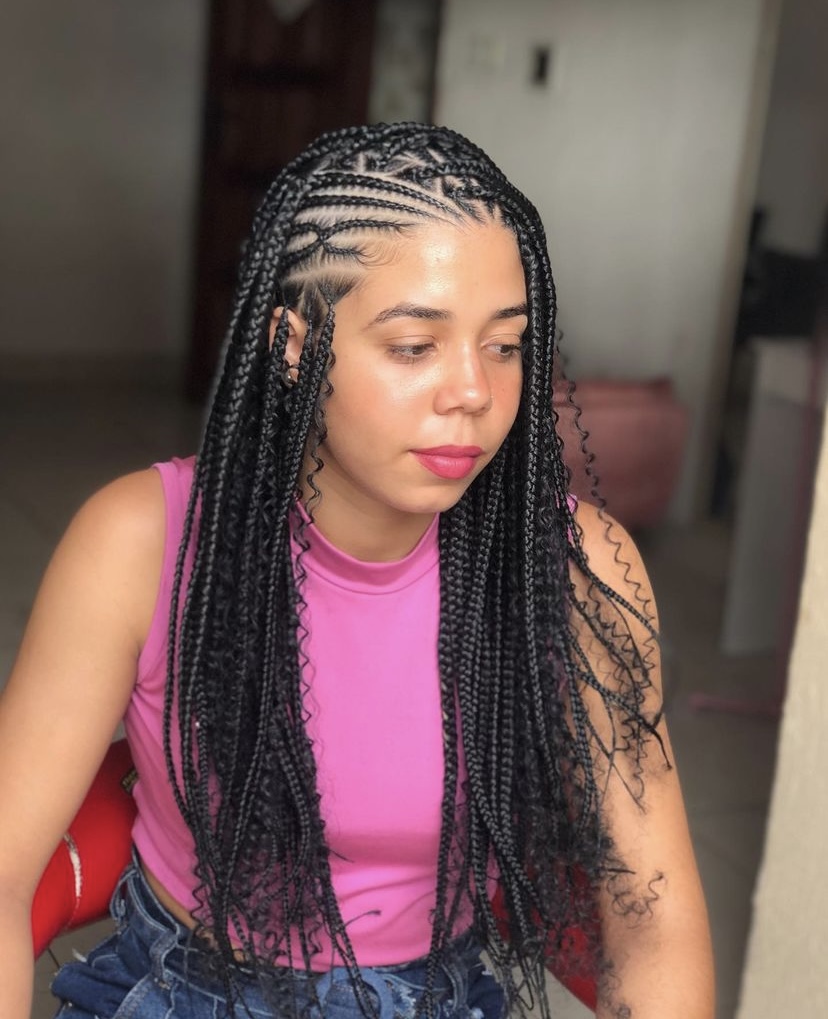 18. Medium Twist with Curls
Seeing as red-colored hair is now quite popular among the baddies, you can go for these red knotless medium twists with wavy curls flowing in between. Laying your edges can be a plus as well.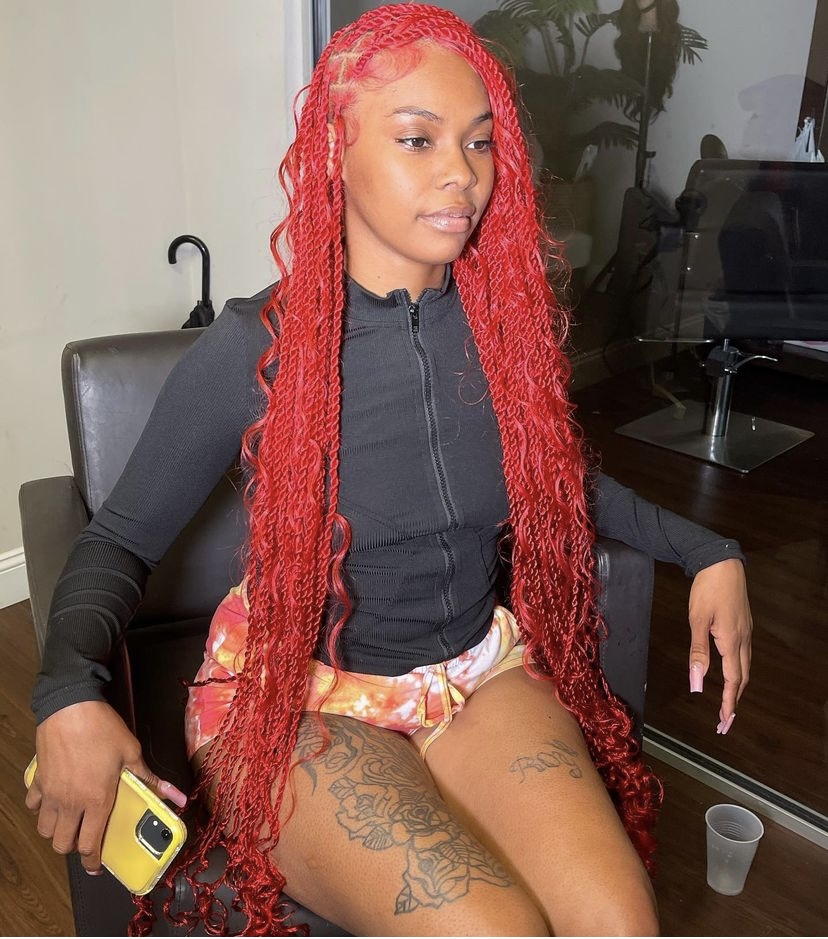 19. Black & Purple Knotless Braids
Tired of your knotless braids looking bland? Then you can curl the ends of your braids and mix your black braids with a touch of purple to bring out some color.
20. Medium Boho Braids
For a bohemian style, you can have your braids at full length with deep wavy curls free-flowing from the mid-braids downward. This is a stunning style for all occasions.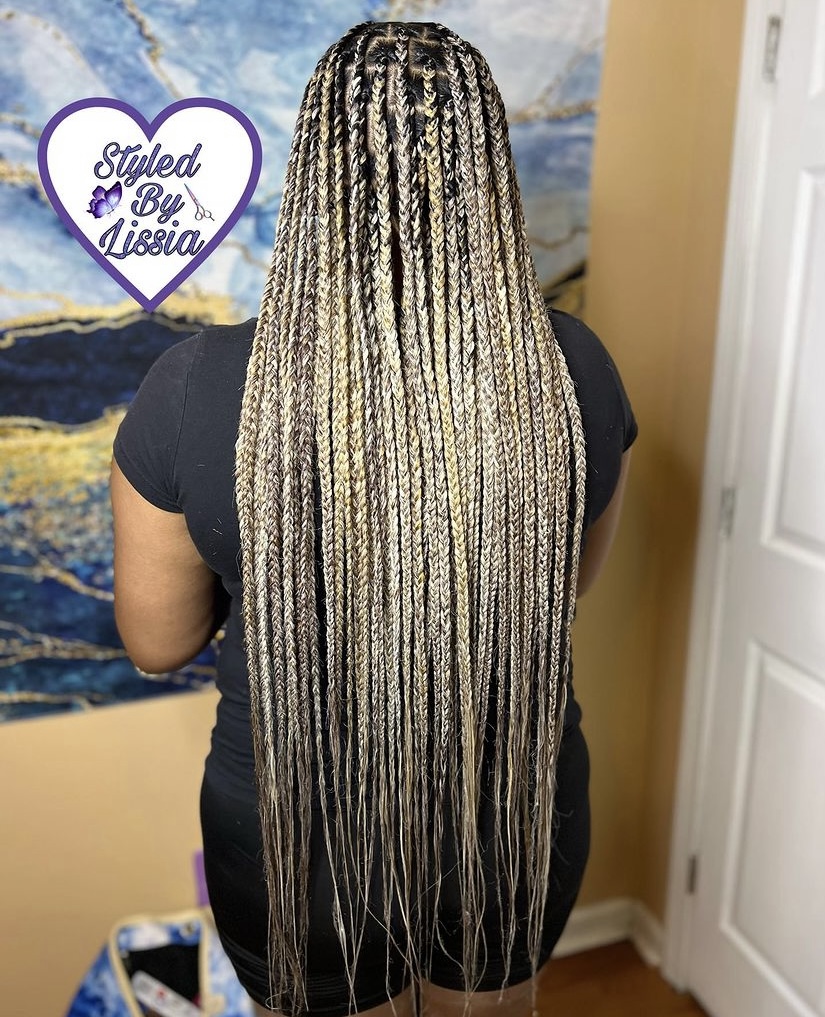 21. Knotless Braids with Orange Colour
The heart shape and the vibrant orange will make you stand out. You can add this to your list.
22. Blue Knotless Braids
For the days when you're looking for a bit of color to brighten your day, you can always go with these deep blue knotless braids to feel your very best.
23. Knotless Braids with Passion Twists
This is a truly stunning style that is easy to wear. Knotless braids are first braided before the passion twists are installed, creating a comfortable movement with a natural look.
24. Green Knotless Braids
Are you looking to experiment with bolder colors? Try these bright lemon green braids mixed with black to really make a statement.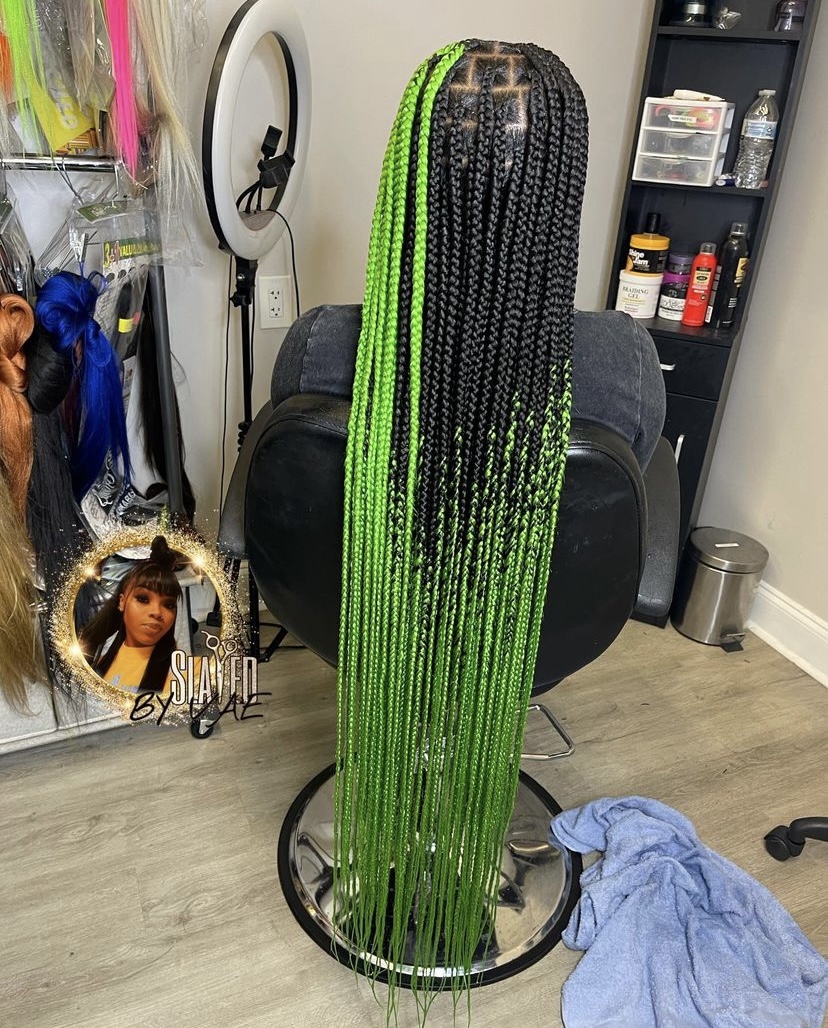 25. Knotless with Curly Pieces
The colour and loose curls give this look a hint of elegance and sophistication, and we believe you'll look good in it. Definitely give it a try.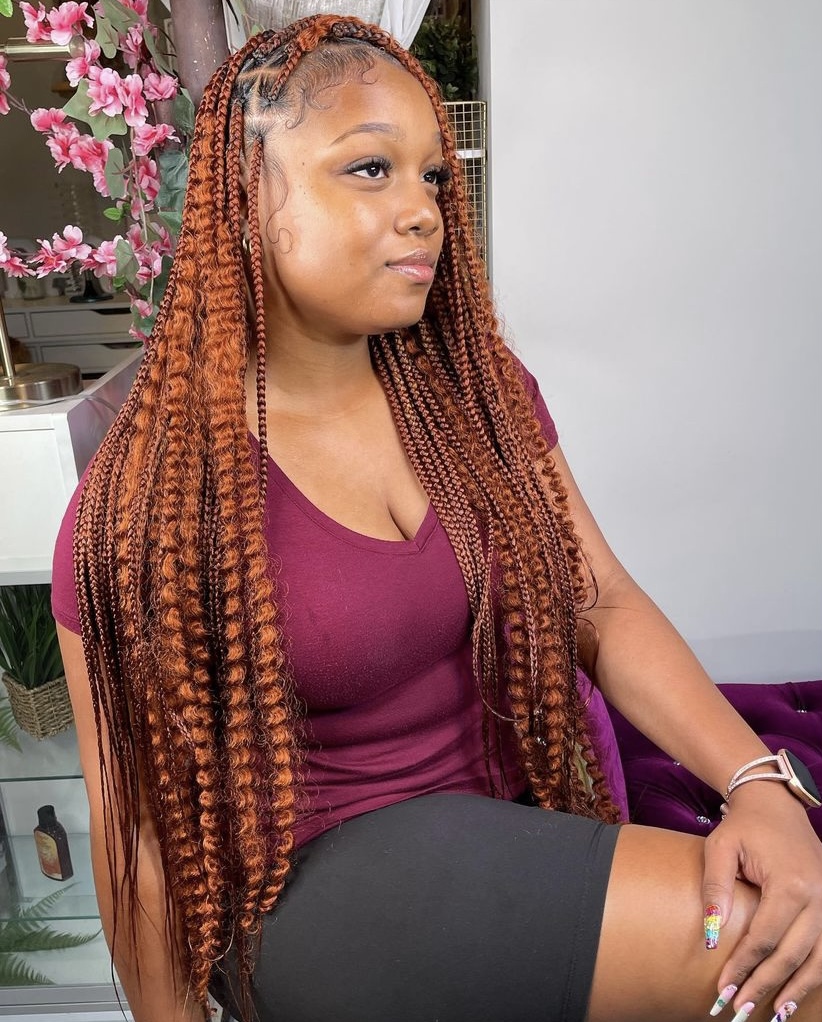 26. Knotless with Hearts and Curls
This style is unique and stylish and combines creativity to give it a trendy look. This style can be achieved by braiding some parts of the roots into heart shapes and adding curls at the ends.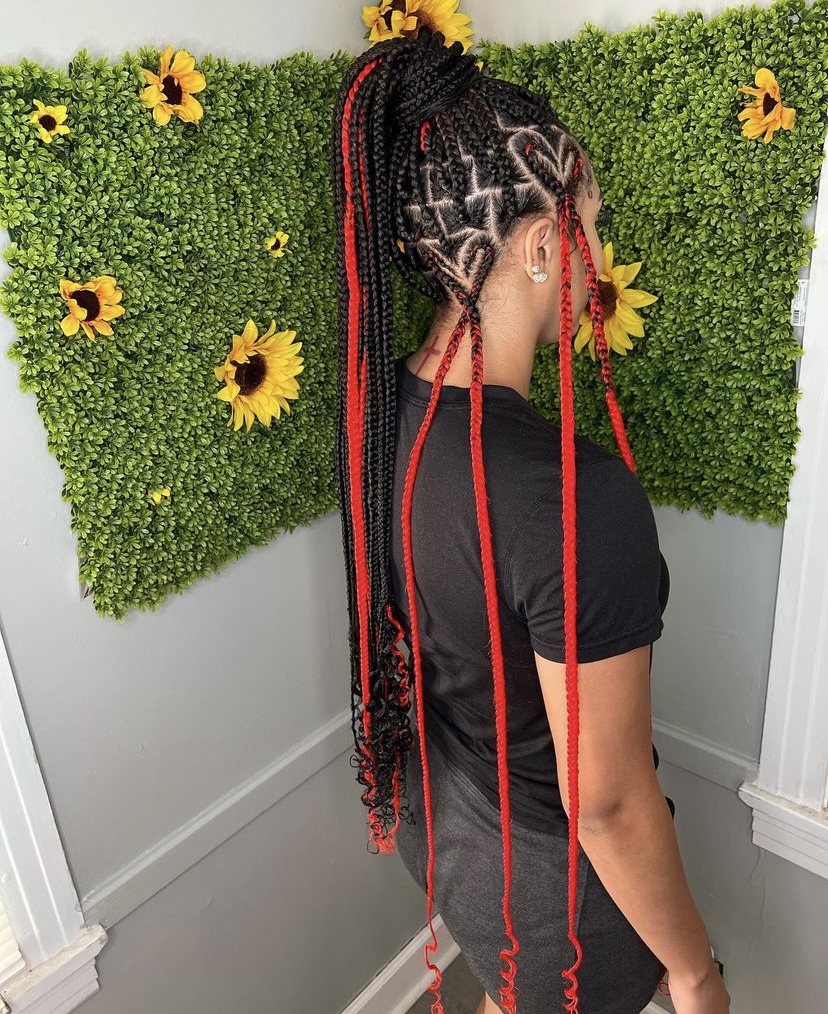 27. Medium Ombré Knotless Braids
In this style, the braids often begin with a natural or darker hair colour at the roots and gradually change to a lighter or different shade as they approach the ends. This style makes the braids more beautiful and adds visual interest to them.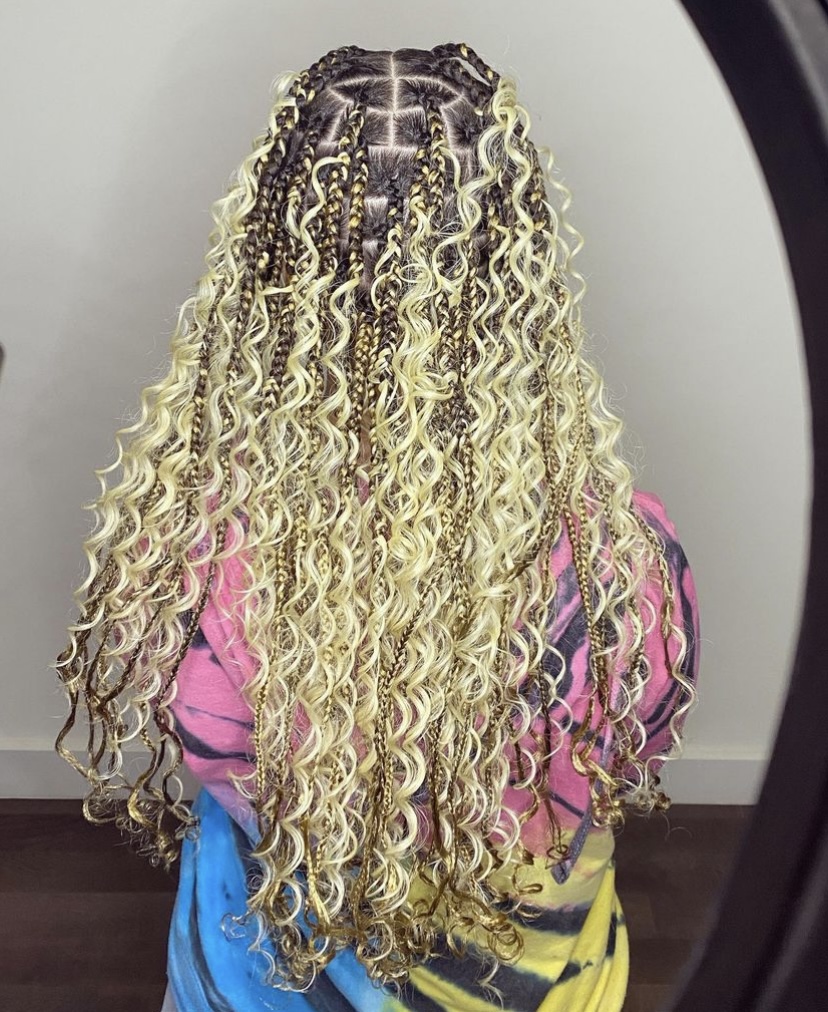 28. Strip Medium Knotless Braids with Beads
The blonde on one side with the decorative beads makes this style truly breathtaking. It's elegant and gorgeous. This is indeed a must-try.
29. Wine-Coloured Knotless Braids
If you wish to wear your hair in a bold yet elegant way, these braids are a great option. This knotless hairstyle is suitable for every occasion because the wine color gives it a touch of elegance and individuality.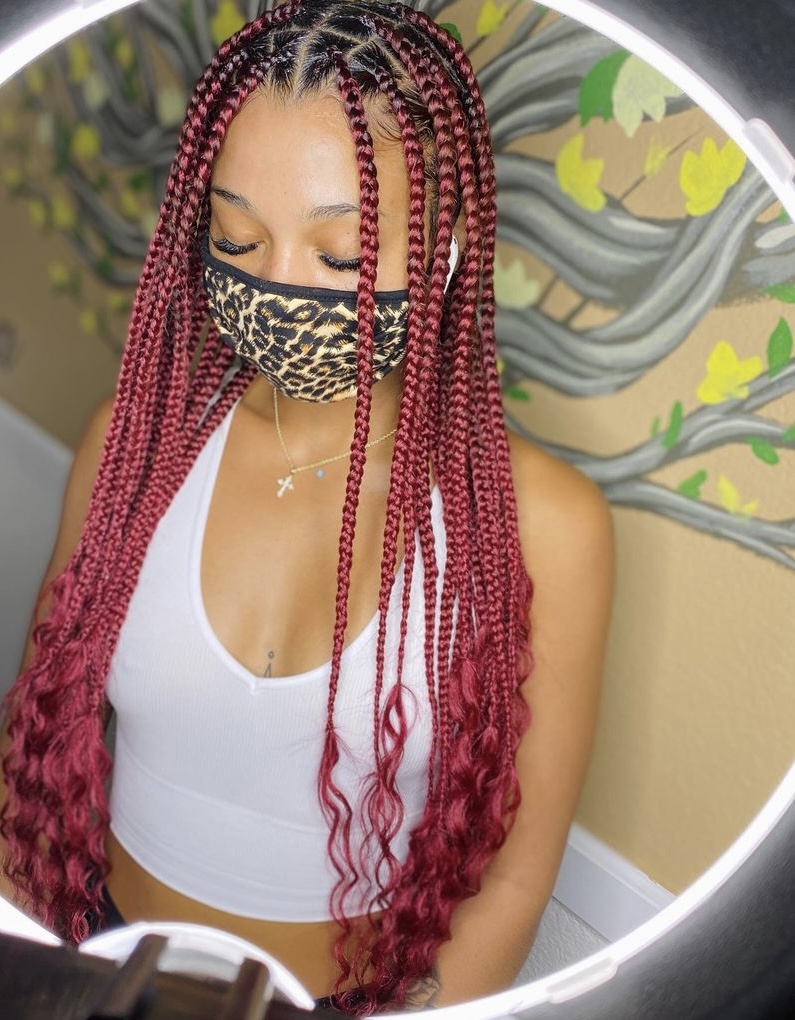 30. Knotless Braids with Blended Colours
These braids offer versatility and individuality, as you can blend any color you prefer and also braid thicker to match your style. The blended colors used for this style are color 33, 613, and 27.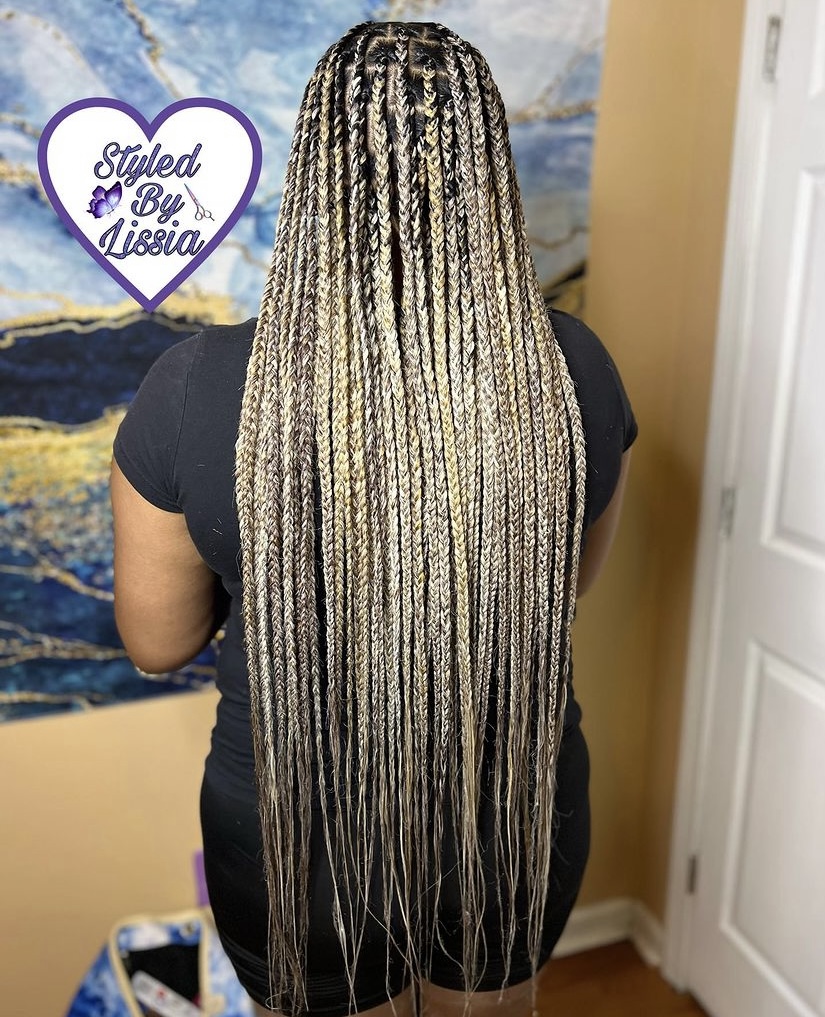 31. Ombré Blue Box Braids
Knotless braids in ombré blue are a striking and alluring hairstyle. If you're looking to exhibit your passion for vivid colours, this style is ideal.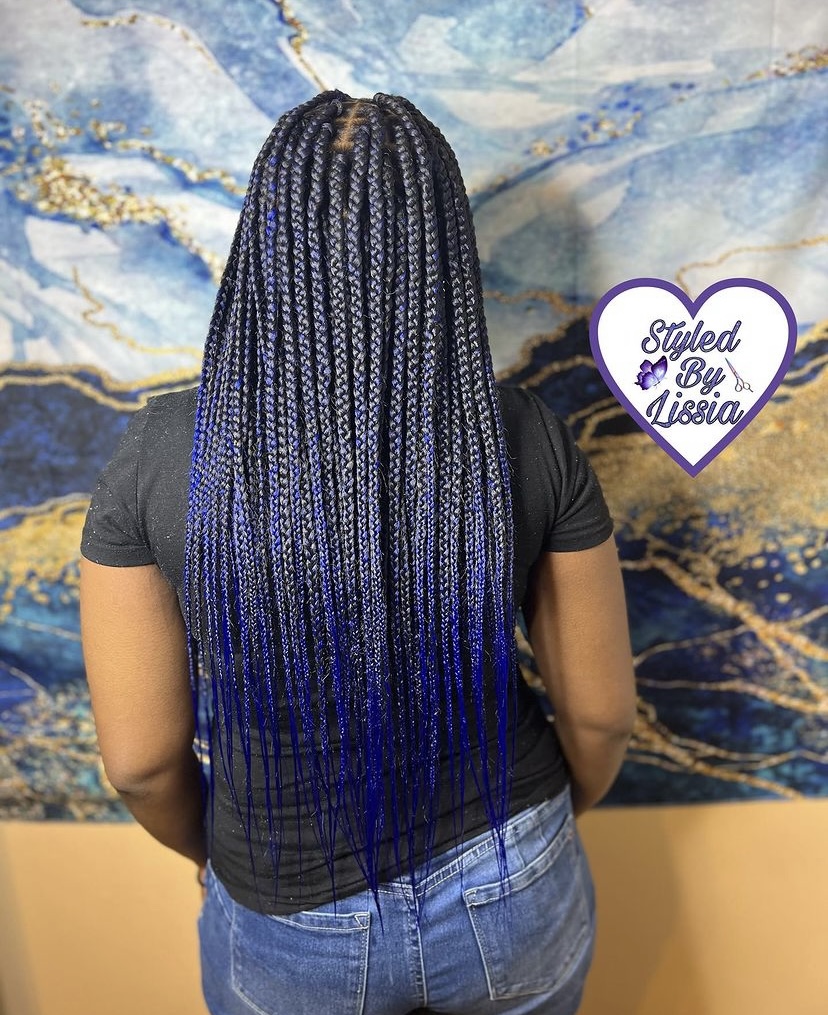 32. Knotless Braids with Hot Pink Highlights
If you wish to exhibit your flirtatious and joyful side while still looking stylish and varied, definitely give this look a try.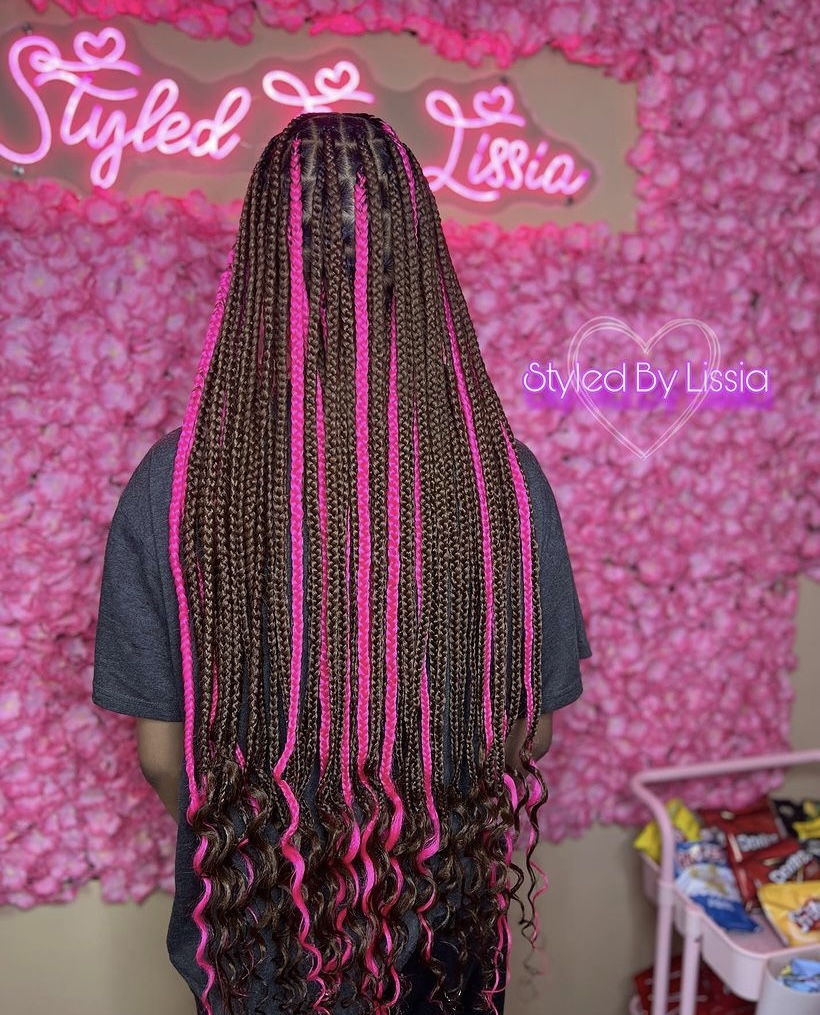 33. Special Pattern Knotless Braids
What makes this style unique is how the hairstylist has made the special parts on the scalp, and we believe you'll also love it enough to give it a try. This style is fashionable and will give you a striking appearance.
34. Brown and Black Knotless Braids
This style mixes the richness of black with the warmth of black, which goes well with a variety of skin tones. This style is perfect for a subtle and sophisticated appearance.
35. Medium Knotless with Colourful Ends
The ends of this style give the look a vibrant and playful vibe. You'll definitely stand out in this look.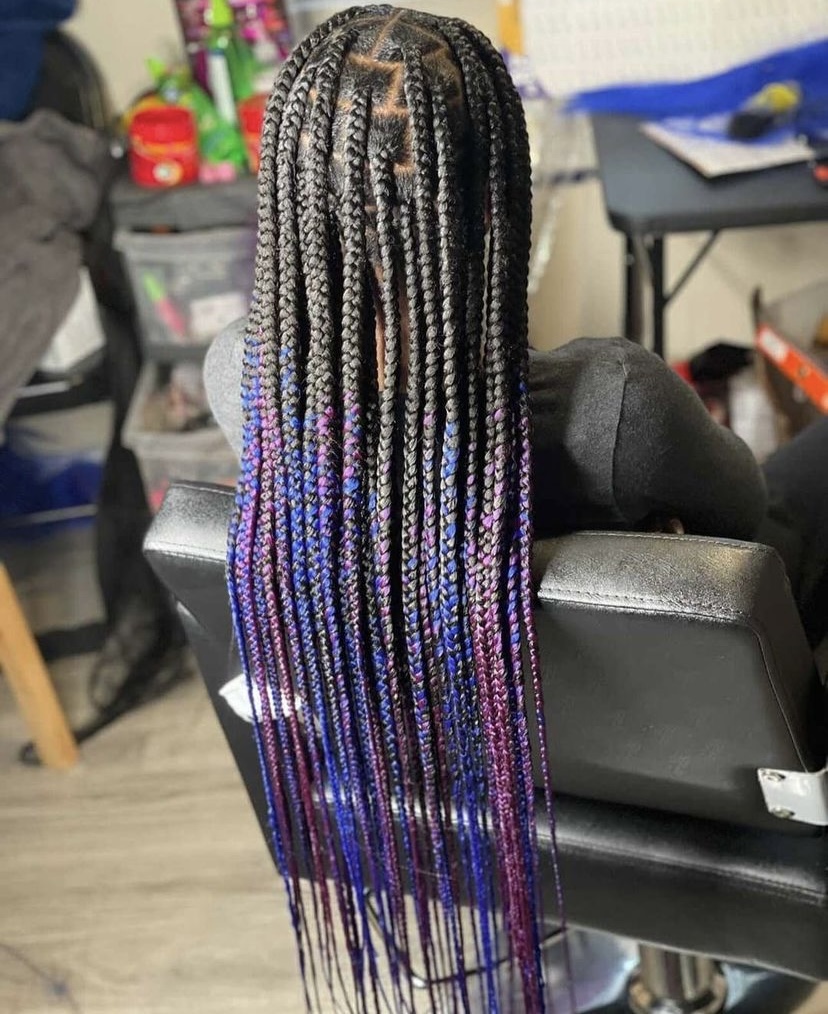 36. Medium Knotless with Custom Colours
What's better than one bun? Two buns! All you need to do is part your grey-coloured medium knotless braids into two and tie them apart. This brings out the beautiful features of your face. You can style it by nicely laying out your edges.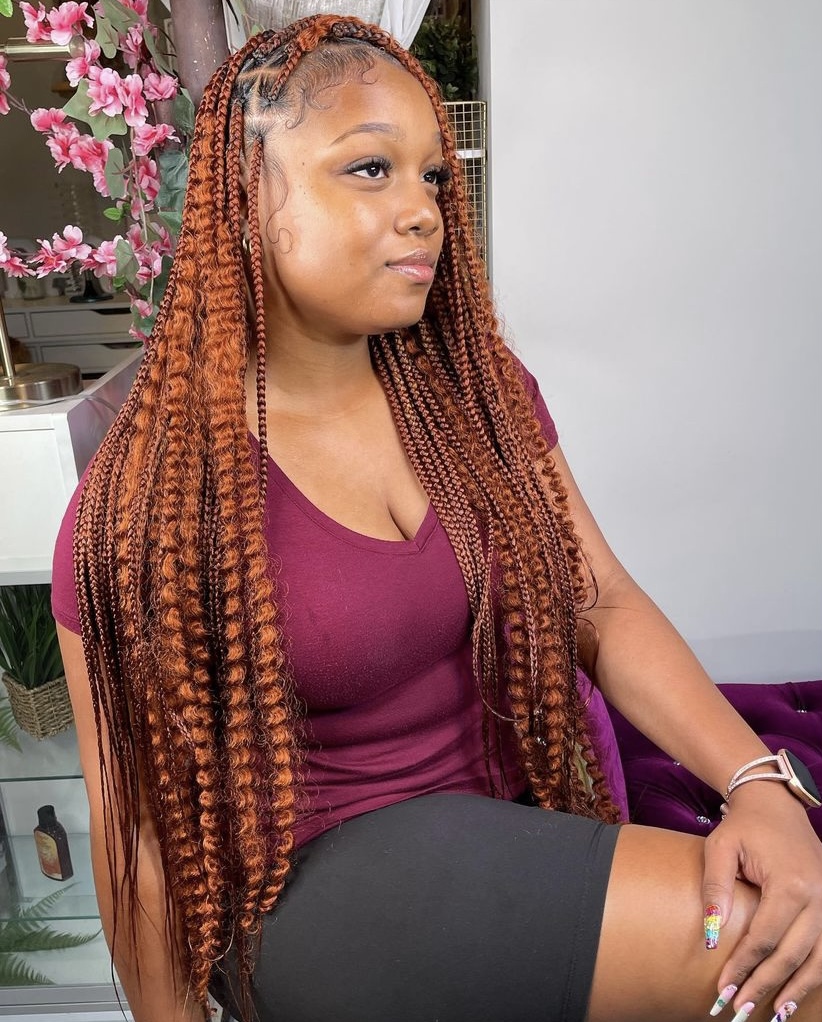 37. Medium Knotless Braids with Ombré Colours
This style is a great option if you wish to make a strong statement and have an eye-catching appearance. This style has a mesmerizing look as it smoothly changes from one colour to another.
38. Baby Pink Peekaboo Braids
This peekaboo braid in baby pink is a cute and fun hairstyle. These fashionable braids have modest baby-pink highlights that give your hairstyle a charming feel.
39. Feed-in Fulani with Knotless and Beads
This style, adorned with wooden beads, creates a gorgeous and ethnically inspired hairstyle you'll love. It honors both heritage and fashion.
40. Crisscross Knotless Braids
Crisscross is one of the trendiest styles currently. This is a dynamic and eye-catching style with a combination of black and joyful pink colours.
41. Goddess Braids with 27 Peekaboo
Golden peekaboo braids have a hidden layer of golden hair under the top layer of hair. This gives you a delicate and sophisticated contrast that you can use for special occasions.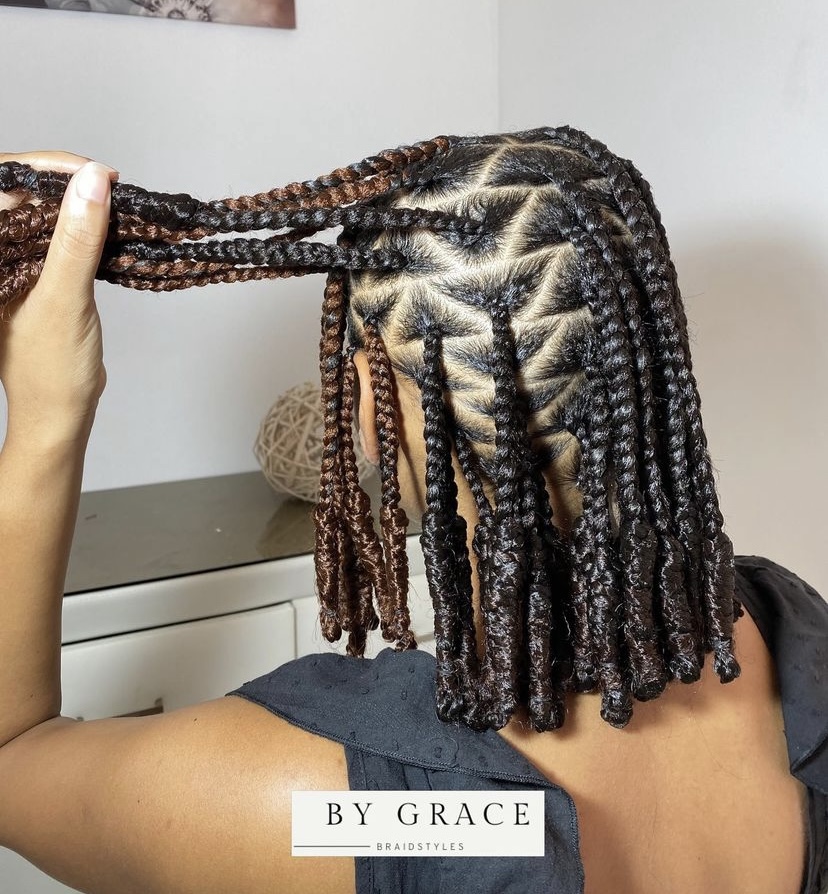 42. Medium Knotless Braids with Dark Colours
This is a simple yet elegant style to try. The colors used were dull (black and brown). You can give this a try if you're not a fan of drawing attention to your appearance.
43. Long Multi Coloured Knotless Braids
Knotless braids with a mix of colors are an excellent option if you're looking for a fashionable and comfortable braided style. You can wear them for any occasion.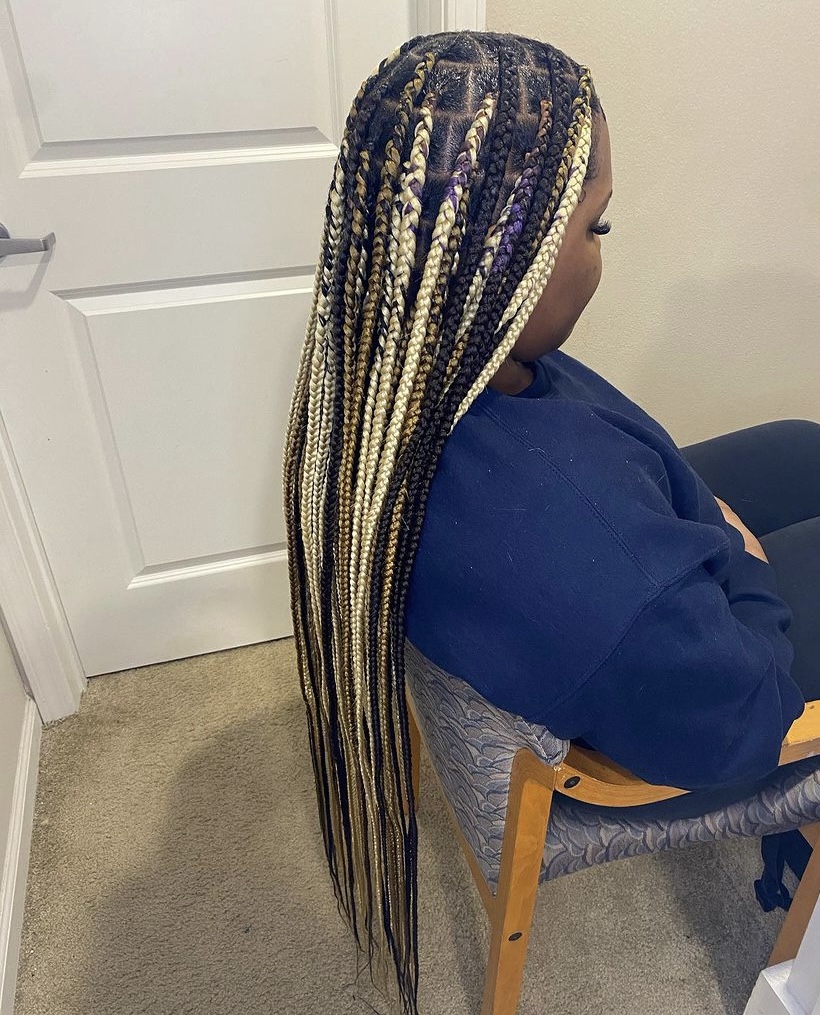 44. Black and Gold Knotless Braids
This style is a striking combination of black and blonde, creating a rich and eye-catching style you'll definitely love to try.
45. Waist Length Knotless Braids with Beads
These braids, adorned with rustic wooden beads, give off a natural and bohemian-inspired look. This style blends modern features with a natural look, and you should add this to your minimalist knotless list.
46. Black and Brown Knotless Braids
This medium-sized, waist-length knotless braid is indeed stunning. The black and brown colors create a timeless and attractive style. This style is a great option if you're seeking a classic and effortless chic look.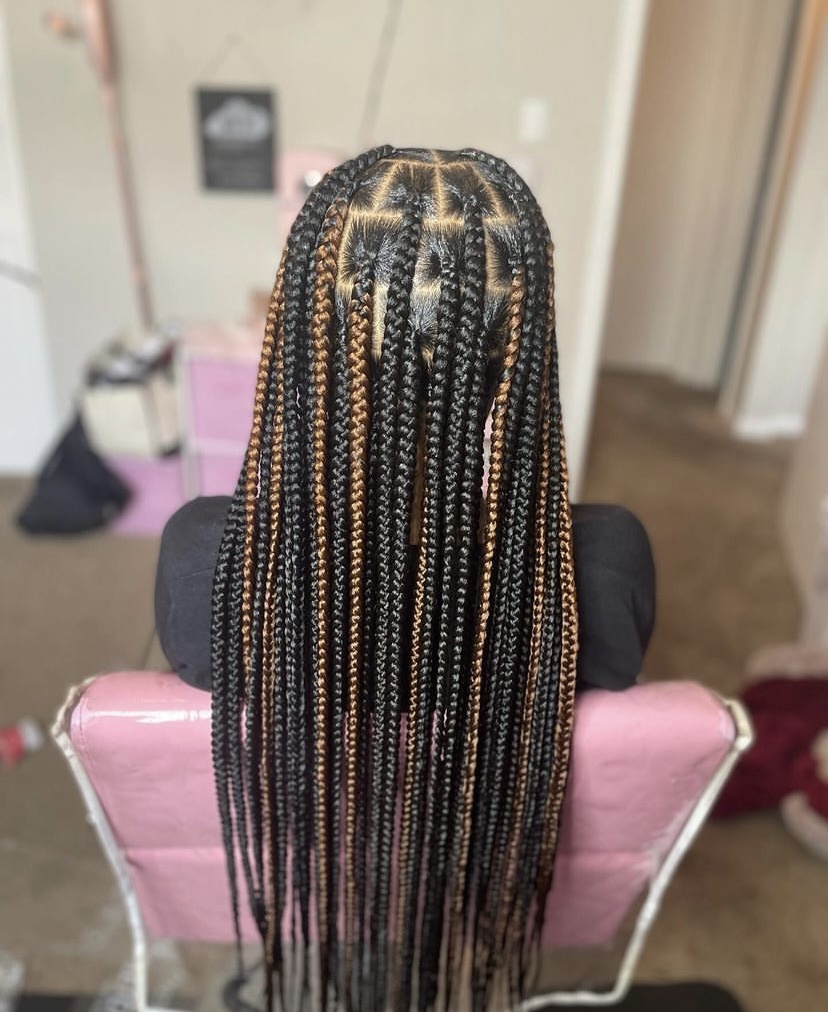 47. Black Square Parted Knotless Braids
If you're looking for a simple yet stylish look, you should give this style a try. This style will be good for a corporate or more professional setting. It all depends on how you style it.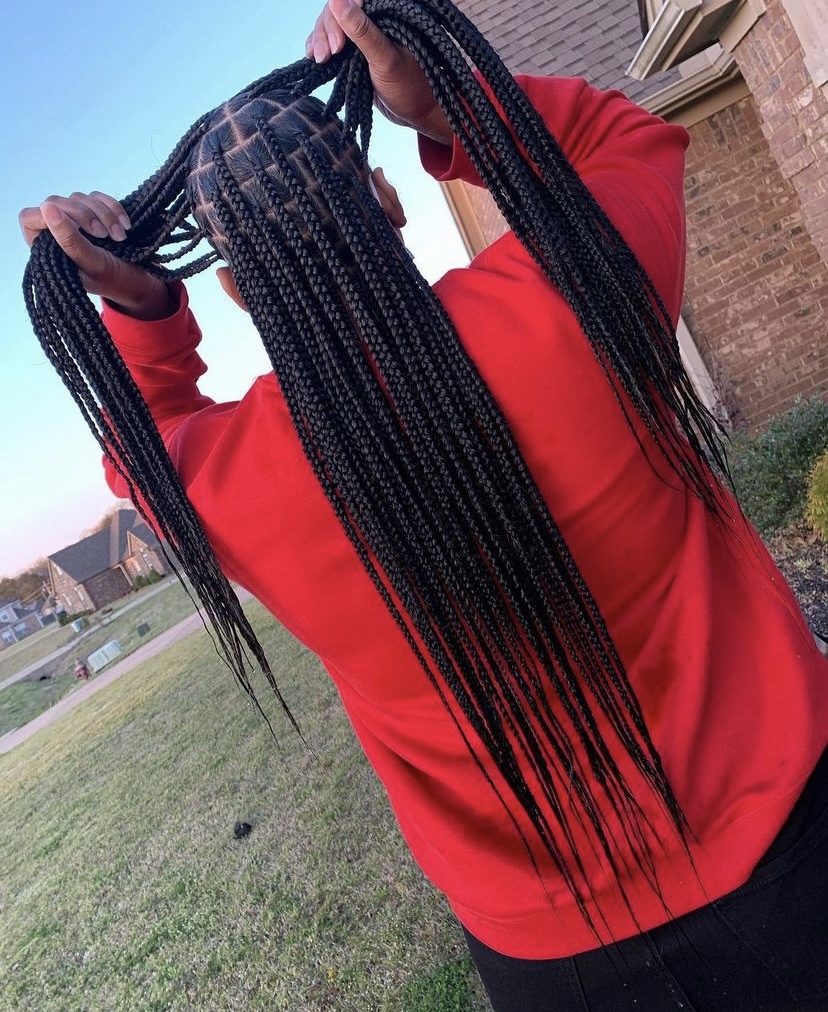 48. Short Knotless Braids with Pink Beads
These bright pink beads are adding style to the braids, and we're absolutely falling for them. This style is perfect for you if you're looking for a fashionable and comfortable way to express yourself through your braids.
49. Knotless Braids with Gel Bands
Take your knotless braids to the next level by adding these colorful bands. You can style your braids any way you want.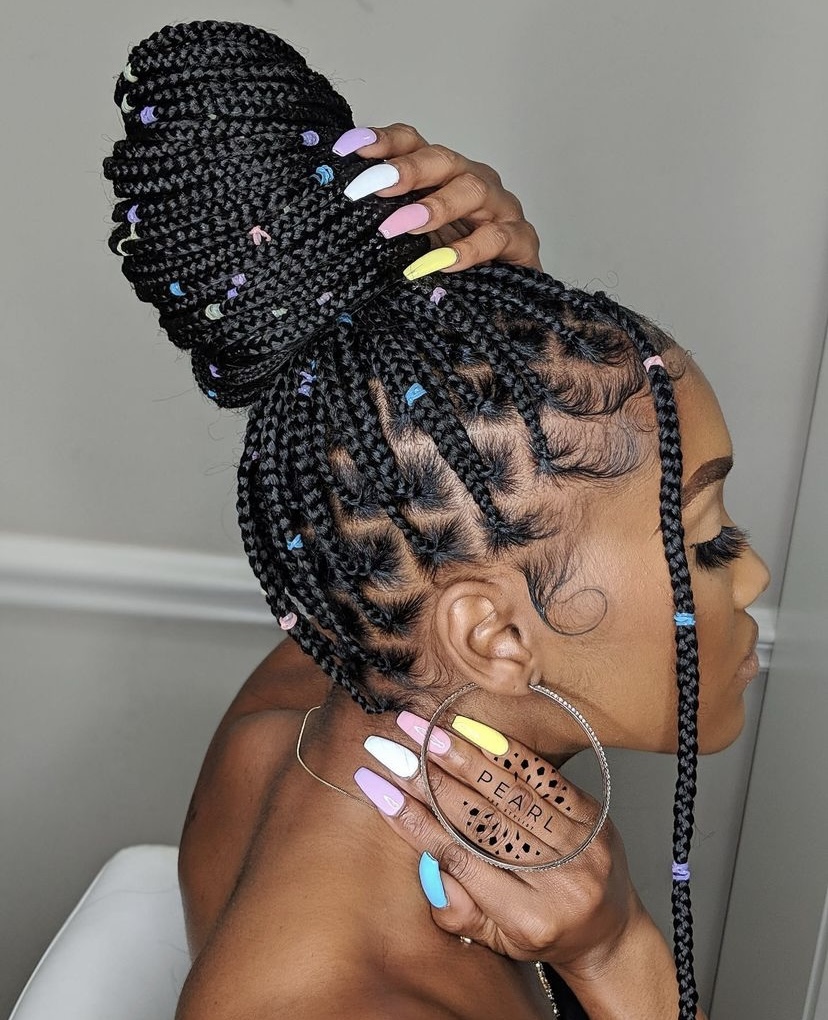 50. Knotless. Braids with Blending Colours
This medium-sized braid can be created by blending colors and adding curls at the top of the braids. They're easy to wear, and the colors add some personality to your look.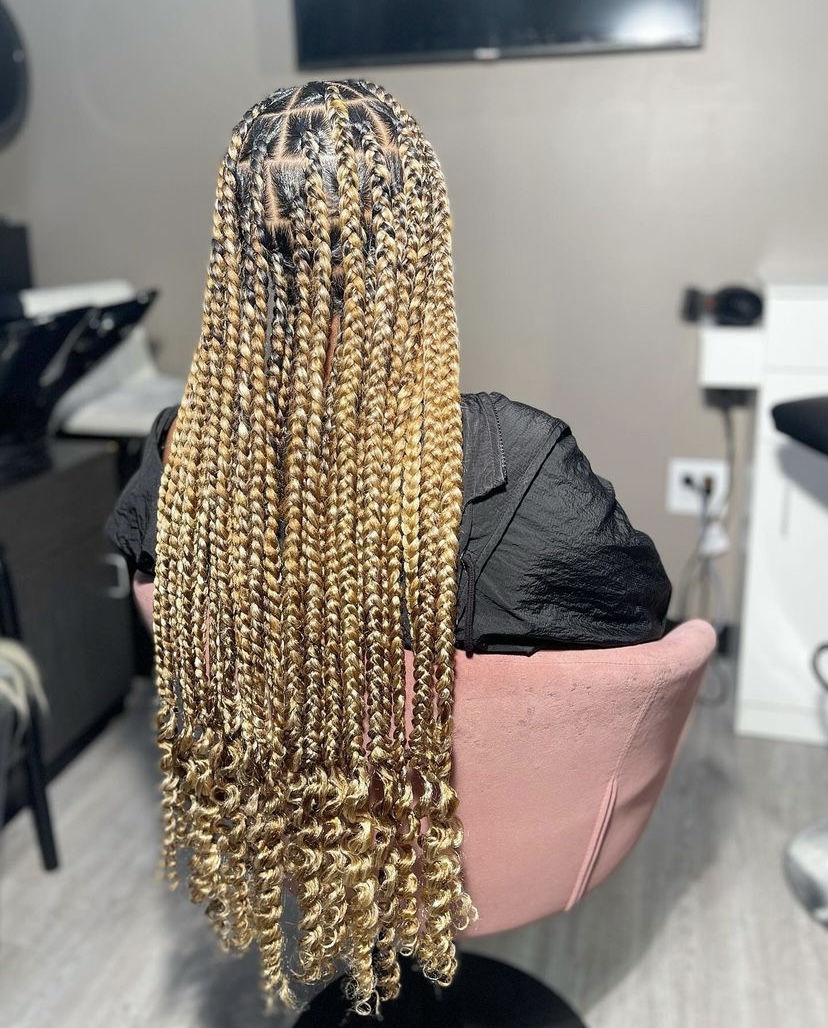 Now It's Your Turn
Knotless braids are a fun way to style your braids and protect your hair. From goddess braids to design pattern braids, you can never run out of ideas when it comes to styling your knotless.
And if you're looking to experiment, there are a plethora of colors and techniques to choose from. Opting for knotless braids is one of the best decisions you can make to achieve your stunning look.
And that is why we have made available these beautiful options for your use. Don't forget to send us your beautiful pictures via the comment section.
Also Read related: