From a distance, medium knotless box braids may resemble traditional box braids, but up close, the lack of a knot at the root makes these stunning plaits look even more effortless as the technique reduces stress on your scalp.
When it comes to knotless braids, there are numerous sizes and lengths available. The size of the knotless braids ranges from micro to jumbo. Knotless box braids in the medium size range are neither small nor large. The width of a medium-sized knotless box braid should typically be comparable to that of a child's small finger.
A medium-sized knotless braid is best for you if you have two inches of hair or longer. If your hair is too short, the medium style may not be the best because it will be harder for the braider to grip. Secondly, medium braids may not last as long on short hair as parts of your natural hair may protrude from the braids days later.
How Much Time Is Required to Install Medium Knotless Box Braids?
When estimating the time you need to install medium knotless braids, there are a few different factors to consider. In contrast to micro and small knotless braids, the medium size takes a lot less time.
It generally takes three to five hours to install medium knotless braids, but this depends on the speed of the braider and the length of the braids.
It will take less time to braid something shorter, and more time to braid something longer. Additionally, how thick your natural hair is will affect how long it takes to install medium, knotless box braids.
How to Install Medium Knotless Box Braids
Installing medium knotless box braids follows the same process as installing any size of knotless braids, except the parting size and width of the braids differ.
Let's look at the step-by-step process below.
1. Wash your hair
Watch @manibeautygh demonstrate how to wash your hair properly.
2. Shampoo and condition.
Use shampoos that are low in surfactants, sulfate-free, and nourish black hair. Shea Moisture Shampoo renews your hair and softens it for easy combing.
It deep cleanses black hair and helps get rid of a lot of the product buildup on the scalp.
Use it along with the Shea Moisture Conditioner to hydrate, reduce breakage, and lock in moisture.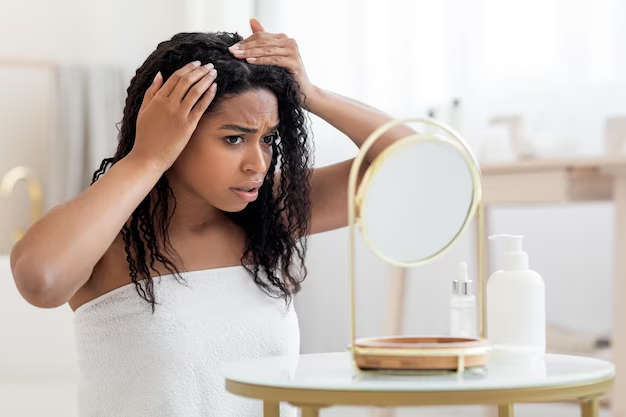 3. Detangle your hair.
Use the right product to detangle your hair, as many products may not be good for you.
Black hair is the focus of Mielle's Pomegranate & Honey Moisturizing and Detangling Shampoo.
Natural components like honey and babassu oil are used in this sulfate-free shampoo to remove oil and dirt from your hair while retaining vital moisture. To make it easier to comb through thick, curly hair, the opulent lather it produces pre-detangles the hair.
4. Pat it dry with a towel.
If you're using your natural hair, you can dry your wet hair with just a towel. You may need to use tools, such as a dryer if your hair is straightened or permed.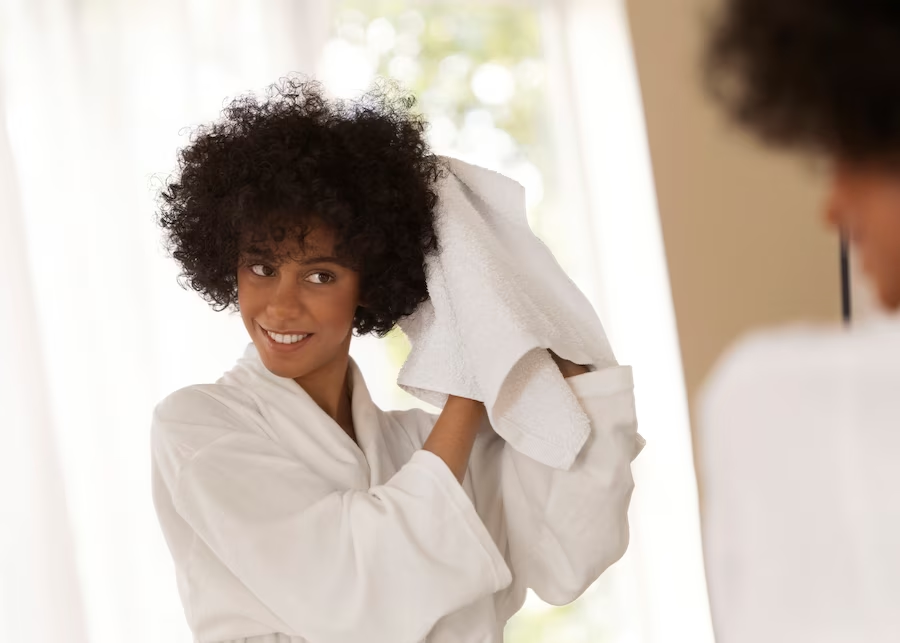 5. Part the hair into sections using a big toothcomb.
This makes it easier to part even medium sections for the braids.
6. Once the hair is dry, start parting medium-sized sections from the back of your head.
If you're DIYing or using a stylist, follow the pattern below. Use a hair clip to hold the hair together.
7. Hold onto the natural hair and start braiding from the root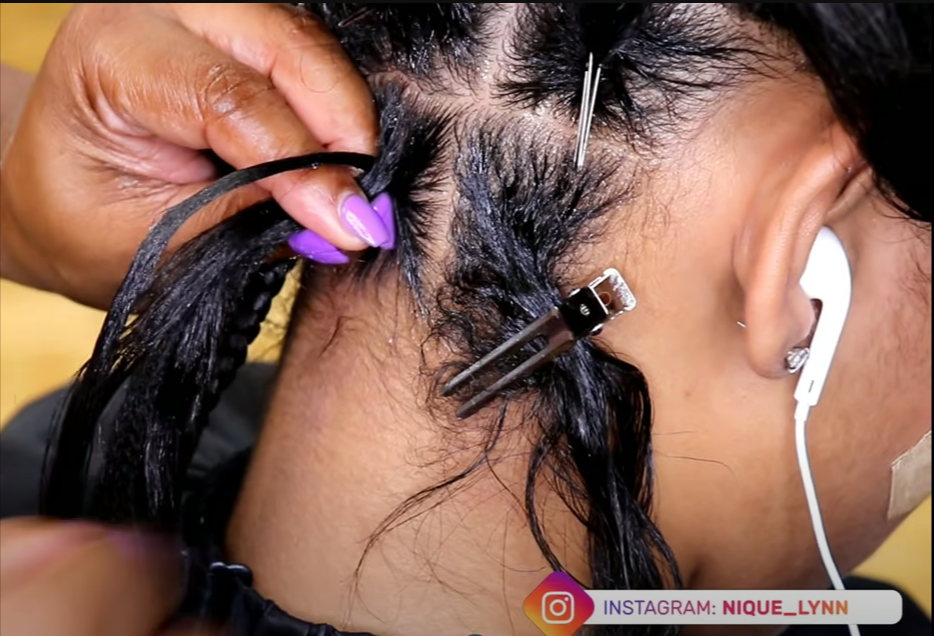 8. Add the braiding hair using the feed-in method–adding bit by bit.
9. Once you complete the feed-in, braid to the ends or desired length.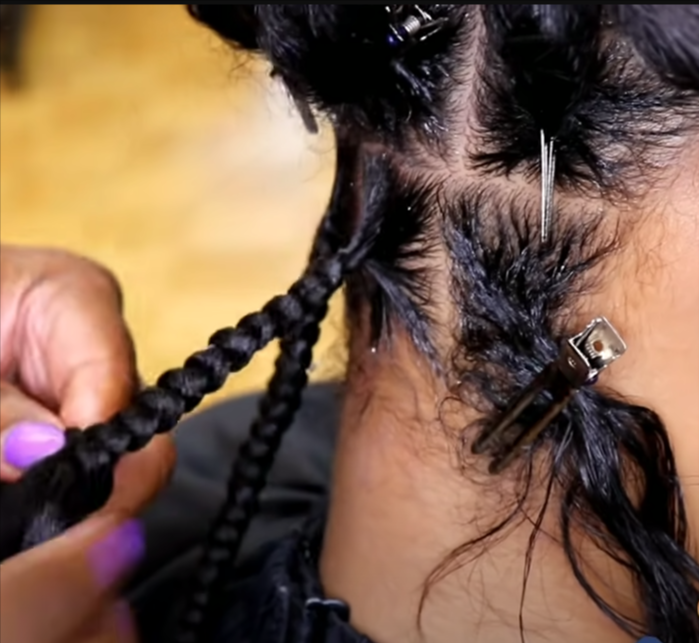 10. Repeat the process until you complete all the braids.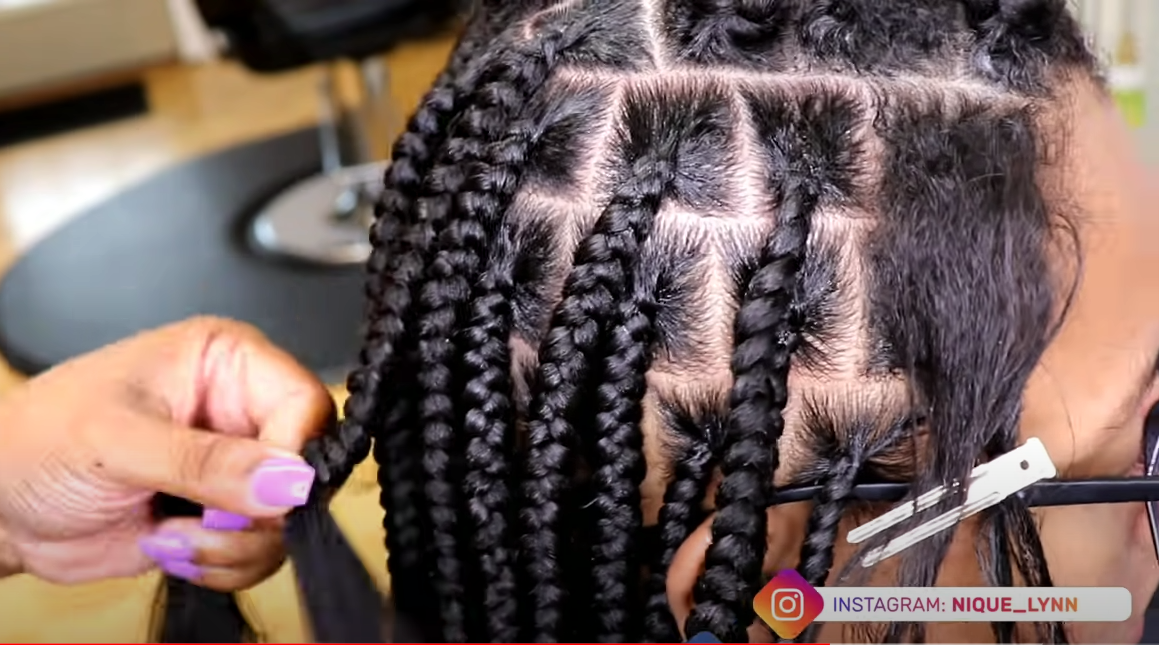 Watch the video below!
30 Medium Knotless Box Braid Styles You Can Rock
1. Bob Medium Braid
Bob braids are cute alternatives to bob weaves. If you're not a wig or weaves person but want to rock bob hairstyles, go for this hairstyle.  
2. Velvet Medium Braid
Velvet is one of the top trending colours you can use apart from exploring blonde. It's even more beautiful when you wear it in medium knotless braids. 
3. Red & Black Braids
And when you can mix velvet with black, go for it! If you want to add beads to this hairstyle, add transparent ones to draw attention to the braids themselves.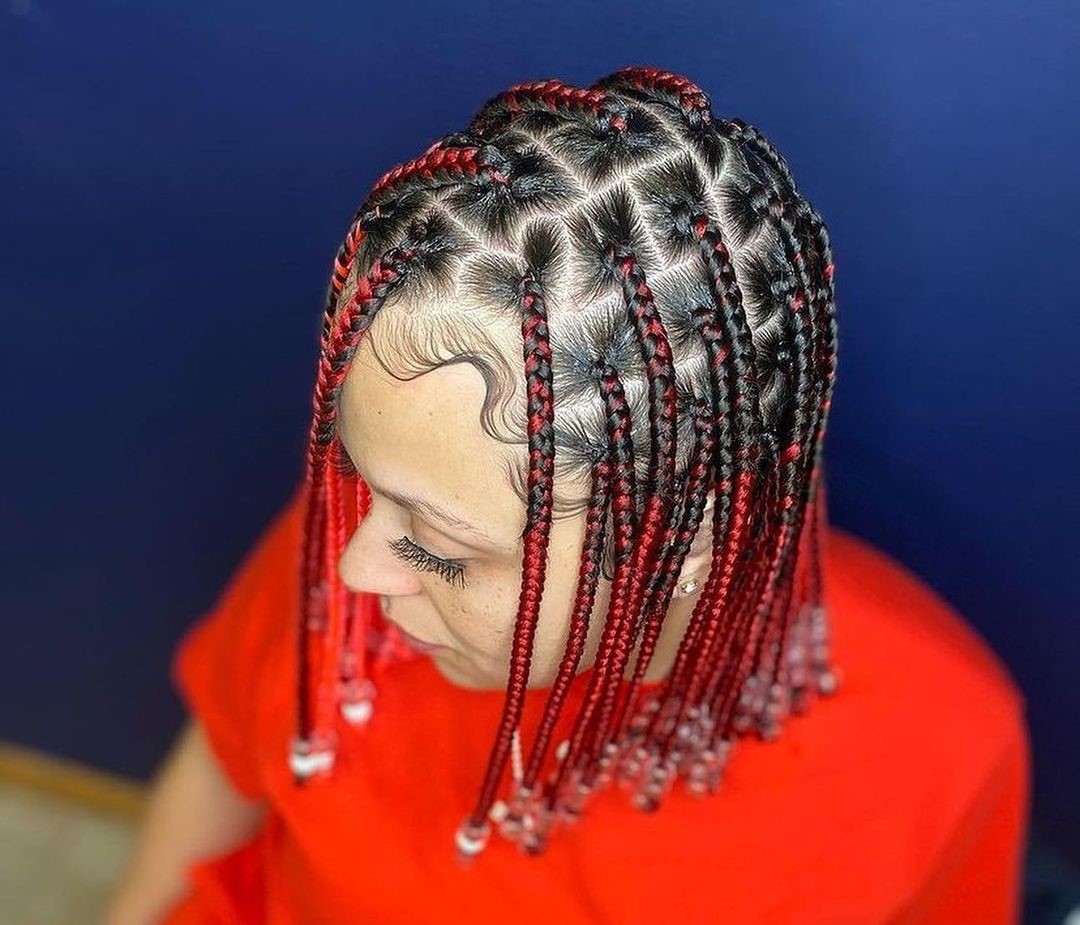 4. Medium Length Braid
You can go a bit further than bob braids by braiding to the lower part of your shoulder. What's more? Add a faux knot to give the impression of a locs.
5. Loose Ponytail Braid
There are various ways you can style your medium box braids. Hold half up in a loose ponytail and allow the rest to flow on your back.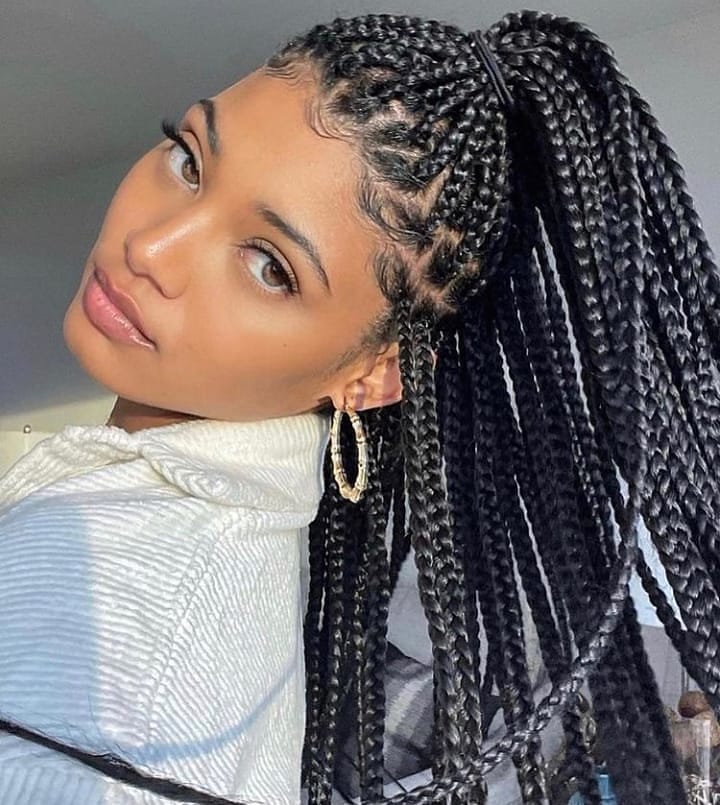 6. Long Braids
To achieve a unique medium knotless braid from the crowd, make your braids longer with waves at the ends. 
7. Red Medium Braids
You can go off the regular velvet colour to red for your medium knotless braids. One thing about this hairstyle is that it makes the shape of your natural hair section stand out.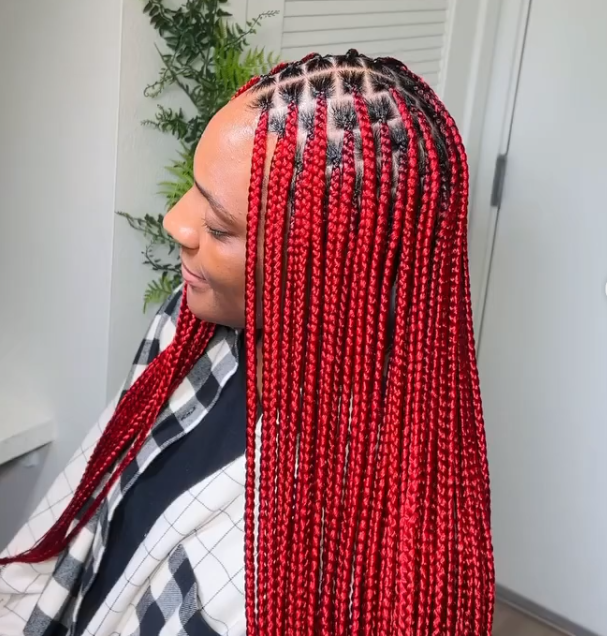 8. Off Velvet Knotless Braid
If you're like me and wants braiding hair that match with your natural hair like this hairstyle, don't be afraid to go for it! This hairstyle makes your hair look natural and ideal.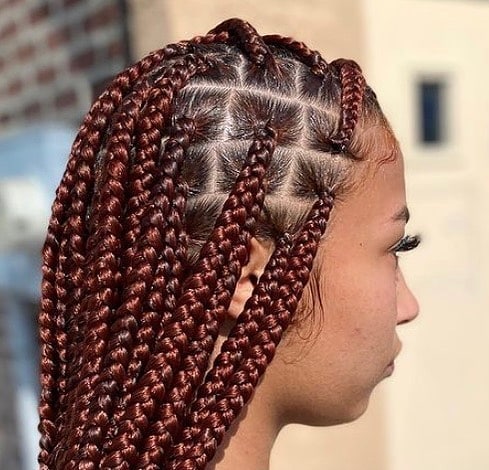 9. Cornrow Medium Braid
You can achieve knotless braids starting with cornrow at the roots, especially at the upper middle of your scalp. It's long-lasting and low maintenance. 
10. Zig Zap Parting Braids
One unique way to part your natural hair for medium knotless braids is using the zig zag method. It's unique and beautifies your hair. 
11. Braids in Top Bun
Are you attending a fashion event and don't know what to do with your braids? Style them in updo buns, pushing them a bit to yout forehead. 
12. Braid in Ponytail
You can hold your short braids in ponytails if they're below your shoulder. All you need is yo wrap a few in a bun. You can style some of the braids at the side of your forehead too.  
13. Green-colored Knotless Braid
When you think all you have is velvet, red or blonde colours when it comes to medium braids, but no! You can use green too.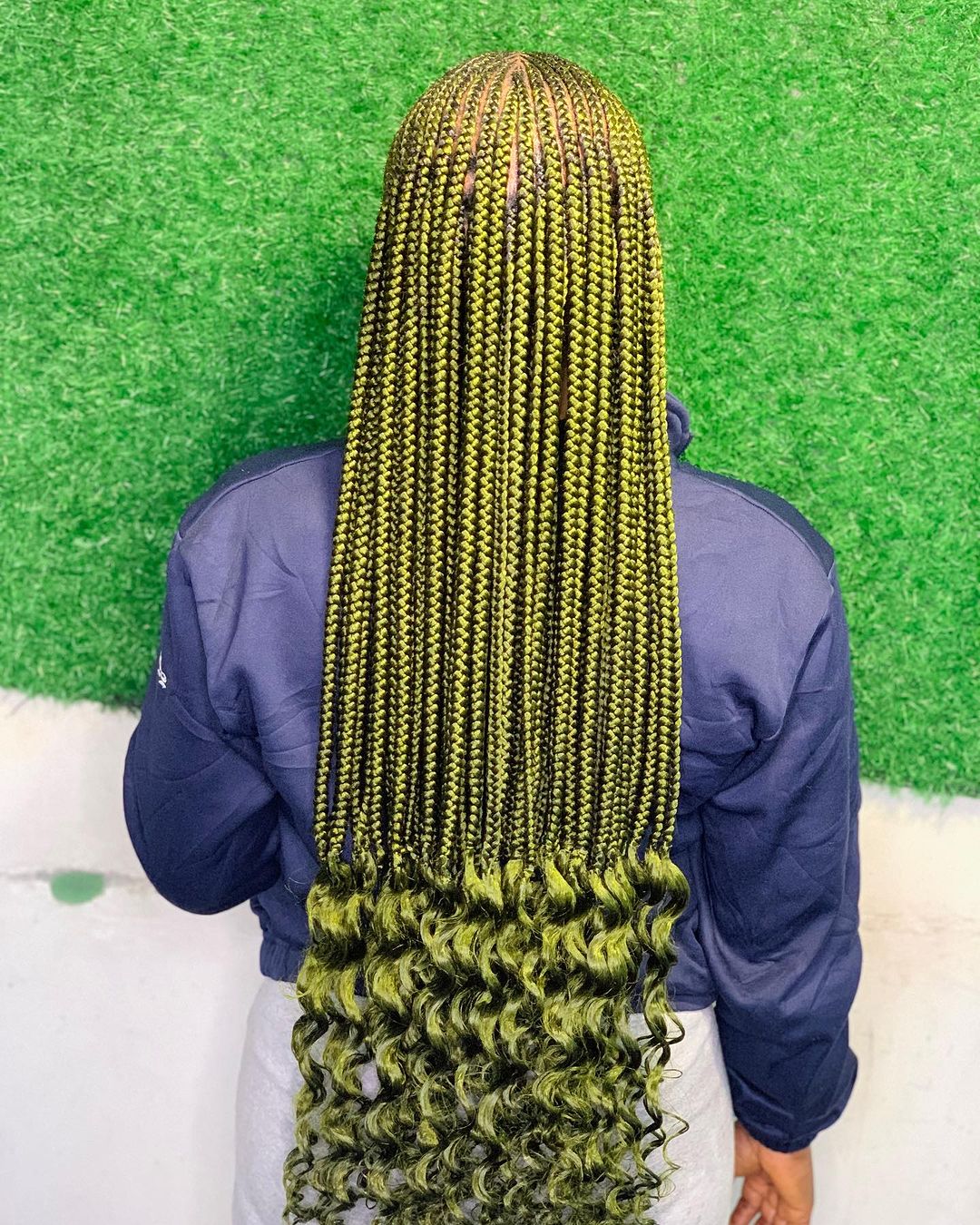 14. Long Medium Knotless Braids
Long medium knotless braids are beautiful. But what if you make the parting even more beautiful by shaping it bigger?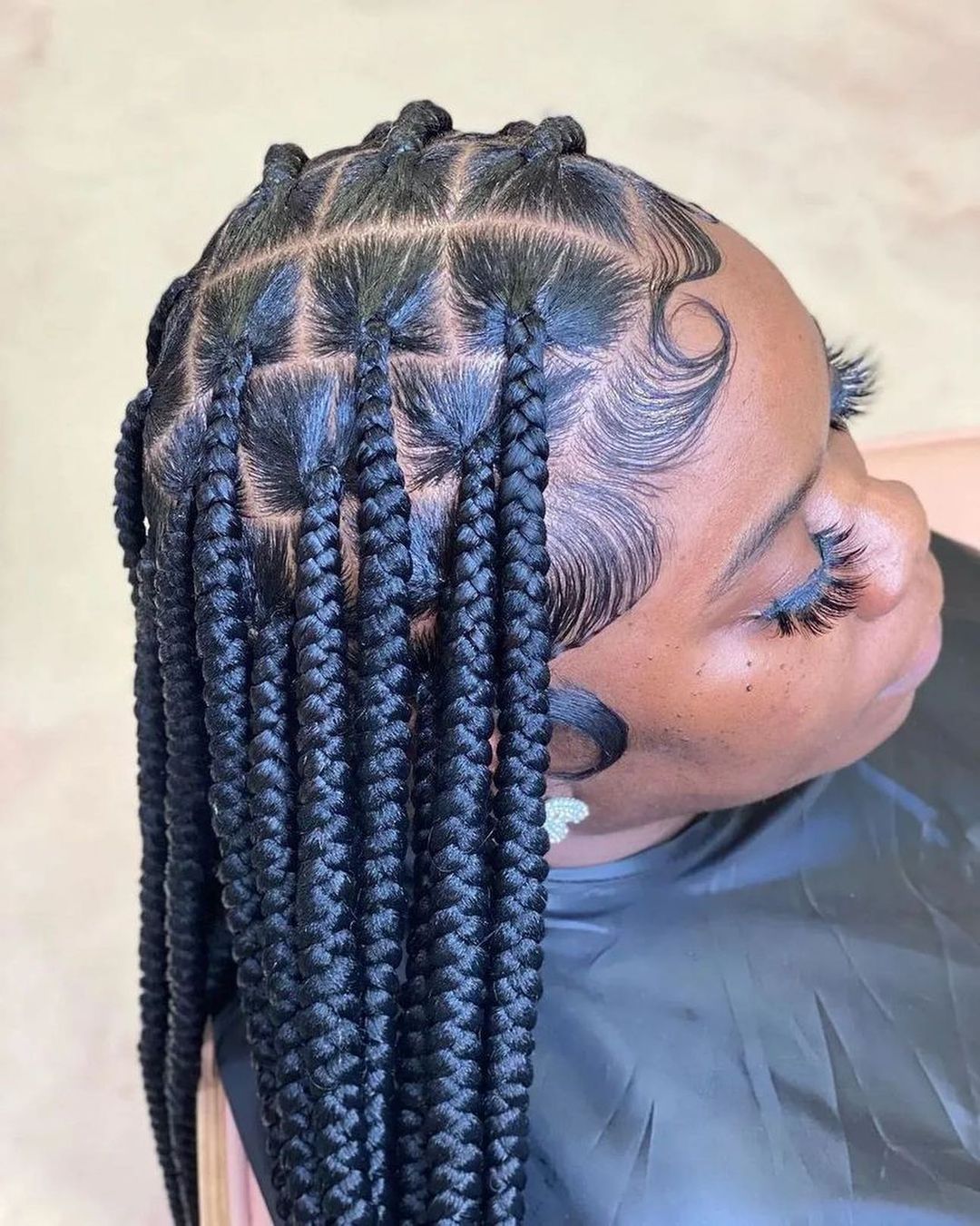 15. Brown Braids with Beads
A simple way to braid your hair matching your natural hair is using brown braiding hair. Add some beads for versatility.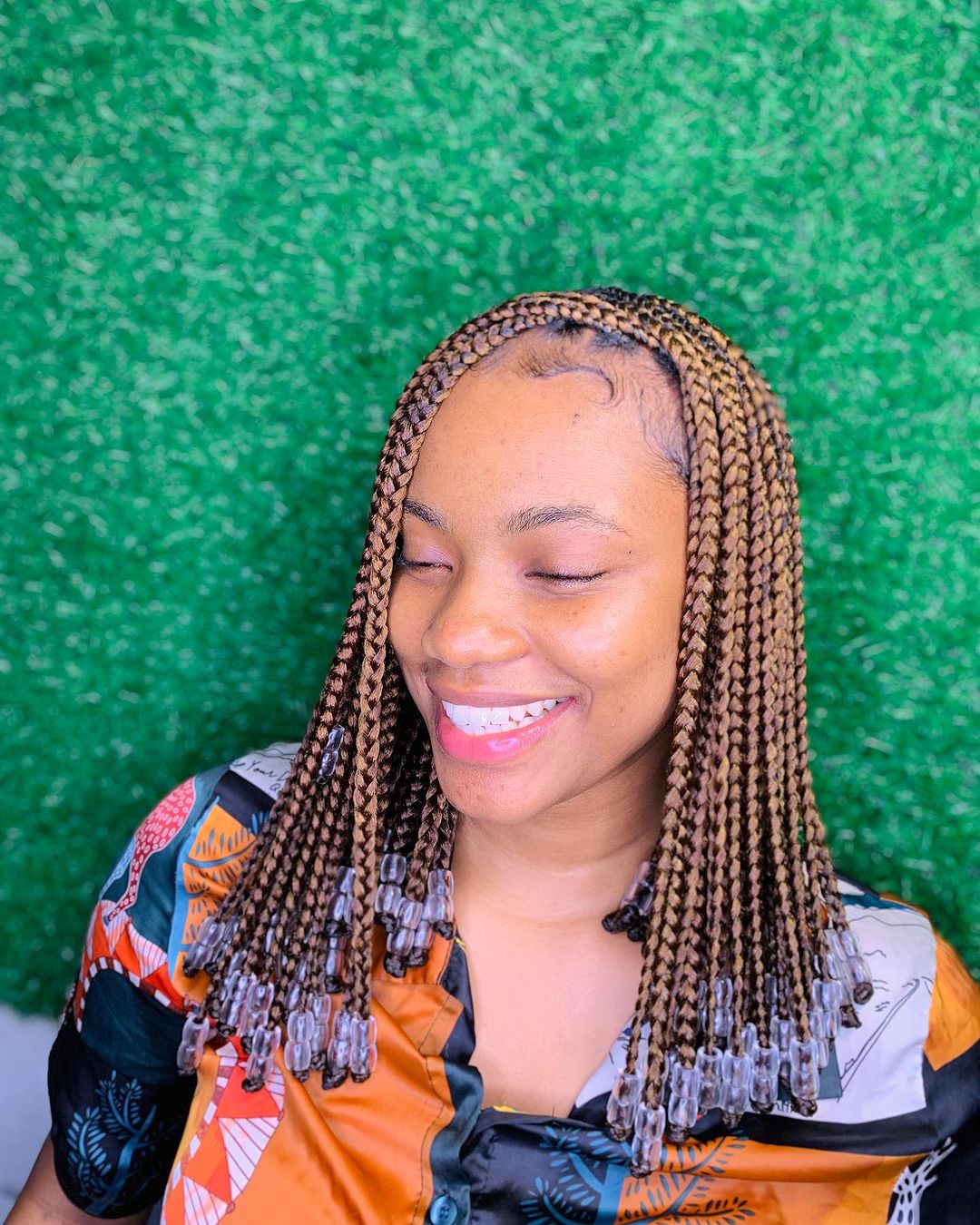 16. Crisscross Knotless Braids
When you think all there's to knotless braids is a one way style, but there's actually crisscross to make you stand out.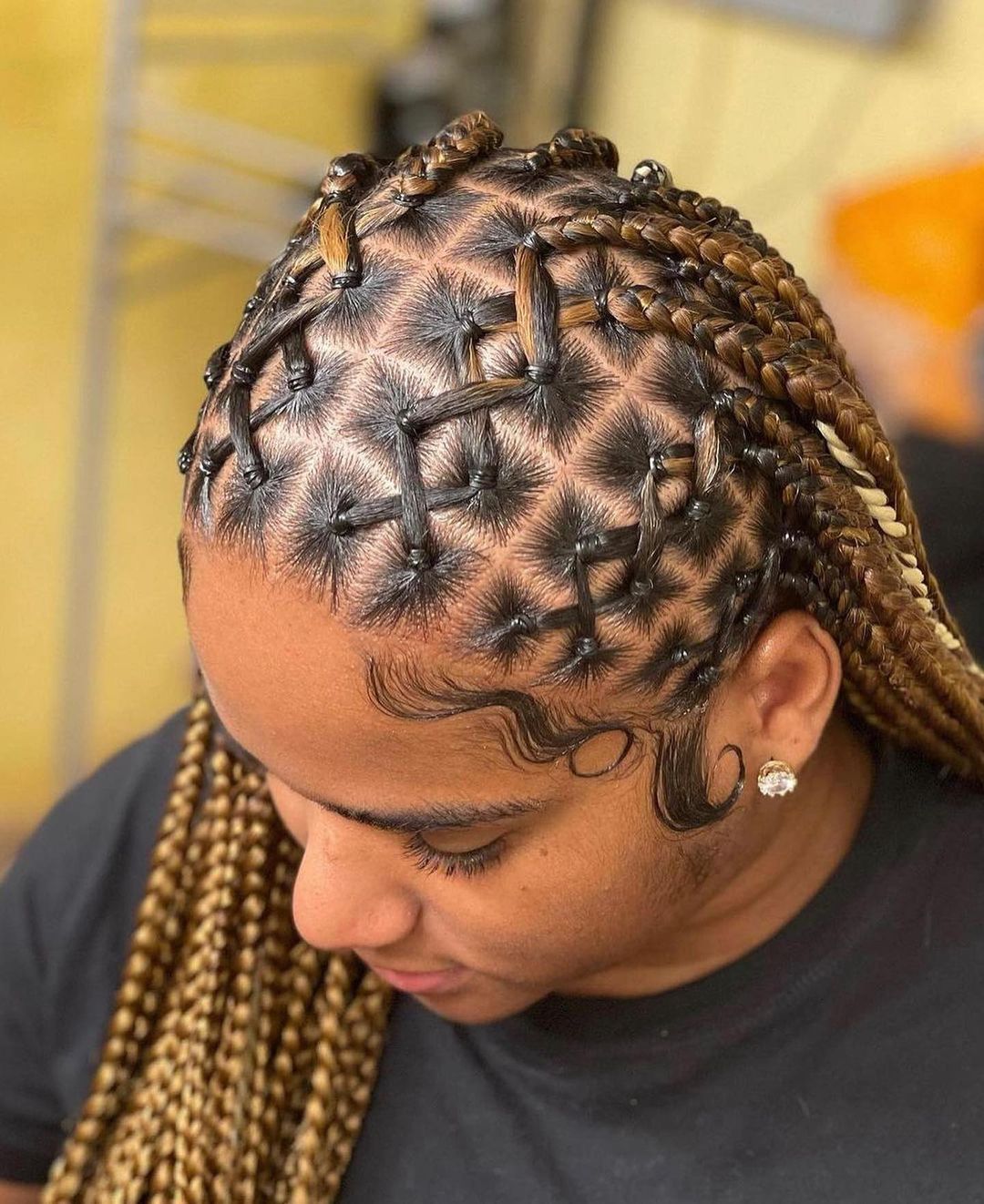 17. Knotless in Multiple Colours
You can add few stipes of purple to your black braids if that will make you stand out. 
18. Black Braids with Beads
Using black braiding hair reminds you of how braids started. Black has always been the go-to colour. And if you can add some beads, bingo!
19. Half Up Half Down
Half up half down can be lively when you part the updo into a butterfly-like shape. It makes you stands out. 
20. Medium Braids in Bun
You can hold all the braids in bun if you don't like hair touching your face. If it compliments your facial features too, go for it.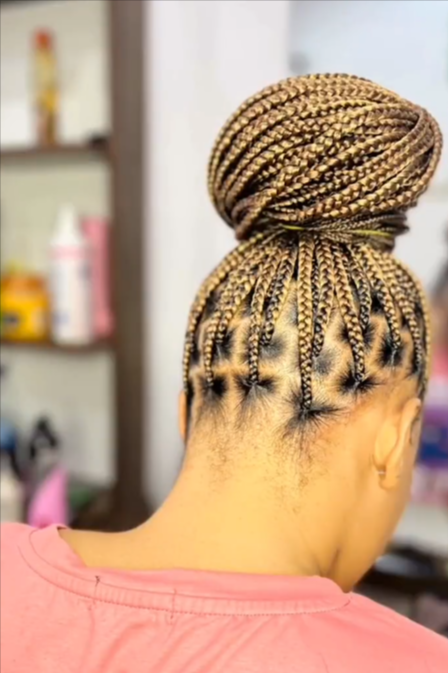 21. Freestyle Knotless Braids
I love freestyle knotless braids because you're not just cornrow-braiding but adding differing patterns to your braids. 
22. Medium Braids with Curls
When the braids is short, it's beautiful. When it's has waves or curls, it's unique.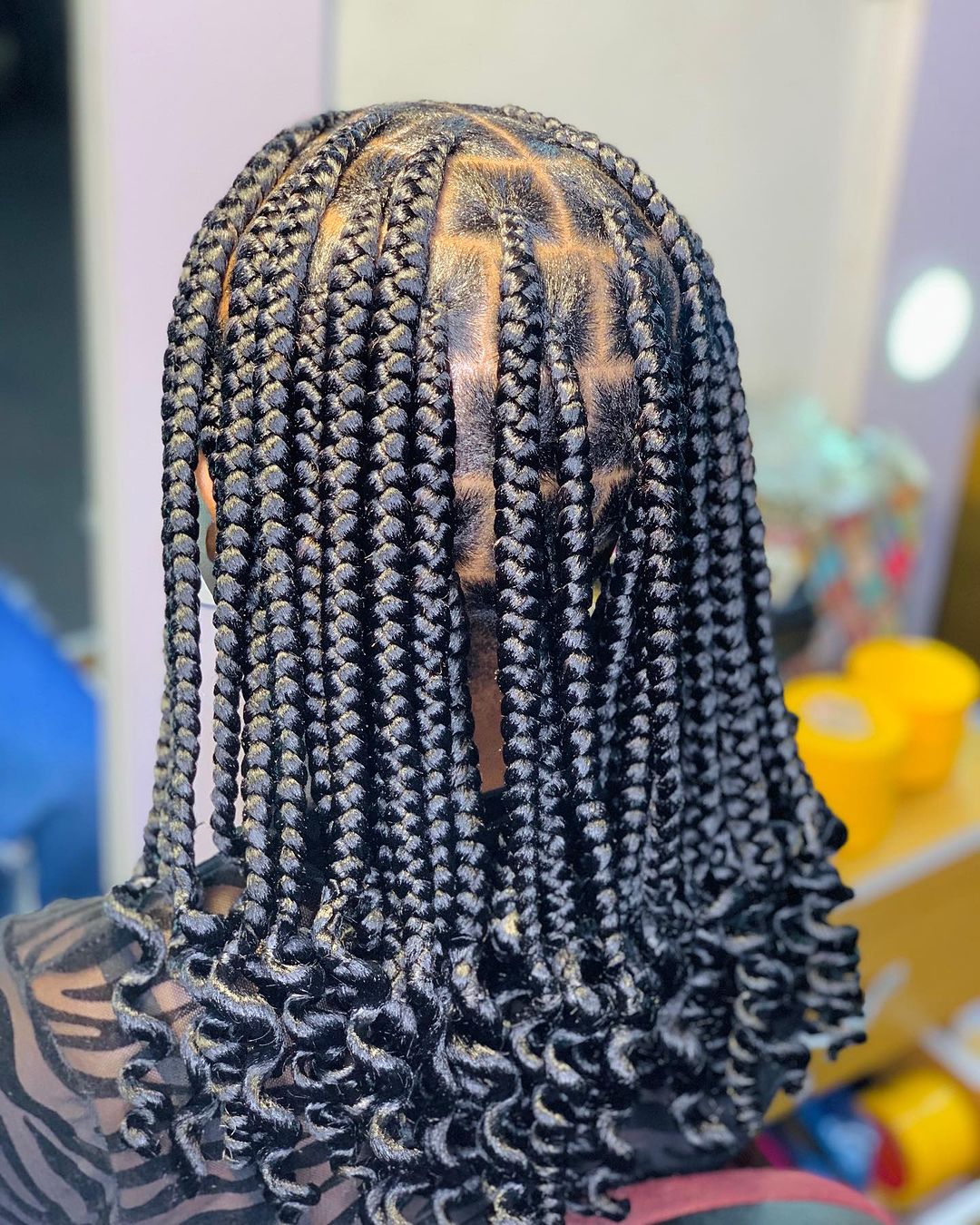 23. Knotless on Permed Hair
While knotless braids on natural hair is beautiful, it's irresistible on permed hair. Look at that scalp!
24. Braids with Feed-in Accessories
Feed-in accessories in braids has come to stay. All you need if to find the colours that compliments your braids and  skin tone.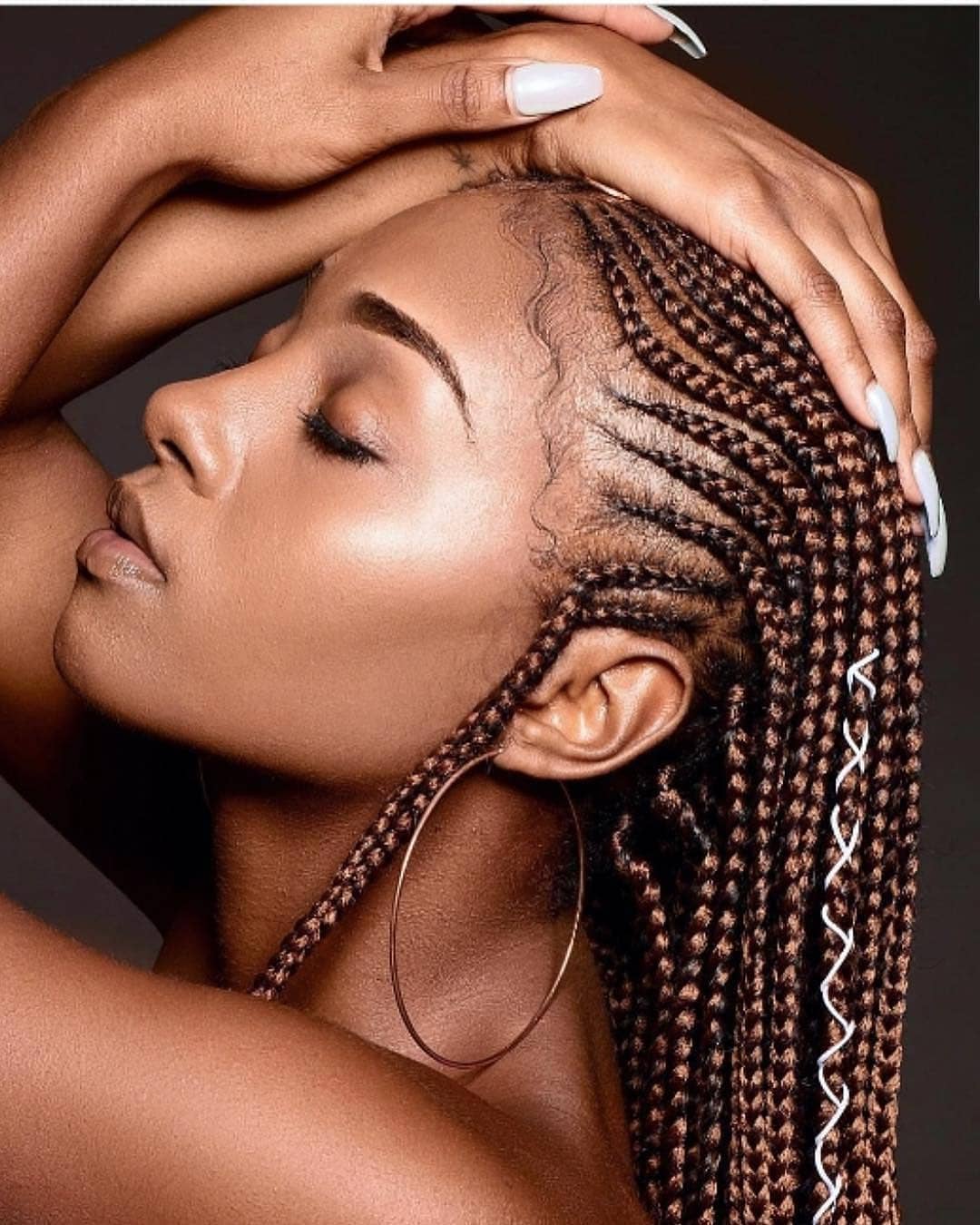 25. Braids in Low Pony
You can hold a low bun with your braids, especially if you have a unique parting style at the top you want to showcase.
26. Blonde Knotless Braid
You can mix brown and blonde braiding hair to achieve an off blonde braids. It could be long, short or bob braids.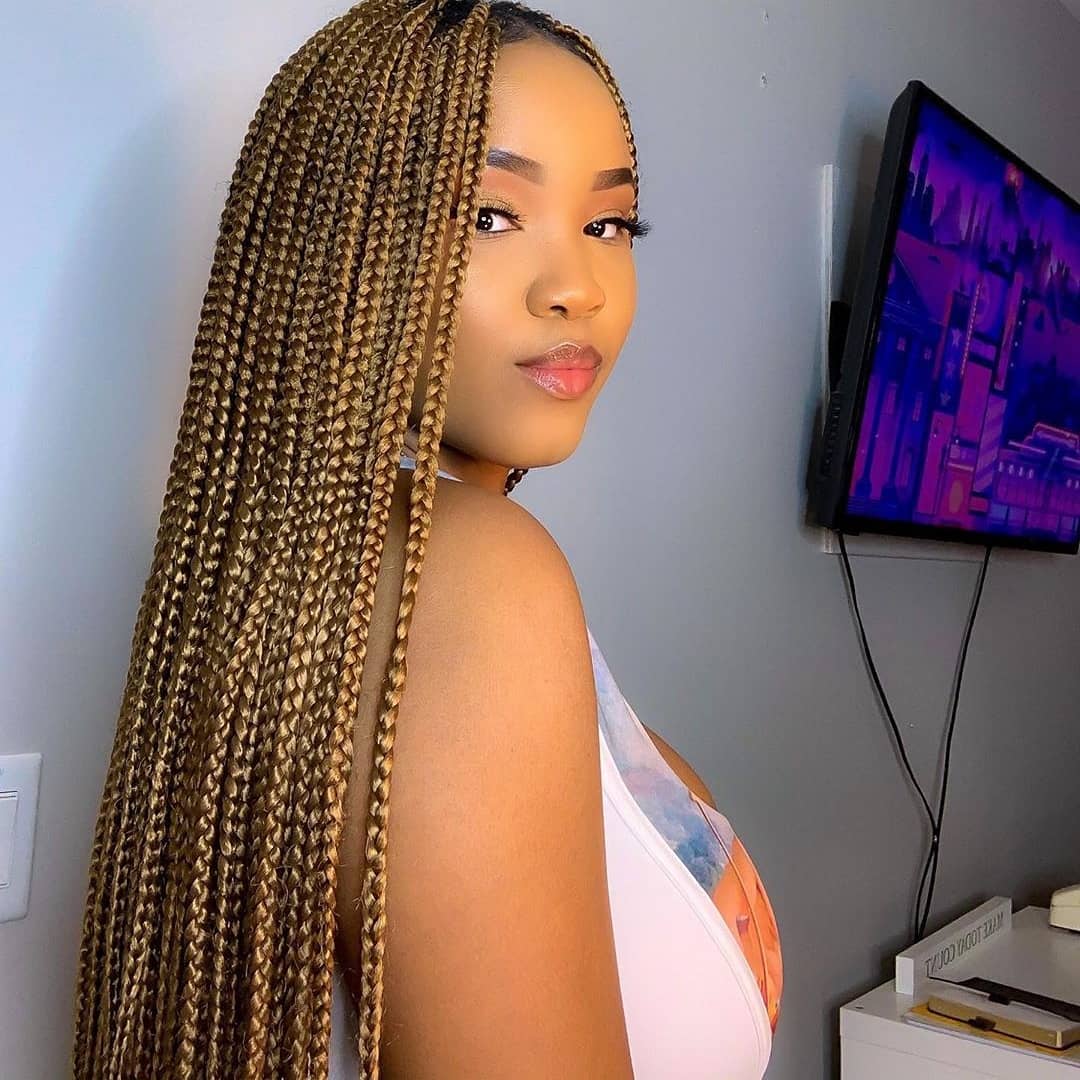 27. Multicoloured Knotless Braids
If you love attention or you're paying special attention, you can make an unspoken statement with multicolored braids.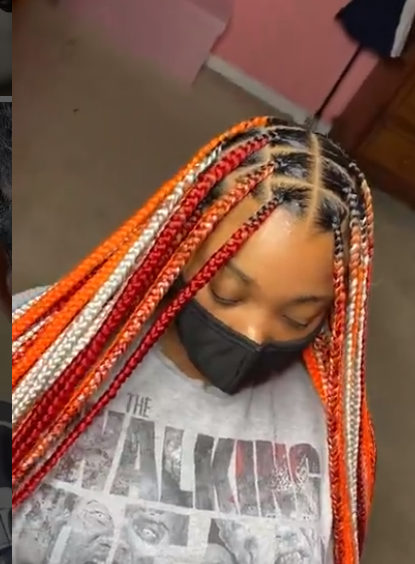 28. Long Brown Knotless with Beads
Wear your braids in long brown to look natural.
29. Triangle Parting Medium Braids
A unique way to part your braids is using the triangle method. It makes it easy and beautiful to style.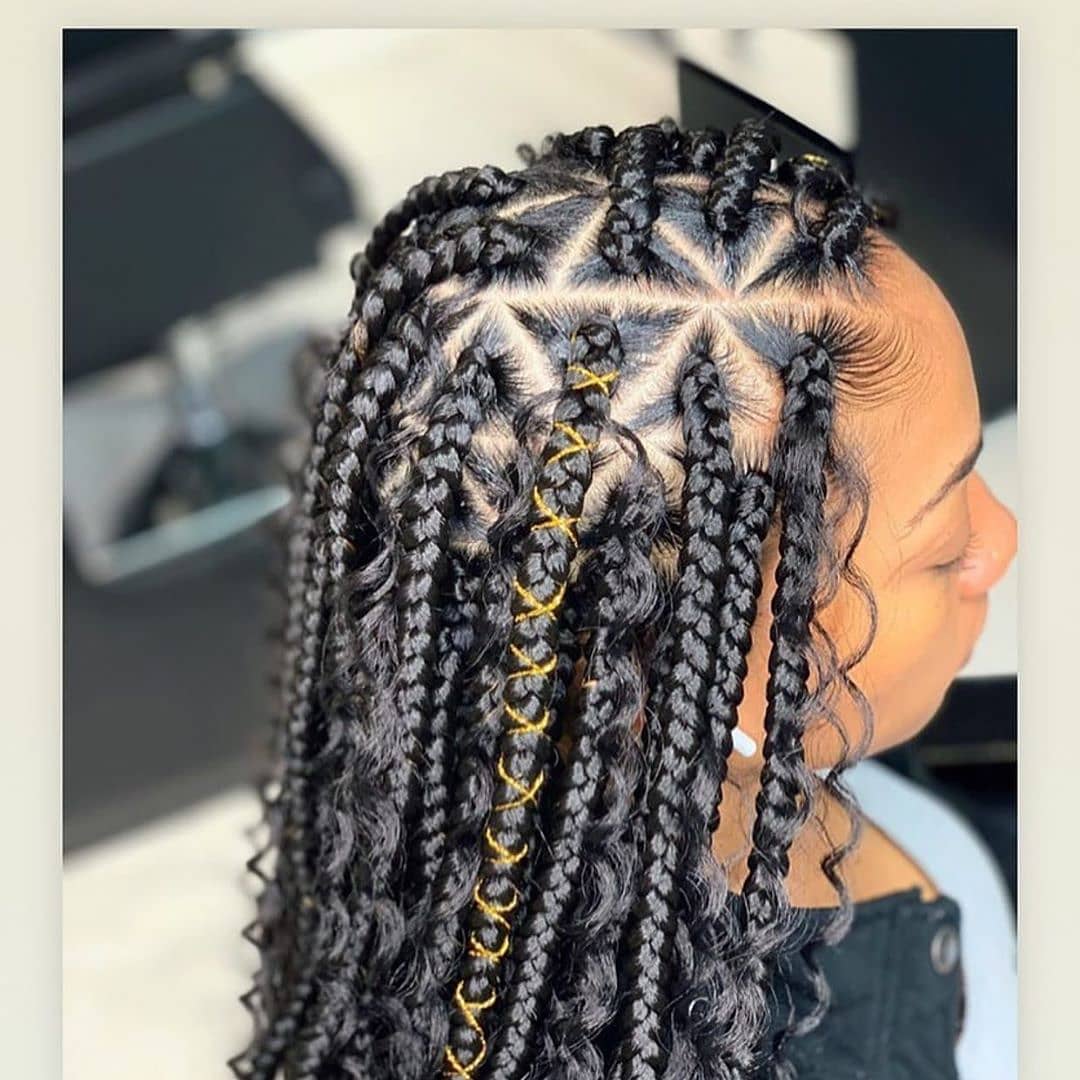 30. Cornrow Medium Braid
Using brown and white colours together for braids add flavour to your choice of hairstyle. 
Now It's Your Turn
Medium knotless braids are beautiful styles you can wear for any occasion. You can style it short, bobbed, or long using differing colours. Always remember to wear a silk bonnet before going to bed. 
Which of the medium knotless braids do you love the most?
Also Read related: