Let's look at knotless braids with color. 
In recent times, when women are looking to improve the growth of their hair and protect their hair strands, knotless braids have become the most common and reliable option for achieving both results.
Knotless braids have become very popular because they're more comfortable and less damaging than traditional box braids. This is because they don't use knots. Knots are usually painful, put tension on the scalp, and may cause hair loss.
These knotless braids come in different styles and designs. As a way to enhance the beauty of the style, the braids can be done in different shades and color tones, as shown below.
50 Knotless Braids with Color
1. Large-Sized Knotless Braid
These wine and light purple braids are perfect for complimenting your braids and giving them an equally fun and edgy look.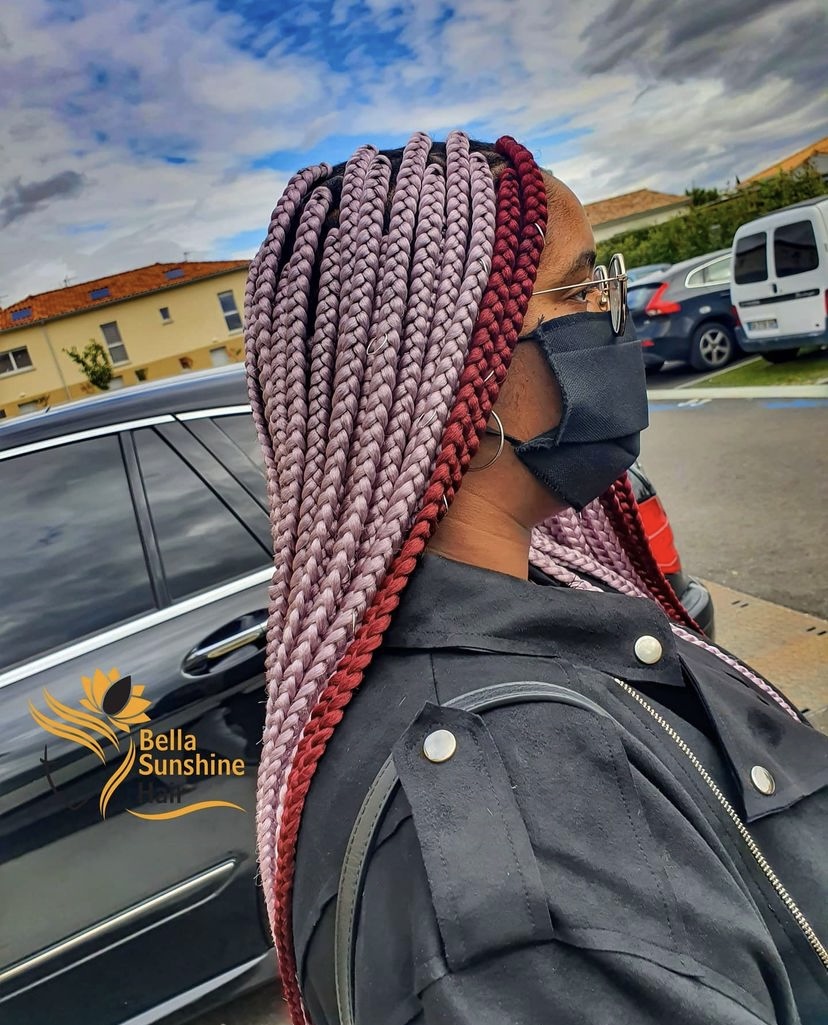 2. Red Bohemian Knotless Braids
If you're looking for some versatility, you can try these red knotless braids to give you a laid-back bohemian vibe. This look is perfect for some casual beach getaways or summer festivals.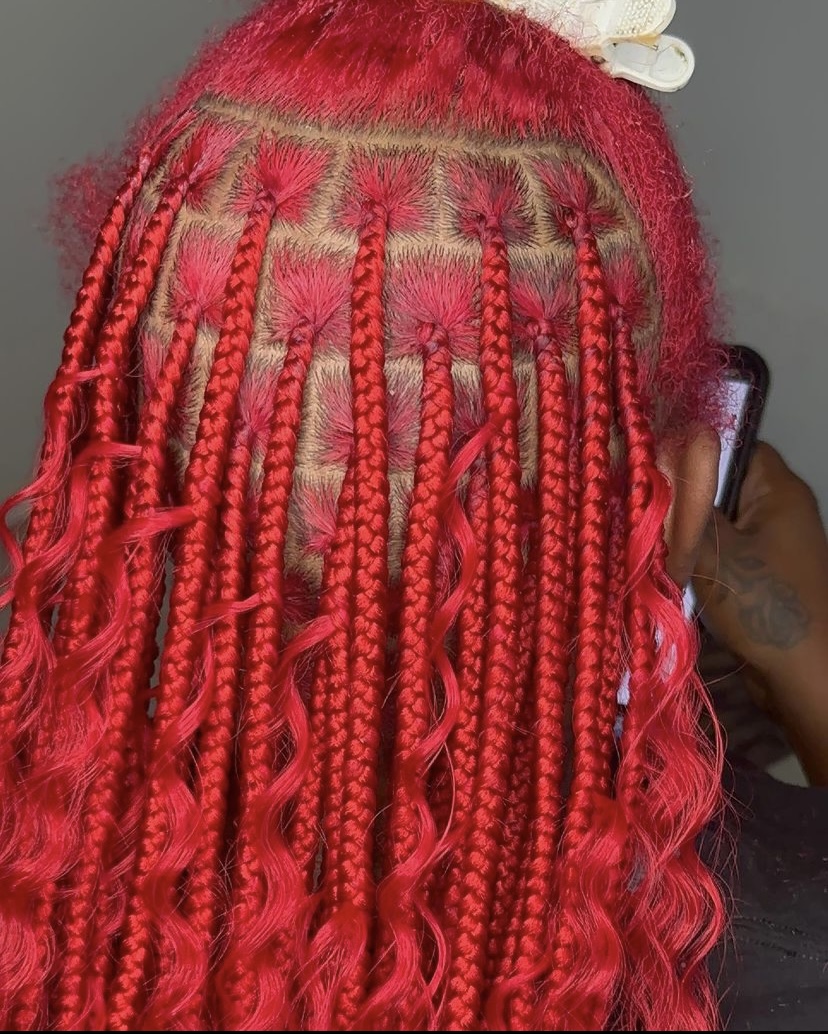 3. Blonde Knotless Braids with Curly Ends
This look is achieved thanks to pre-stretched braiding hair which leaves a deep wave of curls at the end. You can get this style in a blonde colour to bring out the beauty of the curls.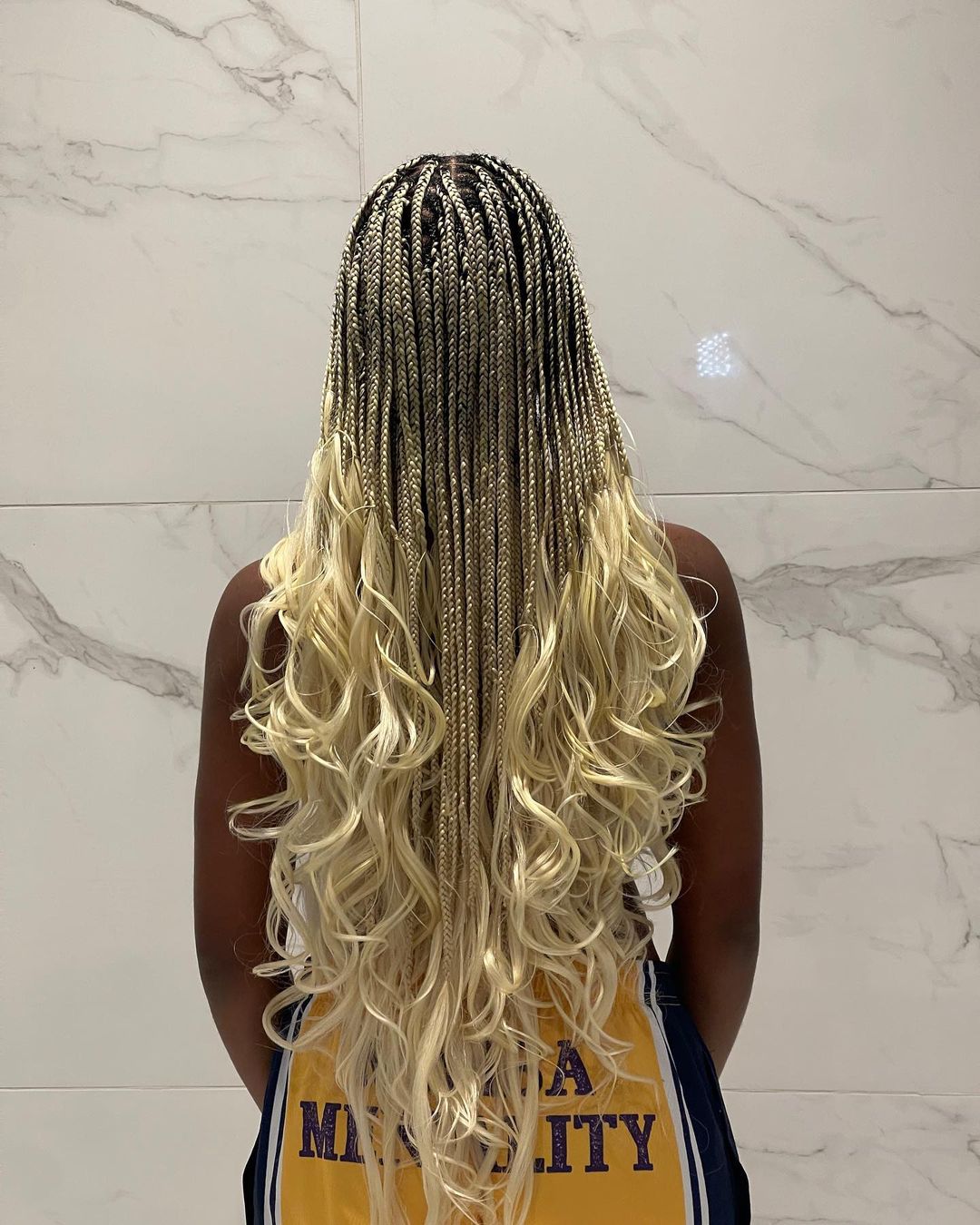 4. Brown Flip over Braids
These bronze-coloured knotless braids are the ideal look for protecting your roots and showing the beauty of your hair colour.
5. Butt length Braids with Heart Shape
If you're interested in doing something more bold and daring, you can try these white knotless braids. You can go the extra mile to style your knotless braids into a heart-shaped bun, as seen below, to help you stand out.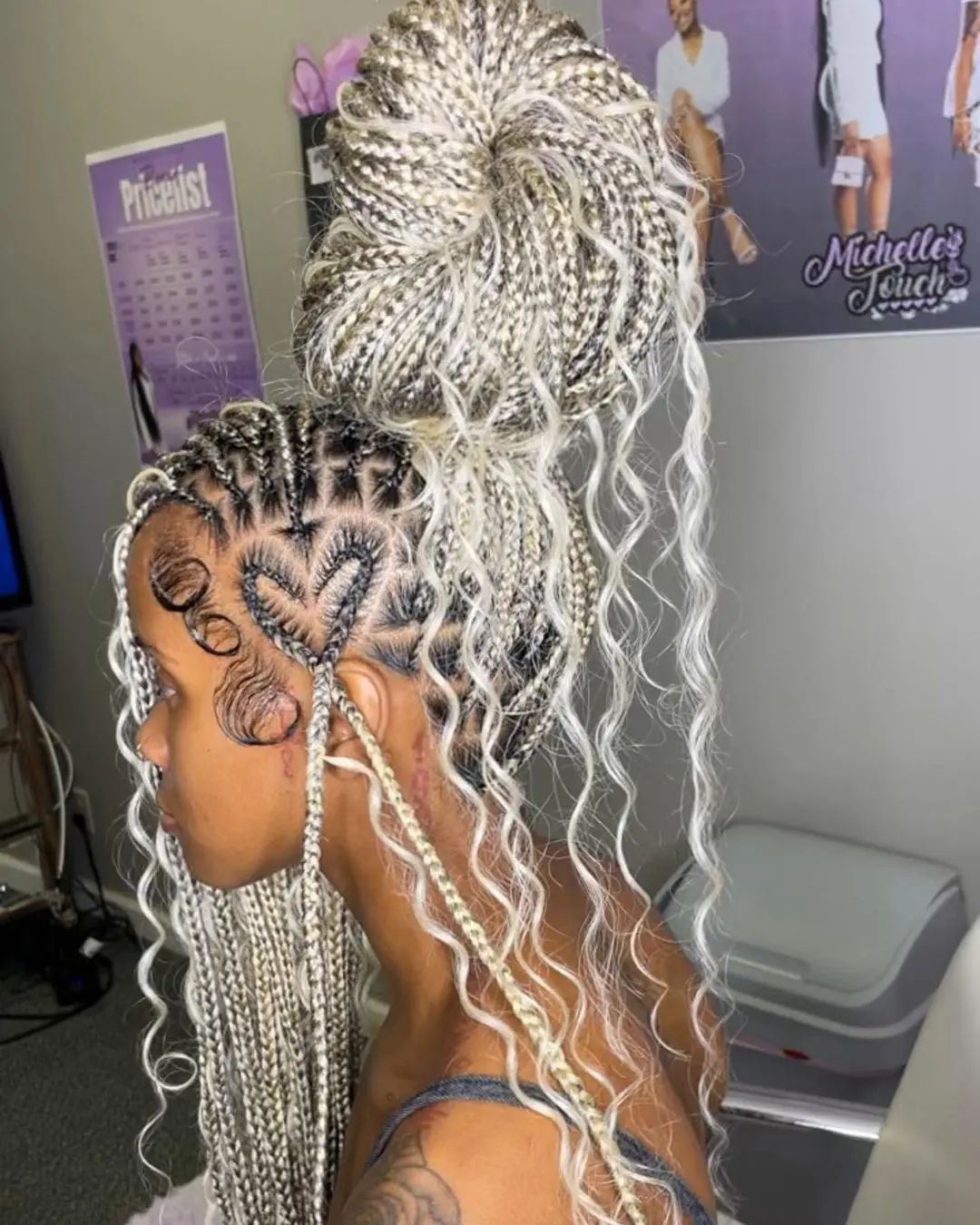 6. Red and Black Mixed Braids
To add some flair to your knotless braids, you can opt for this bold red colour, blending with black to draw attention to your style.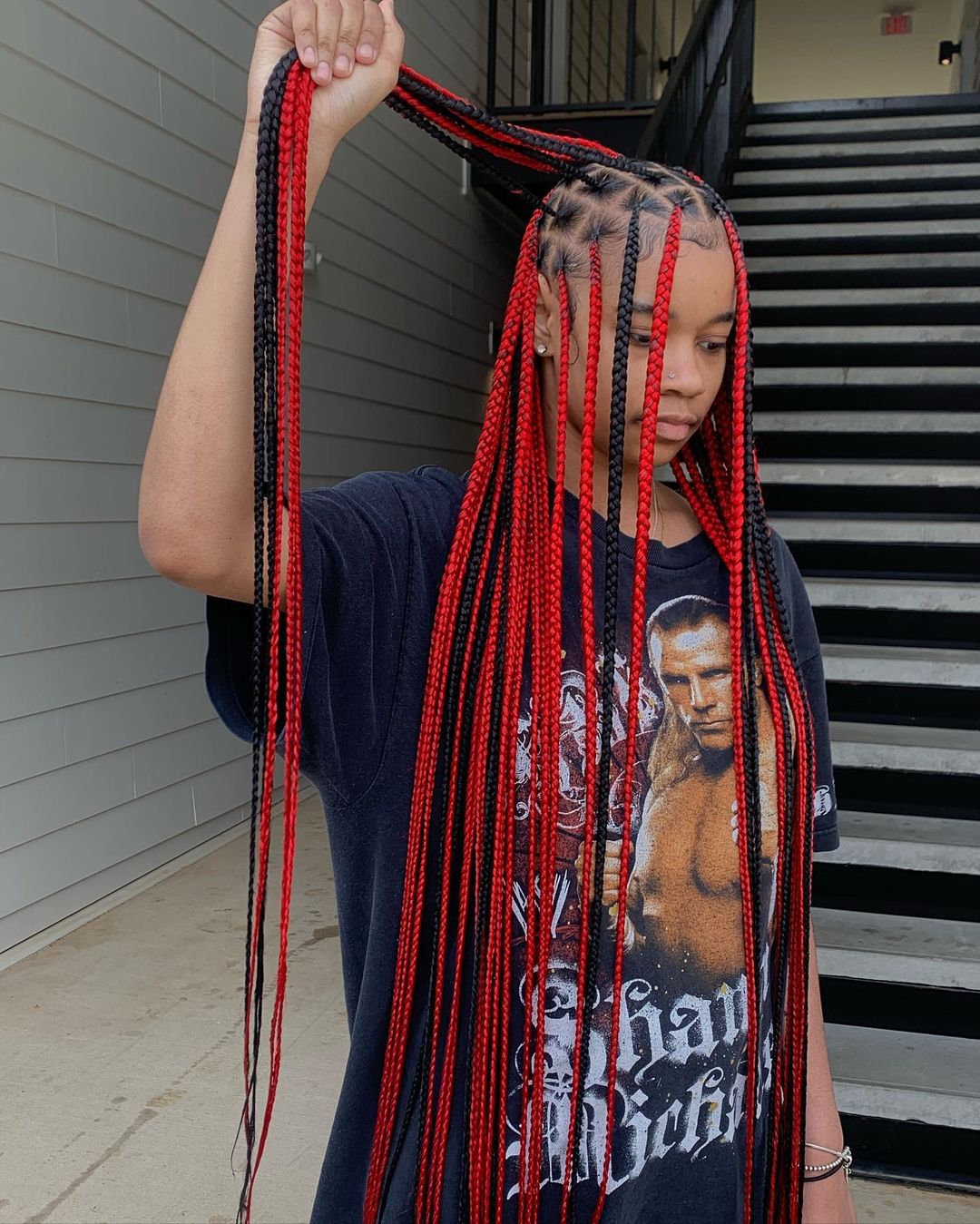 7. Sea Blue Colored Knotless Braids
If you don't mind bold and bright colours, then this sea blue knotless braid is perfect to add to your braid collection.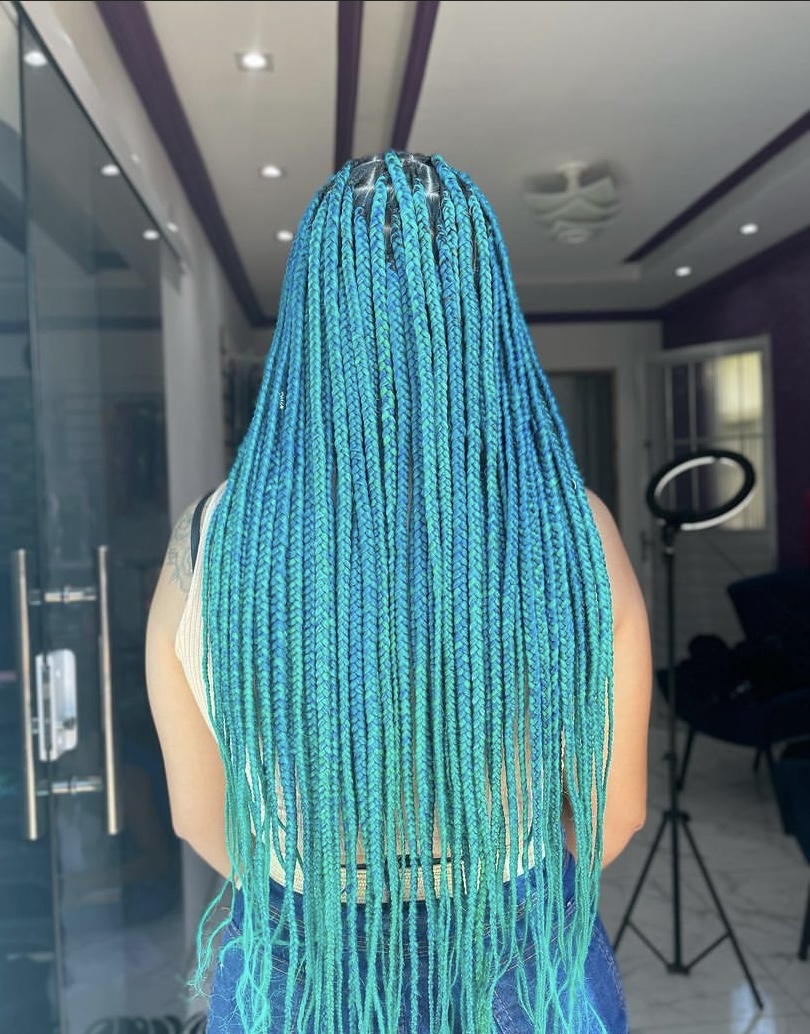 8. Short Knotless Braids with Beads
Pink and blue are two of the most sought-after colours for braids trending right now, and no doubt they look good as well. If you don't mind mixing colours, you can try these colours together and complement them with some clear beads at the ends.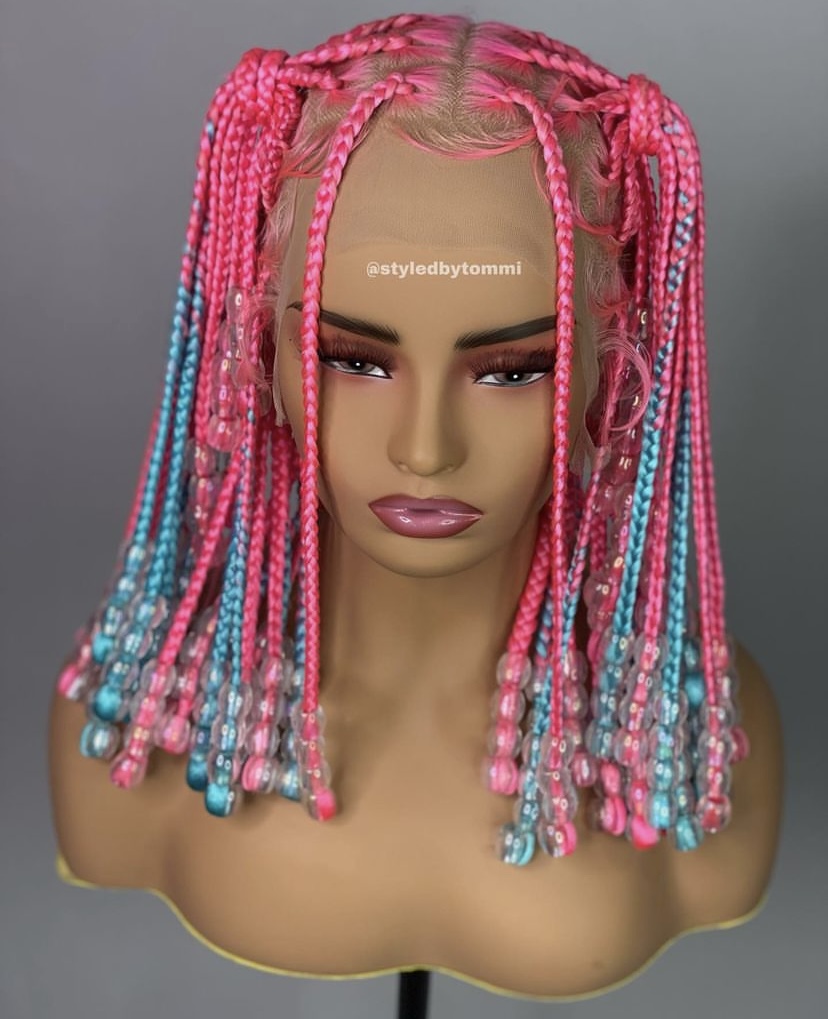 9. Medium Thick Knotless Twists
When it comes to these knotless twists, the common colour used is black. But you don't have to always follow the crowd. You can stand out by trying these braids in a bold brown hue. Bonus points if they match the colour of your eyes.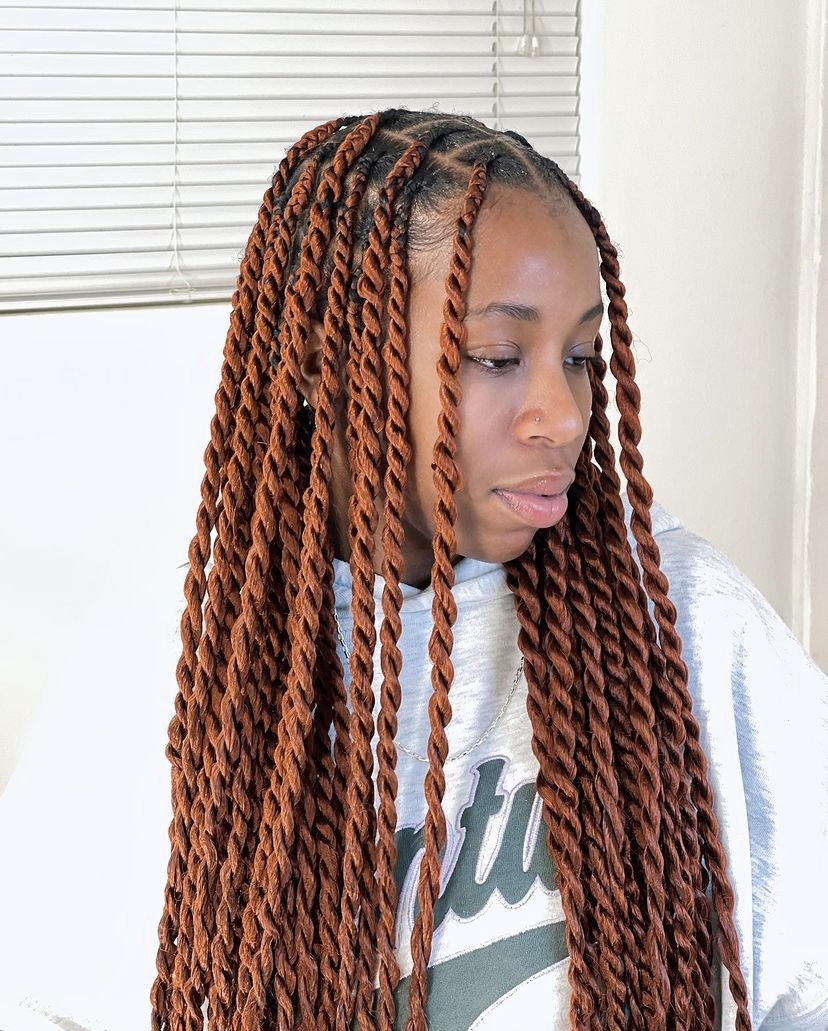 10. Multiple Patterned Cornrow with Knotless Braids
Here we have another two-color knotless braid of orange and pink. Not a common combination, but an eye-catching one nonetheless. It's also ideal for highlighting your braid patterns.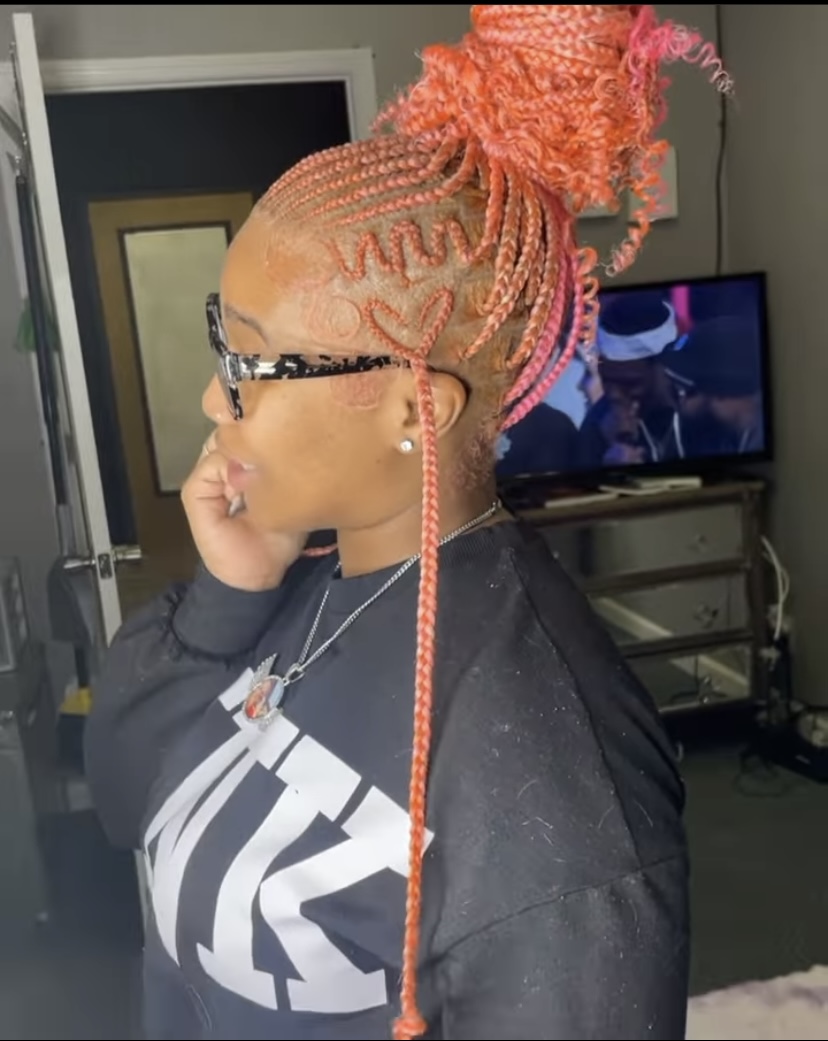 11. Pick and Drop Medium Sized Knotless Braids
Why have one style when you can have two? Starting your braids with the knotless style and continuing with a deep wave to the end is the perfect description of versatility. Using a brown colour for your braids is just the icing on the cake.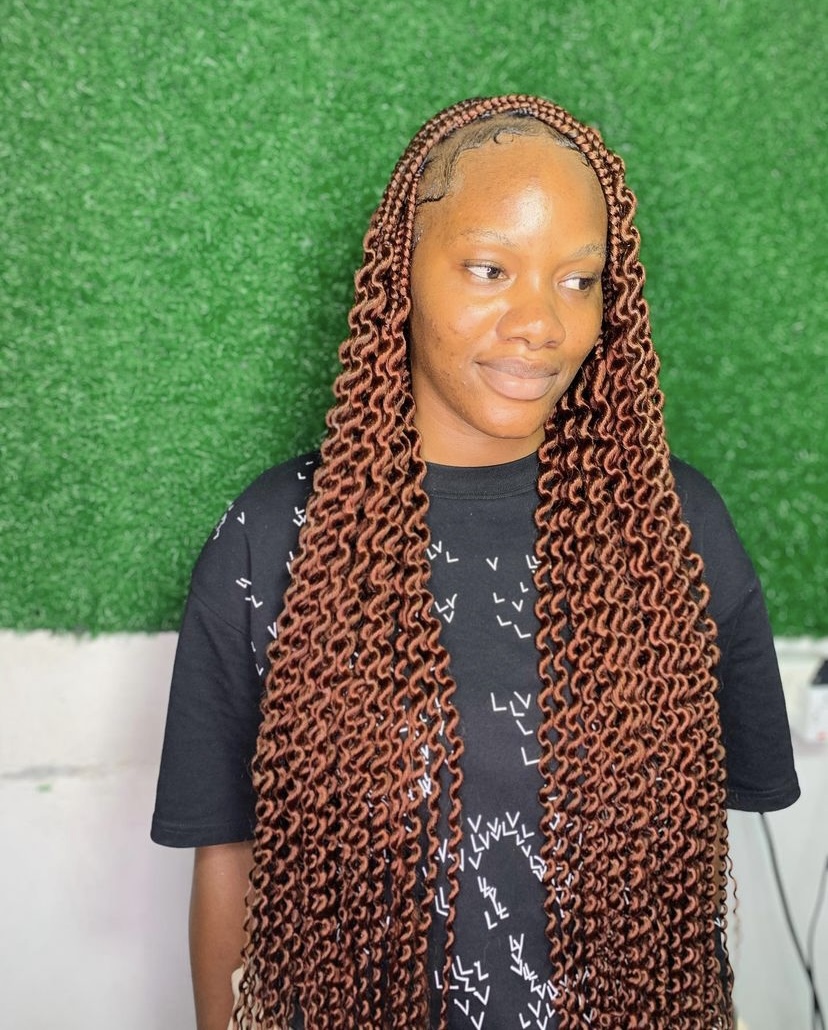 12. Jumbo Knotless Braids
Are you looking for simple, coloured braids that match the colour of your hair? This golden hue jumbo braid is sure to make you look gorgeous and turn heads wherever you go.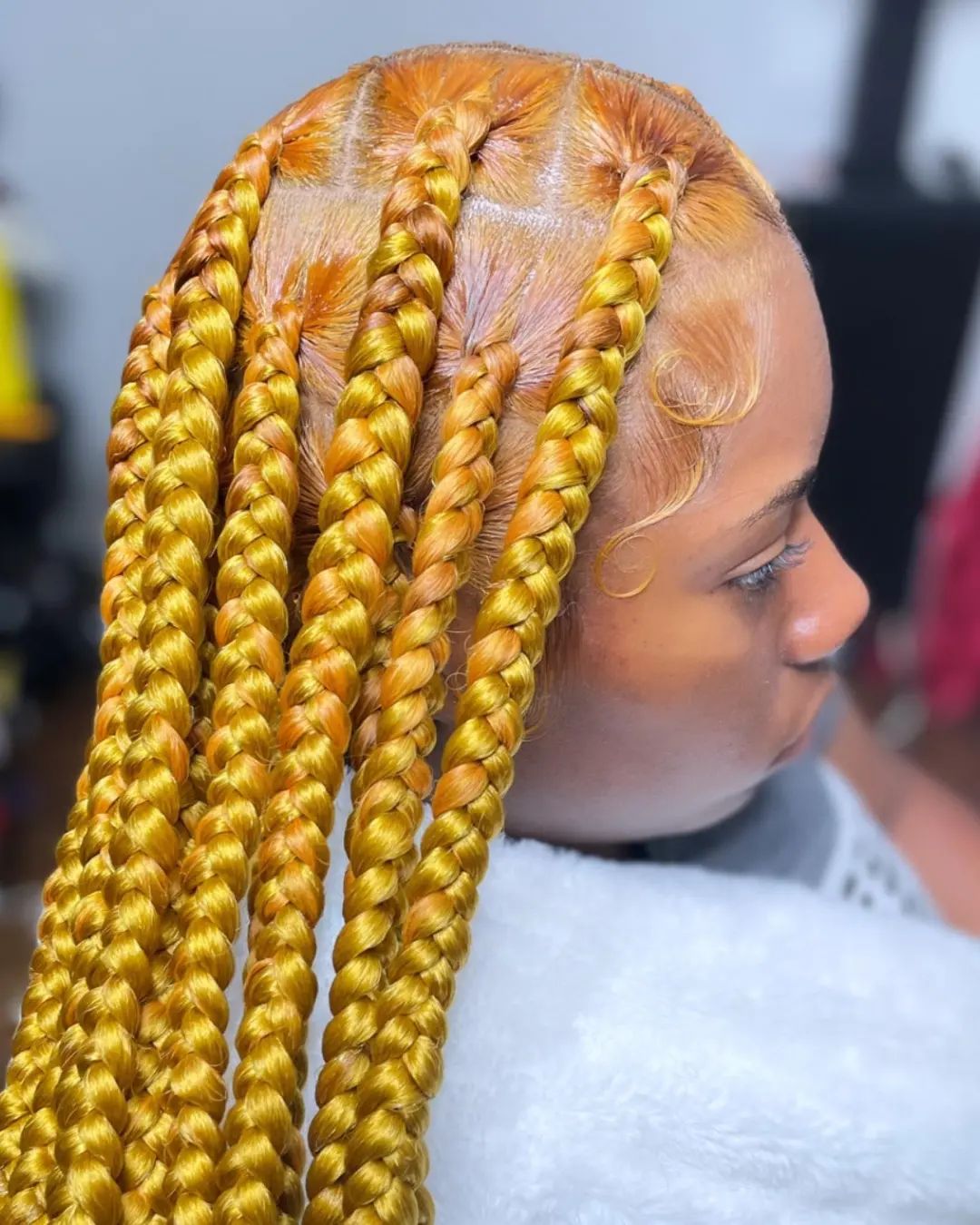 13. Waist Length Knotless Braids
Not satisfied with one or two colour tones for braids? Try three. This waist-length knotless braid is a pretty combination of brown, cream, and pink. Mixed in the right places to show the loudness of each colour.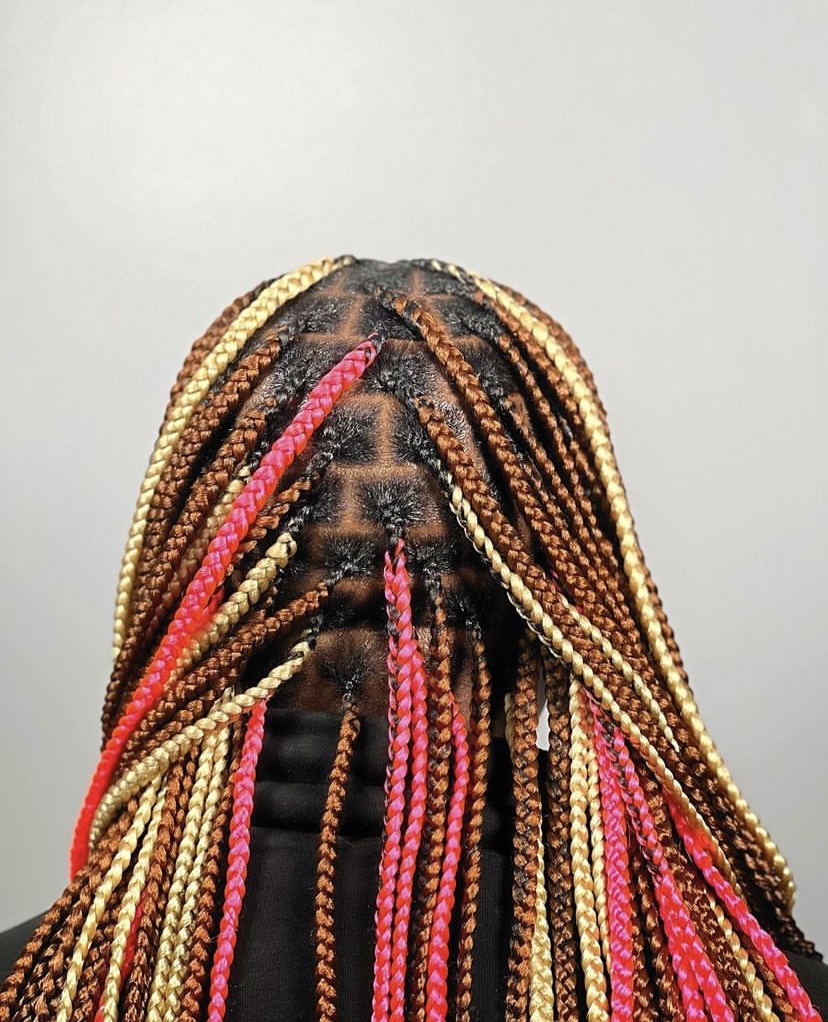 14. Large Rainbow Braids
Who says rainbows can only be found in the sky? If you don't mind being a little bold, you can create your rainbow by using different colour extensions for your knotless braids.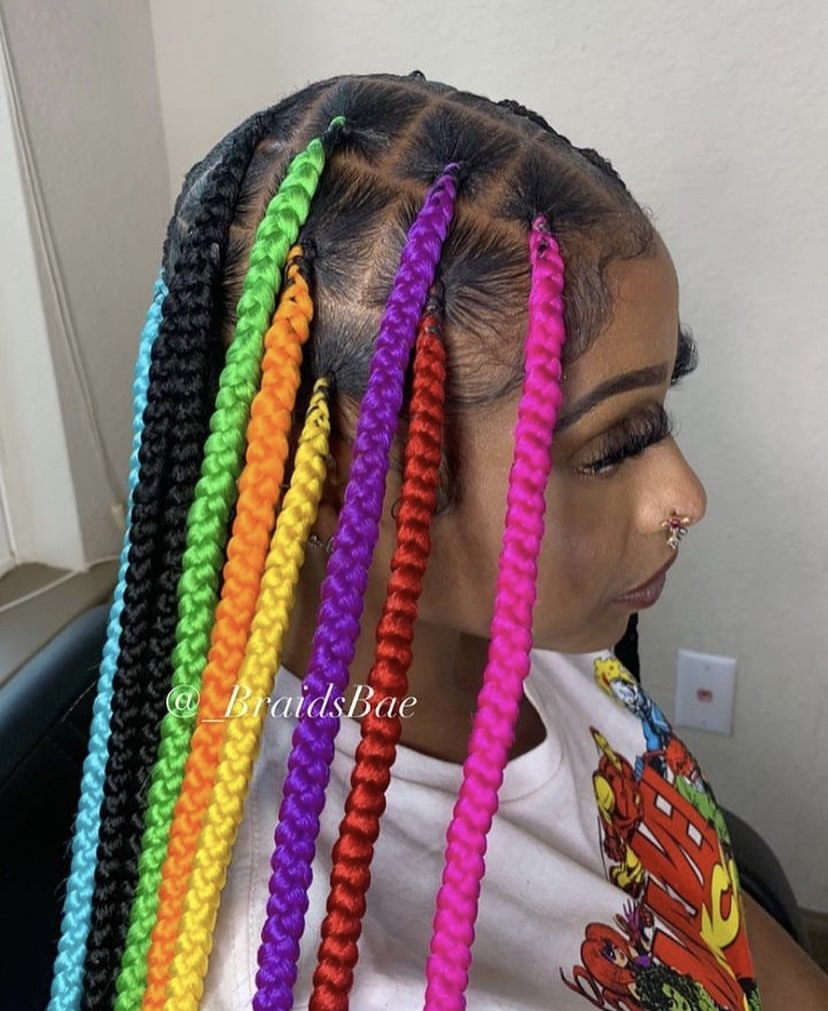 15. Atomic Orange and Jazzberry Jam Colored Braids
Tired of braiding with the same old black hair? Try blending the braids with a touch of atomic orange and a medium-dark shade of magenta pink to highlight your look. You can flatter your colorful blend with some clear beads at the ends.
16. Light Pink Braids with White Beads
You can try out this new combination of pink knotless braids with white beads at the ends for a new look.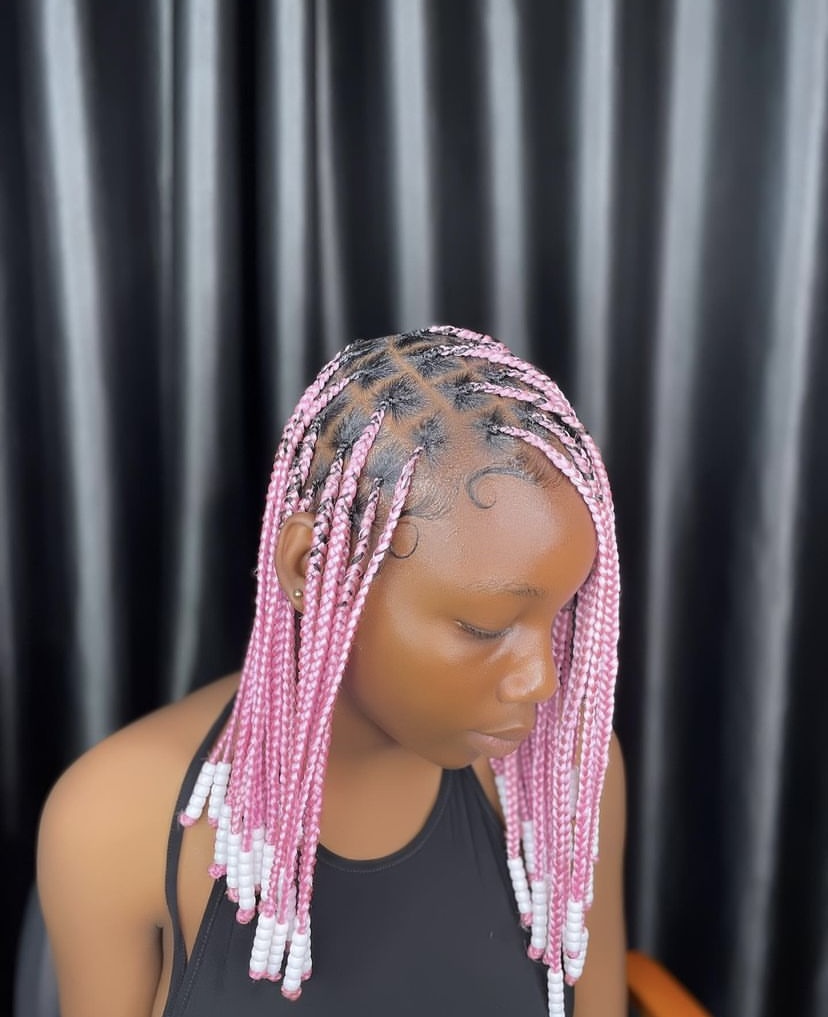 17. Extra Long Knotless Braids
If you don't want your extra-long knotless braids to look boring, you can blend the black ends with an orange hue to add more flavour.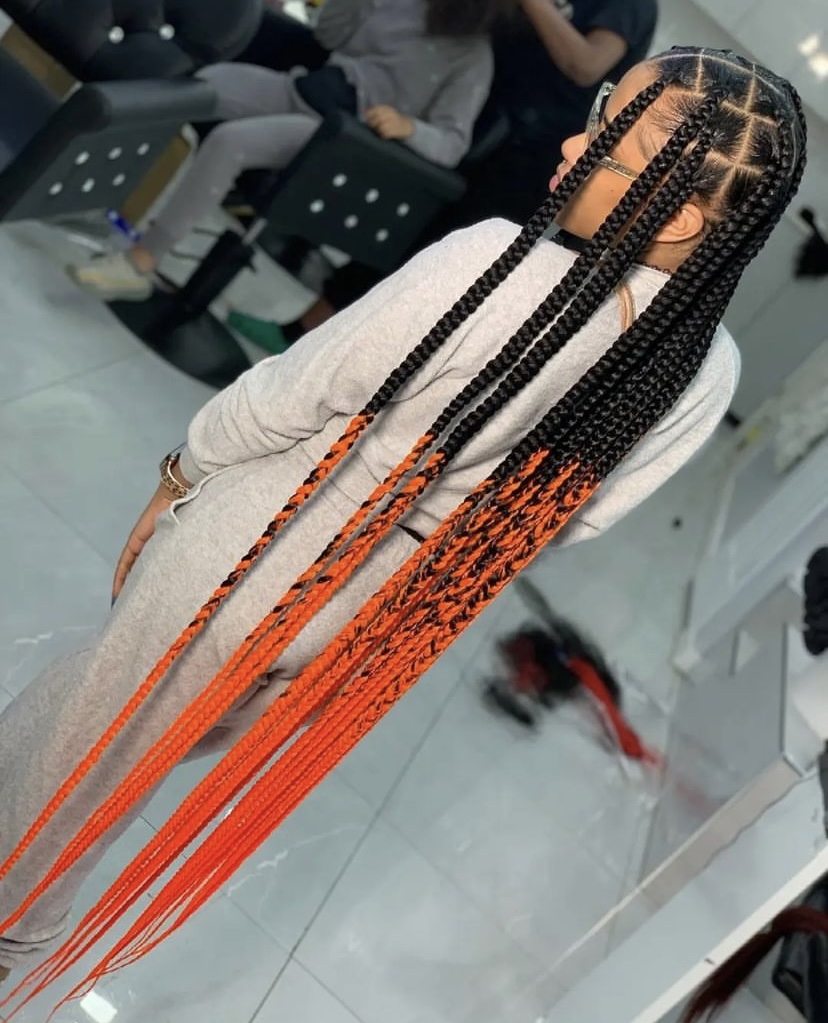 18. Mixed Colors Knotless Braids
Are you looking to be a bit more daring in your color choices? Then try these mixed-colored knotless braids that include shades of sea blue, cream, orange, pink, purple, and white. This is sure to turn heads in any direction you go.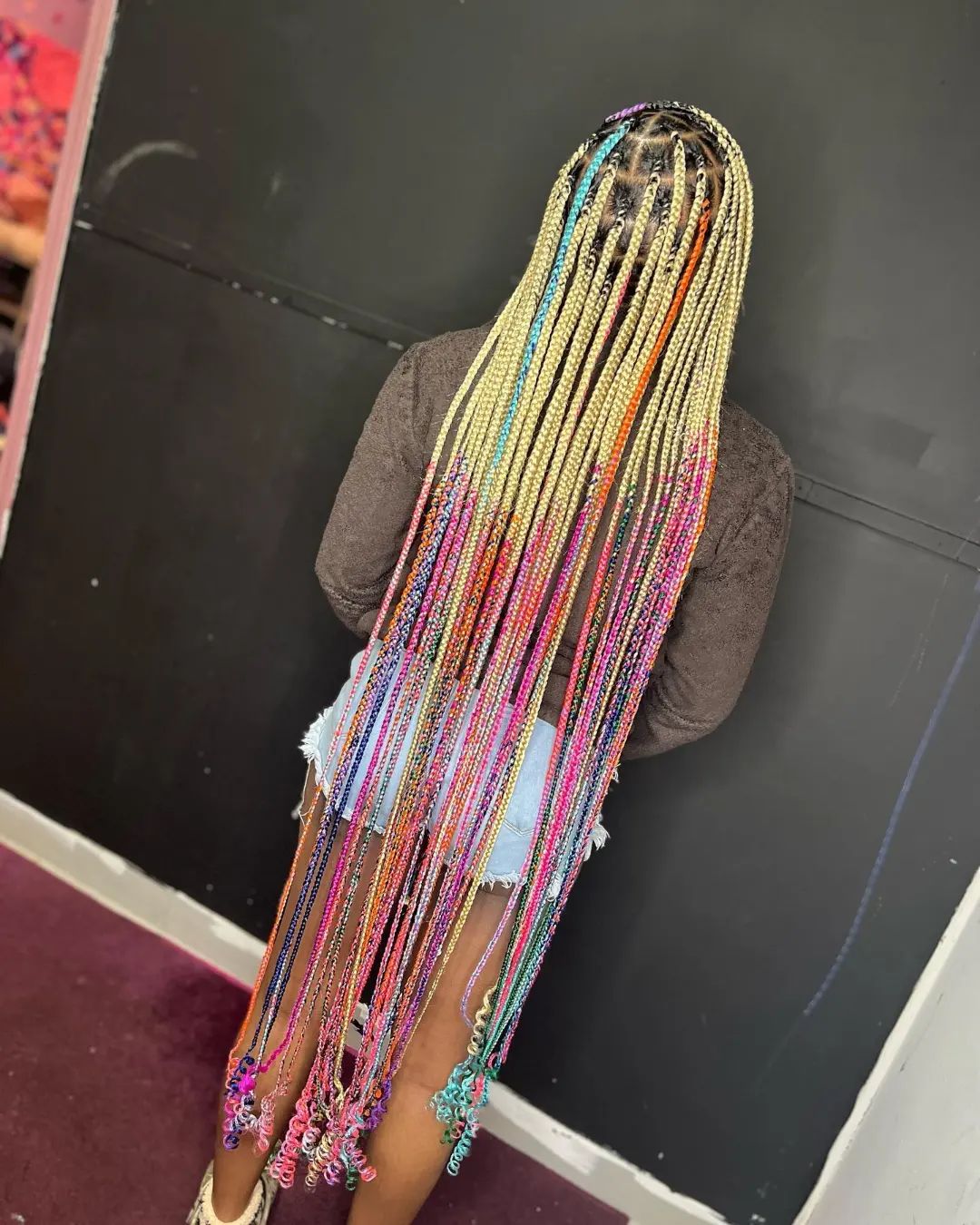 19. Purple and White Colored Knotless Braids with Beads
This mixed style of clear beaded purple and white knotless braids is the best hairstyle for a color-themed occasion you have coming up. Even perfect to match outfits with.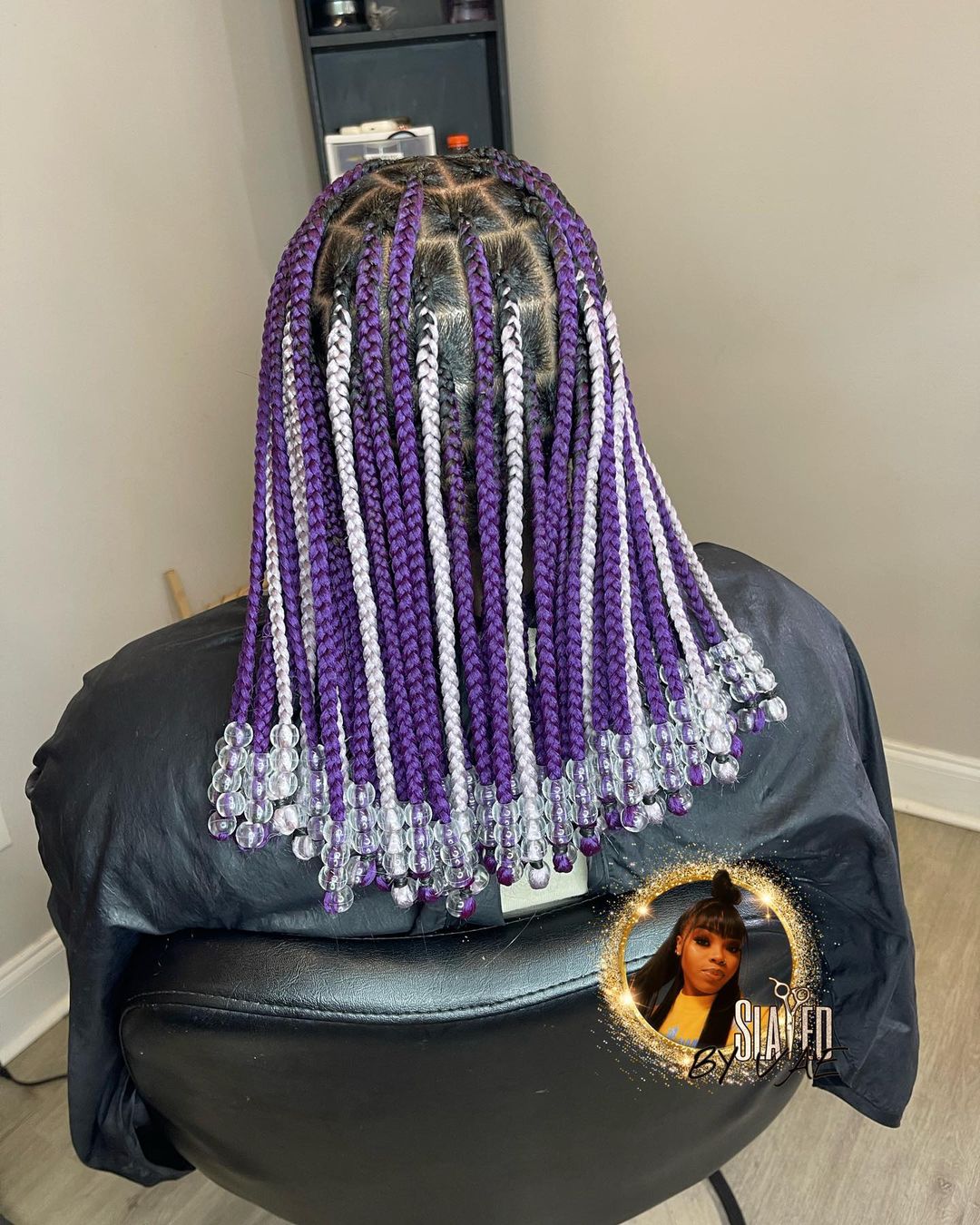 20. Small-Sized Knotless Braids
Sitting for long hours to braid small, knotless braids is not so exciting. But you can spice up your experience by using this blend of blond and gold colour for your knotless braids.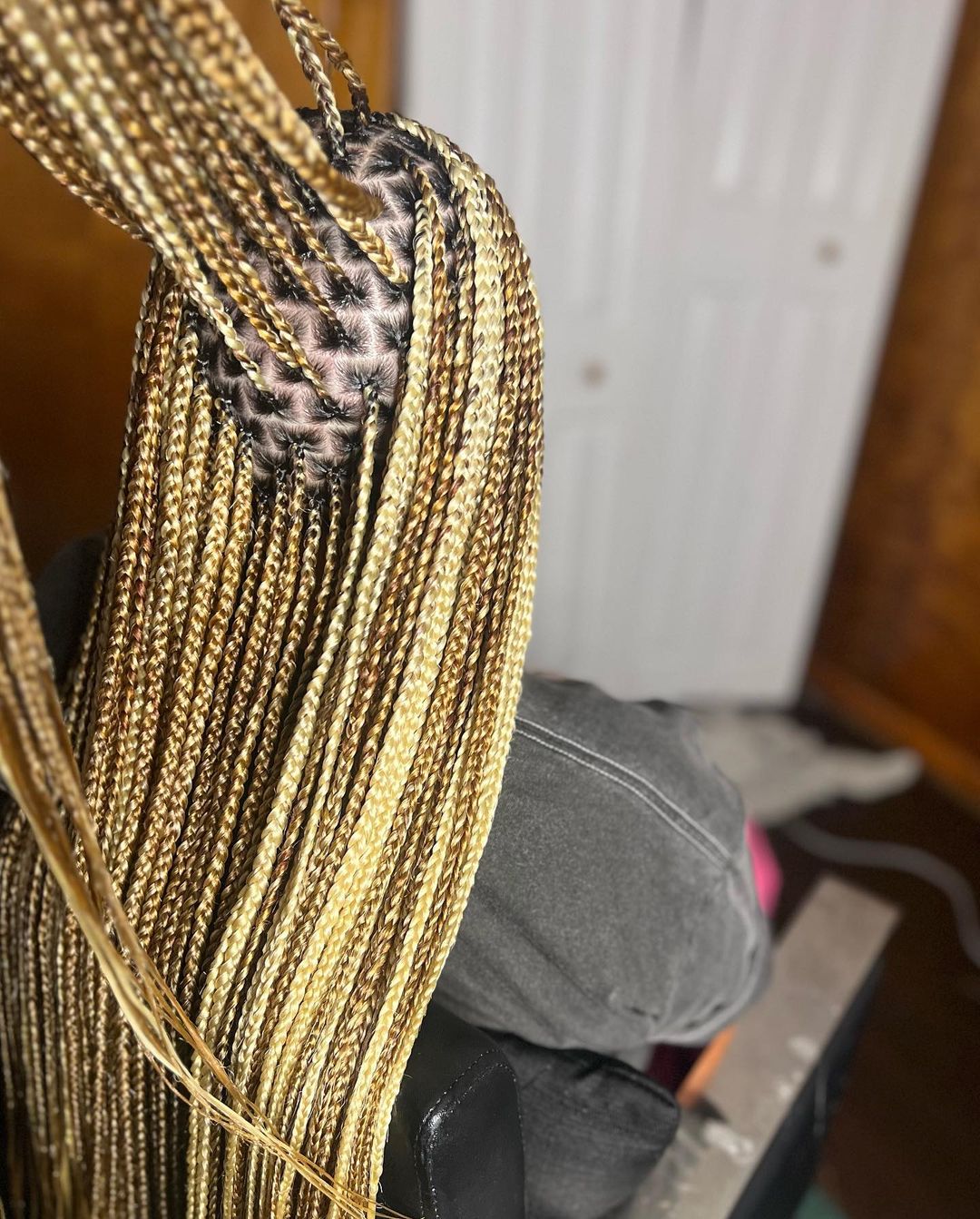 21. Knotless with Golden Beads
If you're looking to enhance the beauty of your simple knotless braids, you can mix your black braids with gold ones and top them off with some golden beads at the ends.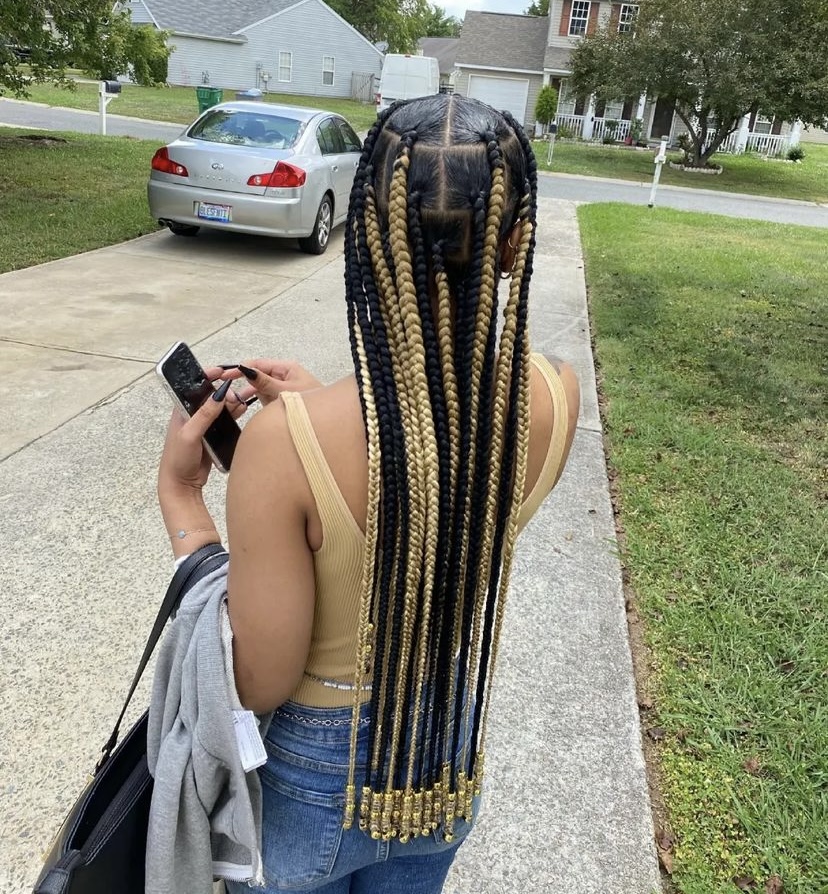 22. Tribal Cornrow Knotless Braids
This mixed-tone colour combination of pink and black cornrow knotless braids is one of the best options suitable for any occasion, formal or casual.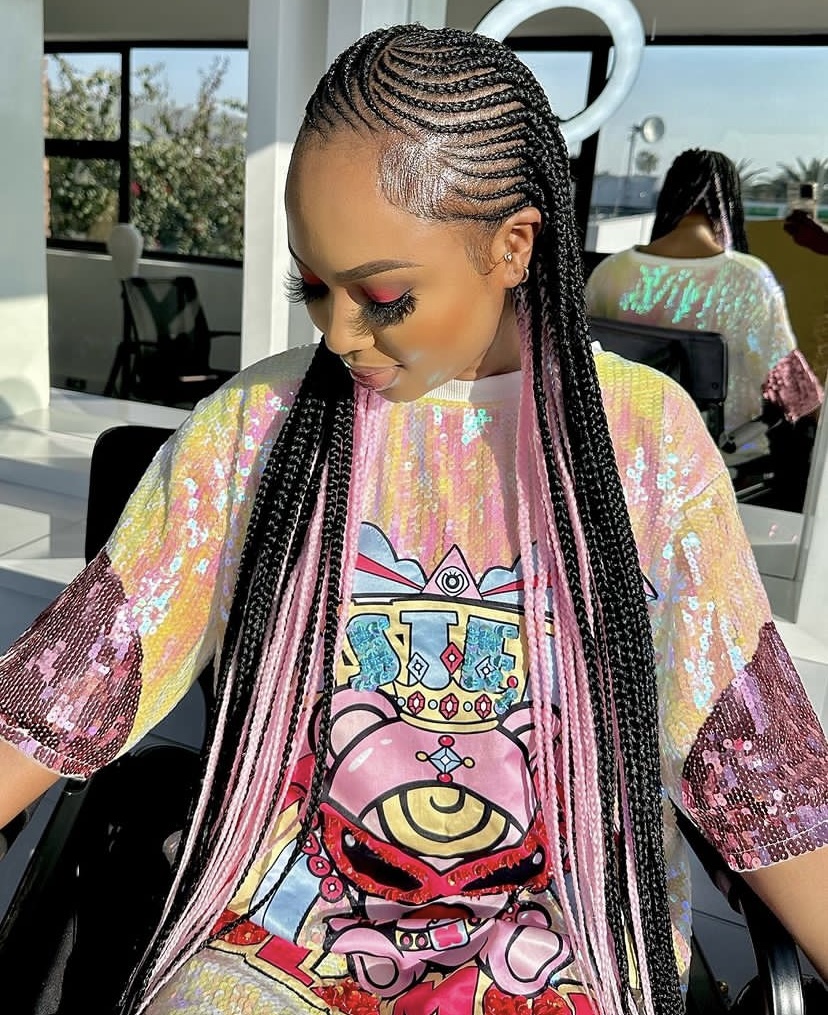 23. Two Side Bun with Colorful Braids
Going for bolder colours like pink, brownish gold, black, and white is a fun way to braid knotless. It can also be held up in a two-sided bun to add more style.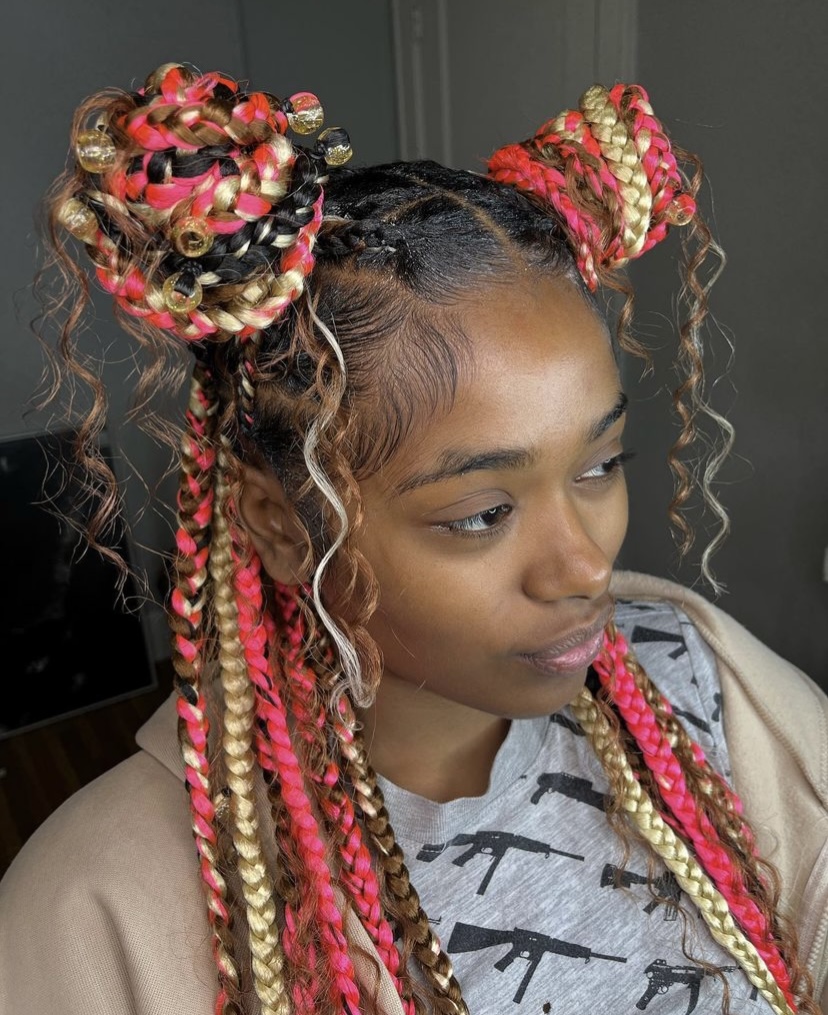 24. Boho Braids
This mixed-tone colour braid of black and brown with a touch of white and deep wave extensions thrown in the mix is perfect for giving you a gorgeous look.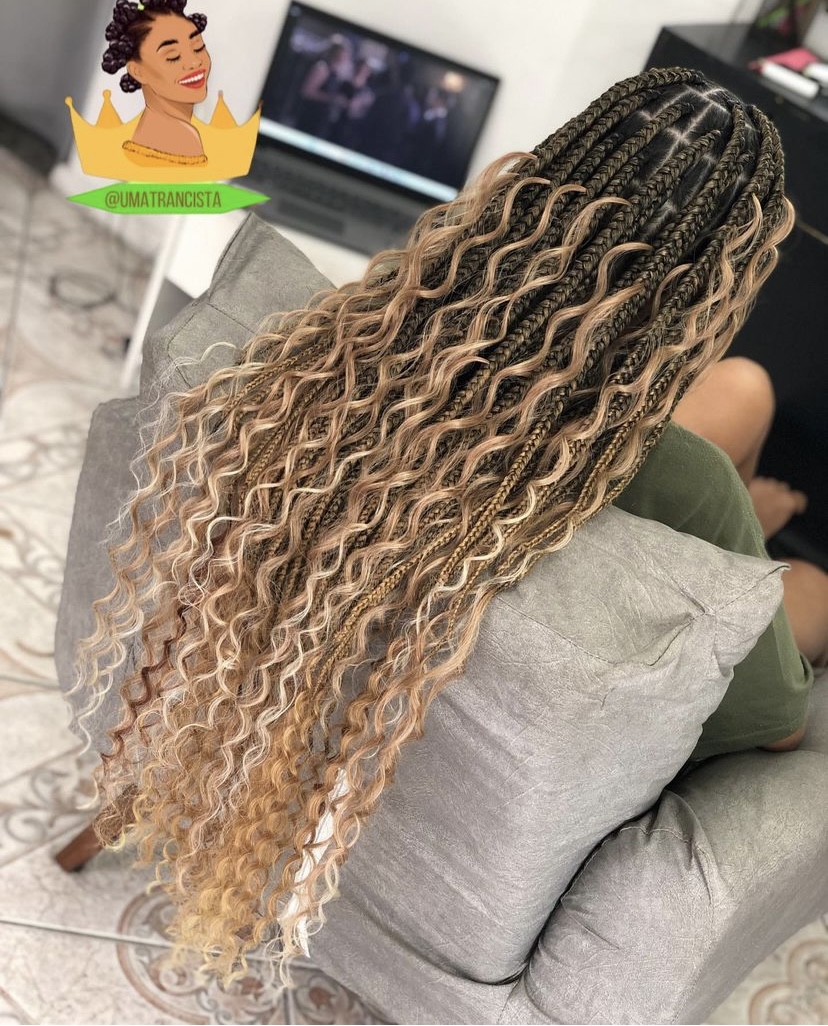 25. Feed-in Bun and Knotless Braids
These blonde-colored knotless braids are a great way to add color to your hair. It can be held in a bun to add more grace to your edges.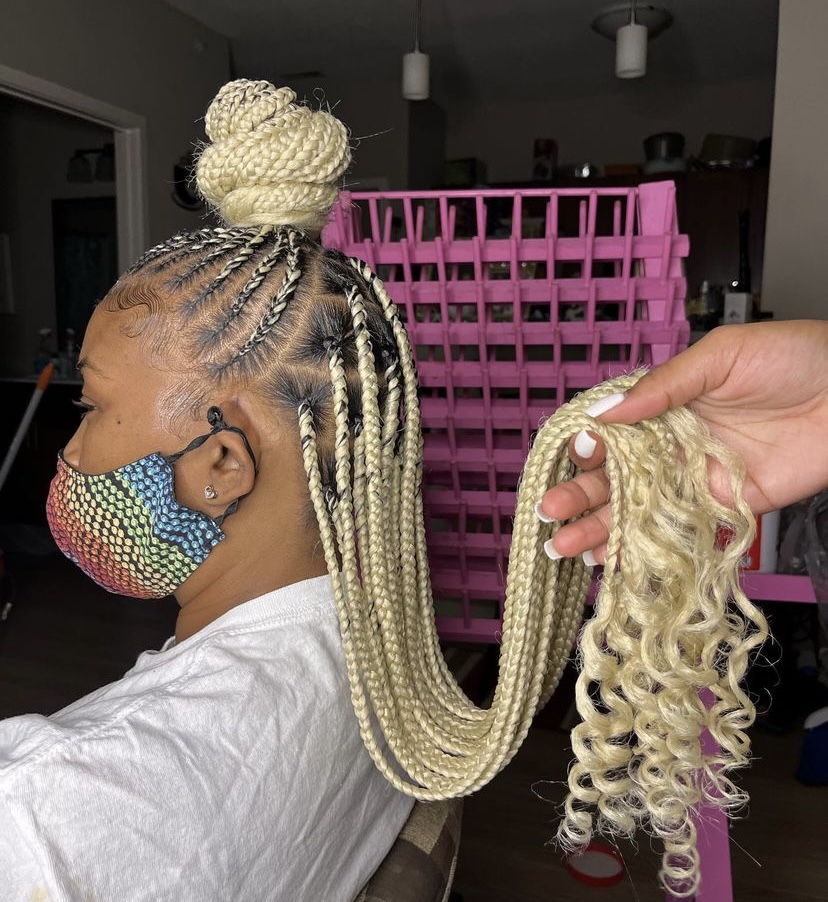 26. Cherry Red Mixed Knotless Braids
The fun thing about braiding with colour is that there are no limitations. This cherry red mixed with brown knotless braid is certainly rare but very beautiful when braided.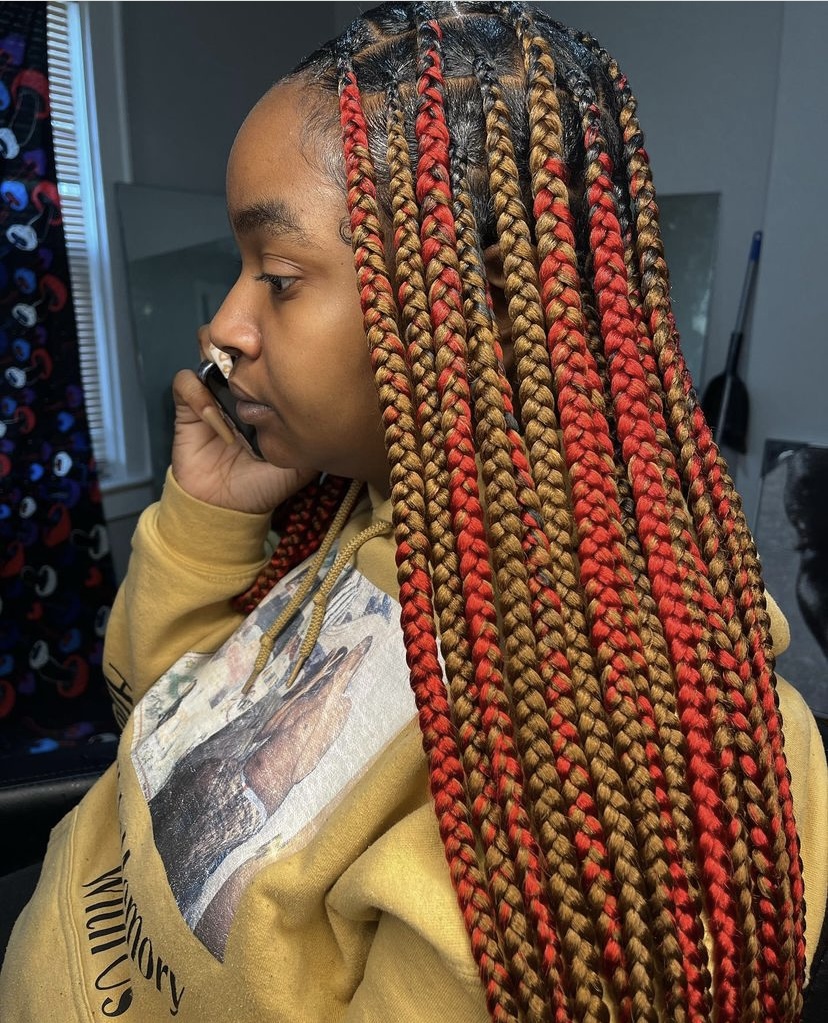 27. Knotless Braids with Pixie Curl
If you want to do something different from your regular knotless braids, you can try this brown and gold blend with some curb extensions fixed in between to give you a change of scenery. This style is a color combination of colors 27 and 613.
28. Ombré Knotless Braids
This right here is for those who can't get enough of the colour blue. Here we have a shade of black to start the knotless braids, then a deep blue in the middle, and then a sea blue colour with curls at the ends to complete the look. Perfect for your summer days.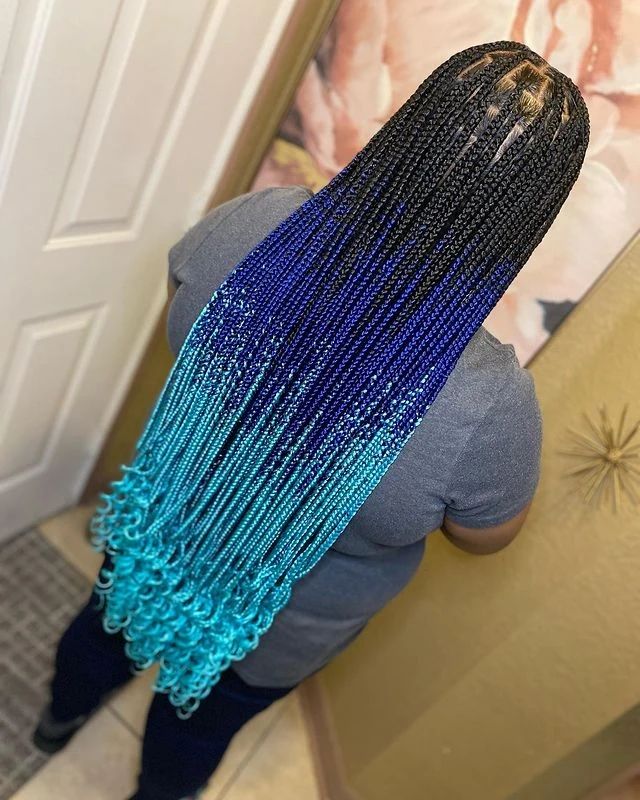 29. Lemonade with Knotless Braids
This is also known as the lemonade braids. For all the Beyoncé fans out there, you can rock these reverse knotless braids in black and blue colour tones for a stylish and versatile look.
30. Green and Black Knotless Braids
Some people may consider green to be too bright a colour for them. However, they look amazing when paired with black and white. You can try these colours for your knotless braids next.
31. Heart-Shaped Knotless Braids
This heart-shaped knotless braid design can be blended with pink and green for a much more daring and elevated appearance.
32. Reverse Braids
One thing that stands out in this hairstyle is not just the blend of purple and white being used, but the positions of the colors in the hair to form a nice pattern. You can style in a two-sided mini bun for a nice style.
33. Three-Part Ombré Knotless Braids
These knotless braids are beautiful not just for their neatness but also for the different shades of brown used. Beginning with a deep brown color, the braids transition into a shade of black, followed by a lighter brownish hue, then a soft cream hue, and finally a goldfish brown hue. Simply elegant and beautiful.
34. Peekaboo Knotless Braids
These knotless braids are done with a shade of blue at the lower part of the braids, which is covered when the black braids flow over it, hence the name Peekaboo.
35. Bright Red Flip Over Braids
Some people may prefer to mix their black braids with a red colour, but for the girlies with a little bit of boldness, you can go with the red colour for the whole knotless braids. This colour is sure to make you the center of attention.
36. Knotless Braids with Side Design
Having a design in your knotless braids is always a stylish way to go. You can enhance this look by using a shade of cream to bolden it.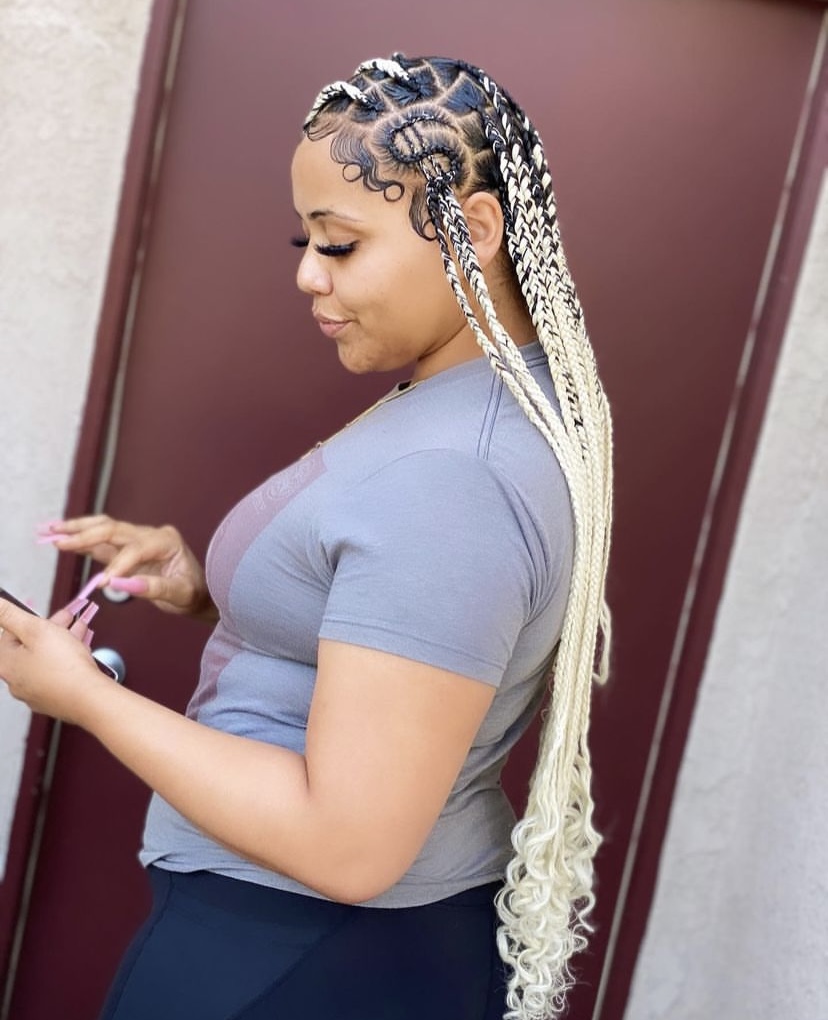 37. Medium Butt Length Knotless Braids
A mix of blue and green for knotless braids is sure to make you the centre of attention on any occasion.
38. Small Knotless Braids with Vibrant Colors
If you're looking to make a bold statement with your braids, you can try mixing the colours black, brown, and cream for your knotless braids with deep wave curls at the ends for your desired look. The colours used were 350, 30, and 613.
39. Heart Part Braids
This is a medium-length knotless braid with bohemian curls at the end. This fashionable colour combination of blonde and Barbie pink with the unique heart parts is enough to make a statement.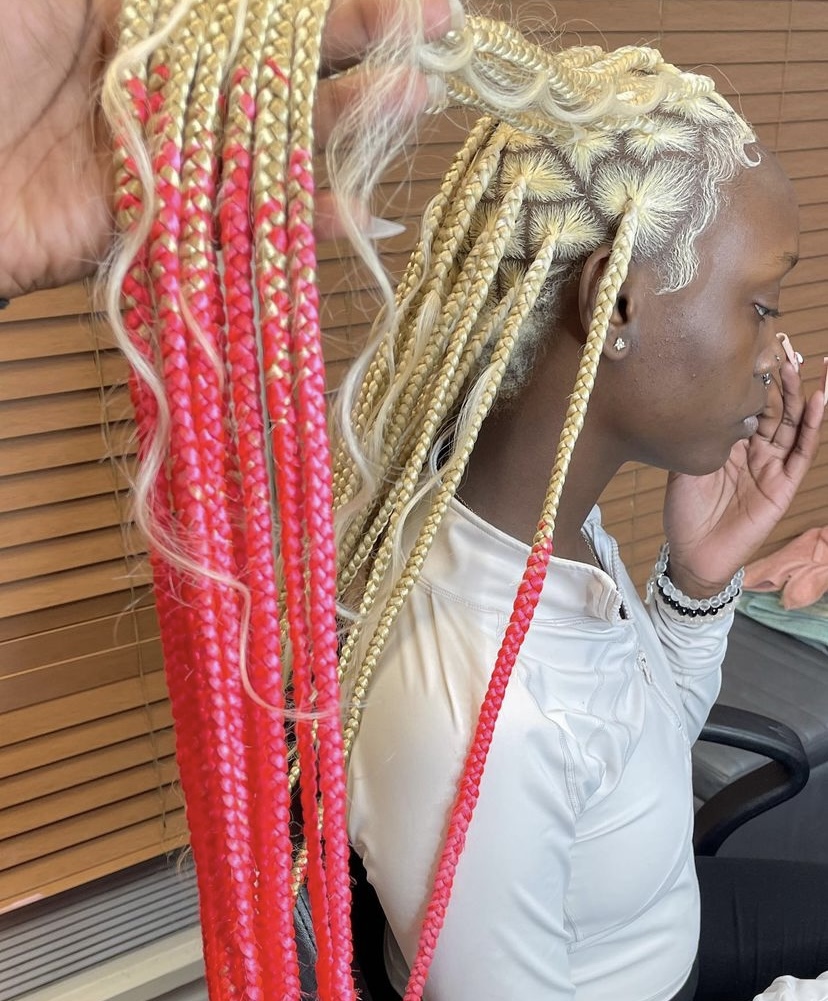 40. Knotless Braids with Human Hair Curls
Another fun colour that is rarely used is wine. Using a brown color for your knotless braids with wine curly extensions is sure to create a distinctive look in today's trends.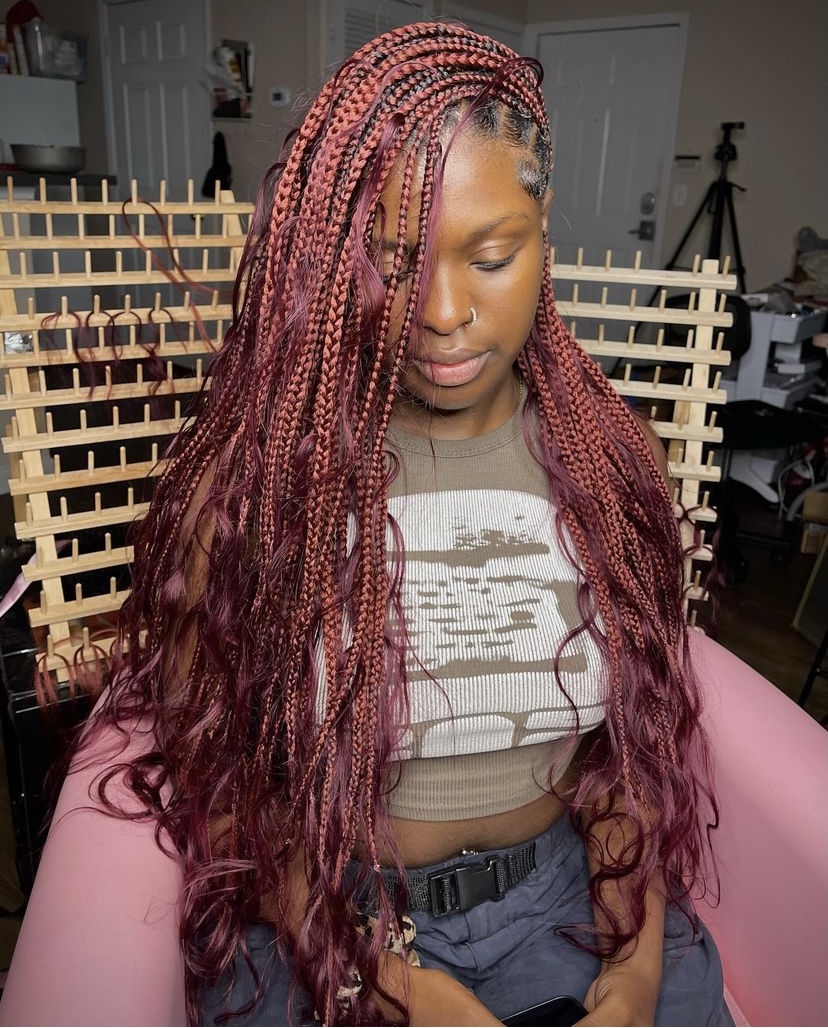 41. Knotless Braids with Feed-in
If you don't want your braids to be only one colour, you can try blending them with a dark shade of blue that flows towards the ends. This is sure to enhance your features.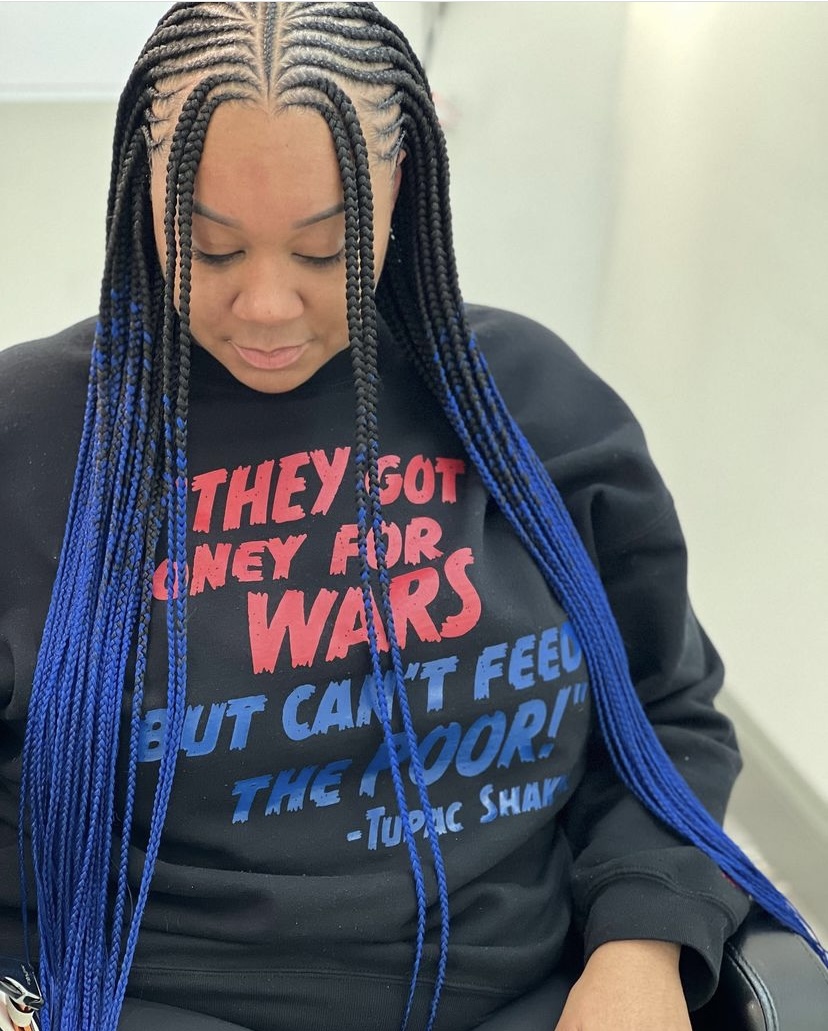 42. Knotless Braids with Diamond Partings
The distinctive features of these knotless braids are not just their colour blend of gold and black but also the partings made on the scalp to give them a diamond shape.
43. Knotless Braids with Square Partings
This style of knotless braids using a brown shade all around is definitely a must-try. Perfect for all occasions, whether formal or informal.
44. Medium Knotless – Butt Length
The reverse knotless is a new and trendy style. You can achieve this hairstyle when hair extensions are braided in the opposite direction from the natural hair to create reverse knotless braids. This results in a seamless, smooth finish that is less likely to tangle or break. The brown color used here is 350.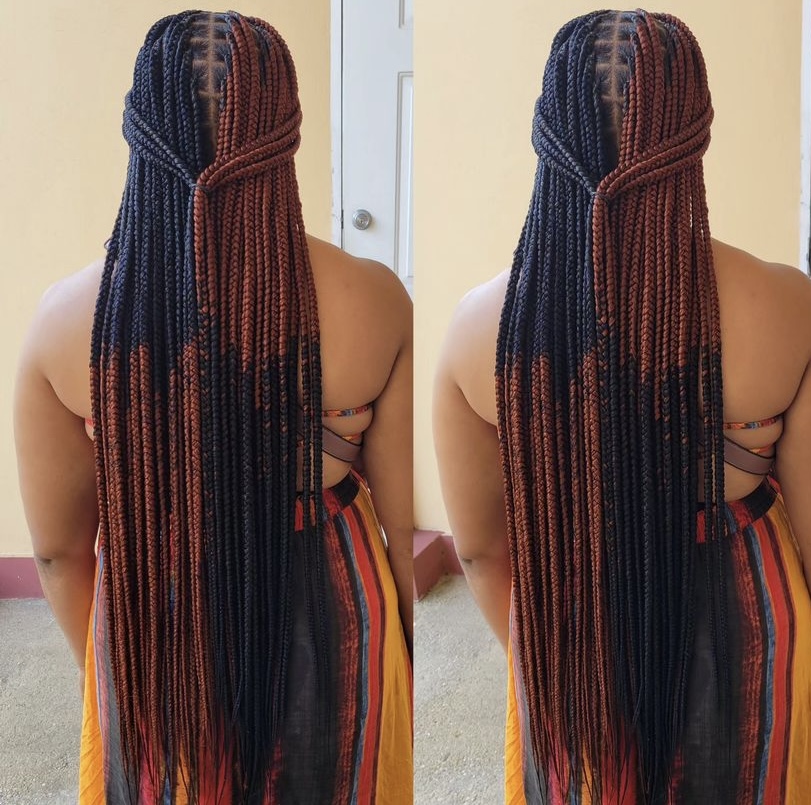 45. Large Knotless with Triangle Partings
This color is giving off some unicorn vibes, and we're loving it. This style is a combination of blonde, purple, and pink colors. The triangular partings also make this style stand out.
46. Short Mixed Colored Knotless Braids
Girls do indeed just want to have fun! Just have some fun with these stylish knotless braids. This is a colour combination of cherry red, colour 613, colour 1b, and pink, with some colourful beads.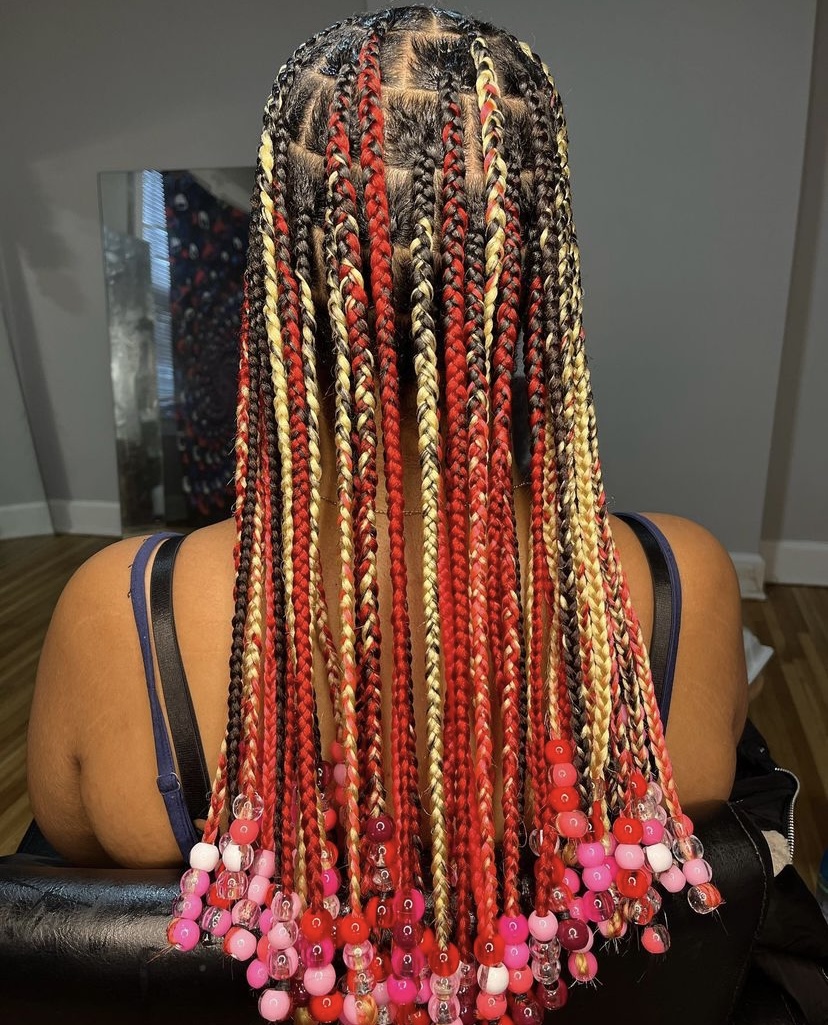 47. Purple Colored Knotless Braids
This is definitely a bold and stylish look you can try. The purple colour is vibrant, while the black gives us that sophisticated vibe. You can style it however you want.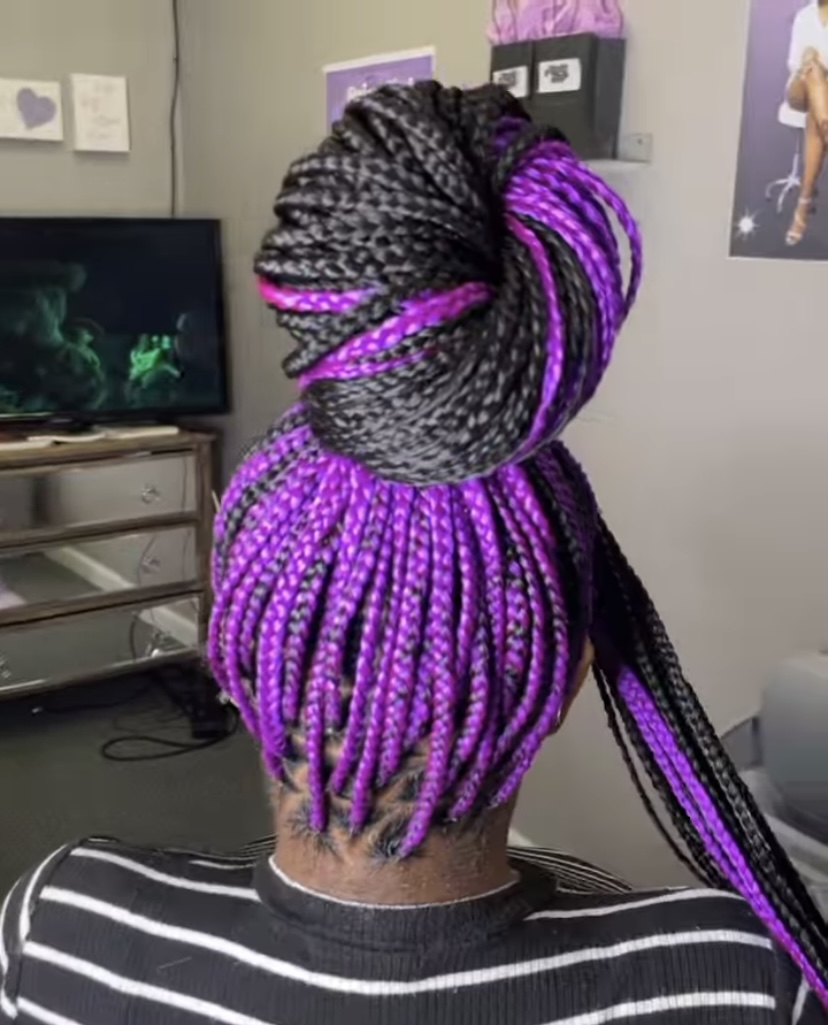 48. Matt Gray and Green Colored Braids
This medium-sized knotless braid pulled into a ponytail is a stylish and versatile look for black women of all ages. The colours used are matte grey and green.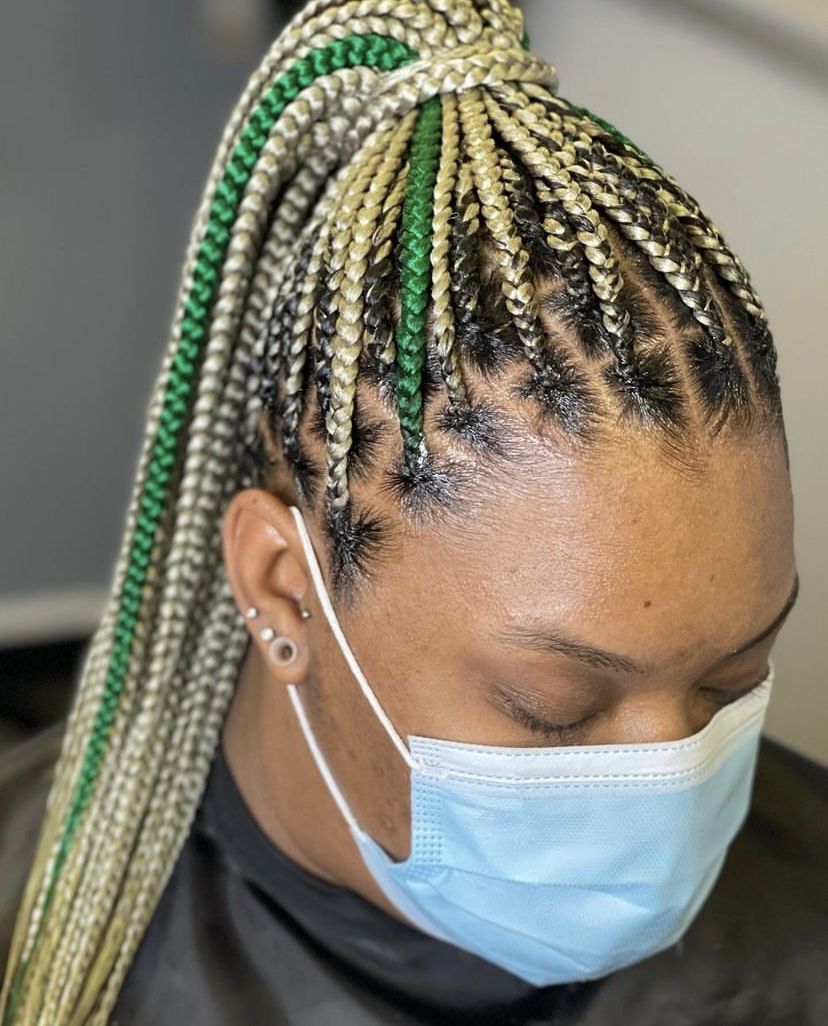 49. Burgundy Knotless Braids
Burgundy is a rich, deep reddish-brown shade that is ideal for bringing a touch of drama and sophistication to any braid.
50. Black and Barbie Pink Colored Braids
Add some style to your knotless braids with some pink and white. This will indeed give you a subtle, trendy look.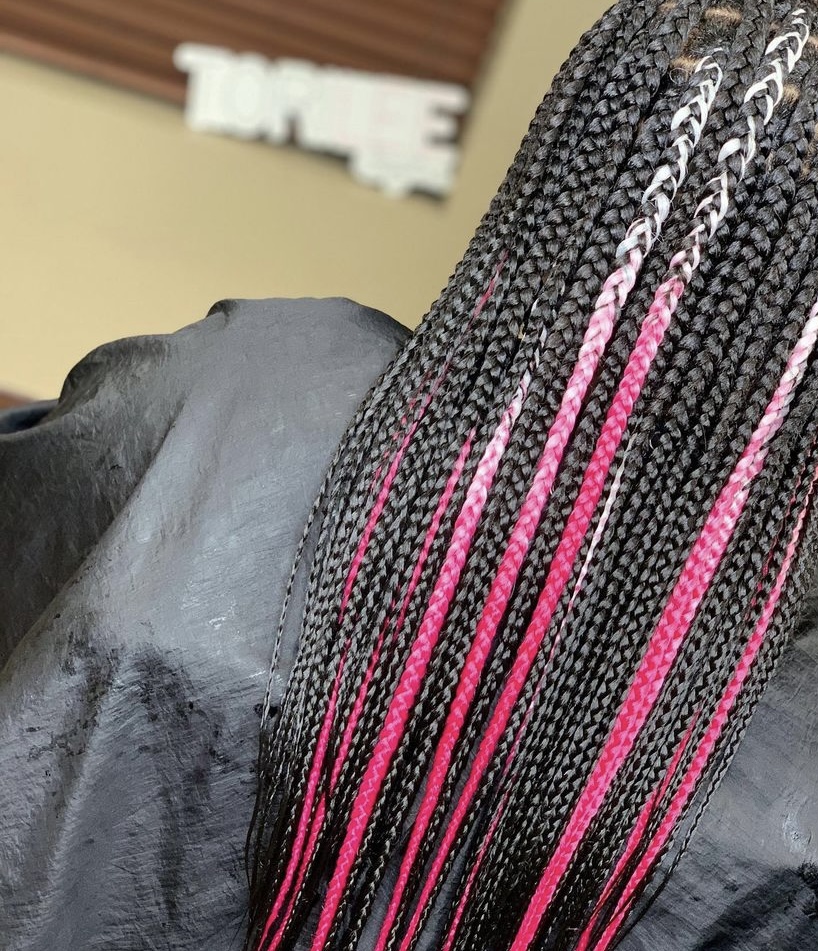 Now It's Your Turn
Knotless braids are protective styles that protect your natural hair from damage. They're comfortable to wear and low-maintenance as they don't require much styling.
Adding color is such a highly adaptable way of having fun with your knotless braids. With the variety of alternatives and styles on this list, you can pull off any braid color or style you choose, regardless of your skin tone or color preference. Feel free to leave your pictures in the comment section.
Also Read related: