Let's talk about knotless braids with a heart on the side, today!
Side Heart Knotless Braids Styles have been on the trend for a while now. At first, it was just a single heart design at the corners of the hair, but recently, our hairstylists used it in various designs that have got us all interested!
So, in this article, we will show you the different variations of heart Knotless braid styles. From single to double, to small and large. The choice of heart design depends on the hairstyle, length, and volume.
Here are 30 knotless braids with heart on the side ideas to inspire your next visit to the salon!
30 Knotless Braids With A Heart On The Side
1. All Black Jumbo Knotless Braids With Large Heart On The Side
These jumbo braids make a bold statement with a large heart accent on the side. Perfect for those who love dramatic styles. Ideal for special events or when you want to stand out.
2. Black And Burgundy Striped Knotless Braids With Side Heart
The black and burgundy stripes add a trendy twist to the classic knotless braids, while the side heart adds a touch of romance. Great for parties or date nights.
3. Knotless Cornrow Braids With Green Ends And Heart By The Side
The green ends give these braids a unique pop of color, and the heart on the side adds a playful touch. Perfect for festivals or creative gatherings.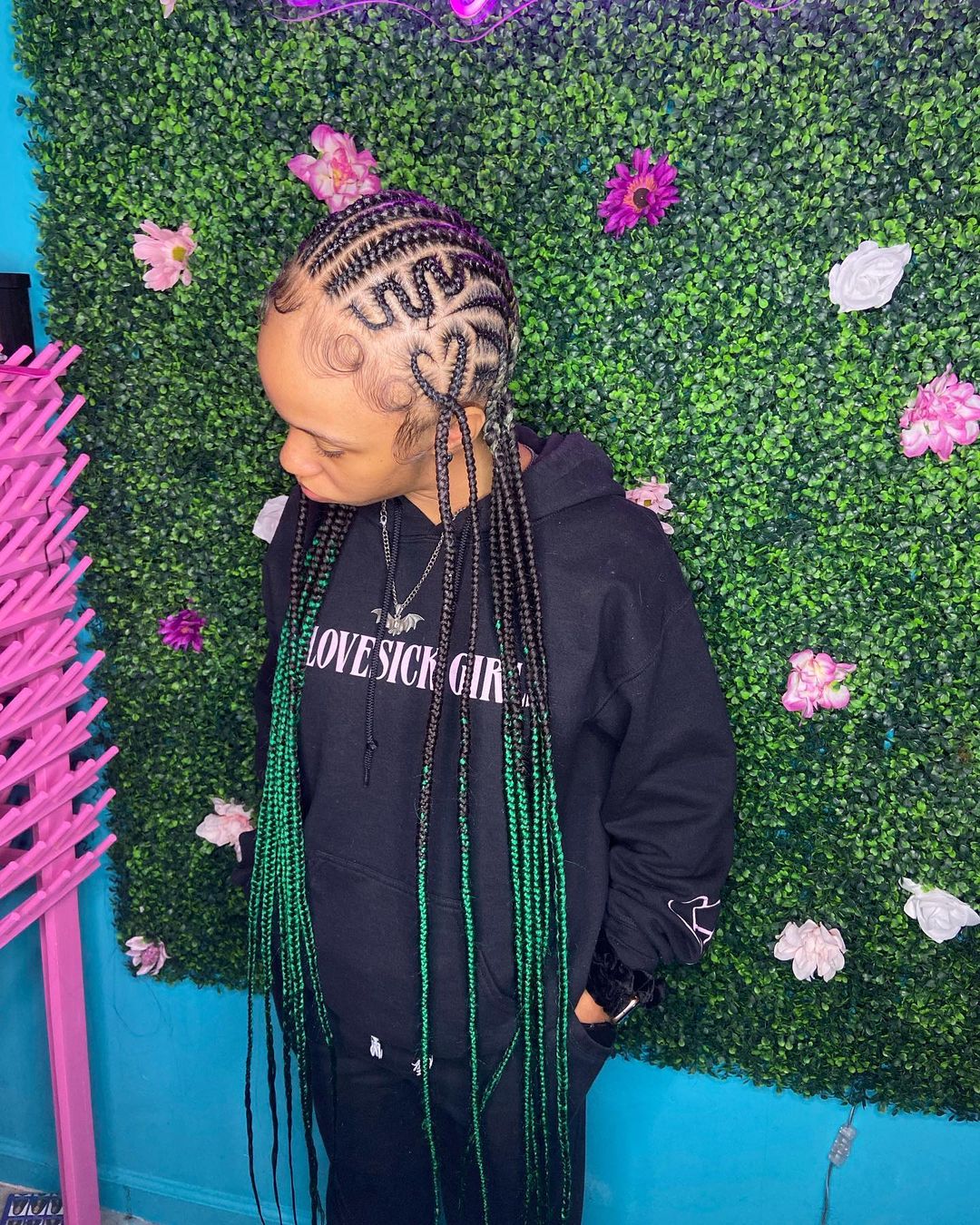 4. Side Heart Parted Knotless Braids With Curly Ends
These braids combine elegance with a hint of whimsy. The curly ends add a soft, romantic vibe. Ideal for weddings or formal occasions.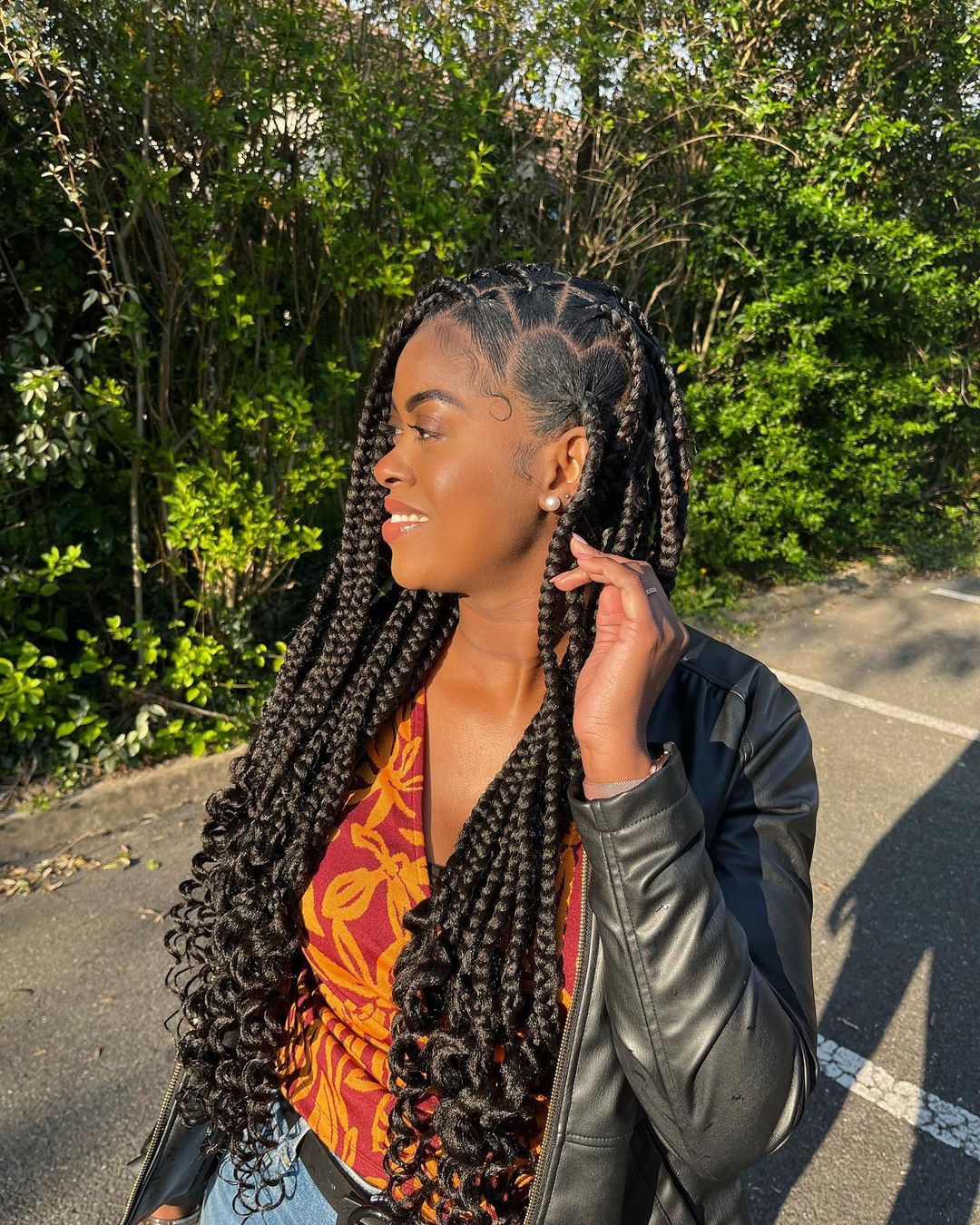 5. Medium Thigh Length Knotless Braids With Heart At The Side
These medium-length braids offer versatility and comfort. The heart detail makes them suitable for everyday wear or casual outings.
6. Light Brown Knotless Braids With Side Heart
Light brown adds a natural touch to these knotless braids, and the side heart adds a sweet charm. Great for brunches or coffee dates.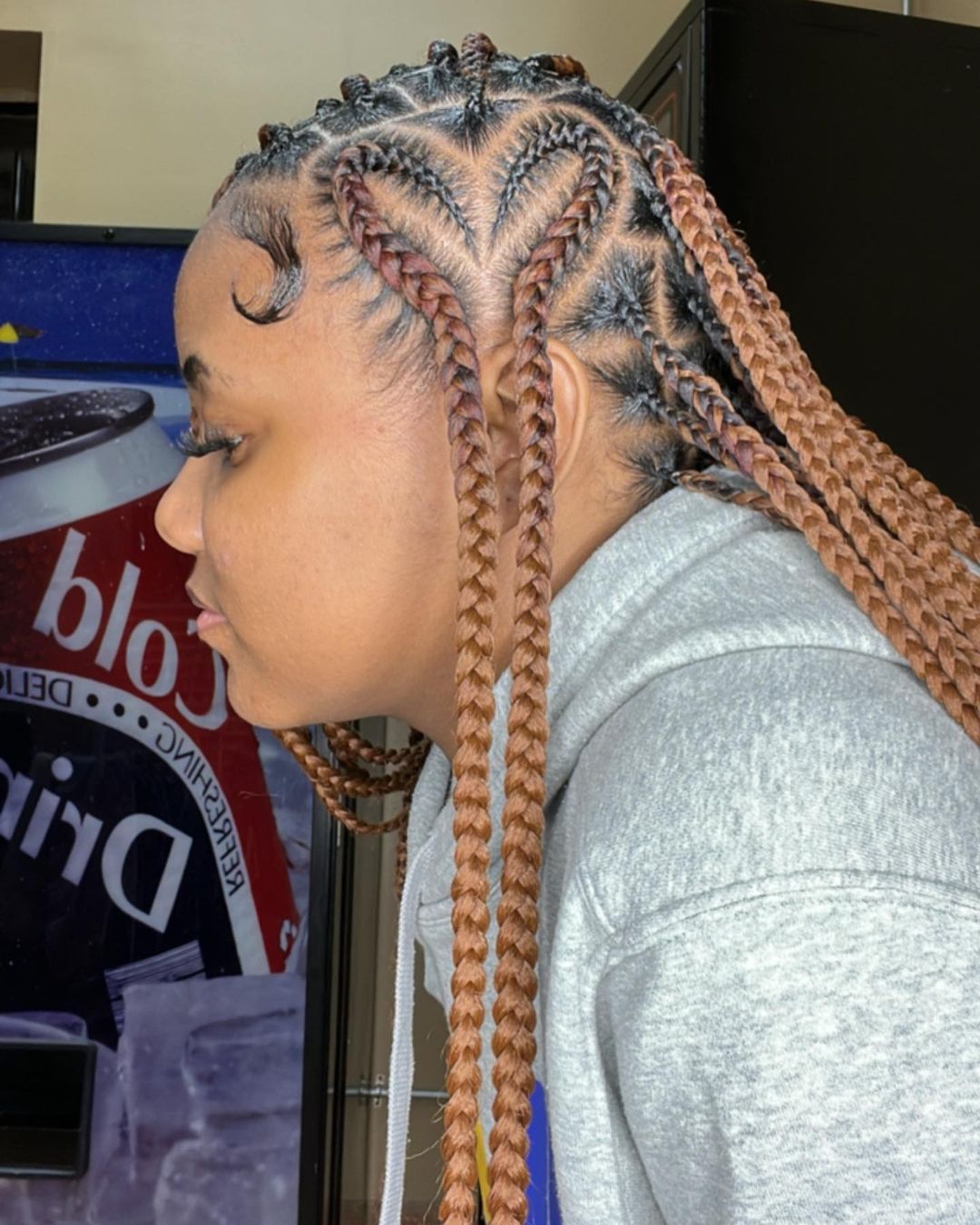 7. Multiple Heart Feeds In Knotless Braids
This style takes heart accents to the next level with multiple hearts. Perfect for celebrating love or attending a formal event.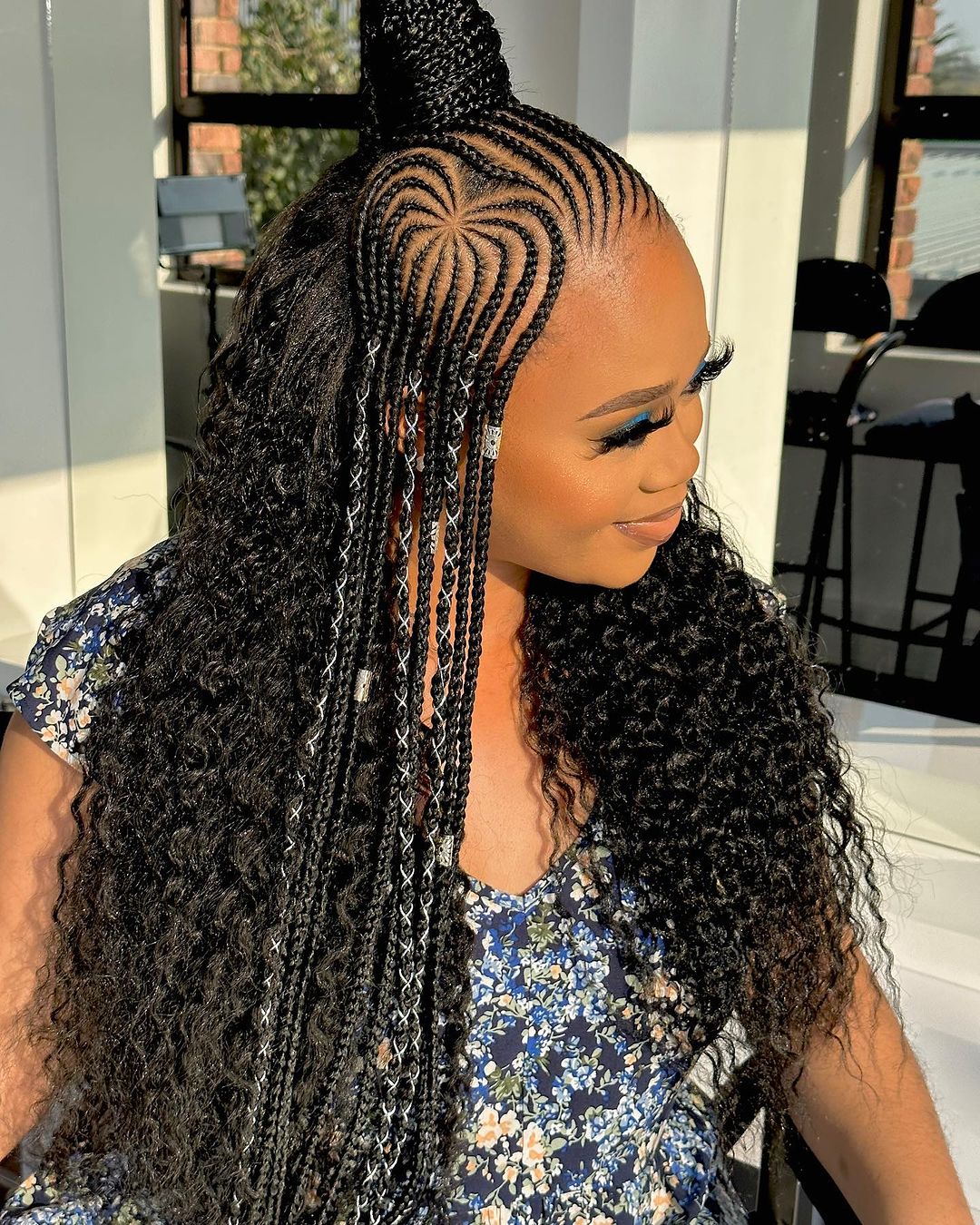 8. Wine Red Medium Knotless With Side Heart
The rich wine-red color makes these braids truly stand out. The side heart adds a touch of romance. Ideal for evening events or any casual hangout. You can also wear it in different styles and still reveal the side heart design.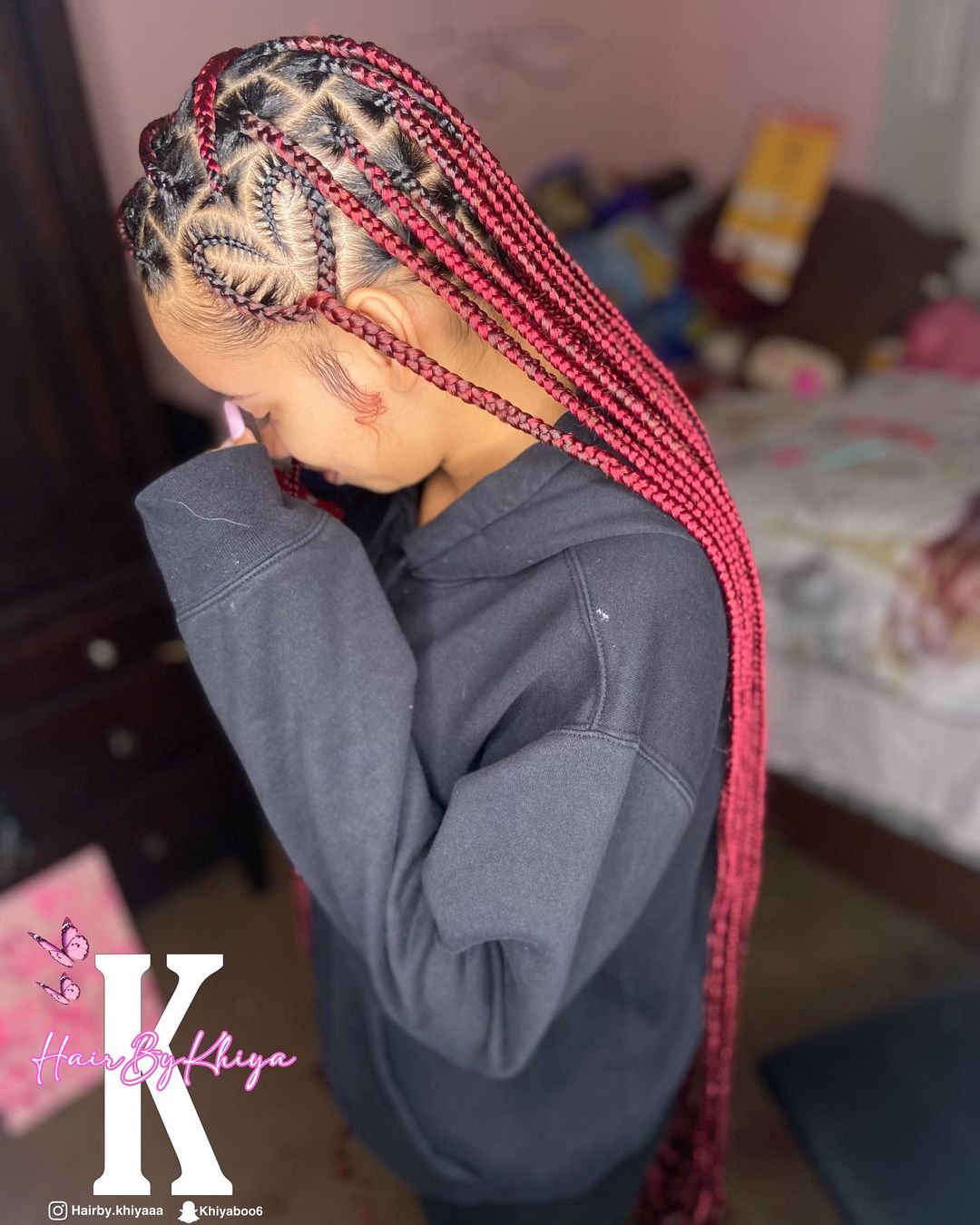 9. Short Triple Colored Knotless Braids With a Side Heart Design
Short and sassy, these braids feature triple colors and a side heart for a fun and edgy look. Perfect for music festivals or parties.
10. Waterfall Knotless Braids With Heart Design
The waterfall effect creates a unique and eye-catching style. Suitable for a beach wedding or summer soirée.
11. Heart Parted Knotless Black And Blue Braids
Combining black and blue hues with a heart parting, these braids exude confidence and style. Great for club nights or fashion events.
12. All Heart Parted Red Knotless Braids
The all-red braids with heart partings are bold and passionate. You are surely making an announcement of your presence with this hairstyle.
13. Jumbo Grey And Black Knotless With Heart Design
These jumbo braids in gray and black are chic and fashion-forward. The heart design adds a unique touch. Ideal for fashion shows or upscale parties.
14. Knotless Cornrow in a Bun With Side Heart Design
This bun style is sophisticated, and the side heart design adds a playful twist. Great for weddings or formal events.
15. Half Updo Medium Knotless Braids With Side Heart
The half updo style is versatile and perfect for everyday wear. The side heart adds a touch of sweetness. Suitable for casual outings or family gatherings
16. Small Knotless Pink Braids With a Heart Design
This style combines small knotless braids with a playful heart design. It's a fun and creative way to express yourself while keeping your hair neat and stylish.
17. Top Half Fulani Knotless Braids With a Heart
This hairstyle combines the elegance of Fulani braids with a heart-shaped element. It's a chic and trendy look that can be both casual and formal, perfect for any occasion.
18. Freestyle Knotless Straight Backs With Heart
These freestyle knotless braids add a touch of creativity with a heart accent. They offer a sleek and low-maintenance option for those who want a unique twist to their straight backs.
19. Jumbo Black And Red Knotless Braids With Heart Design
Bold and eye-catching, these jumbo knotless braids feature a striking combination of black and red tones with a heart design. It's a statement hairstyle that exudes confidence.
20. Red Mini Knotless Straight Back With Side Heart
The mini knotless braids in this style are complemented by a charming side heart detail. The red color adds vibrancy to this chic and modern look.
21. Shoulder Length Curly Knotless Braids With Side Heart
For a more textured and romantic style, shoulder-length curly knotless braids with a side heart accent are a great choice. They offer a softer and more playful vibe.
22. Bob Bohemian Knotless With Side Heart
This hairstyle combines the trendy bob cut with bohemian knotless braids and a side heart. It's a fusion of contemporary and boho-chic styles. It's a great option for small-faced ladies as it adds volume to their facial appearance.
23. Heart Plaited Knotless Braids
These knotless braids are intricately plaited into heart shapes, creating a unique and artistic look. It's a stunning choice for those who want to make a statement.
24. Hip Length Black And Pink Heart Parted Knotless Braids
Hip-length knotless braids in black and pink with heart-shaped partings are a bold and playful choice. It's a style that celebrates individuality and creativity.
25. Knotless Pigtail Braids With Heart Design
For a youthful and cute look, knotless pigtail braids with a heart design are perfect. They are easy to style and maintain
26. Long Black And Pink Knotless Braids With Heart Center Parts
Long knotless braids in black and pink with heart-shaped center parts are striking and stylish. They offer a unique twist on a classic look.
27. Scanty Jumbo Knotless Braids With Side Heart
These scanty jumbo knotless braids with a side heart detail offer a minimalist and elegant style. It's a great choice for those who prefer a more understated and simple look.
28. Knotless Updo With Back Heart Design
An updo with a heart design at the back is a sophisticated choice for special occasions. It adds a touch of romance and glamor to your overall look.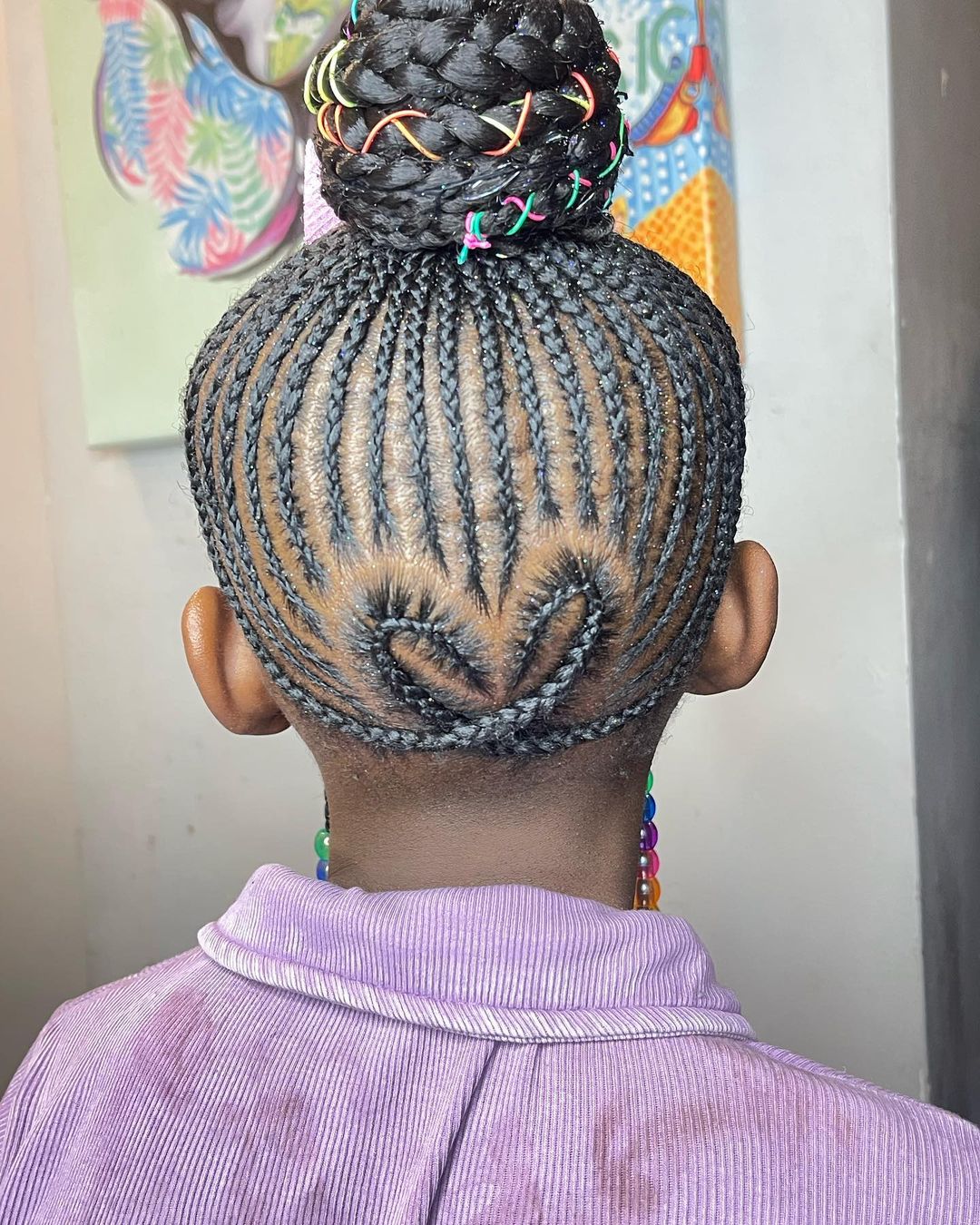 29. Orange And Pink Heart Knotless Braids
Vibrant and bold, these orange and pink knotless braids in heart shapes are perfect for those who love to stand out. It's a playful and energetic style.
30. Fox Brown Medium Knotless Braid With Side Heart
Fox brown medium knotless braids with a side heart detail offer a warm and natural look. It's a versatile style that can be dressed up or down.
FAQs
How to do The Heart Braid on The Side?
To do The Heart Braid on the side, start by parting your hair with the pointed end of a comb. Then form a heart shape with two sections, and weave them together like a regular braid. Finally, secure the end with an elastic.
What Are The Braids With Hearts Called?
The braids with hearts are often called "Heart-Shaped Braids." You can create these by forming heart patterns while braiding your hair.
Do Knotless Braids Last Longer?
Knotless braids can last longer than traditional braids. They put less stress on your scalp, reducing tension and the risk of breakage, which helps them stay intact for a longer period of time.
Do Knotless Braids Last Longer Than Box Braids?
Knotless braids typically last longer than box braids. They're gentler on your hair and scalp, which can lead to a longer-lasting style while maintaining your hair's health
It's Your Turn
Each of these hairstyles allows you to express your personality and style uniquely. But, ensure you consult with a skilled hairstylist to achieve the desired look and also maintain the health of your hair. You can also check out the mentioned Instagram handles for inspiration!
Also Read related: