How Many Dreads Should I Have? You should have 20 to 50 locs. It depends on the hair type. Minimum you can go with 20 locs if you have thin hair. Whereas, if you have thick hair you can go with 50 locs.
One of the most common questions people ask me is how many dreads they should have. Well, this can be difficult to answer, as it depends on a variety of factors, including the size and thickness of your hair and even how tight you want your dreads to be; in this article, I will provide a locs number chart that will help my peeps figure out how many dreadlocks they should have!
What Are Dreads?
Dreadlocks are essentially strands of hair that have been matted or twisted together. This technique can be achieved through a variety of methods, including backcombing, braiding, crocheting, and wrapping.
Once the hair has been matted or twisted together, it will form into rope-like locks that can range in thickness from thin and wispy to thick and chunky.
Products Used for Dreadlocks
Image
Product
Features
Price

Package includeds: 2 * Hair Twist Sponges
Get your hair twisted anywhere any time
Get a barber's cool look all by yourself
Have the freshest hair around
Environmental protection material sponge with big hole, soft skin-friendly

Check Price

Happier Healthier Scalp - With dry scalp oil hair growth help fight back against dry, dull & thinning hair without a greasy, sticky feeling. Nourish your scalp with a womens & mens hair oil hair strengthening treatment to eliminate d&ruff, flakes & dryness
Slow Down Hair Loss - Bhringraj in our hair oil for curly frizzy hair slows down hair loss & premature grey hair. Dry hair oil for hair growth helps hair follicles to revitalize & stimulate hair growth with safflower oils, saw palmetto & jojoba oil
Premium Oils & Extracts - 10 in 1 curly hair oil helps grow hair fast with oils & extracts. Our anti hair loss oil has Sweet Almond Oil for hair, Rosemary Oil, Tea Tree Oil, Moroccan Argan Oil, Jojoba Oil for hair, Bhringraj Extract & more
Plant-Powered Ingredients - Your hair will love our botanical blend hair oil for men & women that helps to seal split ends, fight breakage & boost healthy shine. Our vegan formula is made with no harsh parabens, no sulfates, no mineral oils, & no silicones
WOW Skin Science Promise - At WOW Skin Science we st& by our products & offer a full refund warranty if you experience any issues with your WOW Skin Science product. Contact us through the Amazon messaging system & we will be happy to assist you

Check Price

TIGHTHENS & STRENGTHENS HAIR: It's time to tame and tighten those dreadlocks with our tightening loc spray. Our hair spray for dreadlocks will help tighten and strengthen your locks, allowing you to tame the volume. The non-sticky formula leaves a clear finish and leaves no residue or buildup behind. Simply shake it up, spray it on before styling, and watch your new look come to life!
NO FRIZZY DREADLOCKS: A unique blend of moisture balancing and soothing ingredients makes this "all in one" dreadlock tightening spray a must-have! Our dreadlock spray is the perfect solution to tame frizzy dreadlocks. Our formula adds shine, manageability, and hydration while leaving your locks tangle-free and frizz-free. It's also formulated without sulfates or parabens, making it gentle enough for all hair types.
ACTIVE INGREDIENTS: Our dreadlock tightening spray is specially formulated to help you have a healthier, stronger loc. With coconut water and aloe vera, our loc spray will help nourish your scalp and prevent dryness, itching, and flaking by penetrating deep into the hair shaft. Hawaiian Sea Salt helps improve scalp health and texture, giving you healthy and tighter dreadlocks without making them look stringy, flat, or stiff.
SCENTED SPRAY FOR YOUR LOCS: Our hair tightening spray is a must-have if you have dreadlocks. It not only tightens your dreadlocks and makes them look presentable but also has the best smell ever. You may find yourself smelling your hair all the time just to get that fresh scent! We have a variety of scents to choose from, including Nag Champa, Coconut Lime, Vanilla Twist, Fresh, and Patchouli Fields.
ABOUT DOLLYLOCKS: We take pride in the quality of our products, relationships with our customers, and making a positive global impact. Dollylocks products are handcrafted in small batches with love and the highest quality raw ingredients. Dollylocks makes quality dreadlock hair products designed for various hair types and textures.

Check Price
Image
Product
Features
Price

Lockology Lavender and Rosemary Loc Oil Moisturizer For Dreads is A unique blend of rosemary, castor oil, lavender oil and other natural ingredients to help strengthen your locs and promote growth and scalp health while moisturizing and conditioning.
No Build Up or Residue: Guaranteed! Our loc oils are made specifically for dreadlocks and are used in homes and salons across the world. With over 20 years experience, we can stand behind our products 100%.
All Natural & Made In The USA: Our loc moisturizers are made in small batches in the USA using quality oils, herbs and extracts from across the Caribbean.
Dreadlocks / Loc Moisturizer and Conditioner: Use as needed to moisturize, condition and soften dry dreadlocks. Apply to hair while clean and freshly washed and damp to help condition and moisturize your locs.
Black & Woman Owned - We are proud of our heritage and ownership and welcome anyone with a love for locs.
Loc Spray, Loc Moisturizer, Loc Spray For Dreads Moisturizer, Dreadlock Spray

Check Price

Lockology Peppermint Tea Tree Loc Moisturizer / Loc Oil For Dreads is A stimulating blend of peppermint, tea tree, rosemary and other natural ingredients that helps to stimulate growth, reduce itching and moisturizes and conditions your locs.
No Build Up or Residue Dreadlock Hair Products: Guaranteed! Our loc oils are made specifically for locs and are used in homes and salons across the world. With over 20 years experience, we can stand behind our products 100%.
All Natural & Made In The USA with Jamaican Love: Our loc moisturizers are made in small batches in the USA using quality oils, herbs and extracts from across the Caribbean.
Since 2006 Lockology has specialized in dreadlock hair products/ locs hair products, dreadlock accessories, loc gels, rose water for locs, dreadlock shampoos/dread shampoo, loc oils and more.
Best Selling Dreadlock Hair Products: Our loc products are the best. We started this line to care for our family's locs and our clients and after 15 years we are proud to say

Check Price

Locsanity Passion Fruit Softening and Moisturizing Daily Spray for Locs

Bring Your Locs Back to Life - This hair hydration spray rejuvenates and strengthens dull hair while nourishing the scalp. It provides your locs with daily moisture to prevent locs from being damaged and drying out.
Refresh and Protect Your Scalp and Hair - Unlike other dreadlock hair products, this daily loc conditioner keeps your hair moisturized throughout the day without any oil or gunky buildup. It provides crucial moisture to your dreads without weighing them down.
Ideal for All Hairstyles and Types - Gentle and safe to use for all hairstyles and skin types. Moisturizes and softens dry microlocks, interlocks, locs, braidlocks, twistlocks, and sisterlocks. Also works for protective styles like braids and twists.
Rejuvenate Dull Hair Naturally - Rich in vitamins and other moisturizing organic ingredients, many of Locsanity's natural hair products for dreadlocks are gentle, free of sulphate and other harmful chemicals, plant-based, and cruelty-free.
Healthy, All-Season Locs for a Great Value - This natural hair spray moisturizer can last for 2–3 months. Get rid of stiff, rough dreads and achieve strong, healthy, shiny locs all year round. Feel the difference after just 1–2 uses.

Check Price
How Many Locs Should I Have?
It's a very innocent question that deserves an innocent answer.
Well, there is no any ideal choice of exact dreads number. On average, you can have 40 to 60 dreads but it's an average. You can go minimum with 20 dreads and maximum with 50 to 60 dreads. Let me tell how less and more dreads look like.
1. 20 Or Less Locs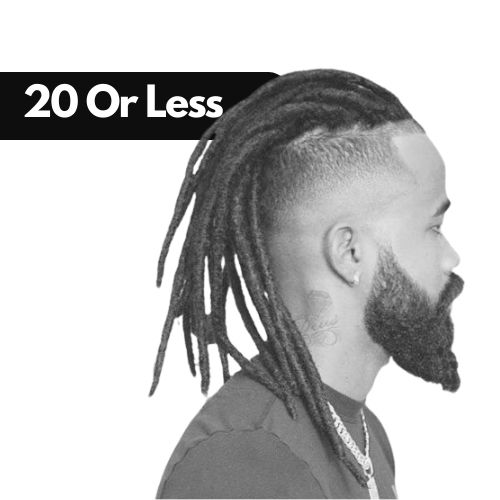 20 dreads or less is a good number to start with if you're not sure about fully committing to the locs journey. It's also a manageable number for newbies. This number is good for those who also want to keep locs for a shorter period.
2. 30 Or Less Locs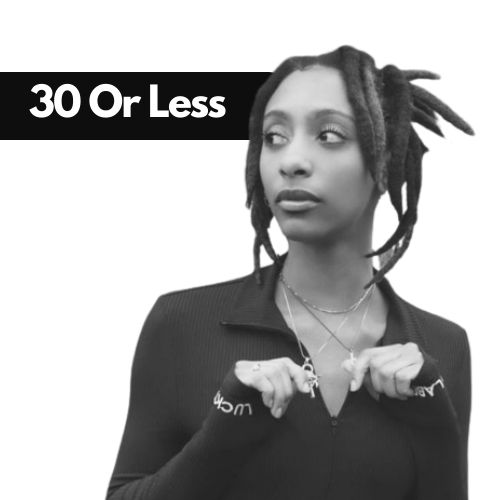 You might think 30 locs or less is just like having 20 locs, but there is a slight difference. 30 locs or less gives you more freedom to play around with different styles. This number also looks fuller than 20 locs. Let's let you in on a secret: most people with 30 locs or less actually went on to have more locs.
3. 40 Or Less Locs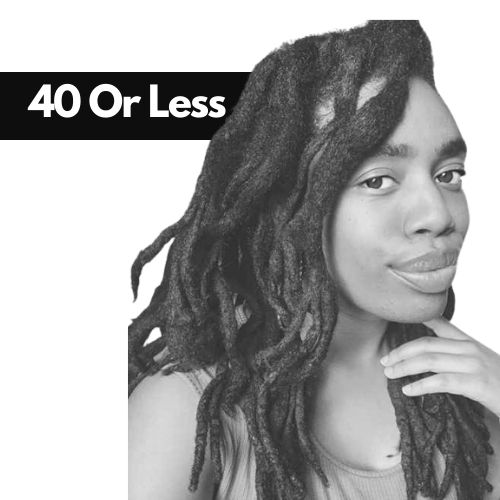 40 locs or less is a happy medium between having too few and too many locs. This number gives you enough room to try different styles without being overwhelmed. You can also add new locs if you want to thicken your look.
4. 60 Or Above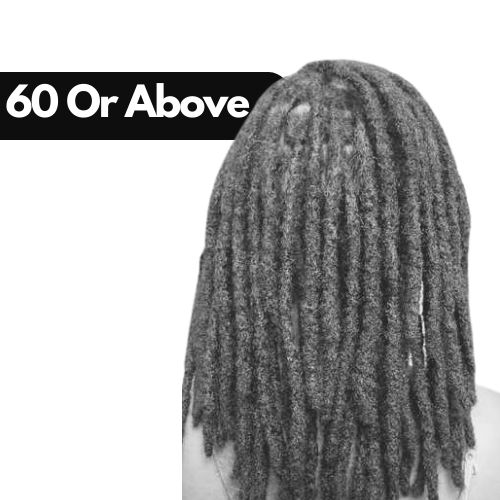 Having 60 or more locs is definitely a statement. Having 60 locs is not as difficult as you might think. In fact, once you have about 30-40 locs, the process speeds up exponentially. This number is also great for people who want thick locs. You can style them in many different ways, and they'll always look full.
5. 80 Or Above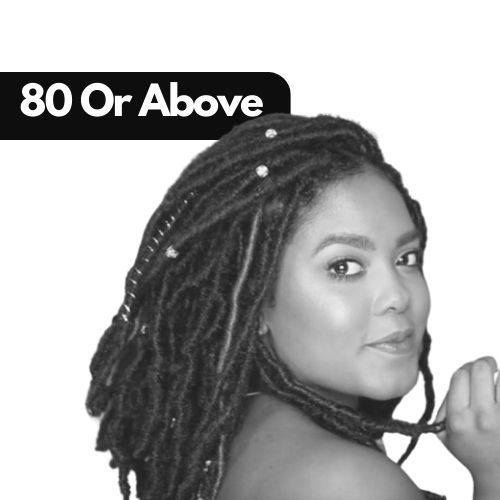 Suppose you have 80 or more locs; good for you! This is a high number, and it takes a lot of time and patience to get there. Having this many locs means that you'll have lots of styling options. You can wear them in updos, down, braids, and more. The world is your oyster! To give you a bit of a styling tip, you can use jumbo hair clips to keep your locs out of your face.
6. 200 Or Above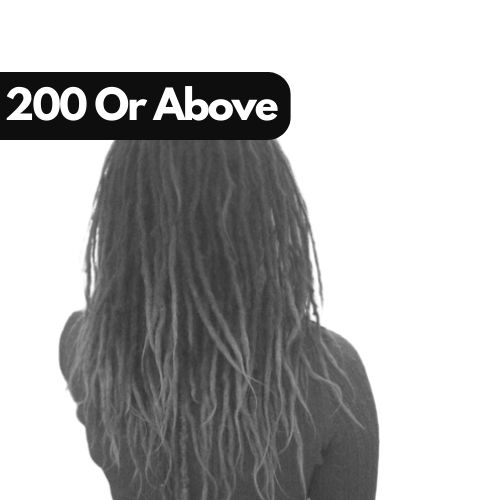 This is where the magic happens. You're in an elite group if you have 200 or more locs. This number of locs is really impressive and it takes years to achieve.
Having this many locs means that you can pretty much do whatever you want with them. The sky's the limit! At this point, you are the king/queen of dreadlocks but jokes aside, maintaining this number of locs can be quite high-maintenance.
You have to make sure that you're deep conditioning often and using the right products. If you have this many locs, you should also use a soft boar bristle brush to help keep them neat and tidy.
Dreadlocks Size Chart
Dreadlocks come in all different sizes, from very thin to very thick. The size of your dreadlocks will depend on a few factors, including the type of hair you have and the style you are going for. You can refer to this size chart to help you choose the right size for your dreadlocks.
| | |
| --- | --- |
| Size | Length |
| Extra Large | 15mm – 5/8 inch |
| Large | 12mm – 1/2 inch |
| Medium | 9mm – 3/8 inch |
| Small | 8mm – 15/16 inch |
| Pencil Sized | 7mm |
| Extra Small | 6mm – 1/4 inch |
| Micro | 4.5mm – 3/16 inch |
Locs Number And Size Chart
You have a number of choices when it comes to the number of dreads you can have.
1. Sisterlocks
The smallest of them all, sisterlocks, are usually about the size of a pencil and can be as small as a grain of rice. To put it into more measurable terms, you can rock sisterlocks that are ⅛ of an inch to ⅜ of an inch.
You can make sisterlocks small, medium, or large, depending on how you part your hair and how wide of a parting you use. But to tell you the truth, it does depend on your mood. If you're just not feeling it, you won't get as many sisterlocks as you would if you wanted them.
2. Microlocks:
Here is something a little larger, microlocks are usually about the size of a marker or even a crayon. The average width for microlocks is between ⅜ of an inch to ½ an inch. The length of microlocks can be anything from shoulder to waist length. It all just depends on how you want to wear your hair.
Here's an interesting fact for you—if you do a bit of digging, you'll see Microlocks are just as small as sisterlocks.
3. Traditional locks:
These are the locs that most people think of when they hear the word "dreadlocks". Traditional locks have a wider diameter, usually around ¾ of an inch to an entire inch. Think about the size of a chopstick; yep, that's about the size. The length of traditional locks can be anything from chin length to floor length.
Having said that, there isn't a written rule on how big or small your loss has to be. If you are comfortable with your locs being small, then they can. You don't need anyone's permission to have small locs. Do you know what they say? You don't choose locs; the locs choose you.
How To Choose The Dreadlock Size?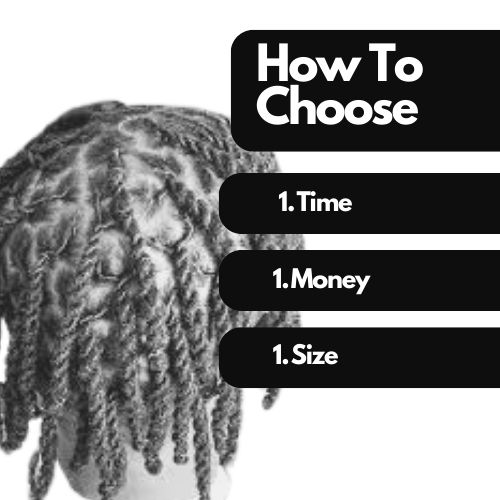 You have to consider many factors when it comes to the size of your locs because, in the end, you want locs that are not only aesthetically pleasing to you but also locs that are healthy. So with that being said, let's look at some of the factors that you should consider.
1. Time
The amount of time you want to spend on your locs is a big factor in choosing the size. If you don't have much time to dedicate to your locs, you might want to consider smaller sizes because they are generally easier to maintain.
Think of it in this way you have 200 locks that need an hour of your time every week to maintain. If you don't have that much time, you might want to cut down the number of locs so that it doesn't take as much time out of your schedule. On the other hand, if you have a lot of time on your hands and you want locs that will take a while to mature then you can go for larger sizes. This way, you don't have to worry about re-tightening them often, and they will continue to grow over time.
2. Money
O, boy, where do I even start? locs can also be based on how much money you want to spend. If you want to save some cash, then go for smaller sizes. They require less hair and products, so you'll end up spending less in the long run. If money isn't an issue, then feel free to go bigger!
Just remember that with larger locs comes larger responsibility and a larger bill. Just think about all the shampoos you are going to get.
3. Size
The size of your locs is also a big factor in how many you should have. If you want thinner locs, you will need more of them to get the same effect as thicker locs. This is because each loc will be thinner and therefore won't be as noticeable. If you want thicker locs, you can get away with fewer of them because each one will be larger and more prominent.
4. Length
The length of your hair is also a big factor in how many dreads you should have. If you have shorter hair, you will need more dreads to cover the same surface area as someone with longer hair.
This is because each individual dread will be smaller and therefore won't cover as much ground. If you have long hair, you can get away with fewer dreads because each one will be larger and cover more ground.
5. Texture
The texture of your hair is also a big factor in how many dreads you should have. If you have finer hair, you will need more dreads to achieve the same look as someone with thicker hair.
This is because each individual dread will be thinner and therefore won't be as noticeable. If you have thicker hair then you can get away with fewer dreads because each one will be thicker and more noticeable.
6. Personal Preference
This is the most important factor in deciding how many dreads to have. If you want a more dense look then you will need more dreads, if you want a less dense look then you will need fewer dreads.
Experiment with different numbers of dreads until you find the perfect number for you!
Frequently Asked Questions (FAQs)
How do you know what size dreads to get?
The size depends on your personal preference. If you are comfortable with a smaller size then you can go with a small one, however, The average size of this lock is one inch in diameter. If you are going for a more natural look, then you can go up to two inches.
Is 100 locs a lot?
100 locs can be a bit difficult to manage, but it really depends on your lifestyle and how often you are willing to put in the time to take care of them. If you are willing to devote an hour or two every other day to maintain your locs, then 100 locs is not too bad. However, if you are not willing to put in the time, then 100 locs can be a bit overwhelming.
What's the average number of dreads?
There is no definitive answer, as it really depends on the person. Some people have just a few dreads, while others have hundreds. It really all comes down to personal preference.
How many dreads should be in a high top?
Some people like to have just a few dreads in their high tops, while others like to have dozens. It all comes down to what you think looks best.
How many dreads do you need for the whole head?
Many factors go into deciding how many dreads you need for a whole head. The size of your head, the thickness of your hair, and the desired look all play a role in the decision. Ultimately, it is up to you to decide how many dreads you need.
Do locs get smaller as they grow?
No, locs do not get smaller as they grow. They may appear to be getting smaller, but that is just because the hair is compressing and matting down. As your locs grow, they will get thicker and longer.
Does parting starting locs matter?
No, parting matters. You can part your hair however you like, or you can even just let your hair fall naturally. The important thing is to be consistent with the way you part your hair so that your locs will grow in evenly.
Are long locs heavy?
No, long locs are not heavy. The weight of your locs will depend on the thickness of your hair and the length of your locs. The longer your locs are, the heavier they will be. However, this is not necessarily a bad thing.
Now, It's Your Turn
So there are a few factors to consider when deciding how many locs to start with. The length and thickness of your hair and your personal preference are all important things to keep in mind. Ultimately, it's up to you to decide what looks best, so experiment until you find the perfect number of locs for YOU! Thanks for reading!
Read Related Articles: