Keeping hair healthy is essential for having impressive hair days. To reach the finest results, each style and hair type requires its own unique formula.
Loc'd hair, like all hair, is prone to become dry, lifeless, and thus in need of hydration and nourishment. However, while dreadlocks are mostly a low-maintenance hairdo, they necessitate significant upkeep. The tips of your locs may become crumbly as they grow, and the length of your locs may appear dry and brittle at times.
After going through some research, I found out hot oil treatments might be the greatest thick or we can say permed hair conditioner. But does it really work for locs? If yes, then how? Let's figure it out!
What Is A Hot Oil Treatment?
With winter creeping back into the air, most of us are noticing a little dryness here and there, especially on our locs. As Gwen—the founder of Naturalicious says; "Moisture is really crucial for any textured hair, including locs. Locs are equally susceptible to drying out and will welcome the additional moisture."
That's where hot oil treatment comes to perform itself as an effective locs treatment.
It's a simple thing, hot oil treatments entail covering your hair with hot plant-based oils such as coconut oil. This can hydrate and nourish your hair.
"As your locs develop, it's a good idea to incorporate a hot oil treatment into your hair regimen at least once or twice a month, but more frequently is always preferable," Gwen adds
One of the numerous benefits of hot oil therapy is that it is not limited, which means you may pour and soak in this nourishing treatment at any point in the locking process.
Try out the combination of oil and spray
Image
Product
Features
Price

INCREASES HAIR LOC GROWTH: Made with all natural ingredients, this specific blend of carrier and essential oils penetrates into your hair and scalp with the proper nutrient benefits for enhanced dreadlocks growth.
MOISTURIZING LOCK STYLING OIL: Perfect lightweight oil for loc styles. Replenish your locks and curls, prevents further breakage and make hair healthier and shinier.
FOR ALL LOC and HAIR TYPES: Specifically made to help with any hairstyle or type. Whether microlocs, interlocks, dreadlocks, braidlocks, braids, faux locs, crochet locs, boho locs, twistlocks, or sisterlocks, this product will work for you.
LIGHTWEIGHT & HEALTHY: Unlike heavy oils, hair loc growth moisturizer has multiple purposes. Prevents dreads from damaging and drying out, stimulates your scalp for faster growth, and great for styling.
ORGANIC: Made using handpicked natural ingredients imported directed from India to ensure a premium, high quality oil. These loc products for hair are free of harmful sulfate and other hard to pronounce chemical ingredients.

Check Price

FOR ALL HAIR TYPES: Specifically made to help with any hair style or type. Whether microlocks, interlocks, dreadlocks, locks, braidlocks, braids, fauxlocs, twistlocks, or sisterlocks, this product will work for you.
HEAT PROTECTANT: Rosewater and glycerin helps in strengthening the hair, leading to less formation of split ends and damage. Glycerin is more effective with oils which is already masterfully blended.
LIGHTWEIGHT & HEALTHY: Unlike basic pure rosewater, this rosewater is blended with specific skin and hair conditioning oils for multi-purpose benefits. Refresh dry hairs, soothe dry itchy scalp, and encourage healthier loc growth and shine.
100% PURE ORGANIC: Made using superior all natural carrier and essential oils imported from India with no dilution. All of Lion Locs hair care products are free of harmful sulfate and other chemicals.
CONTROLS FRIZZ: Manufactured in USA from, this wonderful scented blend tames stray flyaway hairs and penetrates into locs to seals open hair cuticles and control messy frizz.

Check Price
How To Do A Hot Oil Treatment For Locs?
Here, I will share how I do a nice hot oil treatment on my locs. I tried it so many times. It's basically my Grandma's secret which I am revealing. Absorb each point carefully!
Requirements For Hot Oil Treatment
There are some things which you may have in your cabinet or may not. Anyways, it's up to you what oil and washes you pick for your locs but here I am telling you the best ones.
1. Shower Cap
You have to grab your hands on a shower cap, especially one made for dreads. They are mostly big in size.
2. Vegetable Oil
Vegetable oils are far better than any other processed hair oils. I always prefer to pick coconut oil, olive oil or castor oil. When it's hot I go with coconut oil, when I find my hair on the drier side, I prefer olive oil.
3. Essential Oils
A blend of vegetables and essential oil gives you double the benefit. Use a few drops of your favorite natural essential oil for extra enjoyment. Feel free to add lavender or rosemary essential oil.
Although essential oils do not hydrate your hair, they do have antibacterial characteristics that can help with dry, scratchy scalps.
Furthermore, because of their relaxing properties, researchers believe these essential oils might help encourage hair growth.
4. Microfiber Towel
Microfiber towel will help you give a good heat and absorbing experience.
Easy sprays for dreadlocs
Image
Product
Features
Price

Lockology Lavender and Rosemary Loc Oil Moisturizer For Dreads is A unique blend of rosemary, castor oil, lavender oil and other natural ingredients to help strengthen your locs and promote growth and scalp health while moisturizing and conditioning.
No Build Up or Residue: Guaranteed! Our loc oils are made specifically for dreadlocks and are used in homes and salons across the world. With over 20 years experience, we can stand behind our products 100%.
All Natural & Made In The USA: Our loc moisturizers are made in small batches in the USA using quality oils, herbs and extracts from across the Caribbean.
Dreadlocks / Loc Moisturizer and Conditioner: Use as needed to moisturize, condition and soften dry dreadlocks. Apply to hair while clean and freshly washed and damp to help condition and moisturize your locs.
Black & Woman Owned - We are proud of our heritage and ownership and welcome anyone with a love for locs.
Loc Spray, Loc Moisturizer, Loc Spray For Dreads Moisturizer, Dreadlock Spray

Check Price

Lockology Peppermint Tea Tree Loc Moisturizer / Loc Oil For Dreads is A stimulating blend of peppermint, tea tree, rosemary and other natural ingredients that helps to stimulate growth, reduce itching and moisturizes and conditions your locs.
No Build Up or Residue Dreadlock Hair Products: Guaranteed! Our loc oils are made specifically for locs and are used in homes and salons across the world. With over 20 years experience, we can stand behind our products 100%.
All Natural & Made In The USA with Jamaican Love: Our loc moisturizers are made in small batches in the USA using quality oils, herbs and extracts from across the Caribbean.
Since 2006 Lockology has specialized in dreadlock hair products/ locs hair products, dreadlock accessories, loc gels, rose water for locs, dreadlock shampoos/dread shampoo, loc oils and more.
Best Selling Dreadlock Hair Products: Our loc products are the best. We started this line to care for our family's locs and our clients and after 15 years we are proud to say

Check Price

Locsanity Passion Fruit Softening and Moisturizing Daily Spray for Locs

Bring Your Locs Back to Life - This hair hydration spray rejuvenates and strengthens dull hair while nourishing the scalp. It provides your locs with daily moisture to prevent locs from being damaged and drying out.
Refresh and Protect Your Scalp and Hair - Unlike other dreadlock hair products, this daily loc conditioner keeps your hair moisturized throughout the day without any oil or gunky buildup. It provides crucial moisture to your dreads without weighing them down.
Ideal for All Hairstyles and Types - Gentle and safe to use for all hairstyles and skin types. Moisturizes and softens dry microlocks, interlocks, locs, braidlocks, twistlocks, and sisterlocks. Also works for protective styles like braids and twists.
Rejuvenate Dull Hair Naturally - Rich in vitamins and other moisturizing organic ingredients, many of Locsanity's natural hair products for dreadlocks are gentle, free of sulphate and other harmful chemicals, plant-based, and cruelty-free.
Healthy, All-Season Locs for a Great Value - This natural hair spray moisturizer can last for 2–3 months. Get rid of stiff, rough dreads and achieve strong, healthy, shiny locs all year round. Feel the difference after just 1–2 uses.

Check Price
Process Of Oil Treatment For Locs
You simply have to carefully follow a few guidelines and you may do a hot oil session from the ease of your own home whenever you want to.
Let's begin the process…
Step 1: Warm Up The Ingredients
For this therapy, combine two or more essential oils. In your hair, you can apply the same oils I stated previously. The quantity of oils will be dependent on the length of your locs. I have mid-length locs, I use half a cup of vegetable oil and 3 to 4 tablespoons of any essential oil.
Put them in a bowl or a scalp applicator bottle. If you are using an applicator bottle, warm it up in boiling water, carefully. If you make your mixture in a bowl, you can microwave it. Make sure it's not burning. You can experience the heat with your finger. It should be tolerant of your locs.
Tip: One way which does not necessitate warming the oil is to apply it to your scalp and hair at room temp, then add heat with a blow-dryer on medium speed.
Step 2: Application
Now, apply the oil straight to your scalp; using an applicator bottle will make this much simpler and finer. When applying the oil to your scalp, slowly yet completely rub it into your hair locs to allow it to start working as it connects with your hair roots and tips.
Step 3: Wrap A Warm Towel
It's time to add more heat. What you have to do is soak a microfiber towel in hot water, and squeeze it properly. Make sure it's still warm. Tie your hair and wrap the towel properly around your head.
Step 4: Use Hair Dryer
When you wrap your hair with a towel, add heat to your locs with a blow dryer on medium speed. Make sure you maintain a distance of 10 inches between you and the dryer. Don't prolong this session, just do it for 10 minutes only.
Step 5: Wear A Shower Cap And Rest
After that, wrap your entire head (including the towel) with a plastic shower cap and leave the oil in for 30 mins, watch a Netflix episode.
Make damn sure your shower cap is properly sealed to your head; if it falls off, the essential oils may be dried out by air rather than being thoroughly infused into your scalp.I feel that when you give yourself a 'healthy' hot oil treatment, it should stay in your hair for it to function.
Step 5: Wash It Off
After 30 mins, remove your shower cap and towel and rinse your hair with warm water before using shampoo and conditioner to complete the procedure.
And wash again using a residue-free shampoo to eliminate all of the oil. Don't be concerned about washing away the wonderful things. The heat has forced your hair shafts to open (if they weren't previously) and absorb oil and nutrition. You're simply removing the surplus.
Benefits Of Hot Oil Treatment For Locs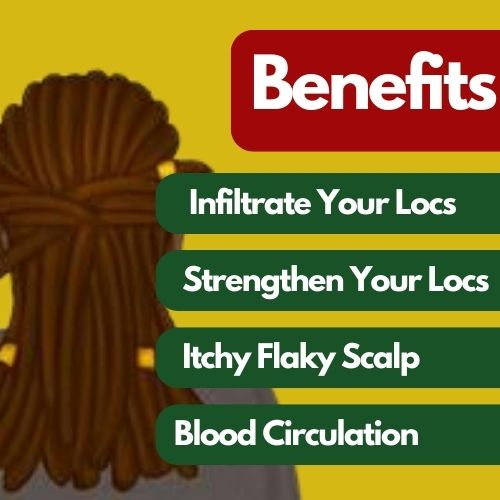 1. Infiltrate Your Locs
Hot oil therapy is a delightful blend of moisturizing and cleaning, all wrapped up in a warm and comfortable package. Hot oil treatments are essential because they help moisturize your hair from within.
Oils are fantastic for your hair, although they are mainly used as coatings. This is due to the fact that they can only function on the exterior of your hair and cannot penetrate it.
However, when you use a hot oil therapy, the heat from the hot oil opens up your hair shafts, enabling the oil to infiltrate your locs. This results in shinier, silkier, smoother strands with reduced knotting and flakiness.
According to Engelman, a dermatologist at Shafer Clinic;
"Hot oil treatments prevent your hair from damage by sealing the cuticle."
2. Strengthen Your Locs
Plant-based oils are brimming with nutrients, which are necessary for the proper development of your locs. When you incorporate hot oil treatments into your biweekly hair care routine, you will find that your roots and locs become healthier and more resistant to hair breakage throughout time.
Your locs will also preserve their natural sheen and wholesome goodness as a result of regular interaction with a variety of essential oils.
3. Bye Bye To Itchy Flaky Scalp
If you frequently style your locs right after shampooing them without letting them totally dry, your locs will get itchy and painful from moment to moment. Additionally, if your locs are lying on a dry scalp, flaking is most likely nearby.
To get dandruff removed and reduce itchy locs, integrate hot oil treatments into your hair regimen just before you shower your hair. To address itchy or dry scalp, use anti-inflammatory oils such as rosemary oil, lavender oil, jojoba, or castor oil in your hot oil session.
4. Boosts Blood Circulation
One of the greatest methods to improve blood circulation in your scalp is to massage it lightly but thoroughly.
The moderate pressure you apply to your hairline while using your hot oil therapy has been shown to improve blood flow in your scalp.
How Frequently Should You Perform Hot Oil Treatment?
You may incorporate it into your usual routine once or twice a month. Some people may do it after each wash, it is when they are noticing some extreme damage.
However, if you have color-treated locs or suffer from dryness on a regular basis, hot oil treatments bi-weekly are the solution.
Tips To Remember When Doing Hot Oil Treatment
Here are some tips you should screenshot now…
If summers are and you are experiencing sweating in your head, avoid using oils with a thicker density such as castor oil, and olive oil. Use coconut or almond oil. They are light.
Don't apply burning oil straight to your locs or scalp. It may burn your hair or ski. Always check, make sure it's tolerable.
When you finally wrap your head with things after applying hot oil, DO NOT remove the cap until 30 minutes. Make sure your shower cap does not have any holes or punctures.
Don't apply shampoo or conditioner directly. First, rinse off your locs with lukewarm water.
Try to invest in good products. Make sure any product you buy should not have any allergens or parabens.
Frequently Asked Questions (FAQs)
Can you do hot oil treatment on locs?
Yes, you can do hot oil treatment on locs. In fact, like every other hair type, they also need it. Hot oil treatment is highly nourishing for your locs and prevents them from any breakage, dryness, and frizz.
How often should you hot oil your locs?
It depends on what type of locs you have and how old they are. On average, you can do it once a month. If the condition of your locs is more damaging and dry, do hot oil treatment twice a week.
Do you have to wash out the hot oil treatment?
Yes, you should wash your locs after a hot oil session. Make sure to rinse it with a good residue-free shampoo.
What is the best oil to use on dreadlocks?
Olive oil, coconut oil, castor oil, and even avocado oil along with some essential oils such as rosemary, lavender, grapeseed or jojoba make a powerful combination.
How long do you let a hot oil treatment sit?
20 to 30 minutes would be more than enough. As the oil is already hot and your head is packed with a cap, there is no need to let it sit overnight.
Do you wash your hair before or after a hot oil treatment?
It is not necessary to properly wash your hair before hot oil treatment. However, you can slightly wet them. Whereas, after the treatment, it is highly recommended to wash your hair properly with shampoo and conditioner.
Now, It's Your Turn!
Hot oil treatments are excellent all year. This is because the heat will aid in the absorption of the oil, increasing its efficacy and fulfilling the guarantee of strong and nutritious hair. Applying hot oil to your scalp and strands can help nourish, repair, and maintain your hair.
I hope this article has helped you. All I want is for you to take care of your pretty locs. Do tell me what oils you use on your locs and how are the results.
Pin It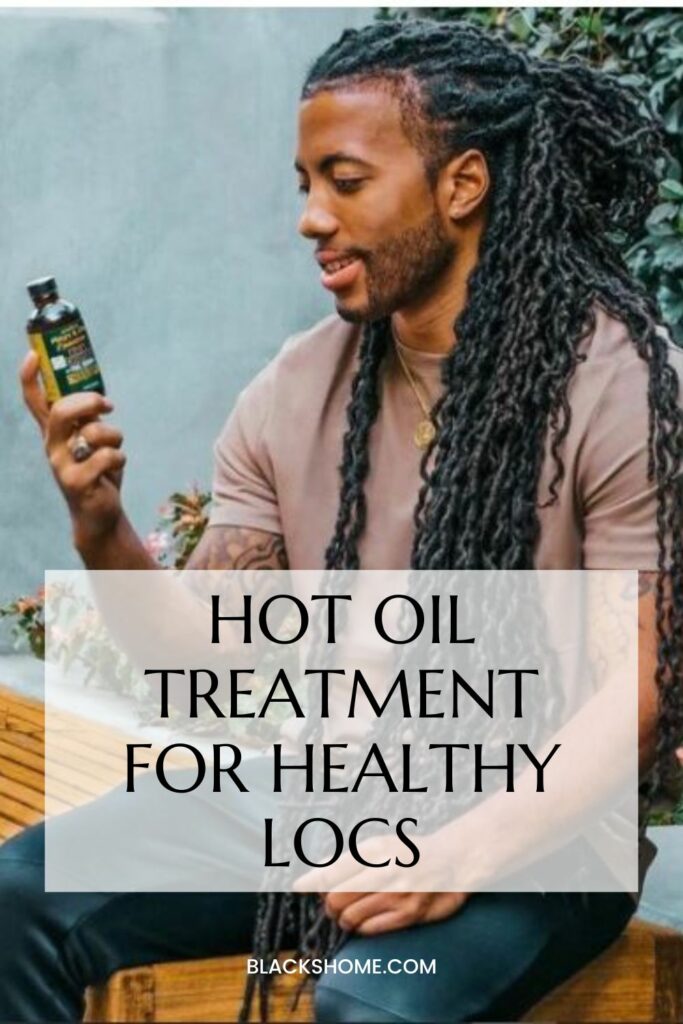 Read Related Articles: