Are Dreadlocks Dirty? Dreadlocks aren't objectively dirty! Their cleanliness, like any other hairdo, depends upon the level of care they receive. Dreadlocks, like any other hairstyle, may and should be washed.
Read on to learn everything about why locks look dirty and how to keep your dreadlocks clean? In this article, we'll give you a full answer to these questions.
Are Dreadlocks Dirty?
When it comes to cleanliness, hair with dreadlocks is the same as hair without dreads. If you take care of your hair and wash it often, it is not dirty. The same is true for dreads. In fact, hair that is clean knots up a lot faster than hair that is dirty. People with dreadlocks usually go through a lot of trouble to keep their hair clean so that the knotting process can go faster. As well as taking care of it.
Most of the time, dreadlocks are not dirty. It all depends on how clean the person is. If you're a dirty person, your dreads will be dirty, and if you're a clean person, your dreads will be clean.
Best Sprays To Keep Dreadlock Clean
Image
Product
Features
Price

Lockology Lavender and Rosemary Loc Oil Moisturizer For Dreads is A unique blend of rosemary, castor oil, lavender oil and other natural ingredients to help strengthen your locs and promote growth and scalp health while moisturizing and conditioning.
No Build Up or Residue: Guaranteed! Our loc oils are made specifically for dreadlocks and are used in homes and salons across the world. With over 20 years experience, we can stand behind our products 100%.
All Natural & Made In The USA: Our loc moisturizers are made in small batches in the USA using quality oils, herbs and extracts from across the Caribbean.
Dreadlocks / Loc Moisturizer and Conditioner: Use as needed to moisturize, condition and soften dry dreadlocks. Apply to hair while clean and freshly washed and damp to help condition and moisturize your locs.
Black & Woman Owned - We are proud of our heritage and ownership and welcome anyone with a love for locs.
Loc Spray, Loc Moisturizer, Loc Spray For Dreads Moisturizer, Dreadlock Spray

Check Price

Lockology Peppermint Tea Tree Loc Moisturizer / Loc Oil For Dreads is A stimulating blend of peppermint, tea tree, rosemary and other natural ingredients that helps to stimulate growth, reduce itching and moisturizes and conditions your locs.
No Build Up or Residue Dreadlock Hair Products: Guaranteed! Our loc oils are made specifically for locs and are used in homes and salons across the world. With over 20 years experience, we can stand behind our products 100%.
All Natural & Made In The USA with Jamaican Love: Our loc moisturizers are made in small batches in the USA using quality oils, herbs and extracts from across the Caribbean.
Since 2006 Lockology has specialized in dreadlock hair products/ locs hair products, dreadlock accessories, loc gels, rose water for locs, dreadlock shampoos/dread shampoo, loc oils and more.
Best Selling Dreadlock Hair Products: Our loc products are the best. We started this line to care for our family's locs and our clients and after 15 years we are proud to say

Check Price

Locsanity Passion Fruit Softening and Moisturizing Daily Spray for Locs

Bring Your Locs Back to Life - This hair hydration spray rejuvenates and strengthens dull hair while nourishing the scalp. It provides your locs with daily moisture to prevent locs from being damaged and drying out.
Refresh and Protect Your Scalp and Hair - Unlike other dreadlock hair products, this daily loc conditioner keeps your hair moisturized throughout the day without any oil or gunky buildup. It provides crucial moisture to your dreads without weighing them down.
Ideal for All Hairstyles and Types - Gentle and safe to use for all hairstyles and skin types. Moisturizes and softens dry microlocks, interlocks, locs, braidlocks, twistlocks, and sisterlocks. Also works for protective styles like braids and twists.
Rejuvenate Dull Hair Naturally - Rich in vitamins and other moisturizing organic ingredients, many of Locsanity's natural hair products for dreadlocks are gentle, free of sulphate and other harmful chemicals, plant-based, and cruelty-free.
Healthy, All-Season Locs for a Great Value - This natural hair spray moisturizer can last for 2–3 months. Get rid of stiff, rough dreads and achieve strong, healthy, shiny locs all year round. Feel the difference after just 1–2 uses.

Check Price
Reasons for Why Locs Look Dirty?
There are many things that can make dreadlocks dirty. Let's talk about why some people have dirty dreadlocks.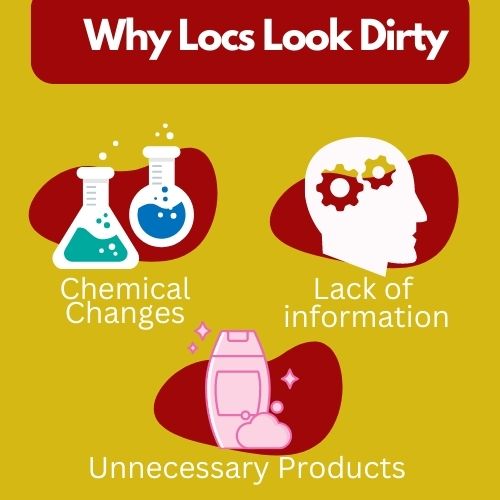 1. Misunderstanding
There are definitely people with dreadlocks who don't have the time, money, or knowledge to keep them in good shape. But the lack of access to good information about dreads is partly due to the racism that is taught in salons and schools for hair styling.
But as education gets better, correct information spreads on social media, and more people learn that dreadlocks aren't dirty by nature, two things will happen in society:
People will have easier access to the hair care information they need. The way people think about dreadlocks will change slowly as it becomes easier to find facts.
But the answer to this question is simple right now: people think dreadlocks are dirty because they don't know enough about them.
Instead, clean dreads are easier to dread. Getting false information will have devastating effects on your dreadlocks. Always seek professional assistance to learn how to properly care for dreadlocks.
2. Chemical Changes
When chemicals like chlorine and hydrogen peroxide come in contact with dreadlocks, they start to lose their shine, luster, and natural color. This can make them look dirty. Chemical dyes are also not good for dreads because they make the hair look dull and dirty over time.
You can also get dirty dreadlocks from swimming in public pools. It's because swimming pools use chlorine.
Even though chlorine kills germs in pools, it is bad for your dreadlocks. If you spend too much time in a pool, your dreadlocks will lose their shine and get dirty.
3. Unnecessary Products
People are saying these days that they put eggs in their dreads. They say that it is a natural product for dreadlocks.
It's not true at all. If you put eggs on your dreads, they will smell bad. It will also lead to the growth of mold. Therefore, use products that are only made for dread care.
How to Keep your Dreadlocks Clean
You can try the following tips to keep your Dreadlocks clean.
1. Washing
Shampooing your dreadlocks regularly is an excellent approach to keeping your dreads healthy and clean.
Experts suggest that you clean your dreadlocks with a shampoo that does not leave behind residue. Residue-free shampoos are a must-have for dreadlocks. They make sure that every single trace of filth is removed by the washing process and that no residue is left behind. On the bottles of this shampoo, you'll see phrases like "anti-residue" and "residue-free."
They leave your dreadlocks to appear clean and supple after every wash.
Here's how we suggest shampooing your dreadlocks:
Step 1: Wet Hair
Pour a tiny amount of shampoo into your palms and massage it into your scalp. After massaging it into your hair's roots, rinse and let the water run down your hair. Ensure that all of the product is removed by squeezing your dreadlocks while rinsing them.
Unless your dreadlocks are exceptionally dirty, it is not necessary to apply shampoo directly to their lengths. Repeat as required.
Step 2: Dry Your Dreadlocks
Squeeze extra water from your dreadlocks and put a towel around them. Excess water should be squeezed into the towel. As dreadlocks can absorb a lot of water, you may need to use a second towel.
Once they have been towel-dried, it is a good opportunity to apply palm rolls. Palm rolling works best with somewhat moist hair. You may now either let them air-dry (ideal if it's summer) or use a diffuser-equipped hair dryer on low heat to completely dry them.
Note: It is important to mention here, you should ideally wash your dreadlocks in the morning so that they have the entire day to dry. They must be thoroughly dried after washing because dreadlocks can absorb a lot of water
Do not go to bed with wet dreads, since this can lead to mold buildup and smelly dreads. Imagine leaving a wet towel folded overnight… It won't smell pleasant, right? And the same holds true for dreadlocks. Mold can form in your dreadlocks if they are not properly dried over time. Therefore, wash them in the morning!
2. Deep Cleanse
Regular deep cleaning is a good approach for keeping your dreadlocks clean.
The most commonly used ingredients to deeply cleanse your dreadlocks are Apple Cider and Baking Soda. The combination of these two ingredients with warm water is an excellent treatment for dreadlocks.
This mixture helps in absorbing excess oil and eliminating residue and product buildup. They are also available at local grocers.
3. Avoid excessive Moisture
Using excessive amounts of oil and moisturizer can cause dreadlocks to remain damp for longer than they should, leading to the development of mold.
But you should not neglect to moisturize your hair, since failure to do so will result in split ends, dryness, and even breakage of hair.
Therefore, it is vital to achieve a balance and use just mild oils and water to maintain the moisture in your spots.
4. Covering Up Your Hair
Covering your dreadlocks when outdoors or while cooking will help keep them smelling and appearing cleaner. The three things that make your dreads appear dirty and smelly are external pollutants, dust, and food odors. Therefore, be sure to cover your hair.
Some people don't even consider covering their hair when they're outside, but it may be a smart idea if you're cooking salmon or another smelly dish, or if you're heading to a beach where sand will be in the air. Additionally, you may choose to cover your spots if you are cleaning the house.
If you don't like covering your dreadlocks, remember to wash your hair if it begins to stink.
5. Keep Your Scalp Healthy
Lastly, keep a healthy scalp. As dreadlocks get longer, they become heavier and exert great pressure on the scalp. This can cause your hair roots to pull at your scalp.
Additionally, it might cause headaches and neck pain. In some cases, it may result in alopecia. The best way to wear dreadlocks is in a bun. It distributes the weight of the dreadlocks to the back of the head.
Moreover, massage your scalp daily with hair oils for a few minutes. It reduces the headaches and neck strain caused by heavy dreadlocks.
Now it is your turn
Dreads can only get dirty due to owners' neglect. Getting dirty is unlikely if you follow a good routine for taking care of your dreads.
We hope this article helped. If you've ever done a baking soda and vinegar deep cleanse, please share your experience in the section below.
Frequently Asked Questions (FAQs)
Are Dreadlocks Dirty?
Dreadlocks are not always dirty.. As with any other haircut, their cleanliness depends on the amount of care they receive. Dreadlocks should be washed as with any other hairstyle.
Are People With Dreadlocks Dirty?
If properly maintained, dreadlocks are not necessarily dirty. In fact, clean hair knots more effectively and quickly than filthy hair. Many individuals with locs go the additional mile to maintain their cleanliness which could be a common misunderstanding.
How Do You Get Rid Of Dirt Buildup On Dreads?
Apple Cider and Baking Soda are two of the most common things used to deep clean dreadlocks. When mixed with warm water, these two ingredients are a great way to treat dreadlocks.
This mixture helps soak up extra oil and get rid of product buildup and residue. You can also buy them at local grocery stores.
Read Related Articles: