You might have seen those big standing dreads hairstyles and wondered how they make them stand up like that.
What more, almost everyone attributes all hair locs as dreadlocks but did you know there are different types of locs?
Today, we want to deliberate on the Wick Dreads and all the information you need about them.
What are Wick Dreads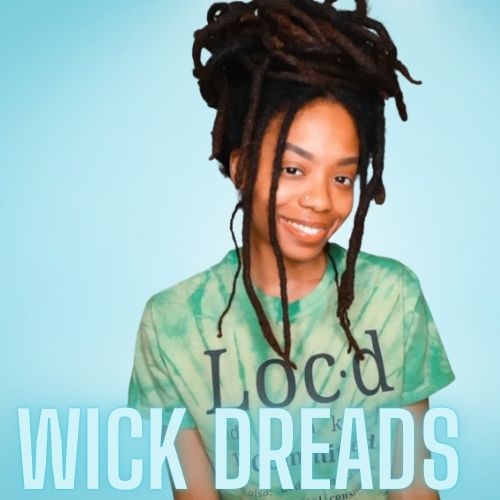 Wick dreads, also known as bonks or globs are thick strands of dreads braided, twisted, curled and pinned into rolls; sometimes dyed or colored. The idea of the name wicks is attributed to this type of dread because it looks like the wick of a candlestick.
The thick wicks are not combed or brushed and over time, they become knotted to new strands growing.
Best wicks dreads extensions to try
Image
Product
Features
Price

1.Hair Material: 100% Handmade Permanent Loc Extensions 0.8cm ,1B natural black. Full Handmade Human Hair
2.Advantage:Can be dyed,Suitable for Men or women,Soft, comfortable and easy to take care of,light weight, tight shiny and silky, no smell,Beautiful hair and look natural, last long time.
3.Packing: 20 locs/pack with Quality Dreadlocks Crochet Hook/Needle.
4.Easy to install: The loc extensions handmade human hair can be added to existing locs to add length or for repairs on broken. And they can also be washed normally and they are safe for swimming.
5.Fast Delivery :The order is delivered immediately, usually within three to five days to receive the goods,If you're not satisfied, just return it for a 100% refund. We support an unconditional refund,You can rest assured that you can buy it.

Check Price

100% Soft natural human hair shines and moves like your real hair.
Can be used for Dreadlocks or Twists.
Get4 to 5 bundles for a full head
Note : The length specified will be the length after the hair is pulled straight
Sold by a package. of approx. 2 oz.

Check Price

Hair Material: Handmade dreadlocks 100% guarantee made with 100% human hair.They can also be washed normally
Advantage: 100% Hand-made Permanent Loc Extensions 0.8cm thickness,Natural, Adequate Quality,
Feature: These dreadlock extensions can be dyed or Bleach.You will become like a Superstar by using it. It's also the Hairstyle of REGGAE and Hip-Hop Culture
Packing: 20 locs/pack.Length:8".Weight: 70 g/pack.Can be trimmed to the length you want.Usually 30-40 strands(2 packs) can make a full head.If you just want some mixed with your own hair,20 strands(1 packs) will be ok.
Easy to install: The locs can be added to existing locs to add length or for repairs on broken locs. And they can also be washed normally and they are safe for swimming.

Check Price

🎄Dreadlock Extensions Hair Material: 100% human hair ,soft and health,light weight and natural, can be bleached and dyed,can be extended or cut as you like,can passed burning test.
🌸Loc Extensions Advantages: Full Handmade Permanent Loc extensions,0.6cm-0.8cm thickness,the loose top is very easy to install.Perfect for men,women and kids,suitable for any occasion and season.
🌹Human Hair Loc Extensions Features: Easy to install, dreadlock extensions can also be washed normally and they are safe for swimming.
❤️ Aonkia Dreads Extensions Package: 30 strands dreadlock extensions with dreadlock crochet needle and comb. Can be trimmed to the length you want.Usually 30-60 locs can make a full head.
🎀Our Service: Fast delivery by Amazon within 1-3 days.If you encounter a problem,please contact us first,we promise to help you in 24 hours.

Check Price
History/origin of Wick Dreads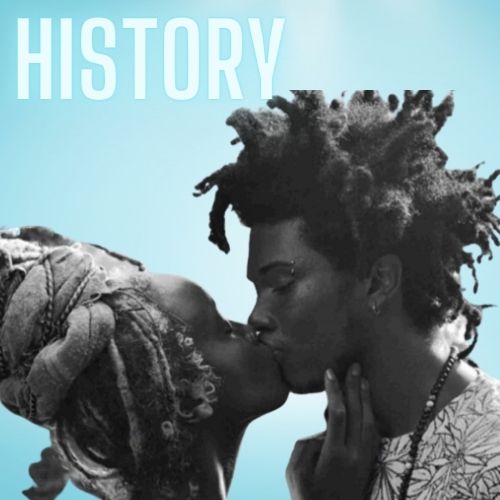 Wicks belongs to the dreadlocks family which has sister names such as locs, dreads, Rasta, and sister-locs.
The mention of wicks paints a pictorial image of Bob Marley and other historical figures who dread their hair; for black culture, religion and language. The late Bob Marley introduced the hairstyle into mainstream culture in the '70s, with other personalities wearing the hairstyle in the 90s till date.
Consequently, wicks and for that matter dreadlocks have become connected with Jamaican culture to the point where it is believed Jamaicans are the true origin of the said hairstyle.
But research objects to this flawed perception.
Dr. Bert Ashe's book; Twisted: My Dreadlocks Chronicles records that as approximately 2500 B.C, Hinduism's oldest scriptures; The Vedas, illustrate the Hindu god Shiva wearing locs.
Not only this, evidence has been found on ancient Egyptian pharaoh's tombs carvings, drawings, artifacts and mummified bodies discovered with their locs still together.
The Old Testament in the Bible also tells the story of Sampson, illustrating his dreadlocks from which he received his strength, but lost it once it was shaved off. Equally in Kenya, Maasai warriors are known to spend hours perfecting their famous red locs as they believe it's the source of their strength.
In Africa, Jamaican political leader and journalist; Marcus Garvey is attributed to be the originator of the Rastafarian Movement; an Africa-centered religion and lifestyle that preached Black empowerment and advocated for Blacks to return to Africa in the 1930s.
In the western world, many believe Wick Dread was firstborn in the south of Florida. The hairstyle took the center stage when celebrities like Kodak Black dreaded his hair into wicks.
Presently, due to the stigma associated with dreadlocs, the ideal name is locs, with the natural hair movement helping set off a resurgence in locs. This is possible with Ava Duvernay, Ledisi, Willow and Jaden Smith, Chloe x Halle, and The Weeknd all making locs part of their brand look.
Differences between Wick Dreads, Congo and dreadlocks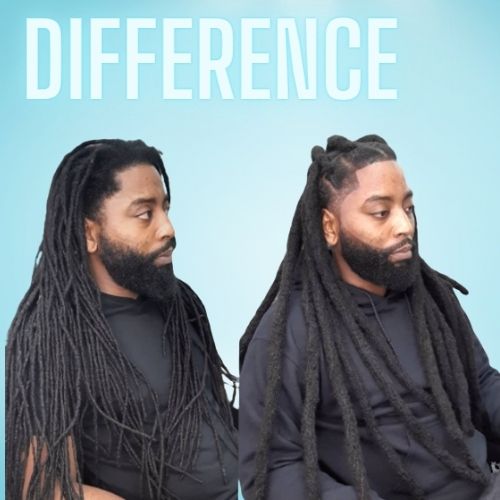 Wicks, Congo and dreadlocs as said earlier belong to the locs family, nonetheless, there are differences among them.
1. Wicks
Wicks are thick and larger than Congos or dreadlocs. They can be formed by the combined, freeform, or crochet methods.
2. Congo Dreads
Congo dreads are two or more locs merged to create one. You would notice the dread fusions at the roots, however, at the ends, the dreads will separate like spider legs. Usually, people who locs their wicks by the freeform method are likely to end up with Congo dreads since they don't control the way their dreads are grown.
Thus, one of the ways congo dreads are formed is by wrapping rubber bands around two or more dreads, about one inch from the scalp. Always remember to remove the rubber bands after three to four weeks or much later depending on the results.
The process can be seen in this video.
The crochet method used in forming wicks can be used to get Congos as well, however, you do not needle the end of the locs.
3. Dreadlocs
Dreadlocs or locs are smaller sections of hair that have been matted and knotted together to create a rope-like appearance. It can be curly or however, you want. Unlike the methods used in making Congos or wicks, the most common methods to make dreadlocs are comb coils and palm rolling.
Locking your hair by Comb Coils works best on kinky or curly hair. Just use a small tooth comb to twist small sections of the hair, using a holding loc gel or hair wax until they form coils.
Similarly, palm rolling is done by taking the hair in small sections and patiently rolling it in your palms to help it tighten and lock up.
How to make wick dreads?
You can make wicks through various methods. The most popular are the combine, freeform and crochet methods. We'll discuss each one after the other below.
1. How to get Wicks by the combine method?
The combined method is the process of tying existing dreadlocs with rubber bands together, allowing the locs to interlock giving them the infamous upright candlewick.
This process is also known as the rubber band method.
Take a look at this video for pictorial details.
2. How to get Wicks by freeform method?
The freeform method is the process of allowing your hair to lock on its own by not combing or brushing after washing. Over time, the hair becomes matted, creating an untamed look similar to Bob Marley's locs.
In some cases, dreads can form into one or two big locs; separate them so they look the way you want them.
Take a look at this video for pictorial details.
3. How to get Wicks by crochet method?
The crochet method is the process of using a crochet hook to needle your locs together. This method is believed to be the most common method of wicks because, unlike the rubber band method, there is no waiting for weeks for your hair to combine.
Take a look at this video for pictorial details.
Can I use wick extensions?
Yes. You can use wick extensions to make your wick longer if you cannot wait for your wick to grow. Extensions are crocheted wicks that help your dreads longer or as desired.
You can use wick extensions by first of all picking your wick extensions at hair shops near you or online. Wick extensions are available in a variety of diameters and lengths.
Depending on the length or size you want, you can use trim, medium, big, or giant wicks.
To fix it at home, apply any type of oil to your scalp and massage it thoroughly, using a rubber band to wrap the bottom of each portion of hair.
Make sure that portion of hair must be the correct size for the extensions you purchased, otherwise your new growth will not match your wick extensions.
Be sure to consult a hairstylist if you're unsure how big your pieces should be.
How to take care of Wick dreads?
1. Washing
Wash your wicks once weekly with residue-free shampoo, paying attention to the roots. You can also choose to wash it more regularly or later, however, don't wait for too long to itch before washing as scratching will affect your scalp.
2. Drying
It's important to dry wicks after washing; use a clean washcloth or hand hairdryer. But be careful not to use a hot dryer on the rubber band method as the heat can melt the band, further infusing it into your dreads.
3. Moisturize
Remember to take care of your scalp by moisturizing and sleeping with a silk hair tie. Also with wicks, using rosewater daily is essential because they help with hair growth and conditions locs
Facts about wick dreads
1. Having dreads is a religious devotion
Dreadlocs is not a sin by Biblical standards as some profess. In fact, they are mentioned a few times in the Bible, most notably in Judges 16 where it is revealed that Samson had seven locs. As a man who had taken the Nazarite vow, his locs showed his commitment to God.
Dreads also characterize a devotion to purity, and since the locs are found around the head and face it acts as a constant spiritual reminder to its owner that they own force, wisdom, and are expected to generate goodness onto themselves and others.
2. Wicks are cost-effective
Unlike perming your hair with all the care that comes with it, there is not much cost that goes into caring for locs or wicks. You don't need weekly salon visits and you can upkeep your locs yourself. Even if you choose to visit a loctician for maintenance, you'll only need to visit every six to eight weeks or three months maximum.
3. Promotes hair growth
Locs promote great hair growth with minimal shedding because your hair is in a permanent protective style.
You also don't have to manipulate your hair often with perming or weave-on products, resulting in less wear and tear on your strands. Your hair is free to simply grow and thrive.
Frequently asked questions (FAQs)'
Are wicks protective hairstyles?
For natural hair, they are considered a protective style because you don't need to use any chemicals to make wicks. Wicks also help the hair retain moisture as they don't put too much stress on the scalp, although they require lots of patience as they can take years to be fully complete.
What are the side effects of Wicks?
Heavy Wicks can cause your roots to pull at your scalp, causing gradual hair loss as well as headaches and neck pain. Your wicks might be heavy because they're too long or due to product build-up. If you don't reduce some of this weight, you may end up with a receding hairline.
Are Wicks religious?
The wearing of hair in dreadlocks by Rastafarians is believed to be spiritual; this is justified in the Bible with reference to the story of Sampson.
Are Wicks unprofessional?
Stricter white-collar professions discourage Wicks due to deeming them unhygienic and associating them with marijuana. Most employees are given the choice to shave their locs or wicks to keep their job or resign as locs are stigmatized to be messy and are unprofessional.
Can any hair type get Wicks?
For those who have straight hair, it takes more time and effort to encourage hair to lock. Forming dreadlocks is all about accelerating the hair's natural tendency to form tangles and twists, and very curly or kinky hair does this easily.
Do Wicks smell?
Dreadlocks are essentially matted hair, which has the potential to trap odors quicker than loose hair, but this doesn't mean that dreads smell bad or they're doomed to eventually smell bad. If you don't know how to care for your dreads properly, your dreads could end up with an offensive smell.
Are people with Wicks Rastafarians?
Not everyone that has dreadlocks is Rastafarian. Dreadlocks have become accepted as a normal hairstyle and that's why so many people are wearing them although most Rastafarians do have wicks.
Your Turn…
Wick dreads are thick strands of dreads braided, twisted, curled and pinned into rolls; sometimes dyed or colored. It got its name from the candle wick.
Wick dreads are not only worn by Rastafarians nor do every person who wears them abuse marijuana. Wicks in recent times are normally done by anyone who decides to.
Wicks can be a means to keep your natural hair free from chemicals and help in hair growth. They are done through the combine, freeform and crochet procedures.
It's important to wash and dry your wicks to keep them clean, moisturizing them to keep your scalp hydrated.
Reference
Bryant, T. (2015). History Of Dreadlocks Black Hair Culture. Refinery29.
Gabbara, P. (2016). The History of Dreadlocks. Ebony.
Read Related Articles: