If you have locs, it's likely that you've heard of the term "dread detox." It's a tried and tested way to clean your dreads really well.
However, there is a lot of conflicting information out there about how to deep clean your dreads by detoxing, so we'd like to clear things up!
In this article You'll learn everything you need to know about different dread detox recipe options.
Best Dread Detox For Your Locs
Image
Product
Features
Price

Deep Clean Locs and Scalp - This hair buildup remover strips away impurities, deep-seated contaminants, excess oils, and residue from hair. No more heavy, gunky feeling in your locs after detoxing.
Gentle, Relaxing Loc Clarifying Treatment - Enjoy a soothing and deep, cleansing soak of your dreadlocks in the comfort of your own home. Give your hair an amazing spa day treatment with this non-irritating clarifying rinse. Recommended for all types of locs, as well as kinky, curly and straight hair.
High-Quality, Plant-Based Ingredients - Our detoxifying dreadlock powder is made of baking soda, citric acid, himalayan salt, coconut and almond oils, and a blend of essential oils. No parabens, mineral oil, or phthalates – just honest, natural hair care for your dreadlocks.
Great Value for Money - Contains 8 oz loc detox powder that can last for 3–6 months. For best results, deep clean every 2–4 months using our inflatable basin, then wash with Locsanity shampoo and conditioner. Ditch that stinky vinegar smell, skip the measuring, and just get clean locs!
Brand You Can Trust - Loc is 100% Black-owned and woman-owned. Our hair and scalp detox products are made by a team that is passionate about locs. We use premium ingredients in all of our products so that you never have to worry about a substandard outcome.

Check Price

Bring Your Locs Back to Life - This amazing mixture will detox your locs and leave them light.
Great Value, Healthy Locks For All Season - Comes large 8oz bag that will last for months. Get consistently healthy locs all year round. Feel the difference after only 1 use.
Ideal for All Hair Styles and Types - Gentle and safe to use for all hair styles and skin types. Works on microlocks, interlocks, dreadlocks, braidlocks, twistlocks, and sisterlocks. Also works for protective styles like braids and twist.
No stinky vinegar smell - Detox every 2-3 month to maintain amazing locs.
Rejuvenate Dull Hair Naturally - Made from Baking Soda, Citric Acid (Apple Cider Vinegar Alternative), Himalayan Salt, as well as Coconut, Almond and Essential Oils.. Many of Locsanity dreadlock hair products are vegan, free of sulphate, and other harmful chemicals. Plant-based and cruelty-free.

Check Price

CLEANSING & CLARIFYING | Removes impurities, buildup, and debris.
pH BALANCED | Gentle on your hair and scalp.
RESIDUE FREE | Made with organic ingredients.
VEGAN | Cruelty free. Never tested on animals.
SOOTHING | Relaxing and detoxifying

Check Price

HOW TO USE : In a small bowl, add 4 table spoon of this dreadlock powder, add 3/4 cup of warm water (depending on hair length and density, add twice or three times the amount directed. Mix well until you have a paste like consistency.
On wet or dry hair, use your hands to add paste directly to scalp and locs. Use fingers and begin moving fingers in circular motion to help lift up any buildup and dry skin. Allow paste to sit on scalp for 10 minutes. Rinse in shower or in hair tup with warm water.
HOW TO USE - DEEP CLEANING: In a hair tub, add warm water until filled. Add 6 tablespoon of this dreadlock powder. Add 2 tablespoon of Lemon juice (optional), add 1/2 cup of PrideandBeauty ACV dreadlock rinse. Soak Dreadlocks in mixture for 15 minutes, rinse and repeat in new batch. Should repeat once every 3 months.
BENEFIT OF DETOXIFYING SCALP: helps get rid of unwanted buildup in hair by helping to exfoliate your scalp. Gets rid of buildup caused from everyday hair products, dirt from the environment and overactive oil glands.
PRO TIP: If you're going to try baking soda shampoo, be sure to finish with an apple cider vinegar hair rinse. Apple cider vinegar will help seal the hair cuticle to defrizz hair and give it shine. Try PrideandBeauty Herbal ACV dreadlock rinse.

Check Price

PURIFYING SHAMPOO: Hooked on hairspray or dragged down by dry shampoo. Give your hair a deep clean detox with our Charcoal Detox Shampoo. This purifying shampoo nourishes hair for a balanced glow.
DEEP DETOX: This clarifying line, infused with coconut charcoal and kaolin clay, busts through buildup, leaving even the hair of a daily dry shampoo user looking shiny, without stripping or overdrying.
BEAUTY PURE AND SIMPLE: OGX products are inspired by nature. We don't try to make hair look "perfect" because we'd rather make hair look fuller, smoother, curlier, or bouncier and smell irresistible.
WHAT HAIR WANTS: Whether you need quenching moisture for curly hair, protection for color treated hair, blowout cream or matte pomade, OGX hair care products are designed to bring out your best.
REAL QUALITY, REAL BEAUTY: Unattainable looks don't inspire us but originality does. OGX hair and skin care product collections are here to help you look your best! We're beauty, pure and simple.

Check Price

MAJESTIC PURE Apple Cider Vinegar Shampoo and Avocado Coconut Conditioner Set

Majestic Pure Apple Cider Vinegar Shampoo and Virgin Coconut Avocado Conditioner Set; for healthy hydrated hair and scalp; sulfate free; made in USA
Perfect daily dry scalp shampoo and conditioner combo to remove buildups while nourish and hydrate hair and scalp
Gentle enough for daily use and for all hair types, color safe shampoo and conditioner set; restores shine; reduces itchy scalp, dandruff and frizz
Safety Warning Intended for External Use Only: Rub a very small amount on the inside of your elbow area to test for any allergic reaction before use. Avoid contact with eyes, keep out of the reach of children. If pregnant, consult with your health care provider before use.
Cruelty-Free, Made in USA - At Majestic Pure Cosmeceuticals, we are proud to provide you with all-natural and naturally-based cruelty-free products made right here in the United States of America

Check Price

HYDRATION FOR FULLER HAIR: Both of our Apple Cider Vinegar Shampoo and Conditioner are made with awesome moisturizing properties to deliver superior hydration to your hair and scalp while encouraging hair to grow out fuller and thicker.
CLARIFYING FOR DAMAGED HAIR: The potent blend of vitamins and nutrients found in our Apple Cider Vinegar Shampoo and Conditioner promotes repair to damaged hair while restoring your hair back to its vibrant, voluminous shine.
DEEP CLEANSING FOR HEALTHY SCALP: Apple Cider Vinegar balances the pH levels of your scalp by cleansing, locking in moisture, and reducing itching, flaking, and dandruff - all the while improving hair manageability and reduced frizz.
WHOLESOME BOTANICAL INGREDIENTS: Our potent blend of 15 Key Active Ingredients is packed with natural goodness to help promote thicker, fuller, and healthier hair without the use of sulfates, parabens, or any other artificial additives.
SATISFACTION GUARANTEE: Healthy hair for happy customers. We offer a 100% Satisfaction Guarantee. If you are unsatisfied with our Apple Cider Shampoo and Conditioner Set, please let us know and we will give you a FULL refund.

Check Price
What Is a Dread Detox?
A dread detox is a procedure for deep-cleansing dreadlocks with an acid such as apple cider vinegar, a base such as baking soda, or a mix of the two ingredients to eliminate "nasties" from locs. During a dread detox, you cleanse each loc to its core to remove dirt, oil, product buildup, dead skin cells, trapped odors, bacteria, and even mold.
Since dreadlocks consist of tightly curled and matted hair, it is too easy for products, water, scents, and filth to penetrate deeply into locs and resist normal cleansing. However, a total dread detox can save the day! Everyone with dreadlocks will eventually require a complete dread cleanse. And most people may benefit from a dread detox once or twice a year.
Detoxing your dreads does not indicate that you have poor dread hygiene or that you are not keeping your locs clean. It's merely part of proper dread maintenance!
Dread Lemon Juice Detox Recipe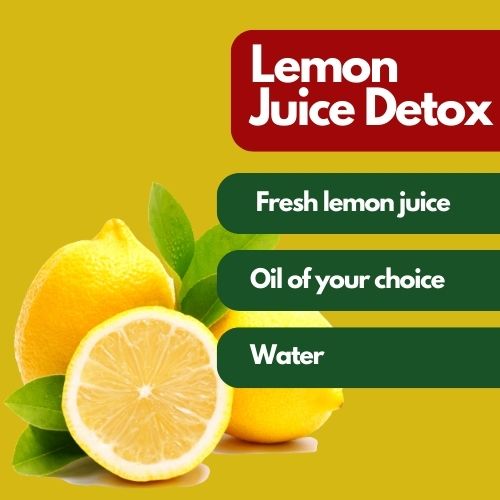 To prepare this recipe, you will need:
Ingredient List
A large bowel to fit the length of all of your dreads.
Fresh lemon juice
Oil of your choice
Water
Step 1
Fill the dish with enough hot water to completely submerge your dreadlocks. Then, add 5 tablespoons of your preferred oil and enough lemon juice until you feel the fragrance.
You can add the oil to the solution as you prefer, but a 2:1 oil-to-lemon juice ratio is required to lessen the stripping effects of the lemon juice. Use freshly squeezed lemons, as the processed variety contains hair-damaging ingredients.
After that, separate the pulp from the lemon juice before applying it to your dreadlocks. That is because if you put pulp on your dreads, later it will be impossible for you to remove the pulp from your hair.
Step 2
Allow your dreadlocks to soak for thirty to forty-five minutes in the mixture while the water is still hot. Follow up by rinsing your locs with shampoo to remove the mixture you just applied and any remaining residue entirely.
Step 3
Do not leave the mixture on your dreadlocks overnight, because the constant exposure to lemon's acidity can cause structural damage to your dreads. You may also observe that after rinsing the solution from your locs, they appear lighter. This is because the acidic qualities of lemon can remove melanin from hair, causing it to become lighter.
Dread Baking Soda Detox Recipe
Most of the time, baking soda is added to other detoxing solutions to lessen their effects, but you can also make a paste-like detoxing with just baking soda. To make this recipe, all you need:
Ingredient List
A bowl big enough to hold all of your dreadlocks
Baking soda
Oils of your choice to make your hair shine and feel smoother
Water
Step 1
All you have to do is mix the oils you choose with hot water and baking soda. You can make this detox even better by adding a little lemon juice. Leave the mixture on dreads for up to a day but make sure to soak and scrub your hair. A little piece of advice, if you have added lemon juice, leave this mixture on dreads for only 30 minutes to 2 hours to avoid the stripping effects of lemon juice.
Additionally, if you find it easier to use a paste, this mixture doesn't have to be a liquid solution. Instead, put the water in first and then add the baking soda. But keep in mind that this will make the detox stripping more intense, so you can only leave it on for about an hour.
Step 2
After using this method, You can rinse your dreads with apple cider vinegar to balance your hair's pH and then wash your hair with a clarifying shampoo for the best clean. But make sure not to put baking soda and apple cider vinegar in the same solution, because their detoxifying effects will cancel each other out.
So, after shampooing, use a deep conditioner to put back the moisture that was lost when you washed your hair.
Detox Apple Cider Vinegar Recipe
This is probably the most popular and effective detoxification recipe for dreadlocks. To prepare this recipe, you will need
Ingredient list
A bowl big enough to hold all of your dreadlocks
Regular Apple cider vinegar
Oils of your choice to make your hair shine and feel smoother
Water
Step 1
You may need to strain apple cider vinegar first to remove any floating particles that might be difficult to remove from your locs later, depending on the apple cider vinegar you use.
Step 2
Fill your bowl with hot water, approximately two cups of apple cider vinegar, and three to five tablespoons of your desired oil/s.
Step 3
Again, the amount of oil added is up to you. The purpose of these ingredients is to reduce the stripping effects of the apple cider vinegar and provide luster and softness to your locs afterward. After preparing your detox solution, soak your dreadlocks in it for thirty minutes to one hour; you can even leave it on overnight.
Simply tie a plastic bag around your locs to keep heat circulating and wear a bonnet; You may wash the solution after a day.
Step 4
When soaking, which you should do regardless of whether you leave it on overnight or not, be sure to rake through your hair as if you were washing your dreadlocks. After soaking, wash the hair twice with a clarifying shampoo to verify that all of the solutions have been removed, and then apply a deep conditioner to restore moisture.
Or you can Pour 1/4 cup pure baking soda and 3/4 cup organic apple cider vinegar into a sink full of hot water. Soak dreadlocks for 30 to 45 minutes or longer, depending on their length and how long you've had them.
Frequently Asked Questions (FAQs)
Can You Use Regular Vinegar To Detox Dreads?
Yes, you can! Fill your half bottle with apple cider vinegar and the other half with water. Shake vigorously to blend the ingredients. Apply the mixture to your dreadlocks and let it sit for 3 to 5 minutes. Wash everything out!
What Is The Best Detox For Dreads?
Pour 1/4 cup pure baking soda and 3/4 cup organic apple cider vinegar into a sink full of hot water. Soak dreadlocks for 30 to 45 minutes or longer, depending on their length and how long you've had them.
Does Baking Soda And Vinegar Clean Dreadlocks?
Typically, dread detoxes involve either apple cider vinegar (ACV) or baking soda, or both. See how these natural ingredients can "scrub" your locs chemically, leaving them cleaner and far fresher than ever before.
Now it is your Turn
Detoxing dreadlocks is an excellent approach to thoroughly cleanse your locs in order to promote the healthy development of your dreads and ward off dread mold, which may occasionally appear.
We hope this post has provided you with a better understanding of what a dread detox is and the different options to do a dread detox. Do share your experience, if you try following dreadlocks recipes.
Read Related Articles: