It is no less than a privilege to watch your favorite celebrity transition extensively over the years.
Be it in the musical industry or physical outlook, Quavo, best known as Quavious Keyate Marshall, has been one of few artists around the globe that has brought positive change.
Whatever he throws at us, no doubt becomes a trend. From freeform typical American hair to cornrows, braids, and now thick, long, and healthy dreadlocks, we are happy to see him grow and stand every look.
Hop on! Let's take you on a virtual tour regarding the evolution of Quavo dreadlocks. By the end of this tour, you guys will get a stepwise tutorial of Quavo's everyday gorgeous hairstyle.
Excited? Buckle up; let's go!
Quavo's Dreadlock And Hair Type
If you ask me about the hair journey of Quavo, I think he is very passionate about his dreads. I'm saying this because many become victims of hair fall, hair damage, and dead locs after a few years of twisting and experimenting.
But, Quavo's dreadlocks tell a different story. They are healthy, thick, dark, and shiny.
Pin It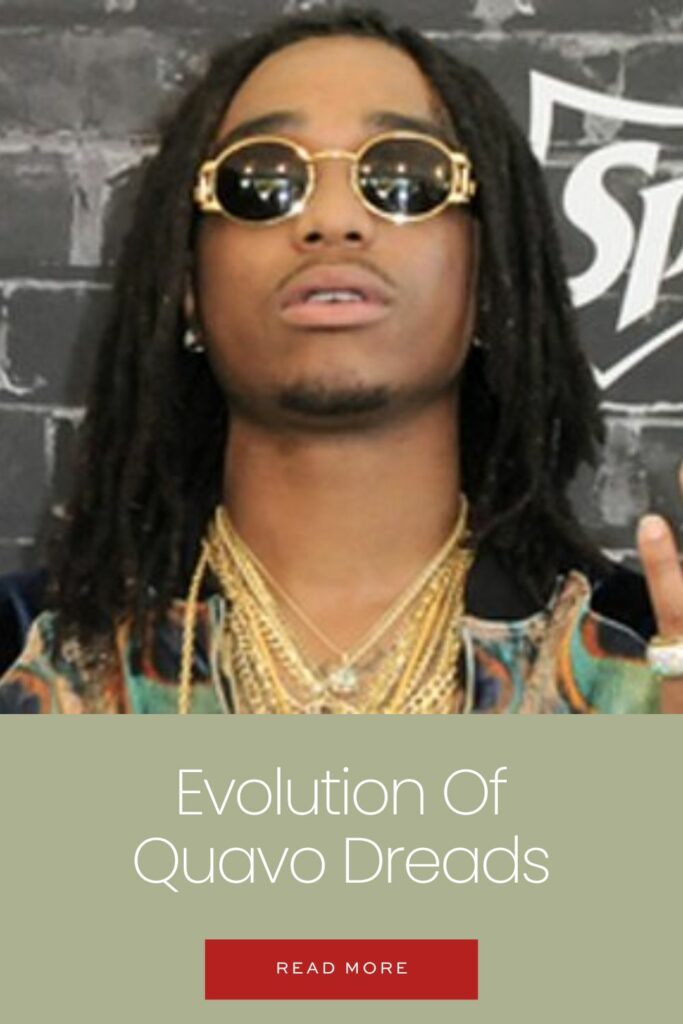 Currently, his dreadlocks are shoulder-length with defined locs. It is evident that he gets regular twisting and re-twisting because, OH GOD! His dreads are as shiny and healthy as new.
Although he started his dreadlocks journey with freeform style locs and then to baby dreads, what we see now is his career best.
At different places, Quavo is seen with tiny sectioned dreads tied in a pineapple bun. On a few occasions, he just likes to let his dread do their thing.
We are more than amazed to see his dreadlocks growing and nourishing every day.
For a few years, Quavo has maintained his hair cut to shoulder length, although he looks stunning in them. However, being a fan of his long hair, I'm desperately waiting for him to bring back his LONG HAIR, DON'T CARE look.
Evolution Of Quavo's Dreadlocks
Quavo is more than famous for his iconic dreads; this is the reason why everyone is waiting for him to bring a new look on.
Although Quavo keeps adding teeny tiny changes to his look, however; his fans are waiting for something big. Whatever he does, it is sure that, as usual, Quavo will surprise us with his iconic style.
The best member of the world-famous trio Migos- Quavo has changed his hair avatar several times in his career.
Here is a flashback of Quavo's Dreadlocks Journey.
2010
Trio Migo's best-known rapper Quavo, when he started his career back in 2010, he had well-defined healthy hair at that time.
Talking about dreadlocks, Quavo was carrying freeform style locs at that time- effortless, still a style statement for many.
2012-2013
In the period of 2012-2013, Quavo was more focused on growing his hair. This was the same time when his dreads matured and attained a definite shape.
In a few pictures, his hair looked neatly twisted with light pressure and styling tools. His locs started to mature and become more nourished by late 2013.
2014
2014 was the time of most transitions and changes.
The length of his dreadlocks was increasing day by day, and he started to braid his hair more often. This year is known as his career's peak year since he won a lot of famous titles for his rapping game.
There comes a time when most rapper style their dreadlocks in braids. So, Quavo had also started securing his hair in different types of ponies and buns, along with cornrow braids.
2015-2016
At this time, Quavo has maintained shoulder-length dreadlocks with regular twisting.
In 2015, he cut off the 2 dreadlocks to achieve a faded look. Trust me, it got us all! Quavo knew what he was doing with his hair, so he carried this look for a long time.
He was growing and glowing in his career at this time so were his hairdos.
2018-now
Quavo is one of few rappers who doesn't do a lot of experimenting when it comes to hair.
He never really introduced bleach to hair which I think is the biggest reason why hair is still healthy and shiny even after years of hair manipulation.
Currently, Quavo is maintaining minimal hair care that includes regular twisting and touchups. His hair is dark and shiny at shoulder length.
We love seeing Quavo playing around with his hair.
Stepwise Tutorial Of Quavo's Everyday Hairstyle
Achieving dreadlocks like Quavo isn't a mystery anymore because we have brought you insider info and a stepwise breakdown of his hair tutorial of Quavo.
I know you guys were anxiously waiting for this part, so here you go.
Back Combing
Quavo is seen many times in this easy hairdo. Let's learn how to do it.
Requirements
Residue shampoo
Wax
Metal comb
Rubber bands
Procedure
As special dreads call for special shampoo, we recommend you residue-free clarifying shampoo. It has everything that your dreadlocks need.
Start by washing your hair with dreads shampoo and leave your hair until fully dry.
Now, take your hair and start the process of sectioning (1inch by 1 inch). You can use rubber bands to keep the section in place.
Once all the sections are made, start with backcombing. Take one section and backcomb it, then add a rubber band at the top and at the tips to avoid hair tangling.
Lastly, take a more incredible amount of dread wax and apply it to the length, and now roll the dreads in the palm.
And you are done!
Twist and Rip
Twist and rip are one of the finest dreadlocks style one can carry. Be it a date or a formal meeting, you can never go wrong with a twist-and-rip method.
Requirements
Rubber bands
Shampoo
Dreads wax
Procedure
Our top pick dread wax is —-. It can create magic, trust me!
Before jumping into the shower, start sectioning your hair and use a rubber band to keep them firm and right in place.
Now, wash your hair with a detoxing shampoo and massage your scalp lightly in a circular motion.
Allow your section to dry completely. Once done, apart your sections carefully where the rubber bands were used.
In the end, use magical wax in a rich amount at the partitioned section and give the final touches with palm rolling.
Another hairdo that we will discuss today is Quavo's special dreadlocks style. The procedure is relatively easy, and the overall look that it creates is fabulous. This hairdo is perfect for all formal and informal meetings.
Dread Braiding
Requirements
Rubber bands
Shampoo
Dreads wax
Procedure
Start by washing your hair with dreads shampoo and leave your hair until fully dry.
Now, take your hair and start the process of sectioning (1inch by 1 inch). You can use a rubber band to keep the section in place.
Once all sections are made, take one at a time and start braiding it and then secure it with a hair tie. Follow this procedure and braid each section one by one.
Now that you have all your hair in braids, you can tie them in a bun or keep them open.
Brush Rubbing
Requirements
Dreads shampoo
Dreads wax
Bristle brush
Procedure
Call this procedure a lifesaver because it doesn't require a lot of time. 3 easy steps and you are done.
First, wash your hair with clarifying shampoo and let them dry out completely.
Now, take a soft bristle brush and rub it in a circular effect (clockwise motion) around your head. After a few circles, you will notice messy dread balls forming.
Give these balls a defined look by using dread wax at each hop.
You have the easiest and super stylish dreadlocks hairdo ready that too in less time.
Frequently Asked Questions (FAQs)
What is meant by cornrow braids?
They are the special kind of braids, where overall hair is sectioned into small portions. Tight and neat braids are made throughout the length of hair. Different methods are used for cornrow braiding such as underhanded, raised row, and continuous form.
How to take care of dreadlocks?
Fellas! There isn't any rocket science involved in the care of dreadlocks. 
You simply have to maintain the washing schedule to keep them healthy, shiny, and neat. For damage prevention, all you have to do is move to natural styling products and heatless methods.
This will save you from extra locs drama. Other than this, use residue-free shampoo and conditioner to secure your scalp and dreads from buildup. 
Lastly, air-dry your dreadlocks properly and secure them in a silk scarf before bed time.
How are braids different from dreadlocks?
Dreadlocks are usually the method that involves palm rolling, back combing, and continuous hair twisting and re-twisting. 
 It can be freeform, two-strand locs, or tiny dreads. 
While braids are made with 3 sections of hair that overlap together in a zig-zag style.
Now It's Your Turn
Hairdo enthusiasts! I know you are all hyped up and want to carry dreadlocks asap, but how about you do a little more research regarding your hair type, ingredients that suit your scalp and hair, and styling products that are good for you? Trust me, it will save a lot of your time and energy, plus it will save you from uncalled hair miseries as well.
Lastly, a tip for you lovelies that save your dreadlocks from bleach and excessive coloring.
For some time, you might feel good about the change, but the damage they bring is the worst. Save your hair and opt for different ways of styling.
That's it for today! Take care.
Read Related Articles: