Let's talk about crochet dreadlocks!
If you are anything like me who has kinky or curly hair, you know the struggle that we have to go through every single time that we think of leaving the house. It is even worse when the weather decides to be extra humid that day. This is why I decided to try out dreadlocks because I was sure they would be a lot easier to handle compared to my natural hair.
I had to research the crochet dreadlock like any other lady who is trying out a new style on their head. The risk is usually too big for just anything. I realized that a good number of people prefer dreadlocks despite the many theories and myths from the cultures we come from.
At the end of the day, I always believe the only thing that matters is what you think and more importantly how you maintain your hair.
Crochet dreadlocks are one of the many forms of dreadlock culture that I am sure you have interacted with. A great number of people even today have made it a normal occurrence that it has even made its way into the white-collar system. So many of the old folks are honestly still trying to come to terms with it.
I started my locks journey several years ago and I can testify that it was a headache at first. Choosing the right place to have it done and the right method is one of the paramount decisions that you need to take.
Crochet dreadlock: What is it?
The crochet method is a more detailed form of dreadlock that involves a small crochet hook that brings together a desired amount of hair into one strand making the dreadlock. Now, the crochet hook has to be 1mm or smaller in size for it to penetrate through the twisted hair without breaking the hair in any way.
This method of creating a dreadlock does not involve pulling the hair which is usually very uncomfortable. However, it needs constant re-crocheting over some time before the neat dreadlock can be seen well enough.
You should be keen not to confuse it with the latching method or the interlocking that is about pulling the hair through a knot made at the base of the twist that many people are practicing today.
The best way to understand it is by using one of the hooks available on Amazon that are available to help you get the best dreadlock size that you looking for.
When done correctly, you are assured of the good quality of dreadlocks and even when you feel like you want to change it, all you need to do is carefully comb it out and you get your original free-flowing hair.
Best Crochet Dreadlocks extensions
Image
Product
Features
Price

Material: Curly faux goddess locs crochet hair with wavy ends, 100% synthetic fiber,locs crochet braids synthetic braiding hair for black women.
Style: Goddess faux locs crochet hair braids.this faux Locs is a thicker texture style with wavy comb-through ends that are silky to touch, and lightweight to wear.
Advantage:1.Hand-crafted for a beautiful look ,2. Pre-Looped crochet hair, Easy to install 3. easy to maintain, lightweight , that is effortlessly graceful, yet stand-out.
Size :24inch,Color: naturel color ,dark bronde ,light bronde weight:95g/pack,12strands/pack ,Package: 6packs/lot,72 locs per pack,Just one pack is enough for a full install
Features:Highly textured roots and loose wavy ends,Hold long time with good care. Perfect For party, gathering, vacation and daily use. Wear it, you will get many compliments.

Check Price

Hair Material : 36 Inch New Goddess Locs Crochet Hair Faux Locs Crochet Braids made with quality Low Temperature Fiber Synthetic Hair Extensions.
Package : 4 Pack 36 Inch Super Long Goddess Locs, 18 Strands/Pack, Weight: 170 g/pack, Due to the length and weight of the hair, we recommend customers use 3-4 Packs to make a full hairstyle.
Advantages :Curly Wavy Faux Locs Crochet Braids is super soft,100% Hand-Made, length no need to be extended,light and weight,not easy to separate,suitable for any occasion and season,last long time.
Easy To Install :Our Gypsy locs goddess faux locs crochet braids hair is Prelooped&Pretwisted,so it is very easy to install,saving money and time.Just try it, you are the irreplaceable fashion icon.
STYLEL :36 inch New Faux Locs Crochet Hair Extended Soft Goddess Locs Dreadlocs Synthetic Hair Extend Pre Looped Natural Soft Locs Braiding Hair for Women.

Check Price

Faux Locs Material: High Quality Kanekalon Synthetic Fiber. Perfect for you to increase your natural beauty.
Advantage: Hand-Made, Natural Shining and bending, Light and Soft, Quick and Easy to Crochet, Comfortable wear. The hair end is not easy to separate, lasting long. The Faux Locs crochet hair match your own hair for a natural look, adding African glamour to you. The synthetic fiber can hold your dreadlocks well, won't fade or tangle easily.
Package include:6 packs, 20roots/pack. 6 pieces of crochet Faux Locs are usually enough for a full head.
Length: 12 inch. We directly measure the length of the Faux Locs hair when it is curly.
Color note: Please trust us that you will receive the goods in the correct color. Recently a friendly customer told us that the color label on the product packaging was wrong, but the color of the product was correct (#99J). After investigation, it was found that our packing staff accidentally posted the wrong one. We are very sorry. Please don't worry, the actual color of the product is correct.

Check Price

A unique design just for you, Queen. Elevate your look with our lightweight 24" pre-looped Boho Queen Locs.
Textured at the roots and wavy at the ends for an elegant natural look.
Designed to bring out the queen in all of us in under 2 hours, with a simple crochet install.
Length - 24" with 16" layers included

Check Price

Hair Material: Butterfly Locs Crochet Hair Synthetic Fiber Hair, 2021 all the fashion elements center on this butterfly locs crochet hair, you are the irreplaceable fashion icon, so buy it.
Hair Features: Handmade braiding Butterfly Locs Crochet Hair, we are professionally and specially weave the hair end and it is not easy to fall apart, so long-last, install it directly, save more time&money, easy to air dry naturally and no tangled.
Easy Install & Save Time: These Short Butterfly Locs Crochet Hair Are Already Twisted, Individually Pre-looped, You Can Use It As Crochet Directly, Save Much More Time.
Hair Information: 5 Packs 36 inch; 175g/pack, short Butterfly Locs Crochet Hair, 12 strands/pc, 60 strands 6Packs.

Check Price

A unique design just for you, Queen. Elevate your look with our lightweight 24" pre-looped Bohemian Locs.
Textured at the roots and wavy at the ends for an elegant natural look.
Designed to bring out the queen in all of us in under 2 hours, with a simple crochet install.
Length - 24" with 16" layers included
Colour: Our Natural color is designed to mimic the colors that appear in real locs. This color is a subtle blend of natural black and natural brown tones.

Check Price

Gypsy Locs Crochet Hair Material: 100% quality kanekalon sythetic fiber. Hair is even, oily, light and elastic
Gypsy Locs Crochet Hair Features: Very great quality. Very light on your head, No Smell,Not rough, Not easy to separate, easy to work with install, suitable for daily wear. Hold long time with good care.
Gypsy Locs Crochet Hair Style: gypsy locs goddess faux locs crochet hair African root.you can wear it for party, Halloween, cosplay, daily use and any time you like to show your charm.
Gypsy Locs Crochet Hair Size: 18 inch length, Weight: 70g(0.154lbs)/pack. Color: 1B. Strands: 18 Strands/pack, 8packs/lot (144 strands/lot). 6-8 packs make a full head. the useful and beautiful hair making set will be sent freely.
Delivery Time:3-5 working days after shipping(Amazon Prime 1-day shipping, 2-day shipping and standard shipping).

Check Price

❤Faux Locs Crochet Hair:New style,Goddess locs crochet hair can show your new fashion. Pre looped crochet hair braids,soft locs braiding hair extensions.
❤Soft Locs Crochet Hair:100% low temperature fiber synthetic faux locs crochet Hair,hand made,very soft near nature hair. ❤Package: 6 packs/lot faux locs crochet braids,20strands/pack,total 120 strands,can full one head
❤Faux locs Feature:Faux locs crochet hair is natural texture, No smell, No tangle, Light and Tight, Not easy shedding. Pre looped, Easy to install. Soft and fluffy, Bouncy, Itch free, Suit for women, man and children.
❤Easy to install:faux locs hair Individually Pre-looped,so it is super easy to install. Especially for beginners wanted to do hair braids by their own, Which will save much more time and money to make the hairstyle.
❤Soft Faux Locs Hair Style:soft locs crochet braids,gypsy faux lcos crochet hair,goddess locs hair,wavy locs hair,wavy dreadlocks,crochet braids for black women and man,African Roots,butterfly locs

Check Price
Pros of Crochet dreadlocks
From personal testimony, I can assure you that the crochet method has quite a good number of benefits. I think is only fair that you know of them. There have been so many fears when it comes to dreadlocks but the truth is that many of them are tell-tales.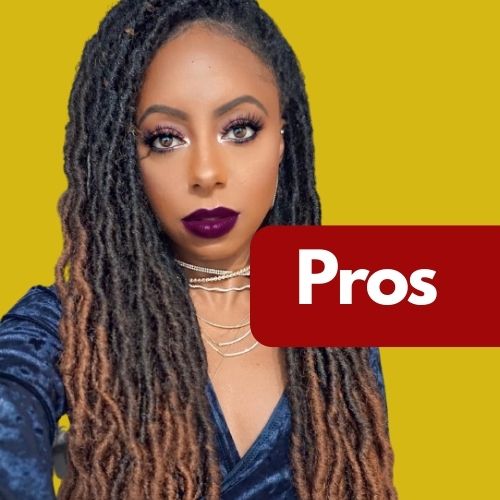 The crochet dreadlocks do not need any additional products or hair. If ayt any point, you feel like you would like an extension, you won't need strings or glue to attach it. It is relatively less painful than most of the other dreadlock options I have used before.
The fact that you are naturally crocheting the hair into itself, you get instant locks that even allow you to wash it often or swim afterward. The fun part is that it does not affect the quality of the dread you are making.
The crochet option is very effective in that it doesn't matter the type of hair you have. You only need to get a professional and the right tools and you have yourself quality dreadlocks that will last you years.
Undoing the dreadlocks is even easier when you are using the crochet method. It will however require you to patiently follow the step said so that you don't damage your hair.
Cons of crochet dreadlocks
Apart from the fact that it is the most effective, one big problem that I have learned over time is that because not many people have perfected the art of crocheting dreadlocks. So many people are too fast in starting the dreadlock journey that they don't consider the risks.
You will therefore notice that if you are keen enough, so many people out here are walking with dreadlocks that are weak, thin, and not shaped properly. Eventually, so many such people resolve in cutting the hair off completely.
One other thing that many people may find insignificant is the fact that it does not result in a tight lock like the rest of the other dreadlock methods. Therefore, if you were looking for a thinner and intact dreadlock option, the crochet dreadlock may not be the best option for you.
Important things to consider before using the crochet method
In the same way, every other technique requires you to know the tactics behind it; the same goes for the crochet method of dreadlocks. I know you want the best. No one likes taking chances when it comes to their hair and more so when it is something that you will need to invest a lot of time and money into before it materializes.
So here are a few things that I need you to keep in mind when you decide to start this journey. You need to discuss them even with your hairdresser when you go to the salon. With this, you will be sure of what exactly you are doing.
Choose the right crochet hook and the right size. The most preferred is the 1mm or smaller size.
Do not try it out on bleached, relaxed, or aged hair. Such hair is softer and more brittle than natural hair. The chances of the hair falling out are much higher.
When choosing your shampoo you will need a residue-free option. This is important to prevent the lumps that form at the base of the dread where the locking happens. You will realize that when you use this residue shampoo, the neatness of the dread will not last.
The rat tail comb is the best option for the installation phase. It is better in straightening the hair at the base, allowing you to set it together for the locking to take place. It is also easier to pull the hair from the base to make it look neat at the end.
For you to be able to harness the locking, you will need some dread wax or cream of your choice. Most people use wax because it has more rigidity which makes it easier for the dread to form as compared to cream, especially in the starting phases of the dreadlock journey.
Elastic bands and hair clips always come a long way in helping you set the dreads in place though it will depend on the length of hair that you are working with.
A good number of people opt for the hairdryer which is optional to help melt out the wax to fasten the process.
One other thing about dreadlocks that you need to be aware of from the onset is that they tend to be thinner before they form the thick body that we all love and admire. The constant twisting and locking of the hair during the first stages has a way of causing discomfort to the hair follicles, causing them to not be able to relax and puff up.
It should not be a big problem for you though. All you need to do is remain diligent in working on your hair in the right way, using the right procedures and after a few months, you will start seeing positive results.
Everything good has to take time, patience, and the right procedure to ensure that it comes out as you were expecting it to.
How to do a crochet dreadlock at home
Now, before we start on this, you need to know that when it comes to crochet dreadlock, it is a technique that has to be finessed before you try it on your hair. Sadly, I have been able to see some disturbing results of people who were too proud to ask for expert help when it came to them doing their crochet dreads.
If you have never tried doing it, don't be in a hurry to try it on your hair. Look for a dummy doll or plastic hair, where you can train on it before you now move to someone's head or even your hair.
With that said, here are the basic steps that you will follow when you want to start on your crochet dreadlocks as a professional, either on your hair or on someone else's hair.
Package include: you will get 6 pieces crochet hooks in 2 models, 0.75mm and 0.5mm, each model contains 1 hook, 2 hooks and 3 hooks, different models and styles can meet your various needs
Size: the dreadlocks crochet needle length is approx. 3.5 cm/ 1.4 inches, the handle length is approx. 10 cm/ 3.9 inches, proper size for you to carry and use
Material: the dreadlock needle is made of stainless steel, durable and sturdy, with a natural bamboo handle, soft and comfortable for you to touch, easy to use
More tools less trouble: the dreadlocks tool set contains 3 pieces 0.75 mm dreadlocks crochet with different hooks, 5 pieces latch hook crochet needles in different sizes, and 5 pieces interlocking tools, a total of 13 pieces, enough quantity with different hooks, easy to design your own hairstyle
Smooth and easy to use: our latch hook crochet needle will not snag or pull your hair, your can push your hair into the smaller part of the loop hole on the tool so as to latch your hair in place, easy and smooth to use
1. Wash your hair.
Clean hair is easier to manipulate and has neat results as compared to hair that is dirty and in most cases, already has residue of dirt and oil. You need to make sure that the shampoo option you are using is residue free.
2. Create small sections of hair.
Take small potions of hair on your head starting from the scalp which will then be the sizes of the dreadlocks. Each section that you make you will hold it the elastic bands. This is one important step because once you start on the locking; you won't be able to go back to resizing the strands.
3. Begin twisting the hair
Once you are through with the whole head, begin undoing the sections one by one while you twist it with your comb and apply a bit of gel as you move. The twisting procedure should be soft and gentle but neat enough that it doesn't detach easily.
You will need to start from the middle of the hair and work your way to the end of the length of the hair you are using. After this, you will notice that the hair has started to link itself partly.
4. Pick your hook and begin crocheting
Once you are done with the twisting, you will now need the crochet where you will place the hook between the hairs to the other side of the twist. Then slightly adjust the angle of the hook so that it doesn't come out through the same hole you had pushed it through.
The changing of the angle, allows it to hook on the hair and pull it back inside the twist for the locking process. You will however not pull the hook out. It is should be inside the twist and then taken it back outside again. Continuously doing the thing, allow the hair from outside to be linked in the twist causing the natural and smooth locking that we are talking about.
5. Continue twisting the hair as you crochet through the hair
While you are working with the hook, you can keep twisting the hair again, so that you can be able to see at what point there still some hair is hanging outside the twist.
6. Place clips on a finished twist
Once you are through with each twist, you hold them with the clips to keep them in place before you can set them into your preferred style at the end of the process.
Now, it's your turn…
The crochet dreadlock method is one of the most unique types of dreadlocks that require you to use the small crochet hook to lock hair follicles on one strand to give you the dread effect.
The crochet option, unlike all the others that we have seen today, is usually more detailed but at the same more long-lasting and softer to the hair and scalp than the others.
To start it off you only need a few items if you are working on your hair which we don't suggest especially if it is the first time you are doing it. Choosing a professional will be more beneficial and safe for your hair since they will be able to see what they are doing.
Our hair is our pride and the more comfortable we are with it, the more confident we generally feel. Therefore dreadlocks should make you feel better rather than cause you to try and hide from other people.
I look forward to knowing how your journey will be.
Read Related Articles: