Crocheting is a popular way to make new hair dreadlocks, keeping the ones you already have in good shape, and rounding off the hair ends. It is a simple method that anybody can learn, and it can help in achieving smooth and elegant hair dreadlocks.
When you are ready to begin working on your dreadlocks, get the medium size crochet needle or tiniest hook possible and get started! You can make these dreadlocks at home on your own or hire a professional hairdresser.
Read on to learn all about making Instant Dreadlocks with Crochet Needle.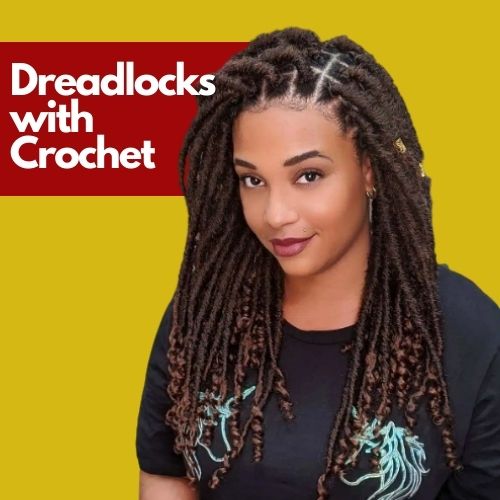 Why Do We Need Crochet Needles For Making Dreads?
The Crochet needle dread tool helps you make and keep hair dreadlocks using the crochet method, which is a natural way to make dreadlocks. A crochet needle is used to pull the hair tight so that it knots well. When done right, crocheting dreadlocks make tight well-knotted dreadlocks.
However, make sure these needles should not pull your hair, otherwise, it will be too irritating for you. So, the Crochet needle is the most important tool for making hair dreadlocks. If a needle is not available you can use hooks to make hair dreadlocks.
How To Immediately Lock Dreads With A Dreadlock Crochet Needle
You can instantly make dreadlocks in 7 steps.
Step 1
First, grab and twist a section of hair that is jutting out or has frayed at the base of the dreadlock. You can use a comb to separate your hair down the center of your head, beginning at the front and ending at the rear.
Apply one end of the comb to the scalp where your hairline starts in the middle of your forehead. Then, run one end of the comb from ear to ear across these parts. Clip up each section of hair one at a time to keep it out of the way.
How many sections you need, depends on the thickness and texture of your hair. If your hair is fine, four parts should suffice. If your hair is coarse or thick, you may need to divide it into 8 sections.
Step 2
If one of the portions at the back of your head is knotted, remove the clip and use backcombing or brush it through. Then, comb out a 1-inch (2.5-centimeter) chunk of hair from this part, and clip the remaining hair back up.
Step 3
Then, insert a little crochet needle, commonly 0.5mm or 0.75mm used for the majority of people, into the loc.
Step 4
Continue to wrap the loose hair around the needle and draw it through while gently rotating the hair and moving down the dreadlock's shaft.
Step 5
As you make your way down the loc, avoid inserting the tool in the same location repeatedly by inserting it in a variety of spots.
What the crochet needle will be doing is tugging the stray hairs back into the interior of the dreadlock. Additionally, it is important to mention here, that due to the curved hook on the end of the instrument, it may be inserted into the dreadlock with minimal difficulty, but when the needle is removed, it will hold hairs as you pull.
Step 6
Make quick strokes into and out of the dread, similar to a jabbing motion. These little jabbing and pulling movements will compact and draw hair into the dreadlock. This method's ability to compact the tangled hairs is what causes the dreadlocks to solidify.
Step 7
As you move the crochet needle down the loc, you will be pulling the hair inside the dread while simultaneously smoothing out the dreadlock.
If You Want To Create Instant Dreadlocks Using A Crochet Needle
You need to practice this method for quick results. Crocheting your dreadlocks allows the hair to lock immediately and accelerates the maturation process.
It is especially beneficial for those with an itchy scalp or fine hair that is difficult-to-lock hair. If you have experienced unraveling in the past when attempting to loc your hair using other techniques, this may be the best option for you.
Advantages And Disadvantages Of Crocheting With A Crochet Needle
If you're just beginning your dreadlock journey, you can skip the starter (or "baby") phase and get dreadlocks immediately. In addition, this stage offers other benefits, like spiritual connection, and self-awareness.
Locks are dense and uniformly compressed.
Less painful than using a latch hook.
Can be quickly washed, swim, or become wet in other ways.
It holds the lock together without the use of hair products (*benefit* avoids unsightly product build-up and lint in the future).
Allows the attachment of dreadlock extensions.
The locks look immediately mature and do not unravel.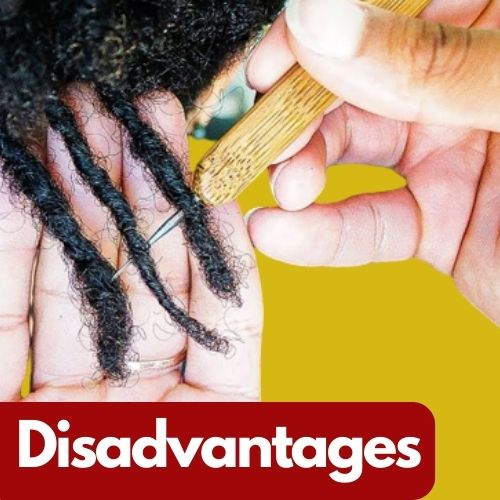 The first drawback of the crocheting method is that it requires practice to master.
It is not as prevalent in the local community; thus, it may be difficult to find a local stylist for routine upkeep.
Can damage hair and fingers if not applied properly.
It can also endanger children if left alone.
it will be time-consuming until the technique is understood.
It also has the ability to weaken the lock if used excessively or aggressively.
It cannot be combed out (as with the interlocking method)
Things To Consider Before Making Dreadlocks By Crochet Needle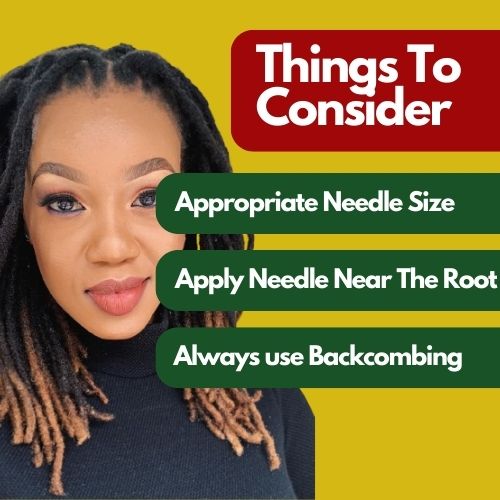 1. Appropriate Needle Size
For making dreadlocks, your needle should be 0.5mm or 0.75mm. But if you don't have a crochet needle, you can use a crochet hook of the smallest size.
However, do not use a crochet hook no larger than "US size 1 (2.25 mm)", which is the major size appropriate for delicate crochet projects like producing crocheting and lace dreads.
Additionally, if you've never tried crocheting dreads before, start with an extension to get some practice. This will make it easier to prevent hair damage.
2. Always Apply Needle Near The Root
Insert the needle into the hair near the root and grab a few hairs. Insert the crochet needle through the segment of hair approximately "1/4 inch (0.64 centimeters)" from where it meets the scalp. Attach a few hair strands to the hook on the other side of the segment.
Ensure that only a few hairs are on your crochet hook! This is sufficient to begin locking the dread. If you do not apply the needle near the root, you won't be able to grip the hair for the dreadlock.
3. Always use Backcombing
Backcombing is the opposite of typical combing; rather than combing from the scalp to the ends of the hair, you come from the ends to the scalp. Backcombing stimulates hair follicles to begin fusing and latching together.
How To Prevent Damage With The Crochet Technique?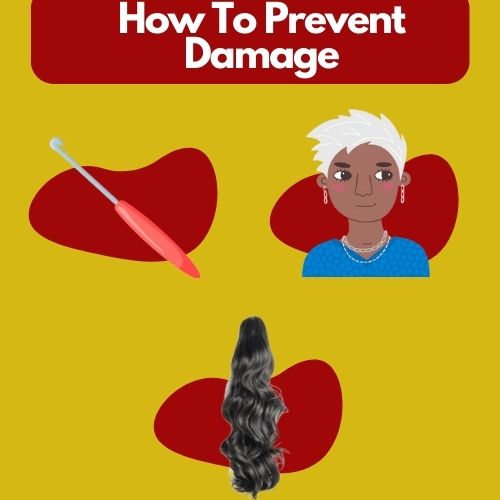 1) Use The Correct Needle
A crochet needle that is too big can cause additional damage and hair loss, whereas a crochet needle that is too little can be extremely irritating. The sizes of 0.4 mm and 0.5 mm crochet needles are typically effective. However, it would be easier for newbies to start with a 0.6 mm hook.
Additionally, it is strongly recommended to use a soft touch crochet hook instead of a thin one due to the ergonomic grips that allow for greater control over the hook's path.
2) Avoid Gray or Bleached Hair
Typically, bleached and aging hair is fragile and damaged. These hair types lack appropriate hydration, making them susceptible to damage.That is why you should resist crocheting bleached or graying hair. Young, healthy hair is more resilient and less susceptible to damage. After applying the crochet method, your hair at the roots will grow healthy and strong.
3) Practice on Synthetic Hair
When working with synthetic hair for the first time, it is strongly recommended to use the crochet technique. This can help protect your locks from potential damage. After all, you are most likely to commit an error if you are a novice. You can purposefully break some synthetic hair to gain a better understanding of how it sounds and feels.
Another piece of advice is to vigorously wash the extension made from synthetic hair. Washing it will reveal whether or not your skills are effective. It is easy to make dreadlocks appear attractive, but whether or not the tightness will stay is a totally different matter.
4) Look for a Professional
It is nearly impossible to find a salon with experience with this procedure. However, it is important to seek an expert in the crocheting technique.
Frequently Asked Questions (FAQs)
What Type Of Crochet Hook Is Best For Dreads?
For making dreadlocks, a 0.75 Dreading Crochet Hook is the ideal size. Use this hook to draw in and compact the hair after backcombing a portion of hair to create a dreadlock. The 0.6mm hook might be preferred if your dreads are extremely mature and tight, yet this hook can also be utilized to tidy and maintain dreads.
How Do I Give Myself Instant Locs?
With practice and the fine crochet needle, you can get instant locs. The more you practice with a crochet needle, the more you will get the quicker results. You can try the above procedure to give your hair instant locs.
What Needle Is For Dreads?
The perfect way to shape your dreads is using 5mm needles.
How Long Does It Take For Crochet Dreads To Lock?
Depending on your hair type and how quickly it grows, the starting (also known as "baby") stage of the loc procedure can take anywhere from 3 to 6 months. You can start your locs in a variety of styles, including palm rolls, comb coils, braids, and two-strand twists.
Are Instant Locs Good?
They are the best at achieving the dread look quickly. a fantastic option for all hair types. Without using string, you can create extensions with Instant locks that look natural. The process involves no products.
Read Related Articles: