Do you want to present yourself artistically by wearing a distinctive hairstyle? Mohawk dread is the answer.
Women have turned mohawk dreadlock styles into current expressions of fashion and personality. The girl's mohawk dreads style is all the rage on the internet. Have you ever seen a woman with a mohawk? Don't they seem fierce and ready to embark on anything the world brings to them? I feel so…
If you want to have one and be the girl who looks brave and badass, you are at the right place. In this post, I will let you know some fantastic mohawk dread girl hairstyles.
Let's get started!
Best Products To Takecare Of Dreads
Image
Product
Features
Price

OUR HAIR CARE PROMISE: infused with vegan biotin and citrusy, fresh Moodscentz fragrance of sun-kissed mandarin that uplifts your mood and evokes happy feelings to bring positive energy to your day
5-in-1 MULTI-BENEFIT SHAMPOO: this sulfate-free shampoo offers five rejuvenating benefits: deeply cleanses, provides hydration, strengthens, creates visible fullness, and leaves hair soft and shiny
YES Safe for Colored hair, YES Sulfate-free Shampoo, YES Vegan Shampoo, YES with Plant-Based Cleansers, YES Ethically-Sourced Mandarin, YES Vegan Biotin Shampoo
NOURISHING SHAMPOO FORMULA WITH 6 FREE FROMS: Paraben-free, Silicone-free, Dye-free, Cruelty-free, Phthalate-free, Sulfate-free
97 PERCENT NATURALLY DERIVED SHAMPOO: this multi-benefit hair repair shampoo is formulated with naturally derived ingredients and also safe for all hair types

Check Price

CLEANSING & CLARIFYING | Removes impurities, buildup, and debris.
pH BALANCED | Gentle on your hair and scalp.
RESIDUE FREE | Made with organic ingredients.
VEGAN | Cruelty free. Never tested on animals.
SOOTHING | Relaxing and detoxifying

Check Price

VOLUME & TEXTURE: Salt adds incredible volume and texture to take your hairstyling game to the next level. It also adds amazing richness and fullness to thinning or fine hair.
LIGHT HOLD & LOW SHINE: Salt provides a light hold with low shine to keep hair amazingly styled, but still touch-ably soft for a clean, natural look. Salt is a great substitute for hairspray to eliminate that "crunchy" look and feel.
HYDRATING SEA KELP: Salt is infused with natural sea kelp to keep hair healthy and hydrated. Sea Kelp is a natural moisturizer and conditioner, allowing you to reap all the amazing volume and texture provided by Salt, with none of the dryness.
SUPER VERSATILE: Salt is perfect for both men and women. It's also ideal for all hair types and lengths.
FEATURED ON SHARK TANK! Salt is water soluble and paraben-free to make washing out the product a total breeze, keeping hair healthy, residue-free, and looking amazing.

Check Price

Lockology Lavender and Rosemary Loc Oil Moisturizer For Dreads is A unique blend of rosemary, castor oil, lavender oil and other natural ingredients to help strengthen your locs and promote growth and scalp health while moisturizing and conditioning.
No Build Up or Residue: Guaranteed! Our loc oils are made specifically for dreadlocks and are used in homes and salons across the world. With over 20 years experience, we can stand behind our products 100%.
All Natural & Made In The USA: Our loc moisturizers are made in small batches in the USA using quality oils, herbs and extracts from across the Caribbean.
Dreadlocks / Loc Moisturizer and Conditioner: Use as needed to moisturize, condition and soften dry dreadlocks. Apply to hair while clean and freshly washed and damp to help condition and moisturize your locs.
Black & Woman Owned - We are proud of our heritage and ownership and welcome anyone with a love for locs.
Loc Spray, Loc Moisturizer, Loc Spray For Dreads Moisturizer, Dreadlock Spray

Check Price

INCREASES HAIR LOC GROWTH: Made with all natural ingredients, this specific blend of carrier and essential oils penetrates into your hair and scalp with the proper nutrient benefits for enhanced dreadlocks growth.
MOISTURIZING LOCK STYLING OIL: Perfect lightweight oil for loc styles. Replenish your locks and curls, prevents further breakage and make hair healthier and shinier.
FOR ALL LOC and HAIR TYPES: Specifically made to help with any hairstyle or type. Whether microlocs, interlocks, dreadlocks, braidlocks, braids, faux locs, crochet locs, boho locs, twistlocks, or sisterlocks, this product will work for you.
LIGHTWEIGHT & HEALTHY: Unlike heavy oils, hair loc growth moisturizer has multiple purposes. Prevents dreads from damaging and drying out, stimulates your scalp for faster growth, and great for styling.
ORGANIC: Made using handpicked natural ingredients imported directed from India to ensure a premium, high quality oil. These loc products for hair are free of harmful sulfate and other hard to pronounce chemical ingredients.

Check Price

FOR ALL HAIR TYPES: Specifically made to help with any hair style or type. Whether microlocks, interlocks, dreadlocks, locks, braidlocks, braids, fauxlocs, twistlocks, or sisterlocks, this product will work for you.
HEAT PROTECTANT: Rosewater and glycerin helps in strengthening the hair, leading to less formation of split ends and damage. Glycerin is more effective with oils which is already masterfully blended.
LIGHTWEIGHT & HEALTHY: Unlike basic pure rosewater, this rosewater is blended with specific skin and hair conditioning oils for multi-purpose benefits. Refresh dry hairs, soothe dry itchy scalp, and encourage healthier loc growth and shine.
100% PURE ORGANIC: Made using superior all natural carrier and essential oils imported from India with no dilution. All of Lion Locs hair care products are free of harmful sulfate and other chemicals.
CONTROLS FRIZZ: Manufactured in USA from, this wonderful scented blend tames stray flyaway hairs and penetrates into locs to seals open hair cuticles and control messy frizz.

Check Price
11 Amazing Mohawk Dreads Girl Hairstyle
High-top mohawk dreads
Twister tie mohawk dreads
Undercut mohawk dreads
Black and white layered mohawk dreads
Long platinum mohawk dreads
Back bun mohawk dreads
Dreadlocks side braid and undercut
Mohawk with long dreads and loose hair
Mohawk with faux locs
Thin mohawk dreads with dip dye
Medium dreads mohawk with a design
Top 11 Mohawk Dreads Girl Hairstyle To Choose From
Mohawk dread hairstyles for women are well-known all over the world for their unique and modern taste in fashion statements, appearance, and sassy fads. However, a mohawk girl's style may vary from what you may see in a man.
While male Mohawks are slightly rougher around the edges, female mohawk hairstyles can be considered aesthetically graceful. Check out our following collection to know more!
1. High Top Mohawk Dreads
High-top dreads are similar to fade dreads. In that, the locs at the top center are left longer rather than cut away. The locs at the top of the head can be worn as long as you want. According to my thought, they look cooler when grown out and thrown forward. This provides flow and rhythm to the style.
You can see in the above black and white picture, the lady is having mohawk in her medium dreads so this is clear this won't be possible in the loner dreads as they will hide up your face, no?
2. Twister Tie Mohawk Dreads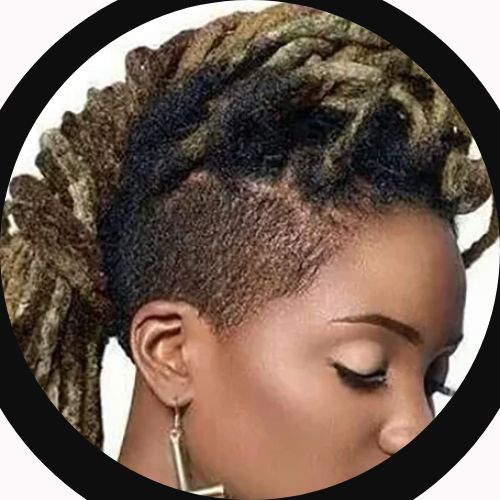 Mohawk dreads are the ideal technique to draw all eyes to yourself if you want to be the star of the show!
This look is comparable to a natural hair faux hawk. If you want this appearance, develop locs down the middle of your head while shaving the sides short. Because dreads can take months or even years to properly grow, you can put off trimming the sides until the locs themselves are ready.
In the above picture, you can see the lady has a shaved side with a big twister from the hairline to the back of the neck. The rest of the locs are tied in a loose pony.
3. Undercut Mohawk Dreads
Look how beautifully this white lady is carrying her dreads. You can also wear your dreadlocks with an undercut for an edgy and chic look. The undercut shaves the hair on both sides and the bottom of the hair. This will provide an interesting contrast while also adding structure to your haircut.
The best part? This type of undercut is excellent for saying bye-bye to the weight and bulk of the dreadlocks, making them simpler to handle and lighter. Therefore, it results in less stress on the scalp. The locs on the top of the head will seem thicker and fuller as well, making this a perfect alternative for shorter, smaller dreadlocks that are still growing out.
This undercut mohawk is ideal for someone who enjoys experimenting with their hair and enjoys bold decisions.
4. Black And White Layered Mohawk Dreads
This dreadlock Mohawk has a black and white hair combination. The Mohawk is composed of two layers. The vanilla blonde dreads fall down her back in a lovely fishtail braid interlaced with a few colorful threads of yarn.
The model's natural black hair is tucked up beneath it to support the Mohawk. She has a gorgeous hair tattoo on the sides that resembles a delicate lotus flower and complements the rose tattoo on her neck. Not only this, but the beads are also making her mohawk cuter and cooler.
5. Long Platinum Mohawk Dreads
Can you shave your head like her? Why not?
I understand, there aren't many women who are brave enough to shave their heads, but those who do are pure gems and deadly also. The rebel lady above has a hairstyle that is called a braided Mohawk with platinum dreadlocks.
Despite the fact that the woman has no noticeable tattoos, the sides have remained naked. However, doing so draws your attention to her hairstyle, which is precisely what you want to deal with!
6. Back Bun Mohawk Dreads
Want to get mohawk dreads but don't like to get shaved completely? Check the above picture. This implies that you can leave some tiny hair on both sides and the back of the head. She also has a slightly V-shape on the back of the neck.
Moreover, the bun part adds more beauty here. If you have thick locs you can slay this style with a mix of blond and white hair. The best part here is you can also leave your locs open.
7. Dreadlocks Side Bread And Undercut
If you have thick hair, choose a half-dreaded appearance to avoid suffocating in dreadlocks. This look has a deep undercut with just the top part in the locks. With a side braid, you may add a feminine touch to this hippy vibe.
Moreover, if you notice the image deeply you can see this mohawk dreads style is versatile. You can have a side braid, a back braid, or even a bun on the top. Do whatever suits your activity!
8. Mohawk With Long Dreads And Loose Hair
Make a dreadlock mohawk with the hair from the center of your head. The neatly cut sides and rear not only emphasize but also lengthen the dreadlocks. You may either keep your bangs free or dreadlock them.
Furthermore, see how beautifully the white lady is presenting her hairdo with beads and colored strands. Also, she is having one white loc which completely begs for attention at any place. For me, this one is a "ROCK THE PARTY" hairstyle.
9. Mohawk With Faux Locs
White faux locs have their own identity and uniqueness, but when they get infused with mohawk, it makes a deadly combination.
From the picture, you can understand mohawk dreads have nothing to do with the age factor. You can be a graceful lady with this hairdo. All you have to do is to have long faux locs with your sides shaved. The slight braid on the top can make you a lot more attractive to others.
10. Thin Mohawk Dreads With Dip Dye
You can never go wrong with this thin dreads mohawk style. This style offers you the chic look you crave for.
If you have thin dreads you can have this hairstyle with some down locs dyed in purple and green. They can be tied in a nice braid from the top of the head only. I think you may not need to be concerned about your face shape as this one will go gracefully on all.
What's more? This style seems more comfortable to wear because of the lightness of the locs. You will have less stress on your head.
11. Medium Mohawk With A Design
Mohawk dreadlocks styles can never go wrong. This dreadlock style is unique enough to turn heads. It also offers several variants, allowing you to be artistic with the designs you want to incorporate into the cut.
Frequently Asked Questions (FAQs)
Are mohawks for girls trendy in 2022?
Yeah, mohawk hairstyles have been identified as one of the popular haircuts for 2022. You will just need to shave your head on the left and right sides for this. The hair stays on the top of the head in the middle.
Can girls with long dreads have a mohawk?
Yes, lengthy dreads may achieve the mohawk style. A long-dreaded mohawk is a great alternative if you want to reduce volume while still looking incredibly fashionable. Your dreads can be tied in a ponytail.
Can you have loose hair and a dreaded mohawk at the same time?
Yes, you can definitely have. You can have dreads at the center and loose bangs at the front. 
Can a mohawk look good?
With the locs on top mostly brushed back, the look is less wild and bold. However, a hawk may be tailored to meet even the most professional of settings.
What kind of people wear mohawks?
The mohawk has traditionally been associated with rock musicians and others, however, anyone who wants to have a cool and daring look can have a mohawk dreads style.
Now, It's Your Turn!
Alas! It's a wrap. As I said, you can never go wrong with mohawk dreads. You can make your appearance rebellious, daring, unique, and artistic while having mohawk dreads of style.
Luckily there are many mohawks dread styles available from simple undercut with medium dreads to designed undercut with beaded dreads. Whatever you choose I promise you will get everyone's attention.
Since I told you a bundle of mohawk dreads style, choose and get one now. Don't forget to share in the comment section your favorite mohawk.
Read Related Articles: