Dreads are already attractive but when you fuse mohawk and dreads, it makes you stand out of the crowd.
Since the release of the mohawk dreads style, new and cool styles keep coming in. Whether it's a pony tail or a top knot dudes are experimenting with mohawks with mind blowing dreads styles. And that's what this article is about. I brought you 15 superb mohawk dreads styles. All mohawk dreads styles are daring enough on their own, they have the potential to draw major attention to you.
Check out!
Best Products To Takecare Of Dreads
The Evolution of Mohawk Dreads
Hairstyles that are creative, complex, and eye-catching may often express more about your personality than words could ever do. Mohawks Dreadlocks are a hairstyle that has always piqued the interest of others owing to its distinct attractiveness.
As dreadlocks provide some of the greatest aesthetics in the hair field, when combined with a mohawk, it provides the right amount of edginess, which is an essential ingredient for most haircuts nowadays.
The mohawk hairstyle is a basic one. Request that your barber cut the sides of your head to 0.2 to 0.5 inches, creating a robust and thick strip of hair in the center of your head. That's it!
Afterward, it depends on you how you want to style the center or remaining locs.
15 Mind Blowing Mohawk Dreads Style
Mohawk dreadlock styles range in length from exceptionally long to extremely short and anything in between. Whether you've been wearing dreads for ages or are just starting out, these images are guaranteed to give you excellent mohawk dreadlock styling ideas. We'll look at the various options you may wear mohawk dreadlocks hairstyles below. See!
1. The Twist Or Double Twist DreadHawks
If this is your first time having mohawk dreads then a double twist or a short twist is a perfect beginning point. The hair is twisted in such a manner that it locks and the roots begin to dread.
By adding shaved mohawk sides to your dreads, you may start growing them without that odd-looking in-between stage, as well as make them seem less bulky while still having a very unusual and distinct style.
2. Long Hair Mohawk Dreads
Dreads may be a little wild and chaotic if you have thick hair. If you want to minimize the volume while still flaunting a really stylish appearance, a long dreaded mohawk is a perfect option.
He has an undercut with a long mohawk tied into a ponytail in the picture above. To give clarity to your hairstyle, try including one long blonde lock.
3. Short Locs On Mohawk
Get a short haircut with a mohawk for a unique look. In the picture above, he has a small layer behind his shorter dreadlocks, which he has fashioned out simply for a spidey look.
4. High Top Dreads Mohawk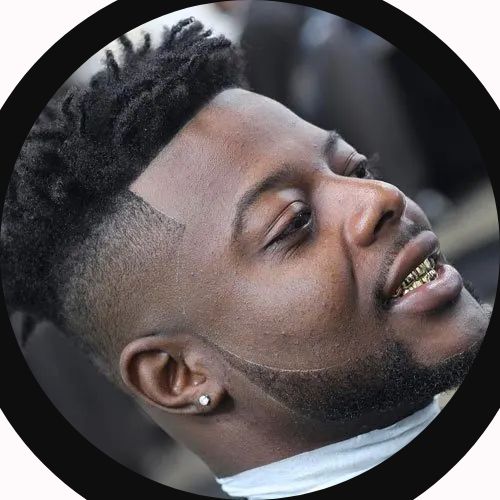 High-top dreadlocks, or even undercut dreadlocks, is one of the greatest and coolest dreadlocks with mohawk types to have since they are easy to handle and manage.
The trim fade on the back and sides maintains the hair short, whereas the top is longer. The top dreads may then be left loose, pushed back, knotted up, or groomed—whatever you choose.
Furthermore, high-top dreads may be trimmed and worn In a lot of different ways, but practically all of them are chic and sophisticated.
5. Dyed Mohawk With Bun
This look is an example of how different details work together to produce a distinctive look. The braided blond Mohawk rests high on top of the head, wonderfully contrasting with the black roots.
Finally, a smooth faded side merges into a crisp shaved line and cross sign on the backside.
6. Criss Cross Dreads Mohawk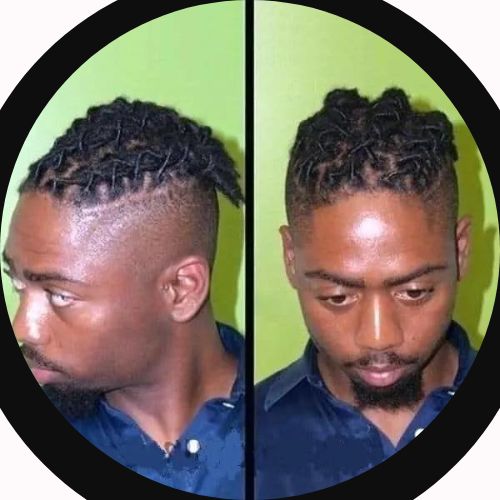 Though if you only have a few dreads, there are plenty of dread hairdos for guys that you can love to wear. This style is ideal for any male who desires a fairly significant dreadlocks look, irrespective of length, thickness, or quality.
In the above picture, you can see how nicely he has shaved the sides and made a criss cross braid on the center of the head. That's pretty cool!
7. Tribal Mohawk Dreads
If you're a newbie to having dreadlocks but don't like the uncomfortable phases of growing your hair, consider acquiring a tribal mohawk. This appearance is appropriate for people of all ages. From children to teenagers, for formal and informal meetings, tribal mohawk dreads will never make you feel or seem unprepared in any manner, shape, or form.
The tribal mohawk dreads appeal to people with short dreadlocks and have a highly sharp yet distinctive look. Because of the short length of the dreads, the person's hair has a texture with greater density and thickness. The sides have typical fade designs, mostly to boost the pop-up of this choice and eliminate uncomfortable edges.
8. Medium Locs With Undercut
Because of the trimming back and sides, the locs steal the show. Short dreads are often easier to manage for men than longer ones. Having the bottom haircut also provides a fresh depth.
In the picture above, you can see how medium dreads are falling here and there freely. This thing is making this man more attractive and unique.
9. Fire Flame Locs
Who said you cannot have dye on your dreads? Obviously, you can!
If you're looking for that "omg" effect, this is the way to be. With shaved sides and two bright colors on top of your head, anyone who doesn't remark "good lord" must be bothered by something else.
This style bleeds uniqueness and ensures that anyone having it, has a fabulous experience.
10. Bulky Mohawk Dreads
Black males adore complex deadlock hairstyles that showcase their likes and convey their personalities. You can see this man has a very tight and clean hairdo.
Do you want this? Create an ear fade on the sides and a link between the beard and the short haircut. Roll your dreadlocks into a neat mohawk with average height for the top.
11. Dread Mohawk With Shape UP
This on point haircut, also known as the shape up or edge up, is a fantastic look to pair with dreadlocks. It entails leveling the hairline and cutting sharp lines and complex edges into the hair all around the brow, temples, and back of the head. However, this style can be done in short, long, or medium dreadlocks length.
Thus, if you like a more structured and pristine appearance, this is a perfect choice for you.
12. Back V-shape Mohawk Dreads
This hairstyle is a wonderful method to add volume and texture. Adding a v-shape to the hair at the back will allow you to tug into a mohawk.
In the above picture, you can see how a white guy is carrying his V-shaped mohawk perfectly. Also, you may get an idea that this mohawk dread style can be done in the medium as well as long dreadlocks.
13. Balance Mohawk Dreads
Try this hairdo for a really rocker flair. This rock'n'roll look has bald sides and long flowing dreads that can be styled in a mohawk easily. If you pay close attention to the picture you can see he is also bald from the back side of the head.
These dreads are crazy—tie them or let them wave in the air!
14. The Labyrinth Mohawk Dreads
There is simply no other alternative when you decide to get this look. It should be done by an expert to avoid it seeming like a tangled mess of locs. See how the picture is speaking perfection!
Considering its complicated appearance, this is a very amazing option to maintain and provides a really distinctive look to a conventional dread.
15. Two Part Mohawk Dreads
Mohawks are often formed by one long "strip" of hair running from the brow to the nape of one's neck. Bring forth your sense of style by braiding your dreads into two tight braided sections.
Make a crisscross pattern with dreadlocks and color a mix of loose strands of bright red to bring literally the entire appearance together.
Frequently Asked Questions (FAQs)
What is a mohawk haircut called now?
The mohawk hairstyle was invented when people started having their heads shaved from both sides. Nowadays, the mohawk is also known as Mohican.
Are mohawks in style in 2022?
Yes, mohawks hairstyles have been found as one of the trendy haircuts of 2022. In this, you will have to shave your head from the left and right sides only. The hair remains on the center top of the head.
What mohawks look good on shorter dreads?
High-top dreadlocks, or even undercut dreadlocks mohawk or one of the greatest and coolest mohawks dreads types to have when you have short dreads on your head.
Can long dreads get a mohawk?
Yes, long dreads can definitely flaunt a mohawk look. If you want to minimize the volume while still flaunting a really stylish appearance, a long dreaded mohawk is a perfect option. You can tie your dreads in a ponytail.
Is it necessary to get half bald for having a mohawk?
Shaving your head is the core ingredient of a mohawk haircut. However, it is not necessary to get bald completely, you can have a faded trim on the sides of your head.
Now, It's Your Turn!
Mohawk dreads style is taking its place in the top trending haircuts. You can also get one and stand out from the crowd. Due to its wide range of cool and fun hairdos, the mohawk dreads seem so attractive and unique. Do tell me are you getting one? Which one do you like the most? 
Read Related Articles: