I think black men are so lucky in terms of hair texture, I mean, they can easily turn their hair into this or that. Mohawk dreads already inspire me, as do crochet locs and braids. And now, two-strand twists are making me crazy. A hairstyle you get by twisting two sections of hair around one another until they meet at the ends.
So out of my excitement, I rode through different sites just to see how these black buddies are carrying two-strand twists. Luckily, I collected 60 stunning two-strand twists hairstyles for black men looks, BOOM!
It's time to twist, boy!
1. Pineapple Two-Strand Twists Hairstyles For Black Men
Create a sleek and textured look with a pineapple two-strand twist. From the above picture, you can guess why I am calling this style "pineapple". It's fun and ideal if you want to show your unique personality.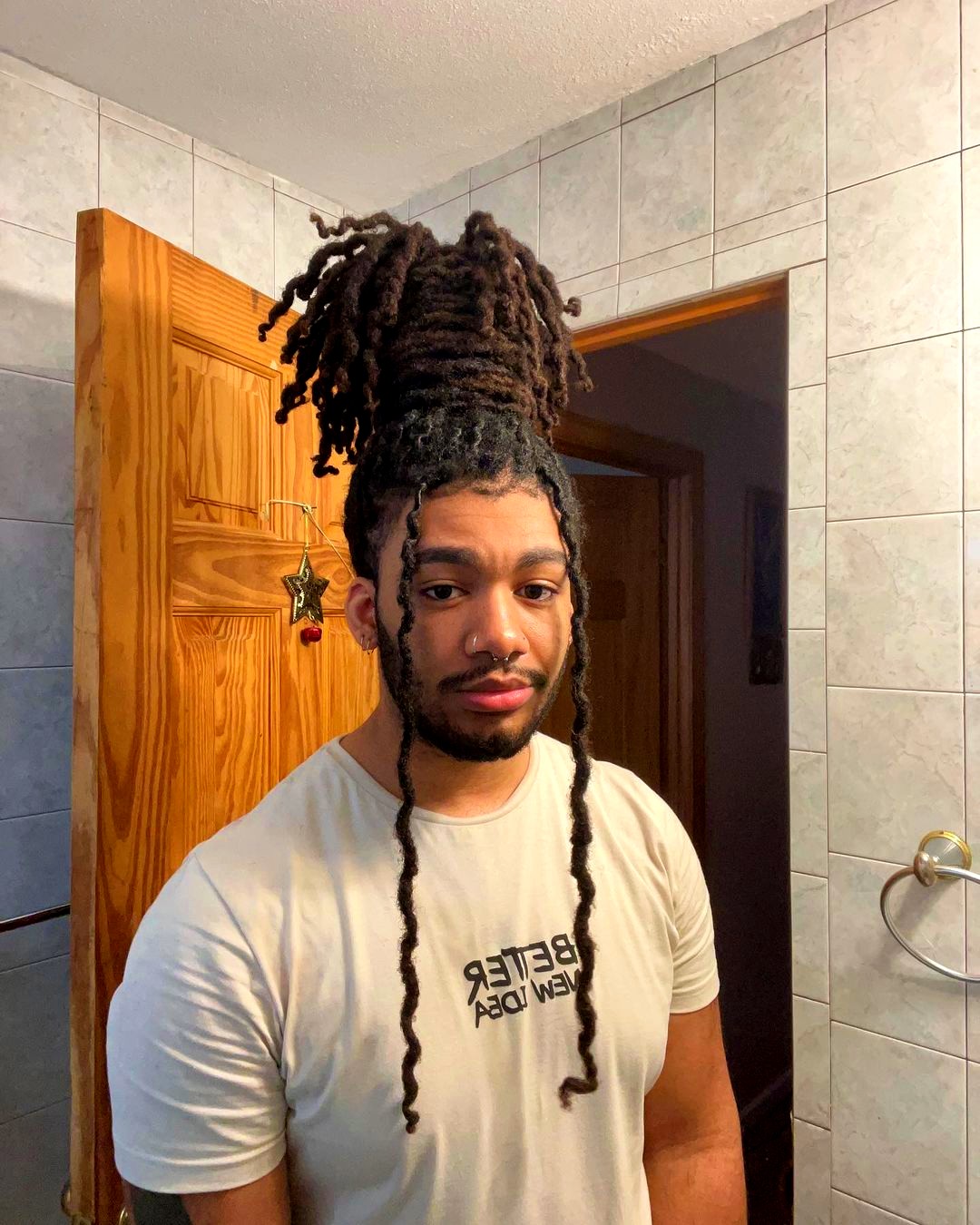 2. All Down
If you have short hair, an all-down two-strand twist is one of the easiest-to-maintain and quick hairdos you can get. No side or center parting, just twist them and leave them.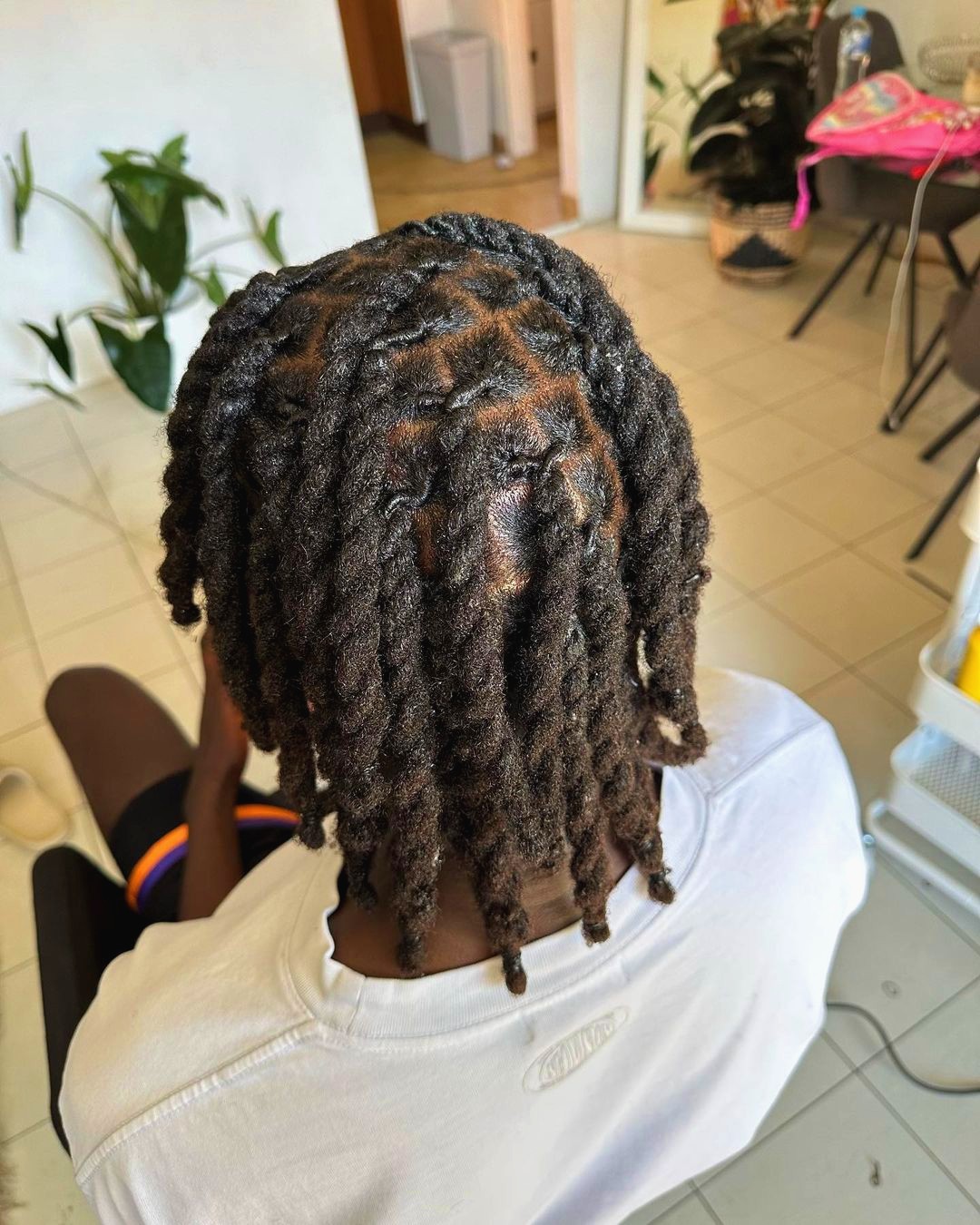 3. Part Down With Bun
Want to show off your lengthy locs but don't want them to fall over your face? A part-down bun with a two-strand twist is a perfect choice. This effortless and sophisticated appearance is perfect for any occasion. Moreover, if you want to keep your bun in place, I would recommend you use soft gel.
4. Two Strands Twist Low Ponytail Blonde & Black
This low ponytail with a blend of blond and black twists correctly provides depth and structure to your locs. Ideal for people who want to make a dramatic statement while still looking elegant and professional.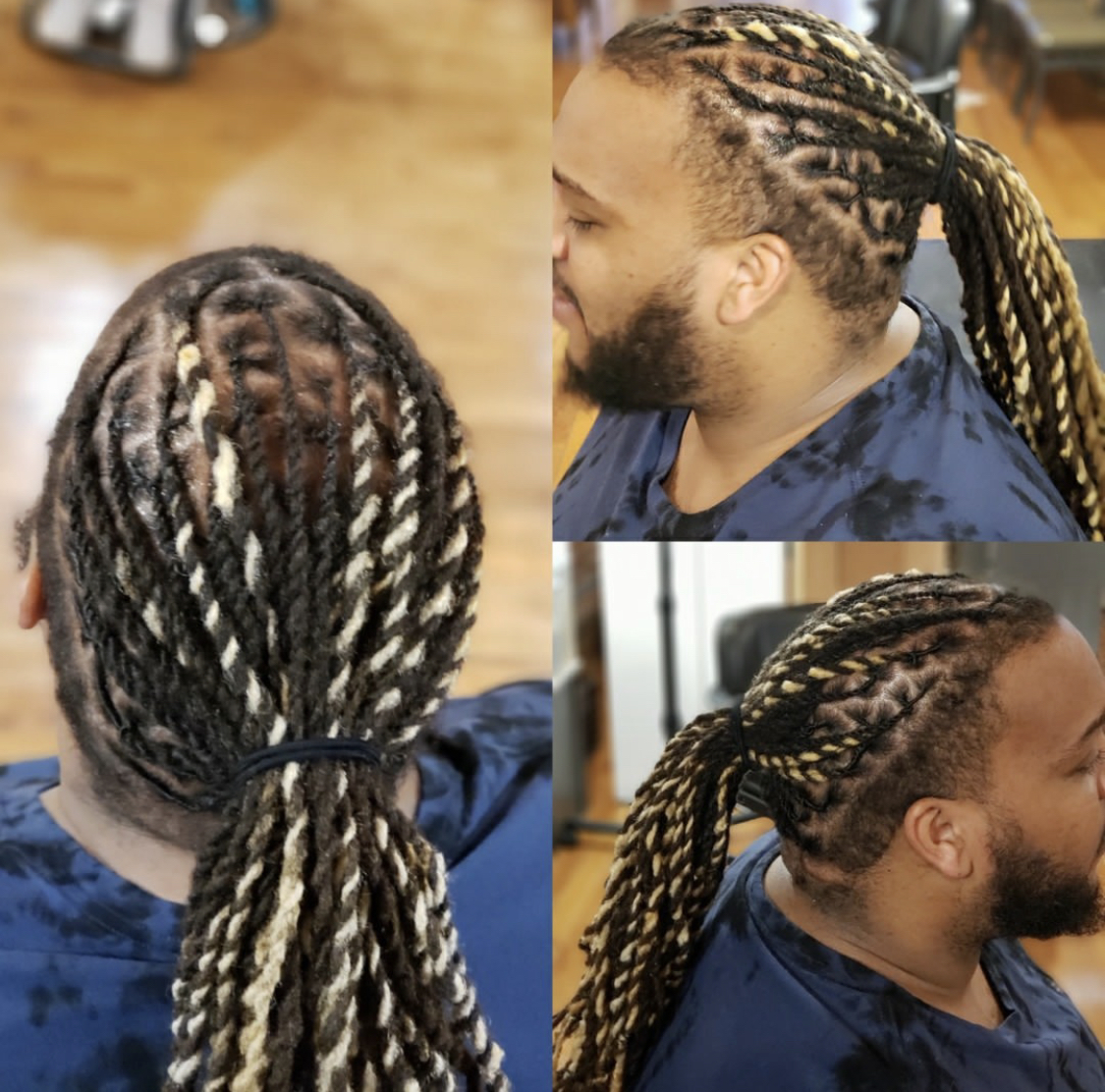 5. Tight Two Strand Twist Ponytail
What's better than all tied locs? If you want style plus comfort, go for a two-strand twist tight ponytail. No matter whether your hair is medium or long, this look adds sophistication and funkiness to your personality. Make sure to get some loose and sturdy hair bands specifically made for thick locs.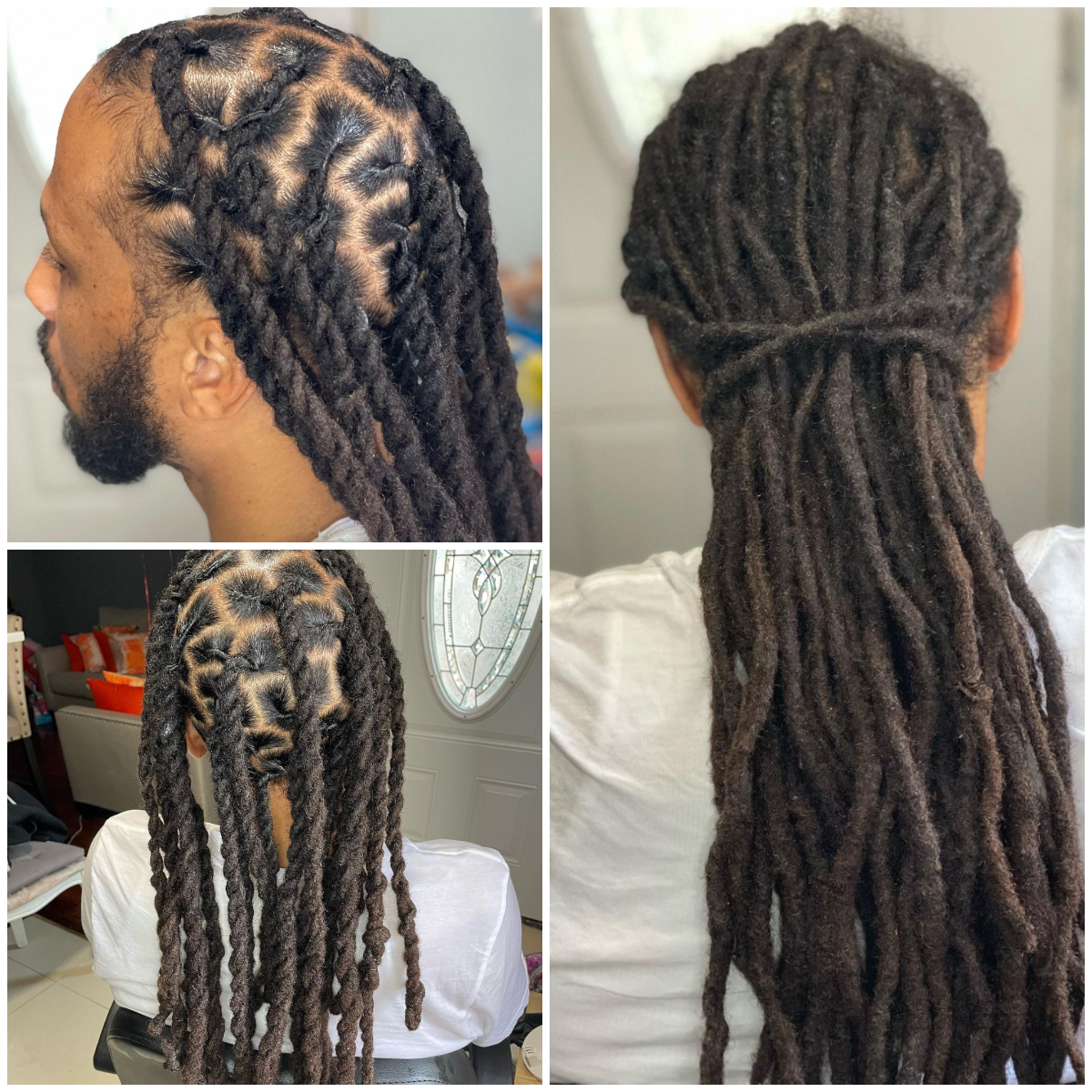 6. Freestyle Two-Strand Twist
Freestyle two-strand twists create a rope-like effect. You can see how the above stylist tied the upper and lower ending of the twist with rubber bands. It's super easy, you can try this at home.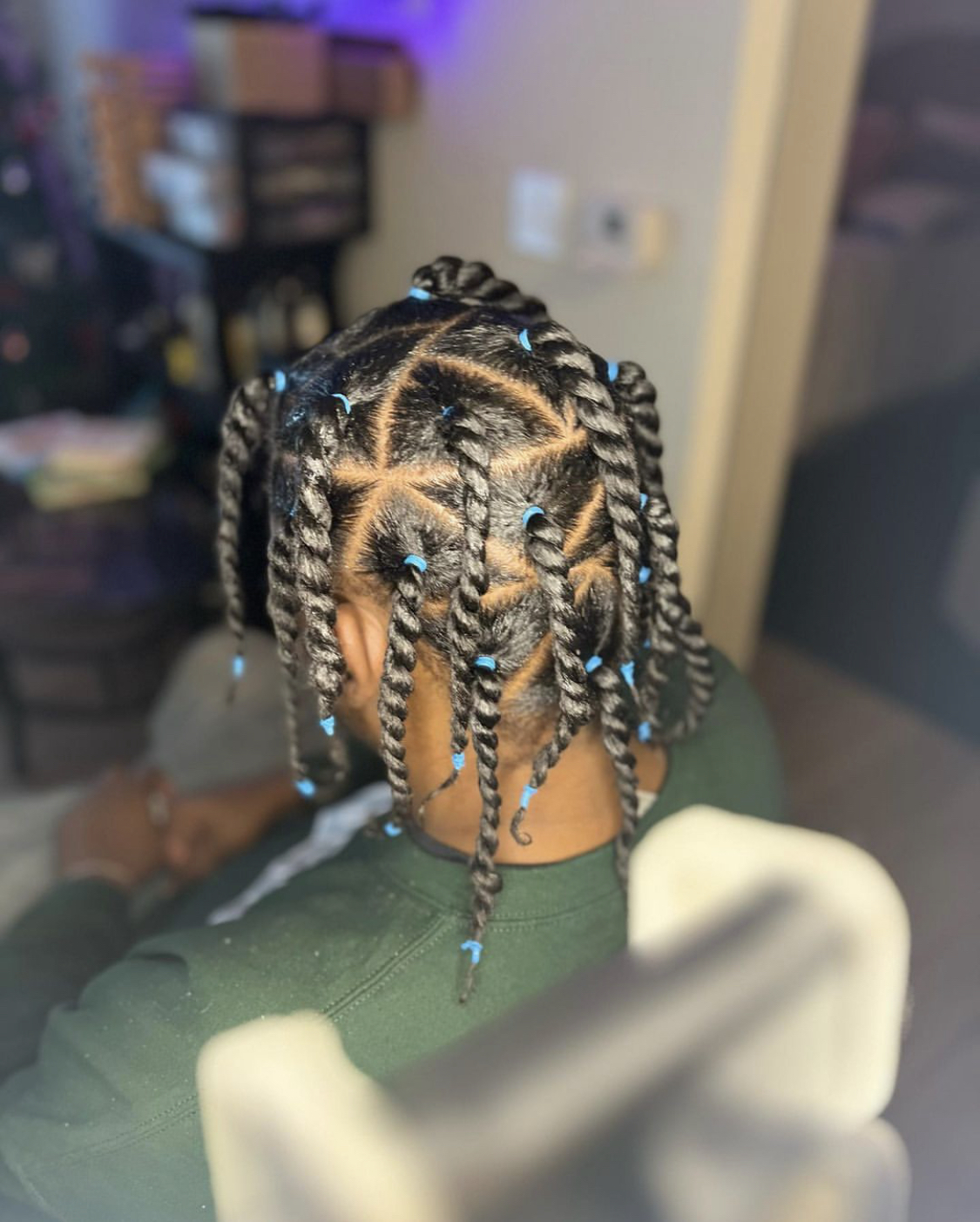 7. Faded Front 2 Red & Black Two Strand Twist
Imagine a mix of fade, colors, and twists. Cool, no? A blend of black and red two-strand twists with a side fade is enough to grab anyone's attention. You can also leave two strands loose at the front.
8. Shoulder Length Two Strand Twists
No doubt, a shoulder-length two-strand twist strikes the perfect balance between sophistication and simplicity. No matter a casual day or a special occasion, this goes with all.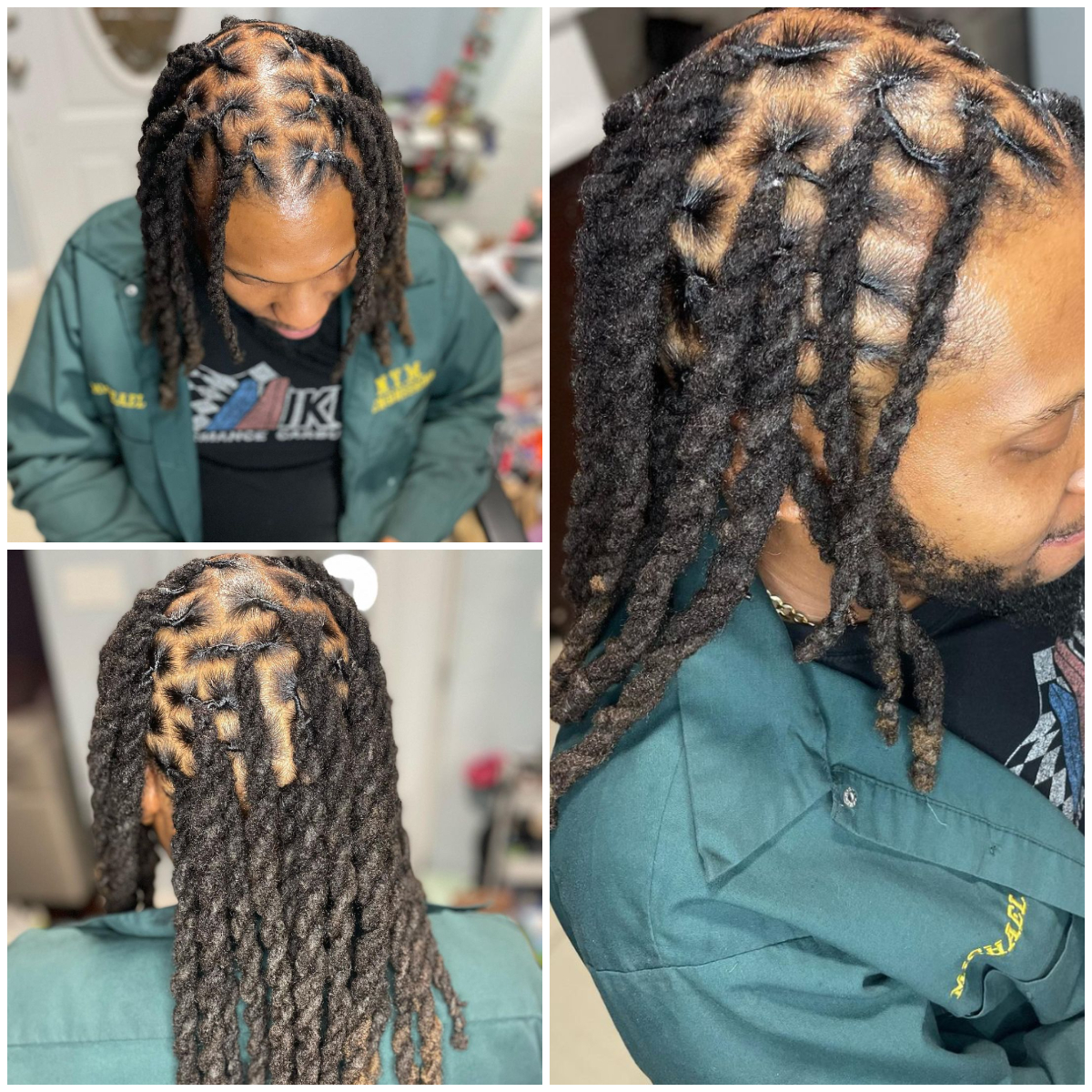 9. Triangle Parts Two Strand Twist
If you want to combine the artistry of triangular partitions with the classic appeal of a two-strand twist, choose this one boy. I may not be wrong if I say, it is a fusion of geometry and texture.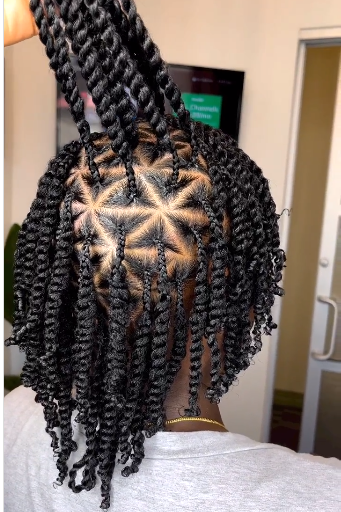 10. Two Strand Twist Low Bun
Have you ever thought of having 4 two strand twists on your head? If not, then think of this. You can get this stylish hairdo by twisting and dividing your hair into 4 strands and then tying them in a small bun. Super easy and cool!
11. Heavy Two-Strand Twist Bun
Are you thinking of having some boldness and comfort at the same time? Rock and roll with this heavy bun. The weighty charm of a chunky bun and two-strand twists can turn those heads quickly. But yes, loc pins are a necessary accessory for this hairdo.
12. Long Thick Two Strand Twist
Let's celebrate the richness of your hair. Try two strands of twists on your long hair to play with your length and volume.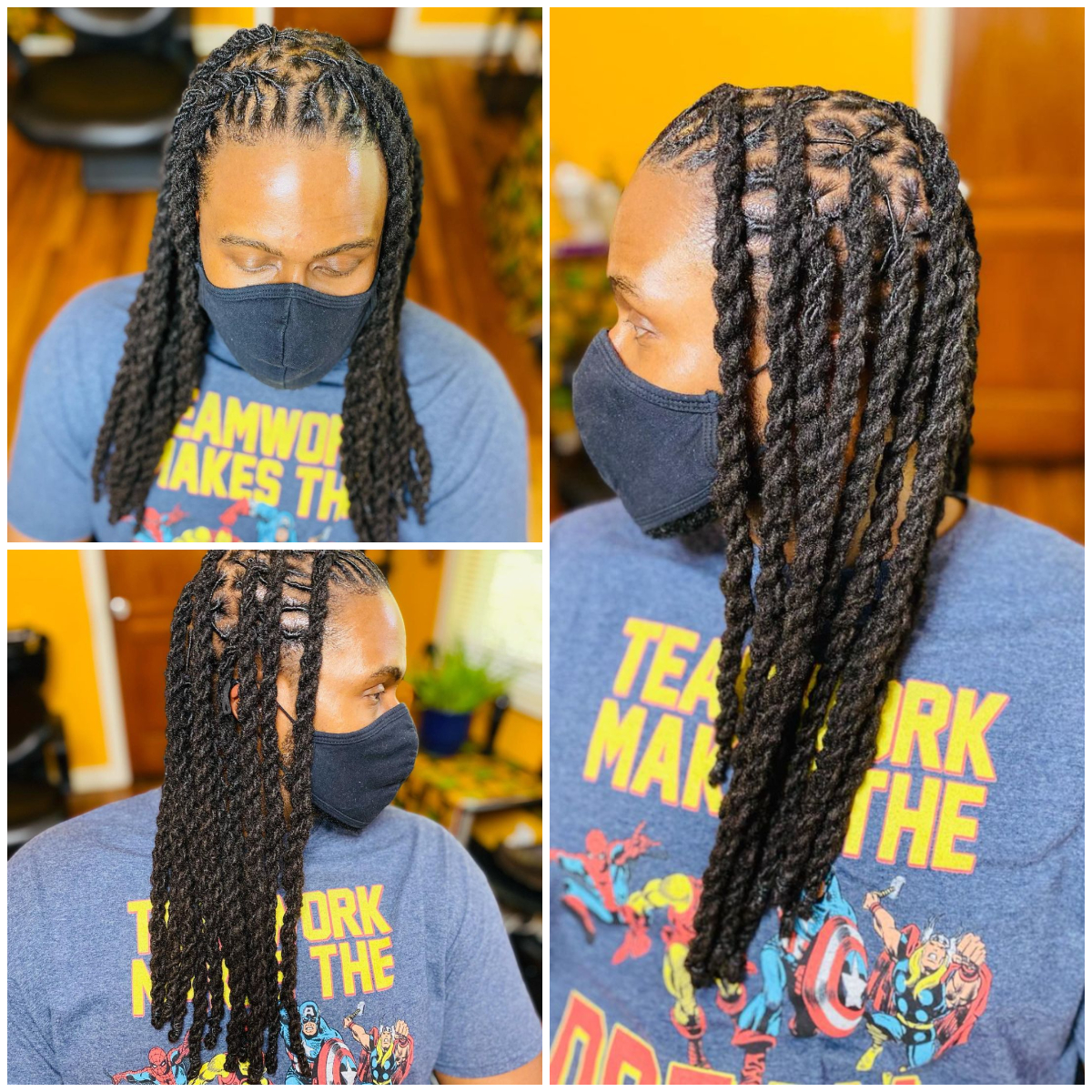 13. Straight Hair Two Strand Twist
If you've lately straightened your hair, put it in gorgeous twists like this to keep it unique. You can remove the twists for a wavy appearance weeks later.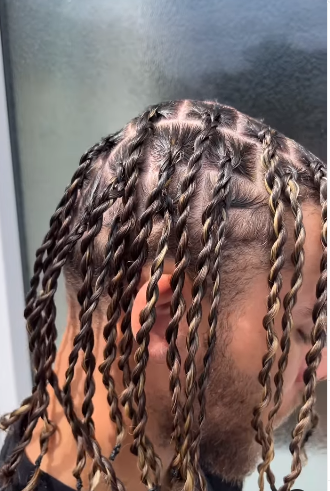 14. Half Tied Two Strand Twist
Half-up and half-down hairstyles can never go out of fashion.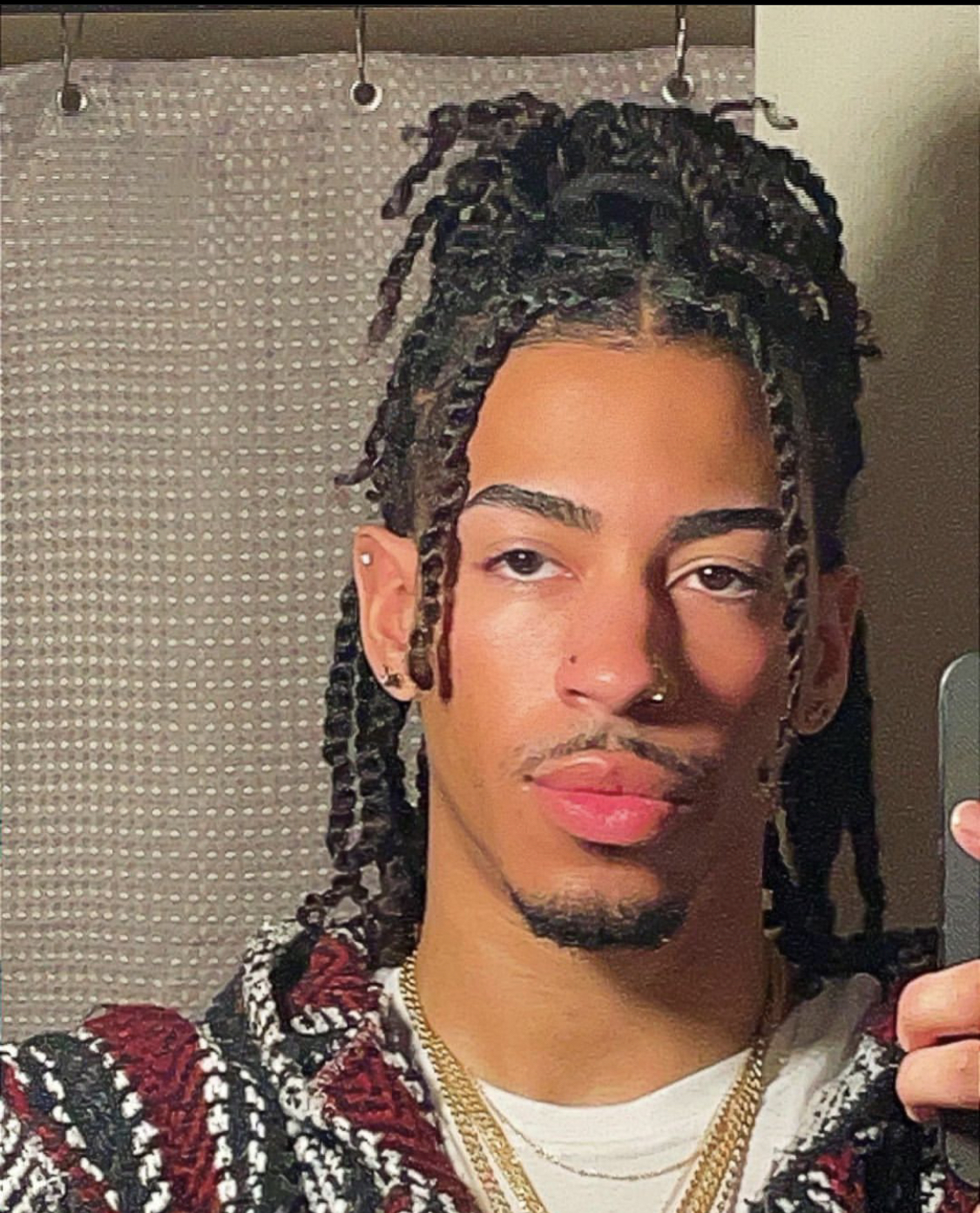 15. Large Significant Twist on Silky Hair
This captivating style brings the clear structure of silky and straight hair with two-strand twists. So don't worry if you have straight hair, this picture is proof that you can still slay twists on your head.
16. Pineapple With Half Down
It is a chic hairstyle that brings the playful charm of a pineapple updo with two-strand twists. The top portion of the strands are gathered into a high and voluminous pineapple while the lower half showcases the texture of your strands.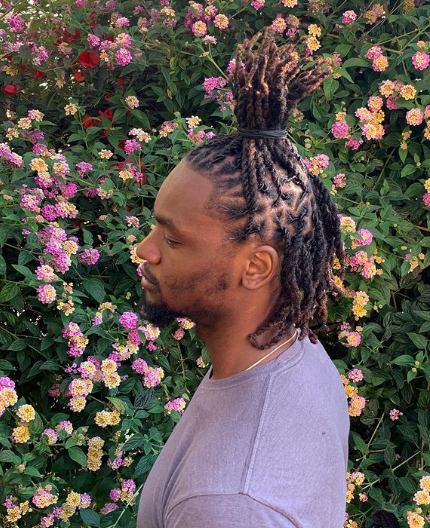 17. Twists With Fade
Wanna get a clean and neat hair look? This two-strand twist with fading is for you. It maintains a very clean high fade with superb definition on the sides, and the top is neatly tied. Want to add more hotness? Keep a little chin beard and moustache with it.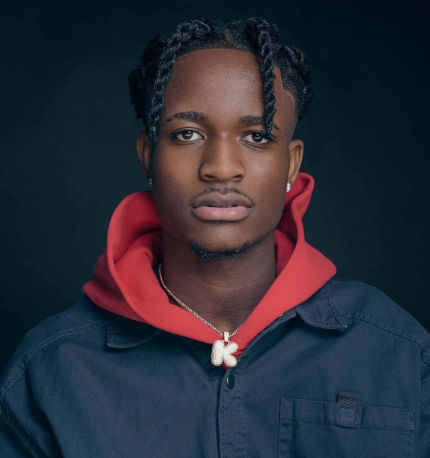 18. High Pony Two Strand Twist With Fade
A high ponytail is an excellent technique to handle medium to short, thick hair. You may even add a shave-in pattern to the sides to liven up the look.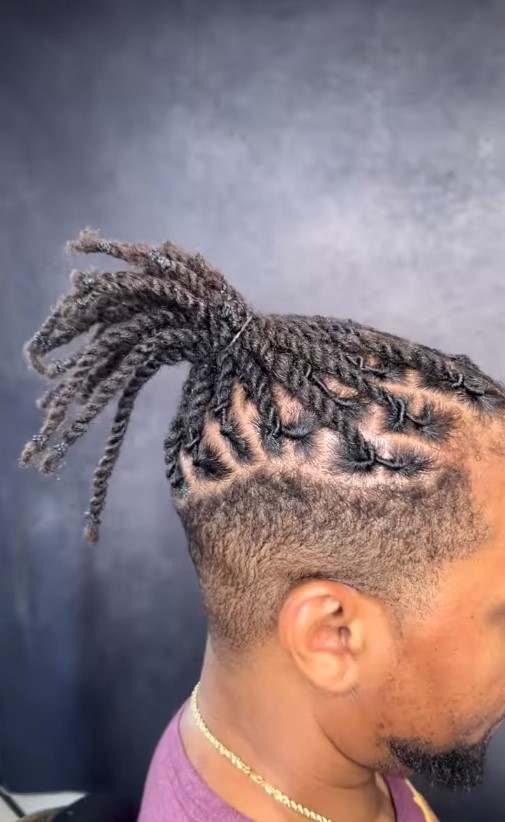 19. Kamikaze Two Strand Twist
For a bold, edgy, and next-level hairdo, you should opt for a Kamikaze two-strand twist. The name "KAMIKAZE" hints at the fearless energy of this style. I would say this passionate look embodies uniqueness in itself.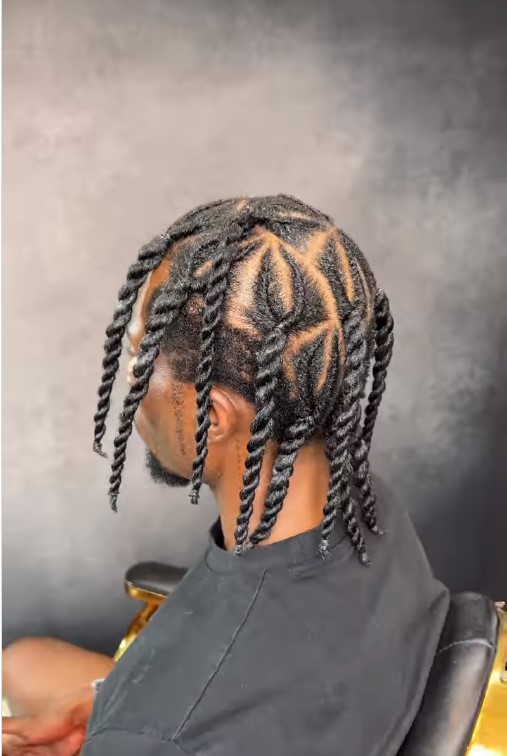 20. Centre Parted Two Strand Twist
Opt for a center part to gently frame your face and highlight the graceful length of your hair. I assure you, you will receive a multitude of compliments as you release the twists for a fabulous twist out.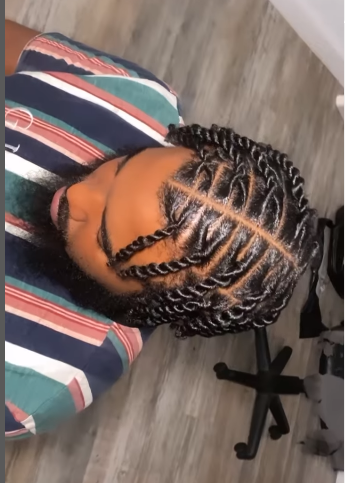 21. Dip Dye Two Strand Twist Medium Length
The modern trend of dip dye can go well with almost every type of hairdo. This is the reason, two-strand twists are rocking dip dye in the above picture. Primarily men go with the golden dip dye touch, but you can choose any of your preferences.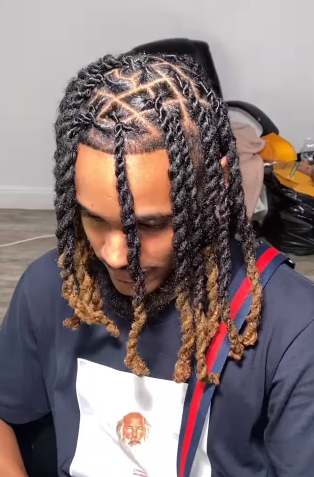 22. Half Bleached Half Black Two Strand Twist
With this style, half of the twists are boldly bleached while the other half remains black. The intriguing interplay between the two contrasting shades shows how one can make a statement with his hairstyle.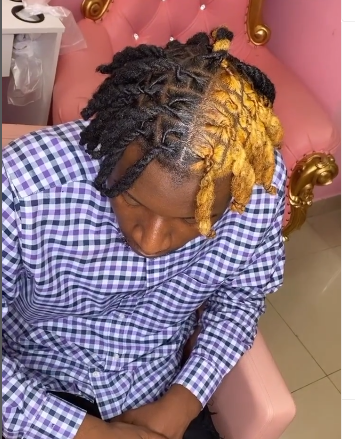 23. All Tied One Loose Two Strand Twist
I am impressed how Timaa Slayz gathered and tied all the two-strand twists even though they are short in length. However, one twist is left loose on the front for a sexier touch.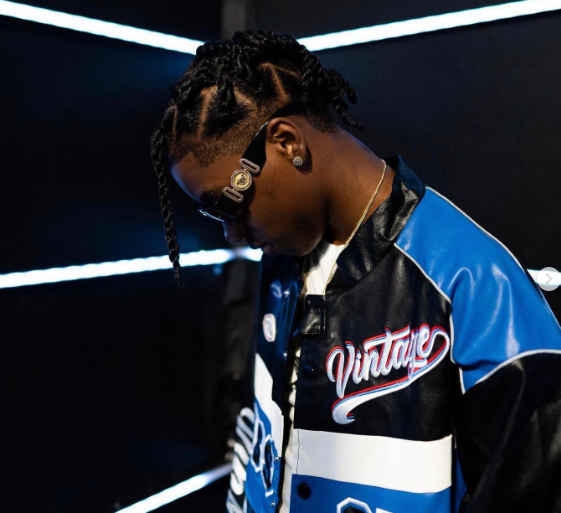 24. White Two-Strand Twist With Black Roots
If you want to do something daring, get your hair dyed white and then get two strands twisted. I would say, this look has a very nice white-wolf appeal.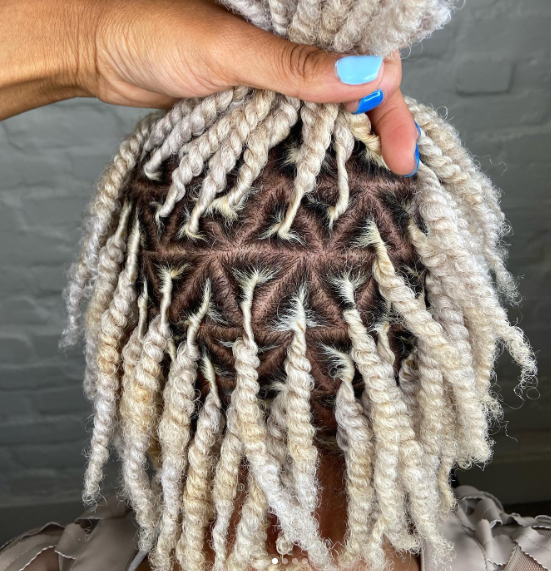 25. Extremely Dense Long Two-Strand Twist
An intensely sexy dense two-strand twist is a great way to show off your bossy personality. They might not be so easy to maintain, but you can use a moisturizing spray for a better appearance.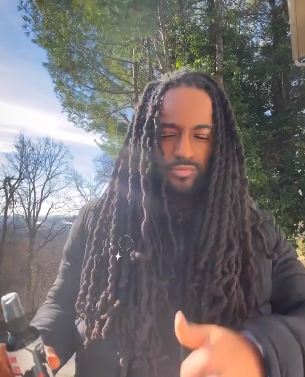 26. Upper Flat Short Two Strand Twist
Precision and sleekness go hand in hand when you have an upper flat, short two-strand twist. The twists are closely aligned with the scalp, giving a flatter and clearer appearance.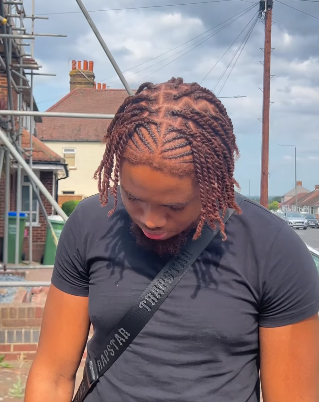 27. Two Strand Twist With Beads
This style is solid proof that beads of various shapes, colors, and sizes can be threaded through the twists for a more dynamic and decorative hairstyle.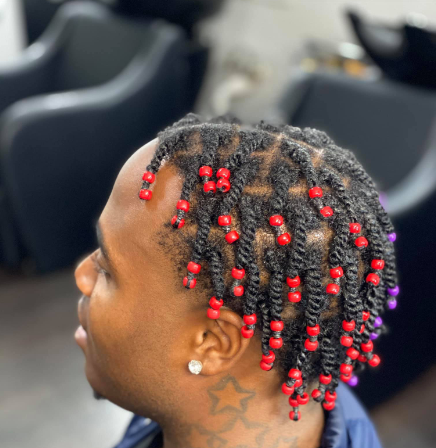 28. Grids Two Strand Twists
The grid-like pattern with a two-strand twist not only showcases neatness but also gives an artistry appearance.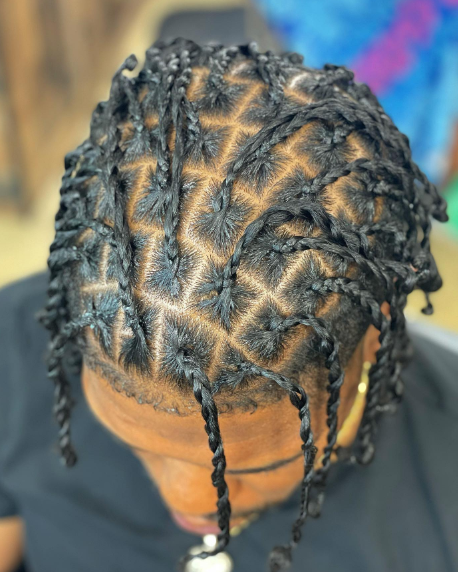 29. Two Strand Twist With Honey Blonde Shade
Want to add a sun-kissed radiance to the twist? The honey-blonde two-strand twist is your answer. They go great in every season and occasion!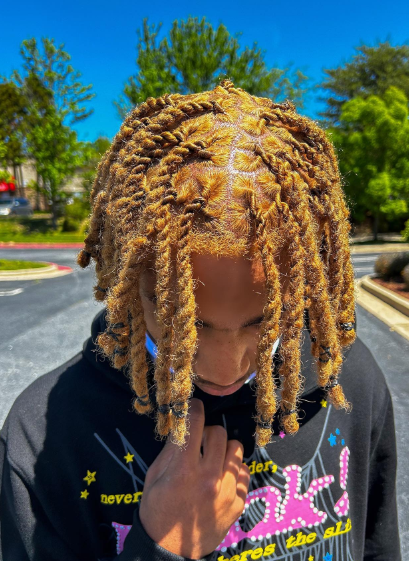 30. Red Boxed Thick Two Strand Twist
Red box thick two-strand twist is a definite bet for those who enjoy being the centre of attraction. The best part of this is you can achieve this style on hair type, whether thick or thin. Make sure to match your hair colour with your beard for a cooler look.
31. Copper Two-Strand Twist
Pair your two-strand twist with the richness of copper hue. It offers a radiant display of warmth and depth.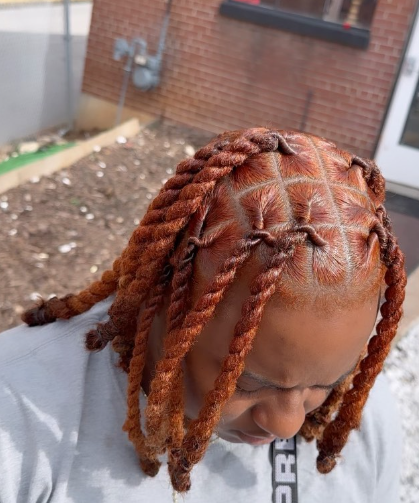 32. Cornrow Mohawk With Two Strand Twist
If you want to attempt a Viking style but aren't geared up to shave the sides, consider twisted cornrows.
33. All Back Zig Zag Two Strand Twist
In this style, the hair is meticulously divided and twisted into a zig-zag pattern that follows an "all back" direction. No doubt, an attention-grabbing choice!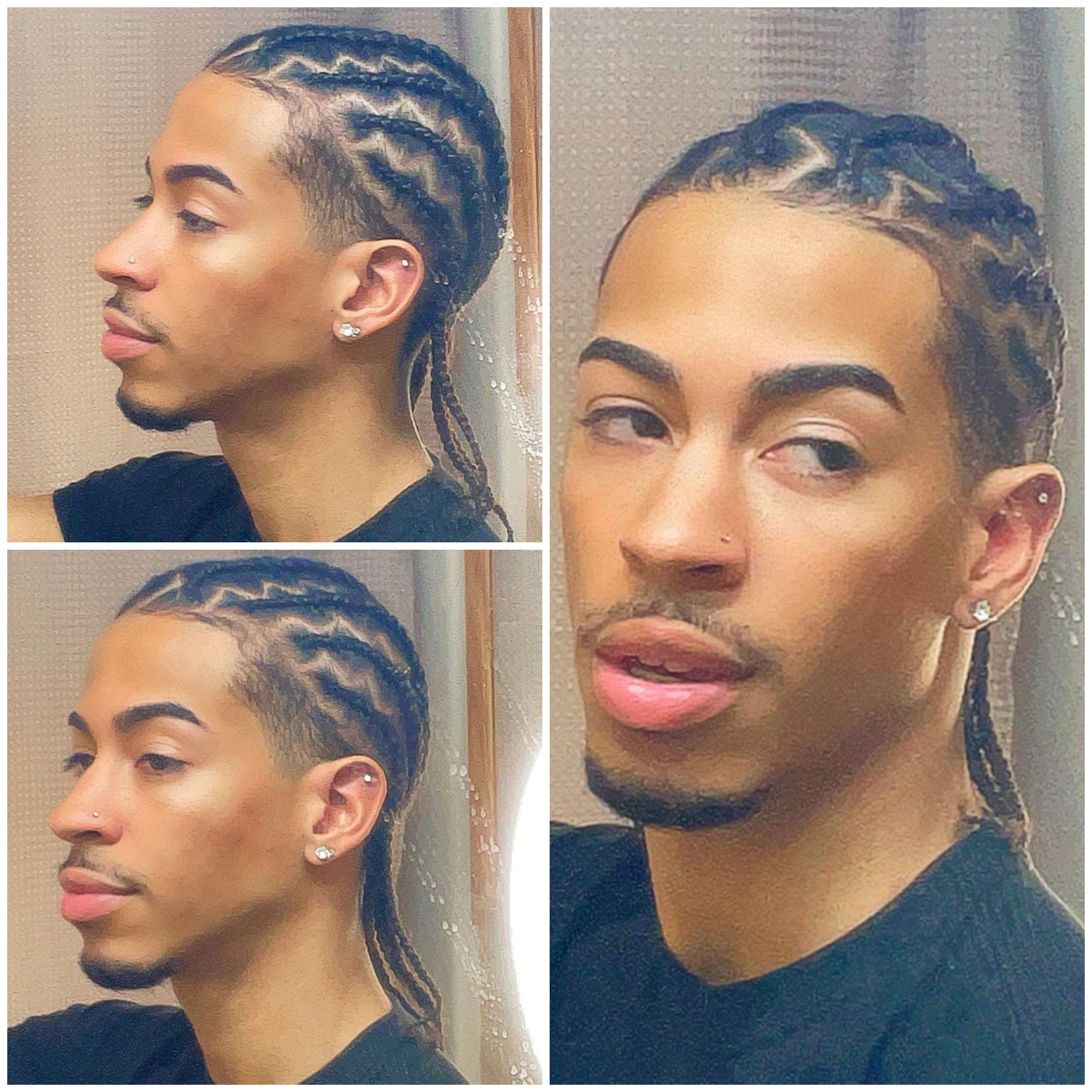 34. Too Short or Mini Two-Strand Twist
Short locs with natural twist styles are stylish and unique, making them an excellent choice for men who want to make a statement in the midst of a crowd.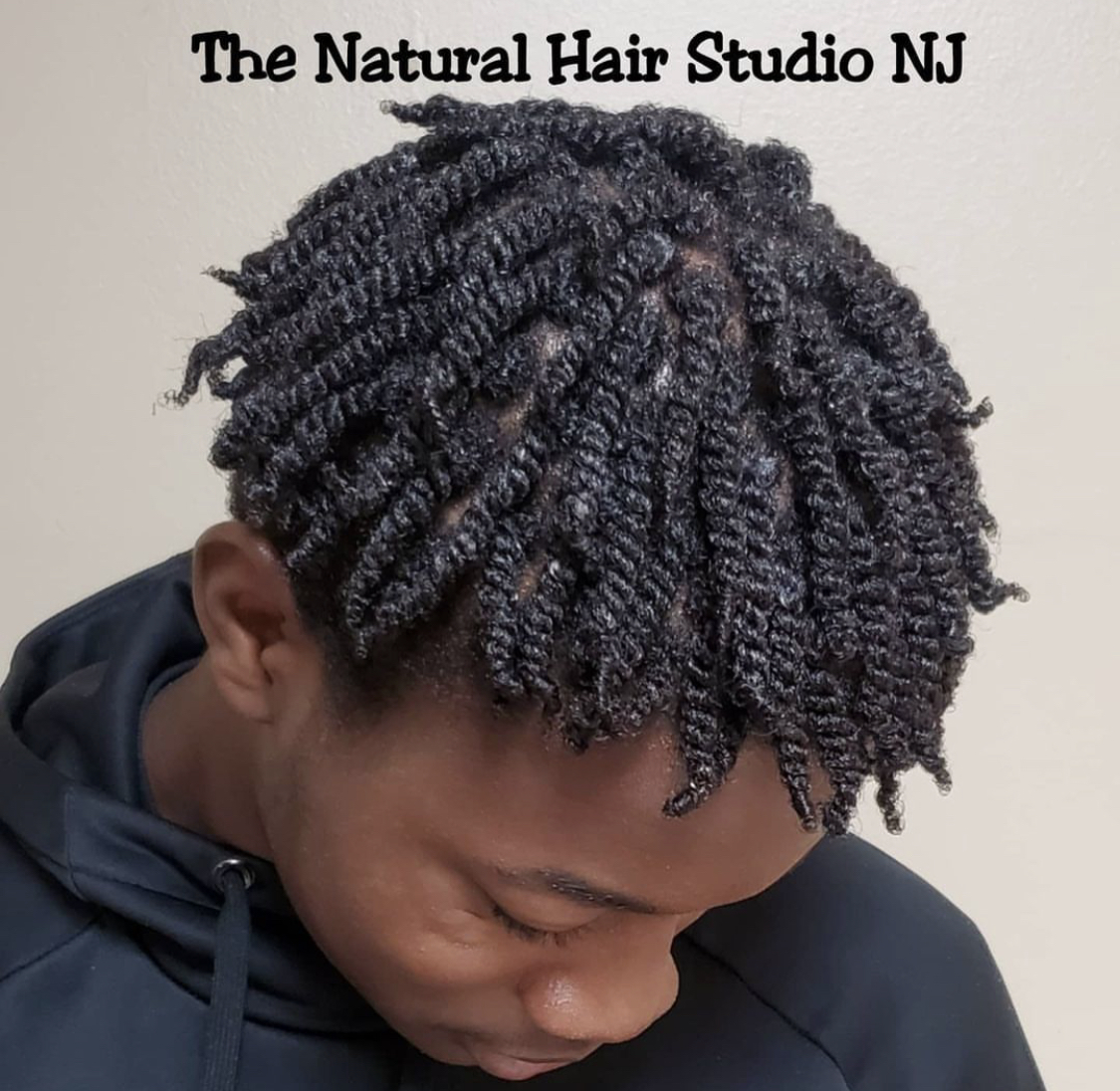 35. Needle Like Long Two Strand Twist
Here, precision is used in the twisting, resulting in tiny and elongated twists that mimic the smooth lines of needles.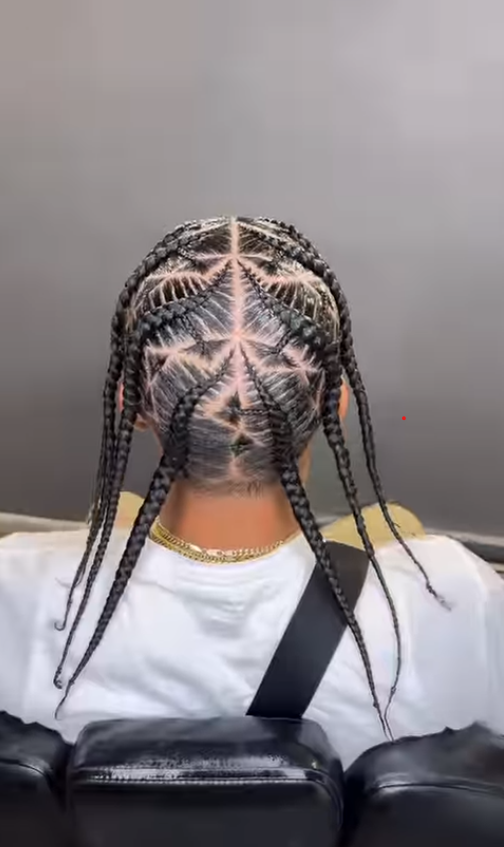 36. Centre Parted All Tied Back With Barrel
The balanced and symmetrical parted two-strand twist with barrels is the perfect way to rock a distinct personality.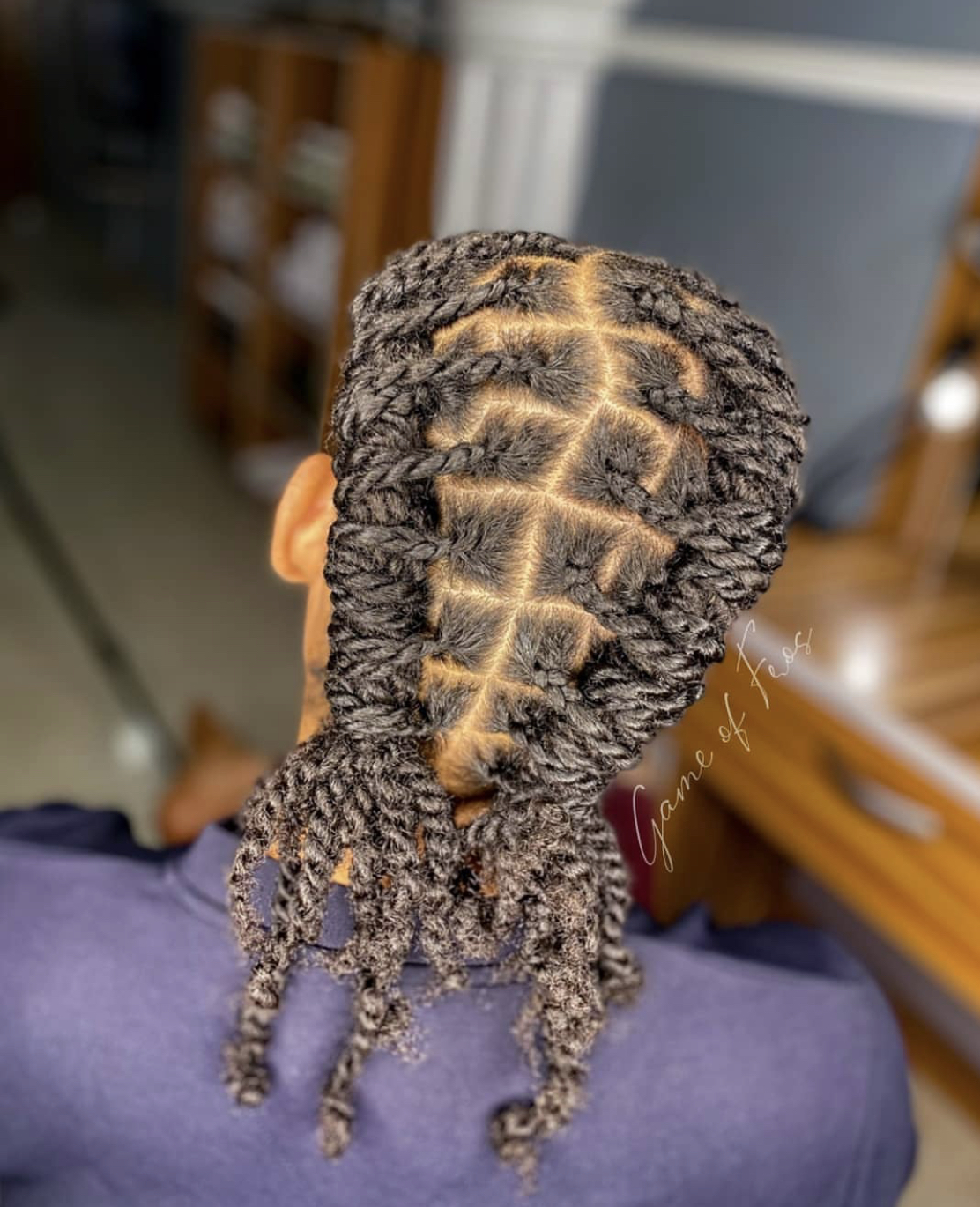 37. 4 Loose With Big Bun On Top
A two-strand twisted big gun on the top of your head can show how daring you are. This dense bun will reveal the most formidable side of yourself, no?
38. Custom Color Two Strand Twist
Twists are a great option for men with thick hair. So if you add some dramatic highlights, people will have no choice but to gaze your way.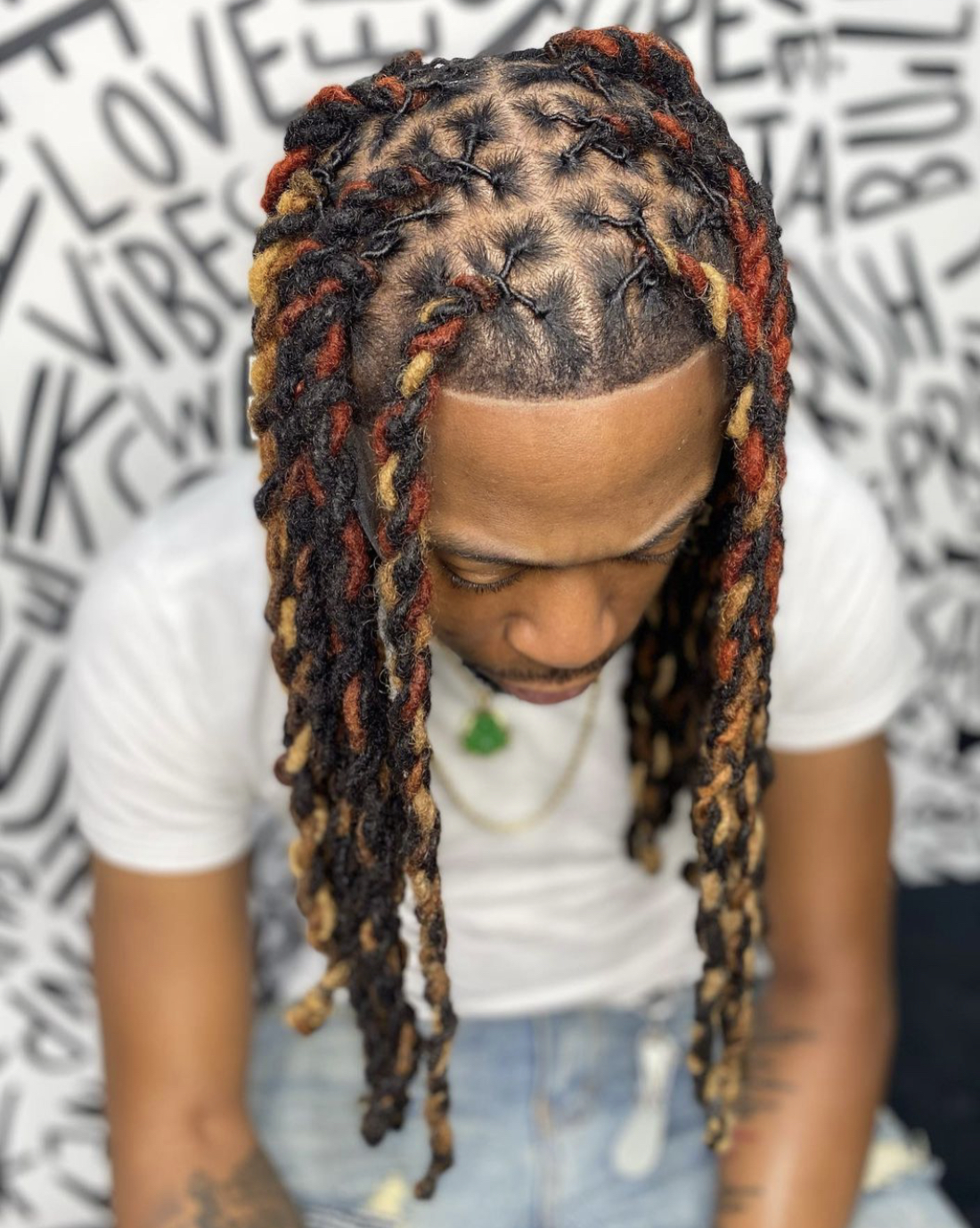 29. Side Cornrows and Two Strand Twist
The harmonious blend of tight, close-to-the-scalp side cornrows and texturized twist is the best option for men with artistic personalities. Eyes get stuck when you see braids turning into twists.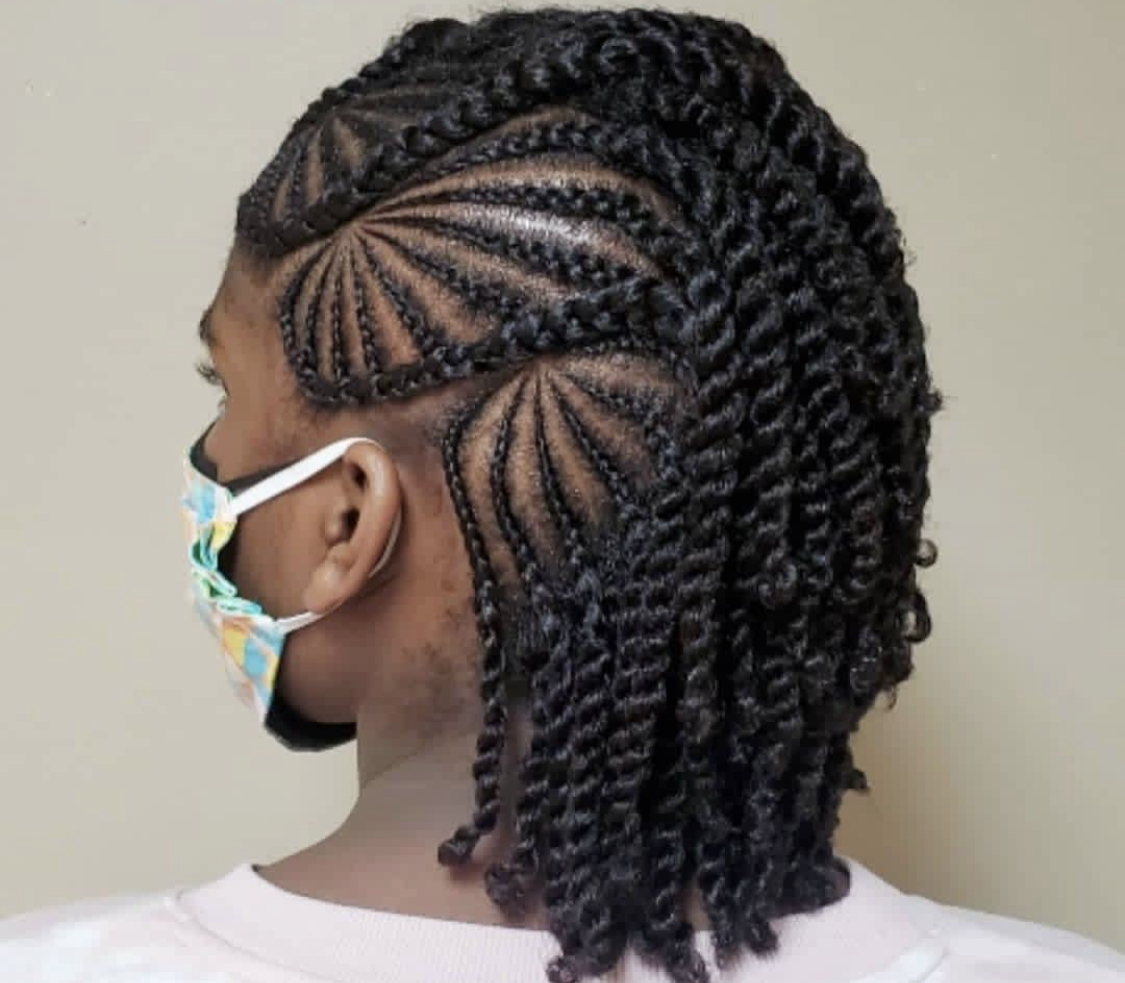 40. Crab Like Two Strand Twist
A flaming red color only on the top of your head with short twists is a deal maker. It is an excellent way to make your hairdo stand out from the crowd.
41. Barrel Two Strand Twist
How to do an exciting barrel on the most traditional and admired two-strand twisted hairstyle? Try braiding your twists into three barrels that wrap around your head for a flat, two-strand twist look.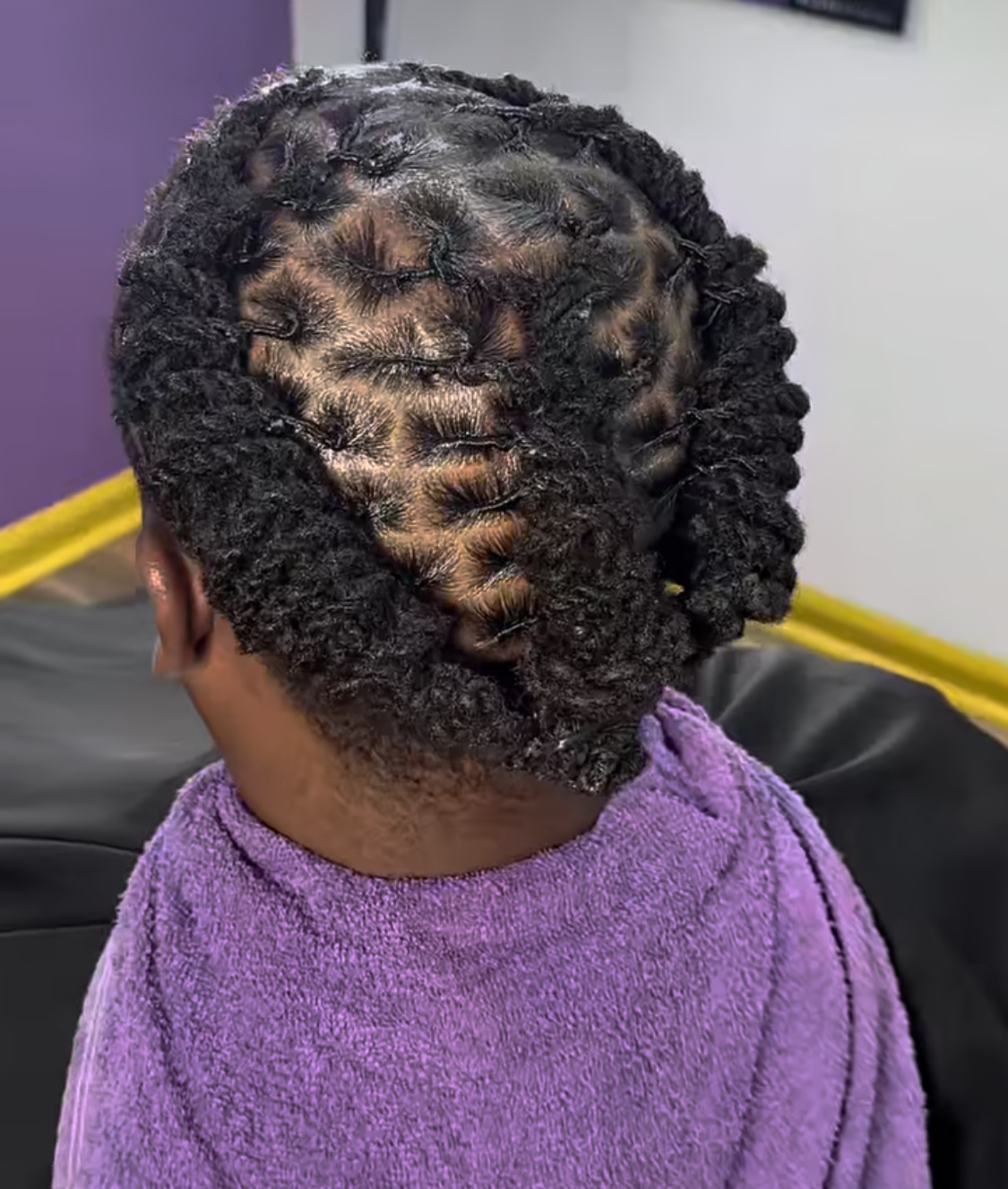 42. Full Custom Color Two Strand Twist
This creative hairstyle elevates the traditional two-strand twist by blending it with a bespoke color shade that expresses your special sense of self.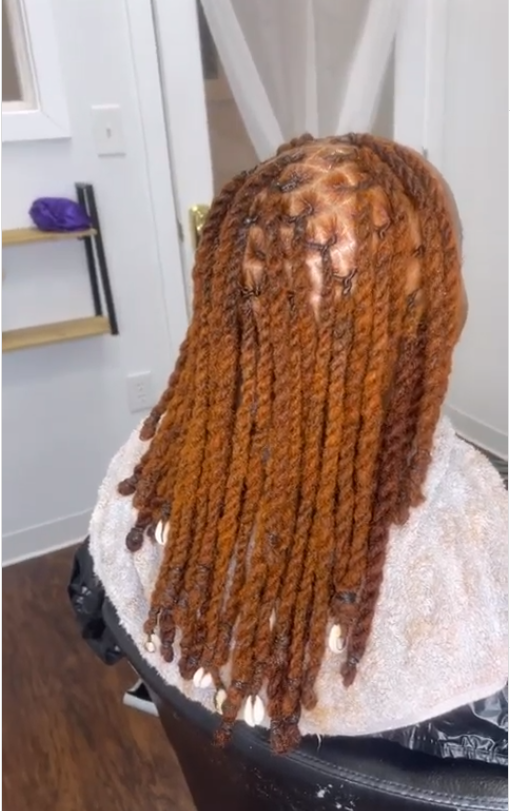 43. Knotted Barrel Two Strand Twist
A knotted barrel two-strand twist with a fade is nothing but a chic style to carry in any season or occasion. Since it is tightly packed, it offers a comforting and no-mess hair look.
44. Jumbo Two Strand Twist With Undercut
The jumbo two-strand twist is like a lot of caterpillars in the center of your head. Jokes apart, this style is not only unique but also caters to those who have starter locs or tightly coiled hair types.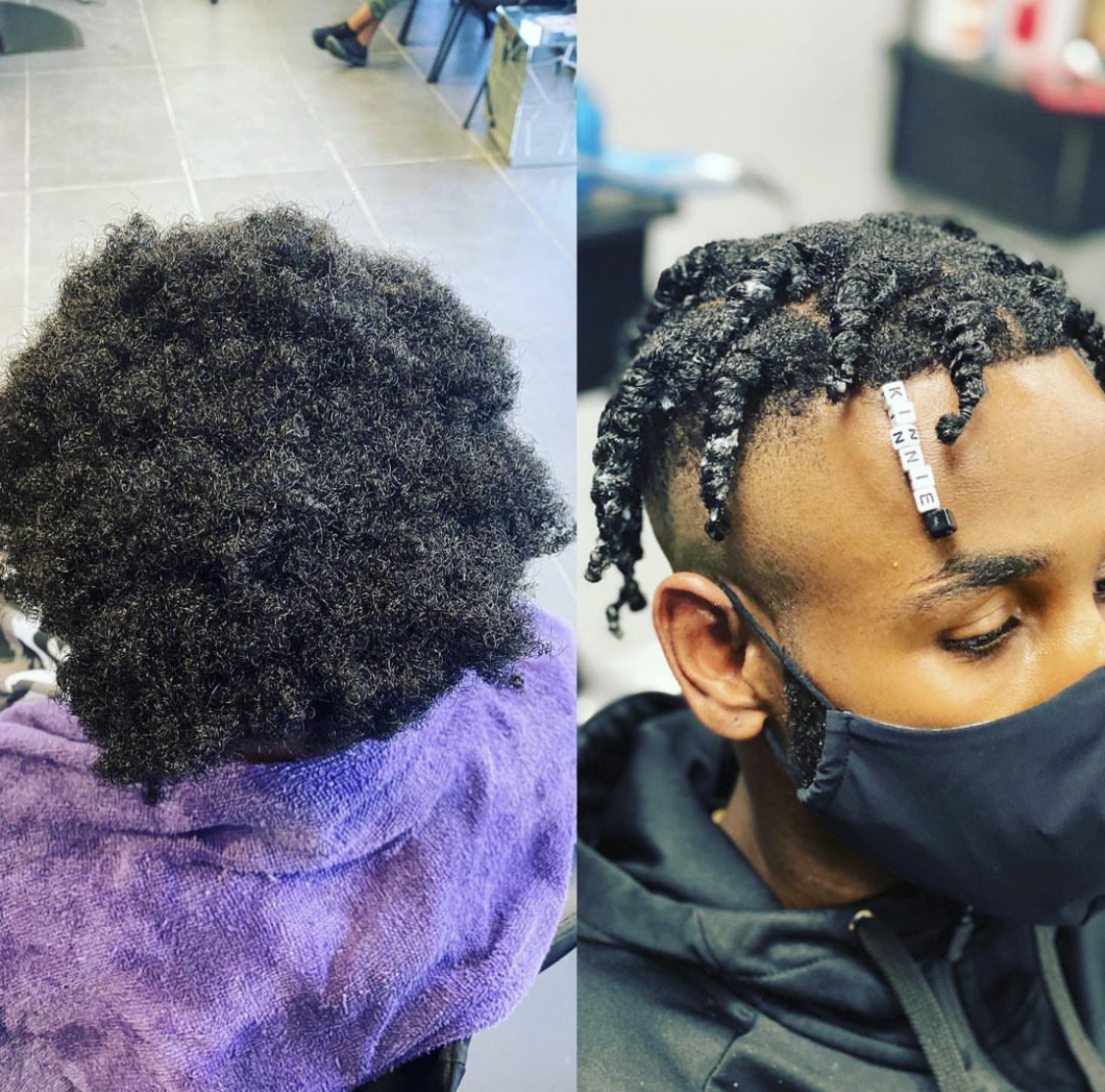 45. Criss Cross Two Strand Twist
The crisscrossing twists provide flow and mystery to the hair. People are going to drop their jaws.
46. Red & Blue Two Strand Twist With Side Braids
The Red & Blue Two-Strand Twist, enhanced by elegant side braids, will infuse colourful vitality into your look. This innovative combination combines the richness of red and the coolness of blue which matches well with people with a jolly mood.
47. Four Barrel Roll Two Strand Twist
This hairdo combines the intricacy of a two-strand twist with the volume and definition of four-barrel rolls. You will get a really dynamic and textured appearance.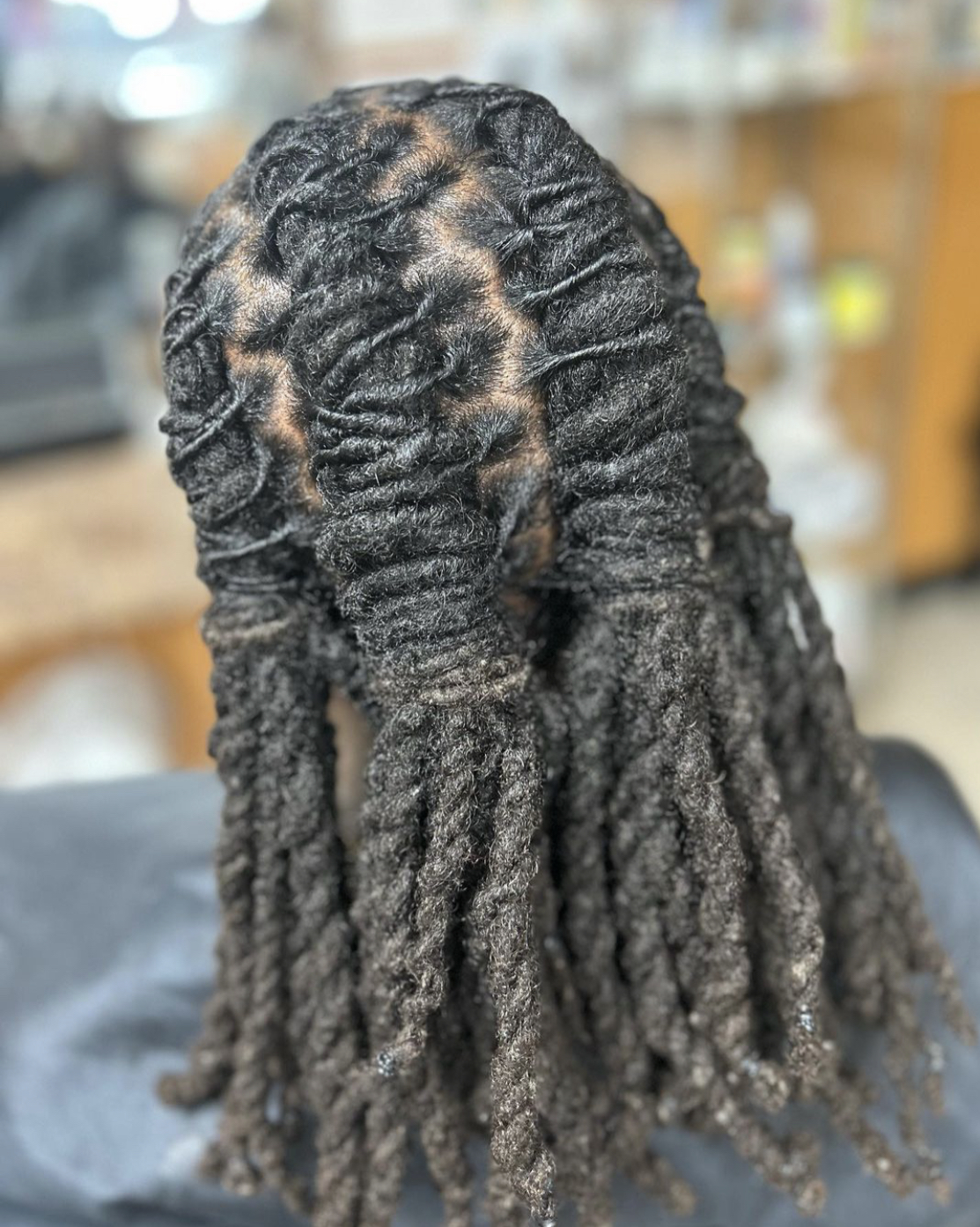 48. Low Taper Fade Two Strand Twist
These short twists are ideal for folks with allergic scalps who dislike too much burden on their scalp.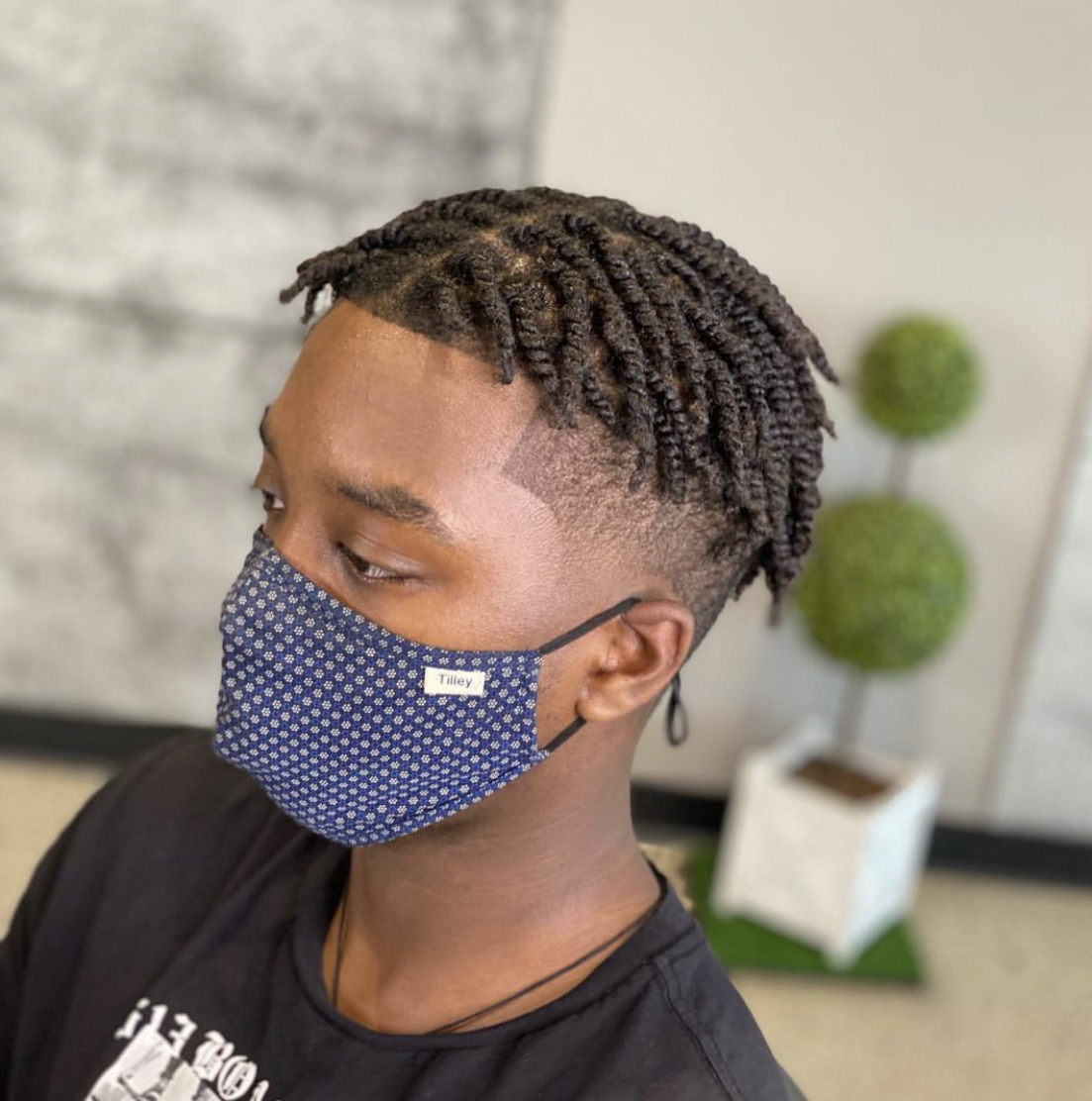 49. Two Strand Twist & Three Braids
Adding an edgy haircut is a guaranteed way to enhance your twists. A basic yet crisp line-up haircut with two-strand twists and three braids can assist you in achieving the ideal impression.
50. One-Sided Black & Blonde Two-Strand Twist
The one-sided black and blonde two-strand twist is a modern take. So if you want to follow the trend while keeping yourself unique, go for it.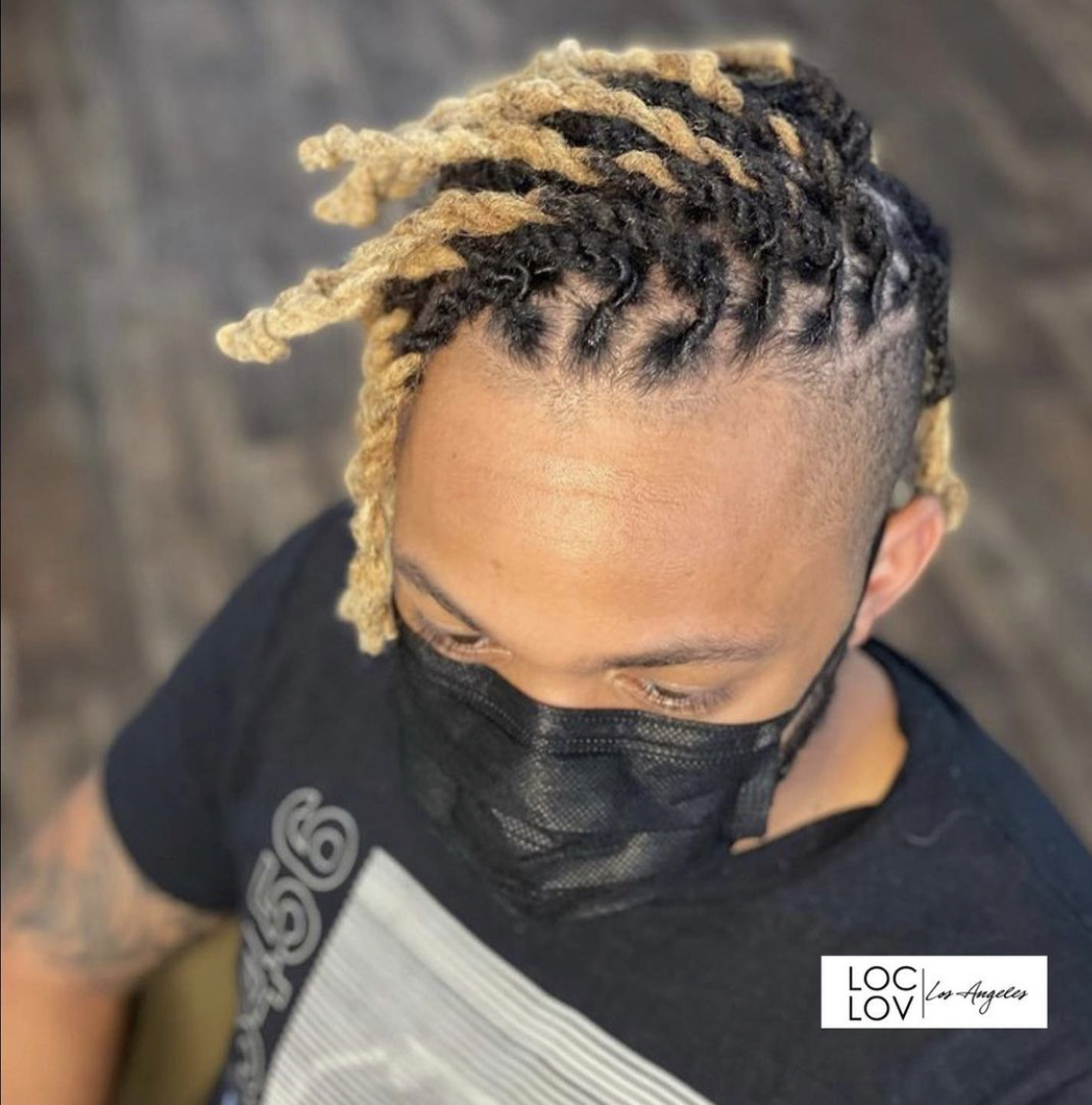 51. French Braid Two Strand Twist
Having long hair? Why not get your sides shaved, turn your hair into twists, and then make a French braid? Just imagine the blend of these three, you'll rock!
52. Green Dip Dye Two Strand Twist
A vibrant splash of green dip dye with two-strand twists offers a confident expression of individuality. In this, the ends are adorned with a bold green hue that gradually fades from the natural shade.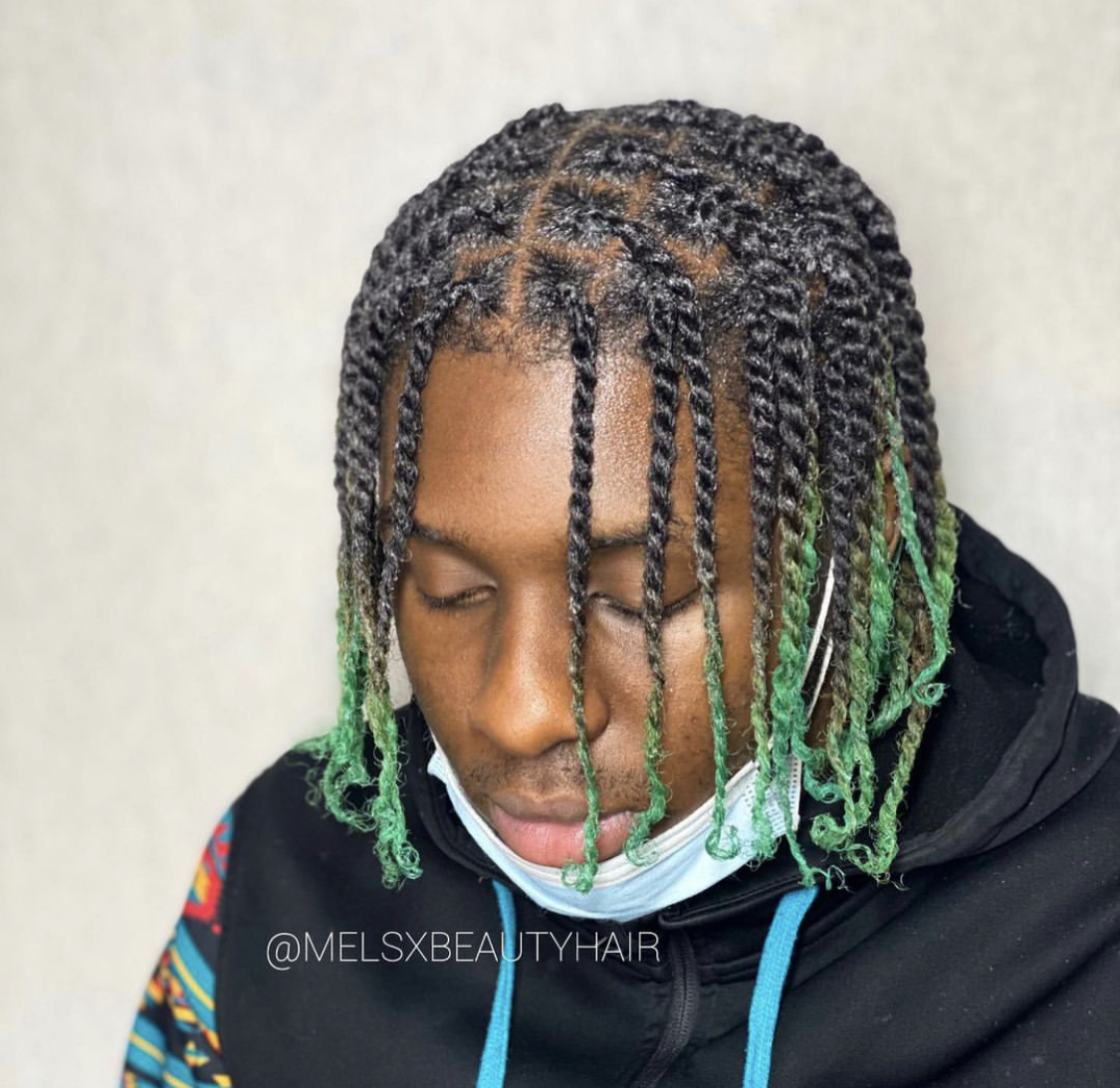 53. Front Bald Long Two Strand Twist
Being front bald doesn't mean you can't have fun with your hair. Go for the above style to get a really nice and funky look.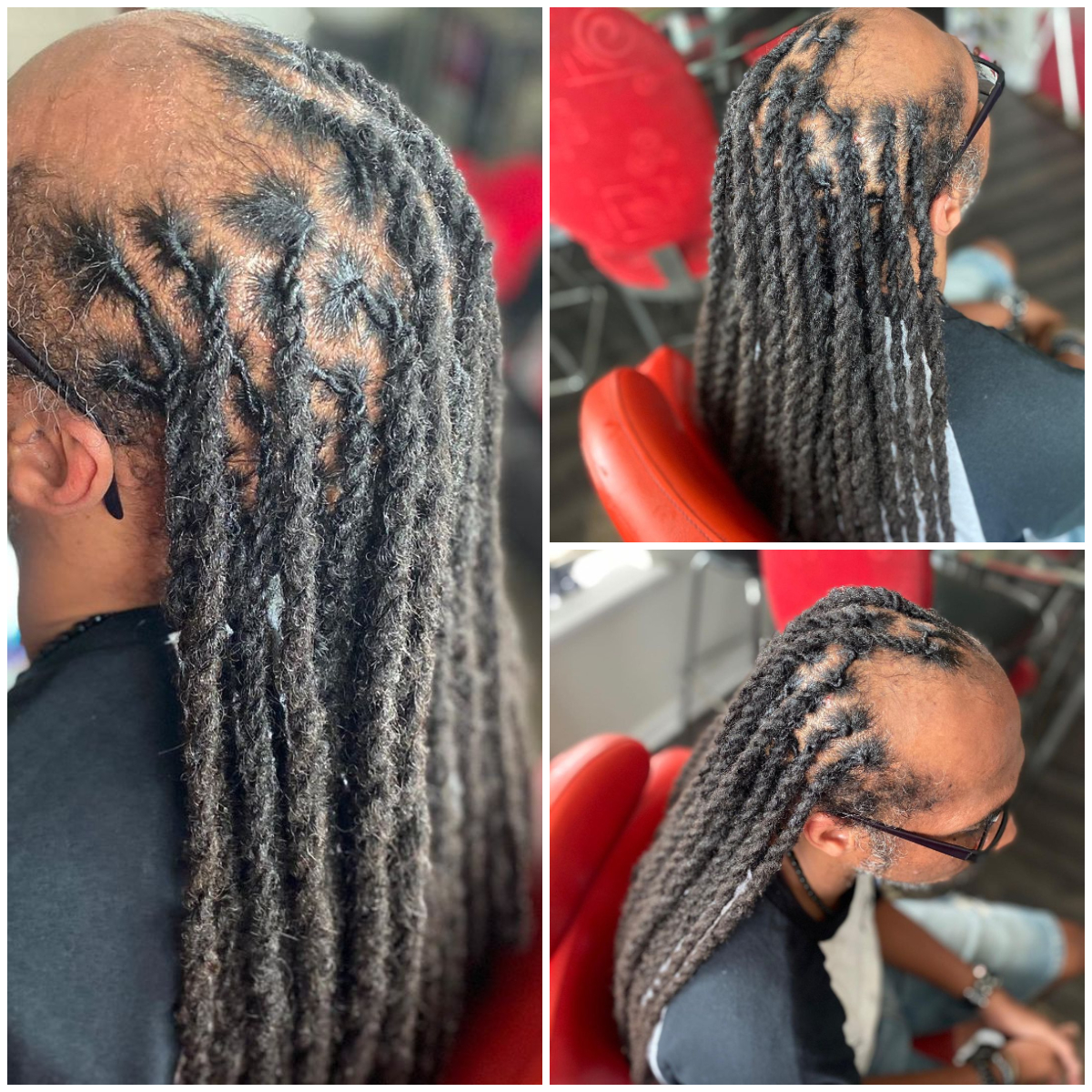 54. Dense Barrel Ponytail With Two Strand Twist
This appearance is appropriate for every scenario. It's a fantastic everyday hairdo that will help glam up any sophisticated attire. The dense barrel twist pony's unique arrangement is an instant head-turner
55. Neat Tight Cornrows Two Strand Twist
Neat and tight two-strand cornrows are absolutely stunning. It is also quite simple to style and carry.
56. Giant Two-Strand Twist For Long Locs
This style is for larger thick locs to offer them a beast look. It needs high maintenance and confidence to carry this style.
57. A Few Thick Two-Strand Twist
Why not have only a few two-strand twists rather than multiple? A perfect choice for those who don't want to have a bulky appearance on their head.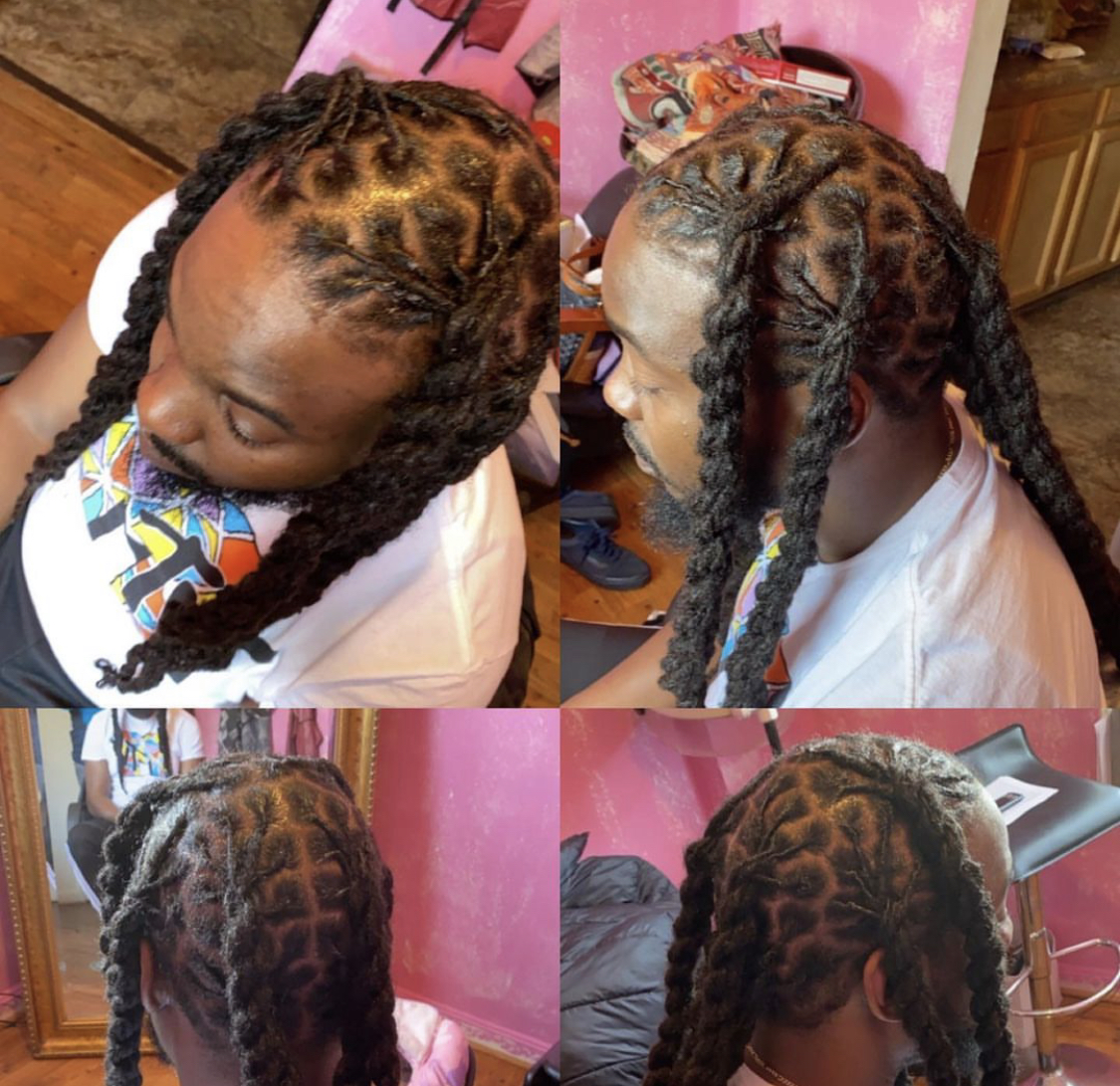 58. Front Cornrows Two Strand Twist
You will appreciate having these twists since they are incredibly enticing. Mixing cornrows into your two-strand twists is an excellent technique to make the front portion smooth down and simply leave the twists fallen.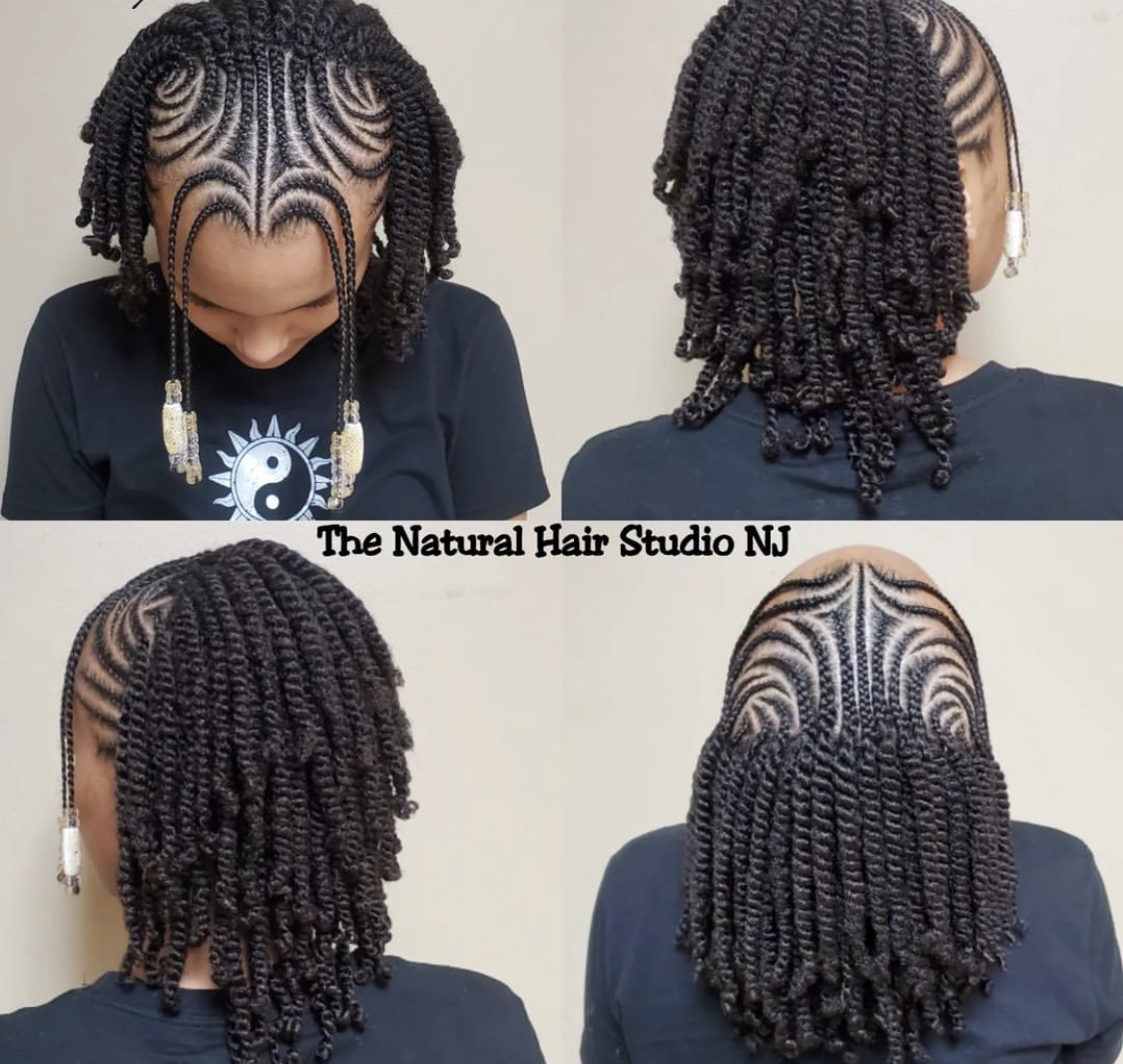 59. Two-Strand Twist Ponytail With Top Head Grid
Criss-cross dreadlocks, like basket weaves, are made by crossing multiple two strands of locs over one another to produce a criss-cross pattern. After that, have a two-strand twist ponytail. What's more you want?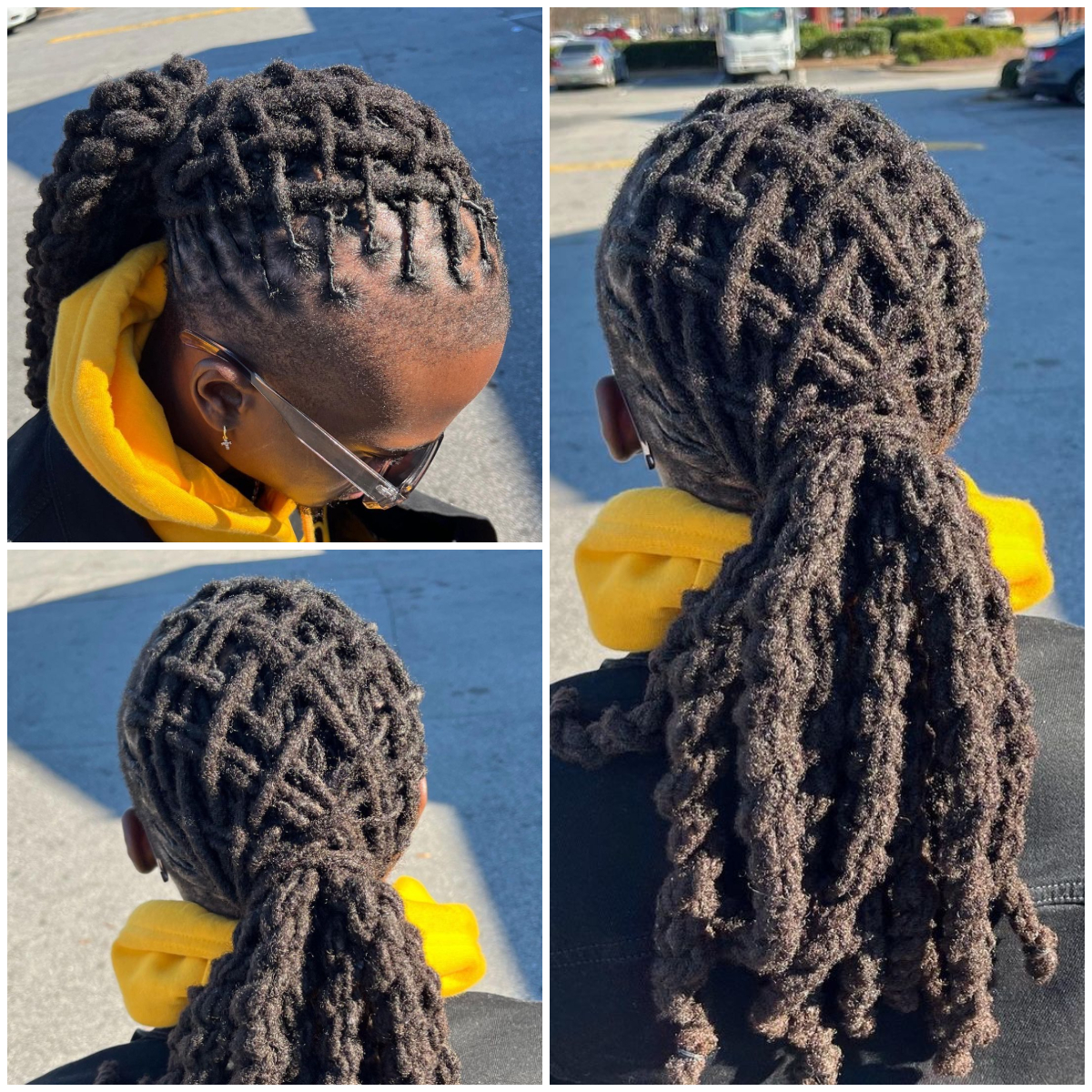 60. Two-Strand Twist With Bantu Knots
Bantu knots are beautiful. Merging them with two-strand twists not only offers a unique touch but also gives a composed appeal.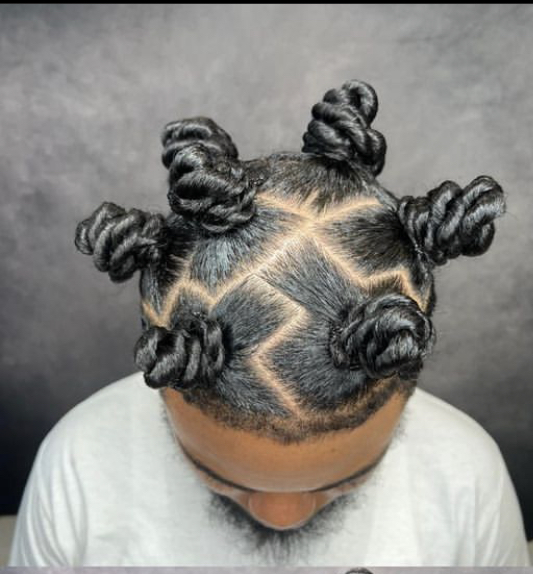 Now, It's Your Turn!
So, it's a wrap! Two-strand twist hairstyles for men offer a diverse range of possibilities that cater to both classic and contemporary tastes. With up dos, beads, dyes, and much more, you can slay these styles on every occasion. In the end, I would say, two-strand twists are not only a hairstyle but a canvas on which you can show your creativity. Tell me, what style are you trying?