At least about 13% of black women and 9% of men from different backgrounds experienced at least one sunburn in the last year, according to the Centers for Disease Control and Prevention (CDC).[1]
In the same study, almost 66% of white women and just over 65% of white men as well as just over 38 percent of Hispanic women and 32 percent of Hispanic men experience sunburn.
The CDC study almost correlates with a study by JAMA Dermatology, which indicates that based on data from over 30,000 people, around 13.2% of black people and 29.7% of Hispanics experienced sunburn, compared with 42.5% of white people.[2]
Based on these data, white people are more vulnerable to sunburn than black skin.
Based on these data, yes; black people are susceptible to sunburn just like other skin tones. However, the extent to which black skin can get sunburn is lower due to the significant amount of melanin pigment present in the skin tone.
Black Skin and Sunburn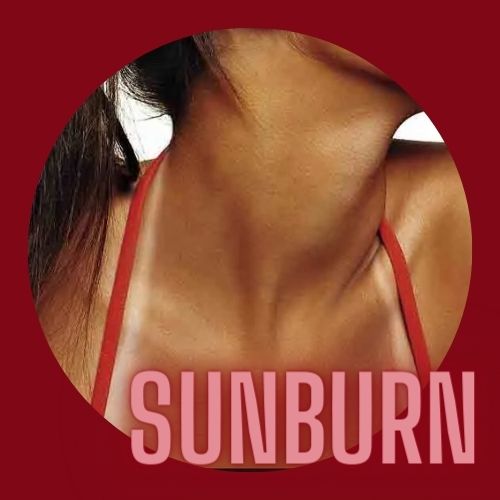 Melanin is the pigment that gives the skin its color and helps protect the cells from sun damage. As such darker skin tones get more protection from the sun due to higher levels of melanin.
Sunburn on lighter skin tones appears differently than in darker skin tones. For lighter-skinned people, it will typically look red and feel hot, painful, or both. The burned skin may also feel tight.
On the other hand, darker-skinned people may not notice any redness. But, they'll have all the other symptoms, such as heat, sensitivity, and itchiness. After a few days, any skin tone exposed to sunburn may also experience peeling.
How likely you're to get sunburn depends on your skin tone and variations. To better understand your sunburn risk, it's helpful to know where you fall on the Fitzpatrick scale.
Developed in 1975, dermatologists use the Fitzpatrick scale to determine how a person's skin will react to sun exposure.
Best Sunburn protection products to try
Image
Product
Features
Price

Neutrogena Ultra Sheer Dry-Touch Water Resistant and Non-Greasy Sunscreen Lotion

3-fluid ounce bottles of Neutrogena Ultra Sheer Dry-Touch Non-Greasy Sunscreen with SPF 70 that helps defend against the signs of sun and decrease the risk of skin cancer when used as directed
This lightweight sunscreen is fast-absorbing with Dry-Touch technology for a non-greasy, matte finish and is formulated with Helioplex for superior sun protection for your skin
From the dermatologist-recommended suncare brand, this sunscreen is also available in both spray and stick form and can be used at the pool or in the ocean for up to 80 minutes of water-resistance
Sunscreen lotion formula uses Avobenzone for optimal broad-spectrum protection from skin-aging UVA rays and skin-burning UVB rays for both your body and face
Both PABA-free and non-comedogenic, this lightweight sunscreen is suitable for all skin types and provides powerful face and body sun protection without the heavy finish

Check Price

Sun-moisturizer: The aloe soothing sun cream is similar to a light moisturizer, unlike other sunblocks that leave the skin dry and stripped.
Key Ingredient: Aloe Arborescens Leaf Extract - soothes and moisturizes skin at the same time.
Texture: With Lightweight and moisturizing texture, the sun cream absorbed into the skin fast without feeling greasy or leaving a white cast.
How to Use: (1) Apply a generous amount on over face 30 minutes before sun exposure. (2) Reapply throughout the day as needed, especially during prolonged sun exposure.
55,000ppm? or 5,500ppm? : Sorry for the confusion caused by TYPO on the product package in the thumbnail image. The CORRECT CONTENT OF ALOE EXTRACT is 55,000 ppm. We would like to inform you that we tried to re-apply it with the correct image of the package, but delayed due to a certain issue. Sorry for the inconvenience.

Check Price

La Roche-Posay Anthelios Melt-In Milk Body & Face Sunscreen SPF 60

Multi-award winning sunscreen with advanced protection in a fast-absorbing, velvety texture that leaves skin hydrated and smooth. Broad Spectrum SPF 60
Allure 2022 Best of Beauty Award Winner. Water resistant (80 minutes)
Formulated with Cell-Ox Shield technology: broad spectrum UVA/UVB protection with antioxidants. Formulated and rigorously tested for skin tolerance, even on sensitive skin
Face and body sunscreen in a non-greasy, fast-absorbing texture leaves skin hydrated and smooth with a velvety texture
Octinoxate- & Oxybenzone-free sunscreen provides broad spectrum SPF 60 protection
Packaging may Vary.

Check Price

SPF 45 / PA+++ SUN PROTECTION: Protect your skin from harmful UVA & UVB rays.
NON-STICKY, NON-GREASY & NO WHITE CAST: Our fast-absorbing formula has a dewy & refreshing finish perfect for all skin types, including oily and combination skin.
LIGHTWEIGHT, ALL-DAY FORMULA: You can wear it indoors or outdoors, and on bare skin or under makeup.
HYDRATING SUNSCREEN: Korean sunscreen wears like a moisturizer or cream while providing all the benefits of traditional sunscreen.
HOW TO USE: Gently apply to face, neck, and arms at the last step of your skincare routine.

Check Price

Double-layered, fully waterproof sunscreen fitted with SPF 50+ effectively blocks out those deadly UV rays while providing ample skin care benefits. Comes in a smooth, milky, citrus-scented formulation that adheres closely to skin without leaving any sticky afterfeel or white cast. Doubles as a makeup base. To ensure UV protection, apply an adequate amount onto skin and top up regularly for full effectiveness.
Batch code/ Manufacturing code listed on the bottom of the sunscreen. Please use a batch code checker online to see the production date. Shelf life is 60 months.

Check Price

3-Fluid Ounce travel-sized tube of Aveeno Protect + hydrate sunscreen Broad Spectrum body lotion SPF 60 to help protect and provide all-day hydration to skin
Made with nourishing prebiotic oat, this lightweight daily sunscreen helps leave skin feeling soft and moisturized all day as it combats sun induced free radicals that accelerate skin-aging
With a refreshing and weightless formula and a non-greasy feel, the invisible sunscreen lotion also provides broad spectrum SPF 60 protection from harmful UVA and UVB rays
This hypoallergenic sunscreen is paraben-free, phthalate-free, oil-free, Oxybenzone-free, dye-free and is water and sweat-resistant for up to 80 minutes, making it great to use during Outdoor activities
From a Dermatologist-recommended brand for over 65 years, Aveeno Protect + hydrate body sunscreen helps prevent sunburn And decreases the risk of skin cancer and Early aging caused by the sun when used as directed with other sun protection measures

Check Price

UV block ingredient with EWG Green grade without OMC.
Centella Asiatica and Panthenol moisturize and soothe skin.
Comes in a hydrating formula and in a cream texture that leaves no white cast.
Features centella asiatica extract, panthenol, dipotassium glycyrrhizate and tocopherol to hydrate and nourish skin while strengthening skin barriers.
Certified by a reputable European clinical testing organization.

Check Price
The Fitzpatrick scale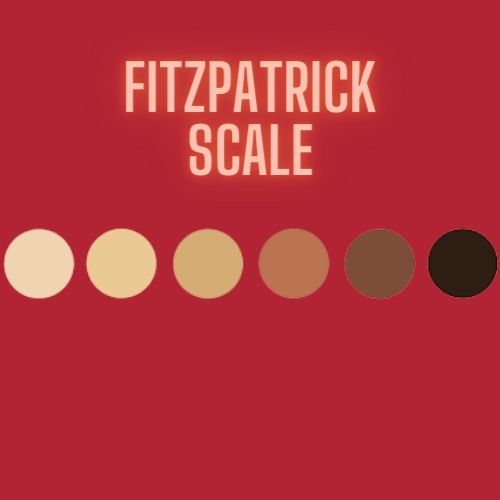 The Fitzpatrick scale is a measure of how likely a person is to experience sun damage based on their skin tone. The scale ranges from type 1 to type 6. Lighter Fitzpatrick skin types do not tan as easily as darker Fitzpatrick skin types.
According to the scale below, all skin tones fall into one of six categories:
Type 1: ivory skin that always freckles and burns, never tans
Type 2: fair or pale skin that burns and peels often, tans minimally
Type 3: fair to beige skin that occasionally burns, sometimes tans
Type 4: light brown or olive skin that rarely burns, tans easily
Type 5: brown skin that rarely burns, tans easily and darkly
Type 6: dark brown or black skin that rarely burns, always tans
If your skin type falls under types 1 through 3, you have the greatest sunburn risk. Contrary, you're a lower risk if you fall under types 4 through 6, although can still occasionally burn.
What does sunburn look like on dark skin? Common symptoms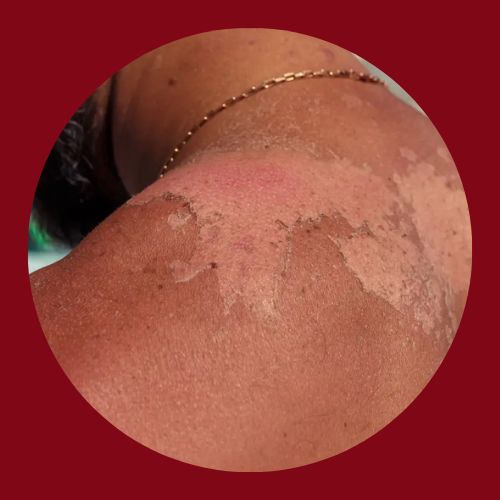 It can be difficult to detect sun damage on very dark skin. However, sunburn can get better on its own. As sunburn heals, the skin may peel away in the affected area. It is important to take care of the skin as it heals, though the sunburn itself should clear up on its own in a matter of days.
People who have spent a lot of time in the sun may develop severe cases that may lead to heatstroke.[3]
Heatstroke according to the CDC is the most serious heat-related illness. It occurs when the body becomes unable to control its temperature: the body's temperature rises rapidly, with a falling sweating mechanism, and the body is unable to cool down.
Call your emergency number or visit the nearest health facility if you notice any of the following severe symptoms;
Blistering or visually swollen skin
Feelings of tiredness, dizziness, or nausea
A High temperature
Shivering or chills
Muscle cramps
Headaches
What is the effect of sunburn on dark skin?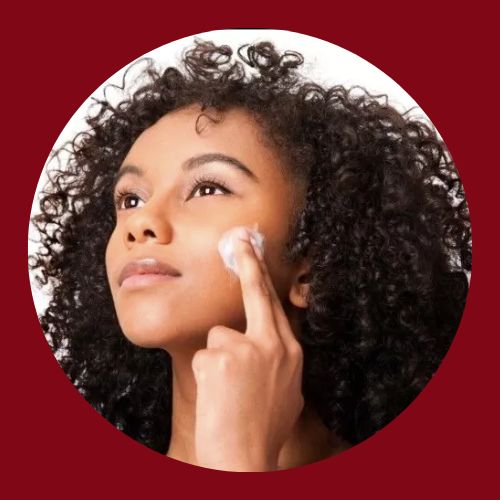 In both darker and lighter skin tones, a sunburn can cause the skin to feel:
1. Hot
Spending too much time in the sun can lead to sunburn, dehydration, heat exhaustion, and heatstroke. The warmth of a sunburn generally stems from increased blood flow to the exposed site.
2. Peel off
Sunburn may cause your skin to Peel off, especially if you have very dry skin. To treat sunburn peeling, you should apply aloe vera or a moisturizer to the infected area. You can also take a cold shower or use anti-inflammatory pain medication like ibuprofen. Do not exfoliate or peel away loose skin once it's started, as this can cause infection.
3. Painful
When your skin is exposed to too much sun, the immune cells and extra fluid squeezing into the skin cause the swelling, redness, heat and pain we know as sunburn.
4. Irritated
Mild sunburn results in skin irritation and redness. This can be safely treated at home, but severe sunburn requires medical attention
5. Itchy
A deep sunburn can trigger unpleasant, deep, and possibly painful itching. This type of itching causes you to lose sleep and may last for days as the skin recovers. When you're experiencing sunburn itch, the most important advice is to avoid any further exposure to the sun's ultraviolet rays.
6. Headache
Sunburn can cause a mild fever and a headache. Lie down in a cool, quiet room to relieve the headache. A headache may be caused by dehydration, so drinking enough water at least eight glasses or more during hot weather is recommended.
Can sunburn give black skin cancer?
Similar to sunburn, people with very darker skin are much less likely to experience skin cancer compared to white people. However, there is a major caution on this point.
Research conducted by the National Library of Medicine established that although people with lighter skin tones are more likely to be plagued with skin cancer known as melanoma, black skin people are much more likely to die from it.[4]
In fact, the study stipulates that white people have the highest risk of melanoma, followed by American Indians and Alaska Natives, Hispanics, Asians and Pacific Islanders, and, finally, black people.
But black people are more likely to die from Acral Lentiginous Melanoma (ALM), due to delay in detection or presentation. Thus, doctors usually diagnose skin cancer in people with dark skin at a later stage.
This late diagnosis may be related to a number of issues, including a lack of awareness about the risks and symptoms, as well as possible medical bias. Socioeconomic factors may also play into these risks.
Regular checkups with a doctor or dermatologist are therefore important for every skin tone. Also, regularly observing your skin can go a long way when it comes to identifying skin cancer early.
Can other invisible areas of your skin develop cancer?
Remember, sunburn is not the only cause of skin cancer in black people. All other skin types like black skin can develop skin cancer in areas of your body that are not typically exposed to sunlight.
Some common places and signs in other areas of your body to look out for include:
Dark spots, growths, or patches that appear to be changing
Sores or bumps that bleed, ooze, or crust
Look in their mouth for abnormalities
Patches that feel rough and dry
All of the above are indeed things to look out for on visible parts of the body. But as earlier stated, people with darker skin are more susceptible to melanoma. It presents itself inline or in dark spots in slightly hidden places, such as the hands, soles of the feet and under the nails.
What else causes skin cancer?
More genetically, the skin can develop skin cancer outside of sun exposure comprising:
Family history
Tanning bed use
Number of large moles
UV light treatments for psoriasis and eczema
Conditions associated with the HPV virus
Conditions that weaken your immune system
How to protect yourself from Sunburn-Treatments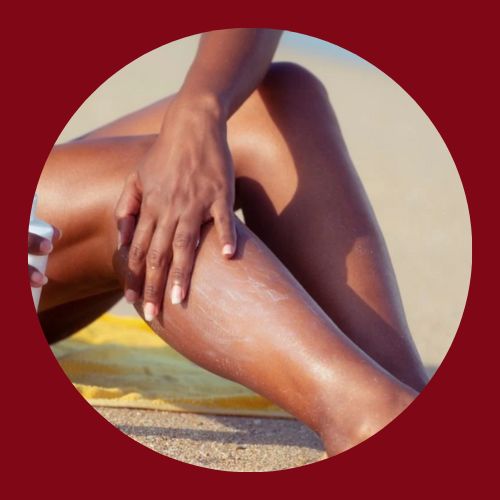 Obviously you apply sun cream to primarily protect yourself from sunburn A few other tips for optimum sun protection are:
1. Apply Sun cream
It's important to choose a broad-spectrum sunscreen with a minimum Sun Protective Factor (SPF) of 30 for the best protection. If you're planning to spend a prolonged amount of time in the sun, apply 30 minutes before you step outside.
An ounce, which is enough to fill a shot glass, is recommended to adequately cover an adult's face and body. Remember to apply evenly on areas such as the ears, lips, and eyelids.
2. Limiting the amount of time spent in direct sunlight
You can prevent sunburn by limiting the hours you spend directly in the sun.
3. Staying in the shade on very sunny days
The sun is mostly scotch between 10 a.m. and 4 p.m. Either limit your exposure or cover-up during this period. If you can avoid stepping out during these peak hours.
4. Wearing sunglasses and the right clothes
Wearing sun protective clothing to protect any exposed skin on the face, neck, and shoulders. Also, consider wearing a wide-brimmed hat with sunglasses that block at least 99 percent of UV light. You can also consider buying sun-protective clothing. (link)
Sufficiently protecting your skin from the sun's rays is key in preventing sunburn.
5. Reapply your sunscreen
Slathering yourself in sunscreen is great, but the effects won't last long if you don't do it all over again. It's recommended to reapply sunscreen every two hours. If you've been swimming or sweating, you'll need to reapply before this time.
Frequently Asked Questions
Does the sun damage black skin?
Black people experience sunburn that can be painful and cause peeling. When their skin is exposed to too much sunlight, black people can suffer from hyperpigmentation and visible signs of aging, just like people with other skin types.
Should black people wear sunscreen?
Yes! Everyone, including those with dark skin, need to wear sunscreen every day. The American Academy of Dermatology recommends using a broad-spectrum, water-resistant sunscreen of at least SPF 30 every day. A broad-spectrum sunscreen is one that protects from both the damaging UVA and UVB rays.
Can black Africans get sunburn?
Darker skin tones have more melanin than lighter ones, meaning they're better protected from the sun. But melanin isn't immune to all UV rays, so there's still some risk. A Centers for Disease Control and Prevention (CDC) study found black people were the least likely to get sunburned.
How long does a tan last on a black person?
Generally speaking, tans will last up to 7 to 10 days before the skin starts to naturally exfoliate and regenerate.
What happens when a black person gets sunburned?
When a dark-skinned person gets a sunburn, it may not be visually noticeable, but the damage is still there. A dark-skinned person with a sunburn still experiences the skin tightness, pain, sensitivity, heat, and peeling that light-skinned people experience.
Does peeling skin mean sunburn is healing?
When skin begins to peel, it is a sign the body is trying to rid itself of damaged cells. You can use many of the same techniques that apply to a non-peeling sunburn to get some relief.
How do you get rid of dark skin from sunburn?
1. Take frequent cool baths or showers to help relieve the pain.
2. Use a moisturizer that contains aloe vera or soy to help soothe sunburned skin.
3. Consider taking aspirin or ibuprofen to help reduce any swelling, redness and discomfort.
4. Drink extra water.
Will my skin color go back to normal after sunburn?
A tan fades as you naturally shed sunburned or tanned skin cells and replace them with new, untanned cells. Unfortunately, lightening a tan will not undo skin damage or reduce the risk of developing cancer
Does sunburn cause darker skin?
When the skin is exposed to the sun, it makes more melanin to protect the skin's lower layers from damage. As the skin becomes damaged, it produces even more melanin. The extra melanin causes some people to become a darker color or tan. Other people turn red, which is a sign of sunburn.
Now it's Your Turn!
Black skin can get sunburn just like other skin tones too. However, the chances of getting sunburn among black skin are less due to higher levels of melanin compared to people with white skin.
Likewise, the chances of skin cancer may be lower in black skin contrary in people with lighter skin.
No matter the color of your skin, it's vital to protect it from the sun. Remembering how to shield your skin from UV rays is an important step. But so is knowing how to identify signs of burning and potentially cancerous abnormalities.
We recommend using sun cream products from…(link) as well as protective clothing and sunglasses from (link). Take all the time to explore different sun cream products and choose what's best for you.
And if you're ever concerned about your skin, don't hesitate to book an appointment with your healthcare provider.
Read Related Articles: