Why do black people like Hennessy? Well, Hennessy is one of the top brands giving recognition to the black community as far back when they were sidelined in popular media and businesses rooted in the exploitation of black culture for white profit. Black people are just loyal to the Hennessy brand.
When a united community experiences a big respect gap for so long, they're willing to reward loyalty to businesses that pay attention and show respect genuinely. If you're wondering why black people like Hennessy and make sure it's always on the table at parties, you guess right—Hennessy gives blacks a sense of pride.
And this sense of pride goes beyond showing black people respect– Hennessy builds an authentic relationship with black consumers eager to be seen and figure out their place in society.
But why is it a big deal for blacks anyway? This article seeks to answer this and more.
What is Hennessy?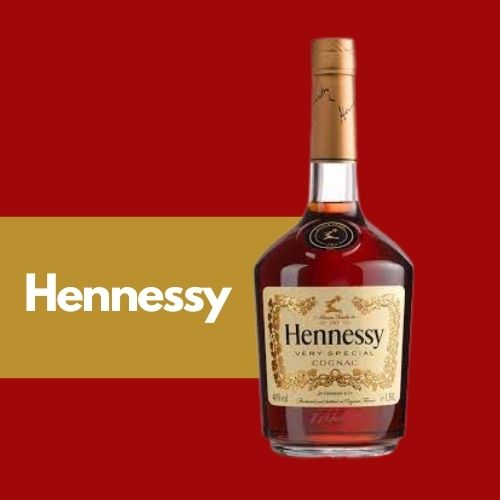 It is one of the biggest names in cognac, which is a brandy that is made in the French region of Cognac. Globally, Hennessy is available in various expressions and ages. Among the most popular brands is Hennessy V.S.
This cognac is the youngest in the portfolio, is the least expensive (though still a mid-range, premium price for liquor), and is a great everyday cognac. You can mix Hennessy V.S into almost any brandy cocktail you can dream up, and it tastes great on its own or over ice as well.
The history of black culture Exploitation for white profit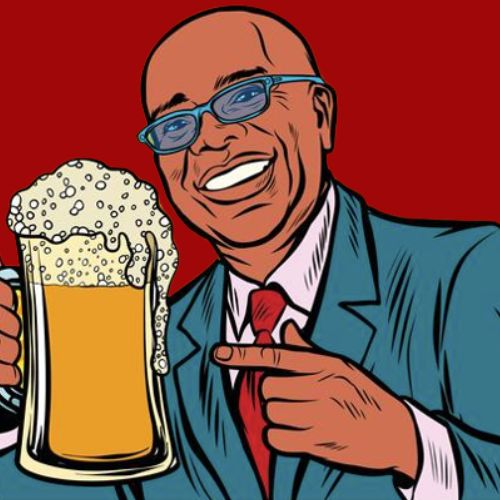 American capitalism has always been rooted in the exploitation of black culture for white profit. The liquor and wine sector was not immune to this mindset. The whiskey business — the nation's most popular alcoholic beverage — weaponized the country's anti-Black sentiment in their marketing approach by the incorporation of racially coded rhetoric into their products. 
Although whiskey in the United States was first distilled by Nearest Green—an enslaved man in Lynchburg, Tennessee—who adapted West African practices of charcoal filtration for the development of a unique flavour profile—his recipe was stolen by Jack Daniel, founder of America's top-selling whiskey worldwide.
It was typical for black innovators to have their inventions taken away. In response to this ethnic appropriation, Harlem Renaissance artists like Josephine Baker migrated to Paris in comparison to their mistreatment in the American art scene, they are making an attempt to gain appreciation and respect for their talent.
Their earliest encounters with French cognac were characterised by sensations of richness and elegance. The cognac, an indulging taste of capitalism, was an introductory step into the liberties enjoyed by black Americans in France.
Then, 20 years later, as Black soldiers fought for the preservation of America's democracy in World War II, French towns expressed their gratitude to Black forces by distributing French cognac as a token of appreciation, establishing Hennessy's place as a trophy in Black culture.
The first corporate sponsor of The National Association for the Advancement of Colored People (NAACP ) and the first liquor to advertise in Ebony and Jet, Hennessy established an authentic relationship built on trust with the black community.
As Hennessy's prominence started growing in the Black community, the cognac brand hired Herb Douglas, a former Black Olympian long-runner, as vice president of urban marketing in 1977, who further developed Hennessy's significant presence in the Black community, which was trademarked by his intentional advertisements in Black media.
In an era when black communities were dehumanised in popular media, the black community valued Hennessey's use of people who looked like them in their advertisements—an authentic portrayal that they couldn't obtain anyplace else.
What is Hennessy made of?
Hennessy conforms to the rules set up by a recognized designation of origin in order to be labelled as cognac. This requires, among other things, that the grapes be farmed and that all cognac manufacture take place in the Cognac region of southwestern France.
It all starts with sustainably produced Ugni White grapes plucked mechanically at their prime for Hennessy. After pressing the grapes, the juice is fermented into wine. The wine is transformed into eau-de-vie through a double distillation process using the ancient Charentais copper alembic stills for which Cognac is famed.
Only after ageing in wood casks and blending does the clear spirit become cognac. Hennessy uses a network of 65 cellars, or chais, to produce 350,000 barrels at any given moment. As the cognac ages, it is rotated in barrels, and the barrels are placed in specific cellars based on the desired characteristics. A damp cellar, for example, produces mellower flavours, whilst a drier cellar produces greater flavour.
Throughout the maturing process, the production staff tastes the various Eau-de-vies. Then, for each expression, Hennessy's master blender blends 30 or more of these to create what is bottled as Hennessy Cognac, while keeping consistency from batch to batch.
After combining, the cognac may be rested for a short time before bottling. The majority of Hennessy Cognac is bottled at 40% ABV, including the basic styles.
What Does Hennessy Taste Like?
Each of Hennessy's cognacs has a distinct flavour that is defined by the eau-de-vie blend that goes into it. Overall, they have a traditional brandy flavour, with a sweet fruitiness reminiscent of scorched wine that is tempered by a pleasing oakiness.
Floral and fruity flavours, notably citrus notes, are common in these cognacs, as are undertones of spice, vanilla, and chocolate.
Types of Hennessey
For its primary portfolio, Hennessy employs the traditional cognac grading system. Very Special (V.S), Very Superior Old Pale (V.S.O.P), and Extra Old are used to denote the age of the cognac or the youngest cognac in the blend (X.O). There are also various special and limited edition Hennessy expressions available.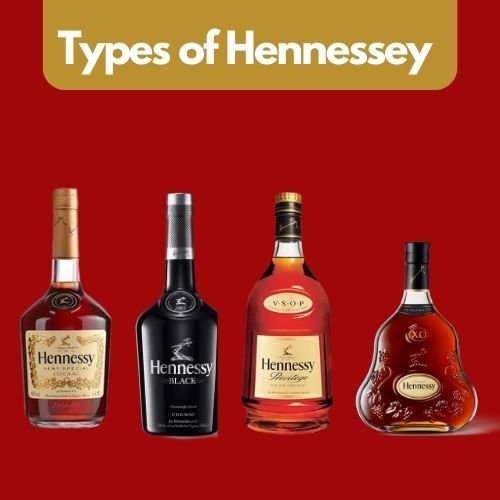 Hennessy, V.S:
This is the brand's flagship product. This is a new take on the classic Hennessy 3-Star Cognac. It's a combination of about 40 aged eau-de-vie. It has a two-year minimum.
Brown sugar, roasted almonds, and a slight note of fruit dominate the scent. It has a thick, almost creamy vanilla flavour with a crisp, floral aftertaste. V.S. can be a little harsh and spicy, but it's a good, low-cost introduction to French brandy.
Hennessy Black:
Hennessy Black, first produced in 2009, is bottled at a slightly higher ABV of 43 percent (86 proof). It is a blend of around 40 pale and gold eau-de-vie that has been aged in oak.
Black is a more floral brandy with scents of jasmine, citrus, and honey, as well as a typical cognac flavour with intriguing citrus notes. It was created for cocktails, but it's also a great choice for those who prefer lighter spirits like vodka and tequila.
Hennessy V.S.O.P Prvilège:
This legendary cognac was first prepared in 1817 as a special request for England's (then-future) King George IV. It has a four-year minimum. It is a combination of more than 60 eau-de-vie aged up to 15 years.
It is then aged in wood to produce a silky drink with honeyed fruit and fascinating spice overtones. It's not pricey; it's an excellent sipper and works well in high-end cocktails.
Hennessy X.O:
X.O is the original cognac introduced in 1870 that laid the groundwork for all future expressions of Hennessy's luxury cognacs. It has a minimum tenure of ten years. This blend contains over 100 Eaux-de-vies that have been matured in carefully selected barrels for up to 30 years.
The cognac has the sweetness of candied fruit with a distinctive fiery pepper and a hint of chocolate, oak, and vanilla. Definitely top-shelf, X.O should only be sipped.
How to Drink Hennessy
All Hennessy Cognacs are excellent on their own. You can really appreciate the spirit's subtle nuances by pouring it into a brandy snifter, enhancing the experience by capturing the exquisite smell. If you wish to drink the cognac on the rocks, a rocks glass is a wonderful option.
Hennessy V.S is an excellent choice for cocktails, especially tall mixed drinks. The mixers will soften the aggressiveness of the cognac, resulting in a wonderful drink. Hennessy V.S. and Black can handle practically any recipe, and classic brandy cocktails are great places to start.
Stick to more sophisticated recipes, such as the brandy cocktail and B&B, when you have Hennessy V.S.O.P. to avoid overpowering the improvement.
Why is Hennessy Very Special?
Eaux-de-vie from Cognac's top four areas were utilized to create the blend. Each batch of wine is double-distilled to produce the most delicious, delicate Eaux-de-vie possible. Hennessy also has the world's best selection of antique Eaux-de-vie; Very Special, the world's most popular cognac.
Facts about Hennessey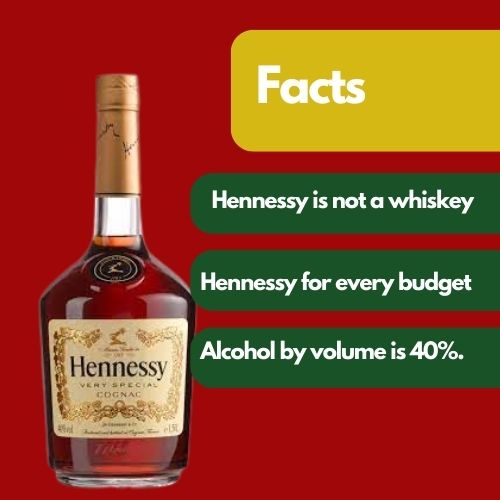 Hennessy is not a whiskey.
Alcohol by volume (ABV) is 40%.
Produced from Ugni White grapes
There's a Hennessy for every budget.
Hennessy is French by way of Ireland.
Calories in a 1 1/2-ounce shot are 100.
Hennessy is deeply rooted in black culture.
Served straight-up or on the rocks, cocktails
Special-edition Hennessy can cost a pretty penny.
It is aged a minimum of 2 years to 30 years or more.
The tastes are burnt wine, oak, floral, fruit, spice, and vanilla.
What mixes well with cognac?
Wines
Iced Tea.
Coca Cola.
Lemonade.
Soda Water.
Aromatic Bitters
Sweet Vermouth
Lime Juice/Lemon Juice
Frequently Asked Questions (FAQs)
What is very special about Hennessy?
QVS stands for "Very Special": only Eaux-de-vie at least two years old can be used to make a VS cognac. VSOP stands for "Very Superior Old Pale": VSOP cognacs are created from Eaux-de-vie aged for at least four years. The VSOP category includes designations such as "Old" or "Reserve".
When should I drink cognac?
The cognac snifter glass is suggested for a traditional tasting moment, after dinner as a digestive, where it is served neat and you hold the glass to warm the cognac by hand. During dinner, drinking cognac neat is recommended.
Are Hennessy and Cognac the same alcohol?
Hennessy is a Cognac, which is a type of brandy. Contrary to popular belief, Hennessy is categorically not a whiskey. Hennessy Cognac is made from grapes, not barley or wheat. Both spirits are distilled and aged in oak barrels, but the similarities end there.
What kind of alcohol is Hennessy?
Hennessy is a brand of French or Irish cognac by Jas Hennessy & Company, which happens to be the largest producer of cognacs in the world. Hennessy is classified as hard liquor and has a 40% alcohol content. It may be taken straight from the bottle or mixed with other drinks like soda.
What is the best brand of Cognac?
Hennessy is the best-selling Cognac brand in the world with steadily rising sales in the U.S. The brand is owned by Louis Vuitton Moët Hennessy (LVMH) and, like LVMH's other brands (Dior, Dom Pérignon, and Tiffany & Co., to name a few), Hennessy has become a mark of sophistication. But the best-selling Cognac is far from mass-market swill.
Is Hennessy a whiskey?
Hennessy Irish Whiskey. Hennessy is the largest Cognac producer in the world and was founded by Richard Hennessy in 1765. A highly regarded brand the world over, the range stretches from VS to XO and beyond, with the prestige cuvée Richard Hennessy being truly exceptional.
It's your turn…
There's no doubt Hennessy supports the black community by giving them the one thing that boosts their self-esteem. For many decades and counting, the black community has continued to support Hennessy.
While other brands continue to emerge, especially from the black community, do you think these brands will be able to give recognition beyond respect and recognition?
Related Articles: