Visiting the USA for a limited stay falls under a tourist or business visa. A resident of the U.S who wishes to invite a relative for a visit should ask the relative to apply for a B-2 Tourist Visa or a B-1 Business Visa.
These documents aside from your visa application form you need to submit to make the process smooth for you.
USA consular officers want to make sure they're issuing visas to visitors visiting the USA who have the absolute intention of returning to their home country within three to six months minimum and one-year maximum.
As a result, there are four basic requirements a visitor must fulfill;
Basic requirements on the part of the Visitor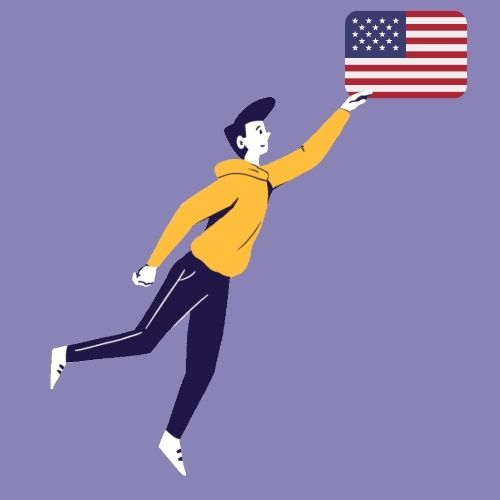 1. They have a place of residence in their home to which they will return after their temporary visit to the U.S.A.
Your proof of residence is usually considered by assessing your ties to your country. For example, if you're Ghanaian, ties to your country are employment, property ownership, university studies and having a resident family. Note that each applicant's ties are distinctive and considered by a consular's discretion.
2. Intend to visit the U.S for a short stay
Secondly, you must demonstrate to the contentment of the consular officer that your plans for travel fall within the constraints of the visa applied, that is, a short stay for business or pleasure or for tourism, and that you'll leave the U.S on the specified date of departure to your residence- as shown in Form 1-94. This short stay cannot be for employment.
3. Your visit to the U.S is to engage in legitimate activities relating to business or pleasure.
The third basic requirement expects the applicant to satisfy the consular officer that he/she is visiting the U.S to engage in legitimate activities in relation to the visa class applied. This might not necessarily be dependent on the applicant's financial status or ties with U.S residents.
*You have enough money for your stay duration
The consulate will also require that you prove you have enough funds to sponsor your temporary trip to the U.S. This fund is expected to cover your travel expenses, accommodation and food. This is required because the immigration officers do not want a situation where you'll run out of money and be forced to look for work. Looking for work or planning to work is a B-2 Tourist Visa violation.
Nevertheless, if your host plans to provide financial support to you, the guest, while in your stay in the U.S, your host should fill out USCIS Form I-134, called an Affidavit of Support. Alternatively, you can provide both a letter and a Form I-134.
Documents required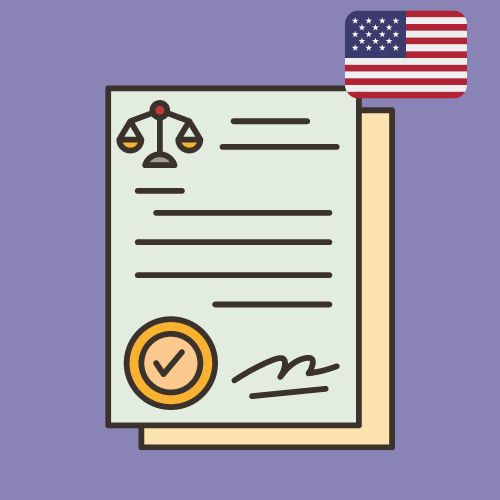 1. Filling Form DS-160
When you're sure to fulfill these basic requirements, you can now fill the Online Nonimmigrant Visa Application Form DS-160. This visa application is only available online. Hence,
You must complete the application online
Print the application confirmation page only to bring to your interview. You do not need to print the whole form because only the confirmation page will be needed during your interview.
Upload a photo;
You must upload your photo while completing the online application, Form DS-160. Be sure your photo format is in line with the photograph requirement. An expert photographer should be able to know this. If the photo upload fails, you must bring one printed photo in the format explained in the Photograph Requirements.
2. Your passport
You must provide your passport to the US consulate for verification during your interview. Your passport must remain valid for at least six months after the end of your intended stay in the United States.
3. Documents showing the purpose of your trip to the US
You must include documents proofing your purpose of visiting the US. These might include a written itinerary and proof of hotel arrangements, car rentals, event tickets, and evidence of your intent to depart the US at the end of your stay, such as a return plane ticket.
4. Employer letter if applying for a B-1 visa
If you are coming to the U.S. on business, bring a letter from your foreign employer describing your job and explaining what you will be doing for it during your U.S. trip. The letter should state that you will be paid only from sources outside the U.S., along with a date when you will be expected to return from your trip. If you'll be attending a trade show or similar business event, bring promotional materials, flyers, and proof that you are registered for it.
Schedule an Interview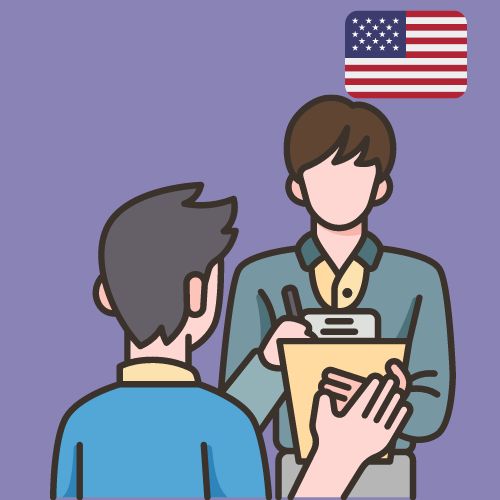 After you submit your application form, you need to schedule your interview with the US consulate in your home country.
Interviews are generally required for visa applicants with certain limited exceptions below. Consular officers may require an interview of any visa applicant.
| | |
| --- | --- |
| If you are age: | Then an interview is |
| 13 and younger | Generally not required |
| 14-79 | Required (some exceptions for renewals) |
| 80 and older | Generally not required |
Wait times for interview appointments vary by location, season, and visa category, so you should apply for your visa early. Review the interview wait time for the location where you will apply on the consulate website.
Prepare for an Interview
When you're called for an interview, Pay the non-refundable visa application fee. Depending on the consulate, you may be required to pay it before your interview. If your visa is approved, you may also need to pay a visa issuance fee, if applicable to your nationality. You can review instructions on fee payment on the website of the US consulate in your country for further information.
Basic requirement on the part of the Host
If you're a US Citizen who wishes to invite someone on B2-Visa, there are certain requirements and documents you need to provide to the US Consulate in your visitors' country. The process can be demanding, but once your documents are intact, there's no need to worry.
As a host, you may write an invitation letter to your visitor or the applicant to validate the visa application process. Though writing an invitation is not a requirement, we strongly recommend not letting your guard down now.
To write an invitation letter, the host must fulfill the following requirements for your invitation letter to be legal;
Be a US citizen or lawful permanent resident
Be your friend, boyfriend/girlfriend, or relative
Have a registered place (home, flat)
Have enough room for the applicant
The letter must also specify the date of departure and arrival of guests to the U.S.
How to write an invitation letter for a U.S. Visa?
Writing a letter of invitation to a relative in Africa may seem difficult, but the process is very simple. The letter should either be addressed to the guest or consular but it's best to address it to the guest so that the letter would have a personal tone and not sound too official.
The following information must be provided in the letter;
Host's full name.
Host's date of birth.
Host's address and telephone number in the United States.
Host's occupation.
Host's status in the United States.
A photocopy of a document proving the host's status in the United States.
Guest's full name.
Guest's date of birth.
Guest's address and telephone number.
Proof of the guest's relationship with the host.
The purpose of the trip.
Information on how long the guest intends to stay in the United States of America (specific dates).
Details on accommodation and living expenses.
Signature of the host.
Sample of an Invitation letter
[Date]
[Subject]
[Name of the Sponsor]
[Full Address with Zip Codes]
USA
Contact numbers
Email
To:
[Visitor Name]
[Visitor's native address]
Dear [Visitor],
With this letter, I request that you visit me for my 40th birthday celebration for [time period]. We haven't seen each other for a long time, so this will be a great opportunity to meet as a family with other relations here in the US too.
You can also have a mini-vacation at our place where I will sponsor our trip to visit [tour plans] for [time period]. I will cover all the expenses for your visit; you only need to take care of travel arrangements.
You'll be staying with me at my home. We can call relatives and have a grand reunion at our place.
Herewith, I'm sending all the supporting documents you need to get your tourist visa as soon as possible. Please proceed with the U.S. Consulate and visa process. All the best, and see you soon.
Sincerely,
[Sponsor's name]
[Sponsor's signature]
Additional Documents
Since the Letter of Invitation is not a requirement, the host is not obliged to send other documents alongside it. However, it would be very thoughtful if the applicant submitted any of the following documents alongside the Letter of Invitation, especially if the host is financially sponsoring your stay
A scanned copy of host's ID/passport
Evidence of means of subsistence
Proof of home / flat ownership or rental contract
Flight itinerary for US visa application – including a return ticket.
Affidavit of Support – which is a USCIS Form I-134, available on the USCIS website. This should be submitted only in case the host plans to financially support the guest.
Attending your Visa Interview
Once you've gathered all these documents with you, you're ready! At the interview, a consular officer will interview you to determine whether you are qualified to receive a visitor visa. You must establish that you meet the requirements under U.S. law to receive a visa.
After your visa interview, the consular officer may determine that your application requires further administrative processing. The consular officer will inform you if this is required.
After the visa is approved, you may need to pay a visa issuance fee (if applicable to your nationality), and make arrangements for the return of the passport and visa to you. Review the visa processing times to learn more.
Preparing for your trip to the USA
A visa allows a foreign citizen to travel to a U.S. port-of-entry and request permission to enter the United States.
Be informed that despite going through all the processes and acquiring a visa, a visa does not guarantee entry into the United States; the Department of Homeland Security (DHS), U.S. Customs and Border Protection (CBP) officials at the port-of-entry have the authority to permit or deny admission to the United States.
If you are allowed to enter the United States, the CBP official will provide an admission stamp or a paper Form I-94, Arrival/Departure Record.
Frequently Asked Questions (FAQs)
Can a US Citizen invite a friend?
Applicants must also be able to demonstrate that they will depart the United States in a timely manner to return to their residence abroad. As a result, email or letter won't matter, it's not 'official' it's just additional useful documentation. It should contain useful information that can be checked.
What documents do I need to invite someone to the USA?
1.Fill out the Affidavit of Support Form I-134.
2.Write a letter of invitation to your visitor.
3.Write an official letter to the US consulate concerned, asking them to kindly grant your visitor a visa.
4.Attach your financial documents to the Consulate's letter.
Can an invitation letter be emailed?
Applicants must also be able to demonstrate that they will depart the United States in a timely manner to return to their residence abroad. As a result, email or letter won't matter, it's not 'official' it's just additional useful documentation. It should contain useful information that can be checked.
How much bank balance is required for a US tourist Visa?
The amount of bank balance you should have for applying for the US tourist visa depends on the duration. If it is a 15-day trip, you must have $ 5,000-10,000 in your bank account.
How long can you stay in the USA on a tourist Visa?
Six months. To be more precise, once admission is determined to be "fair and reasonable," the default position is that the visitor is granted a six-month time period to stay.
What happens if I stay more than 6 months in the USA on a tourist Visa?
Cases of overstaying a period of stay in the U.S. by 180 or more days but less than one year are punishable by the prohibition of travel to the U.S. for three years. Overstaying for one year or longer is punishable by the prohibition of travel to the U.S. for 10 years.
In summary,
If you're inviting someone to the USA, as a US Citizen you'll need the following documents;
2. Letter of Invitation; refer to the example above
3. Letter to US Consulate; you can choose to write a separate letter to the US Consulate in your visitor's country.
4. Financial documents
5. Bank statements; to prove your bank account and bank balance to show you can sponsor your relative. You can prove this by providing;
1 or 2 recent pay stub copies.
Copy of a few recent income tax returns or last few W2 forms (If available).
If you are self-employed or a business owner, copy your personal tax return.
6. Sponsor's residency status in USA
Copy of passport.
Letter of employment (if the sponsor is an employee in the USA).
If you are a Visa holder, Copies of your – Visa (H1/L1), H1 Approval Form (I-797), and I-94. (If the visa has expired but has a renewed petition, a photocopy of the renewed petition.)
If Green Card Holder: Copy of Green Card front and back.
If US citizen: Copy of certificate of citizenship.
7. For parents visiting their children in the USA, the sponsoring child must also provide the following documents.
Birth certificate of the sponsoring child. If the birth certificate is not readily available an affidavit may be helpful.
Copy of passport of the sponsoring child
Read Related Articles: