Considering the tender and coarse nature of afro hair, it is sometimes stressful to look for what fits. While looking for the best fit for your hair as a black woman, you are considering styles that can blend well with your hair texture.
You are also looking for styles that'll keep your hair from breaking. Well, with flat twists, you need to look no further. It is comfortable and easy to wear; it comes in different styles and what else?
You can wear a protective hairstyle like flat twists and still look classy and beautiful.
What is a Flat Twist Hairstyle?
Unlike the traditional and popular braids, where three strands of hair are knotted together, a flat twist involves the knotting of just two strands. These two strands are plaited and held a bit tightly to the scalp.
Yeah, the flat twist hairstyle may not be familiar, but it is taking over the hairstyle scene this season. One thing that makes this style stand out is that it is easy to make, depending on the style.
But then, there are flat twist styles you can fix up in 10 to 20 minutes. It's simple, stylish, and still protective. If you are a newbie, it just takes a few trials for your flat twists to be as fine as your hairstylists.
For a smooth and fine flat twist, ensure you stretch out your natural hair, especially if your hair type is a 4c. Also, wash and condition it with shampoo and conditioner before styling it to keep it shiny.
What else is there to know?
There is no specific timeframe for wearing flat twists. It lasts, depending on maintenance and style. The "halo flat twist," for instance, can last up to two weeks depending on how it was plaited and how you maintain it.
60 Stunning Flat Twist Natural Hairstyles
So, I'm about to show you 60 stylish ways to wear flat twists! Some of these styles are so easy to do that you can make them yourself, but then there are those I'll advise you to leave to your Hairstylist.
Alright, here you go!
1. Creative Flat Twists
Do you need something extra? Then try these creative flat twists. Creative flat twists are almost similar to the regular Ghana weaves.
2. Cornrow Flat Twists
This is so you don't miss braids too much. You can also style flat twists in cornrows for wearing your wigs or for keeping your ends safe. Lol.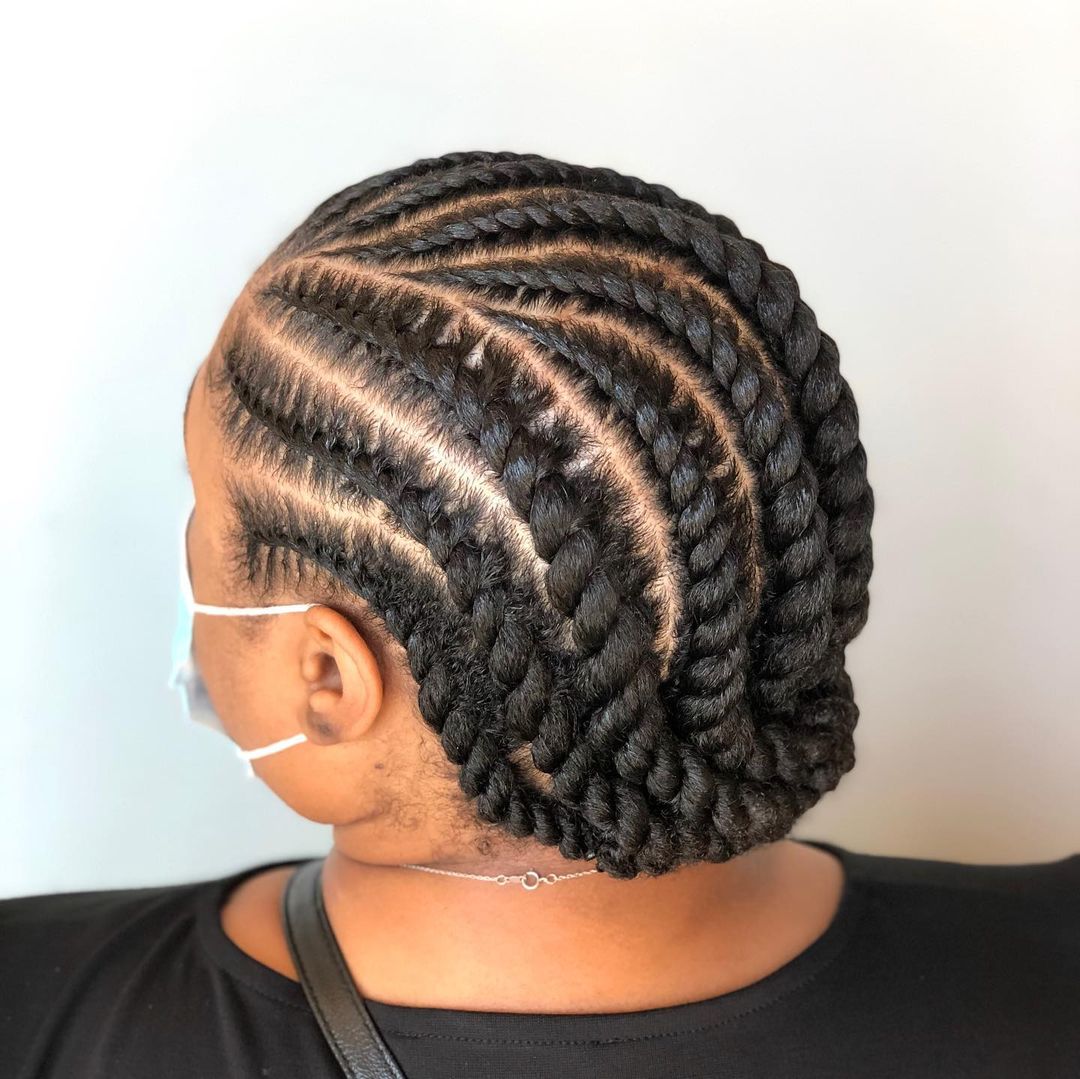 3. One-Sided Bold Flat Twists
Looking for a simple hairstyle for the weekend or a quick vacation? You may want to rock one of these.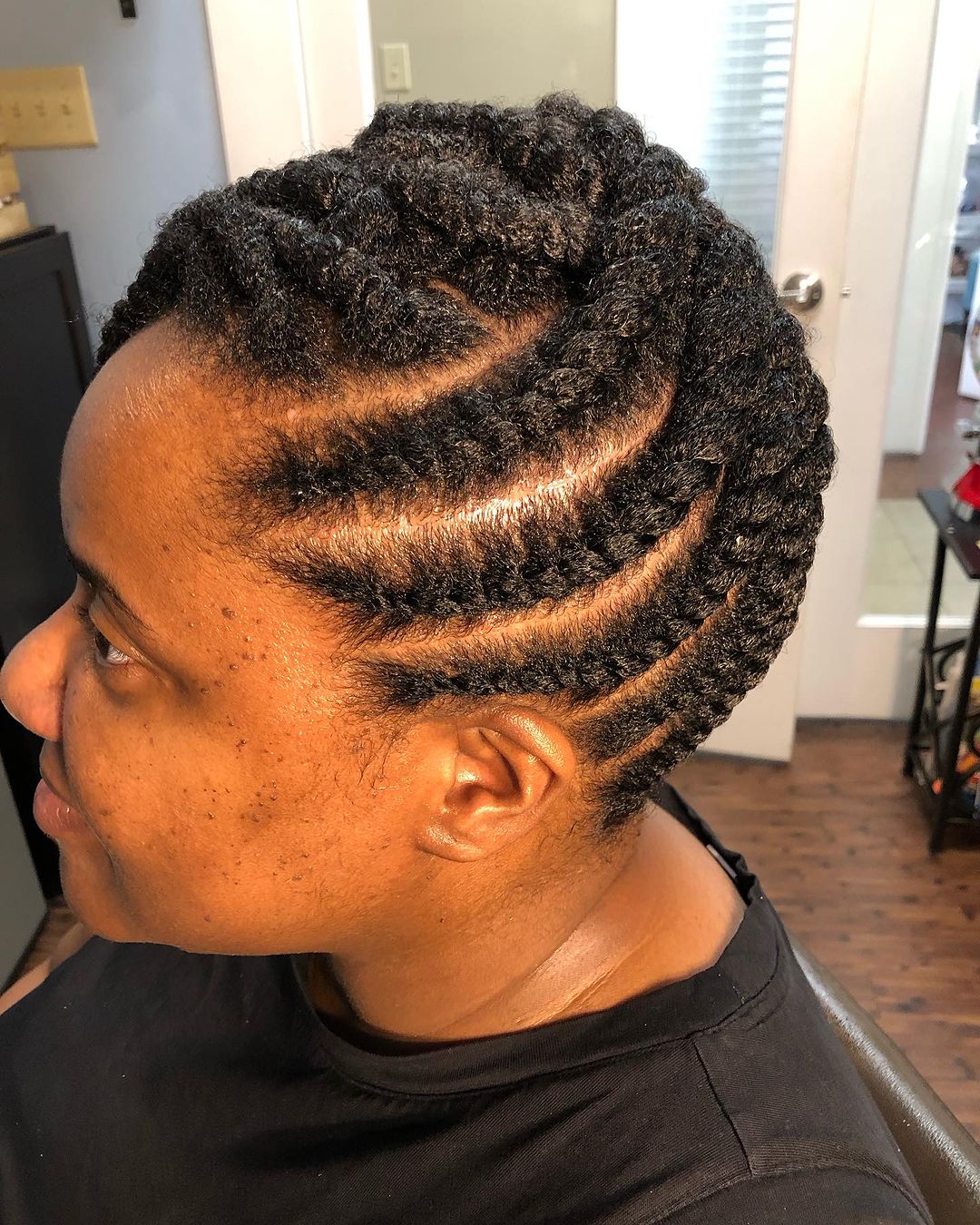 4. Flat Twist Up-do With Curls
How do you see these? This style would slay wherever and in whatever!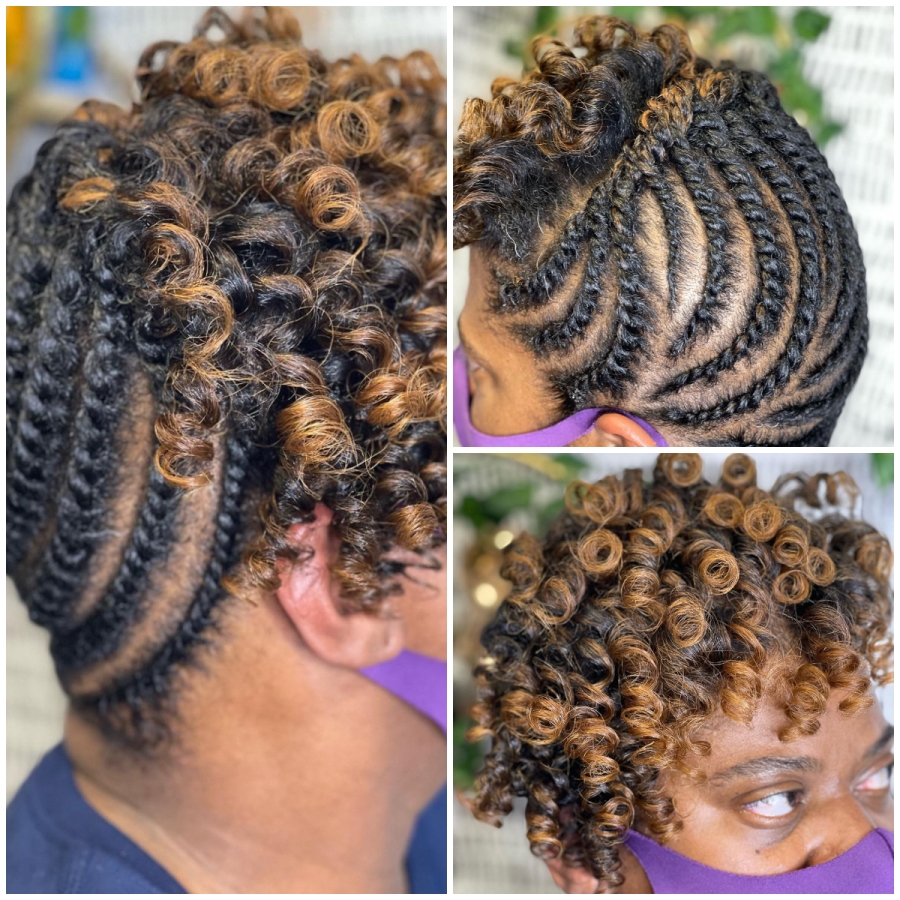 5. Flat Twist Up-do
This is similar to the traditional "shuku" in Ghana's braids. While Ghana braids cause hair breakage, you can wear a flat twist "shuku" instead.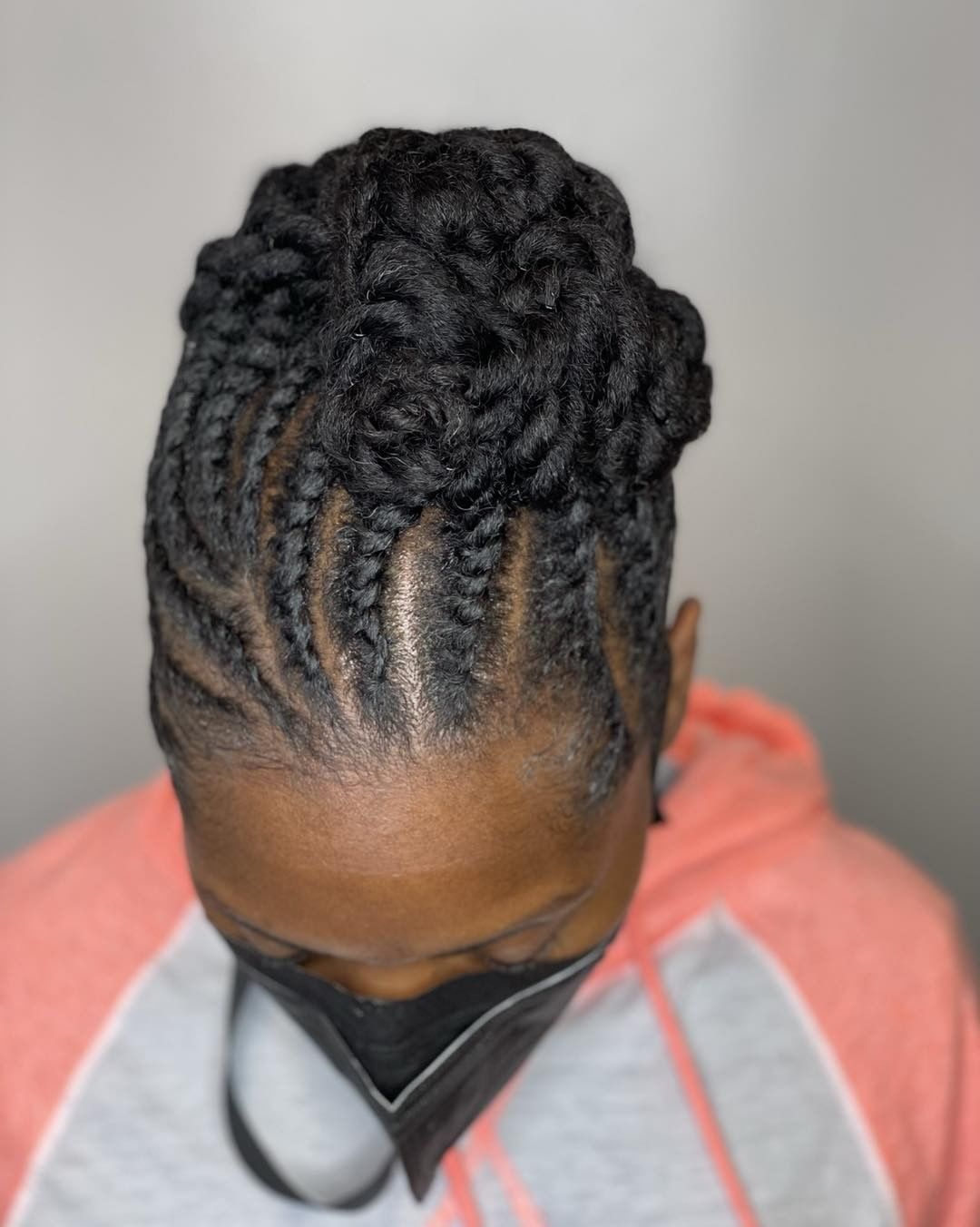 6. Creative Flat Twist Cornrows
Here's another way to wear flat-twist cornrows. I bet you love it as much as I do!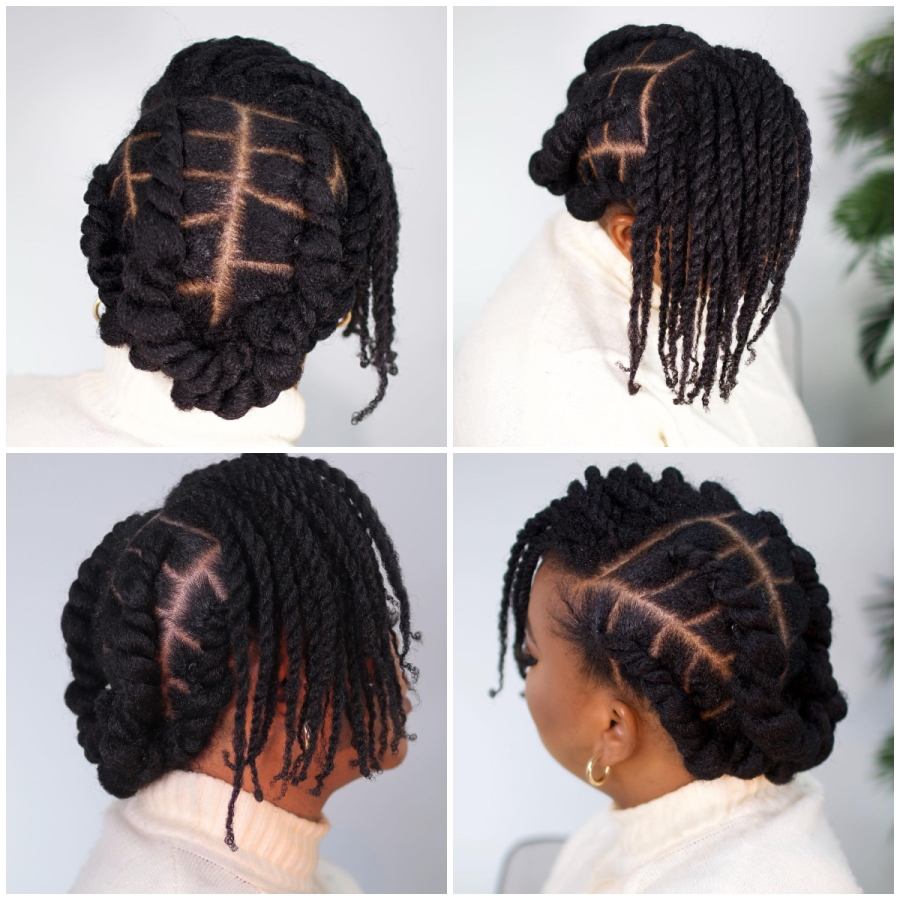 7. Flat Twist Bun
A flat twist bun is created by stylishly twisting sections of the hair flat to the scalp and then gathering the ends into a bun at the back.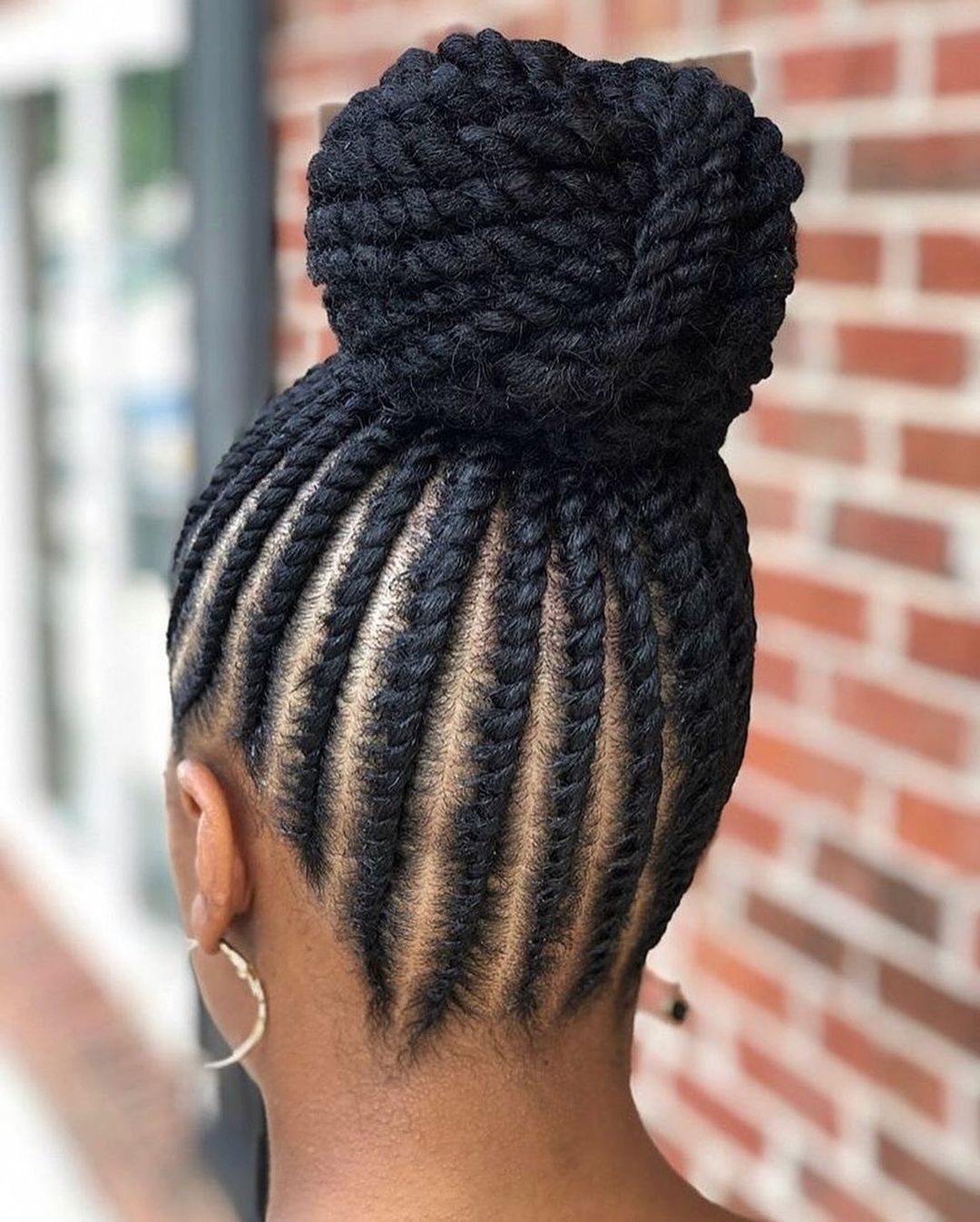 8. Cornrow Flat Twists on Knotless Bob
Looking for a chic look? This bobby flat twist style is what you need. If you're in your 30s to 50s, this style makes you look 10 to 15 years younger, while it's a great fit for the 18- 20 something-year-olds.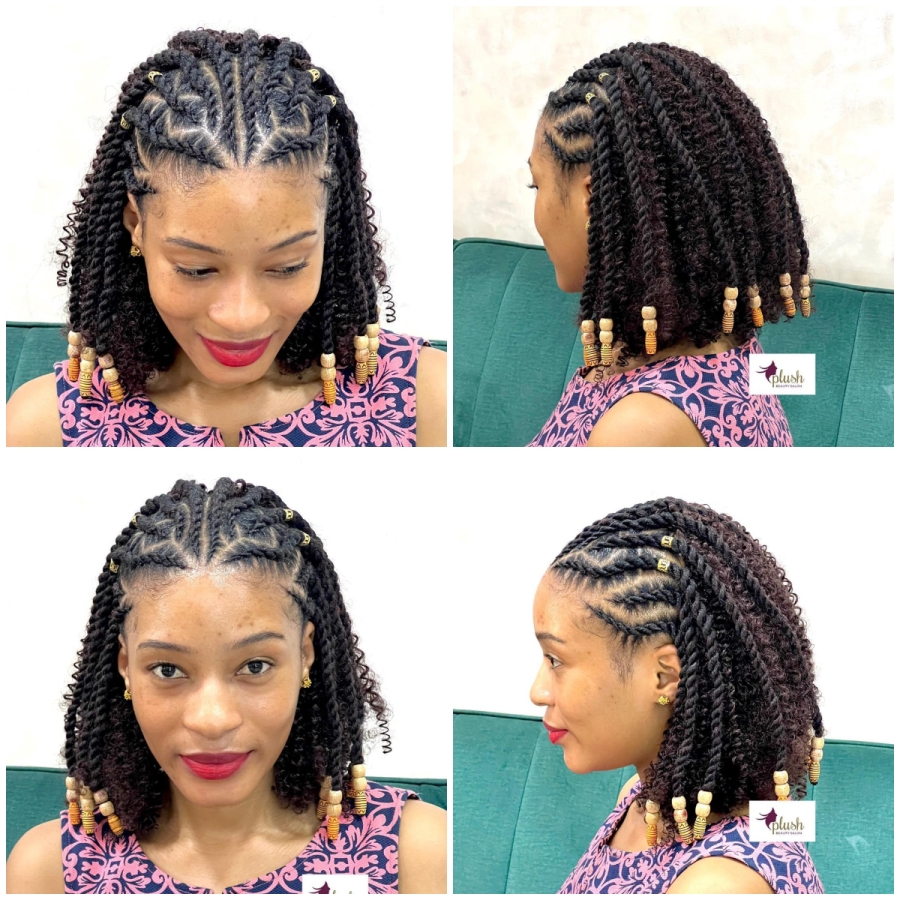 9. Single Braid Flat Twists
For a bolder facial look, You may want to wear this single braid. It's as easy to loosen as it is to fix. Fun fact: You can do it yourself in 10 to 20 minutes.
10. Flat Twist Chignon
I'll recommend this flat twist style for your formal and official meetings. It gives you this simple, yet classy and confident look.
11. Colored Flat Twists
Oh yeah! For that bold and eye-catching look, colored flat twists it is! You can either dye your hair and style whichever way you want or style it with a colored extension. Either way, you'd look great!
12. One-Sided Flat Twist Bun
A one-sided flat twist is styled into a bun on one side of the head, creating an asymmetrical and elegant effect.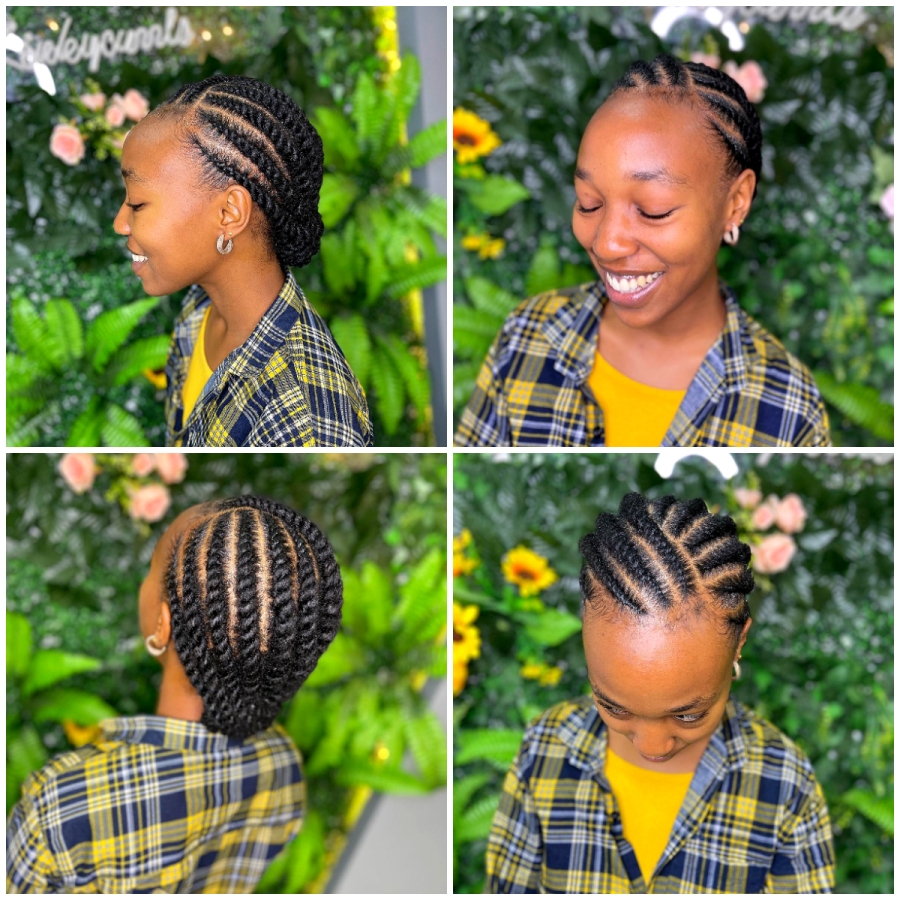 13. Cornrow and Individual Flat Twists
Here's a fusion of cornrows and individual flat twists. You can pack up the individual twists or pour them out for that pretty look.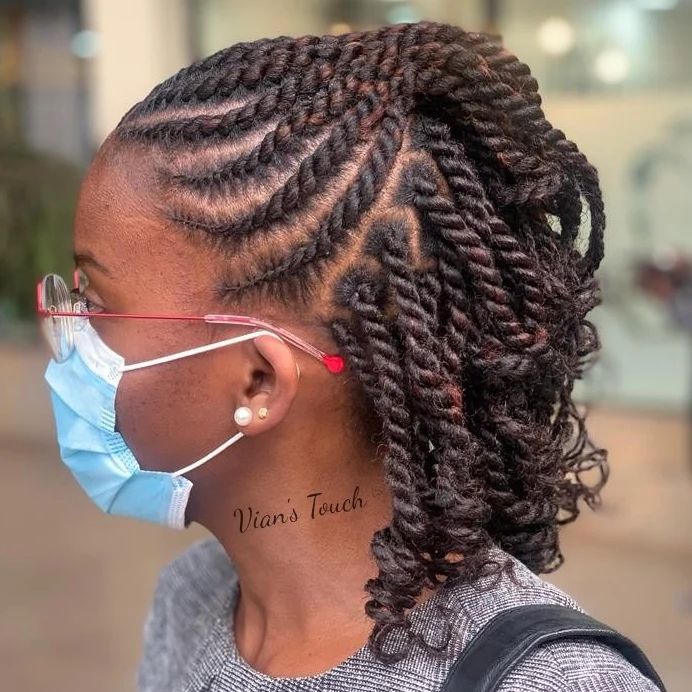 14. Cornrow and Individual Flat Twist With Extension
For a longer flat twist, an extension isn't a bad idea. The good thing is that it makes the flat twists finer and long-lasting.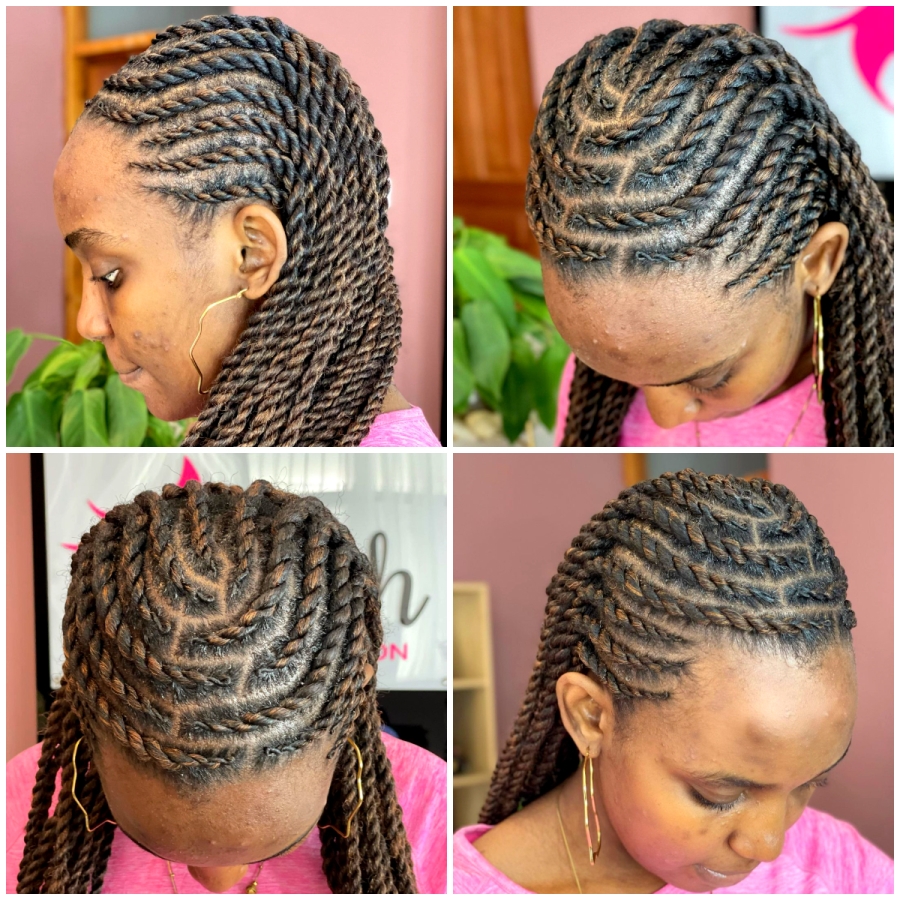 15. Flat Twists Cornrows on Curls With Extension
The curly extension in this style gives it a voluminous and textured appearance.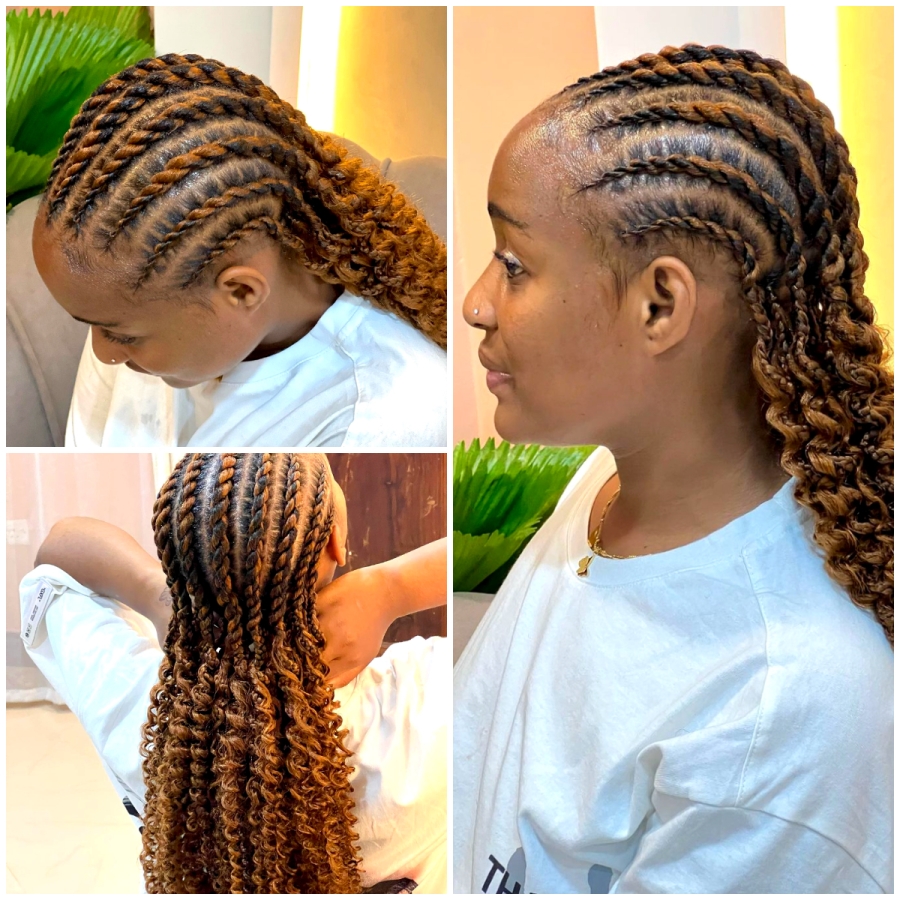 16. Flat Twist Up-do With Kinky
For a chic and natural look, kinky is always the right way to go!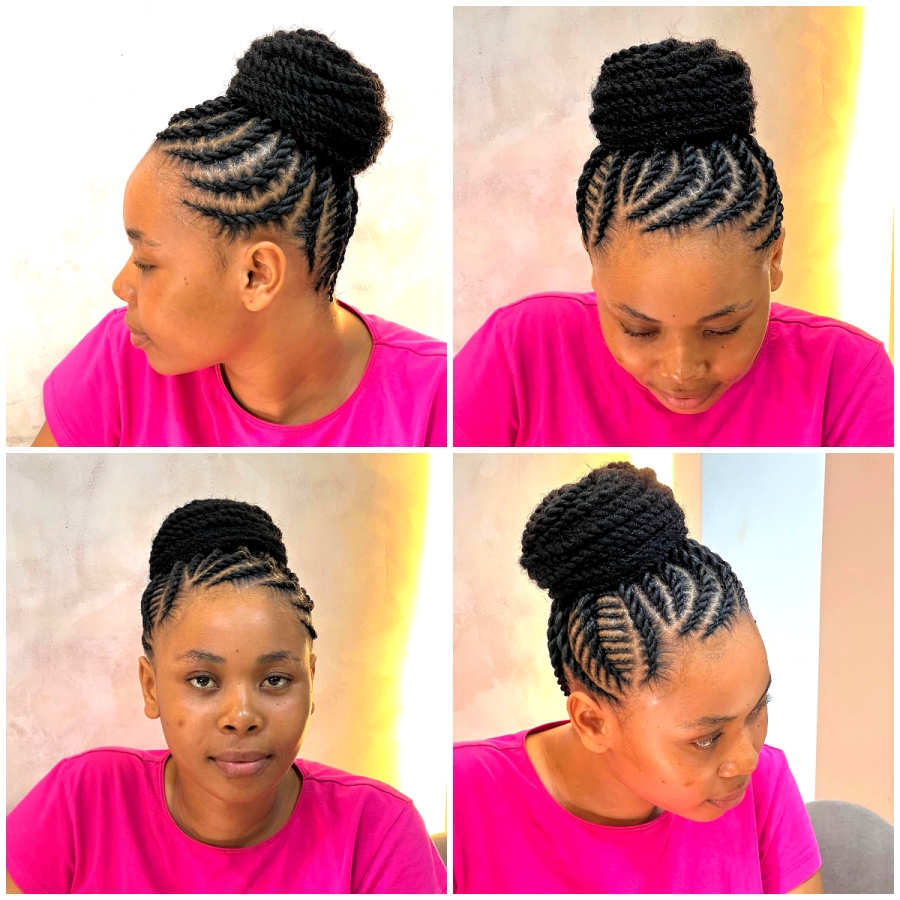 17. Curly One-Sided Flat Twist With Extension
How about curling the ends of your gorgeous kinky?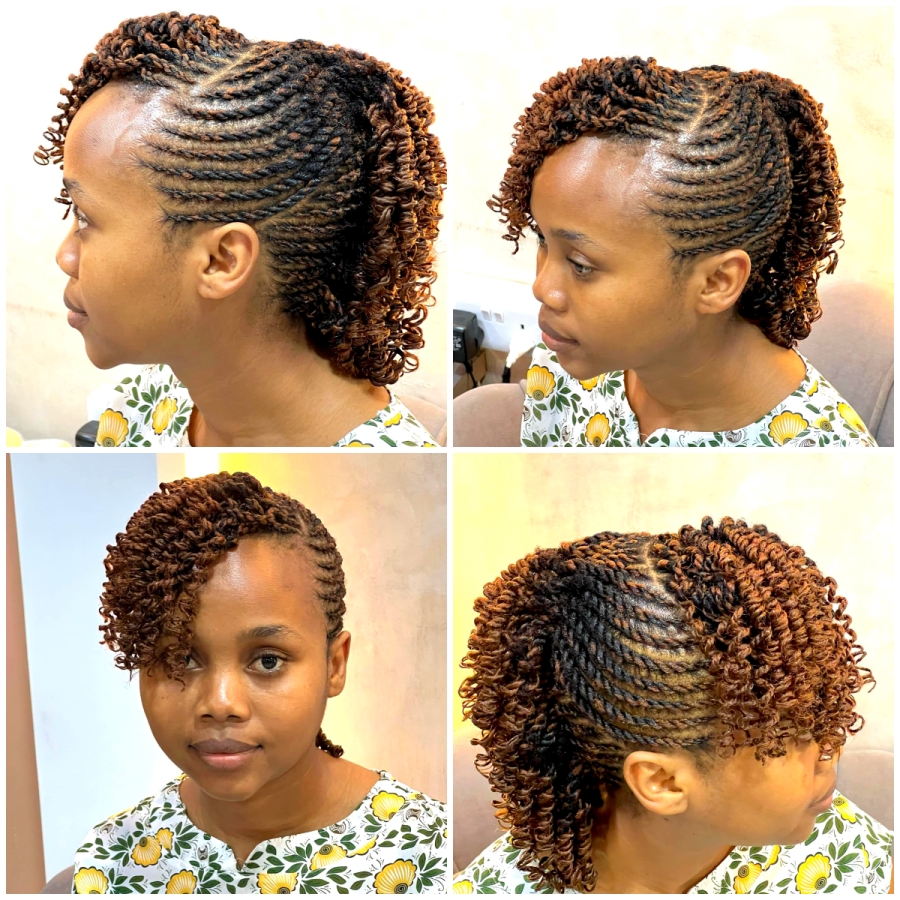 18. Twisted Cornrows With Frontal Curls
For the love of versatility, twisted cornrows with frontal curls have got to be on this list. It's a great fit for round-faced ladies.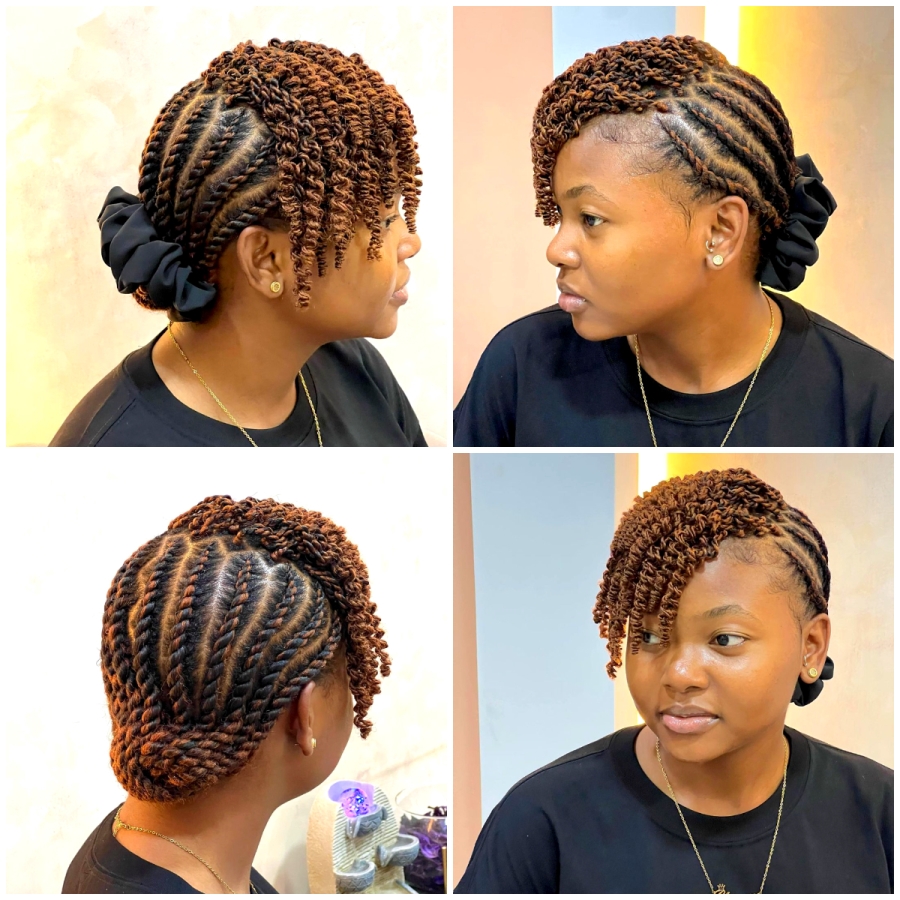 19. Flat Twist Up-do With Curls
This style is a Flat twist transformed into an updo with curly ends. Giving you a polished and glamorous look.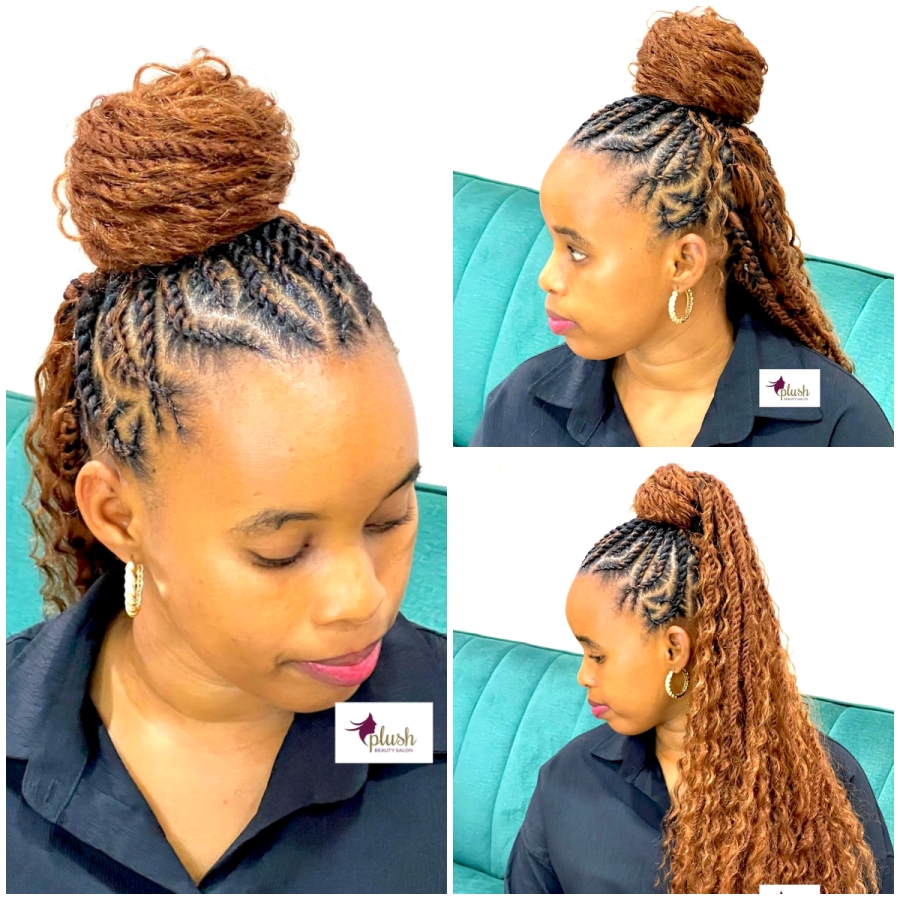 20. Side-Parted Flat Twisted Cornrow
This hairstyle gives you a modern-day college student look. Also, you can make it with an extension or just your natural hair.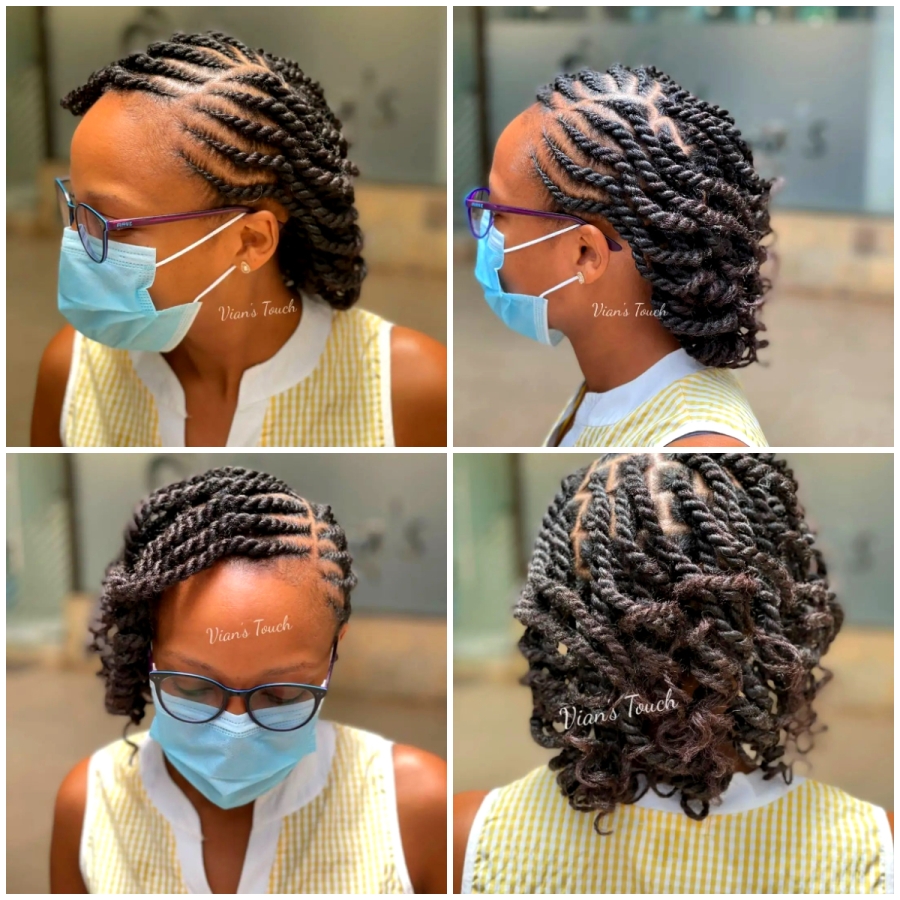 21. Halo Flat Twists
Halo flat twists are styled in a halo pattern around the head, creating a distinctive and angelic hairstyle. This style can be undone in two to three days.
22. Pinwheel Flat Twists
You will get heads turning for this hairstyle plus your hairstylist can get it done in no time.
23. Flat Twists on Threaded Mohawk
For a mix of creativity and a traditional look, you may want to consider flat twists styled on a threaded Mohawk base.
24. Flat Twist Long Up-do Ponytail With Frontal Curls
This combination of flat twists and frontal curls in an updo gives you a stylish and textured appearance.
25. Flat Twist Kinky Up-do With Short Frontal Curls
Yeah! You can also wear kinky curls for an elegant and chic look.
26. Flat Twist Up-do With Two Strands Frontal
If you can handle a bit of distraction from your hair, then by all means, go for this simple yet gorgeous flat twist.
27. Flat Twists With Beads
Wearing Flat twists adorned with beads adds a touch of style and cultural flair. What do you say?
28. Flat Twists on Voluminous Hair
Flat twists styled on voluminous hair, give you a striking and bold statement wherever you appear.
29. Chunky Flat Twists With Frontal Twisted Bangs
These chunky flat twists, paired with twisted frontal bangs, give a dynamic and trendy look that you will love.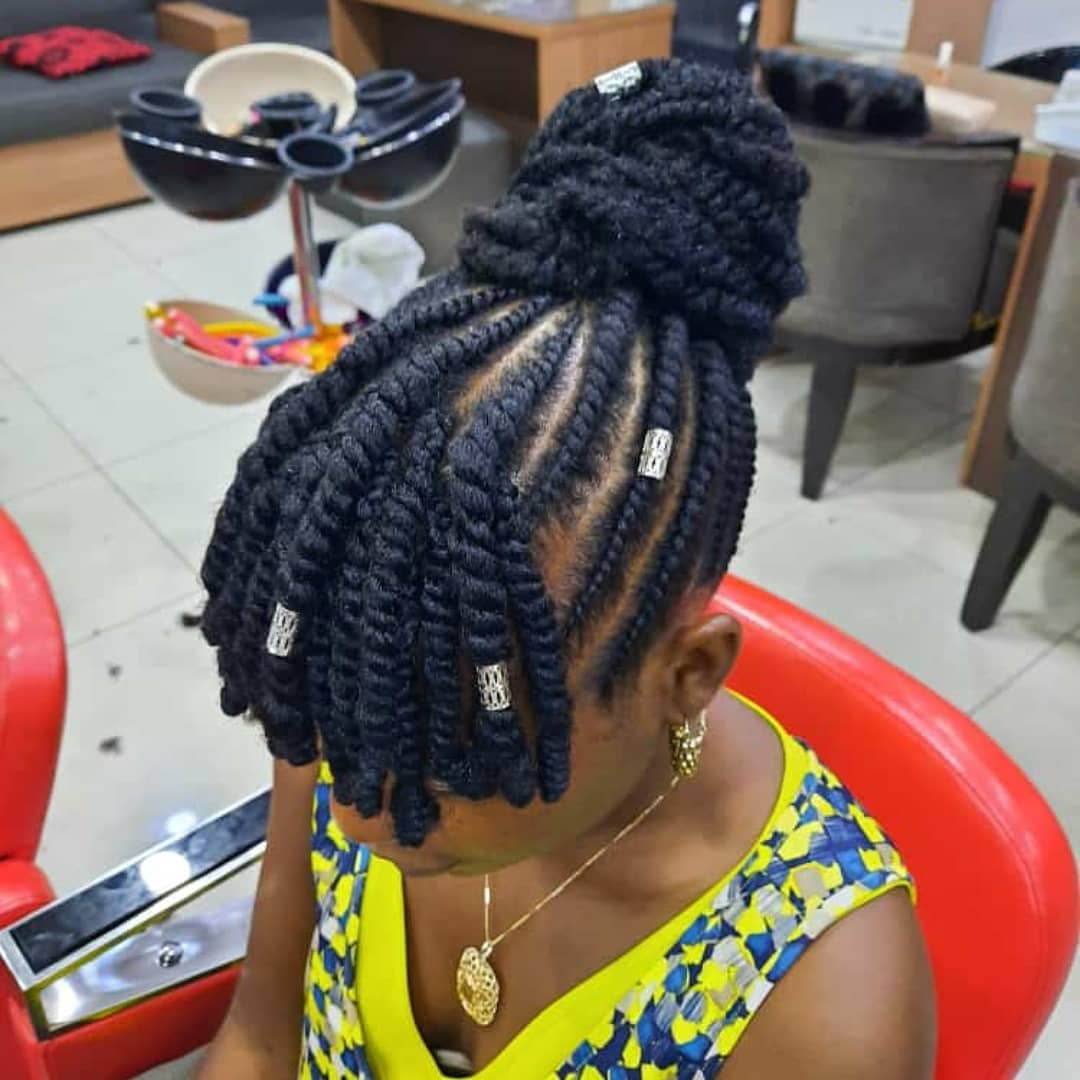 30. Blonde Flat Twists
Flat twists in a stunning blonde shade, provide an energetic and vibrant appearance.
31. Waterfall Flat Twists
Waterfall flat twists are designed to resemble a waterfall effect, resulting in an elegant and flowing style. So fine!
32. Chunky Up-do Flat Twists
This chunky flat twist was transformed into an up-do, creating a voluminous and textured hairstyle.
33. Mini or Maxi Flat Twist Cornrows
This is a combination of small and large flat twists intertwined with cornrows for a stylish and intricate look.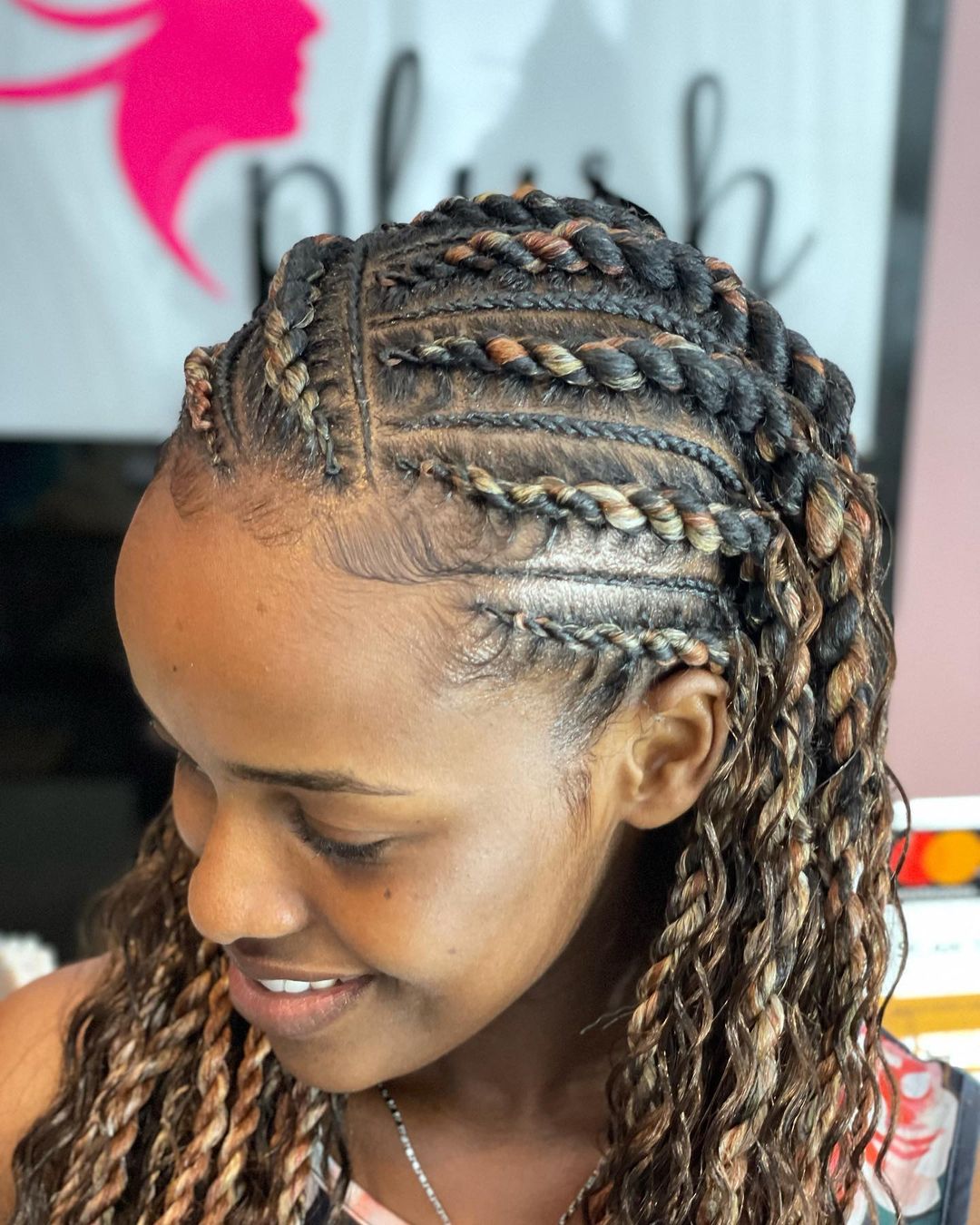 34. Bridal Flat Twist
Elegant flat twists are designed with a bridal theme, often adorned with accessories or decorative elements. This bridal hairstyle, though simple, is classy for your bridal look.
35. Voluminous Flat Twisted Up-do
This voluminous updo is created by twisting sections of hair into flat twists and securing them into an updo style. It's beautiful, it's classy. You should try it.
36. Cascading Flat Twists
This flat twist cascades down the head, creating a flowing and visually appealing effect.
37. Side Sweep Flat Twist with Two Strand Twists
This chic hairstyle featuring flat twists on one side and two-strand twists on the other creates a balanced and textured look for oval-faced women.
38. Chunky Flat Twist Cornrows
One thing I love about bold and thick flat twists combined with cornrows is that they result in a statement-making hairstyle.
39. Stitch or Mini Flat Twist Cornrows
For a more feminine look, you may want to try this intricate, small flat twist intertwined with cornrows. It has a detailed and stylish appearance.
40. Burgundy Flat Twist
Flat twists with a rich burgundy color add a unique and eye-catching dimension to flat-twist hairstyles.
41. Mohawk Flat Twists with Frontal Two-Strand Curls
This mohawk-style look with flat twists along the sides and frontal curls adds texture to the hair.
42. Feed in Flat Twists With Extensions
Do you desire to wear lengthy flat twists on your short hair? Flat twists created with added hair extensions add length and volume to your hair.
43. Coral-Shaped Flat Twists
This Flat twist style resembles the shape of a coral, creating a distinctive and artistic appearance.
44. Accessorized Flat Twists
Here are flat twists adorned with accessories like beads or cuffs, enhancing the overall look. You can use these accessories for any flat twist style.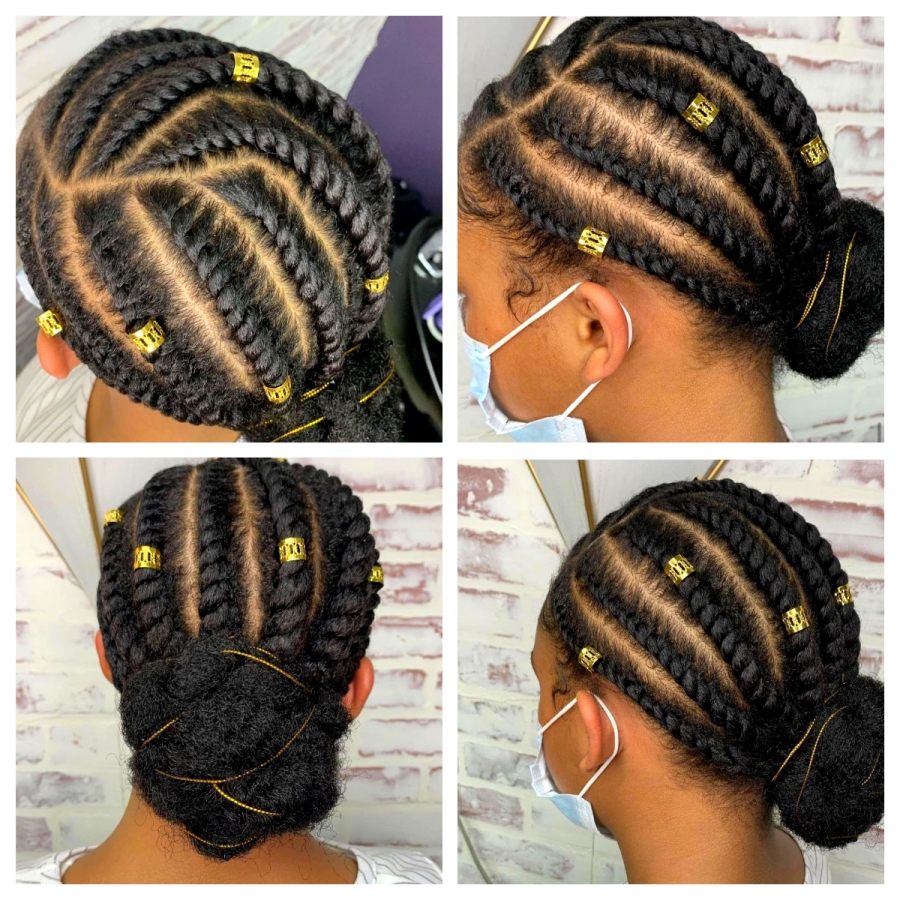 45. Patewo (Double Mohawk) Flat Twists
This unique flat twist double mohawk style is your choice for that chic casual look.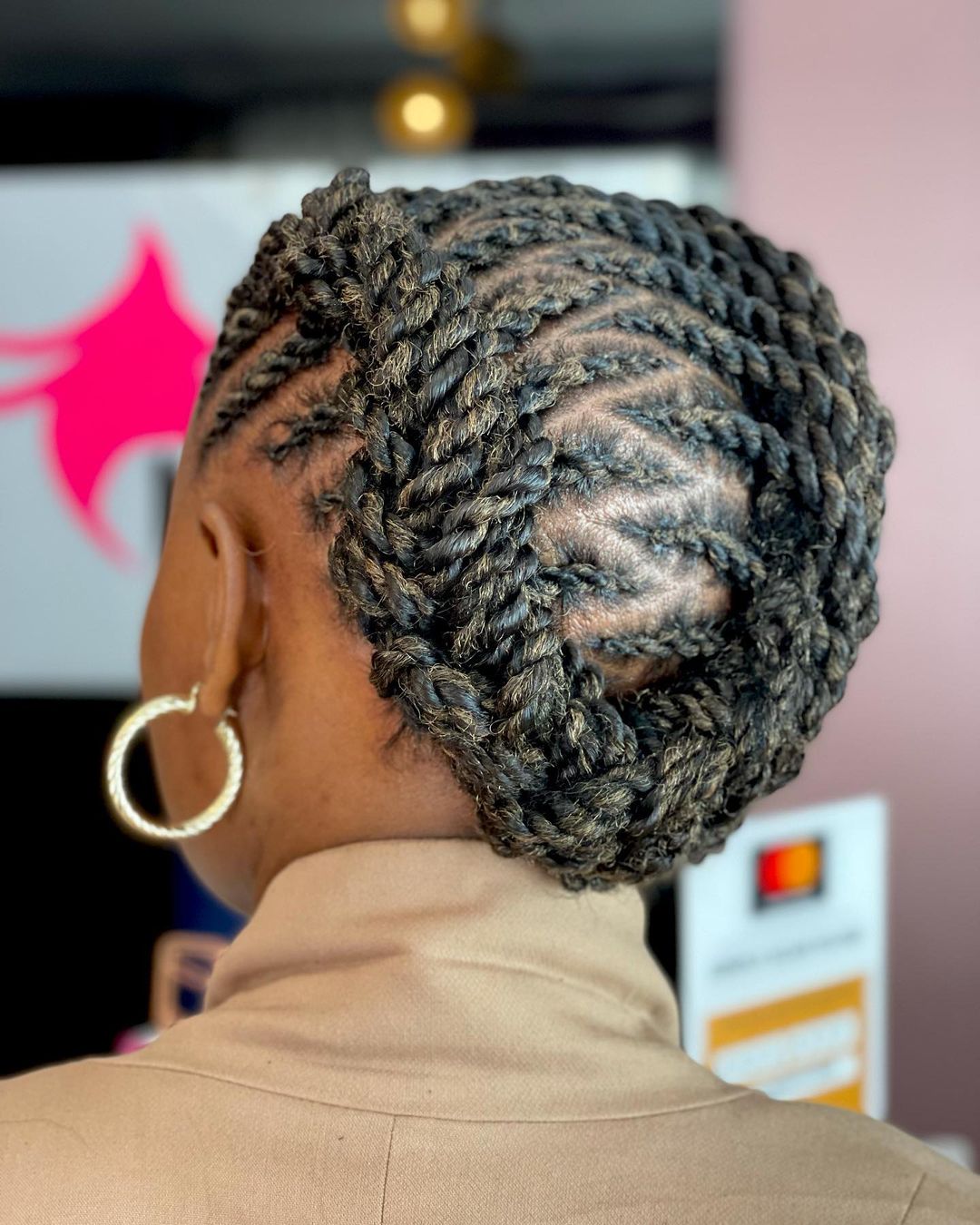 46. Ombre Elegant Flat Twists
Flat twists with an ombre color effect, give a sophisticated and gradient appearance. It looks best on dark-skinned women.
47. Flat Twists Cornrow with Kinky
This combination of flat twists and cornrows with kinky hair gives a textured and dimensional style.
48. Flat Twist Ponytail
This flat twist gathered into a ponytail gives its wearer a sleek and stylish look.
49. Flat Twist Ponytail on Natural Hair
This style makes for a shorter ponytail created with your natural hair. This flat twist style combines convenience and elegance.
50. Criss-Cross Flat Twists With Curly Ends
This is a Flat twist style woven in a criss-cross pattern, creating a visually interesting and intricate design.
51. Flat Twist Crown
This style is very protective, as the ends of your curls are tucked in, preventing breakage and split ends.
52. Big Flat Twist Rings
This Large twist arranged into ring-like curls gives a unique and artistic look.
53. Flat Twist Curls
This style is also called flat twist out. It is made by loosening plaited flat twists leaving just the curls.
54. Thick and Thin Flat Twists
This combination of thicker and thinner flat twists creates a dynamic and textured appearance.
55. Thin to Chunky Up-do Flat Twists
This style of Flat twists transitions from thin to chunky sections, forming an updo hairstyle. This style can be risky because a tight hold on the root of the hair can lead to loss of your edges.
56. Crochet Flat Twists
These Flat twists are created using the crochet method. It is often combined with braided extensions.
57. One-Sided Flat Twist Bun
This is a simple bun style created with flat twists on one side.
58. Zig-Zag Flat Twist
I love the simple, yet unique and geometric look of this flat twist. It is great for casual looks.
59. Up-do Flat Twists Ponytail With Curls
Flat twists arranged into an updo ponytail, combined with curls give a versatile and elegant appearance.
60. Piggy Tail Flat Twists
These Flat twists styled into pigtail sections, offer a playful and youthful appearance.
How Do You Flat Twist Curly Natural Hair?
First of all, moisturize! Then stretch out. Also, mix water and hair cream in a spray can and spritz your hair while twisting it to keep it damp. The dampness is needed to keep it soft and silky.
How Do You Keep Your Flat Twists Tight?
Ensure it is held firmly to the scalp. This is why you need to keep the curls damp and stretched so that it is easy to hold together while plaiting. That way, it is also easy to hold it firmly to the scalp.
Are Flat Twists a Protective Hairstyle?
For Natural Hair? Yes, it is! Stretching out the curls prevents tangling which causes breakage and split ends in Natural Hairstyles.
How Long Do Flat Twists Last on Curly Hair? 
It can last for two to three weeks depending on the style. It even lasts longer on curly hair than relaxed hair. With a good sealant or hair gel, you can maintain flat twists to last longer.
Are Flat Twists Better Than Cornrows?
They are better because they are more protective. A flat twist is also better because it is easier to plait and loosen as well. Well, the choice of which is better also depends on your preference too.
What to Do Before Twisting Your Hair?
Before twisting your hair, ensure you wash thoroughly with a moisturizing shampoo and conditioner. A moisturizing shampoo gives it a beautiful shine after it is plaited. 
You should also stretch your hair for a finer,  smoother, and long-lasting flat twist. Ensure your hair is damp all through the plating process as it prevents tangling.
Final Thoughts
A flat twist is always a yes for natural hair. You can never go wrong wearing any of these styles. Just stick to the maintenance procedure for each style to keep it in its best shape until you are ready to undo it.
I just shared a myriad of styles for every personality, occasion, and hair texture. So, find your best fit and join the train!