You can start and maintain your dreadlock loc journey with Two-Strand Twist Locs. With its versatile and chic styling, it has something to suit every black hair type and texture.
If you are starting your loc journey for the first time or want to switch up your hairstyle, this comprehensive visual guide will show you how to create and care for your locs, offering a variety of tips steps and essential do's and don'ts.
The two-strand twist loc an enduring and timeless hairstyle that celebrates individuality and self-expression, is the perfect way to embrace your natural beauty.
Ready?
What You Will Need for Two Strand Twist Locs
To get started, you'll need these tools and equipment, regardless of whether you hire a loctician or do it yourself.
Hair clips
Edge control
Duckbill clips
Locking tools
Hair oil (optional)
Small mouse tail comb
Water Spray bottle (optional)
Visual Content–Two Strand Twist Locs: The Ultimate Starter Guide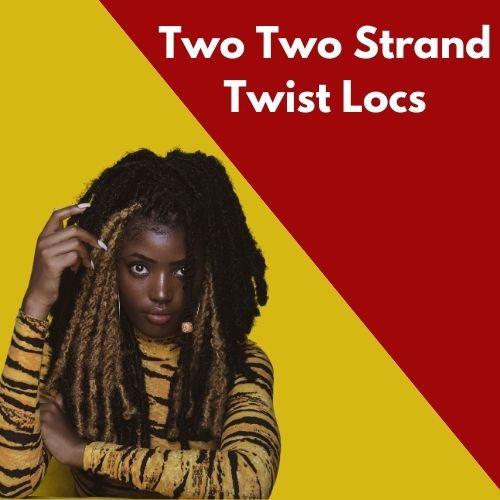 Wash your hair with shampoo and deep-in conditioner. You can use products that are best for your hair. Below, TheChicNatural shares her washing routine via YouTube. This washing technique is not different from when you're washing your hair to lock it a few minutes later.
Dry the hair using a towel or blow dryer, or leave it to air-dry. Seun Okimi shares how to safely blow dry your natural hair in her YouTube video below.
After drying the hair part it into small sections to make it easier and more manageable to braid and twist, as you can see below.
Depending on how big or small you want your locs, take a section of hair at a time, part a small section with a comb, preferably in a square, and braid in three strands from the roots up to an inch. Then twist to the bottom. Use a hair clip to hold it after twisting the hair before moving on to the next.
Interlock the twist using the locking tool
Continue to repeat the loc process until you have finished twist locking your hair. Below is an image of the end result, shared by Chateau Salon Suites on Instagram.
Or if you prefer much smaller twist locs like Sisterlocs, here's your best bet!
Oil the scalp to keep the hair moisturized. Check out WildGrowth Hair Oil on Instagram.
Check for any loose ends and adjust
You should have a look like this after your two-strand twist locs, shared by @Microlocs Berlin on Instagram.
Below is a detailed YouTube video tutorial by Being TYMARA. You'll love her journey!
You'll want to go for a retwist after ten weeks to make sure your two-strand twist locs are still in place. Check out @loc.nyssmnstr retwist after 10 weeks.
Voila! Now you know how to do two-strand twist locs. When you begin your locs journey, don't hesitate to share with us your experience in the comment sections.