I'm assuming you are here because you will soon achieve a new Semi-Freeform dreadlocks style, right?
Semi-Freeform dreadlocks sponge are easy-to-carry dreads that can be maintained at home with little effort. They are easily done with the help of a hair sponge and need re-twisting less frequently—every 4 to 6 months. They are also known as favorite locs as they don't require expensive styling tools and artificial products for forming and maintenance.
To help you rock your new avatar, we have compiled this article where you can find everything you need to know about Semi-Freeform dreads sponge.
What Are Semi-Freeform Dreads Sponge?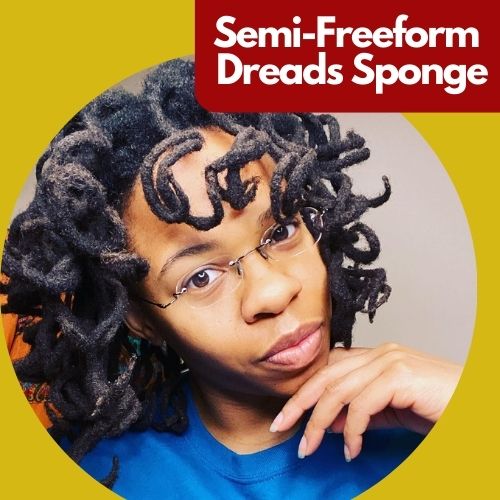 They are slightly different from Free form dreads. Semi-freeform dreads with sponge are the kind of dreadlocks that are formed with little to no twisting—every 4 to 6 months. Whereas, free-form dreads require almost no twisting or hand work.
They are formed easily with little manipulation that doesn't require constant palm rolling, twisting, and re-twisting.
The overall look is messy and authentic, but friends don't get confused with an informal and untidy look, as semi-freeform dreads look fantastic and can be carried at every formal or casual event.
What's more?
A lot of people confuse Semi-freeform style with natural dreads. Although they might look a little identical to some people, the forming procedure of both dreads is entirely different from each other.
Semi-freeform sponge dreads require more attention and effort than sponge dreads.
Globally many people opt for sponging to increase dreads volume and shape. It is advised to use a sponge for more accurate and healthy dreadlocks. Doing it for 4-5 months will show definite results.
Although Semi-freeform dreadlocks are not needy, that doesn't mean you neglect your dreads because a short-term break is fine, in the case of Semi-freeform dreads, things get nasty when you fail your dreads for a long time.
How To Get Semi-Freeform Dreadlocks With A Sponge?
Here comes the part you all have been waiting for. Let me tell you this, styling dreadlocks is an art, and only an artist can do it right.
However, with consistency and practice, you are good to go! To master forming a sponged Semi-freeform lock, you must follow these 4 simple steps.
Step: 1
A clean Scalp Is Necessary
Start the procedure of forming semi-freeform dreads with in-depth washing and detoxing of the scalp.
Fellas! A clean head is highly important in the case of dreads. Your dreads attract dirt, impurities and filth all the time.
This is why it is suggested to wash your hair regularly to cut down the dirty buildup.
Make sure you wash your hair with clarifying and residue-free shampoo for better results.
Step: 2
Sections Formation
Now, part your hair into smaller sections. Start from the back and gradually move to the front.
Once you are successful in parting your hair thoroughly, secure them with a hair tie at the end to keep them in place.
Start with the 'rip and pull method' to form locs for semi-freeform dreads. This method is easy and doesn't require a lot of practice.
Now leave your hair for natural locking and allow them to do their thing.
Step: 3 (optional)
Styling Tools
Some people also prefer using locking tools. The most common tool used for Semi-freeform dread is a CROCHET NEEDLE. The styling tool takes a longer duration in dread forming.
It also sometimes causes trouble to those who are not familiar with it. We suggest opting natural procedure that is more reliable than styling tools.
Step: 4
Backcombing and Sponging
Lastly, backcombing and palm rolling have to be done frequently for some time to avoid dreads tangling and mixing.
You can also maintain a locs parting system to minus the chances of hair matting and loss of dreads.
A sponge is used at this stage, which is highly important and the main part of this style of Semi-freeform dreads. Sponging will help get twists when done in a circular motion.
It will help you get a thick and definite shape.
Continuing and maintaining Semi-freeform dreads will not require that much effort in the future. The messier, the better works for Semi-freeform dreads.
Tips to make Semi-freeform Dreads Lock Faster
Dreads forming a definite shape are a journey to witness! It doesn't happen overnight.
However, there are a few things that you can do to speed up the lock formation.
1. Sea Salt
Saltwater is extremely favorable for dreads. Introducing sea salt to your shower routine is the best thing you can do for your dreads.
Adding sea salt to shower water will help you lose dreads which can also help you wash your dreads thoroughly.
2. Locs Rubbing and Base Wrapping
Every time you wash your hair, it is advised to do grooming and touchups to keep the dread's health maintained throughout.
Maintenance is highly important in the story of Semi-freeform dreads.
Locs rubbing and base wrapping is one of those techniques that will prevent hair thinning and breakage.
Backcombing and palm rolling are also necessary to keep the dreads new and healthy.
3. Beeswax
Beeswax is that friend of dread that is helpful and toxic at the same time. Yes, you read it right!
When wax helps you tighten your dread effectively, it also allows dirt and impurities to accumulate at the dread.
Beeswax use has to be used with caution as the buildup and contamination it brings are unbearable.
We recommend you do a little more research before introducing it to your hair this way; you will be saved from a lot of miseries.
4. Residue-Free Shampoo
Fellas! It is essential to switch to special dreadlock shampoo, i.e. clarifying and residue-free shampoo that doesn't leave a white cast or product on the scalp.
Dreadlocks require shampoo that leaves the scalp clean and breathable.
Bring in residue-free shampoo and see your hair issues fading away.
Tips For Maintaining Sponged Semi-freeform Dreads
Sponged Semi-freeform dreads are easy to maintain dreadlocks as compared to other dread styles.
As said earlier, the messier, the better, but please don't confuse this with nasty and unhygienic dreads. Just a few things that one must keep in mind, and you are good.
1. A Loose Pony Is The Best!
First thing first, when you sign up for Semi-freeform dreadlocks, you also commit to less hair styling and pressure.
Dreads in the Semi-freeform are delicate and can lose their shape when treated a lot on a daily basis.
We suggest you leave your hair down in a loose bun or pony. But make sure you secure your dreads with an easy elastic pony band.
2. Hair Thinning
Next is hair thinning! Be cautious when it comes to rooting thinning, as it is the most talked about the issue of people with Semi-freeform dreads.
Always does extensive study before using a new product on your dreads, as it can cause hair thinning and breakage.
3. Root Matting
Taking care of dreads root is as essential as washing.
Once you are done with the hair wash, always separate and dry your dreadlocks.
This will help you minimize the chances of roots matting.
Another thing that is essential is little trimming. This will also prevent dry roots and split ends.
4. Moisturizing Is Essential
Moisturizing is highly essential for dreadlocks. If you have straight hair, skip this step, but moisturizing is essential for thick and curly hair.
During twisting and manipulation, hair loses all the moisture and hydration.
Experts suggest using water-based conditioning products that will resort to hair's moisturizing barrier.
Ensure you secure your hair from oil-based formulas, as they are the core reason for product buildup and dandruff.
5. Silk Scarf
Lastly, to keep your Semi-freeform dreadlocks shape maintained, secure them in a silk scarf and a loose bun before going to bed.
A silk scarf is best for your dreads as it doesn't leave any fibre on the dreads that make your locs filthy and dirty.
Frequently Asked Questions (FAQs)
How much time do Semi-freeform dreadlocks require to form?
The science is easy in the case of Semi-freeform dreadlocks. The total time required by the dreads entirely depends on hair type and aftercare. 
If you have curly and thick hair, your locs will likely form early and require fewer rounds of manipulation and twisting than those with straight or wavy hair.
However, the average time of Semi-freeform dreads forming is 2 months-2 years. 
Throughout this time, dedication and commitment are necessary.
How often should one wash Semi-freeform dreads?
It's 2022, and still, many people find excuses not to wash their hair. This is the reason dreadlocks are viewed as dirty or unhygienic. 
It is advised to wash Semi-freeform dreadlocks once in 8 days in the initial days of manipulation, i.e. first 10-12 weeks. 
Then build a shower routine according to your ease and schedule. 
Lastly, make sure you always air dry your dreads to avoid hair breakage and dead texture.
Can semi-freeform dreads be re-twisted?
Yes, they can be twisted and re-twisted but not very frequently. 
The best part about Semi-freeform dreads is they require little to no twisting, which makes styling easier for people. 
Re-twisting after every 2-3 months is advised to maintain the dreads throughout. 
Other than this, washing and care are essential in the case of Semi-freeform dreadlocks.
How to start a Semi-Freeform dreads sponge?
The procedure of opting for Semi-Freeform dreads is relatively easy. You just have to follow a few simple steps:
1. Deep cleanse your scalp and the length of your dreadlocks
2. Then, start forming the sections (size: however you like) and start parting.
3. Start locking your hair with the technique of your choice (braided, 2-strand, or palm rolling).
The plus point of Semi-freeform dreads is it doesn't limit you with any particular parting system and size, so go creative and do your thing.
4. Now let your hair breathe, dry, and do its thing. Make sure you don't re-twist very often.
5. Now take a sponge and start with circular motions on the scalp. This way, your dreads will get a definite shape, and they will get fuller and voluminous. 
Now, It's Your Turn!
If you are facing issues like hair thinning and breakage, then we recommend you stop hair twisting and re-twisting for a while now and opt for Semi-freeform dreads with a sponge.
This will help your dreads get back their life and prevent them from falling and drying.
Research is highly important when you are about to achieve new dreads, as what works for one person might not work for another.
This is why we always suggest in-depth research and self-study.
Don't forget to follow this article while achieving a Semi-freeform dreads sponge for a better outcome.
Good luck!