If you're interested in locs, but don't want to deal with the awkward early stages, the low maintenance of dreadlocks can be encouraging.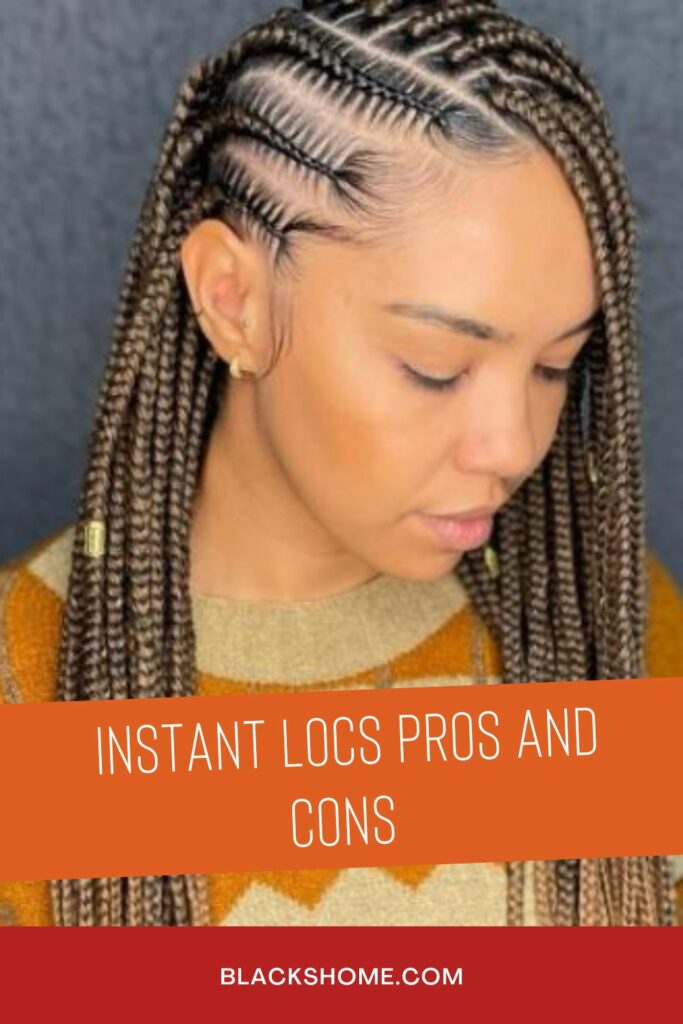 You'll be surprised to learn that instant locs make the process even simpler. With instant loc, you don't have to wait for mature locs. The name comes from the fact that you will have an instant loc the same day.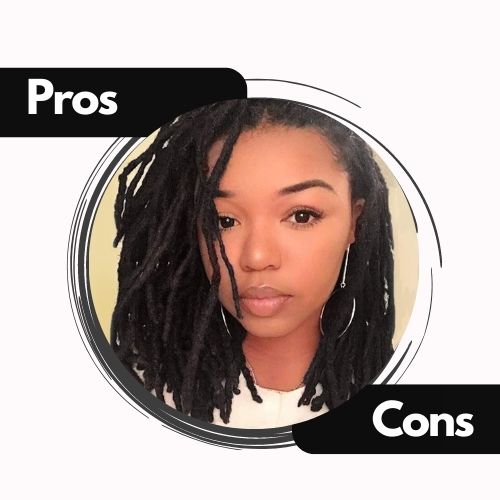 You may be wondering, But what are instant locs? Are they reliable? How do you install them?
No worries, I provide answers to your questions and more, below.
Best Instant Locs Extensions
Image
Product
Features
Price

Material: Curly faux goddess locs crochet hair with wavy ends, 100% synthetic fiber,locs crochet braids synthetic braiding hair for black women.
Style: Goddess faux locs crochet hair braids.this faux Locs is a thicker texture style with wavy comb-through ends that are silky to touch, and lightweight to wear.
Advantage:1.Hand-crafted for a beautiful look ,2. Pre-Looped crochet hair, Easy to install 3. easy to maintain, lightweight , that is effortlessly graceful, yet stand-out.
Size :24inch,Color: naturel color ,dark bronde ,light bronde weight:95g/pack,12strands/pack ,Package: 6packs/lot,72 locs per pack,Just one pack is enough for a full install
Features:Highly textured roots and loose wavy ends,Hold long time with good care. Perfect For party, gathering, vacation and daily use. Wear it, you will get many compliments.

Check Price

Hair Material : 36 Inch New Goddess Locs Crochet Hair Faux Locs Crochet Braids made with quality Low Temperature Fiber Synthetic Hair Extensions.
Package : 4 Pack 36 Inch Super Long Goddess Locs, 18 Strands/Pack, Weight: 170 g/pack, Due to the length and weight of the hair, we recommend customers use 3-4 Packs to make a full hairstyle.
Advantages :Curly Wavy Faux Locs Crochet Braids is super soft,100% Hand-Made, length no need to be extended,light and weight,not easy to separate,suitable for any occasion and season,last long time.
Easy To Install :Our Gypsy locs goddess faux locs crochet braids hair is Prelooped&Pretwisted,so it is very easy to install,saving money and time.Just try it, you are the irreplaceable fashion icon.
STYLEL :36 inch New Faux Locs Crochet Hair Extended Soft Goddess Locs Dreadlocs Synthetic Hair Extend Pre Looped Natural Soft Locs Braiding Hair for Women.

Check Price

Faux Locs Material: High Quality Kanekalon Synthetic Fiber. Perfect for you to increase your natural beauty.
Advantage: Hand-Made, Natural Shining and bending, Light and Soft, Quick and Easy to Crochet, Comfortable wear. The hair end is not easy to separate, lasting long. The Faux Locs crochet hair match your own hair for a natural look, adding African glamour to you. The synthetic fiber can hold your dreadlocks well, won't fade or tangle easily.
Package include:6 packs, 20roots/pack. 6 pieces of crochet Faux Locs are usually enough for a full head.
Length: 12 inch. We directly measure the length of the Faux Locs hair when it is curly.
Color note: Please trust us that you will receive the goods in the correct color. Recently a friendly customer told us that the color label on the product packaging was wrong, but the color of the product was correct (#99J). After investigation, it was found that our packing staff accidentally posted the wrong one. We are very sorry. Please don't worry, the actual color of the product is correct.

Check Price

A unique design just for you, Queen. Elevate your look with our lightweight 24" pre-looped Boho Queen Locs.
Textured at the roots and wavy at the ends for an elegant natural look.
Designed to bring out the queen in all of us in under 2 hours, with a simple crochet install.
Length - 24" with 16" layers included

Check Price

Hair Material: Butterfly Locs Crochet Hair Synthetic Fiber Hair, 2021 all the fashion elements center on this butterfly locs crochet hair, you are the irreplaceable fashion icon, so buy it.
Hair Features: Handmade braiding Butterfly Locs Crochet Hair, we are professionally and specially weave the hair end and it is not easy to fall apart, so long-last, install it directly, save more time&money, easy to air dry naturally and no tangled.
Easy Install & Save Time: These Short Butterfly Locs Crochet Hair Are Already Twisted, Individually Pre-looped, You Can Use It As Crochet Directly, Save Much More Time.
Hair Information: 5 Packs 36 inch; 175g/pack, short Butterfly Locs Crochet Hair, 12 strands/pc, 60 strands 6Packs.

Check Price

A unique design just for you, Queen. Elevate your look with our lightweight 24" pre-looped Bohemian Locs.
Textured at the roots and wavy at the ends for an elegant natural look.
Designed to bring out the queen in all of us in under 2 hours, with a simple crochet install.
Length - 24" with 16" layers included
Colour: Our Natural color is designed to mimic the colors that appear in real locs. This color is a subtle blend of natural black and natural brown tones.

Check Price

Gypsy Locs Crochet Hair Material: 100% quality kanekalon sythetic fiber. Hair is even, oily, light and elastic
Gypsy Locs Crochet Hair Features: Very great quality. Very light on your head, No Smell,Not rough, Not easy to separate, easy to work with install, suitable for daily wear. Hold long time with good care.
Gypsy Locs Crochet Hair Style: gypsy locs goddess faux locs crochet hair African root.you can wear it for party, Halloween, cosplay, daily use and any time you like to show your charm.
Gypsy Locs Crochet Hair Size: 18 inch length, Weight: 70g(0.154lbs)/pack. Color: 1B. Strands: 18 Strands/pack, 8packs/lot (144 strands/lot). 6-8 packs make a full head. the useful and beautiful hair making set will be sent freely.
Delivery Time:3-5 working days after shipping(Amazon Prime 1-day shipping, 2-day shipping and standard shipping).

Check Price

❤Faux Locs Crochet Hair:New style,Goddess locs crochet hair can show your new fashion. Pre looped crochet hair braids,soft locs braiding hair extensions.
❤Soft Locs Crochet Hair:100% low temperature fiber synthetic faux locs crochet Hair,hand made,very soft near nature hair. ❤Package: 6 packs/lot faux locs crochet braids,20strands/pack,total 120 strands,can full one head
❤Faux locs Feature:Faux locs crochet hair is natural texture, No smell, No tangle, Light and Tight, Not easy shedding. Pre looped, Easy to install. Soft and fluffy, Bouncy, Itch free, Suit for women, man and children.
❤Easy to install:faux locs hair Individually Pre-looped,so it is super easy to install. Especially for beginners wanted to do hair braids by their own, Which will save much more time and money to make the hairstyle.
❤Soft Faux Locs Hair Style:soft locs crochet braids,gypsy faux lcos crochet hair,goddess locs hair,wavy locs hair,wavy dreadlocks,crochet braids for black women and man,African Roots,butterfly locs

Check Price
What Are Instant Locs?
Also called instant dreadlocks, instant locs are dreadlocks that lock immediately during installations. Hairstylists use a unique, intricate crocheting method to knit the hair together, creating the look of mature dreadlocks immediately.
You can also choose to instantly loc your hair without using wax or gel.
Instant locs are a preference for beginners without frizz.
Moreover, it is ideal for people with fine hair or those starting their locs using loc extensions.
The Pros of Instant Locs
A number of advantages are associated with instant locs as compared to traditional locs. The pros of this hairstyle are as follows.
1. Quick Locs Maturity
In contrast to traditional locs, instant locs allow your dreadlocks to form quickly. On the initial day of installation, you'll see that your hair is starting to bud.
Since you don't have to wait for your locs stages to lock and get rooted for a year or two, you cut out a lot of processing time.
2. Ideal for all hair types
You can crochet instant locs into hair of any texture. Additionally, it can be applied on hair with various curl patterns. That is, you can immediately loc your hair whether it is straight, wavy, or curly. Even hair types with relaxed ends can benefit from this method.
3. Convenience for long hair
Instant dreadlocks are preferable to wear if you have long hair. They work best for creating thick, fully-developed dreadlocks.
Your hair will hang down and mature even more quickly after locking on long hair.
4. Ideal for an active lifestyle
Instant loc is the answer you need if you have to work out but are apprehensive that sweat will mess up your hair.
These locs interlock at the scalp, preventing wear and tear from perspiration. They won't lose their fresh appearance after washing as beginner locs do.
5. Easy to Shampoo
Instant locs are not as brittle as other dreads. This means, you can wash them frequently when necessary compared to others, when you wash, it does not interfere with the parting sections.
Be careful, however, not overwash to prevent your scalp from drying out. Overwashing may cause thinning locks, breakage, and irritation.
6. Less Shrinkage
It is typically difficult to see growth because the hair shrinks throughout the locking process. You will be able to witness your change as soon as there is progress because instant locs decrease very little.
7. No need for locking products
It's not necessary to use gel or wax to create instant locs. Your locs will be left looking healthy and not too stiff. However, you only need a little.
8. Extensions
You can add extensions with Instant locs that look natural without using string.
The Cons of Instant Locs
Some hitches can occur when instant locs are not done or maintained properly. In this section, we will discuss the drawbacks of instant dreadlocks.
1. DIY is not advisable
If you attempt an instant loc on your own, you risk damaging your hair. As a result, you require a professional touch to minimize or eliminate dangers that can be avoided.
The quick loc technique, however, is difficult to acquire, therefore you must seek professional assistance. It may be challenging for beginners to utilize the quick loc crochet needle to sculpt locs.
2. Expensive
Depending on your hair's quality, length, where you live, and the loctician's experience, you could have to spend more to have immediate locs installed. The average cost of installation is between $200 and $300, but it can be as high as $500.
3. Time-consuming
Given how long it takes to install instant locs, you can become weary. The installation of an instant loc can take anywhere from 4 hours to 2 days. The length, volume, and size you want for your hair will all affect how long it will take.
You'll need some popcorn or novels to pass the time, especially if you want sisterlocks or micro locs.
How to Create Instant Locs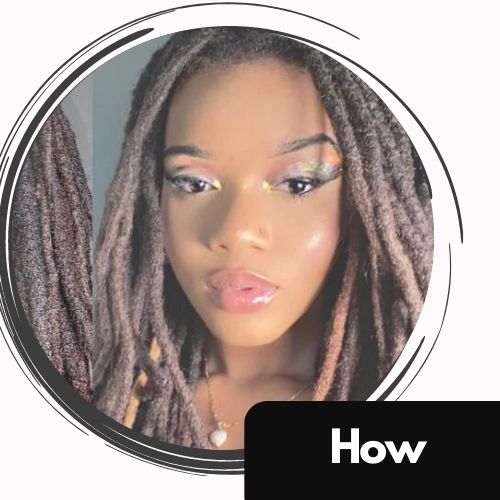 Here is a step-by-step process on how to achieve instant dreadlocks. You can also view the process in this video.
1. Wash your hair
You first need to make sure your hair is clean and free of build-ups. This can be done by washing with shampoo and deep conditioning. You should also moisturize the hair to avoid breakage or thinning.
2. Section the Hair
Next, divide your hair into equal and precise portions. You can divide your space in a square, a circle, or even a pyramid. Make sure the separation areas are as orderly and spotless as you can.
3. Back Comb Each Section
Depending on the required size, you must backcomb each component. For those with fine hair, this is fairly effective at adding volume and can also help.
4. Create Comb Coils
On each part, install comb coils. Apply a small bit of oil and gel to hydrate the hair to achieve this.
Use a comb to coil the hair after that to roughly half its normal length. It's a good idea to leave a few inches of the coil uncoiled so you can twist and lock the loc. Remember that you can have an immediate loc without using gel or wax.
5. Weave Each Section
Utilizing an instant loc crochet needle, quickly push and pull the needle. Next, using your opposite hand, twist the hair between your fingers as you work your way down the lock. You can maintain smooth, cylindrical locs in this manner. Don't poke yourself with the tiny needle, and be careful.
You can combine locs with hair extensions if you so choose. It will give your hair a distinct length and significantly boost your volume. You must purchase 100% natural human hair that complements locs if you wish to add extensions.
6. Twist the Locs
Once the instant locs have developed completely, you must twist the roots. Twisting will guarantee that the locs are sufficiently stiff and have very clean components.
How much time do instant locs take?
Time is affected by a number of variables. For ideal dreadlocks, your hair must be at least three inches long. When you have short hair, it is best to consult a professional to avoid any installation problems.
It takes less time for the Instant locs installation. The average time is between 8 and 12 hours.
In addition to hair length and volume, other factors affect hair drying time as well. A thicker dreadlock undercut takes only four to eight hours to complete. For highly extensive dreadlocks, the period can exceed 12 hours depending on the number of locs.
How to Maintain Instant Locs
It's one thing to get instant hair locs, but keeping them up can be a challenge. The care for instant locs is the same as for regular dreadlocks.
You must take care of your hair if you want to keep them for a longer time. Let's take a quick look at some advice for people who have instant locs.
1. Moisturize
The prevailing opinion is that locs require less moisture than loose hair. This might be true, but you still need to frequently moisturize them. With locs, dry hair makes your hair brittle and more prone to breakage. Use a light leave-in moisturizer to keep your hair healthy, and seal water in locs with lightweight oil. Natural oils are perfect to use on instant locs.
2. Washing
Washing your locs is very important. Wash your instant locs just the way you wash your traditional dreadlocks. The hair experts suggest washing the locs once a week. Moreover, root maintenance is recommended every 2-3 months to get them healthy and clean.
You should, however, not overwash your instant locks. Overwashing can dry out your scalp and result in flakes, breakage, itchiness, and thinning of your locs.
3. Use a Conditioner
Conditioning your instant locs leaves your locs soft, preventing product buildup in your scalp. You can also consider using apple cider vinegar, which has good reviews.
4. Cover your head while sleeping
For some people, sleeping with the locs is a challenge. Try to wrap your locs at night with a headscarf, satin cap, or bonnet. It will keep them away from breakage, and the locs will not face friction.
5. Avoid twisting
Hair twisting is one of the causes that contribute to brittle locs. Many people compulsively twist their locs while they are distracted. This pulls the hair follicles, which makes the locs fall out. When your locs are dried, take care of your hair and avoid over-retwisting or interlocking.
6. Styling Tips
You're better off without styling your instant locs because they look classic on their own.It's crucial to consider your locs' edges if you still want to play around with your hair. Your head is under additional strain as the locs become longer. So, stay away from tight hairstyles like a ponytail.
Using Loc extensions in instant locs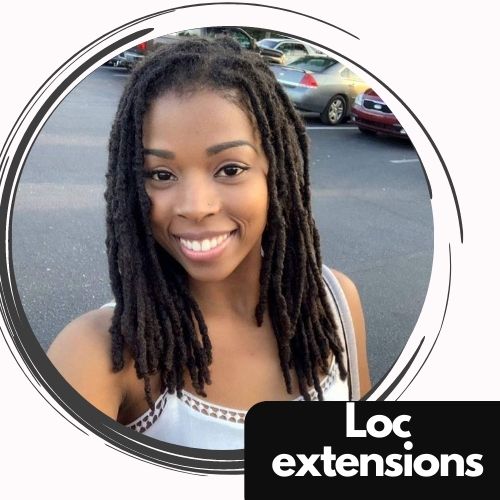 Adding loc extensions is one approach to obtaining the locs in your natural hair to achieve the ideal transformation look. Extensions for loc are simple to install. Given how difficult it is for people to tell that your hair has loc extensions, human hair extensions appear natural.
The loc extensions are very simple to install. Your loctician will twist your sectioned hair first using this method. The twists are then crocheted with the hair loc extensions. You can wear the extensions in your hair for about eight weeks, depending on how quickly your hair grows.
You should exercise caution after obtaining extensions because extending them longer could make your scalp heavier. Putting extra weight on the scalp weakens our hair. It can also cause thinning of hair, leading to discomfort around the scalp.
Can instant dreadlocks damage your Hair?
You should be aware that it can be really challenging to get rid of instant locs without harming your hair if you decide to get them. Your locs can be removed using the appropriate method and by a qualified expert, but there is no assurance that the process won't harm your hair.
The unravelling of the dreads might be simpler right after the style is applied, but with time, your locs will only solidify more and more, making it more difficult to get rid of them without doing serious harm. Instant locs are unquestionably a long-lasting hairdo.
However, your natural hair may still sustain damage if you have quick loc extensions because removing them will be considerably more difficult. Similar to how it would be simpler to take out instant locs if you have shorter hair.
Use natural, moisturizing hair treatments, ideally for a month prior to your appointment, to prevent damage before your quick loc session. Additionally, be sure to wash your hair multiple times before your session to remove product buildup and chemicals. You'll have less damage after the appointment the healthier your hair was before.
Frequently Asked Questions (FAQs)
Are instant locs good?
Yes. They are the best at getting the dread look within less time. An excellent choice for all hair types. You can add extensions with Instant locs that look natural without using string. No products are used in the procedure.
How long do instant locs last?
The amazing benefit of Instant Dreads is that you can wash without worrying much about anything coming undone! We recommend seeing us for root maintenance about once every 2-3 months, however, the frequency is an optional preference.
How often should I wash my instant locs?
After installation, you can wash your hair once per week, but no less than once every two weeks. The best benefit of Instant Locs is that you can wash your hair after installation and they won't come undone. We recommend seeing us for root maintenance every 2-3 months, however, it's optional.
Which locs are easier to comb out?
Removing Dreadlocks in hair that has been interlocked from root to tip is almost always the easiest to comb out. The reason is that interlocking doesn't actually form knots in the hair, it actually forms more of a braid.
Do instant locs get thicker over time?
No matter what your locs look like when you install them, they'll most likely look radically different in a couple of years' time. A lot of the time, the locs will thicken up as they mature.
Your turn…
When you want dreadlocks without the hassle of maintaining them and waiting for them to mature, instant locs are your go-to solution. The process of starting an instant loc can be done in many different ways. It is possible to plait, twist, or use loc extensions. You needn't worry about styling your hair with these thin coils.
Ready?
Pin It