How to tie your dreads up for convenience? Divide your dreads in half while holding them upside down. Wrap one half around the roots of the other half until it is completely wrapped. Begin by winding the second half around itself. Secure everything with a spiral knot.
Whether you want to go away from irritation or style them in a cool and funky way, tying your dreads up is always a perfect idea. It is a comfortable feeling!
No matter what form of dreads you have, you can always tie them in a high ponytail, in a bun, or even in a half-bun. Every style looks super duper attractive if done right and neatly.
In this post, I am going to share classic yet alluring styles of tying your dreads up. I AM A TRUE FAN OF THESE!
Let's check what I have brought for you!
Mandatory Accessories To Tie Your Dreads Up
These are one of the best-selling dread ties. They are incredibly flexible while still holding their shape, have a firm grip, and will not snap like normal hair ties. These large dreadlock elastics are very robust, won't snap, and are kind to your dreads.
The Spiralock is constructed with an inner flexible wire core that wraps effortlessly around any size dreadlocks. Soft on dreads while being supportive.
I like how easily and quickly they wrap around locs without pulling and yanking on them, and how easily the knots fold over and secure in place.
7 Best Ways To Tie Your Dreads Up For Convenience
The list is going to be interesting so buckle up…
A cool helicopter bun
A nice ponytail
Stylish half bun
Wrap and go
Dready space buns
Bohemian bun
Pinned thin dreads
1. A Cool Helicopter Bun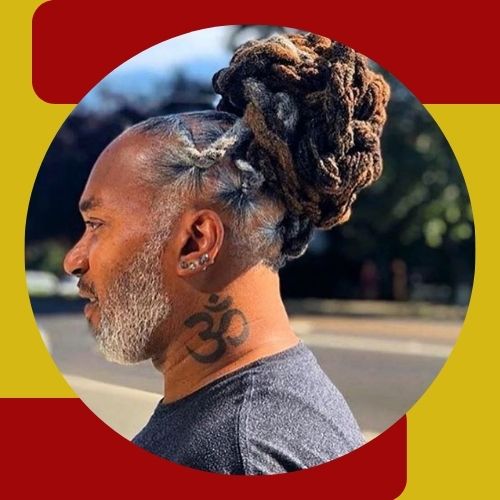 I know the name is funny but believe me, it is the coolest dread hairstyle. If you do it correctly it will definitely sprinkle extra beauty into your dreadlocks.
Most of the time, I enjoy top-head buns because they make my dreads lighter and more convenient especially when I cook, do a workout, and walk on a sunny day.
For this, you have to…
Divide your dreads in half while holding them upside down.
Wrap one half around the roots of the other half until it is completely wrapped.
Begin by winding the second half around itself. Secure everything with a spiral knot that is at least 60 or 80 cm long.
Note that this hairstyle is for medium to long dreadlocks.
2. A Nice Ponytail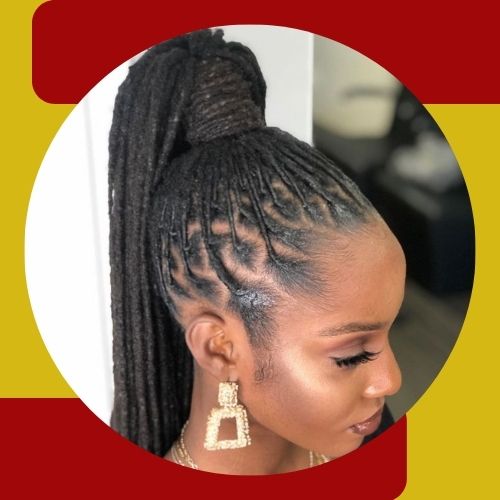 If you're sick of having your hair fall into your face at key times, a ponytail is an easy solution to pull up your locks and revitalize your look.
I tell you, this method is ideal for working out or on scorching summer days
Divide your dreadlocks with your fingertips to prevent knots.
With one hand, tightly grip the ponytail.
To get a smooth finish, use your other hand to adjust any dreadlocks that are jutting out or uneven.
Grab all of your locks with twine or ribbon and blind them together in a nice ponytail
Wrap a thick, robust hair elastic twice or three times around the base of the ponytail until it is tight and secure.
3. Stylish Half Bun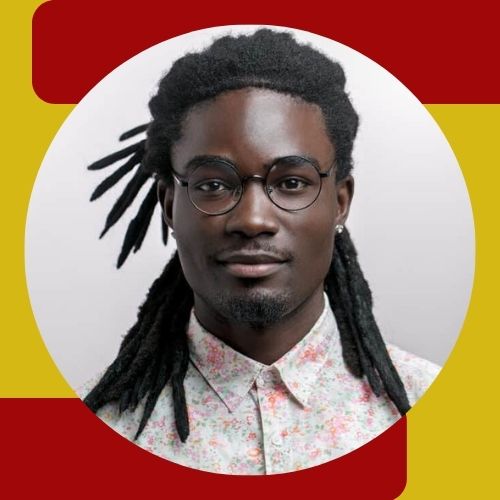 Let's up the dreadlock game with the half-up bun.
This is among the most adaptable black trendiest hairstyles. They can be styled on long or short dreads. It looks best when done with shoulder-length dreads and loose hair. This appearance is reminiscent of a ninja. As the name implies, some locs are left free while the rest is knotted.
Take hold of the dreads on top of your head.
Tie your dreadlocks neatly in half a ponytail using a rubber band. This is the first step in creating the base, and it will help you add volume to your bun.
Wrap the ponytail dreads all around the ponytail's surface. It will form a bun and get an additional layer of dreadlocks. They should be crossed over the bun.
4. Wrap & Go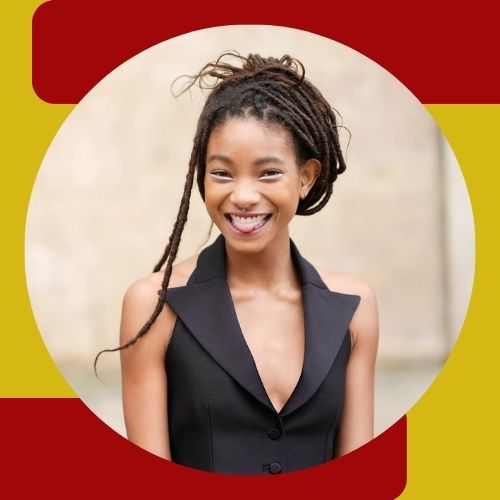 This style is not worn by many but if you do no one will reject it. It's sophisticated!
The above picture is showing Willow Smith's style looking so ravishing and, more importantly, simple.
I tried it and let me give you my recommendations…
Start by pulling your hair back.
Secure it with a hair tie at the nape of your neck, tying the ends around one another to form a loose bun.
Whereupon, use pins to secure it in place and pull two locs from one side of your head to portray your face shape
5. Dready Space Buns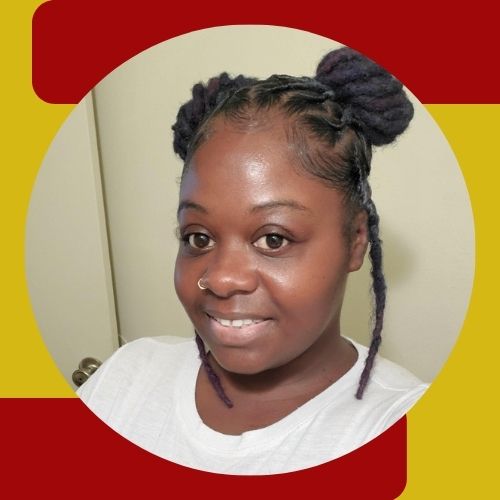 Is it just me, or are space buns utterly adorable? This dynamic combo is precisely what I need to take my appearance to the next level.
To get this look…
Divide your hair horizontally into two portions. The front section will be used to make your buns, while the rear will dangle loosely (if you want to, you can also tie all your locs)
Part the front part of your hair down the center and secure both sections with hair ties.
Then, wrap each ponytail around until you've achieved the ideal bun.
Tuck the end of the tie or secure it beneath the back of the tie.
You may end by adding beads and cuffs to your locs for more decoration, or you can leave them out entirely.
6. Bohemian Bun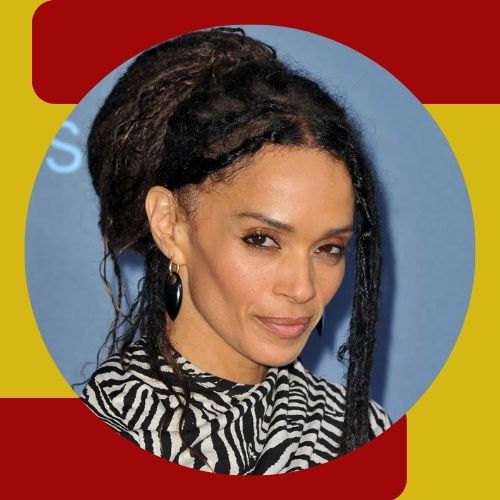 These locs are famous, so do not be scared off if you wanna try this – getting a bun such as this is simple.
Locate a split in the center of your top skull and collect two to three locs on either side of the split, laying them on either side in front.
Pull the remaining of your locs into a ponytail and secure it with a band.
Hold your loc tips from the ponytail and insert them under and into the ponytail.
Tighten just the very ends of the locs to form an extended bun, then relocate the few locs in the front to form the center section.
7. Pinned Thin Dreadlocks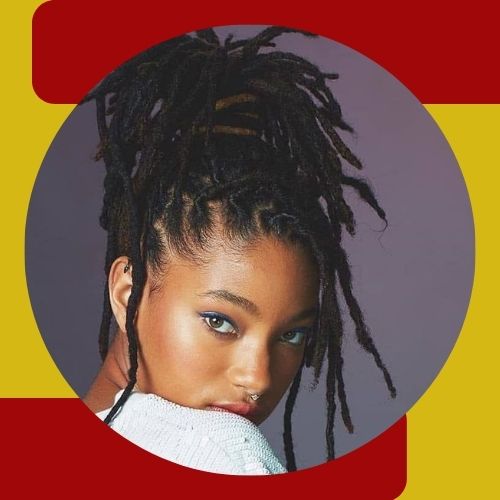 If you're seeking thin dreadlocks styles with a touch of class and style, this is the style for you. I hope after that you won't think that thin dreads can't be tied up in a sleek hairdo.
Pinning up your short narrow dreads and contrasting them with your fringe creates a one-of-a-kind appearance.
Double each of your dreads and pin them on the center of your back head
In this, you can leave some strands loose from the side or from the front of your face
Things To Keep In Mind When Tying Your Dreads
Having a nice top bun or ponytail can make your dreads sexy but it is very necessary to keep the following points in check.
If you have starter locs, never tie your dreads too tightly. It may disturb the form of your dreads.
Never use a very thin or very small elastic band to tie your dreads. You will regret messing with it.
Never ever, I repeat, never ever tie wet or even damp dreads. Always thoroughly dry your dreads before doing any hairdo on your head. Or else, you have to deal with smell or dandruff.
Whenever doing any hairdo comb your locs with your fingers to detangle them.
If you have a bun on your head and now you are extremely sweaty, open it up and let your locs naturally dry.
Frequently Asked Questions (FAQs)
How do you tie up dreads?
Do 2 little ponytail sections on the top of your head. Grab one section upon your head and start grabbing your dreads right behind the section. Once half of your dreads get in your hand, tie them with a strong thread. When the ponytail is done, grab the remaining dreads and tie them with another thread in that previous ponytail.
How do you keep your dreads hanging? 
You can do it by tying your dreads half up into a ponytail or a bun. Make sure to secure your ponytail or bun with a strong thread.
Should you sleep with your dreads tied up?
 you certainly can. Keeping your dreads in a bun also reduces the chances of them splitting, pulling, or flattening as you sleep.
Can you tie up new dreads?
You can tie up new dreads into a ponytail or bun. However, You have to consider a few things. Your band or thread should not be very tight. Secondly, do not twist them a lot.
Should I tie my dreads up?
If you are sweaty or a gym person, it is a good idea to tie your dreads up for convenience. Not only will it keep you less irritated but also prevent your dreads from trapping dirt or dust.
Now, It's Your Turn!
Tying up your dreads not only keeps you calm during important activities but also adds a sophisticated touch to your elegance. I have told you some of the best ways of tying your dreads up. No matter what style you choose, always keep your dreads moisturized and detangled. This way your dreads will look fresh and clean. So, which is your favorite and how do you tie your dreads up?