How to soften locs? There are several ways to soften your locs. The most significant and easy one is to use a leave-in conditioner on your dreads and wash it with a sulfate-free shampoo. You can also do hot oil treatment using olive oil or coconut oil.
If you need healthy dreadlocks, they should be moisturized. No matter summer or winter, your dreads need enough moisturization to be soft anytime.
From natural oils to leave-in conditioners, there are multiple worth-trying ways to soften and moisturize your locs. You can even go with aloe vera, shea butter, and some mix-and-match DIYs. Whatever approach you choose, I believe in the process. If the process is right, the results will be right.
Come with me to know the most authentic recipes and ways of moisturizing your locs. Don't leave them dull alone, they need you to pamper them. GET SET GO…
Why Should I Moisturise My Locs?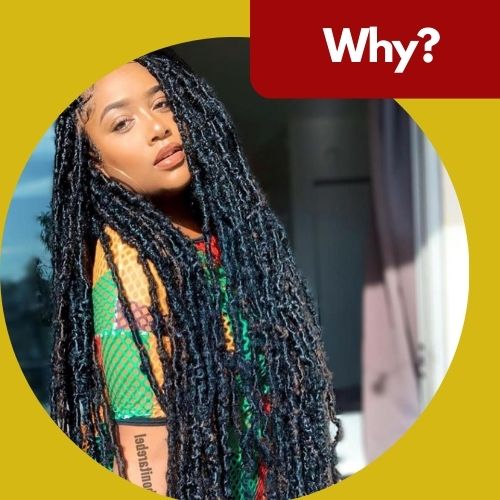 As I have said, your locs should always be moisturized no matter what the season is. If you live in a higher humidity place, you might get away without moisturizing your hair as often.
Still, if you live in a drier climate, then you definitely need to make sure that you are constantly moisturizing you're locs.
The importance of moisturizing your locs cannot be emphasized enough. Just like our skin, our locs need to be moisturized in order to stay healthy and look their best. Dry locs are susceptible to breakage, can become brittle, and can even lead to scalp problems such as dandruff;
According to Healthline: "The hair on your head is made up of a protein called keratin. Just like the rest of your skin, your scalp and hair can become dry, brittle, and cracked if it's not properly moisturized. Dry hair is more prone to breakage, which can lead to split ends and frizz."
There are also many benefits to moisturizing your locs; some of these benefits include the following:
Helps to keep your locs healthy and strong
Helps to prevent your locs from drying out and becoming brittle
Helps to prevent your locs from frizzing
Helps to give your locs a natural shine
·Helps to keep your locs looking neat and tidy
5 Proven Ways To Soften Your Locs No Matter What Type
Leave-in conditioners are great for moisturizing you're locs as they help to add moisture back into your hair without making it feel heavy or oily.
To use a leave-in conditioner, apply it to your locs after you have shampooed and conditioned your hair.
You can either spray it on or apply it with your hands. Make sure to distribute the conditioner throughout your locs evenly, then leave it for a few minutes before rinsing it out. Highly
Recommended Leave-In Conditioners include: Garnier Fructis Sleek and Shine Intensely Smooth Leave-In Conditioning Cream and Pantene Conditioning Detangler Spray
Aloe vera is not only great for your skin, but it's also great for your locs! Aloe vera has many benefits including being a natural conditioner and moisturizer.
To use aloe vera on your locs, add some aloe vera gel to your locs before bedtime and leave it in; if you take my advice, you'll definitely see a difference in the morning.
There are also a lot of products on the market that contain aloe vera as an ingredient, so if you don't have any fresh aloe vera on hand, you can still get the benefits of using one of these products.
Highly Recommended Aloe Vera Gels are: Organic Aloe Vera Gel with Pure Aloe From Freshly Cut Aloe Plant and Aloderma 99% Organic Aloe Vera Gel
Another great way to soften locs is by giving them a natural oil massage. This will not only soften your locs, but it will also promote healthy locs growth.
Take some coconut oil, olive oil, or jojoba oil and massage it into your scalp and locs. You can either leave the oil in or wash it out after a few hours.
If you leave it in, make sure to cover your hair with a shower cap or scarf to prevent the oil from staining your pillowcase.
You can also add a few drops of essential oil to the mix for an extra boost of moisture. The way this works is the natural oil will help to lock in moisture and prevent your locs from becoming dry and brittle.
Christina Kirkey, founder, and owner of Pinup Studios North Carolina has this to say about softening locs: "One of the best things you can do for your locs is to give them a hot oil treatment. This will help to moisturize and soften your locs, and it will also help to protect them from damage."
Highly Recommended Natural Oils For Locs include: African Pride Black Castor Miracle and OKAY | Almond Oil Treatment
Shea butter is an excellent way to soften locs and is often used in commercial hair products. Shea butter not only softens locs, but it also has anti-inflammatory and healing properties that can help to treat scalp conditions like dandruff.
You can make your own shea butter treatment at home by combining equal parts of shea butter, olive oil, and coconut oil.
Massage the mixture into your scalp and locs, cover with a shower cap or scarf, and leave for a few hours before washing out.
If you need to learn how to massage your locs, you can watch this video by Still Nia Bia.
What's more?
You'll be getting two benefits in one with this treatment! Another benefit of this treatment is that it can be used as an all-natural hair gel. Apply a small amount to your locs when wet and style as usual.
But, you need to remember that too much of any oil can weigh your locs down, so use this treatment sparingly.
Highly Recommended Shea Butters For Black Hair are: Carol's Daughter Mimosa Hair Honey Shine Pomade and SheaMoisture Raw Shea Butter Deep Moisturizing Hair Masque
Hot oil treatment is another excellent way to soften locs. IT WORKS WONDERS FOR MY LOCS!
You can buy a pre-made hot oil treatment at most beauty supply stores or make your own at home by combining equal parts olive oil, coconut oil, and jojoba oil. Heat the mixture in the microwave or on the stove until it's warm (not hot), and then massage it into your locs.
Cover your head with a shower cap and let the treatment sit for at least 30 minutes before washing it out.
Amy Lulu, a proud owner of Honeycomb Hair, said: "My favorite way to soften my customers' locs is with hot oil treatment, and the way I do it is straightforward. I massage hot oils into my customer's scalp and locs."
Highly Recommended Oils For Hot Oil Treatment include Argan Hot Oil Treatment and Difeel Peppermint Hot Oil.
Other Things To Consider To Keep Your Locs Soft
There are certain things to keep in mind if you want to maintain soft locs; this will make your locs softer and healthier.
1. Don't Over Wash Your Locs
The most important thing to do if you want to maintain soft locs is to not over-wash them. KEEP THAT IN MIND!
Washing your locs too often will strip them of their natural oils, making them dry and brittle.
Aim to wash your locs at most once a week using a gentle, sulfate-free shampoo. Take my word for it; if you over-wash your locs, they will become dry, brittle, and damaged. You may have to run to your local hair salon if you do manage to over-wash and damage your locs.
2. Use Water Based Moisturisers
While you may be tempted to use oil-based products to moisturize your locs, oil can actually make them greasy and heavy. Instead, opt for a water-based product, like a leave-in conditioner. Apply it to your locs after washing, and be sure to focus on the ends which are the most prone to dryness.
Make this a rule of thumb: the further away from your scalp, the more moisture your locs need. Importantly how would you know your moisturizer is water-based?
The easiest way to find out is to check the ingredient list. Water should be the first or second ingredient listed. If it's not, it's probably an oil-based product, and you need to run the other way!
3. Avoid Heat Styling
Have to try to style your locs with heat? If you have, then you know how quickly heat can dry out your hair. And if you haven't tried it, trust us – it's not worth the risk.
The best way to style locs is with products that don't require any heat, like setting lotions or curl-defining gels. Instead of using heat, you can try the following:
Setting your locs in large rollers overnight
Sporting a cute hat or headscarf
Wearing your locs in an updo or bun
4. Use Silk Pillowcases And Caps
Many people with locs need to realize this, but cotton is one of the worst fabrics for locs. It absorbs all the moisture from your hair, making it dry and brittle.
On the other hand, silk is a much better option because it's gentle and won't strip your hair of its natural oils.
If you want to keep your locs healthy and moisturized, switch to silk pillowcases and caps. You'll notice a big difference!
5. Stay Hydrated
The best thing you can do for your locs without fail is to stay hydrated. Drink plenty of water every day to keep your hair and scalp healthy.
If you're not a fan of plain water, try adding some fresh fruit or herbs for flavor. What this does is help to improve blood circulation, which in turn helps to promote hair growth.
Frequently Asked Questions (FAQs)
Why are my locs so dry and stiff?
There can be many reasons why your locs might be dry and stiff. It could be because they're not getting enough moisture, or it could be that you're using products that are too harsh for your hair. If your locs are feeling dry and brittle, try using a deep conditioner or hot oil treatment to help add moisture back into your hair.
Should I spray my locs with water daily?
It's okay to spray your locs with water every day, but you should mist them lightly every couple of days to help keep them hydrated. If your locs are particularly dry, you can do a weekly deep conditioning treatment to help add moisture back into your hair.
Should I oil my locs wet or dry?
You can oil your locs either wet or dry, but many people find that it's easier to apply oil to damp hair. This helps the oil to spread more evenly and prevents your locs from looking greasy. If you oil your locs while they're dry, make sure to use a light touch, so you don't end up with any unwanted buildup.
How long does it take for locs to loosen up?
It can take anywhere from a few weeks to a few months for your locs to loosen up. The exact amount of time will depend on how tight your locs were, to begin with, and how often you're doing things like oiling and deep conditioning.
Do locs get thinner over time?
No, locs do not necessarily get thinner over time. In fact, many people find that their locs actually thicken up as they continue to grow.
Now, It's Your Turn!
There you have it – the most comprehensive guide on how to soften locs. All the methods and recipes are natural, so you don't have to worry about any side effects. Just try them out and see which one works best for you. But still, if you need help, then please let me know in the comment section below. I would be happy to help you out.