The length of time it takes for your dreads to lock depends mainly on the texture of your hair and the technique you used when dreading them. For your hair to become properly locked, it usually takes about 6 months to 2 years.
Note that lock dreads are not the same as matured dreads: matured locs are tight-held, offer a matty texture, and require little maintenance, as opposed to starter or baby locs. Locking up dreads, however, simply signifies that your hair has knotted well.
Let's take a look at the details below.
Best Gels To Use For Locking Dreadlocks
Image
Product
Features
Price

Lockology Aloe and Rosewater Loc Gel for Dreadlocks is made with organic aloe juice, rosewater and other natural ingredients. Our locking gel holds your loc retwists in place without stiffness and residue.
No Build Up or Residue: Guaranteed! Our loc gels and other dreadlock hair products are made specifically for locs and are used in homes and salons across the world. With over 20 years experience, we can stand behind our dreadlock maintenance products 100%.
All Natural & Made In The USA: Our loc gels, loc moisturizers, loc rosewater spray and loc treatments are made in small batches in the USA using quality oils, herbs and extracts from across the Caribbean.
Best Loc Gel / Locking Gel: Use as needed to moisturize, condition and soften dry dreadlocks. Apply to hair while clean and freshly washed and damp to help condition and moisturize your locs.
Locs Hair Products | Dreadlock Hair Products | Loc Hair Care Products | Loc Retwist Products
Retwisting Gel for Locs

Check Price

Lion Locs Firm Hold Hair Locking Dreadlock Gel Cream for Dreads

FIRM HOLD TWIST LOC GEL: Twist, Style, Hold, Mold, and Tame your locs, braids, and pipe cleaner curls with a little extra tackiness. This improved formula has more grip than locking moisturizer.
STARTER LOC, MATURE LOCS, BRAIDS and FRIZZ CONTROL: Improved hold with less stray hairs. Made from all natural ingredients this twist and locking gel penetrates into hair and seals open hair cuticles to control frizz and tame stray flyaways.
LIGHTWEIGHT RETWIST CREAM: Great for mature or starter locs, this loc up gel has a stronger hold than the original locking moisturizer without damaging or drying out your hair
100% ORGANIC: Made from specific handpicked natural ingredients with a healthy conscious in mind. These loc products are cruelty-free and without harmful sulfates and other chemicals.
NO RESIDUE or BUILD UP: Organic loc care made for all dreadlock styles whether mature or starter locs that guaranteed to deliver results without debris, flake, or buildup.

Check Price
How Long Does It Take Dreads to Loc?
If you have curly or kinky hair, it takes a significantly shorter time for your hair to loc in relation to dreads. It takes a longer time, however, for straight hair to loc. Thus, the length of time it takes for the hair to loc varies depending on hair texture.
The length of your locs varies depending on the texture of your hair as well as the various stages of loc formation.
To reach the mature stage of locs, it typically takes between 10 months and two years. However, you should be aware that the maturation of these locs differs from the process of hair locking.
The amount of time it takes for locs to develop and take shape until they are fully mature or rooted differs from person to person.
Can You Make Hair Loc Faster?
Hair that is thicker and more tightly coiled tends to loc more quickly than straight hair.
The locking process cannot be sped up, according to science. When a product claims to speed up the process, it actually just meshes the hair together to make it appear as though it is matting.
These promises are made for products with a sticky texture that will increase in stickiness. The product remains in the midst of the locs after the hair has truly matted and locked and eventually climbs to the top, leaving a noticeable accumulation.
How to Maintain Locs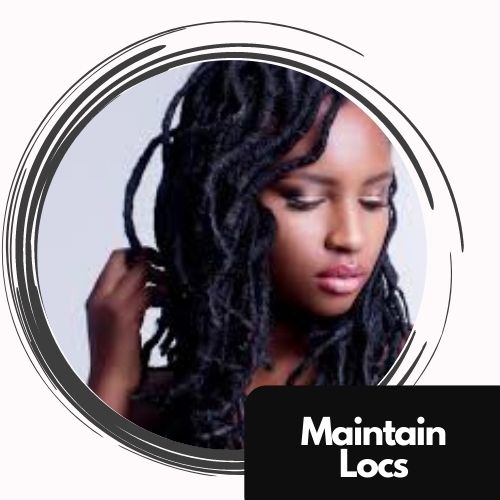 Maintaining a clean, healthy scalp should always come first. You should create a routine and product lineup for locs keeping in mind your individual loc journey. Haircare cannot be universal, especially when it comes to dreadlocks. Discuss your lifestyle and hair problems with your loctician so they can help you create a routine and product list that works for you and your hair.
When caring for locs, you should also establish healthy habits like avoiding alcohol, beeswax, lanolin oil, silicone, and mineral oil.
Patience in your loc journey is the most crucial maintenance strategy that experts advise. Additionally, avoid comparing your locs to those of others. You alone possess the locs.
How to make your dreads loc faster
There are a few trustworthy techniques and products you can use to loc your hair faster. Let's discuss them below
1. Choose a Starter Dreads Style 
Keep your dreads tightly knotted and consider retwisting them every few weeks to ensure that they are firmly secured. However, retwisting too frequently can result in breakage, so keep that in mind.
Additionally, avoid twisting thin hair strands since they tend to break easily. For your locs to lock well and quickly, you can experiment with beginner dread styles including comb coils, two-strand twists, Bantu knots, palm rolling, and twisting.
2. Maintaining Your Dreads
Grooming and upkeep of your dreads, in addition to your basic dread style, is crucial for them to lock properly. Here are some grooming advice for keeping your dreads healthy so you can progress from baby dreads to mature dreads.
Wash Your Dreads
It's a widespread misconception that if you want your locs to say locked, you shouldn't wash them. But if you don't wash your dreads, buildup forms on your scalps. You can get rid of any impurities by washing your dreads. Wash your dreads at least once a week, depending on your hair and needs, for a healthy scalp. Attempt to avoid using products like mineral oils, beeswax, alcohol, and the like.
Do Not Wax Too Often
You use wax to style and tame those locs that won't stay put because, clearly, you don't like noticeable frizzy and puffy hair. Although keeping your hair flawless is a wonderful thing, avoid trying to mess them up by applying too many products, especially wax.
Maintain Your Styling Pattern
The secret to attaining those beautiful locs is to twist and re-twist. But, like I said earlier, don't twist too frequently. Instead, establish a schedule for your dreads' styling and stick to it.
3. Sea Salt Spray
Image
Product
Features
Price

BEACH BABE SPRAY FOR TOUSLED HAIR: Creates beach waves with separation and body topped with a matte finish; Tropical vanilla coconut scent
MADE WITH DEAD SEA SALT AND SEA KELP: Formulated with dead sea salt and sea kelp to help achieve those signature tousled waves that will lead everyone to believe you just spent the day relaxing at the beach
EASY TO USE: Simply spray onto wet or dry hair from mid-length to ends, scrunch hair, and let air dry or use a diffuser for extra volume; can be sprayed onto dry hair to create style on the go
MADE WITH GOOD VIBES ONLY: Sulfate surfactant-free, paraben-free, phthalate-free, gluten-free, dye-free, cruelty-free, and vegan; Safe for natural and color-treated hair
NOT YOUR MOTHER'S BEACH BABE: Try other Not Your Mother's Beach Babe hair products like Not Your Mother's Beach Babe Dry Shampoo and Not Your Mother's Beach Babe Soft Waves Sea Salt Spray

Check Price

VOLUME & TEXTURE: Salt adds incredible volume and texture to take your hairstyling game to the next level. It also adds amazing richness and fullness to thinning or fine hair.
LIGHT HOLD & LOW SHINE: Salt provides a light hold with low shine to keep hair amazingly styled, but still touch-ably soft for a clean, natural look. Salt is a great substitute for hairspray to eliminate that "crunchy" look and feel.
HYDRATING SEA KELP: Salt is infused with natural sea kelp to keep hair healthy and hydrated. Sea Kelp is a natural moisturizer and conditioner, allowing you to reap all the amazing volume and texture provided by Salt, with none of the dryness.
SUPER VERSATILE: Salt is perfect for both men and women. It's also ideal for all hair types and lengths.
FEATURED ON SHARK TANK! Salt is water soluble and paraben-free to make washing out the product a total breeze, keeping hair healthy, residue-free, and looking amazing.

Check Price

TEXTURIZING SEA SPRAY. For those handful of days when we're not at the beach but kinda want to look like we were, we use this sea salt spray to get the job done. This blend protects hair while giving it extra body, waves and texture.
GOOD VIBES FOR YOUR HAIR. Our lightweight formula enhances strand separation and definition, instantly blocking humidity that causes frizz. It'll give your hair just the right amount of texture with a matte-finish and with UV Protection.
HOW TO USE. Apply to damp or dry hair, scrunch in with hands, and let air dry for a natural wave look, or style if desired. For extra lift, spray onto roots. Sonny's Tip: if you need some extra help fighting frizz, pair with our Coconut Argan Oil.
PROTECT YOUR HAIR. The key to maintaining healthy locks is healthy, natural ingredients. Our Texturizing hair products are enriched with Sea Salt and Sea Kelp, and are Vegan, Gluten, Cruelty and Paraben Free.
Hair type: long

Check Price

Enjoy volumnous, textured hair – A few spritzes of this L'ange sea salt spray on wet or dry hair will help it look and feel both fuller and thicker. Adds body to fine hair with a light hold for a look that turns heads.
Rock beachy windswept styles – With Salt and Séa, the beach is never far away from your look. Whether you wear your hair sleek or curled – or anywhere in between – your strands will be textured and irresistible.
Beautifying botanicals enhance your look – Essential key ingredients and nutrient-packed elements like sea salt and extracts from sea kelp and algae help keep your hair lustrous and manageable no matter what you're up to.
Light hold without the crunch – This L'ange hair care fave goes on light yet gives you the luxurious hold you want. And you'll love how its hydrating elements leave your hair soft and glossy for a radiant look that gets attention!
UV protection and an invigorating scent – Protect your strands from the sun and your radiant color from fading. Plus, you won't believe how fresh and clean-smelling it leaves your hair. In a word – amazing!

Check Price

BODY IN A BOTTLE: This sea salt hair spray beach hair spray is a great dry texturizing spray for fine hair for extra spray texture, beachy waves & volumizing spray! Hair spray to help define waves and curls & is a great mens sea salt spray for hair!
MENS HAIR SPRAY & WOMENS HAIR TEXTURE SPRAY: This is hair spray for men or sea salt hair spray for hair men that provides a light hold and is great for all hair types. Great mens hair products volumizing hair products with a great ocean breeze scent.
CURLY AND WAVY HAIR PRODUCTS: If your waves or curls need a little more, we have you covered. It makes a great seasalt hair texturizer spray men & women. Dry texture spray for hair volume & sea salt hair texture spray with the right amount of hold.
A CLEAN SEA SALT SPRAY FOR HAIR WOMEN & MEN: Made in the USA with organic & natural ingredients, paraben free and color safe. Its a perfect curly hair spray, provides waves hair men, is a sea salt spray for men & texturizing spray for fine hair.
LOVE IT OR LET US KNOW: We know you will love our hair products for men & women, whether you are looking for curl enhancing hair products or just want a little more body. As a family owned business based in Texas, your satisfaction is our guarantee.

Check Price
The saltwater spray is an easy way to advance the process of locking your dreads because, when used, it can dry out the hair, making it coarser and more prone to tangling. As a result, those who have fresh dreads and a lot of loose hair to tame are appreciative of these sprays.
The amount of sea salt spray balance is achieved on your hair thickness, and application is as easy as aiming and spraying. You can buy sea salt spray or, for less money, make your own by mixing water and sea salt in a spray container.
4. Leave the frizzy
In truth, frizz is good since it promotes budding; we often lament it, especially when it comes to dreadlocks. A natural process that precedes locking is known as budding, which occurs when your hair starts to mat and expand.
In order to prevent the locs from becoming thinner, embrace the frizz stage and avoid cutting them out or stopping palm rolling too soon.
5. Moisturize
You might be wondering why you need to hydrate your dreads in the first place while using sea salt water.
Your locs would not develop as they should if you didn't have a healthy scalp. Your scalp will receive the nutrients required to reach the locking stage with a spritz of vitamin E oil and rosewater.
6. Interlocking with Crochet
With this technique, you pull the strand of hair into your dreads with a crochet hook. When trying to avoid leaving holes in the locs, it works best with thick locs. Your dreads could feel tight and flimsy if they aren't done correctly. For optimal results, get your dreads crocheted by a skilled loctician.
Although it may slow down the natural progression of your dreadlocks because the hair is unable to move and develop as it would if you let your dreadlocks lock naturally, crocheting your dreads to loc faster aids in the hair loc.
What are the Stages of Dreadlocks?
There are four stages of dreadlocks: starter/baby locs, budding, teenage/ugly and the mature stage. Let's look at the details.
1. Baby locs
This stage can last anywhere from three to six months and starts two weeks after you have installed your locs. You will eventually feel frizz and an itchy scalp whether you have braids, coils, two-strand twists, crochet, or coils on your baby dreads.
The dreads still have a similar appearance but are frizzier and a little looser. Perhaps they aren't standing as much. When you sleep on them, you could notice that they appear flat or squashed. You can palm roll them to make them circular, so this is not a problem. Flatness doesn't harm them.
If you use a rubber band to keep the roots or tip intact, keep them until it's time for them to come off. They will make the first few piles of washing a lot easier on your dreads.
2. Budding
Particularly with straighter hair structure, you'll notice that the frizz is severe during the growing stage of dreadlocks. Additionally, some matting, a widening, and minor bumps are seen. You can now separate to avoid large congos if you have freeform dreads.
Your dreads may also appear a little rough and frayed. Some hairs that at first appeared to be tight are now clearly looser. You shouldn't be alarmed because this is usual. For optimal results, wash the hair, apply the accelerator, let it air dry, and then apply the dread ball.
3. Teen stage
Your dreadlocks are locked during the teen stage, never unravelling. The length and thickness of your dreads are increasing. Your hair may not grow in a uniform pattern if you have short dreads. Its renown as the ugly stage of dreadlocks causes some individuals to be terrified of it.
There will be good days and bad days for your dreads, but they are definitely tighter. If you rub counterclockwise, it will shorten the roots' appearance. Don't let any hair fall out.
4. Mature stage
This might occur at the 18-month mark or 36 months for hair that is more straight. Your locs are now growing, taking shape, and carefully striving.
Now that the shrinking is over, you'll start to gain length. They are still gradually tightening and smoothing out, but they feel tight, like small ropes. The constant fresh growth is the only thing that isn't constrained.
They can hold more water than they previously could, so make careful to compress and then blow them dry to prevent them from sitting in water. If you haven't already, now is a good time to check out the Dread Butta. It provides the hydration the hair requires to prevent dryness and damage.
How do you know when they are starting to lock?
Your dreads will begin to transform after the first three to six months. They could appear stronger or get matted and thicker. This indicates that they have begun to transition from the beginning loc phase into the budding phase.
The majority of the time, your dreads seem chaotic and frizzy. Although you might be worried at this point, this is a positive indicator. Your locs are beginning to lock correctly. Making the sections and placements of your dreads at this stage is crucial since it will determine how they lay down over time. Another choice would be to allow freeform into dreads take control and let them lay organically.
Once dreadlocks are in this stage, they will typically continue to mat, lock, and become thicker over the next 12 months.
How do I keep my starter locs from unraveling?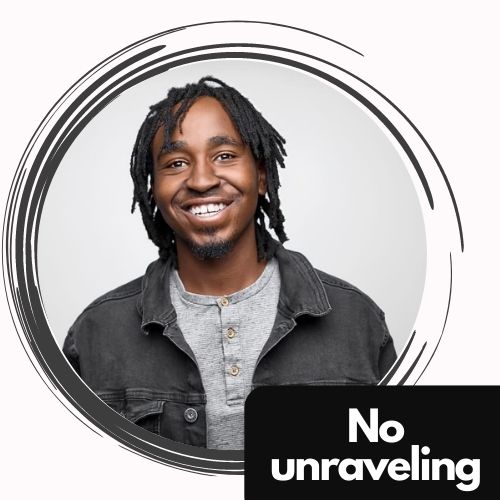 It is simple to potentially unravel starter locs because they are still in the developing stage. Anyone starting off with dreadlocks doesn't want to deal with this over the first several months. They might unravel for a number of different causes, however, this isn't always the case.
depending on the initial method of dread placement. The method you used to begin your dreads might not have been the optimal method for your hairdo in the first place. Another factor is texture; fine, straight hair may first unravel naturally and require longer to form and lock. Additionally, unravelling and thinning of the locs are likely to occur if they are not carefully maintained or allowed to dry completely.
If you begin to notice your dreadlocks starting to unravel or becoming thinner, try these techniques:
1. Sleep with a satin bonnet or dread wrap. 
This will aid in protecting your dreads at night from undesired natural atmospheric particles and residue. Prior to wrapping or covering your locs, make sure they are completely dry to guard against mold growth, odors, and damage.
2. Be gentle with your dreads. 
The easiest way to maintain healthy dreads is to let them grow naturally. Avoid wearing your hair in a lot of updos or styles that demand a lot of pulling and strain. Moreover, exercise gentleness when washing and completing routine maintenance tasks at home.
3. Healthy washing and care routine. 
Regular hair washing with the right products will help lock your dreads rather than cause them to unravel. Avoid using waxes, gels, and other synthetic styling agents since they leave behind undesired residue and harm the dreads over time.
Frequently Asked Questions (FAQs)
How can I make my dreads lock faster?
You can easily make your dreads lock faster by washing your hair every 2-3 days, backcombing them, and twisting them together. You might think washing your hair will damage your dreads, but doing so every few days will actually help them lock faster and stay in shape.
Do dreads grow faster when they lock?
As compared to loose hair, particularly afro-textured hair, locs seem to grow far faster. It isn't really true that locked hair grows faster; it just maintains all of its growth. Hair that is normally shed in the growth process and hair that breaks off at the ends due to manipulation are all retained within the loc.
How long do dreads take to lock straight hair?
Wait 1-3 years for natural dreadlocks to form. In a month or 2, your hair should start to loop and knot together. Over time, your hair will start to form locs if you don't condition or brush it.
Can I Retwist my dreads every 2 weeks?
Retwist frequency depends on whether you are in the starter loc phase or you have mature locs. It also depends on the type of locs you have, your hair type and your retwist method. Starter locs should be washed monthly or no more than every six weeks. If you interlock, you can go as long as eight weeks between retwists.
What are the 4 stages of locs?
The 4 stages of locs that you experience as you grow through the hair-locking process are the starter lock stage, the baby lock stage, the teenage stage, and the adult stage.
How long does it take hair to dread?
Most will dread it within about three to six months, but others take a little bit longer. The softer your texture is, the longer it may take for it to really dread and lock up into one full lock, but it does take some time. Dreads under I would say, about a year are considered young dreads, so they're a little softer.
How Long Do Dreadlocks Take To Grow In a Month?
While your hair is locking, you may not notice any growth, in fact, you may experience major shrinkage. But after your dreadlocks have matured, your hair can grow up to 1/2- 1 inch every month. Once you take good care of your dreadlocks and moisturize, you'll reap the benefits. Also, rose water and Jamaican black castor oil can help with hair growth. 
Now what…
It's normal to experience frizz in your dreadlocks. There is frizziness in the dreads, which indicates an effective locking mechanism. It can take between 6 months and 2 years for dreadlocks to lock properly. When your dreadlocks finally loc, don't confuse this phase with mature locs. There is a difference between them.
Make sure to keep your scalp moist when caring for your locs.