How to stop your dreads from smelling? Smelly dreadlocks or dread rot occurs when you don't dry them properly. You probably have mold in your dreadlocks. To tackle this problem hands-on, make a mixture of apple cider vinegar and baking soda. Soak your dread from the scalp to the root in it for 15 to 20 minutes. Wash them with shampoo and thoroughly dry them with a hair dryer. 
Imagine getting your locks wet, maybe from swimming or a recent wash and all of sudden you notice a really bad smell coming from them. Well, if you have, that's a sign you have mold or mildew or both in your locs. 
There is nothing to worry about, I notice that same thing too a lot of times. But, there are several solutions to cure this problem. From drying your dreadlocks thoroughly to soaking them in apple cider vinegar for a while. You can also make a magic spray from essential oils too.
Wanna know more?
I will share how you can manage your stinky dreadlocks in different ways.
Let's get started!
Set Of Products You Must Use For Dreadlocks
Image
Product
Features
Price

OUR HAIR CARE PROMISE: infused with vegan biotin and citrusy, fresh Moodscentz fragrance of sun-kissed mandarin that uplifts your mood and evokes happy feelings to bring positive energy to your day
5-in-1 MULTI-BENEFIT SHAMPOO: this sulfate-free shampoo offers five rejuvenating benefits: deeply cleanses, provides hydration, strengthens, creates visible fullness, and leaves hair soft and shiny
YES Safe for Colored hair, YES Sulfate-free Shampoo, YES Vegan Shampoo, YES with Plant-Based Cleansers, YES Ethically-Sourced Mandarin, YES Vegan Biotin Shampoo
NOURISHING SHAMPOO FORMULA WITH 6 FREE FROMS: Paraben-free, Silicone-free, Dye-free, Cruelty-free, Phthalate-free, Sulfate-free
97 PERCENT NATURALLY DERIVED SHAMPOO: this multi-benefit hair repair shampoo is formulated with naturally derived ingredients and also safe for all hair types

Check Price

CLEANSING & CLARIFYING | Removes impurities, buildup, and debris.
pH BALANCED | Gentle on your hair and scalp.
RESIDUE FREE | Made with organic ingredients.
VEGAN | Cruelty free. Never tested on animals.
SOOTHING | Relaxing and detoxifying

Check Price

VOLUME & TEXTURE: Salt adds incredible volume and texture to take your hairstyling game to the next level. It also adds amazing richness and fullness to thinning or fine hair.
LIGHT HOLD & LOW SHINE: Salt provides a light hold with low shine to keep hair amazingly styled, but still touch-ably soft for a clean, natural look. Salt is a great substitute for hairspray to eliminate that "crunchy" look and feel.
HYDRATING SEA KELP: Salt is infused with natural sea kelp to keep hair healthy and hydrated. Sea Kelp is a natural moisturizer and conditioner, allowing you to reap all the amazing volume and texture provided by Salt, with none of the dryness.
SUPER VERSATILE: Salt is perfect for both men and women. It's also ideal for all hair types and lengths.
FEATURED ON SHARK TANK! Salt is water soluble and paraben-free to make washing out the product a total breeze, keeping hair healthy, residue-free, and looking amazing.

Check Price

Lockology Lavender and Rosemary Loc Oil Moisturizer For Dreads is A unique blend of rosemary, castor oil, lavender oil and other natural ingredients to help strengthen your locs and promote growth and scalp health while moisturizing and conditioning.
No Build Up or Residue: Guaranteed! Our loc oils are made specifically for dreadlocks and are used in homes and salons across the world. With over 20 years experience, we can stand behind our products 100%.
All Natural & Made In The USA: Our loc moisturizers are made in small batches in the USA using quality oils, herbs and extracts from across the Caribbean.
Dreadlocks / Loc Moisturizer and Conditioner: Use as needed to moisturize, condition and soften dry dreadlocks. Apply to hair while clean and freshly washed and damp to help condition and moisturize your locs.
Black & Woman Owned - We are proud of our heritage and ownership and welcome anyone with a love for locs.
Loc Spray, Loc Moisturizer, Loc Spray For Dreads Moisturizer, Dreadlock Spray

Check Price

INCREASES HAIR LOC GROWTH: Made with all natural ingredients, this specific blend of carrier and essential oils penetrates into your hair and scalp with the proper nutrient benefits for enhanced dreadlocks growth.
MOISTURIZING LOCK STYLING OIL: Perfect lightweight oil for loc styles. Replenish your locks and curls, prevents further breakage and make hair healthier and shinier.
FOR ALL LOC and HAIR TYPES: Specifically made to help with any hairstyle or type. Whether microlocs, interlocks, dreadlocks, braidlocks, braids, faux locs, crochet locs, boho locs, twistlocks, or sisterlocks, this product will work for you.
LIGHTWEIGHT & HEALTHY: Unlike heavy oils, hair loc growth moisturizer has multiple purposes. Prevents dreads from damaging and drying out, stimulates your scalp for faster growth, and great for styling.
ORGANIC: Made using handpicked natural ingredients imported directed from India to ensure a premium, high quality oil. These loc products for hair are free of harmful sulfate and other hard to pronounce chemical ingredients.

Check Price

FOR ALL HAIR TYPES: Specifically made to help with any hair style or type. Whether microlocks, interlocks, dreadlocks, locks, braidlocks, braids, fauxlocs, twistlocks, or sisterlocks, this product will work for you.
HEAT PROTECTANT: Rosewater and glycerin helps in strengthening the hair, leading to less formation of split ends and damage. Glycerin is more effective with oils which is already masterfully blended.
LIGHTWEIGHT & HEALTHY: Unlike basic pure rosewater, this rosewater is blended with specific skin and hair conditioning oils for multi-purpose benefits. Refresh dry hairs, soothe dry itchy scalp, and encourage healthier loc growth and shine.
100% PURE ORGANIC: Made using superior all natural carrier and essential oils imported from India with no dilution. All of Lion Locs hair care products are free of harmful sulfate and other chemicals.
CONTROLS FRIZZ: Manufactured in USA from, this wonderful scented blend tames stray flyaway hairs and penetrates into locs to seals open hair cuticles and control messy frizz.

Check Price
How To Stop Your Dreads From Smelling – Quick Step-by-step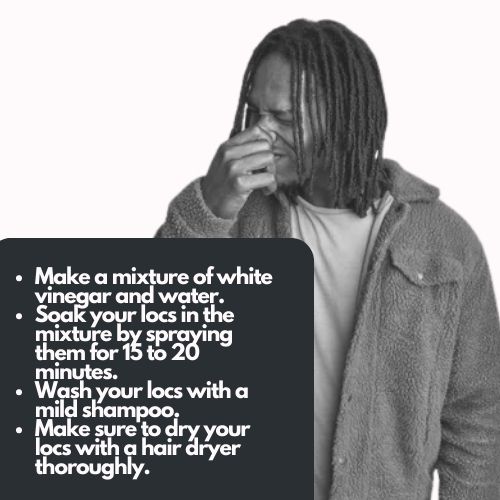 Make a mixture by taking one cup of white vinegar and four cups of water.
Soak your locs in the mixture by spraying them for 15 to 20 minutes. Make sure it reaches the scalp.
Wash your locs with a mild shampoo properly.
Make sure to dry your locs with a hair dryer thoroughly. Not a single strand should be left wet.
What Causes Mold In Dreadlocks?
The most common causes of mold growth in dreadlocks are leaving them wet or using products frequently. See below how moisture and product buildup can cause mold and mildew to grow in your locs.
1. Moisture Or Damp Locs
The first main cause of mold in dreadlocks is excess moisture. In other words, when you don't dry them thoroughly.
Sometimes you just immediately put up your damp locs in a bun or ponytail, do you? NOT GOOD! Mold can grow in your hair if it is continually moist or for an extended period of time.
We all know that wet locations are ideal for mold and mildew growth. Your dreadlocks are no exception. If you are not watchful, they can readily be infected with these ugly growths.
This may not be a big deal when you're just starting out, but as your dreadlocks grow, they take considerably more time to dry, which is why you shouldn't wash them every day.
2. Products Buildup
Trapped products (sprays, masks, or oils) in your locs can also grow mold. Imagine, you continuously use hairspray on your locs and don't clean them after that. It's a horrible thing actually!
Note what Nikki Brown says; "The underlying culprit of these terrible occurrences is that we are pouring in our products and layering far too much, neglecting that it mounts up and builds up with time".
Possible Signs You Have Moldy Dreads
Many people already have dread mold and mildew; they don't really notice it. It's generally pretty simple to determine whether or not you have this awful vegetation growing within your locs.
Let me share the two signs I noticed when my dreads were acting weird!
1. They Were Stinky Anytime
Even after washing, my hair began to smell like a dirty dog, it was the first indication that I had moldy dreads. The primary trigger of this symptom is that I didn't dry my locs properly.
As Britta Cox, founder of Aquix says: "Water in hair carries some potential harm, and the wetter the hair, the greater the risk."
2. Discoloration
I noticed discoloration or you can say some whitish spots in my locs.
You can clearly distinguish mildew, debris, or dandruff whitening on your dreads.
Tried And Tested Ways To Stop Your Dreads From Stinking
So this is the main and most important section. Do you know why I said tried and tested? Because I tried these ways and they really work out.
Check out!
1. Dry Your Locs Thoroughly
There is no benefit in tying your wet locs. This is complete stupidity!
Monoe Everett, a certified hair colorist says; "By fully drying your hair after washing, or sweating, you may avoid scalp mildew."
When you thoroughly dry your dreadlocks, there will be no home for mold and mildew. They will not be able to reproduce.
To avoid or eliminate dread rot, use a hair dryer to ensure that it is fully dry. Bonnet dryers can be useful for providing more hot air to your locks. I use a heat cap blow dryer to provide more direct heat to my locks and obtain quicker results. This is a practical method of blow-drying your locks because it frees up your hands to do other stuff or simply sit and relax.
Is this a big deal?
Notice, I didn't say "SULFATE-FREE", I said "SULFATE RICH."
Yeah, you might be thinking sulfate is not good for hair and all that stuff. I understand, you are correct. Many believe, sulfates strip natural oils and naturally occurring protein from your hair and scalp which can lead to dry and brittle hair.
However, sulfates are also known to have the deepest cleansing due to their lathering nature. This foamy agent allows for a more effective job of cleaning dirt, oil, and dead skin cells from your scalp or locs. 
Kevin Ewell says; "Sulfates get a bad rap, and the natural movement despises them, although they are absolutely good components."
So, while they are strong cleansers they are cool for removing mold or stink from your locs. Many shampoos claim they are sulfate-free but you have to look for ingredients—sodium lauryl sulfate or sodium laureth sulfate.
WARNING! Use a sulfate shampoo when you really notice any string mildew buildup, don't stick with it. Mix a small amount of it with two cups of water, make a foam then rinse your locs. Make sure it reaches the core of your locs, that's where the main problem is.
Essential oil treatment—my favorite since the oils infuse their nice smells into my locs.
It's up to you what oil you choose. I recommend grapefruit oil, rosemary oil, lavender oil, or grapeseed oil. They all are cool but since they are essential oils you have to dilute them.
For that, take a spray bottle, add 60 ml of water, and a few drops of one or more essential oils. Spray the problematic areas. Once again, make sure that you are penetrating to the core so that all of the awesome properties of essential oil can get to the source of the problem and resolve it.
Make sure to wash after 20 to 30 minutes as Reslan, hair specialist at Hairclub says; "Keep essential oils on the hair or scalp for an extended period of time since they might "harden and cover the hair's cuticles."
4. Use Distilled White Vinegar
White vinegar is a bit more acidic and in my opinion more effective. You know what? Vinegar kills 82% of mold species. I mean, half of your locs' stinking problems are solved here.
Same as essential oils, vinegar also needs to be diluted. The ratio here is four parts water and one part vinegar. Again, this mixture should be used in a spray form. Let it sit for about 10 minutes. Afterward, rinse it out thoroughly.
You might be thinking of the vinegar smell, right? Don't worry it will go away along with the mold and stinking problem when you rinse your locs.
However, with this one, you have to repeat the process for 3 to 5 days. It will not take too many repetitions but trust me it will work.
5. Use A Mix Of Apple Cider Vinegar And Baking Soda
To eliminate bad smells from your locs, use organic apple cider vinegar and baking soda. You will need to soak your hair for a time and redo it if necessary to completely eliminate it. You may also use an apple cider vinegar rinse cleaner to eliminate the unpleasant odor from your knotted strands of hair.
I personally do apple cider and baking soda wash every 3 months just to prevent any bacteria, mold, or bad smell from dreads. 
WARNING! This is not the thing to do very often since Apple cider vinegar is very strong, drying, and potent. Use it with significant gaps.
6. Citrus Water
Another option is using citrus water. This is an option if you don't want to wash your locs to eliminate odor. This one is an instant and quick solution.
You can mix citrus and water in a spray bottle. Spritz it out on your locs.
You can use lemon or lime oil, orange zest, or orange or lemon powder in the name of citrus. You will notice your locs smell really fresh, you will definitely like it!
So, why not make one and keep it in your bag? Whenever you feel any stink in your locs, bring out the bottle and TADAA! All done in a few seconds.
7. Don't Sleep With Wet Locs
Have you ever noticed you wash your clothes but forget to dry them completely, then the next morning the cloth smells like a dirty mop? Yeah, this is the scene with your dreadlocks when you sleep with wet dreads.
I never recommend you to sleep with wet locs, never ever. You might think they will dry out naturally. Yeah, they will, but not completely. When we lie down there are chances that locs from the back of the head do not dry properly. Be careful!
Washing your locs in the morning and drying them in the sun or using a hair dryer is the best option to prevent any locs from smelling bad.
8. Cover Your Locs Most Of The Time
It may seem strange to recommend that you cover your locs to reduce sweating, but it could be precisely what you need.
Lightweight, breathable fabrics may be used to create both elegant and effective hair wraps. These may shield your locs from sweat, in addition to excess sun exposure, debris, and other airborne contaminants.
Frequently Asked Questions (FAQs)
Can you get mold out of dreadlocks?
Yes, you can. There are many ways in which you can eliminate mold from your dreads. However, the most effective is to soak your dreads in a vinegar and baking soda mixture for a while. Then wash them with shampoo and dry them completely with a hair dryer.
What does mold in locs look like?
Mostly the smell will tell you that you have this vegetation growth in your locs. However, with more focus, you can see some white accumulation trapped in your dreads.
Why do my dreads stink?
Mold can form in your dreadlocks if your locks aren't thoroughly dried after washing. It emits a mildew-like odor.
Are there molds in white dreadlocks?
Yes, white dreads can also have molds. Despite white or black dreads, molds are most likely to grow when you don't dry your dreads thoroughly. 
What does dread rot smell like?
If your dreadlocks smell like mold, mildew, a sweaty cloth, a wet dog, or anything else – you most likely have dread rot; mold developing in your locks. You may only detect the odor when your locks are damp.
Now, It's Your Turn!
Dreadlocks, like other styles, should not stink. Instead, they must be fashionable, elegant, and make you feel gorgeous. There's no reason to freak out if you discover an odor coming from your dreads. Because once you figure out why your dreadlocks stink, you can quickly discover a method to eliminate the stink. I hope you found the above remedies useful, dry them and do share your experience.