Sometimes treating dandruff on dreadlocks feels like a never-ending battle. Maybe you feel the same. But, that doesn't mean to make peace with those white flaky locs or scalps.
I think we don't need to argue here about what it actually feels like. Rather we need to agree that good hydration, deep conditioning, some moisturizing spritz, and even some DIYs with vinegar can help it out.
But only if…
You use all of these ways correctly—it is important to get the most out of it. This post will reveal some of the proven ways to treat dandruff on dreadlocks.
To know, read till the end!
Image
Product
Features
Price

Pack containing six bottles of 4.5-fluid ounces each of Neutrogena T/Sal Therapeutic Build-Up Control Scalp Shampoo made with salicylic acid. Helps clear & control crusty build-up associated with severe scalp conditions
This effective anti-dandruff shampoo contains 3% salicylic acid, a clinically proven active ingredient and treats symptoms caused by scalp psoriasis, seborrheic dermatitis & dandruff
This therapeutic scalp treatment continues to work for hours even after it is rinsed off, with a conditioning formula free of added color, preservatives & fragrance
Dermatologist recommended dandruff and psoriasis shampoo provides maximum relief for dry, itchy, flaky scalps
After just one use, this effective salicylic acid shampoo starts clearing crusty scalp build-up while relieving itching and flaking associated with severe scalp conditions

Check Price

CLINICALLY PROVEN. UP TO 100% DANDRUFF PROTECTION. (visible flakes, with regular use)
PARABEN FREE: Head and Shoulders Classic Clean 2-in-1 is paraben free
From the scalp care experts; the makers of America's #1 dandruff shampoo (based on volume sales)
Multi-symptom relief offers proven protection from flakes, itch and dryness (flakes and itch associated with dandruff)
Convenient 2 in 1 formula nourishes hair and scalp while cleansing and hydrating
pH BALANCED: pH balanced to be gentle enough for everyday use

Check Price

Tightens dreadlocks and helps new growth lock
Completely residue free, unscented
Great for dreadlocks ALL hair types
Reduces drying time after washing
Renewable coconut based formula

Check Price
What Causes Dandruff On Dreadlocks?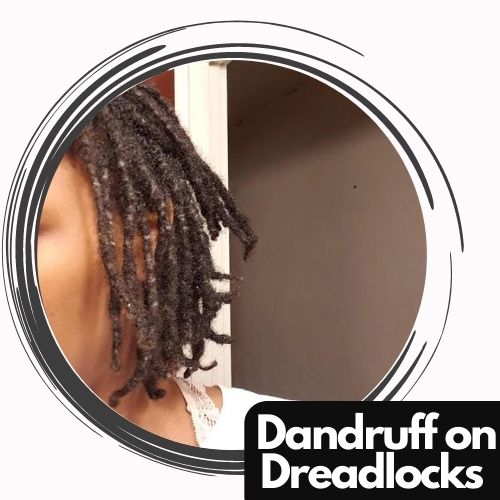 Before treating any problem you should go to the roots of it.
I want to discuss the core causes of dandruff on dreadlocks so you can easily work on those and prevent any dandruff accumulation on your pretty locs in the future.
As per Dr. Zenovia Gabriel; "Dandruff is caused by a fungus called Malassezia".
Malassezia is a fungus naturally found in the human body. It feeds on the oil present on the scalp—people with oily skin are highly prone to get dandruff. Dandruff occurs with the overgrowth of Malassezia.
And, some of the primary reasons for Malassezia overgrowth are stress, hormones, anytime oily scalp, tight wrap on the head while sweating, or keeping or tying wet locs for a long time.
Some Other Causes
Dehydration
Castiles soaps
Shampoo with high PH
Sebum buildup
Ignoring conditioner on baby locs
Too much usage of baking soda on locs
6 Proven Ways Of Treating Dandruff On Dreadlocks
1. Incorporate Tea Tree Oil In Your Shampoo
What I love about tea tree oil is that it is a powerful oil and it works.
So if you don't know, tea tree oil actually has antiviral, antifungal, and antibacterial properties, which will help control dandruff.
Now the first thing I suggest is to add tea tree oil to your shampoo. Add 5 to 10 drops of Tea Tree oil to your shampoo. Make sure you give your scalp a nice massage very gently and then rinse it.
Or else, the second thing, you can take a Spray bottle filled with water and add 5 to 10 drops of Tea Tree oil into the water. Express it all over your loss and scalp. This will help with the dandruff flakes, itchiness, and redness commonly caused by dandruff.
2. Detox Your Locs With Apple Cider Vinegar
Apple cider vinegar is one of my favorite things to use when I want to detox my dreadlocks. It has antifungal, antibacterial, and anti-inflammatory properties, which can help maintain the health of your scalp. While on the other hand, vinegar actually kills any danger of causing fungi and can help the problem of your dandruff.
Moreover, it also helps with PH imbalance which can be the reason why you have dandruff in the first place. What else? It deeply cleanses and also helps remove product build-up.
When I apply Apple cider vinegar to my locs, I put it in a spray bottle. Add 3 to 4 tablespoons of apple cider vinegar with mostly water, and I spritz it all over my locs and scalp. I give my scalp a nice massage and leave it on for about 10 to 15 minutes.
Rinse it off, you will see a major reduction in dandruff after a few trials.
3. Get A Rosemary Rescue
I got a DIY solution which I named Rosemary Rescue.
I found this DIY to be very helpful for those who have dandruff on their locs, dry scalp, or itchy scalp.
All you need to do is…
Boil 3 cups of water with a handful of rosemary leaves, which you can purchase at your local market or grocery store.
You have to cover it and let it simmer for 45 minutes.
Make sure that you strain it after you remove it from the heat.
Let it cool.
Add apple cider vinegar of about half a cup
Then, add 10 drops of Rosemary oil and peppermint oil as well as a bit of tea tree oil.
Mix it really well.
Pour all the mixture into a spray bottle
Spirit it all over your locs and leave it on for about 10 to 15 minutes.
You can rinse it off with mild shampoo
4. Alter Your Shampoo Days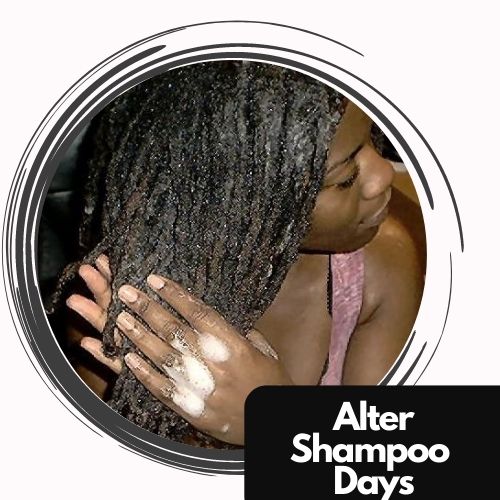 Because of a multitude of reasons, every scalp responds differently to the frequency of washing. To understand the optimal wash cycle for your scalp and dreadlocks, gradually increase your frequency.
For better understanding, if you only wash your dreadlocks, once every two weeks, I recommend cleaning them more regularly using a healthy shampoo—a clean scalp is equal to a healthy scalp.
Washing once a week is advised and usual especially if you have starter locs, however, some people with mature and thick dreadlocks can extend the wash cycle to once every two weeks.
Moreover, if you wash your dreadlocks more than twice a week, consider progressively reducing that frequency to once a week. Washing your locks too regularly, especially with high pH and sulfate shampoos, may strip off natural oils, resulting in dry dreadlocks with dandruff.
5. Stay Away From Salt Or Salty Water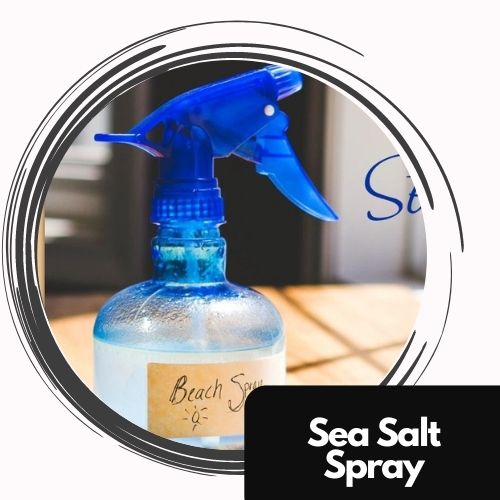 Remove any sea salt spray from your locs routine, especially if you have dandruff. Also, if you wash your locs from hard water or salty water, it's time to change this thing. This salty thing can add itchiness or more flakes to your dandruff rich locs.
Make sure that whenever you wash your locs, wash them with soft and filtered water. You will notice a huge difference in a few months.
6. Choose Anti Dandruff Shampoo
If you have hair you must have shampoo, right? So why not have a good anti-dandruff shampoo when you have dandruff?
Many times I heard, you should not use shampoo on locs. No, that's not true! Dandruff shampoo can be used on dreads.
A worthy anti-dandruff shampoo, as the name implies, is designed to soothe your flaky scalp and decrease dandruff. There are a number of over the counter and prescription strength treatments available to treat even the most severe instance of dandruff.
Anti-dandruff shampoos contain a variety of effective ingredients like selenium sulfide, salicylic acid, and more. All these marvelous ingredients will help you regulate your symptoms and remove the white flakes from your dreads.
Though the dandruff shampoo seems thick (as if it leaves behind), dilute it before using it in the shower. It will be easy to rinse, and no suds will become caught in your locs.
Some Highly Recommended Anti Dandruff Shampoos For Dreadlocks
Dr. Sobel suggests Neutrogena T/Sal, an over-the-counter treatment containing 3 percent salicylic acid, a potent anti-dandruff component. Sobel recommends applying it every time you shower at first, then gradually weaning down.
Dr. Sobel advises clients who have an itchy scalp to utilize dandruff-specific shampoos such as Head & Shoulders and Neutrogena T/Sal. Selenium sulfide, an antifungal that shines in the cure of dandruff and seborrheic dermatitis, is the essential cofactor in this clinical-strength Head & Shoulders.
Knatty Dread Dreadlocks Shampoo is another best option for dreadlocks with dandruff. This shampoo gently cleans dreadlocks and revitalizes the scalp. It contains a variety of nourishing oils. This shampoo is not only great for dreadlocks, but also for tight curls. Furthermore, it is non-toxic and biodegradable.
Some Main Points To Prevent Dandruff On Dreadlocks
Stress is well-known for having a damaging effect on practically every organ in your body. Stress, whether acute or chronic, can depress your immune system and reduce its effectiveness. As a result, if your scalp is unable to fight itself against the yeast that generates dandruff, the fungus will triumph.
Improving your diet is one of the most effective strategies to lower the risk of dandruff significantly. A nutritious diet will supply your body with critical nutrients and vitamins. As a consequence, a healthy and robust body will nurture and result in a pleasant, dandruff-free scalp.
If you are African-American, use a dandruff shampoo only once a week.
The fungus that causes dandruff thrives on a warm, wet scalp. Going to bed with moist dreads will aggravate your symptoms while also making dandruff more difficult to treat. Avoid going to bed with your hair damp whenever feasible.
Maintain the cleanliness of your roots. If you have long locks, you may find that your dandruff worsens as your roots develop. Allow proper airflow to your scalp by twisting new growth. Trying to keep your roots tidy allows natural oils to reach the hair at the ends.
Stay hydrated! It is very necessary to keep yourself hydrated and drink plenty of water to have healthy scalp or locs.
Frequently Asked Questions (FAQs)
Why do I have dandruff on my dreads?
Malassezia is a fungus naturally found in the human body. It feeds on the oil present on the scalp. When you have oily scalp most of the time, there are higher chances you can have dandruff on your dreads.
Does vinegar remove dandruff?
Vinegar is widely considered as the deep cleaning agent for dreads. When mixed with a few essential oils, vinegar might help in reducing dandruff on locs.
How often should I wash dreads?
On average you should wash your locs once every week. However, this ratio can be changed as per your requirements. If you are a gym person, or feel sweaty most of the time, you can wash your dreads twice a week.
Which shampoo is best for dreadlocks?
Knotty Boy Dreadlock Shampoo is one of the best options for dreadlock. This shampoo gently cleans dreadlocks and revitalizes the scalp.
What is the natural remedy for dandruff in dreads?
The best natural remedy to remove dandruff from dreads is a DIY with rosemary in which you have to;
– Simmer a handful of rosemary 
– After cooling down, add rosemary tea tree oil or rosemary oil and apple cider vinegar 
– Spray sufficient shots on your scalp and dreads
– Leave on for a few minutes 
– Rinse off it and thoroughly dry your dreads with a hair dryer
How to treat dandruff in starter locs?
It is recommended to keep your locs clean as much as possible and use an astringent when you have dandruff in your starter locs.
Your Turn!
Having dandruff on your locs is not a big deal. You can cure it in different ways. It happens mostly when you have oily scalp and unhygienic locs. However, staying hydrated and keeping your scalp clean are the top recommendations to prevent dandruff on your dreads. Now, it's your time to try the above recipes if you have dandruff on your dreads. I would definitely like to know the results.