Are you considering the best protective hairstyle option? You are probably tired of the regular braids and weaves. You may also want an easy-to-do hairstyle that wouldn't take forever to be completed. 
Well, you have crochet extensions to the rescue! Crochet extensions are what's in this season. It is easy to do, you don't have to sit at the salon for ages to wear crochet braids. So what?
Crochet extensions come in various styles. This includes crochet braids, micro twists, curls, and faux locs of different styles and sizes. You can also wear it as a bun, Have Ponytail, and even gel up.
So, we've put together the best crochet hairstyle options to inspire your new look this season.
some useful products for Crochet Hair
Image
Product
Features
Price

Freetress Braids Water Wave Super Extra Long Braid 40 inches (5-PACK, 1B)

Butterfly Locs
Passion Twist
Crochet & Latch Hook
Color Shown On Model : 1B+27
Hair type: Wavy

Check Price

FOR ALL HAIR TYPES: Specifically made to help with any hair style or type. Whether microlocks, interlocks, dreadlocks, locks, braidlocks, braids, fauxlocs, twistlocks, or sisterlocks, this product will work for you.
HEAT PROTECTANT: Rosewater and glycerin helps in strengthening the hair, leading to less formation of split ends and damage. Glycerin is more effective with oils which is already masterfully blended.
LIGHTWEIGHT & HEALTHY: Unlike basic pure rosewater, this rosewater is blended with specific skin and hair conditioning oils for multi-purpose benefits. Refresh dry hairs, soothe dry itchy scalp, and encourage healthier loc growth and shine.
100% PURE ORGANIC: Made using superior all natural carrier and essential oils imported from India with no dilution. All of Lion Locs hair care products are free of harmful sulfate and other chemicals.
CONTROLS FRIZZ: Manufactured in USA from, this wonderful scented blend tames stray flyaway hairs and penetrates into locs to seals open hair cuticles and control messy frizz.

Check Price

Hair Material:kanekalon Hair, 100% Kanekalon Hair Extensions, 8 inch Spring Twist
Hair Featural:Spring Twist Crochet Hair. Size: 8 Inch Length. Weight: 110g/Pack. Colors:#1B,#1, #2, #4,#27,#30, #T1B/27,#T1B/30,T1B/33,1B/Bug,T1B/350. Strands: 60strands/piecs(fold),30strands/piecs(unfold). Package: 3 Packs Of Hair
Hair quality: No harm to the skin,No Smell,Lightweight,Not Rough,Smooth, Tight, Shiny and Silky,Compact, Very Soft, Not Easy To Tangled.Look Natural,And Easy To Install
Spring Twist Crochet Hair Usually 3-6 packs can full a head,Came With a Free Mirror and Beads
We suggest you wear a wig cap when you wear the spring twist crochrt hair,Before you are going to bed. Wish you can take good care of the hair , you can use it for longer.

Check Price

CURRENTLY SELECTED: Color 1 in a 1pack is selected.
Color 1 is JET BLACK
TYPE: Braiding Hair - Synthetic, LENGTH: Long, STYLE: Braid Texture, SIZE:
NUBIAN TWIST BRAID HAIR
Styling required. Use for crochet, interlocking, weave and wig units.

Check Price

HEALTHY Hair - Braid Sheen Spray and Leave in Conditioner acts as a hair moisturizer enriched with vitamins and essential oils
ENRICHED - Contains Natural Shea Butter, Tea Tree, Rosemary and Jojoba Oils with Aloe Vera
GREAT LOOK AND FEEL - Helps alleviate itching, deliver outstanding highlight and sheen to dull, dry and lifeless hair.
POPULAR - Use as a leave in conditioner and general braid spray. Works on all hair types including curly hair, long hair and short hair
UNIVERSAL - Best for women with all hair types including African American and Asian Hair

Check Price

Shine N Jam Magic Fingers For Braiders Extra Firm Hold, 8 Ounce

1 Piece - 8 Ounce
Good For Natural Hair,
Extra Firm Hold,
Controls Frizz,
No Build-Up

Check Price

African Pride Black Castor Miracle Extra Hold Braid, Loc, Twist Gel

PROVEN HAIR CARE - African Pride Black Castor Miracle Extra Hold Braid, Loc, & Twist Gel smooths frizz & flyaways while boosting shine for longer lasting styles. This professional product leaves braids, locs & twists neat & controlled.
FEATURED INGREDIENTS - Enriched with Black Castor Oil: Nourishes scalp and helps to promote hair growth; Coconut Oil: Deeply conditions, hydrates and helps repair.
NATURALLY FORMULATED - The ingredients within African Pride products are free of harmful components, including parabens, mineral oil, sulfates, & petrolatum. By utilizing natural ingredients, we are able to provide high quality, safe products.
HOW TO USE - Use on damp or dry hair. Apply a small amount of gel to hair roots or hairline. Braid, twist, and style as desired. Air dry or sit under a hooded dryer to set style.
ABOUT THE BRAND - African Pride Black Castor Miracle products are designed to maintain & detangle natural hair while moisturizing, hydrating, & combating frizz. From protecting to sealing hair, our products were crafted with you in mind.

Check Price

Faux Locs Crochet Hair Black and 24 Inch Passion Twist Hair Black 6Packs

Hair Material:The soft locs crochet hair was made of the 100% kanekalon low temperature premium fiber, It can meet your multiple hair styles that you desired.And the most important is the locs with a bigger looped that can easier crocheting your hair through the locs. Passion Twist Crochet Hair 100% High Quality Low Temperature Hot Water Setting Synthetic Fiber.
Hair Advantages: Faux Locs Crochet Hair and Passion Twist Crochet Hair, Lightweight, Tangle-free, Shedding-free, No Smell, Skin-Friendly, Super Soft and Bouncy, Smooth Touch, Natural and Realistic Luster.
Hair Package: Passion Twist Crochet Hair and Faux Locs Crochet Hair Length 24 Inches, Weight 100g/Pack, Faux Locs Crochet Hair Black is 18Strands/Pack, passion twist hair is 16Strands/Pack, 12Packs/Lot.
Easy To Install: Passion Twist Crochet Hair, Very Easy to Twist and Install, It will Work for Butterfly Locs, Faux Locs, Goddess Locs Crochet Hair, Freetress Locs Crochet Hair Ect.
Customer Service: Any Problem with Your Order, Just Send Me a Message Anytime, We Always Respond Within 24 Hours. (24 Hour/7 Days Customer Serving)

Check Price
1. Crochet Senegalese Twists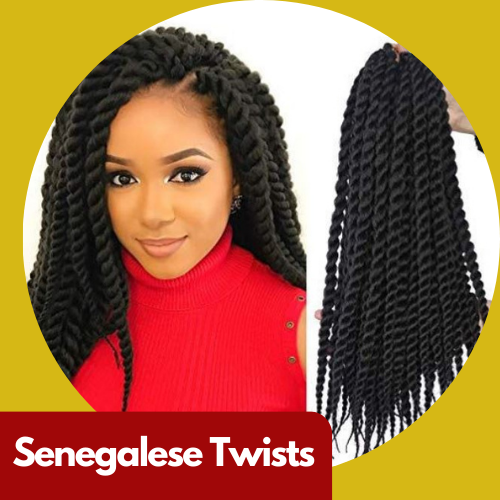 If you are a lover of twists, here you go! If you had no idea of crochet, I bet you'd think this is a plaited to the scalp Senegalese twists. But, the above are Senegalese Twists crochet. You can wear it whichever way you choose, and still slay. It is light and easy to carry.
2. Crochet Faux Locs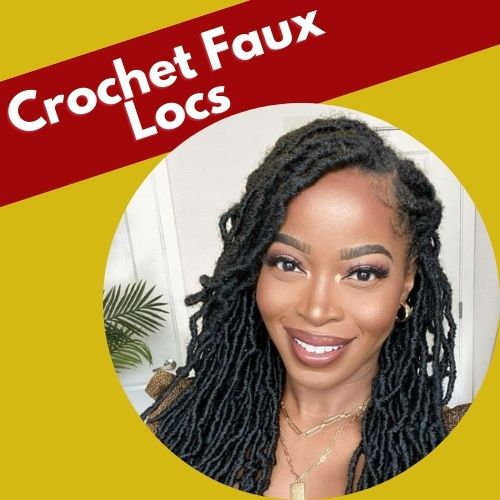 Where are the fauxlockerss? Crochet has got you in faux locs too! You now say bye to sew-ins that like forever to install, and are very painful.
This is one of the major cravings in the hairstyle scene this season. It is super light, and beautiful as well. It's crochet, so you are free to style it as you like.
3. Crochet Dreadlocks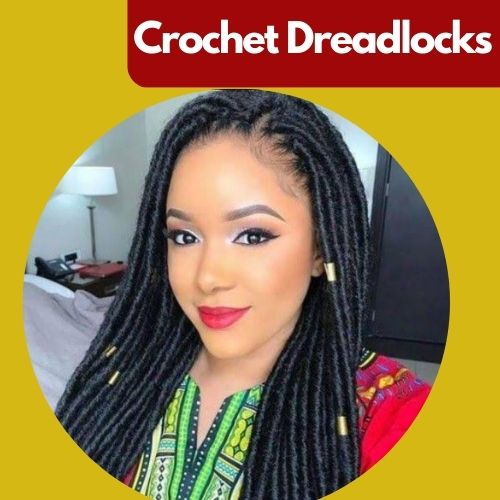 Faux locs may look kinda synthetic, but you can go for Dreadlocks. The good news is you don't have to wait for 2-10 years to grow a lengthy dread. Just wear it the Crochet way!
You just need to cover it while sleeping and wash it with shampoo after two weeks to prevent a bad smell.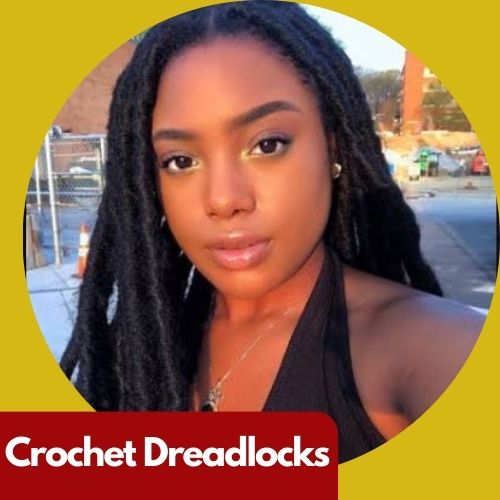 4. Crochet hair on cornrows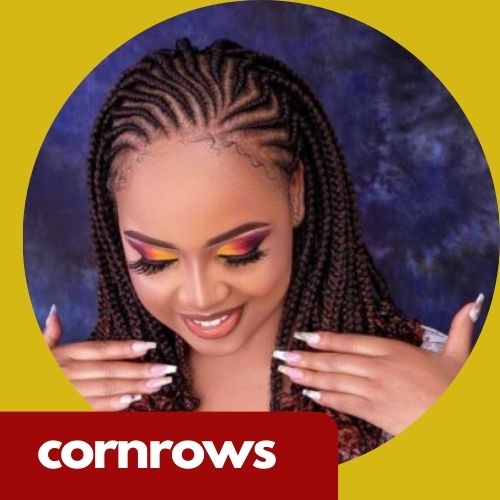 Crochet hair on cornrows or weaves is a more simple, easy-to-do, yet perfect style. You can use any crochet extension to do this. This ranges from curls as you can see in the picture above to braids, twists, and bobs.
5. Crochet Twists With Curls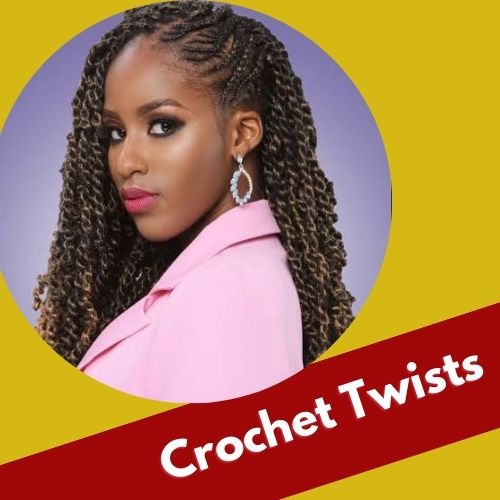 Crochet twists with curls are another variant of crochet you should consider. This has half twist, and half curls at the tip. This hairstyle is great, as it announced you wherever you go.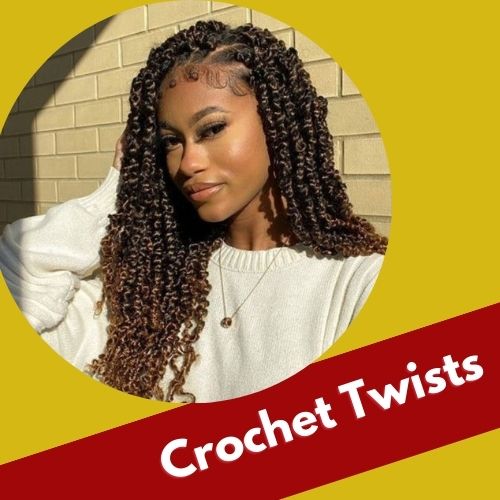 6. Ponytail With Crochet's hair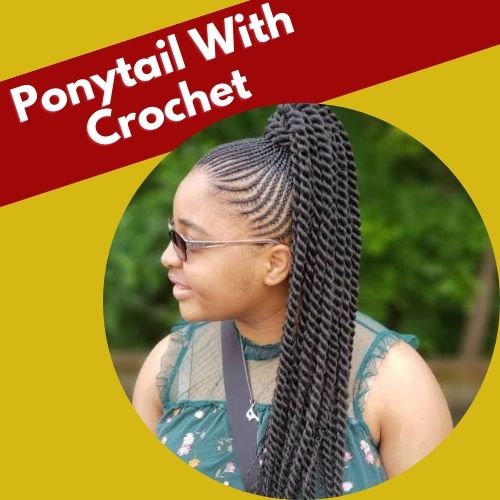 Who would know that there can be a better extension to serve for ponytails other than weave-on? But yeah, you can wear a ponytail with crochet hair.
So, instead of the regular thread and needle sewn in for ponytails, you can put everything in using the crochet method. The thing is that an onlooker wouldn't even have an idea of how it was fixed. But, it still gives you a great look.
7. Crochet Locs with Curls
The unique thing about crochet is the out-of-the-box combinations it inspires. Crochet extensions first made locs with curls popular, and we all love it!
So, for a new look, top it up with these curly locs, for any occasion at all. These curly locks are good for whatever and wherever.
8. Knotless Crochet
Here's one of our favorites! If you are a huge fan of Knotless, but can't spend the usual 5-6 hours at the salon to plait it, then you now have a better alternative — Knotless crochet extension.
It looks like the braided Knotless. It happens to be much more protective than the plaited one. There are different colors and sizes you can choose from at any hair salon to get yourself this new look.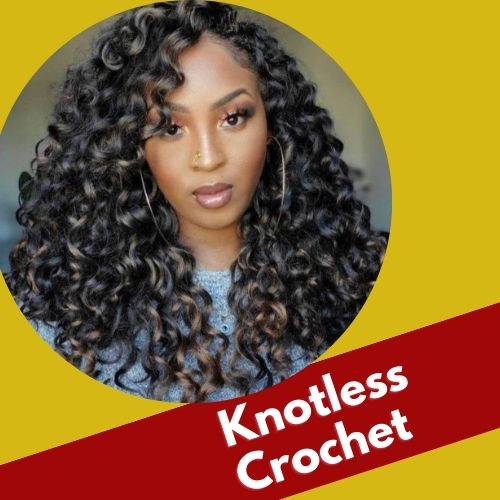 9. Low Ponytail
This is still another way to wear a ponytail using crochet extensions. For this style, gell-ups go and fit best.
10. Passion Twists
Passion twist is another hairstyle you can only find in crochet form. Many ladies prefer to wear a passion twist via crochet because it protects the hair better than the directly plaited one.
You can wear this style for 3-5 weeks, and it still wouldn't lose its shine. Some ladies wear theirs long, while others do short. In other words, just stick with what fits you better.
11. Crochet Micro Braids
I wouldn't have left this crochet style out. Once in a while, you may want to light your hairstyle up by wearing the famous micro braids, and guess what?
You can now wear them easily with micro braids crochet. Two to three packs of this crochet extension will be enough to sponsor your new look.
14. Crochet Box Braids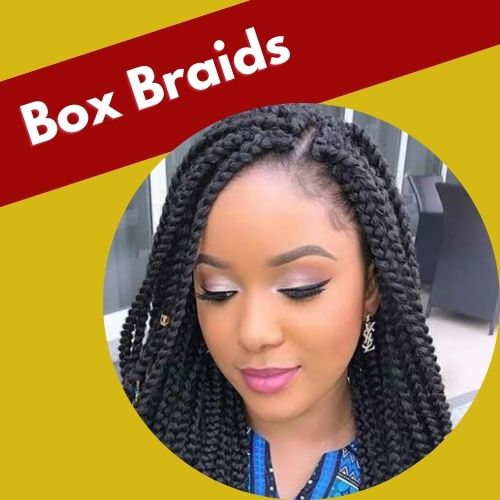 Box braids never fade as we all know. No matter how you desire to wear every new hairstyle out there, you'll still want box braids now and again. But then, a major fear of box braids is the time and cost that goes into making them with attachments.
With crochet box braids, that shouldn't be a bother, as it takes not more than 1-2 hrs to install crochet box braids. It is also cost-friendly and you can wear it again and again unlike an attachment that you dispose of after use.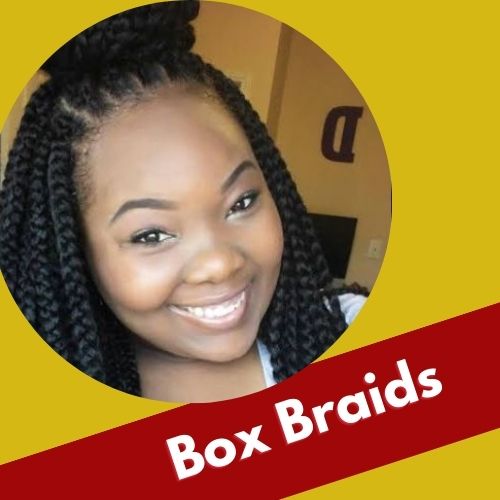 15. Mambo Braids With Crotchet
For the oval and round-faced beauties, this is it for you this season. Maximize the different colors and sizes available. Burgundy seems like it is the most sought-after.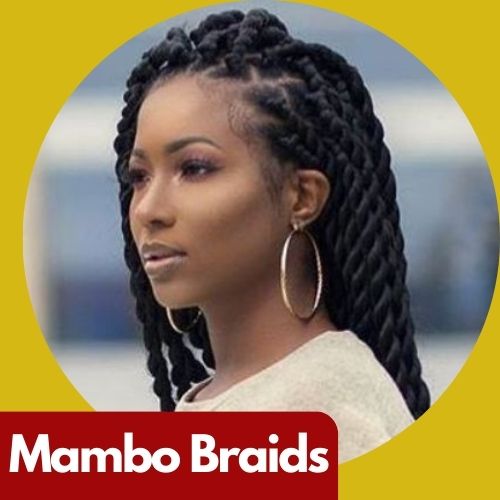 16. Crochet Deep Curls
Crochet is not only in plaited forms only. There are also crochet synthetic hair options and deep curls are one of the best I've seen so far.
17. Crochet on Pixie Curls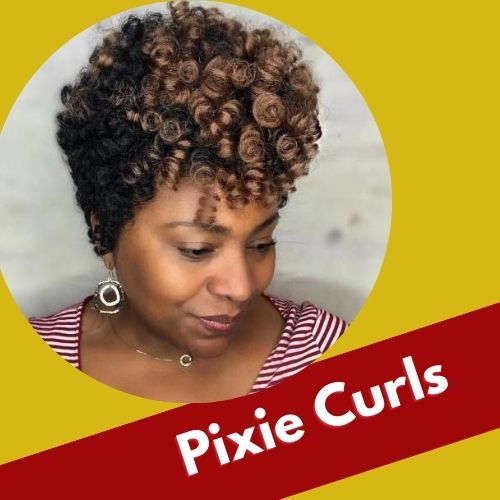 If you want an extremely short hairstyle statement, then you should consider pixie curls using crochet. Unlike weave-ons, you can restyle a pixie made with crochet.
18. Goddess Locs
The best and easy way to wear the bold goddess locs is via crochet. Sometimes, the amount of attachment that goes into plaiting feels heavy afterward. But with crochet extensions, it is less weighty.
19. Crochet Braided Bun
Oh yeah, you can wear this look with crochet braids. It is installed singularly and then packed into a bun. This style is super easy, and you can even make it yourself.
20. Top Knot, Half up, and Half Down
For this hairstyle, a set of cornrows is plaited and packed into a knot upwards, while single crochet extensions are fixed to fall backward. This crochet style is best worn with curly crochet hair extensions.
21. Crochet Bohemian Braids
We all love the dripping curls in bohemian braids. It makes you look young and beautiful. But as with other braid styles, it sometimes takes forever to plait.
If you can't stand the wait, go buy one or two packs of bohemian twists crochet. It is just like the plaited one, but even firmer.
Conclusion
Crochet extension acts as an easy substitute for different popular hairstyles like braids, twists, and locs. So, with crochet extensions, you'll save the time, and cost involved in making regular braids, and locs.
When it is crochet, you don't have to bother if it'dfitst. You can wear it in these different styles and for various functions too. Another good thing is that you can reuse crochet 3-5 times and even more. It depends on the crochet product and how you maintain it.
Which will you want to try out first?
Pin It