The dreadlocks of iconic musician Bob Marley Rose are still a style statement to date. Is it because they are "Free-form"— easy to carry, inexpensive, and beautiful or is it just the sheer legendary touch of a great icon? 
Pin It
Yes, he always carried free-form dreadlocks with strength and courage. I am really inspired by his dreads and I won't hesitate to say that many people still look up to his style even after many years.
So, I decided to unlock Bob Marley's dread journey, and how you can get one.
If you want to learn more about Bob's hairdo, this article is for you, as I have gathered in-depth information regarding his dreadlocks type.
Let's dive in…
Bob Marley's Dreadlock Type
As I informed you, he had freeform, naturally occurring dreads that don't require constant twisting, manipulation, backcombing, or wrapping.
And that is profound.
The only thing required in freeform locs is scheduled washing and drying, which can help you form more definite dreads. Marley's dreadlocks are not just a hairstyle; they tell the story of significance and lifestyle.
If you want to achieve dreadlocks similar to Bob Marley's, how about following his kids on social media?
As they have similar dreads, and they drop regular updates and pictures.
Evolution Of Bob Marley's Dreadlocks
If we begin from the beginning, Bob Marley opened his eyes to the Rastafarian movement.
The Rastafarian people firmly believe that cutting hair is a sign of weakness and terror. This is why Rastas never cut their hair nor used any article products.
As a firm believer in the Rastafarian movement, Bob never cut his hair and maintained dreadlocks throughout his life.
If we dig deeper in archives, it shows that Marley started to loc his hair in 1973. This era has a lot of great musicians and models with beautiful styles and dreadlocks, but the class of Bob Marley is still unmatchable.
Before this time, he wasn't practicing Rastas culture, so many pictures showed his hairstyle as a rounded afro.
Ever since he stepped into Rastas, he started to grow his hair as the belief of Rastafarian people; this was when his dreads began to form.
Bob never changed his hairstyle after this, nor did he experiment with different techniques.
He started with baby dreads turning into freeform dreads that require twisting in the initial stage and later left alone to their thing.
No twisting will be done after a few initial manipulations. However, it causes uneven hair length.
1963
In 1963, when Bob was an ordinary musician, he had a rounded afro haircut.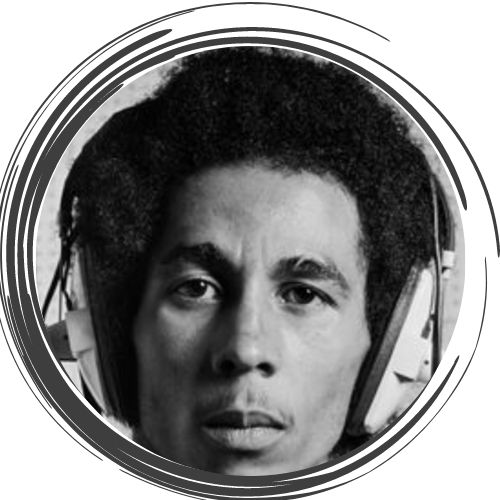 1973
This was the first time when Marley's hair was seen with little twists and turns.
It was a big change to his hair that came after he connected himself with Rastafarian culture, which made him grow his hair long.
The pictures from the early 70s show that Bob had the foundation of freeform locks.
1974
The forming and maturing of dreads started in 1974 when his dreads grew above his shoulders.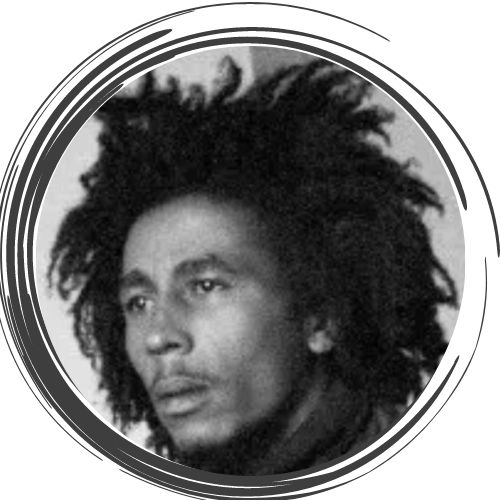 Fortunately, his hair was growing fast, plus they were thick, healthy, and shiny.
By this time, Bob never really did backcombing or cutting. He was maintaining his hair effortlessly.
1975
1975 was the peak time of Marley's career; he was doing great in reggae music.
His dreads became a trend at that time, which by the way, still is. Many teenagers still look up to him for hair inspiration. His hair was touching his shoulders with accurate freeform dreadlocks.
This year he also faced an assassination attack, but it didn't hurt him.
1978
The length of dread was covering the chest of Bob at this time of his life.
He had grown his dreads longer than ever. The dreads were healthy, dark, shiny, and voluminous.
The overall look of Marley became an inspiration for Rastafarian people and worldwide as well.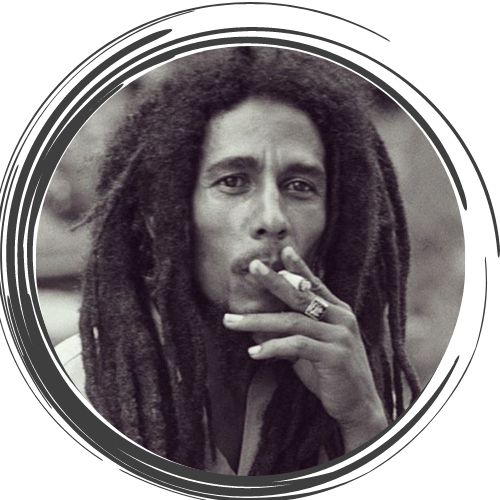 Cancer took the hair of Bob Marley, which he grew with immense love and dedication, as a sign of strength.
Many pictures all over the internet show that before his death, he had no hair. It is quite disturbing to see our favorite artists disappear like this.
How To Do Bob Marley Inspired Hairdo?
Doing dreadlocks like Bob Marley is not difficult. It is quite simple to achieve, as he had freeform dreadlocks throughout his career.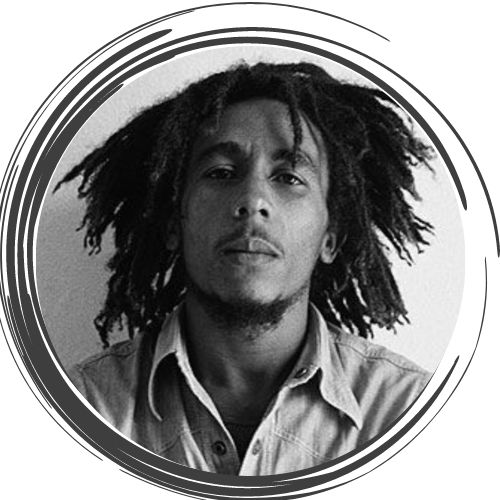 Let's unlock his dreadlocks tutorial.
Step:1
First thing first…
Give your dreads a deep wash to remove all the filth and dust from them. 
This might take 1-2 rounds of hair wash but trust me clarifying the scalp and length of dreads is satisfying. 
Once done, let your hair dry for a good time and separate your dreads. Once fully separated, start the inch-by-inch sectioning of the hair. 
Make sure you start from the back, as it can help you reach your hair goal better.
Step: 2
For sectioning, use a rubber band at the end to avoid tangling and mixing sections.
If you want to achieve thick dreads, take a good amount of hair and leave it for loose locks and dreads.
But for more definite dreads, section a small amount of hair as it is easy to roll and twist.
Step: 3
After sectioning comes twisting and manipulation of the section.
Continuous manipulation and re-twisting are unnecessary in freeform dreads, but you can do it after some to maintain the definite shape of dreads, just like Bob Marley.
Start twisting your dreads in a clockwise motion and secure them with rubber bands at the end.
Pro tip: At this point, you can introduce styling creams and gels to your hair to cut down frizz and excessive tangling. Other than creams, beeswax also goes great with hair dreads. Don't forget to use styling products if you have dry and frizzy hair.
Our top recommendation is Lion Locs Firm Hold Hair Locking Dreadlock Gel Cream. It is easy to use and doesn't leave a white cast on dreadlocks after drying.
Step:4 (Optional)
Your effortless freeform dreadlocks are ready to flaunt.
Make sure you carry them confidently and take care of them with love.
If you want to make your dreads more special, we recommend adding statement pieces and jewelry. Trust me; it will enhance the overall look.
Tips And Tricks To Achieve Dreadlocks Like Bob Marley
Jamaican musician Bob Rose's dreadlocks style is still valued and followed even decades after his death.
Our favorite artists follow many secret tips and tricks to keep their hairdos healthy, sparkly, and thick for a long time.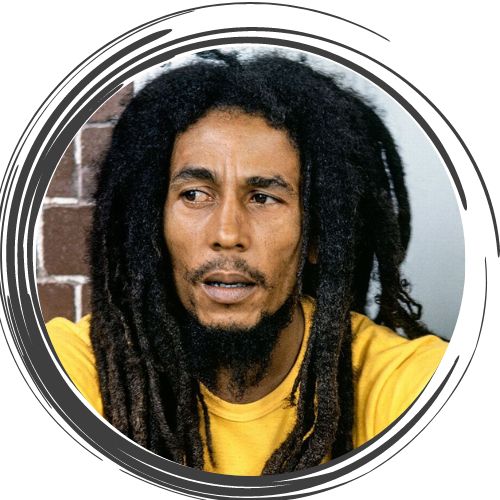 But before discussing that, let me put this straight, you need to wash your dreadlocks at least once a month in the initial days of twisting, then go for 2-3 times a month.
1. Let Dreads Breath For the First 2 Weeks
If you are someone who is new to the dreadlocks game, then know that don't wash your hair for at least 2 weeks.
The new dreads are silky and delicate; this is the reason why hair experts suggest taking at least 2 weeks off from hair wash.
This trick will help your dreads to last longer and healthier.
2. Avoid Excessive Haircutting
I know you are thinking that split ends won't allow you to do so but trust me, dreadlocks generally don't require a haircut.
Other than opting for a new style or maintaining short hair, we recommend fewer haircuts.
As it not only enables fast growth but also makes your hair thick.
3. Excessive Combing Is A Big No!
Next is useless combing.
If you are new to the dreadlocks industry, you might find it strange, but excessive combing can loosen up dreads hence no definite hairdo.
It can also irritate your scalp and cause hair breakage.
Bob Marley never tried coming and backcombing on his dread and just looking at his dreads- prominent and gorgeous.
4. Palm Rolling
The next thing is palm rolling!
No artificial tools can give you a neat and original look, trust me.
Practicing palm rolling can help you achieve perfect dreadlocks as it aids in tightening dreads.
Other than this, it also helps to bring back the strength of locks.
5. Scalp Massage Is Healthy!
Lastly, add scalp massage to your dreadlock care routine. As it helps in blood circulation, your scalp can produce a good amount of sebum, making your hair shiny and healthy in no time.
Frequently Asked Questions (FAQs)
Are dreadlocks permanent or temporary?
No, dreadlocks are not permanent. I think this is one of the reasons why many people are attracted to this hairdo, as one can easily undo this style if they do not feel like continuing them.  All it takes is cutting and unraveling; you can continue with your new avatar anytime. 
How long does it take for dreadlocks to form?
The locking time entirely depends on hair type. With thick, curly hair, you can quickly achieve dreads in 10 months with continuous twisting and re-twisting.
 However, straight and silky hair might take from 11 months to two years to attain a definite position.
How did Marley maintain his dreadlocks?
Fellas, it might shock you for some time, but Bob never combed or cut his hair in his entire life. 
He had freeform dreadlocks, which are basically naturally occurring dreads that don't require backcombing and braids. 
He let his hair do their thing and didn't put extra pressure or artificial products on it. This is the reason why he had long, healthy, and thick dreadlocks.
Does braiding help in growing dreadlocks faster?
No, other than natural hair growth techniques and methods, no braiding or twisting can promote hair growth. 
You may find many similar cases on the internet proving this, but don't get confused
It's Your Turn!
Many videos and articles went viral about the condition of Bob's dreadlocks at the time of his death.
There were claims that filthy bugs were found in his hairdo, but if you do some research, you will eventually find the truth.
As said earlier, Marley died due to cancer, due to which his hair was gone. There are many videos that act as evidence that Bob had gone bald before his death.
Marley will always be known for his music and style. He had incredible dreadlocks that were easy to achieve as they were freeform dreads.
Read Related Articles: